This easy, mouthwatering Sicilian Cauliflower Salad will expand your ideas about salad in the most delicious way! Green olives, capers, raisins, orange segments and pine nuts make this irresistible vegan cauliflower recipe tangy and sweet with a toasty flavor. Introducing a fun new cookbook too: Toss Your Own Salad.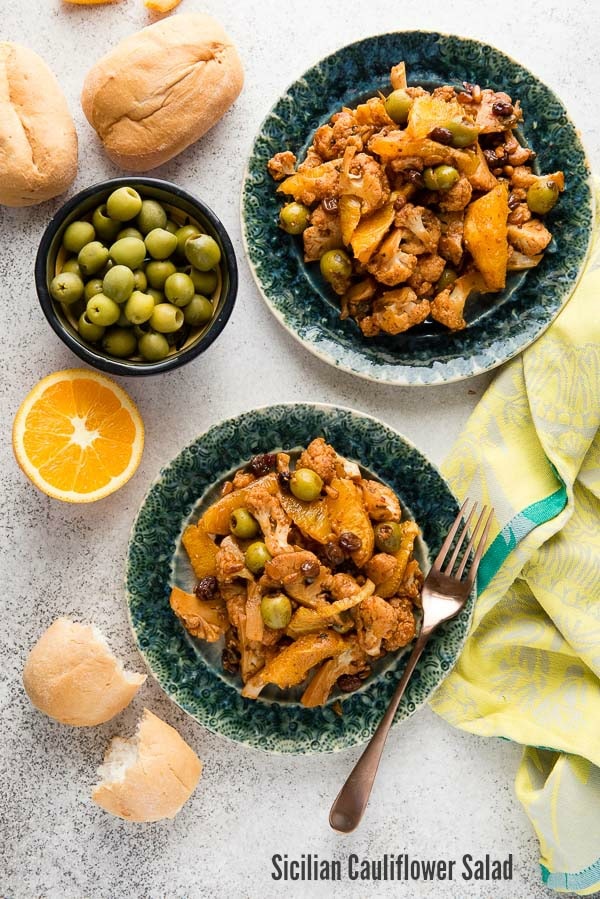 Next to my bed I have a stack of cookbooks I've been sent to review. As I was recovering from pneumonia last week I reached down to thumb through one. The cover art alone of Toss Your Own Salad had excited me as soon as it arrived. I homey plate of what looked like meatballs, pasta and dark greens surrounded by tattoo art, intrigued me. As soon as I cracked the book I couldn't put it down. It's as good a 'read' as it is a meatless cookbook.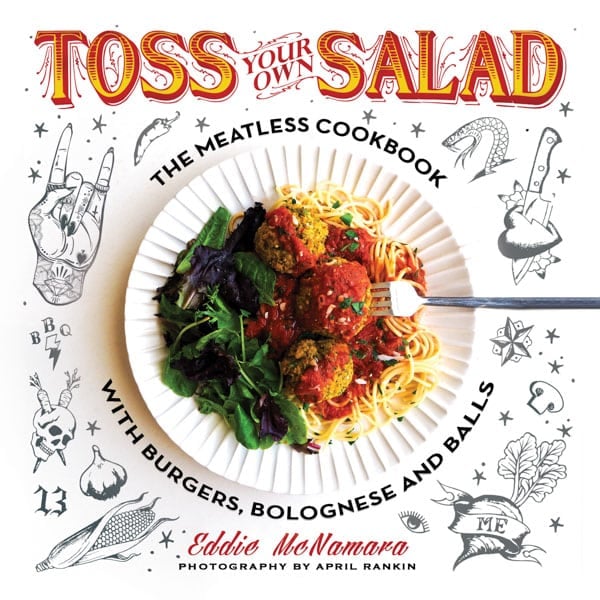 With a first chapter titled 'Vegetables Your Mom Ruined' one quickly gets this is not going to be a highbrow cookbook extolling the values of vegetables. Author Eddie McNamara (whose personal story is as fascinating as are his recipes) gets down and dirty, serving up recipes for sumptuous dishes like Herbed Orzo with Feta and Figs, Garam Masala Sweet Potatoes and Udon Noodles with Creamy Vegan Ramp and Dandelion Pesto.
These recipes, which would be right at home served on a white linen tablecloth with crisp serviettes, are interwoven with others such as Wino Stew, Hangover Prevention Smoothie: Don't Say I Never Did Anything for You, and Nihilistic Frittata, reminding the reader that though the bold international flavors of the cookbook's recipes are sophisticated, they are served up with no pretentiousness whatsoever.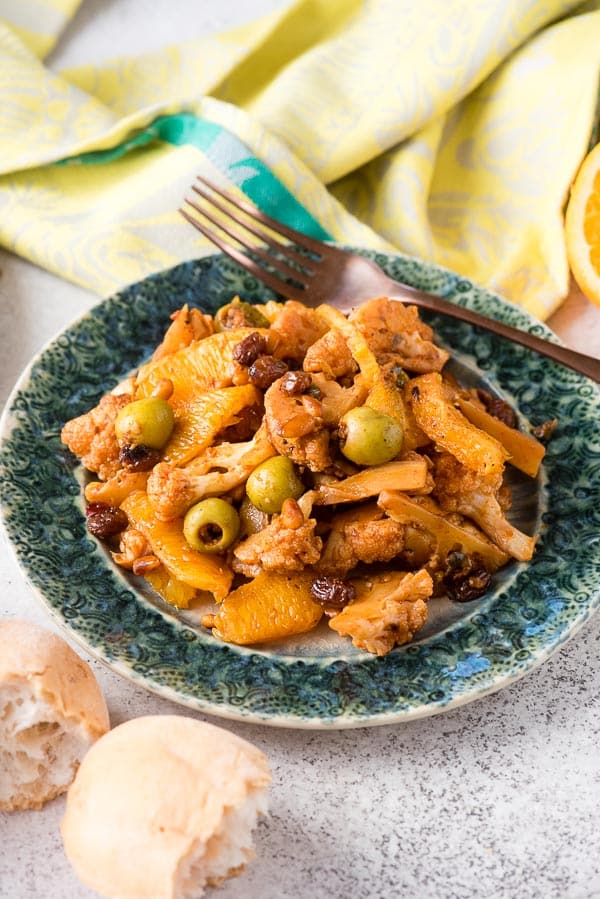 McNamara is an old school New Yorker (and ex Port Authority cop and former 911 rescuer) and that shines through in recipes like Regular Cheesecake for Regular People and Dojo-Style East Village Salad. His writing is a cross between straight up instruction and a low-grade smack down, suggesting thing like 'it's not an art project just cut it' when listing a cut up head of cauliflower in a recipe I made.
You might find '1 big ass onion' listed in an ingredient list or titles such as The Whitest Salad You'll Ever Eat: Fiddleheads, Kale and Pine Nut with Ramp Pesto. I giggled all the way through the book. I loved the fresh, no-hold-barred style and most of all the inspired, exciting fusion recipes that real people can make, served up with rough-around-the-edges cheek. I will be cooking from this cookbook.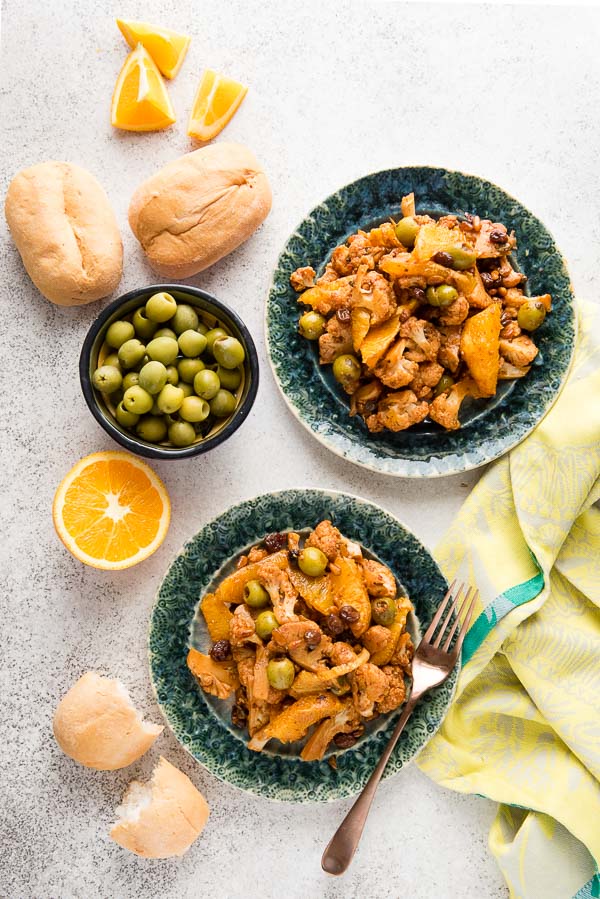 There was one recipe I thumbed over and kept returning to. Sicilian Cauliflower Salad. Maybe it was watching the Godfather Trilogy as I coughed mercilessly over the prior week or maybe it was the mouthwatering ingredient list of capers, green olives, raisins, crushed red chilies, orange slices and toasted pine nuts that hooked me. I've fallen head over heels in love with this salad.
It's has a deeply warm flavor from the pine nuts, and a wonderful combination of tangy, sweet with a touch of heat. It's easy to make and is suggested to refrigerate overnight making it perfect for early meal prep rather than cooking in the minute.
More Recipes You'll Love!
HOW TO MAKE SICILIAN CAULIFLOWER SALAD:
Disclosure: I was provided a copy of Toss Your Own Salad for the purpose of this review. All opinions are my own.