Paris is a city with unending opportunities for dining, culture and art.
As fun as it is to amble through a vacation popping spontaneously into museums on a whim travelers really must have a plan, especially if there are highlights they simply don't want to miss.
We hit it hard on the Boulder Locavore Paris vacation, leaving it to feel more like a Tourist Boot Camp than a lazy vacation.
With everything we wanted to see we found some key strategies critical, and I'm sharing those with you today.
Top Tips for a Great Paris Vacation
Apply the Disneyland Tactics
For any having visited Disneyland or Disney World, the first piece of wisdom is 'arrive an hour before the park opens'.
It might not seem like standing outside for an hour makes any sense.
What it affords when you get into the larger museums in Paris (especially in heavily touristed August), is the opportunity to see what you really want to without a billion other viewers crowding your path.
Get the Paris Museum Pass
The Paris Museum Pass allows free entry into 60 museums and monuments around Paris AND allows pass holders to avoid standing in line; the last bit is critical especially in the busy summer months.
Passes may be purchased all around Paris or online before your travel.
The passes and can be purchased for 2, 4 or 6 consecutive days.
'Consecutive' is important to note; regardless of when you buy your pass the clock starts with the first day you use it at a museum.
If possible purchase the pass at a less popular location before you plan to begin touring is best (vs. waiting in line to buy it at the Louvre, for instance, the first day you want to use it).
Children under 18 (and European citizens under 26) are not required to have a pass to have access to most of the museums.
Some require a free ticket for entry which I'll note below when highlighting some of our favorite visits.
Have a Plan
Each museum has different qualities which affect planning.
The Louvre for instance has world-renown art such as the Mona Lisa that draw a crowd. Queuing up those well-known exhibits toward the early part of a day's visit may be critical to ensure you'll see the most possible during your visit.
A big attraction of the Palace of Versailles is touring the extensive gardens and smaller dwellings on the grounds. Planning a visit on a non-rainy day if possible will optimize what you will be able to enjoy.
We found a great 'art sampler' to be a visit to the Louvre, Musée D'Orsay and the Pompidou Center to cover ancient to contemporary art.
Comparing which days they were open and most crowded during the week allowed optimizing touring them three days in a row at the best times.
Planning the time within your museum pass duration is important. A bit of research before touring can optimize what ground you can cover.
Pickpocketing
This might seem an odd thing to throw in however at every major attraction and museum there are warnings about pickpocketing.
The crowds can be large and especially in the high tourist month, travelers can be crowded in together.
Before traveling my husband and I each purchased a bag from PacSafe which have built-in features disallowing unwelcome hands to slip in and lift a wallet or do a slash-and-run of a bag or camera strap (we purchased a camera bag, camera strap for our dSLR and a 'man bag').
We felt protected and free to pay attention to the sights instead of worry about theft. It is a real issue to be aware of but does not need to burden your travel with some pre-planning.
This short video about the Paris Museum Pass allows a peek of several attractions covered by the pass (some armchair travel!):
Tips and Highlights – Museum Pass
Here are some tips and highlights from some of the venues we visited using our 6 day.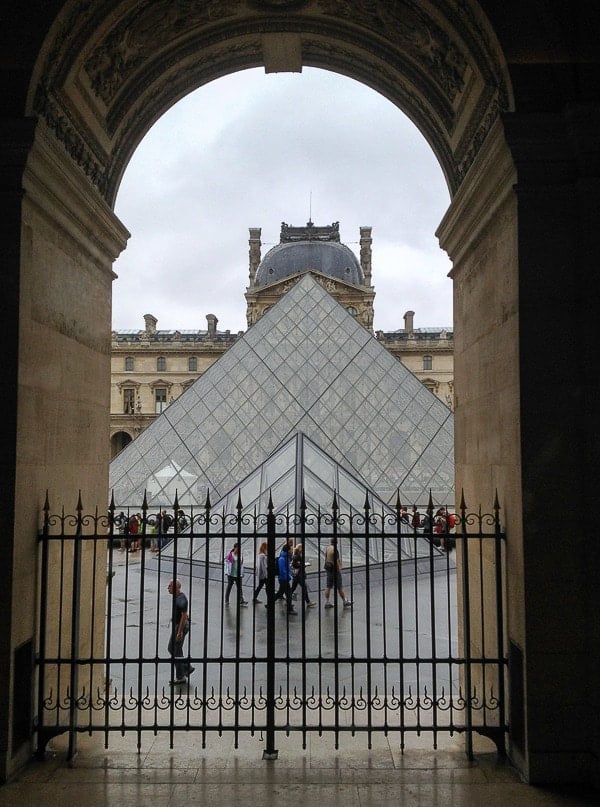 When our taxi driver was dropping us at the Louvre, he jokingly remarked one needs at week at the Louvre to see everything. It really is not a joke.
Perhaps at this museum more than any other a plan is needed.
Using Rick Steeves' Paris guide we refined his suggested sights to experience a ¾ day visit leaving us feeling we'd seen paintings of the famed master painters, sculptures such as Venus, and tracked historically based works which complimented other visits we made to places such as Invalides showcasing everything Napoleon.
Mona Lisa draws a crowd so a suggestion is to beeline to see her before the room fills (we found with tourists taking non-flash selfies with her, clogging the viewing significantly).
There are several cafes and restaurants on site so it's easy to linger the full day.
FASTER ENTRY TIP: If you have the museum pass rather than waiting in line at the pyramid in the center courtyard, proceed to a lesser known, lesser used entry in the passage walkway between the pyramid courtyard and the Rue de Rivoli, the Passage Richelieu entrance.
Once inside the passage (north of the Pyramid, or to the left as you are looking at the pyramid courtyard), the entrance is on the left when proceeding from the courtyard toward rue de Rivoli.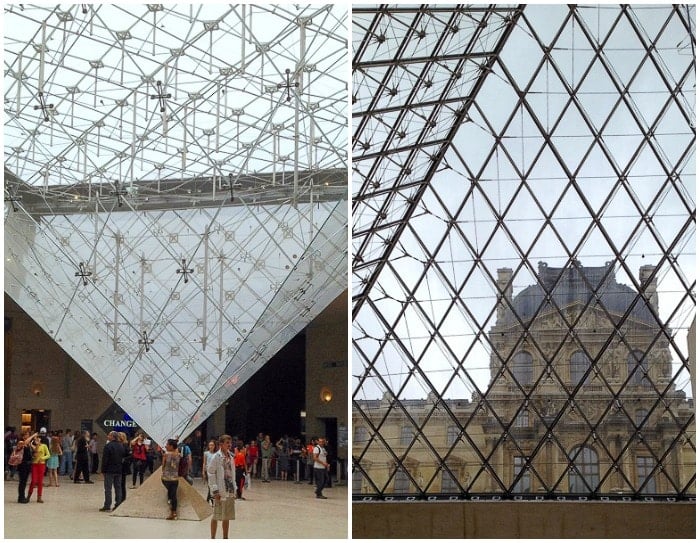 Inside a converted train station this spacious museum along the Seine is home to classics and impressionist paintings from the well-known Masters.
Admittedly my favorite of the art museums, the layout of the museum is spacious and photos of any sort shifting the visiting crowds to be focused on the art itself, not taking photos of it which greatly helps the flow.
TIME SAVING TIP: Head upstairs to the Impressionists works first as those galleries become more crowded making viewing more challenging later in the day.
Mid-morning we found ourselves needing a nosh while at Musée d'Orsay and sought the Campana Coffee café near the impressionist galleries, which features modern décor and a view to the Seine through the back of a huge clock face.
An intriguing dish caught my eye, Minestrone de Fruits Frais (Minestrone of Fresh Fruit); listed under Desserts and translated on the menu as 'fresh fruit salad'.
When it arrived I realized it was a cross between a fresh fruit salad and a fruit soup.
The most impressive feature was all the fruits had been cut precisely into ¼ inch cubes reminding me of the diminutive, perfectly squared vegetables in canned soup of my youth. There was a very light juice with the fruit giving a subtle soup feel.
It was one I knew I'd need to recreate at home. Printable recipe at the end of this post.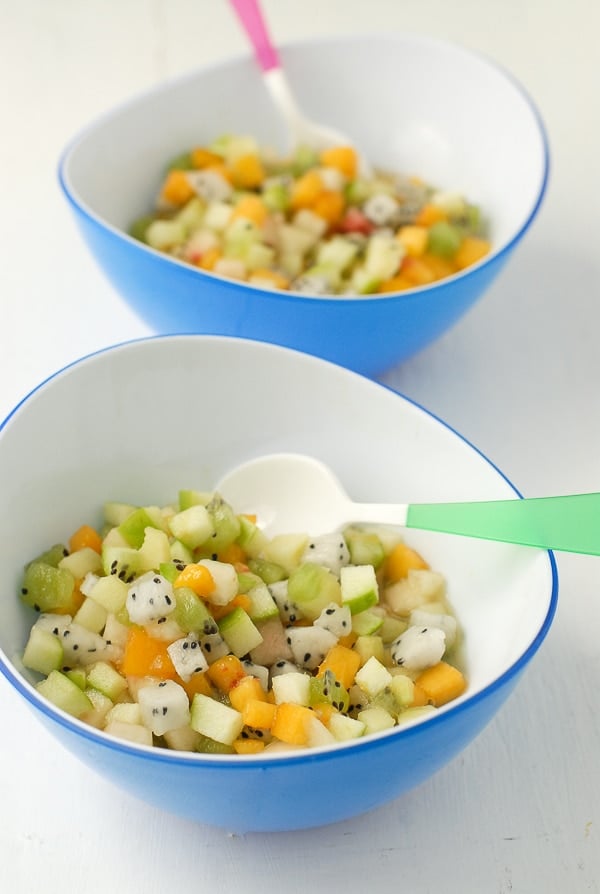 The Centre Pompidou
The quirky, colorful exoskeleton architecture of the Pompidou Center sets the tone for the Modern Art housed inside.
An external escalator tube allows visitors a fantastic view of the surrounding area as they ascend to being viewing the eclectic exhibits from well-known to more obscure artists.
'DON'T MISS IT' TIP: Don't miss the Stravinsky Fountain between the Pompidou Center and the Church of Saint-Merri which contains 16 whimsical sculptures, moving water as well as murals on surrounding buildings.
It's a colorful areas with street performers, cafes and shopping as well.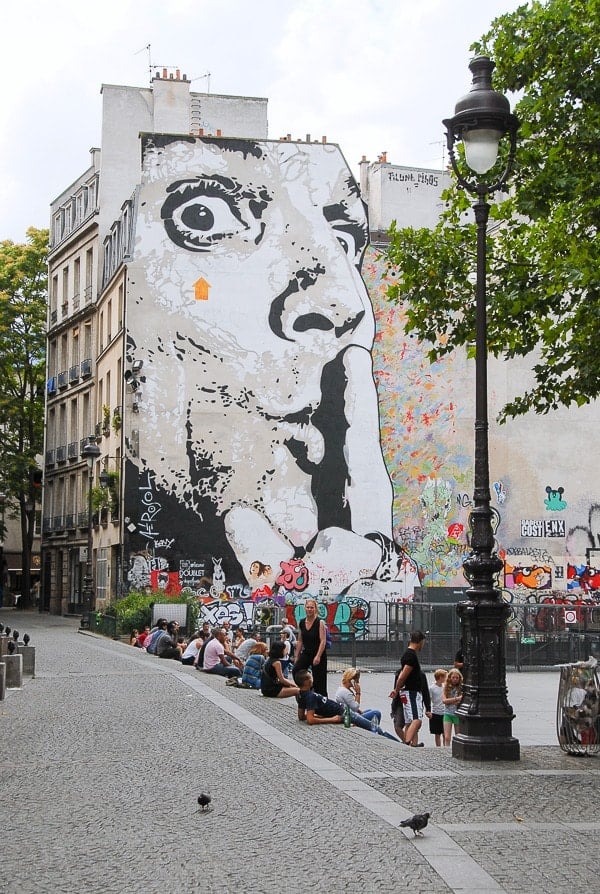 This was my husband's pick, being a natural historian, and I found it an unexpected surprise for the architecture and extensive collection of army items.
The Dȏme des Invalides which serves as Napoleon's tomb is breathtakingly beautiful. Be sure to look up!
TIP: Everyone must have a ticket to enter so if traveling with children who do not have a museum pass, stop first at the ticketing area to show your pass and receive your free ticket.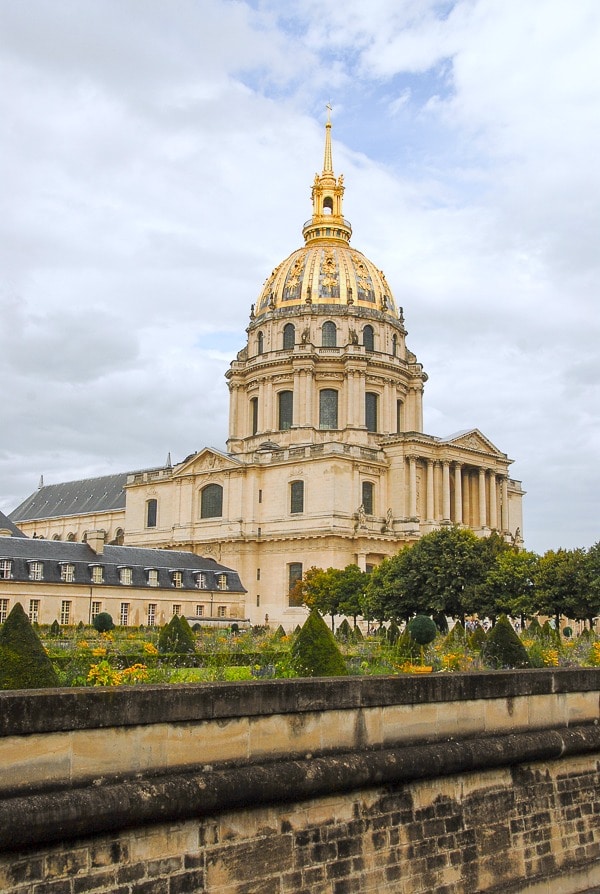 Perhaps the most iconic site in Paris after the Eiffel Tower, the Arc de Triomphe stands at the end of several streets including the famed Champs Elysees.
There are many things on and beneath the Arc to see as well as mounting the internal spiral staircase to the top platform should not be missed. The views of the city are spectacular.
TIP: Do NOT try to cross the street to reach the Arc. Look for the underground walkway to cross to the ticketing area.
The Arc de Triomphe requires all visitors to have a ticket so for any minors without a Museum Pass show your pass at the ticket area to retrieve their free tickets.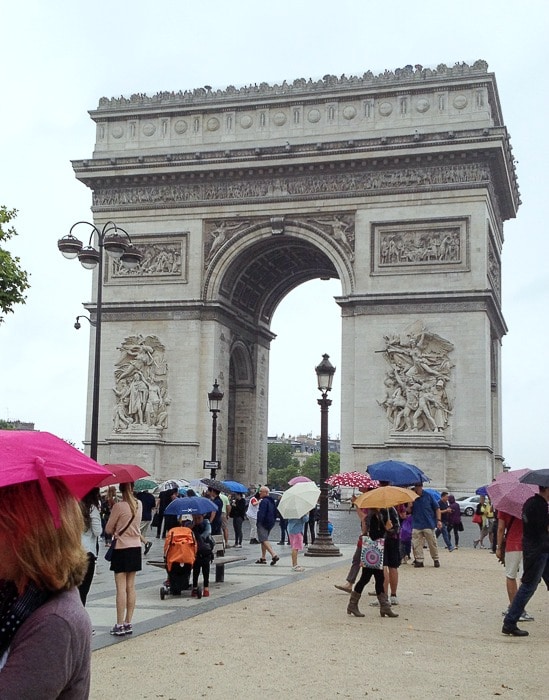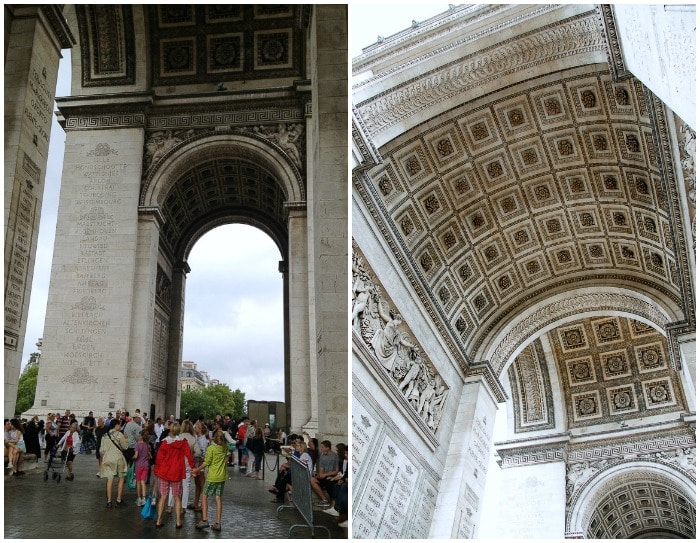 Located on the Ȋle de la Cité in the Seine, Notre Dame is a spectacular example of gothic architecture and the cathedral should not be missed.
We visited our first day of the month which was a 'free' day to the public (did not use museum passes) and did not climb to the top (however could easily imagine Victor Hugo's Quasimodo swinging from the bell tower).
Take a few minutes to sit down inside and soak in the beauty of stained glass and internal structure.
TIP: Walk around the outside to see the flying buttresses, gargoyles in action if it's raining and one of Paris' famed 'locks of love' bridges over the Seine.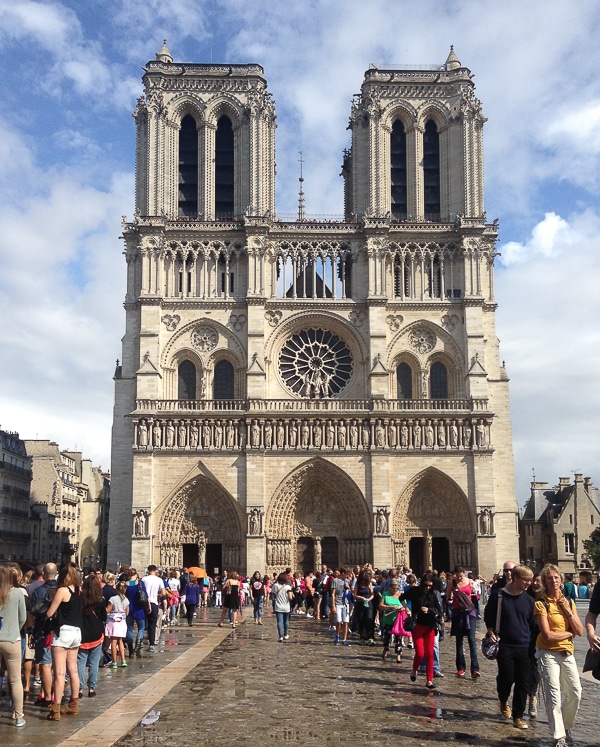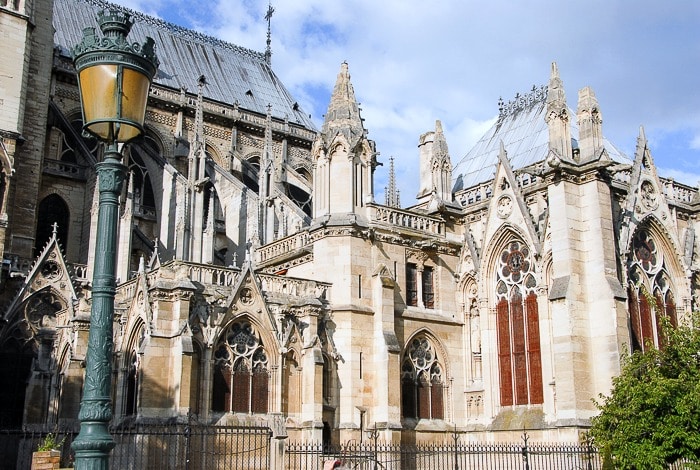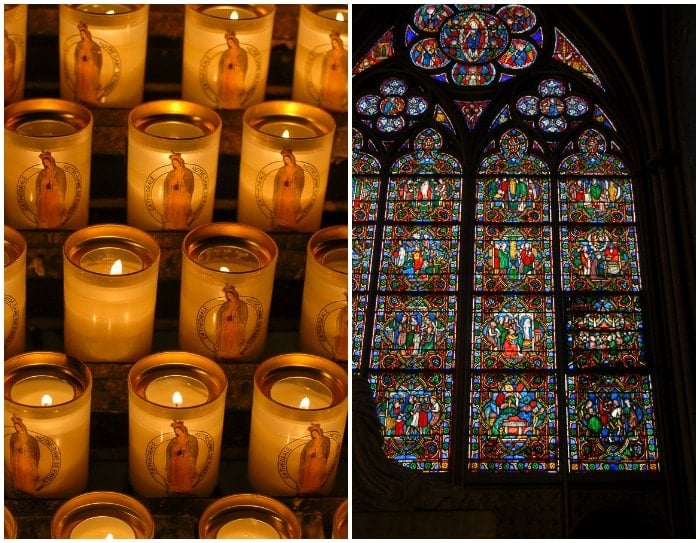 Visiting Versailles, the palace and extensive gardens, is a full day trip requiring a short train ride from Paris.
I've shared more specifics in a dedicated Versailles post however would say it is an excursion like no other.
The architecture and appointments are beyond comparison.
The grounds are unending and beautifully constructed, with plenty to explore for a full day.
It is a chance to soak in the opulence of an era passed which will never be seen again.