Korean BBQ fans will love this pan fried cauliflower coated in a sticky sweet homemade Korean BBQ sauce. This easy side dish is packed with exciting flavors and perfectly cooked cauliflower!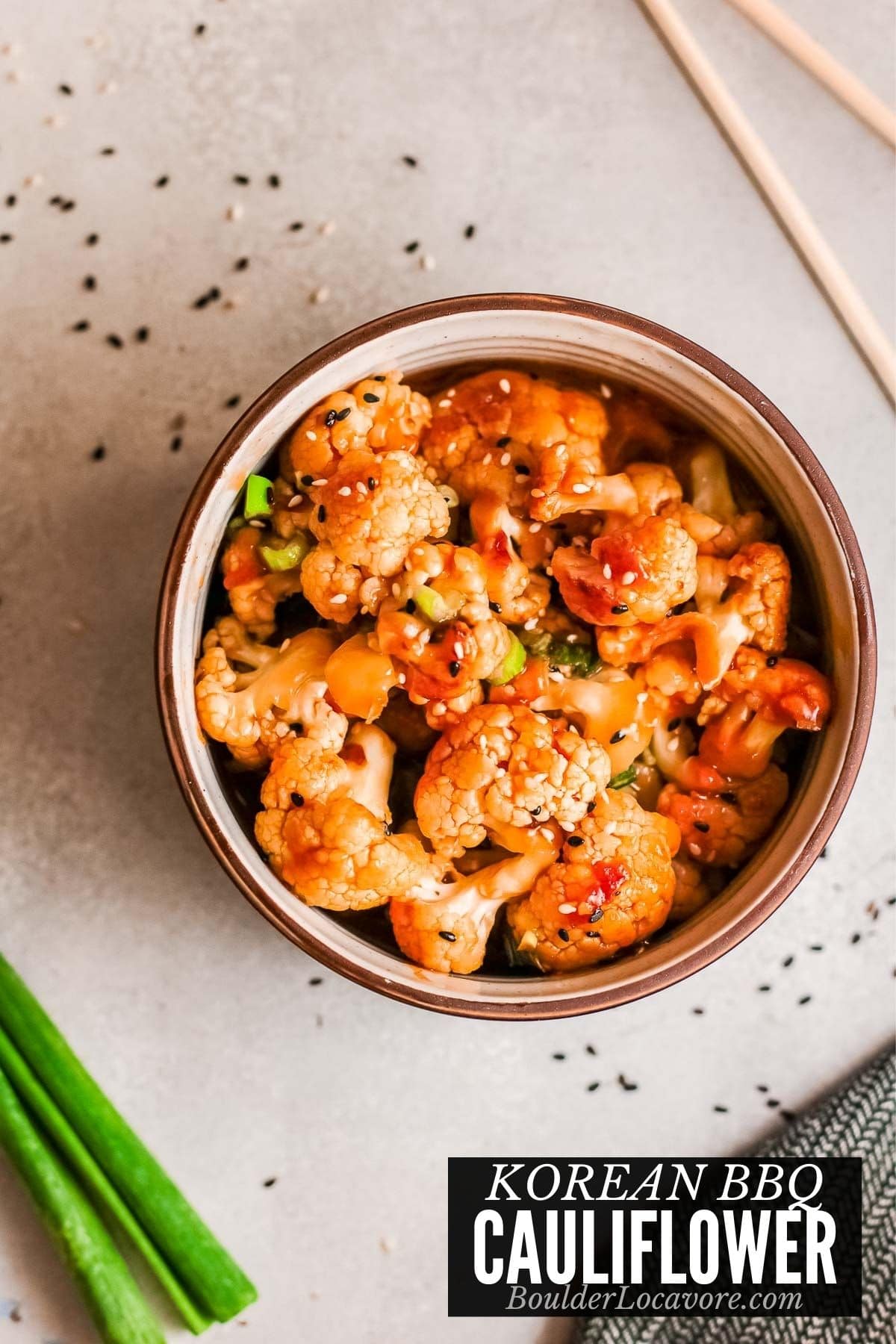 If you are a Korean BBQ Chicken lover (try our home recipe for that too!) meet your next favorite: Korean BBQ Cauliflower.
It could be the lightly pan fried cauliflower that brings out the best of the cauliflower flavor.
Or the easy sweet, tangy, salty BBQ sauce that makes this bbq cauliflower so good.
It comes together in no time with ingredients you probably already have on hand.
'It tastes like Korean BBQ ribs!' was the comment from one of our taste testers after the first bite.
This is a recipe everyone loved and couldn't get enough of!
Try our Korean Noodles too!
Korean BBQ Cauliflower
Traditional Korean Fried Cauliflower is battered and deep fried.
This BBQ Cauliflower is lightly pan fried or sautéed with garlic and scallions until it's just fork soft.
It is fully cooked but with a firmer texture (no mushy cauliflower).
The sticky sauce is sweet, salty and tangy. The flavors are bold and exciting.
The Korean BBQ sauce thickens as it cooks fully coating the cauliflower giving it an irresistibly good flavor.
The dish can be cooked just until the sauce is starting to thicken for more 'loose' sauce.
Or completely thickened to fully coat the cauliflower with no extra sauce in the pan (my preference).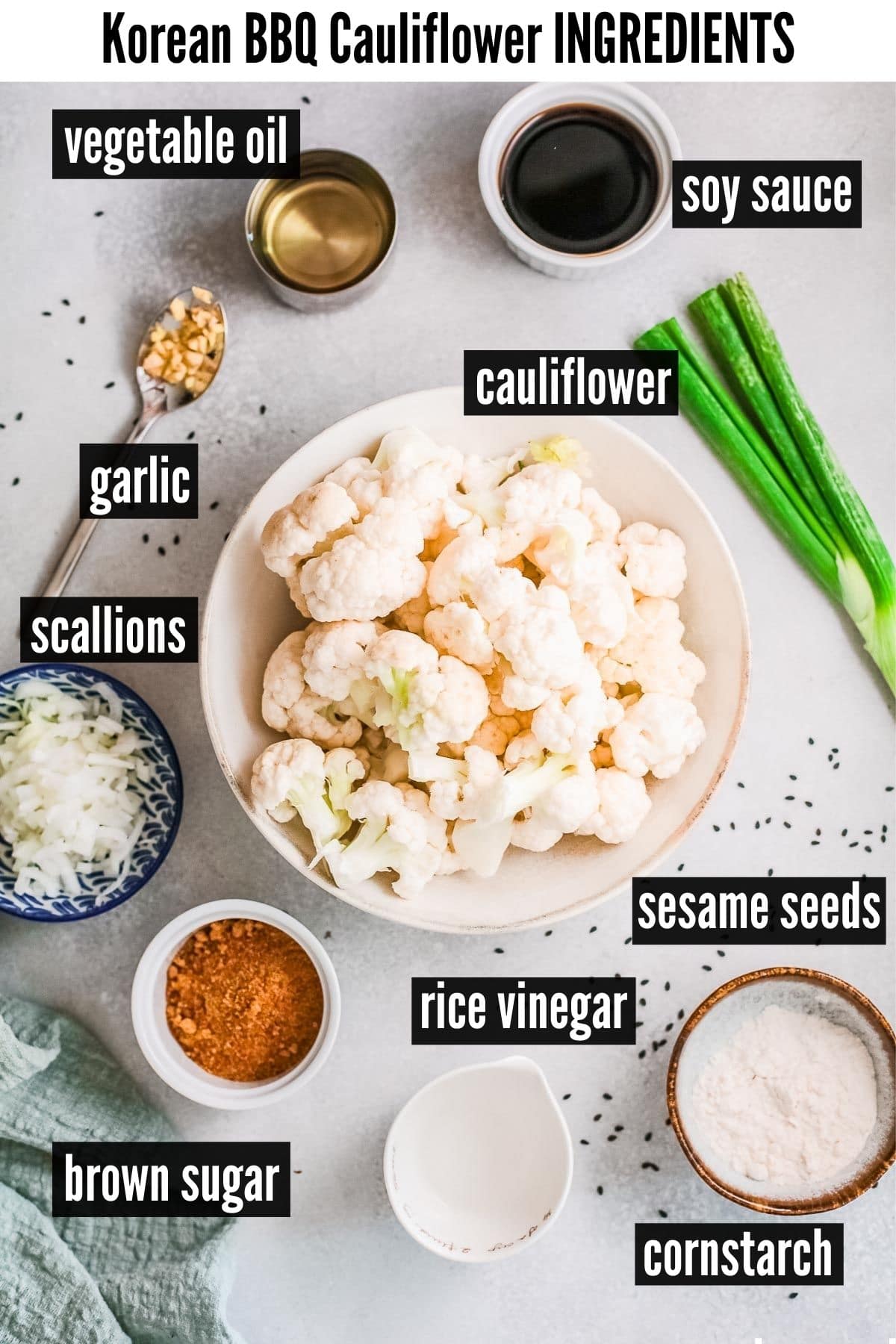 Recipe Ingredients + Notes
Vegetable oil. Used to pan fry the cauliflower.
Scallions. Only the white portion will be used. You'll need about 4 scallions.
Garlic cloves. Fresh cloves are minced and sautéed.
Cauliflower florets. Ideally the florets will all be similar in size so if needed halve or quarter large florets.
Time saving tip: We use pre-cut fresh florets available in the produce section of the grocery store.
Soy sauce. Regular or gluten-free soy sauce or Tamari can be used.
Brown sugar. This adds the classic sweetness found in Korean BBQ sauce.
Rice vinegar. Adds a lightly tangy flavor to the sauce.
Corn starch. Used for thickening the sauce into a rich, luscious texture.
Sesame seeds. Garnishes the finished cauliflower for a nutty flavor.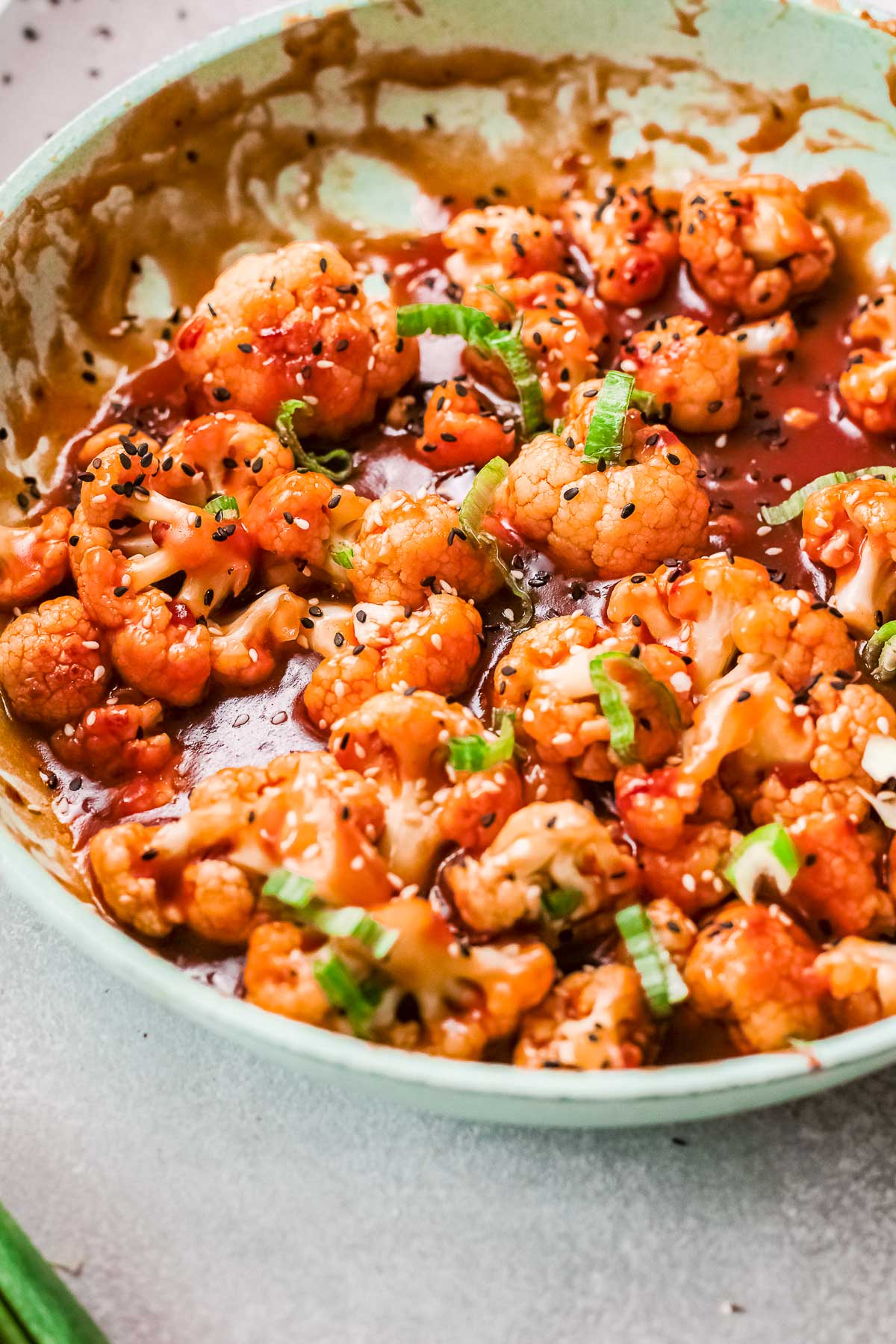 How to Make it – Step-by-Step
STEP 1. Pan Fry the Cauliflower
Heat oil in the skillet over medium heat (photo 1). Cook scallions in the oil for about 2 minutes or until they soften (photo 2).
Add the garlic (photo 3) and cauliflower (photo 4).
Cook until the cauliflower is tender and lightly browned on the outsides (photo 5).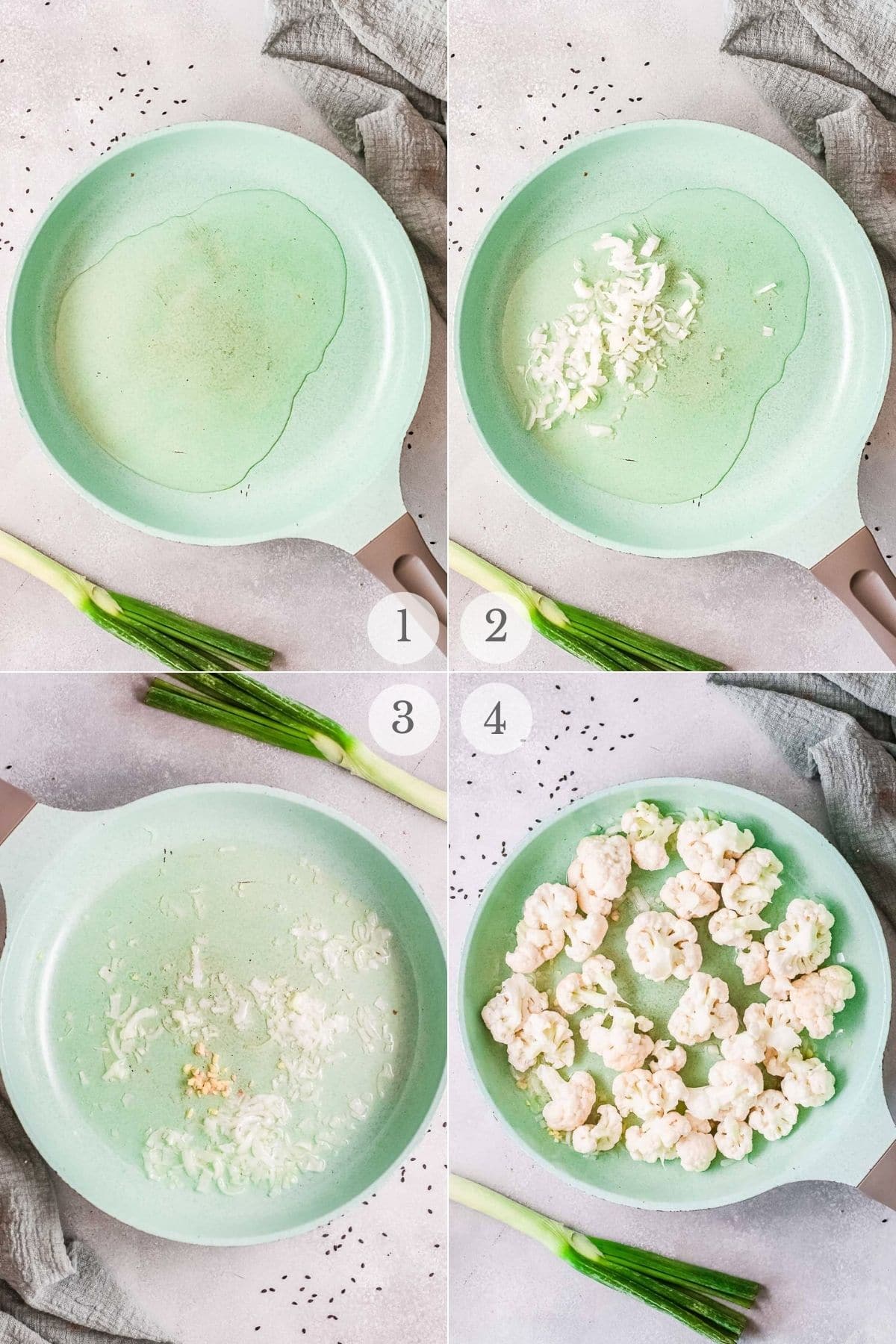 STEP 2.Make the BBQ sauce
As the cauliflower cooks, whisk together the ingredients for the sauce in a bowl (photo 6 -8).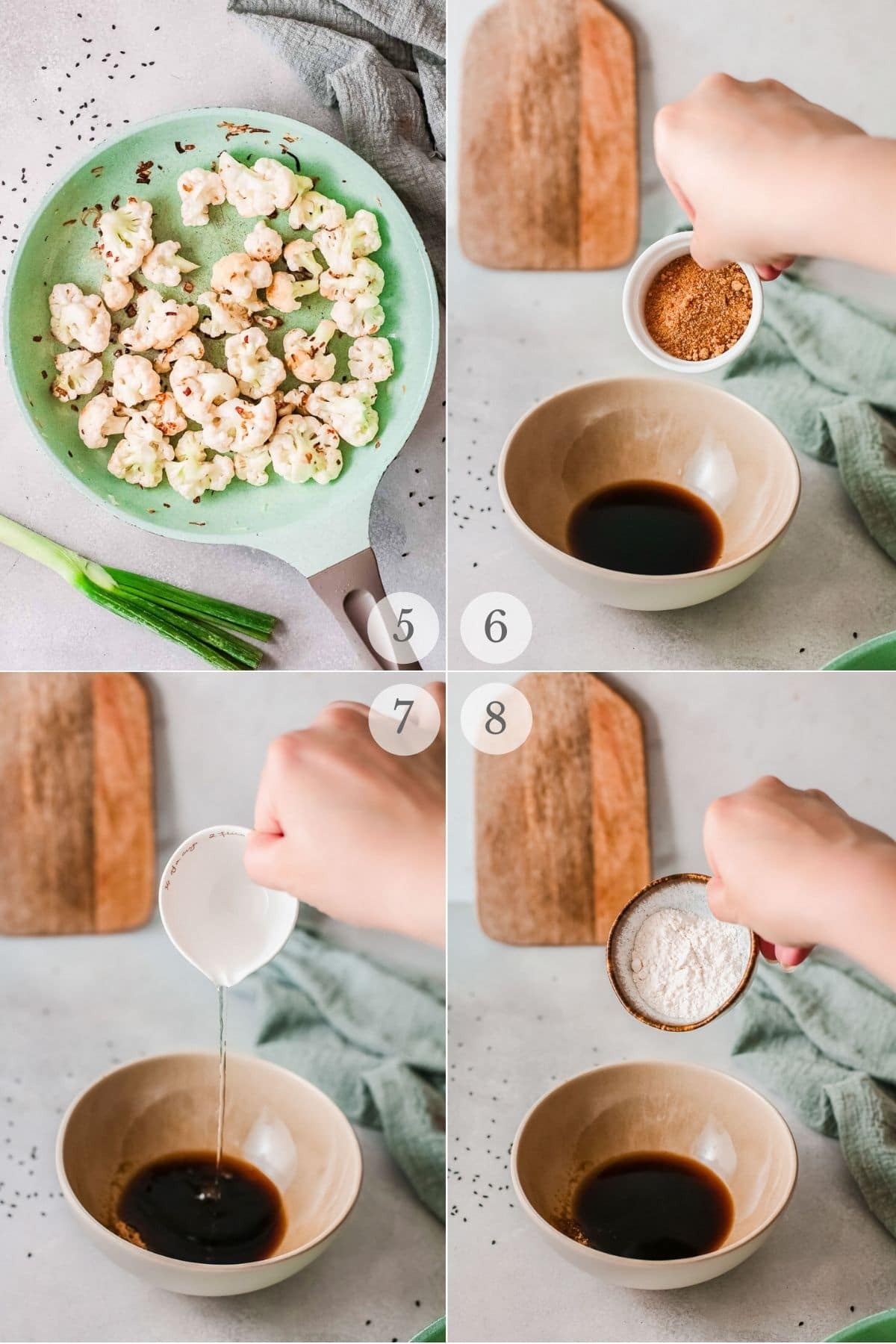 STEP 3. Thicken the sauce
Pour the sauce over the cauliflower in the pan (photo 9).
Keep cooking until the sauce gets thick, caramelized and sticky, tossing the florets with the sauce as you go.
Serve the Korean Cauliflower right away garnished with the sesame seeds (photo 10).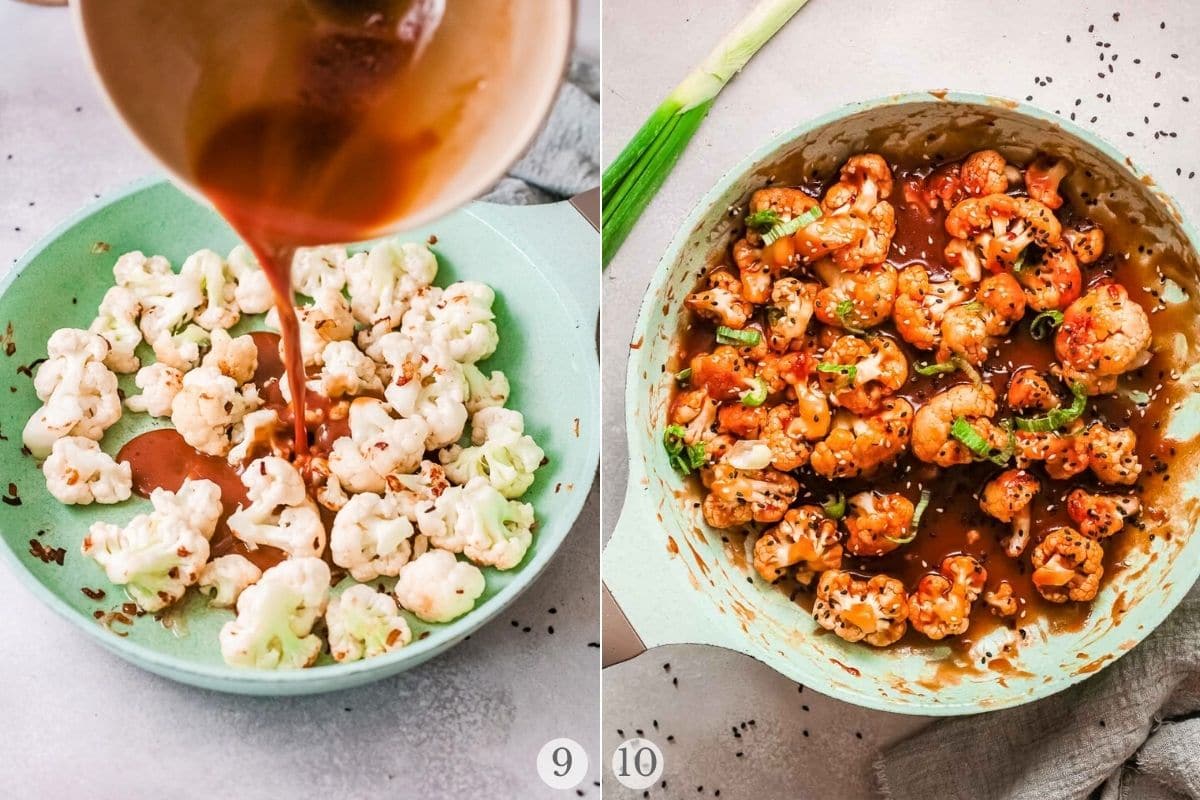 How to Serve Korean Cauliflower
With the delicious sticky sauce, it's great as a dish to serve with other Asian-inspired recipes.
Spicy Ginger Chicken Stir Fry, Kung Pao Chicken, Chicken Pad Thai and Spicy Pineapple Shrimp Fried Rice are some favorites.
It can also be served on a bowl of white or brown rice to soak up some of the extra sauce. Delicious!
Rice noodles are another great option. It would be tasty in lettuce wraps too!
Recipe FAQs + Pro-Tips
Cut the cauliflower florets into similar size pieces. This will ensure the cauliflower cooks evenly in the same amount of time. Medium florets or larger florets halved work well.
Buy pre-cut cauliflower florets. This is our favorite time saving tip. They are available already cut and bagged from the grocery store.
Can I use frozen cauliflower?
We've only made it with fresh cauliflower and feel that gives the best results.
You can certainly try it with frozen cauliflower too! Thaw the florets and pat dry with paper towels before adding to the recipe.
Is Korean BBQ Cauliflower vegan?
Yes, this recipe for Korean BBQ Cauliflower is vegan, vegetarian and gluten free if using gluten-free soy sauce.
Storing Leftovers
The texture is best served right after cooking this cauliflower dish. We don't recommend storing and reheating leftovers.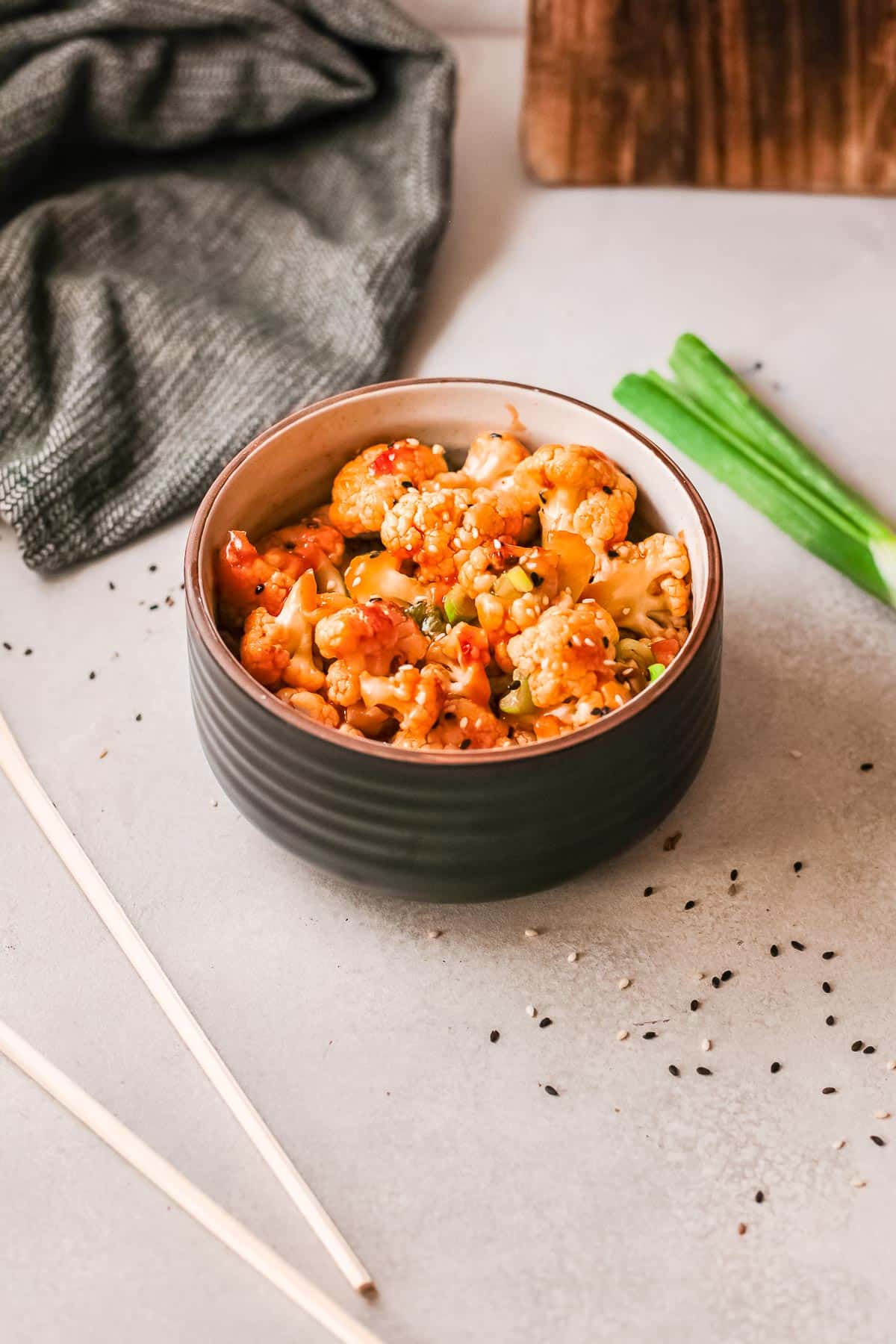 More Recipes You'll Love
Did you make it? Please RATE THE RECIPE below!
Please SUBSCRIBE and FOLLOW ME on FACEBOOK , TWITTER , INSTAGRAM and PINTEREST !