Cinnamon Raisin Bread is easy homemade bread, brimming with plump raisins and buttery cinnamon flavor. This easy quick bread recipe is the best homemade comfort food!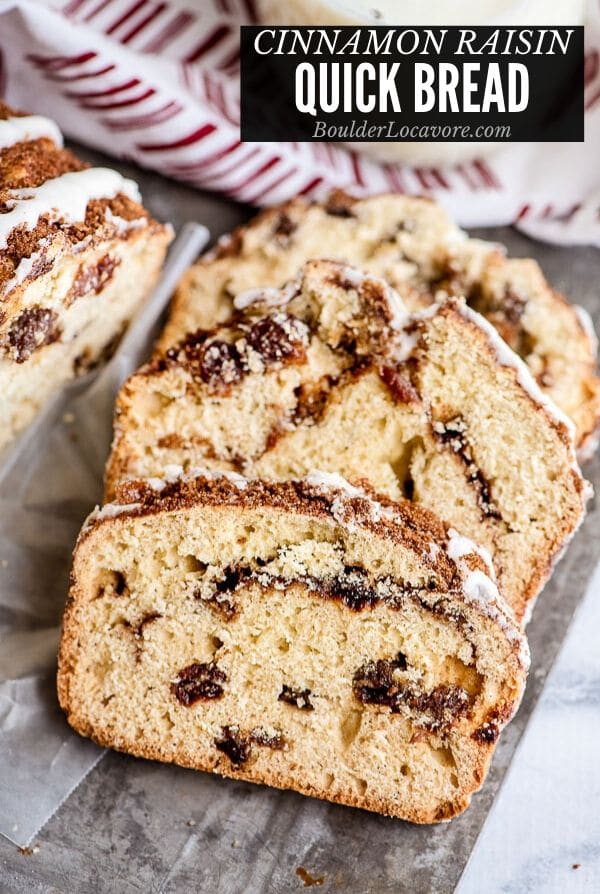 This soft homemade bread recipe is full of comforting flavors of melted butter with a cinnamon swirl.
It's fast and easy to make. A great option to toast for breakfast or snack on during the day.
The ingredients are simple and probably in your pantry right now!
What is Quick Bread?
Quick bread is a type of homemade bread that can be made 'quickly' without yeast for rising.
Typically yeast bread recipes require one to two rising cycles for the yeast to do its job.
These bread recipes take a few hours minimum to prepare and bake.
Quick breads on the other hand are fast to put together and go directly into the oven.
They are easy for all skill levels to make.
This bread recipe is no exception.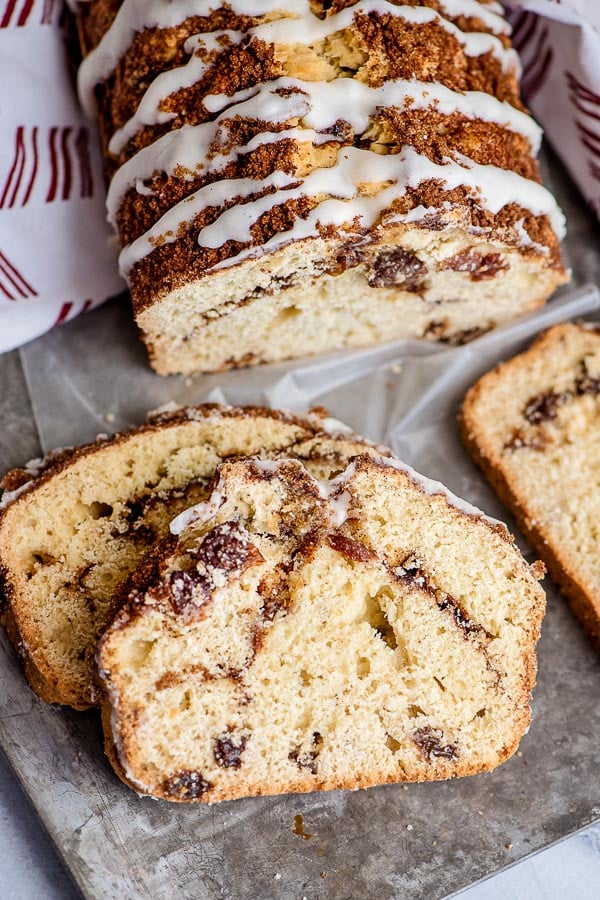 Ingredients
Unsalted Butter
Egg
Light brown sugar
Milk
All-purpose flour (regular or gluten-free measure-for-measure flour blend)
Baking powder
Baking soda
Salt
Granulated sugar
Vanilla Extract
Raisins
Cinnamon
Glaze
Powdered sugar
Heavy cream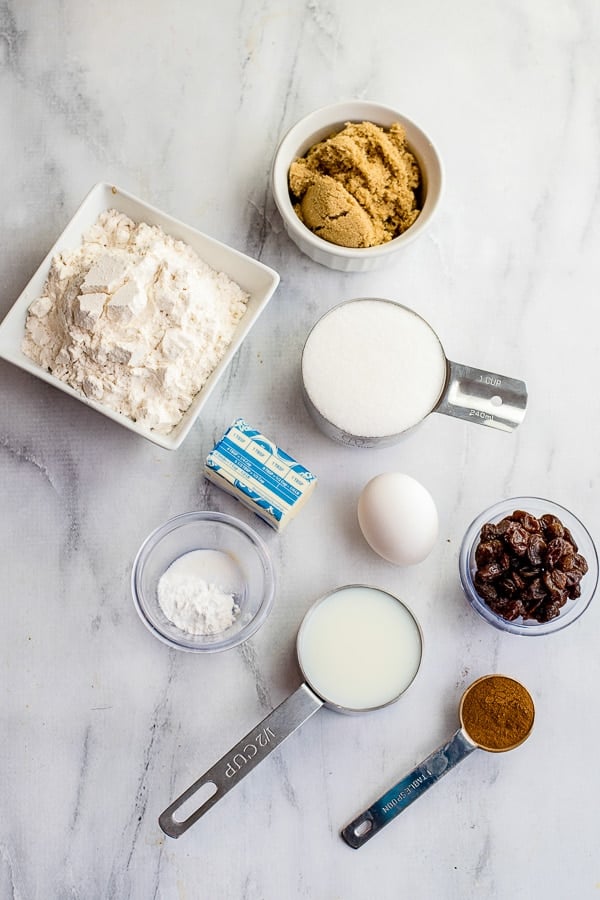 Ingredient Notes
Flour
This recipe has been tested with regular All-Purpose Flour and gluten-free flour. Both provide great results.
My recommended gluten-free flour blend is Bob's Red Mill Gluten-Free 1-t0-1 Baking Flour.
Flour measuring PRO TIP: Do not pack the flour simply spoon the flour into a measuring cup and level off.
Do this to prevent too much flour from being used.
Optional: Add Nuts
Add 1/3 cup of chopped walnuts or pecans for extra flavor and texture.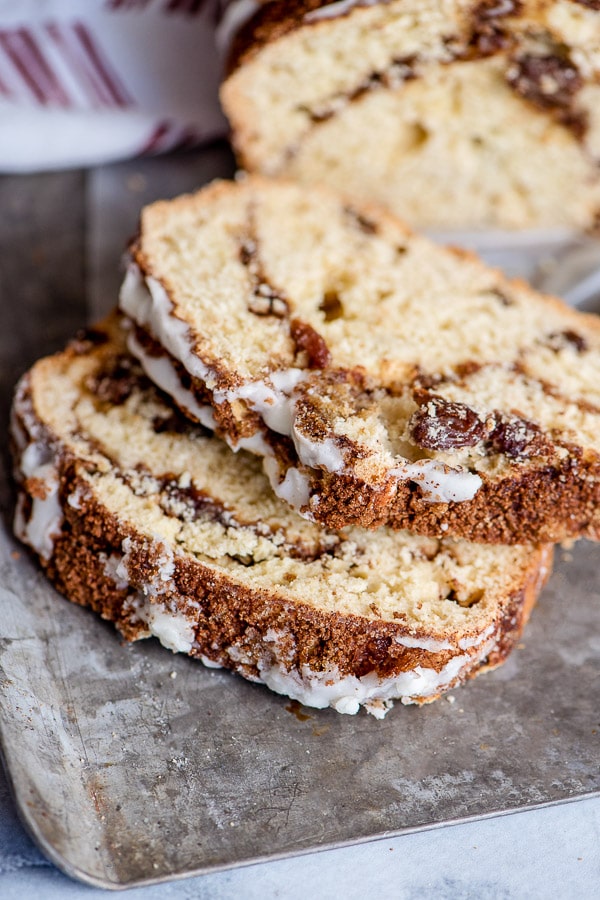 How to Make it – Step-by-Step
STEP 1: Preheat the oven to 350 degrees F. Prepare a 9-inch by 5-inch loaf pan by spraying with non-stick cooking spray.
PRO TIP: for easier removal line the bottom with parchment paper letting some over hang the sides of the pan.
STEP 2: Combine the brown sugar and cinnamon in a small bowl (photos 1-2).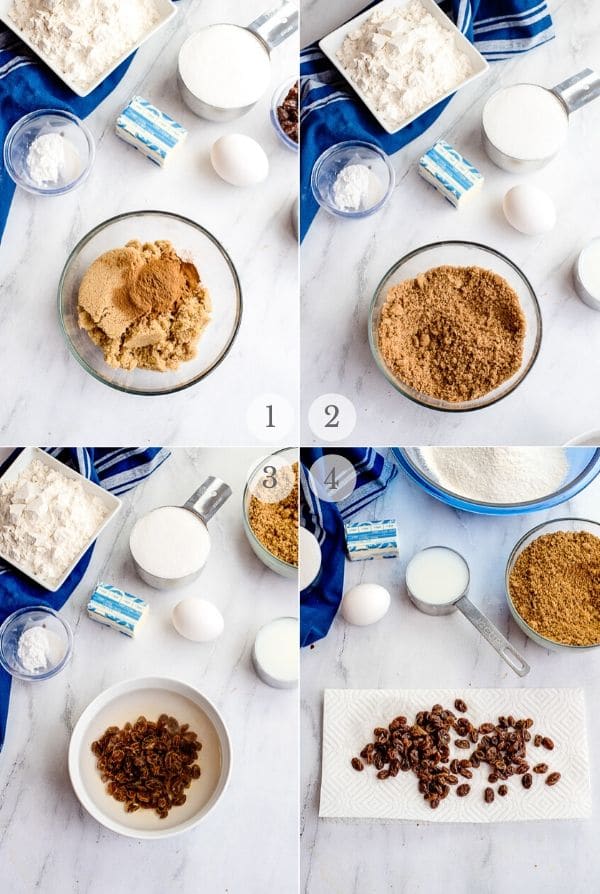 STEP 3: Combine the raisins and vanilla extract in a small bowl. Fill with boiling water leaving 1/2-inch of water over the top of the raisins (photo 3). Soak 15 minutes. Drain and put raisins on a paper towel (photo 4).
STEP 4: Place plumped raisins in a bowl with a spoonful of the brown sugar-cinnamon mixture (photo 5). Stir to combine (photo 6).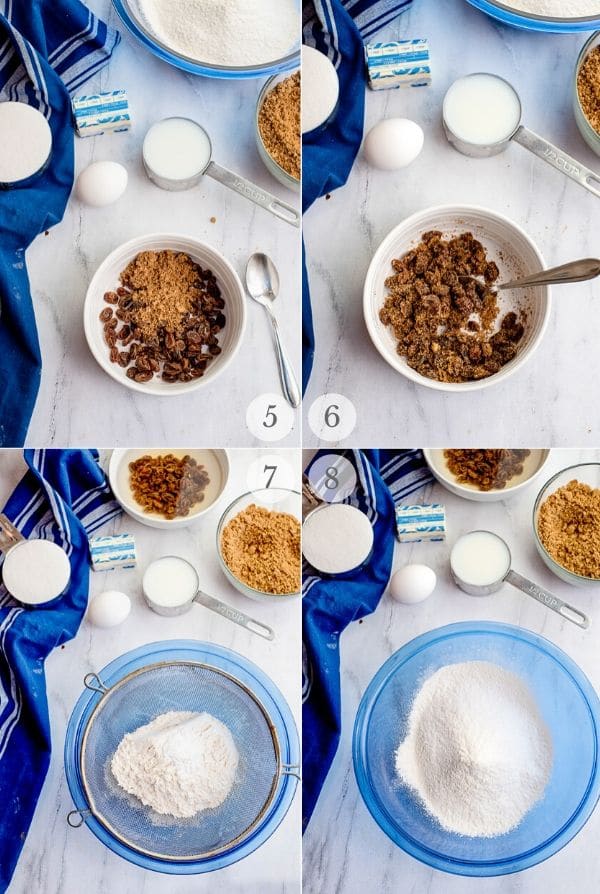 STEP 5: Sift together the flour, baking powder, baking soda and salt (photos 7-8).
STEP 6: Combine the butter and granulated sugar (photo 9). Beat until fluffy. Add the egg and beat again (photo 10).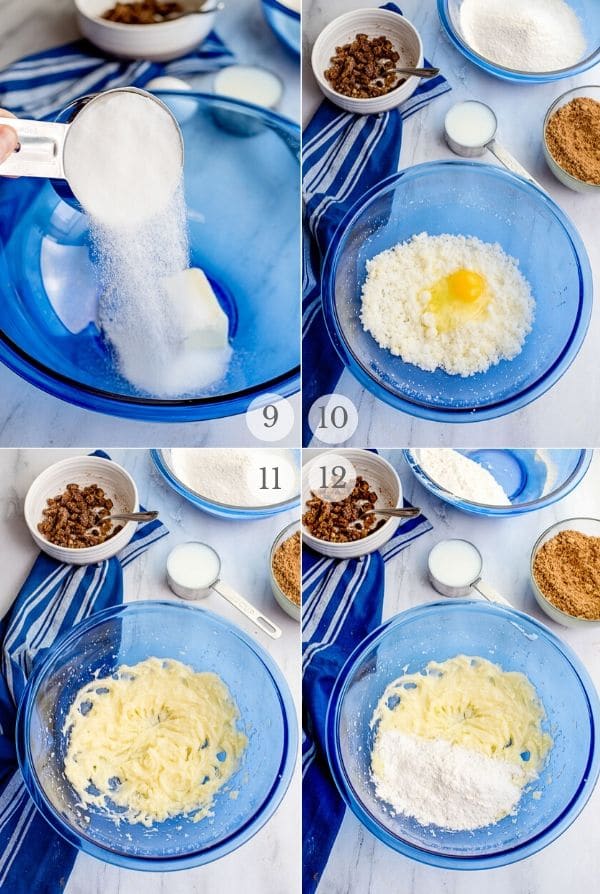 STEP 7: Slowly add the flour mixture alternating with the milk (photos 12-13). Mix just until combined (do not overmix).
STEP 8: Fold in the raisins (photos 14-15).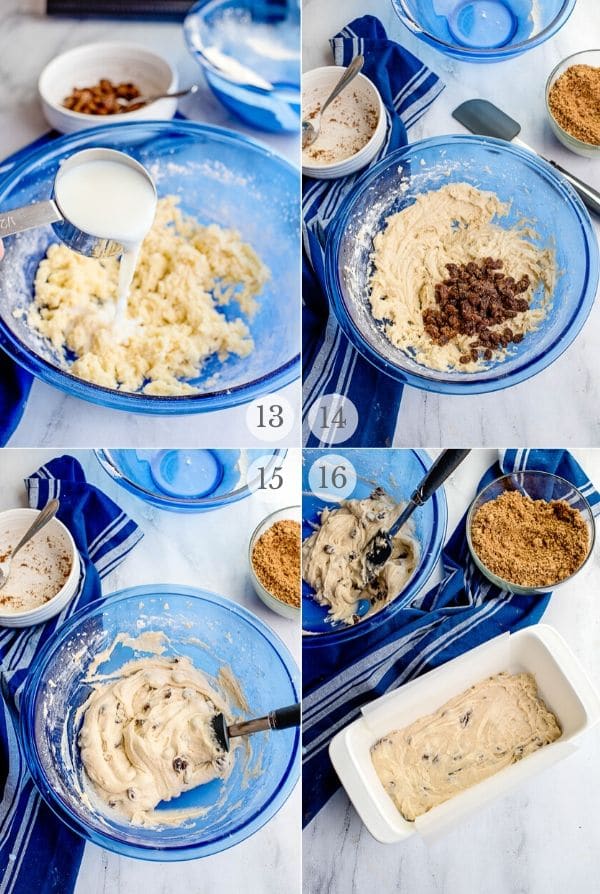 STEP 8: Layering the Ingredients
Spoon half the batter into the prepared pan. Smooth to evenly cover the bottom of the pan (photo 16).
Spoon half the cinnamon sugar mixture evenly over the batter (photo 17).
Repeat with the remaining batter (smoothing to cover the cinnamon sugar layer; photos 18-19) and the cinnamon sugar (photo 20).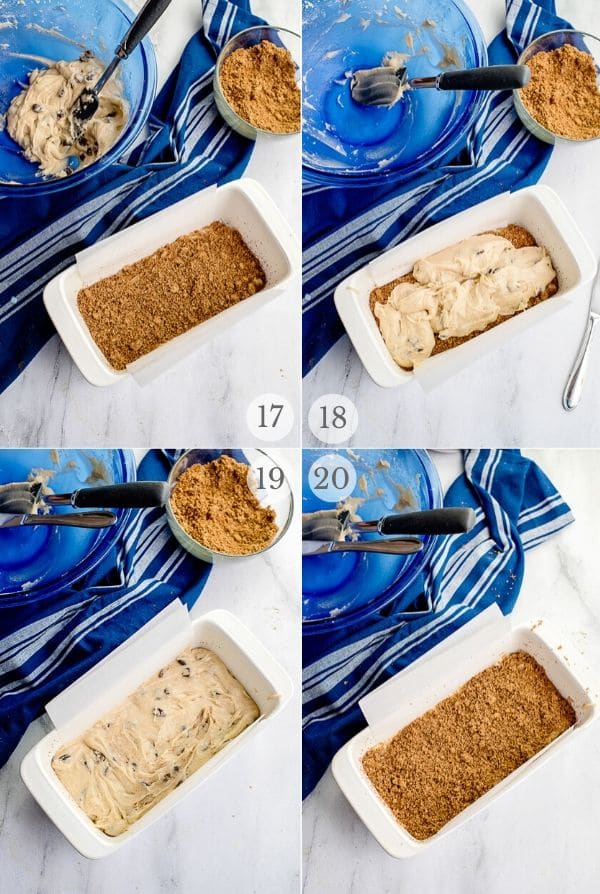 STEP 9: Bake for 60 minutes or until a toothpick inserted comes out clean. The top will be golden brown.
PRO TIP: Bake immediately after combining the ingredients! Do not let the batter sit.
STEP 10: Allow the baked homemade bread cool in the pan for 10 minutes. Remove from pan and let cool 1 hour on a wire rack before glazing.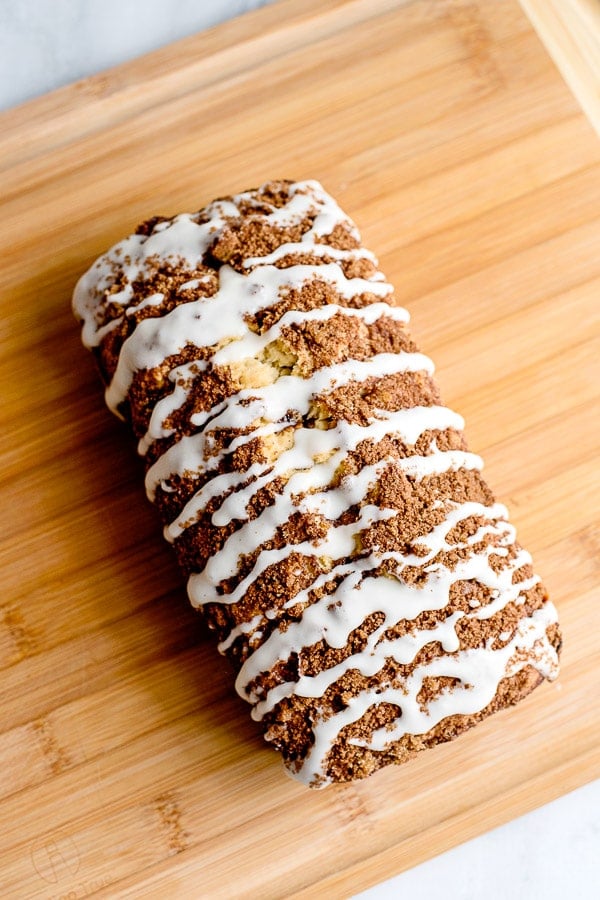 Glazing the Quick Bread
Line a rimmed baking sheet with foil.
Place the cooling rack with the quick bread on top of the baking sheet.
Mix the glaze as noted in the recipe card below.
Scoop a spoonful of glaze and allow it to slowly drizzle over the bread as you move the spoon back and forth over the top of the bread from side to side.
This allows even glazing. Excess glaze will drip into the pan below so the bread does not get soggy sitting in it.
PRO TIP: start drizzling the glaze just next to the bread to create an even glaze.
After the glaze hardens, remove the baking sheet, and discard the foil.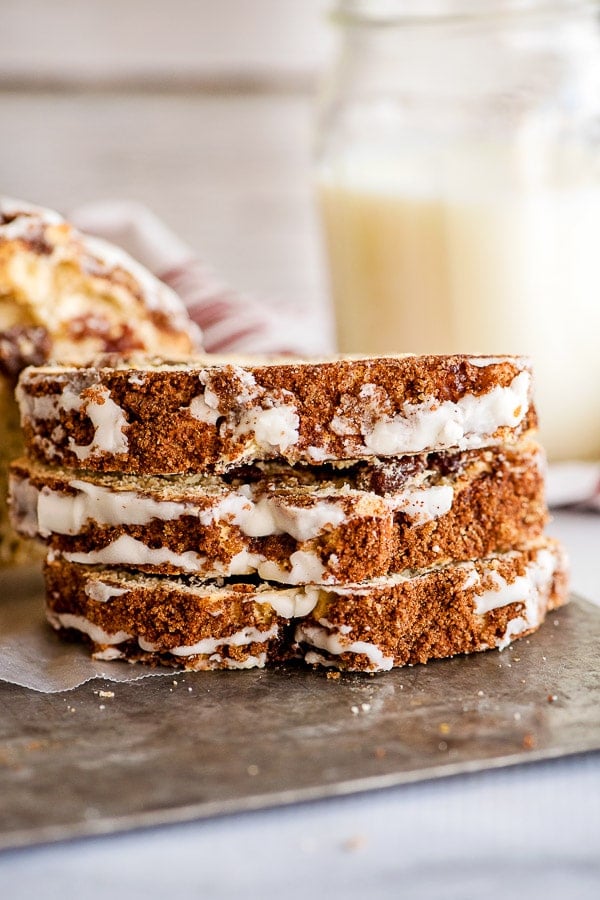 Use Suggestions
Eat it sliced
Toast it and add butter
Use it for French Toast
Make Bread Pudding with it
How to Store
At Room Temperature
Wrap tightly in plastic wrap and store at room temperature for up to 3 days.
In the Freezer
Wrap the fully cooled homemade bread tightly in plastic wrap. Place in a freezer bag or wrap with foil.
Freeze for up to 3 months. Thaw in the refrigerator.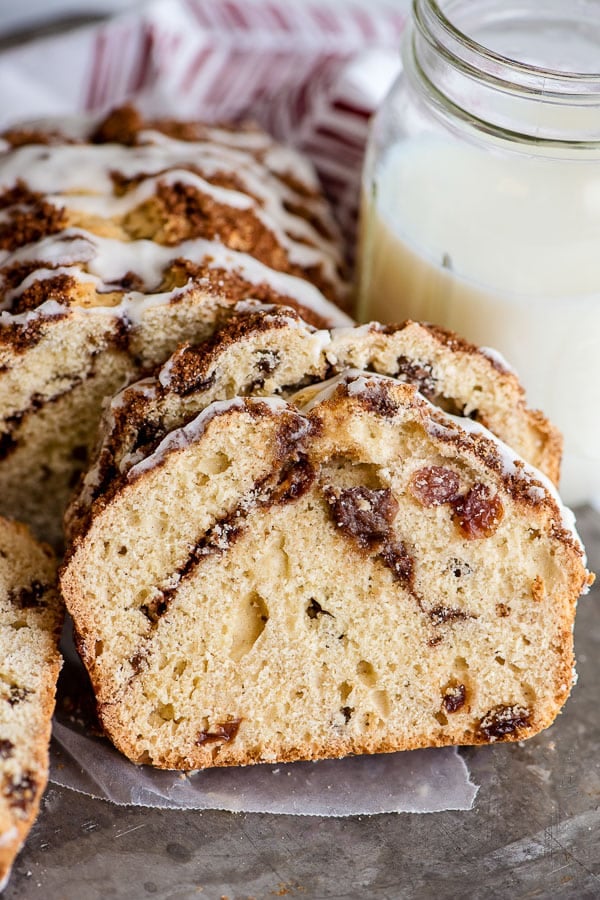 More Homemade Bread Recipes You'll Love
Try these Muffin Recipes too!
Did you make it? Please RATE THE RECIPE below!
Please SUBSCRIBE and FOLLOW ME on FACEBOOK , TWITTER , INSTAGRAM and PINTEREST !