Coconut Chicken Curry is a delicious, slightly spicy curry recipe. Creamy curry with the exotic flavors of the Seychelles Islands. A gluten-free dinner that comes together quickly and easily.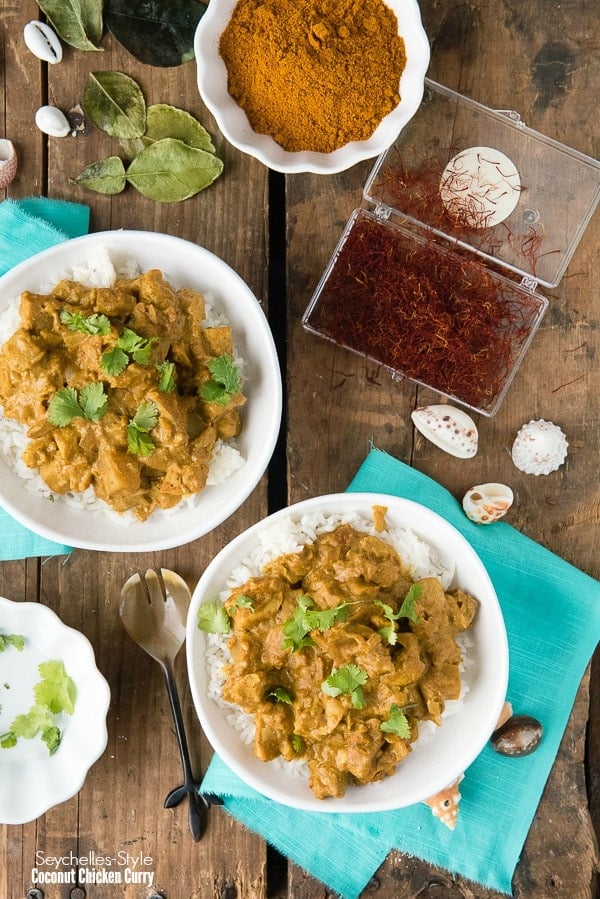 Spring has recoiled a bit in Colorado so what was feeling like a path headed for sleeveless spring Easter frocks and planting seeds for our late spring and early summer gardens has turned back toward toasty fires and down jackets for the time being. It very well may be altogether different tomorrow! I find my food cravings ebb and flow at this time of year with the seasonal changes too. One day it's salad, the next day soup; and round and round we'll go until May most likely.
Warm-Spiced Coconut Chicken Curry
Today's recipe is a bit of a hybrid. Well, sort of. Seychelles-Style Coconut Chicken Curry. I would gladly eat curry all year round and love exploring the different origins which each bear slightly different spices. It's a warming, deeply spiced dish however this version is from a tropical paradise! I shared an authentic Nonya Curry early on which was a take home recipe from my time living in Singapore. I've other curry recipes such as Chicken and Corn Curry, The Best Butternut Squash Curry, and Slow Cooker Thai Red Chicken Curry with Coconut Milk because I love the flavors so much. This curry is another to add to your collection.
Seychelles-Style Coconut Chicken Curry recipe was actually thanks to a French class project of my high school daughter and a classmate. She has taken six years of French and her current teacher (who is French) prompted the students to pick a food from a French-speaking country, make it while creating a video (in French) of them cooking it including facts about the country, and then they would all share the foods they make in class.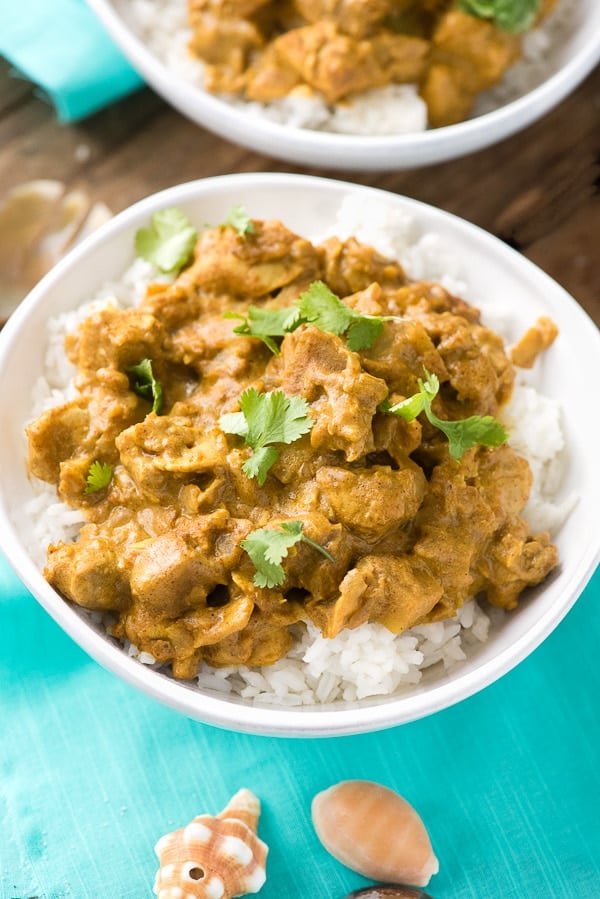 My daughter chose the Seychelles, which turned out to be both fascinating and a challenge to nail down a recipe with ingredients we could find locally. I should back up and share that the Seychelles are a series of 115 islands of the east coast of Africa; north of Madagascar, directly east of Tanzania and Kenya and is a beachy, tropical location. The cuisine is influenced by England, China, India, France and Africa with flavors of ginger, tamarind and coriander being prominent in their recipes. Locals tend to eat from the indigenous bounty of fresh fruits, fish (which includes shark), and even bats (though apparently not endangered bat species; love turning a school project into a blog post).
Coconut chicken curry is made very similarly to many curries; sautéing onions, garlic and ginger, adding the spices and allowing those to become fragrant before tossing in the main protein. There is nothing that smells better in a kitchen (if you love curry!). The main thing differentiating this curry are the spices. Many are common, but there are some additions to make 'four spice' (or quatres éspices), and a pinch of saffron that greatly adds a signature flavor.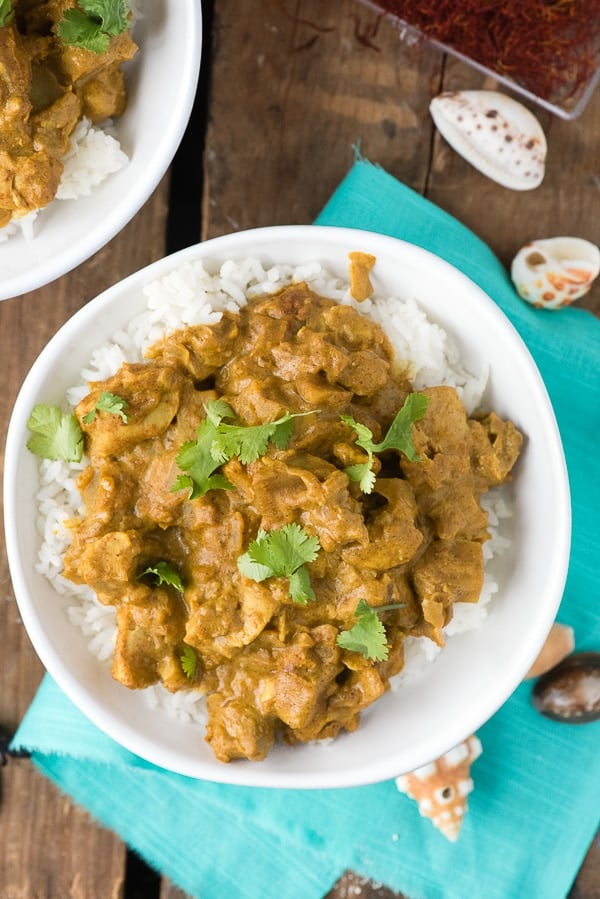 We changed a few things to make a version of this coconut chicken curry recipe stay on the course of an authentic Seychelles-style curry, but to be able to be made with more available ingredients. Cinnamon leaves are often used and we added cinnamon to the curry and used a bay leaf which is a close substitute. For curry leaves we used a Kaffir lime leaf. They can be found at most Asian grocery stores and have a distinct lime-life flavor often found in Thai food. If that is not available to you, the zest of half a lime may be substituted as well. Lastly we broke down the individual spices found in quatres éspices, a staple in many French kitchens; white pepper, nutmeg, ground ginger and ground cloves.
How to Make Coconut Chicken Curry:
Note: Saffron is a bit pricy, but a little goes a long way. Store well covered in a dark, cool, dry area.
More Recipes You'll Love!
Recipe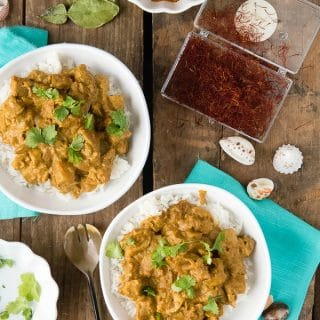 Ingredients
2

tablespoons

Canola Oil

1

medium White Onion

, peeled and chopped

3

Garlic Cloves

, peeled and diced

1

teaspoon

diced fresh Ginger Root

1

tablespoon

White Pepper

¼

teaspoon

ground Cloves

1

teaspoon

ground Ginger

1

teaspoon

grated Nutmeg

(freshly grated if possible)

¼

teaspoon

ground Cinnamon

3

tablespoons

Curry Powder

(preferably Madras Curry Powder)

1

small pinch Saffron

1

Bay Leaf

1

Kaffir Lime Leaf

8-

ounce

Russet Potato

, peeled and cut into ¾ inch cubes

½

pound

boneless

, skinless Chicken Breast (usually 1 medium-large breast), cut into small cubes

1

pound

boneless

, skinless Chicken Thighs, cut into small cubes

12

ounces

Coconut Milk

½

teaspoon

(or more as needed) Kosher Salt to taste

6

cups

prepared White Rice
Instructions
In a large heavy pot with lid, heat the oil over medium high heat. Add the onions and saute until semi-translucent; about 3 minutes.

Add the garlic, fresh ginger, white pepper, cloves, ground ginger, nutmeg, curry powder, saffron, bay leaf and kaffir lime leaf. Stir over medium heat and allow to cook for 2 minutes to release the aromatics of the spices.

Add the potatoes and chicken; coat fully with the spices. Cover and cook for 5 minutes, stirring once or twice during the cooking time.

Pour in the coconut milk, lower heat to low, cover and allow to simmer for 20 minutes.

Remove the lid, stir and allow the mixture to cook an additional 15 minutes until creamy.

Remove the bay leaf and Kaffir lime leaf before serving and salt to taste. Serve over steamed rice.
Nutrition
Calories:
412
kcal
|
Carbohydrates:
41
g
|
Protein:
23
g
|
Fat:
17
g
|
Saturated Fat:
9
g
|
Cholesterol:
53
mg
|
Sodium:
55
mg
|
Potassium:
600
mg
|
Fiber:
2
g
|
Sugar:
0
g
|
Vitamin A:
20
IU
|
Vitamin C:
3.9
mg
|
Calcium:
44
mg
|
Iron:
5.2
mg