Whether for a chilly day, Meatless Monday or craving exotic spices of the Far East, Slow Cooker Spicy Madras Vegetable Curry with Coconut Milk will liven up your dining table. Hearty and filling, you'll love the flavors, aromas and textures of this recipe.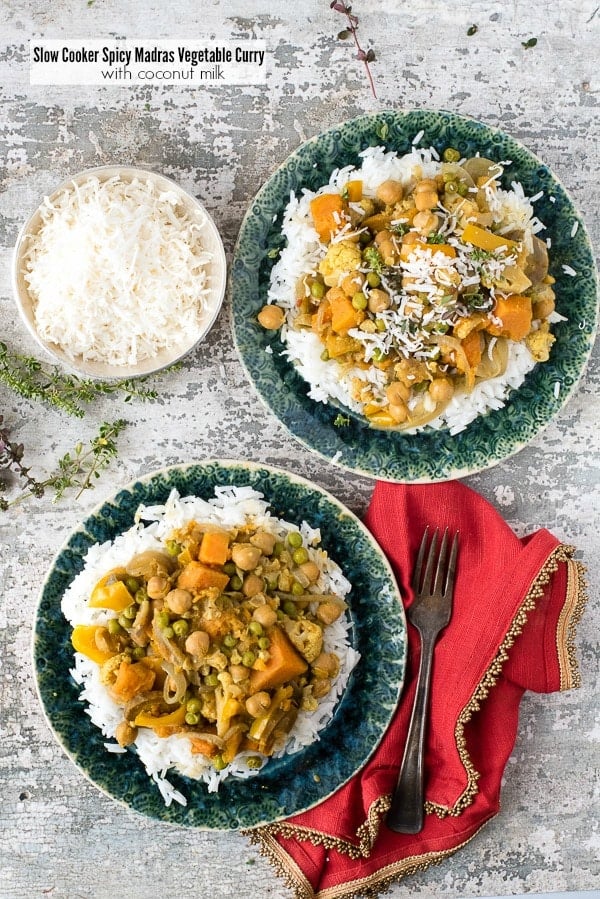 This post is shared as part of Boulder Locavore's ongoing partnership with Silk, exploring healthy lifestyles choices and exciting plant-based dietary options. All opinions are my own.
We are rolling into the comfort food season and for me that often signals installing my slow cooker on the counter top for the winter. One of my lifetime favorite comfort foods is curry and it's a perfect partner with a slow cooker. Hours of exotic spices simmering will produce an alluring, fragrant dish to warm even the coldest of days.
My youngest memories of curry were of a chicken curry sporting a bright yellow tone severed over white (enriched I'm sure) rice with loads of condiments to sprinkle on top. Peanuts, shredded coconut, dried onions, chutneys, relish, and raisins created a wonderland of flavors and textures.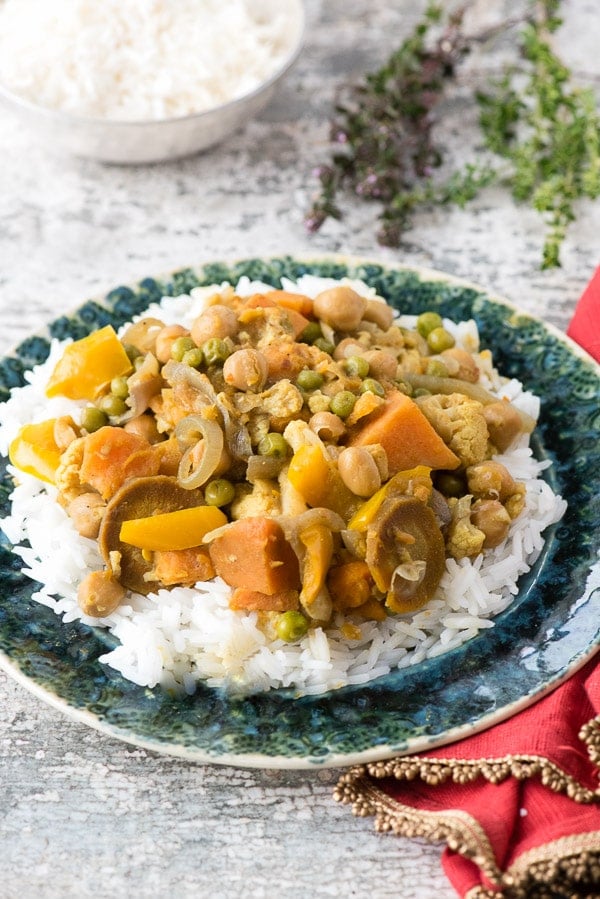 Shortly out of college I was working with a high tech company and moved to Singapore. When living in Singapore I had my real education about curry. Singapore was divided equally between Indian, Malaysian and Chinese cultures, with the Malay and Indian cuisines each boasting multiple types of curries. I realized curry powder as I had known it was a dumbed down version of a spice flavor without the depth one finds in traditional curries, which each have their own spice blend to make the curry flavoring.
Exploring curry on the food scene became my raison d'etre and whether at the hawker centers trying every food stall or the finer restaurants, I tried all the curry I could find. I brought home local curry recipes and friends have continued to bring me curry powders when traveling to Asia.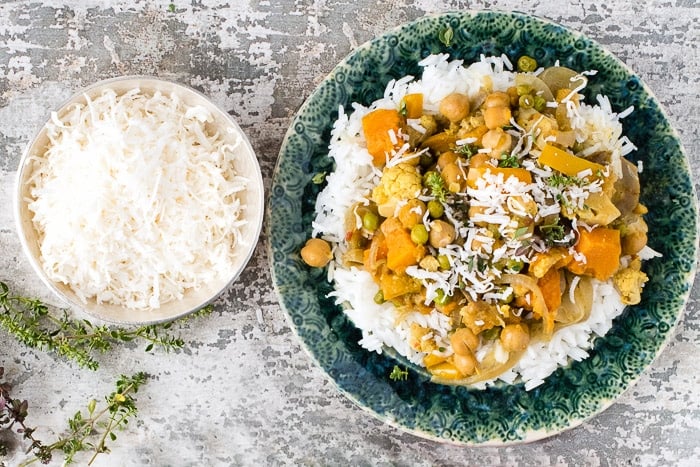 The reality is that most of us don't have extra time to whip together curry powder from scratch, and that's ok. There are classic blends available at many stores to enjoy a deeply flavorful curry. Madras Curry Powder originated in India and is a hotter variety of curry powder using chili powder as a key ingredient. It makes a very warming dish which I love in a vegetable curry.
Coconut milk is often used in curries providing a silky, smooth, cooling aspect to the blended flavors. I used a sweetened coconut milk finding a bit of sugar or sweetness is a wonderful offset to the spicy, savory flavors. A mix of sweet potatoes, cauliflower, bell pepper, onion, garbanzo beans and more make a hearty and filling dish.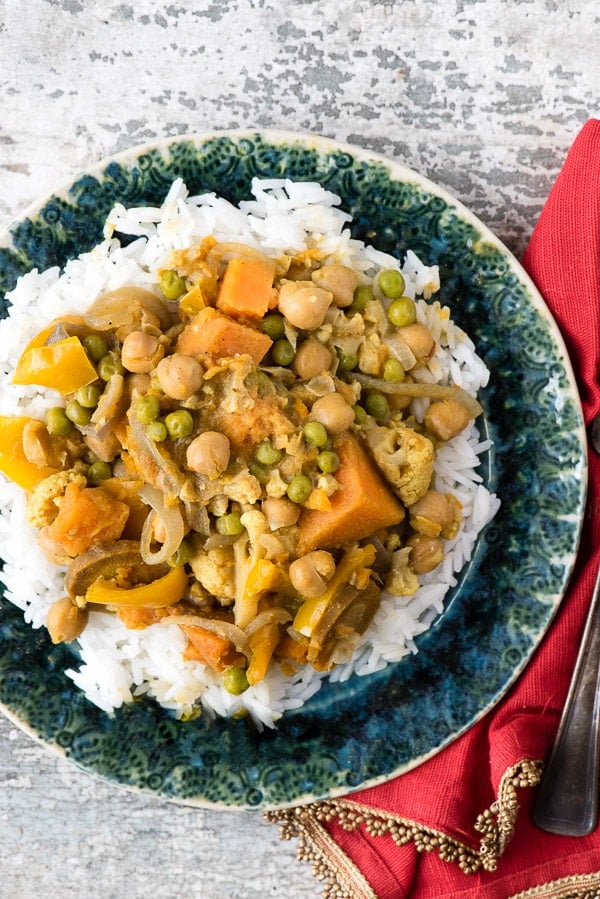 Additional spices are added to the curry to bolster the flavor and spicy flavor signature. Should you prefer a more tame curry, decrease the Madras Curry Powder by half. Adding a bit of yogurt to the serving will lessen the heat too (traditionally dairy yogurt is the trick though I have read non-dairy yogurt also works).
A wonderful accompaniment for this curry recipe is homemade Quick Fresh Peach Chutney.
More Recipes You'll Love!
Recipe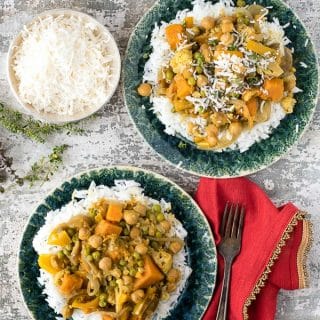 Slow Cooker Spicy Indian Vegetable Curry with Coconut Milk
This easy slow cooker recipe will fill the kitchen with wonderful aromas before filling the dinner plates of grateful diners.
Print
Save Recipe
Recipe Saved!
Pin
Rate
Ingredients
1

large Sweet Potato

(1 pound), peeled and cut into ¾-inch cubes

¼

cup

Madras Curry Powder

2

tablespoons

Cornstarch or Arrowroot Starch

¼

teaspoon

Cayenne Pepper

1

teaspoon

Crushed Red Pepper Flakes

1

large Yellow Sweet Pepper

(or any other color)

1

medium Red Onion

, halved and sliced into 1/4 -inch thick slices

1

medium head Cauliflower cut into florets

(or bite size pieces)

1

large Carrot

, peeled and sliced into 1/8-inch slices

4

medium Garlic Cloves

, diced

1 1-

inch

piece Ginger Root

, peeled and diced

1 25-

ounce

can Garbanzo Beans

, drained

2

cups

Silk Original Coconut Milk*

1

cup

frozen Peas
Instructions
Place the sweet potatoes on the bottom of large (7 quart) slow cooker.

In a small mixing bowl, combine the curry powder, cornstarch or arrowroot starch, cayenne, and red pepper flakes. Mix together and sprinkle onto the sweet potato cubes in the slow cooker.

Layer on top the sweet pepper, onion, cauliflower, carrot, garlic, ginger, garbanzo beans and the coconut milk. Set the slow cooker to HIGH heat for 3 ½ hours. Stir a few times during the cooking to coat the vegetables with the liquid.

At 3 ½ hours add the peas and stir into the curry. The curry is done when the sweet potatoes and carrots are cooked (usually 3 ½ hours or a bit longer).
Nutrition
Calories:
273
kcal
|
Carbohydrates:
30
g
|
Protein:
8
g
|
Fat:
15
g
|
Saturated Fat:
11
g
|
Cholesterol:
0
mg
|
Sodium:
292
mg
|
Potassium:
604
mg
|
Fiber:
9
g
|
Sugar:
3
g
|
Vitamin A:
4370
IU
|
Vitamin C:
36.5
mg
|
Calcium:
98
mg
|
Iron:
5.8
mg