Creamy Shrimp Curry is a fast and easy dinner recipe any night of the week. Perfectly seared shrimp in a creamy homemade tomato curry sauce delicious over rice, noodles or pasta is a meal everyone loves!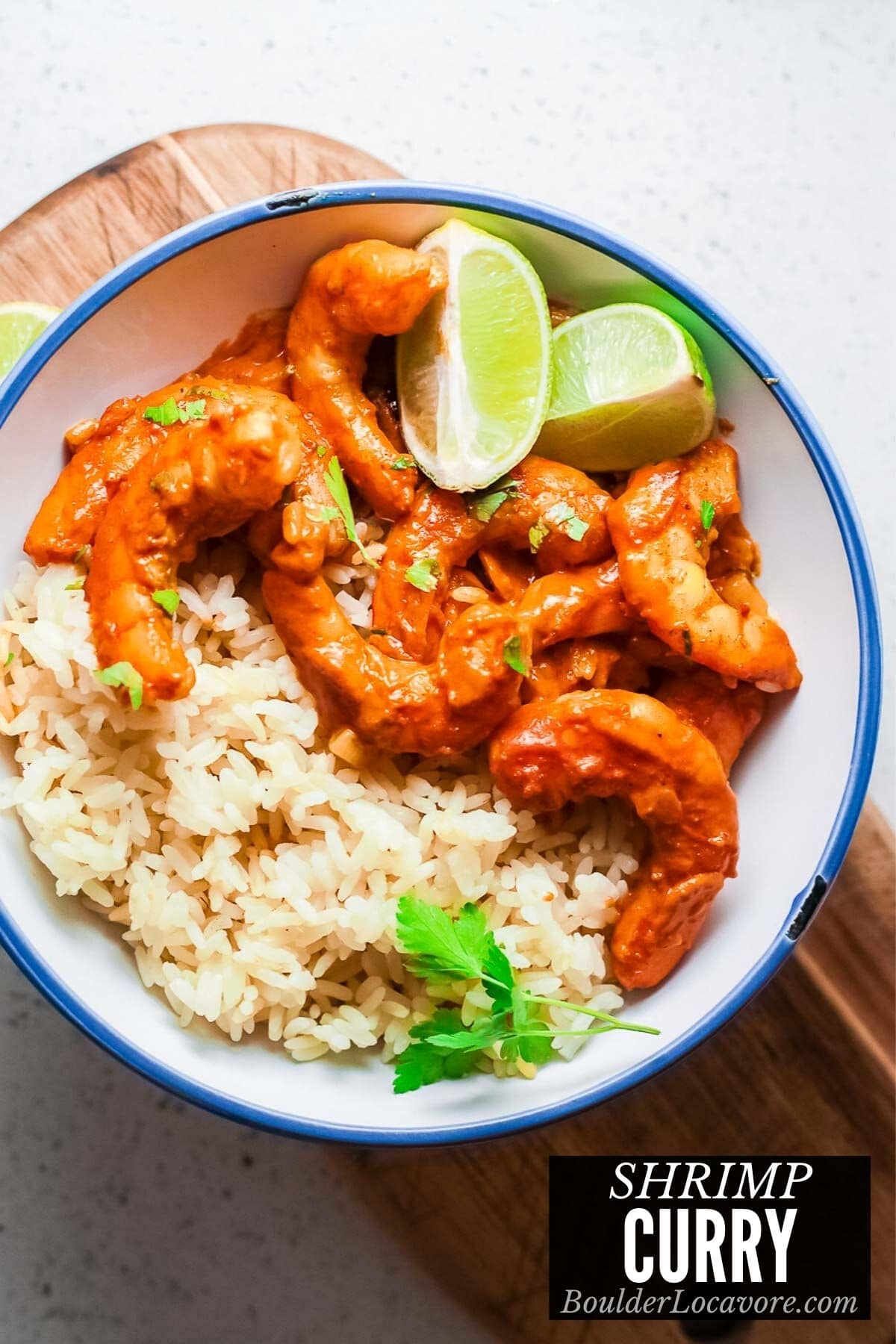 You don't need to go out to a restaurant to enjoy rich Shrimp Curry at home.
Full of large delicious shrimp in a creamy tomato curry sauce that's completely homemade. Ready in about 30 minutes!
Coconut cream can be used to give it a coconut curry flavor too!
Enjoy it as is with some naan bread or add some chutney on the side!
Easy Shrimp Curry recipe
The great thing about this recipe is that it cooks quickly and isn't complicated!
Because it is a cream-based curry sauce the curry flavor isn't overly spicy or super strong.
Just right to match with the lighter flavor of shrimp.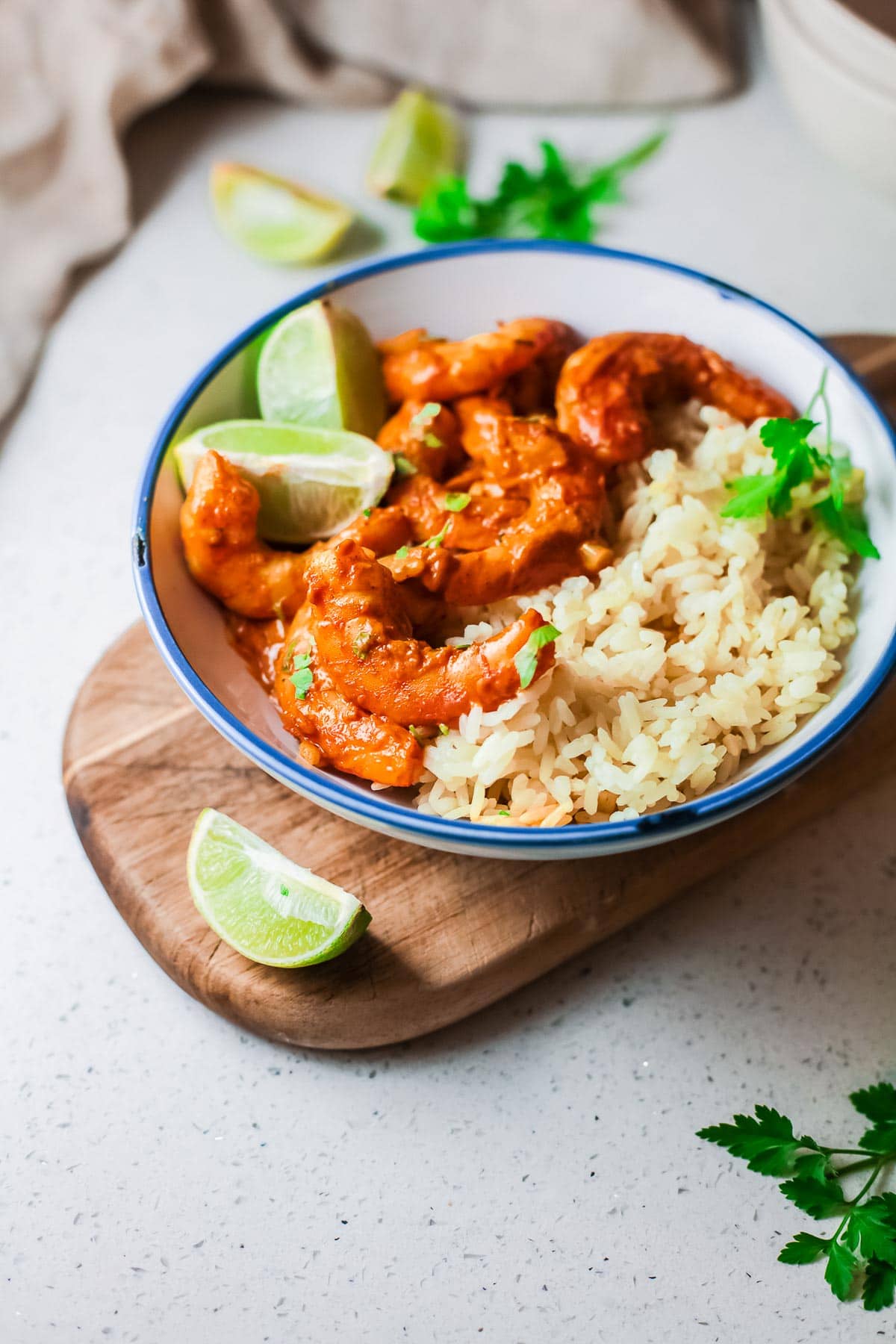 Recipe Ingredients + Notes
Olive oil. Used to sear the shrimp and again in making the curry sauce.
Shrimp. Use medium size, raw, peeled and deveined shrimp. It can have the tail removed or left on however you prefer.
If it is left on diners will need to remove it while eating by hand or with a fork and knife.
See more notes below on shrimp sizing.
Spices:
Curry powder. There are many different types of curry powder with differing heat levels. Unless you have a personal favorite specific type curry powder use the curry powder found with the spices in the grocery store.
Chili powder. Just a pinch is used both when searing the shrimp and in the curry sauce.
Ground coriander. Be sure to use ground coriander not whole seed.
Turmeric. This is the brilliant yellow spice that gives curry loads of color. It also stains! Handle it carefully and wash hands after using it if it touches your skin.
Cinnamon. A pinch boosts the flavor of the curry.
Salt. Added at the end after tasting to the whole batch of curry or individual diners can salt their servings.
Red onion. This will be sautéed for the curry.
Garlic cloves. Fresh garlic adds a great depth of flavor without being too garlicky.
Passata. Passata is a seedless Italian tomato sauce (not seasoned) and is sold in bottles at the grocery store. Regular tomato sauce can also be substituted but it should not have any seasonings in it.
Brown sugar. Just a teaspoon is added with the spices to add a hint of sweetness. It doesn't make the curry sweet but actually bolsters the intensity of the other spice flavors. It's an old spice trick!
Heavy cream or coconut cream. This is added at the end to make the curry sauce creamy. Regular heavy cream will do this without adding a distinct flavor. If you'd like to add some coconut flavor the coconut cream works great.
Garnishes: lime wedges and torn/chopped cilantro. Serving a lime wedge with the shrimp curry lets diners add a squeeze themselves before eating. It looks pretty too!
Tips on Shrimp Size
When you buy shrimp you'll notice a number associated with the size. This is the estimated number of shrimp in one pound.
So the larger the number the smaller the shrimp. And the smaller the shrimp will be larger.
This helps to know when buying shrimp.
The recipe uses medium shrimp around 26-30 count (so that many per pound).
Variations
Use chicken instead of shrimp. Try boneless chicken breast or chicken thigh instead of shrimp! Follow the same directions just using chicken.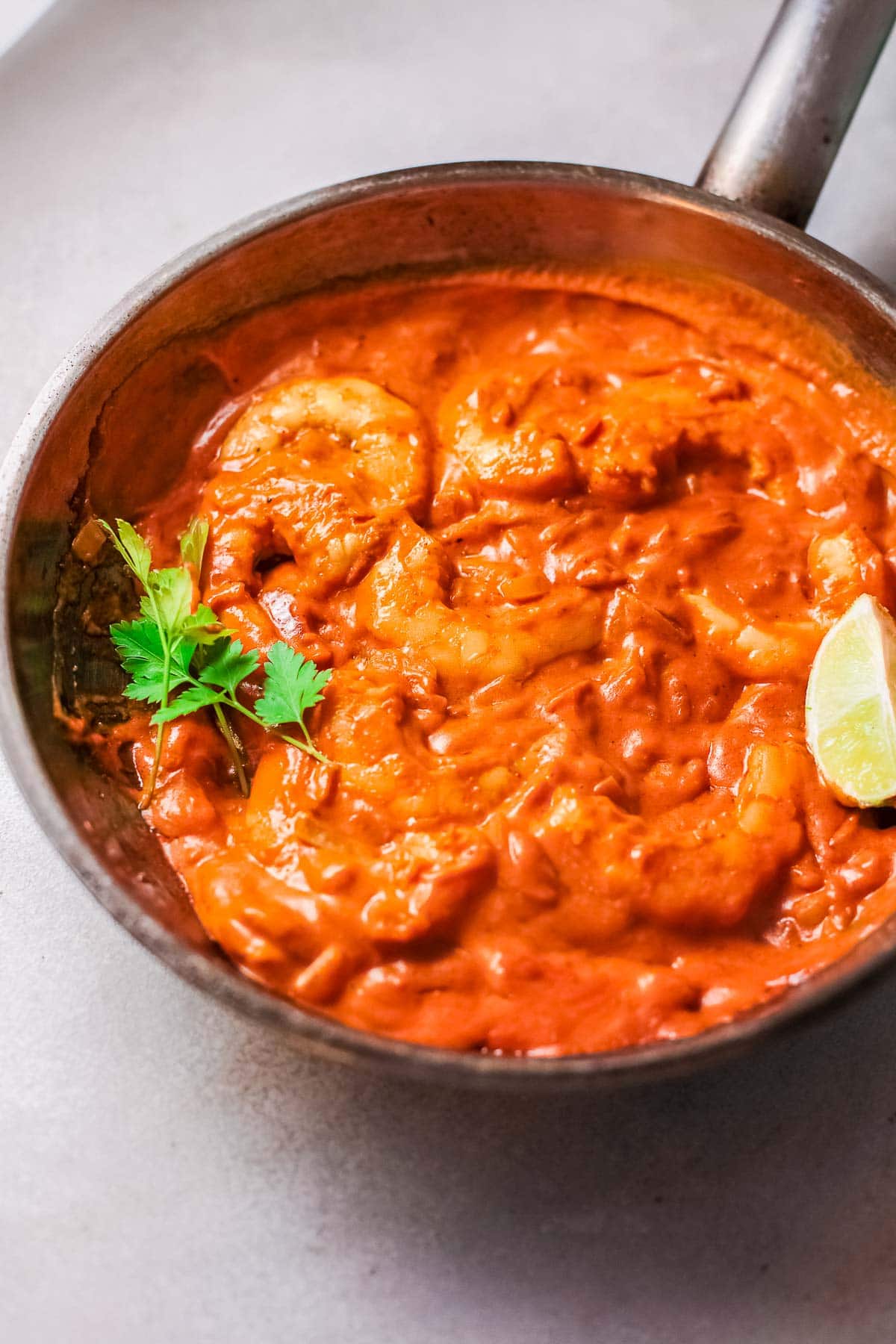 Tips for Cooking Shrimp
Shrimp is very lean and cooks very fast. If cooked too long it become rubbery.
It should be cooked just until it's done and no longer.
When it is seared in the first stage of this recipe it should turn from translucent gray to opaque (you can't see through it) whitish or pinkish in color.
It may not be cooked all the way through at this step depending on the size of the shrimp used and how crowded the pan is. That's ok!
In the final step the shrimp is added back with the curry sauce.
It will simmer for a few minutes until the shrimp is cooked through (it may be cooked from the first step).
You'll know it's done from the color change (compare photos 1 and 2 below).
How to Make it – Step-by-Step
STEP 1. Sear the shrimp.
Heat 2 tablespoons of the olive oil in a heavy large skillet or Dutch oven.
Add the shrimp, 1 teaspoon of the curry powder and pinch of chili powder (photo 2).
Cook for 1 minute and flip the shrimp over. Cook 1 minute on the opposite side (photo 3).
The shrimp should just turn opaque/white. They will cook longer with the curry sauce later.
Remove from the pan and set aside.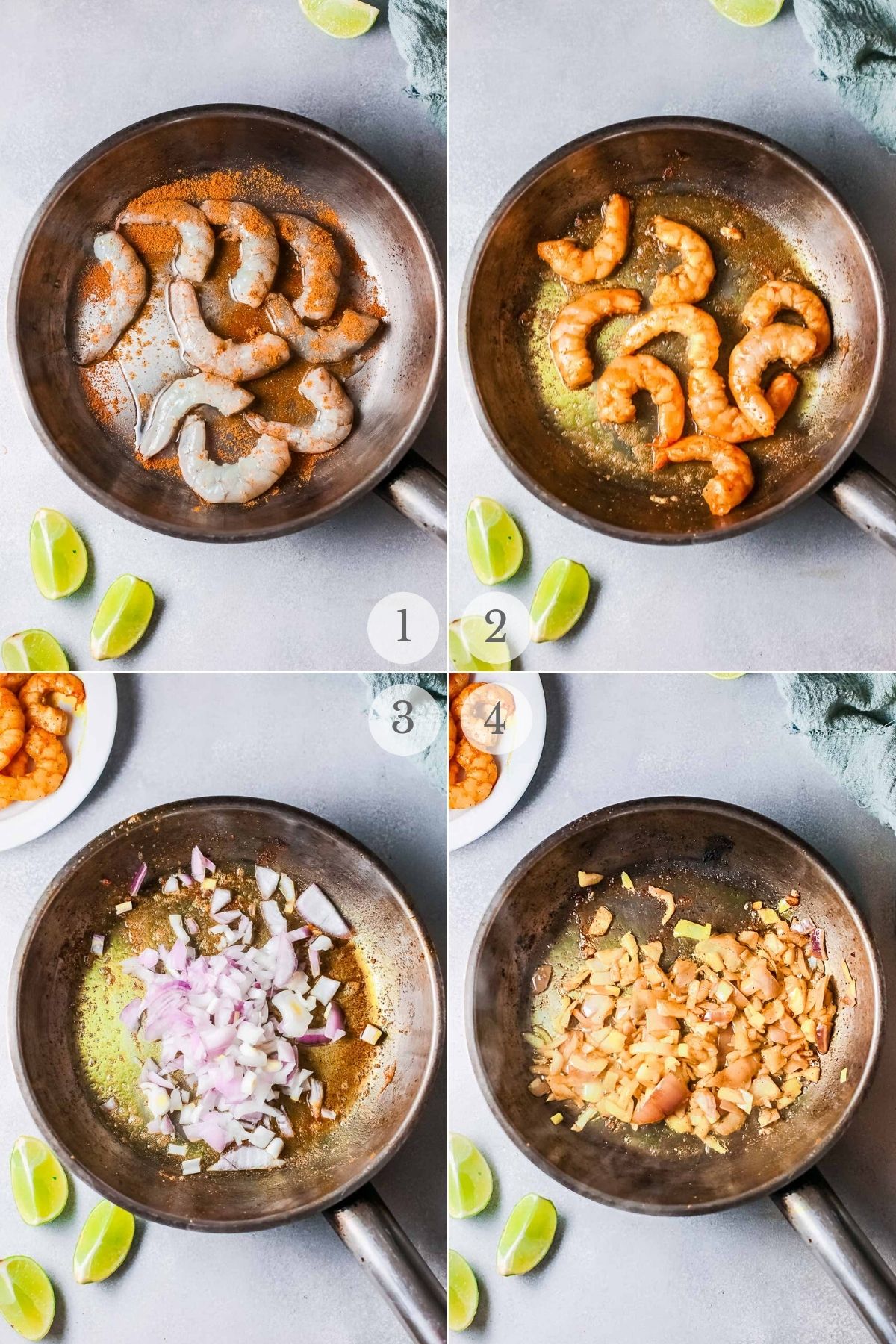 STEP 2. Make the Curry sauce.
In the same pan add the remaining olive oil. Add the onions (photo 3) cook over medium-high heat. Sauté until translucent (photo 4) aproximately 5 minutes.
Add the garlic and sauté 1 minute. Reduce heat to medium-low.
Add the passata (or tomato sauce), spices and sugar (photo 5). Cook for 6 minutes stirring occasionally (photo 6).
Stir in the heavy cream (photo 7) and bring to a gentle simmer.
Add the shrimp, toss to coat and simmer just until the shrimp is cooked through (should be just a few minutes at the most – do not overcook). Photo 8.
Salt to taste or allow diners to salt their serving.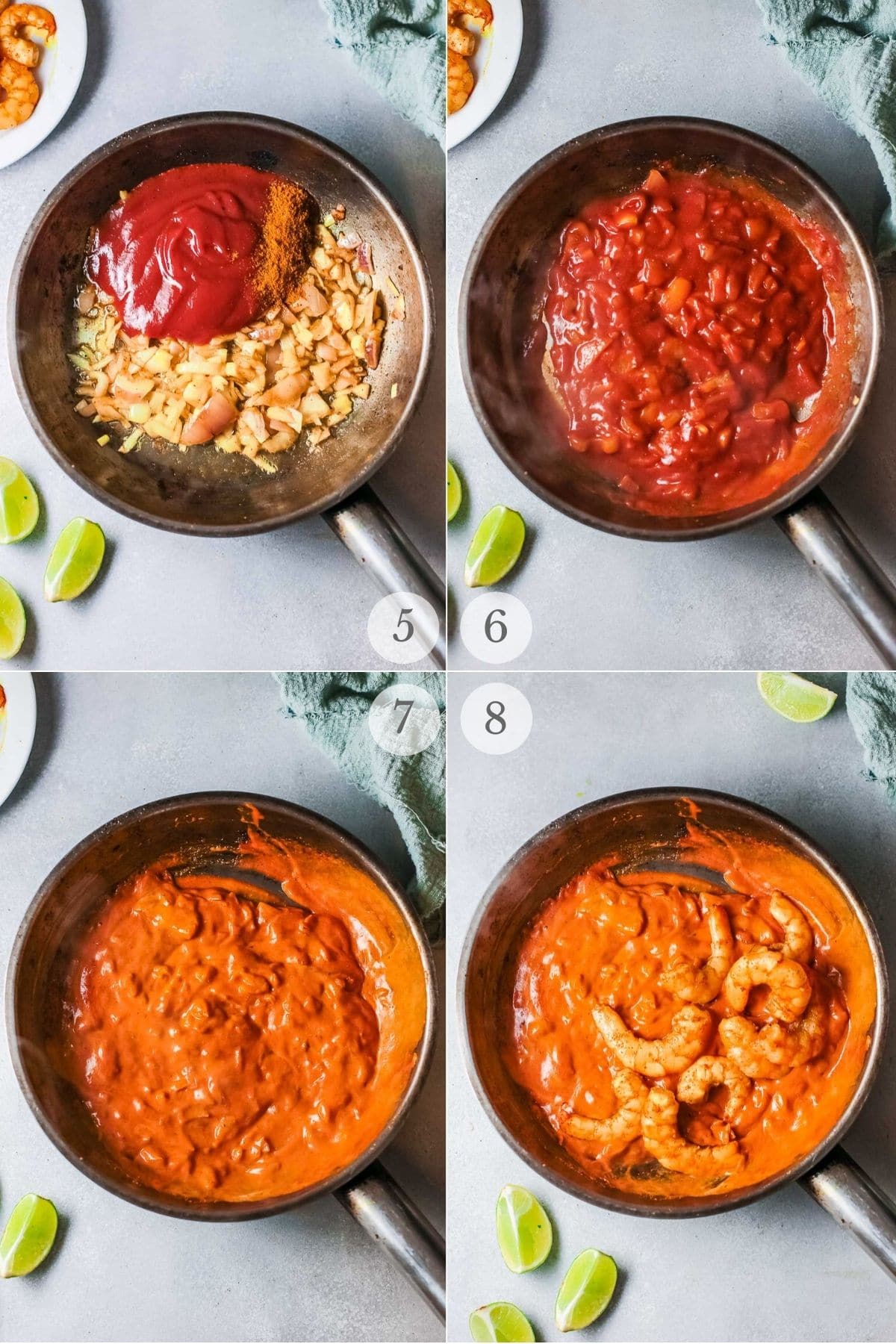 STEP 3. Garnish and serve!
Serve the shrimp curry over rice, noodles or pasta.
If serving with rice use basmati rice, brown rice or try Coconut Rice with Turmeric, Coconut Lime Jasmine Rice or Instant Pot Coconut Lime Jasmine Rice.
Garnish with chopped fresh cilantro and a lime wedge to squeeze some lime juice over the curry. Serve with some naan bread!
Recipe FAQs + Pro Tips
Are shrimp and prawns the same thing?
They are different but very similar. Shrimp are saltwater creatures where prawns live in freshwater or brackish water (saltwater mixed with fresh water).
They have slightly different body structures and prawns are usually larger than shrimp.
Prawns taste a bit sweeter and usually are a bit more expensive than shrimp.
Is prawn curry the same as shrimp curry?
Curry with either prawns or shrimp will be similar and usually shrimp can be swapped into a prawn curry , and visa versa when using larger shrimp.
Don't overcook the shrimp. This is key for the best results. Watch for the color change!
Storing Leftovers
Store any leftovers in an airtight container in the refrigerator for up to 2 days.
Reheat in the microwave.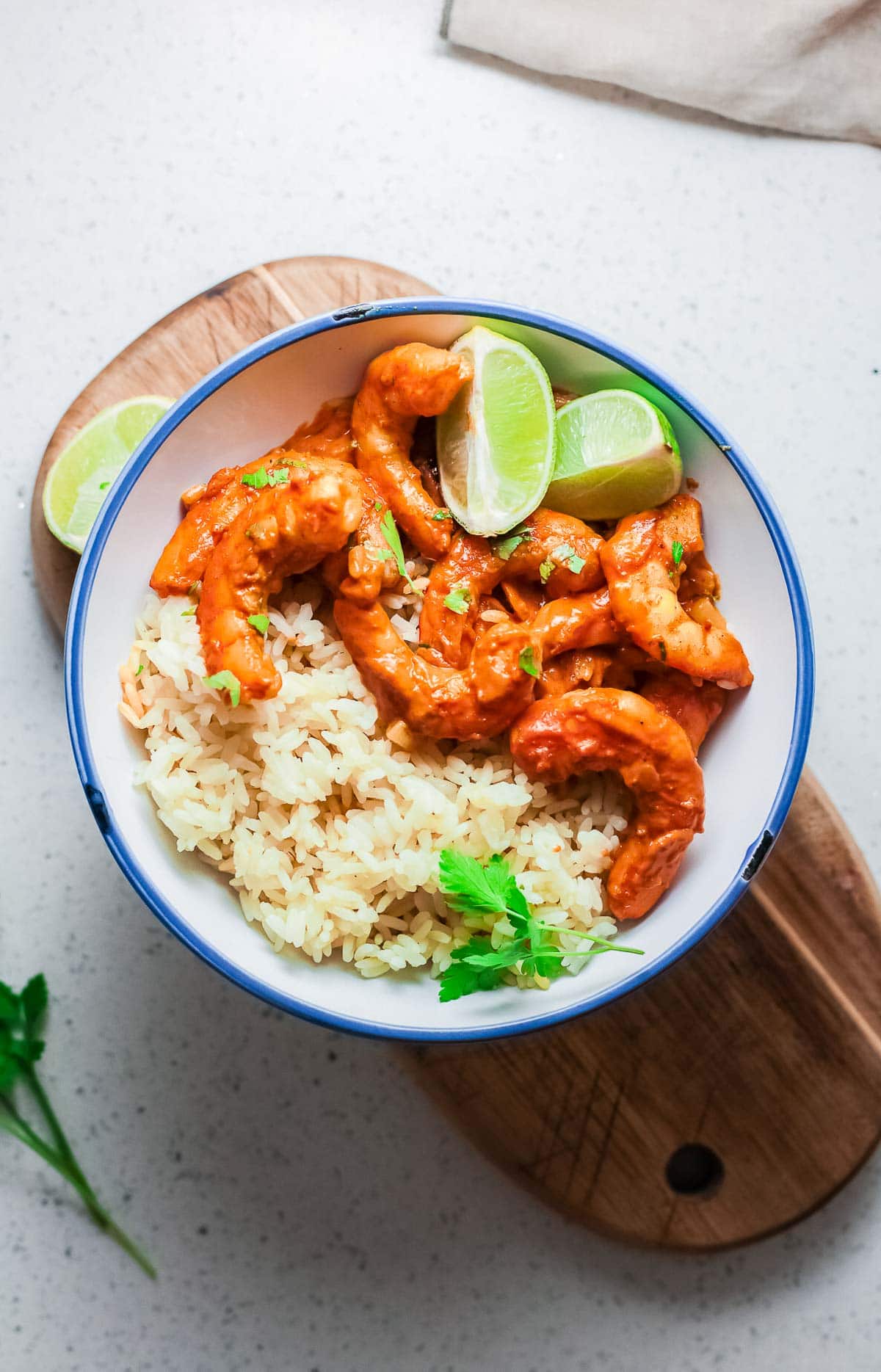 More Recipes You'll Love!
Did you make it? Please RATE THE RECIPE below!
Please SUBSCRIBE and FOLLOW ME on FACEBOOK , TWITTER , INSTAGRAM and PINTEREST !