Peach Chutney is a perfect chutney recipe to make when peaches are at their seasonal best. A tangy chunky relish, chutney is a perfect condiment for spicy Indian curries, for a Ploughman's Lunch or as a side condiment for grilled meat.
Quick to make and no canning required.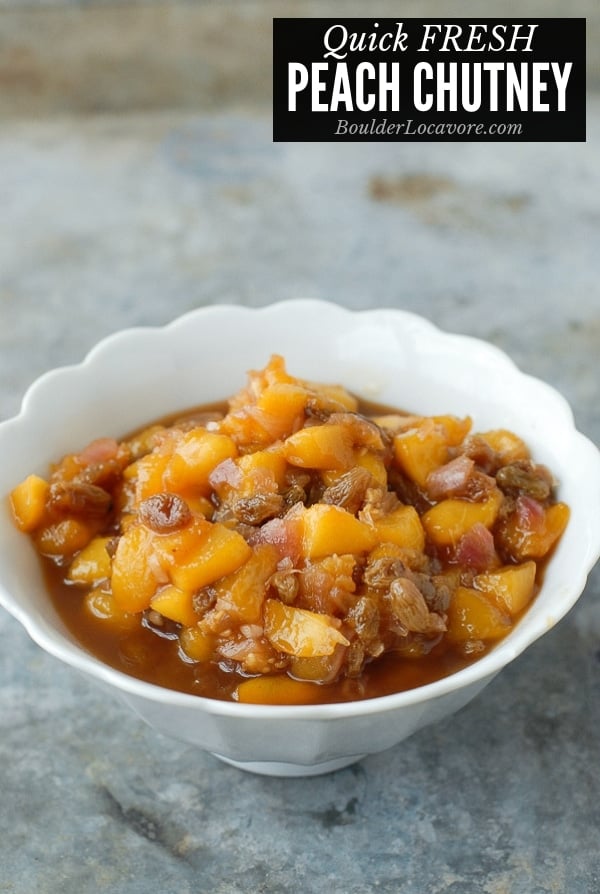 Peaches, corn and tomatoes are in full swing, quite possibly at the peak of their perfection. It's the perfect time to make seasonal recipes with summer produce.
I've already seen pumpkin recipes on the internet. That feels a bit like seeing Halloween décor in stores in June. I just need a little bit more time to celebrate the summer produce.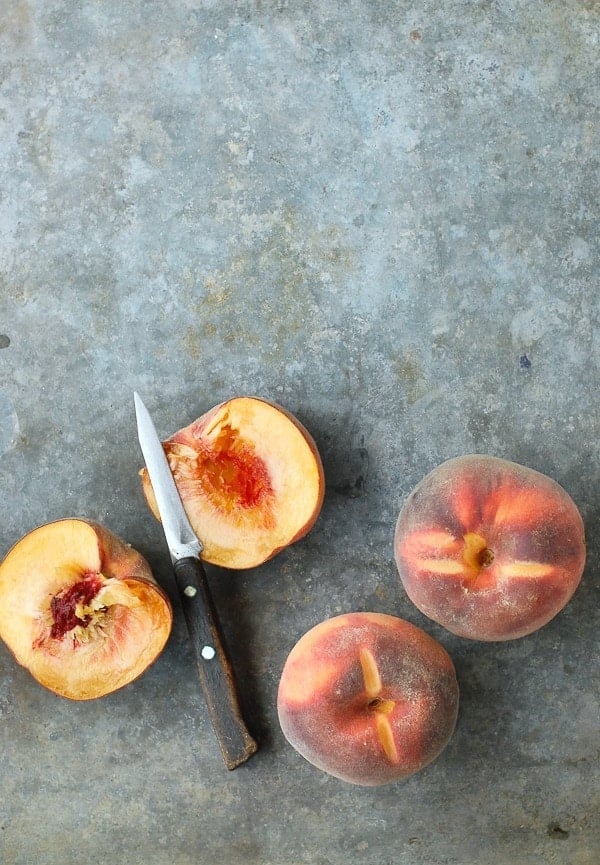 What Is Chutney?
Chutney is a a spicy condiment made with fruits and/or vegetables, vinegar, spices, and sugar.
It's a sweet, tangy addition to spicy foods in particular and originated in India.
I love a good chutney. The tanginess and depth of flavor and sweetness of the cooked fruit are soul food to me.
How to Use Chutney
If this is your first experience of a chutney, you may think of it like a relish. Chutney is wonderful over a curry dish, paired with meats or with a bold cheese and some crusty bread.

In the past I've made batches of chutney to can but I wanted to whip up a quick chutney recipe that could be eaten the same day.
This Quick Fresh Peach Chutney recipe is a celebration of summer.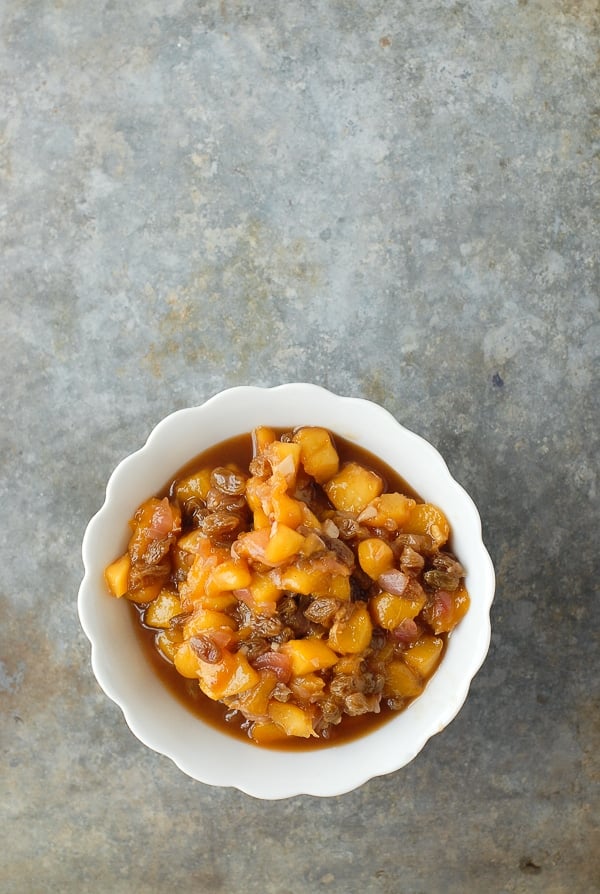 Making a Chutney Recipe
Chutney's are each changed up a bit by one's traditions or preference though each has common elements of vinegar, fruit or vegetable, a sweetener of some kind and spices.
It's common to add chilies for heat however I wanted this chutney recipe to tame a specific spicy recipe so omitted those.
I love the fresher flavor of the peaches in this recipe, as did those in my household as it was gone lickety-split!
Peach Chutney recipe Ingredients
Chutney recipes are made up of tangy, sweet and spicy ingredients that are probably already in your pantry or produce drawer!
Apple Cider Vinegar
Light Brown Sugar
Yellow Onion
Garlic Cloves
fresh Ginger Root
Golden Raisins
Kosher Salt
fresh Peaches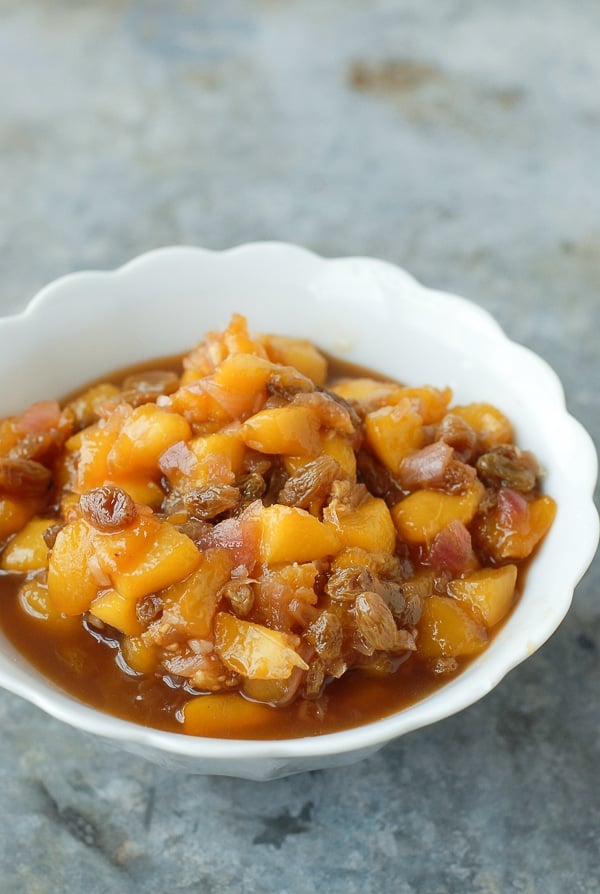 How to Make it – Step by Step
For the full printable recipe refer to the recipe card at the bottom of the blog post.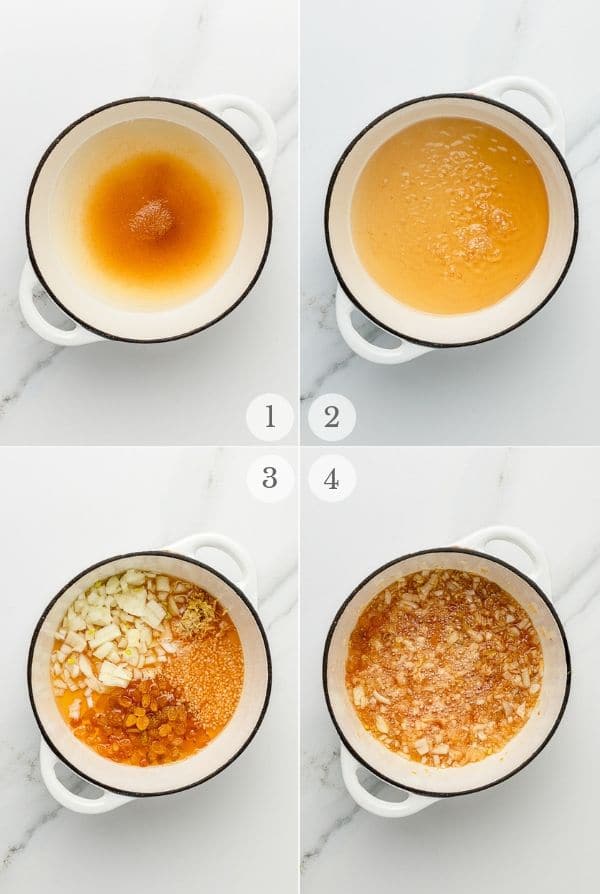 Combine the vinegar and sugar in a medium saucepan over medium-high heat (photo 1).
Bring to a low boil while stirring to dissolve the sugar (photo 2).
Reduce heat to a simmer; add the onion, garlic, ginger, raisins, and salt (photo 3).
Simmer for 10 minutes (photo 4).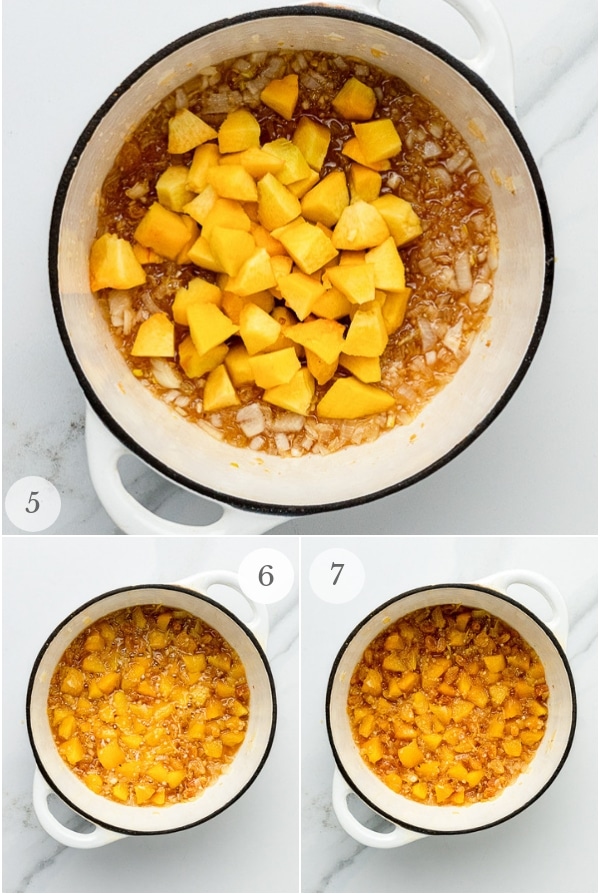 Add the peaches; simmer an additional 10 minutes or until peaches are cooked. NOTE: firmer peaches will take longer (photo 5 & 6).
Remove from heat; allow to stand for 15 minutes before serving (photo 7).
How to Store
Leftover chutney may be stored in the refrigerator in a sealed container for up to a week.
NOTE: Once refrigerated the chutney will become thicker.
More Peach Recipes You'll Love
We have an entire section with peach recipes for everything from cocktails to savory dishes and desserts!
Did you make it? Please RATE THE RECIPE below!
FOLLOW ME on FACEBOOK , TWITTER , INSTAGRAM and PINTEREST!
Originally published: September 1, 2017