This Moroccan Chicken recipe combines earthy, tangy and sweet flavors for a one pot meal you'll love! It's fast and easy to make. Perfect for a weeknight or a dinner party!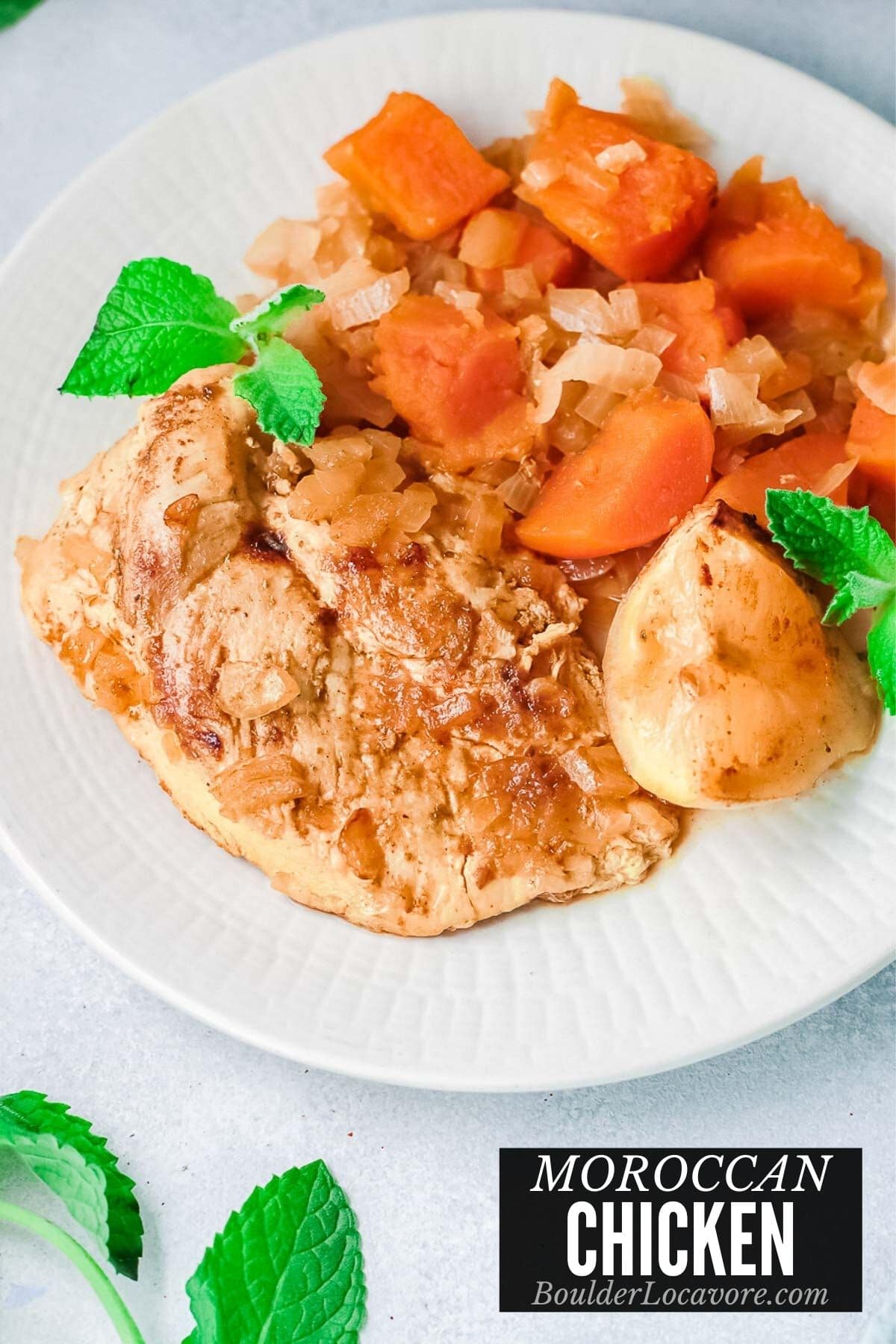 This recipe is a perfect example of 'no more boring chicken' recipes!
Tender boneless chicken breasts, zesty flavors of lemon, warming curry, cinnamon and cumin make this recipe an exciting dinner time adventure.
An easy braising recipe that sears the chicken with spices and lemon and finishes it in the oven with sweet potatoes and onion.
Easy Moroccan Chicken recipe
The combination of savory and sweet flavors is a signature of Middle Eastern cuisine.
Similar to Sweet & Spicy Slow Cooker Beef Stew which combines beef, sweet potatoes and prunes, this chicken recipe has both sweet and savory flavors.
It's all about the Moroccan Spices
Moroccan food is really all about the spices. Deep, earthy flavors ranging from sweet to pungent.
The most popular spice blend Ras El Hanout is a blend of anywhere from 50 to 80 spices in one mix!
This classic and traditional North African spice gives Moroccan food its signature flavor.
In case you don't have this particular spice blend in the pantry, we've picked some star spices to use in this recipe.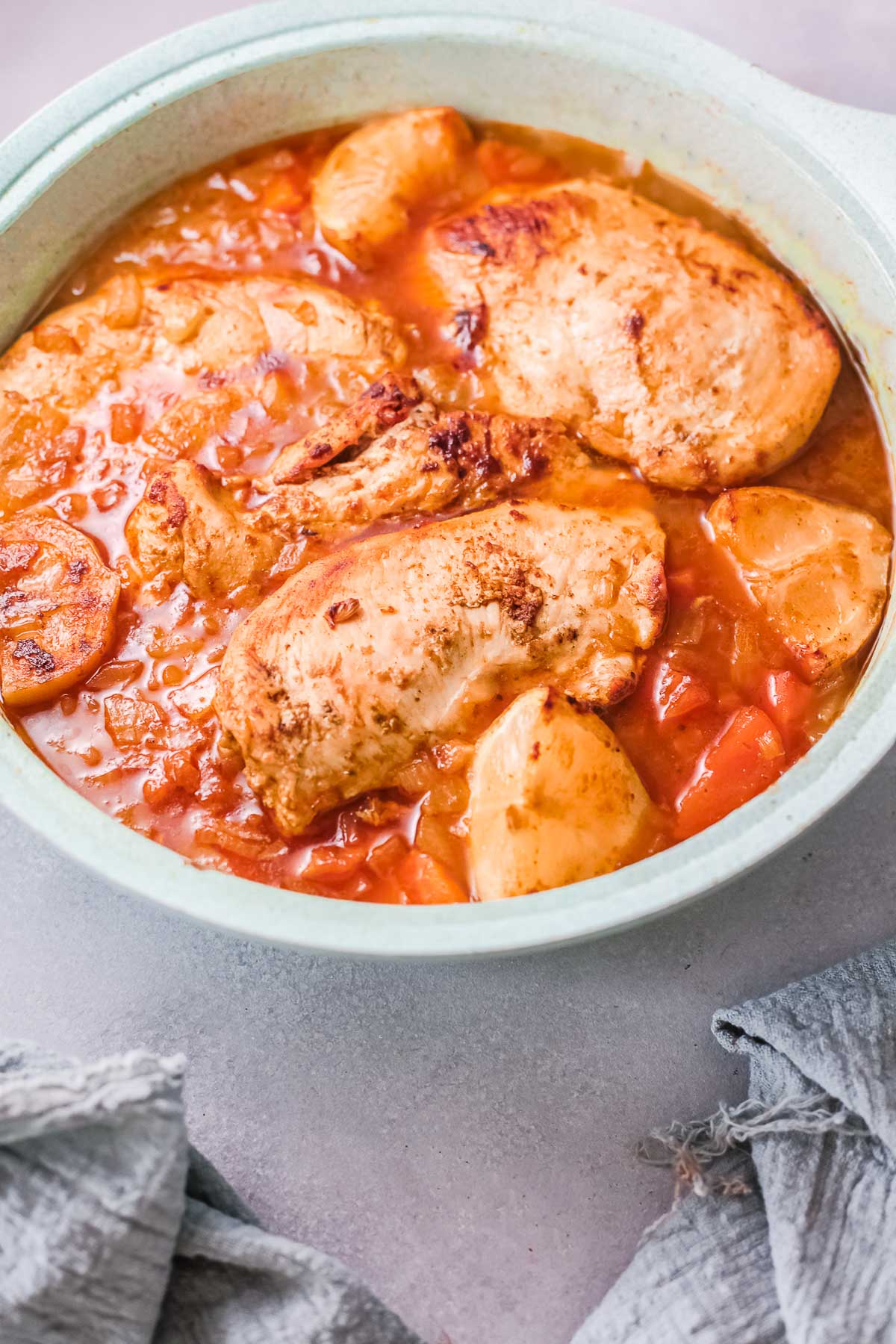 Recipe Ingredients + Notes
Olive oil. Used to sear the chicken with lemon quarters and spices. Olive oil has a delicious Mediterranean flavor perfect this recipe.
Chicken Breasts. Use boneless skinless chicken breasts. Select 8-ounce chicken breasts if possible. The recipe cooking time is based on that size.
Lemon. Preserved lemon is a popular ingredient Moroccan cuisine. For easier to find ingredients we use both a fresh lemon quartered and lemon juice.
Spices. Cumin, paprika, curry, cinnamon, salt and pepper. These earthy, flavor-packed spices add the signature Middle Eastern flavor to the Moroccan Chicken.
Yellow onion. Onion also gives a lot of flavor to this recipe!
Sweet potatoes. Common in Middle Eastern cooking, sweet potatoes or yams give a wonderful sweet flavor contrast to the bold earthy spices. They end up as a delicious side dish to the chicken too.
Chicken broth. Either chicken broth or chicken stock may be used. We recommend low sodium which allows you to control the salt amount by adding
Lemon juice. Combined with the stock lemon juice adds a tangy flavor note to the recipe. Use freshly squeezed lemon juice. It makes all the difference.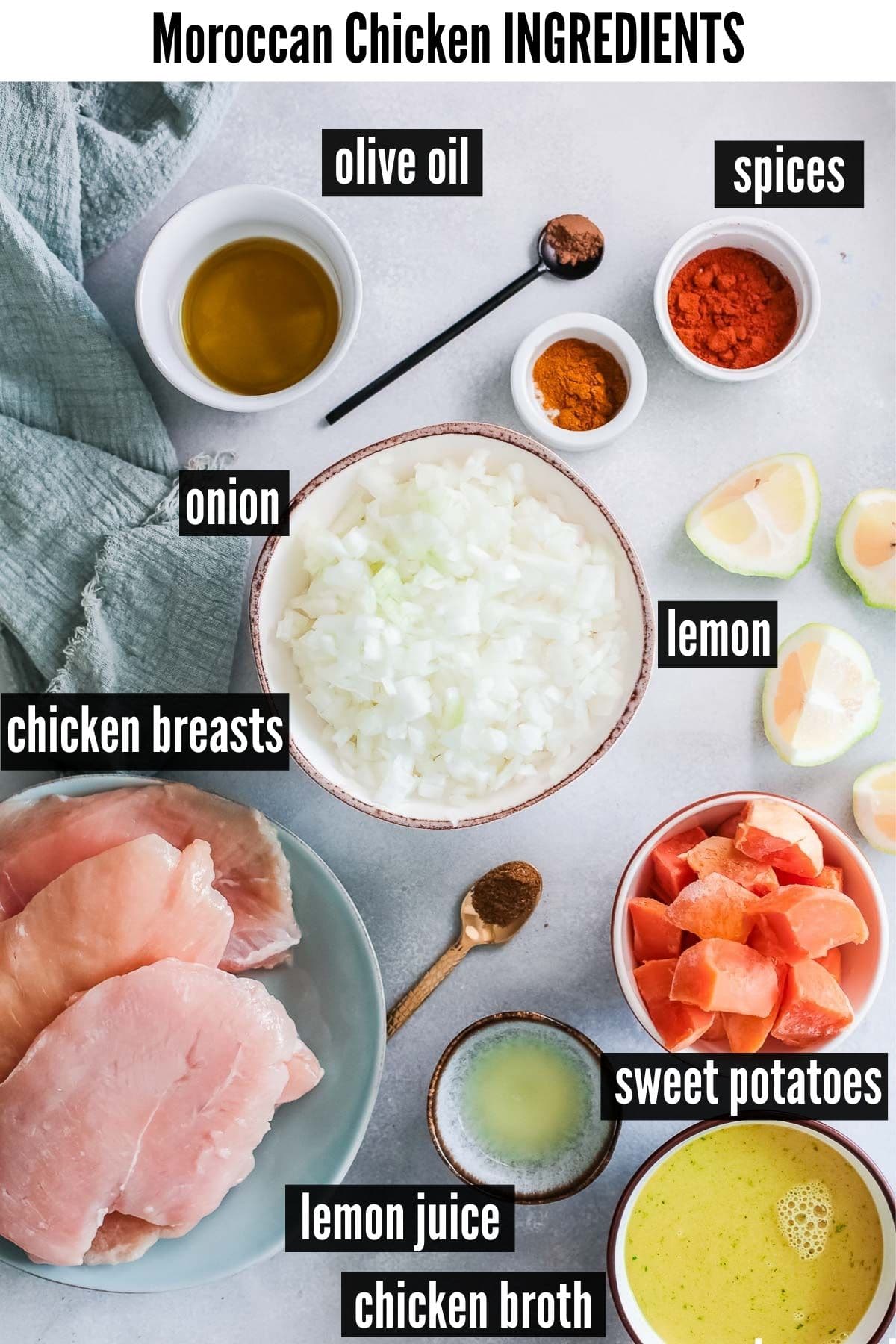 Variations
Butternut squash or acorn squash can be used instead of sweet potatoes. Butternut squash will need to be peeled. Acorn squash can be peeled but doesn't have to be.
Add dried fruit. Sweet fruits like dried apricots, dates or raisins are a delicious addition and popular in Moroccan cooking. Chop 1/2 cup and add them (one type or a combination) when sautéing the onions and sweet potatoes.
Add Green Olives. Add 1/2 cup of pitted green olives when putting the dish into the oven. They add a whole new flavor!
A Note about Chicken Breast Sizes
Chicken breast size can vary substantially. They can range from 6 ounces to almost one pound for just one!
Larger chicken breasts need a longer cooking time. This recipes is based on 8-ounce chicken breasts (around 2 pounds total chicken weight).
Try to select chicken breasts around 8 ounces a piece.
Also important is selecting chicken breasts that are the same size (whether they are larger or smaller than 8 ounces).
This ensures they will all cook evenly in the same amount of time.
How to Know if Chicken Breasts are done?
Take the internal temperature with an instant read food thermometer.
The internal temperature of the chicken should reach 165 degrees F to be considered done for food safety standards.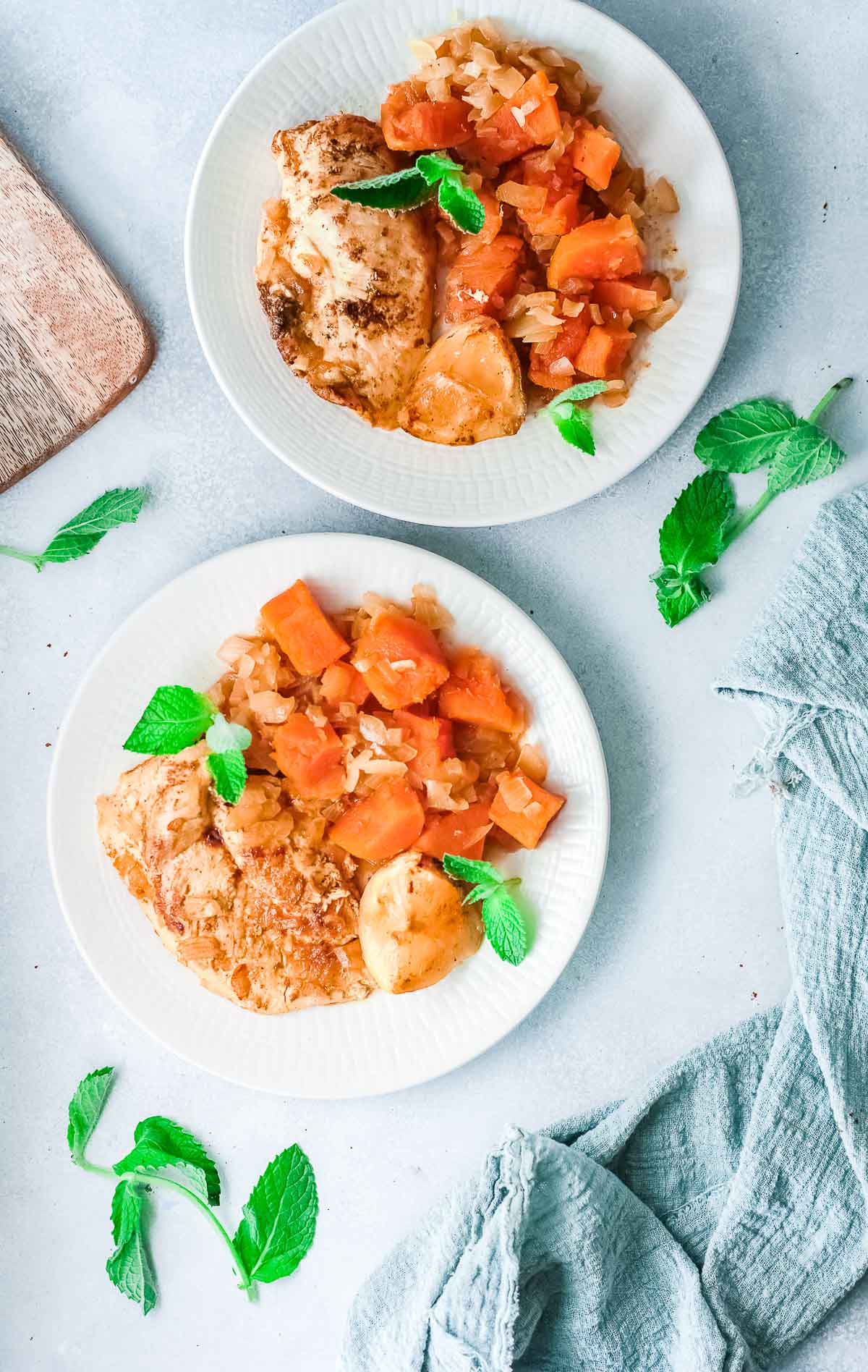 How to Make it – Step-by-Step
STEP 1. Preparation.
Preheat the oven to 400 degrees F.
Heat the olive oil in a large skillet or Dutch oven over medium-high heat (photo 1).
STEP 2. Sear the Chicken.
When the oil ripples on the surface add the lemon quarters, chicken breasts and spices. Cumin, paprika, curry powder, cinnamon, salt and pepper (photo 2).
Sear the chicken for 2 minutes, flip over and sear 2 additional minutes on the opposite side (photo 3). Searing helps seal the chicken and keep the chicken tender.
Remove the chicken from the pan.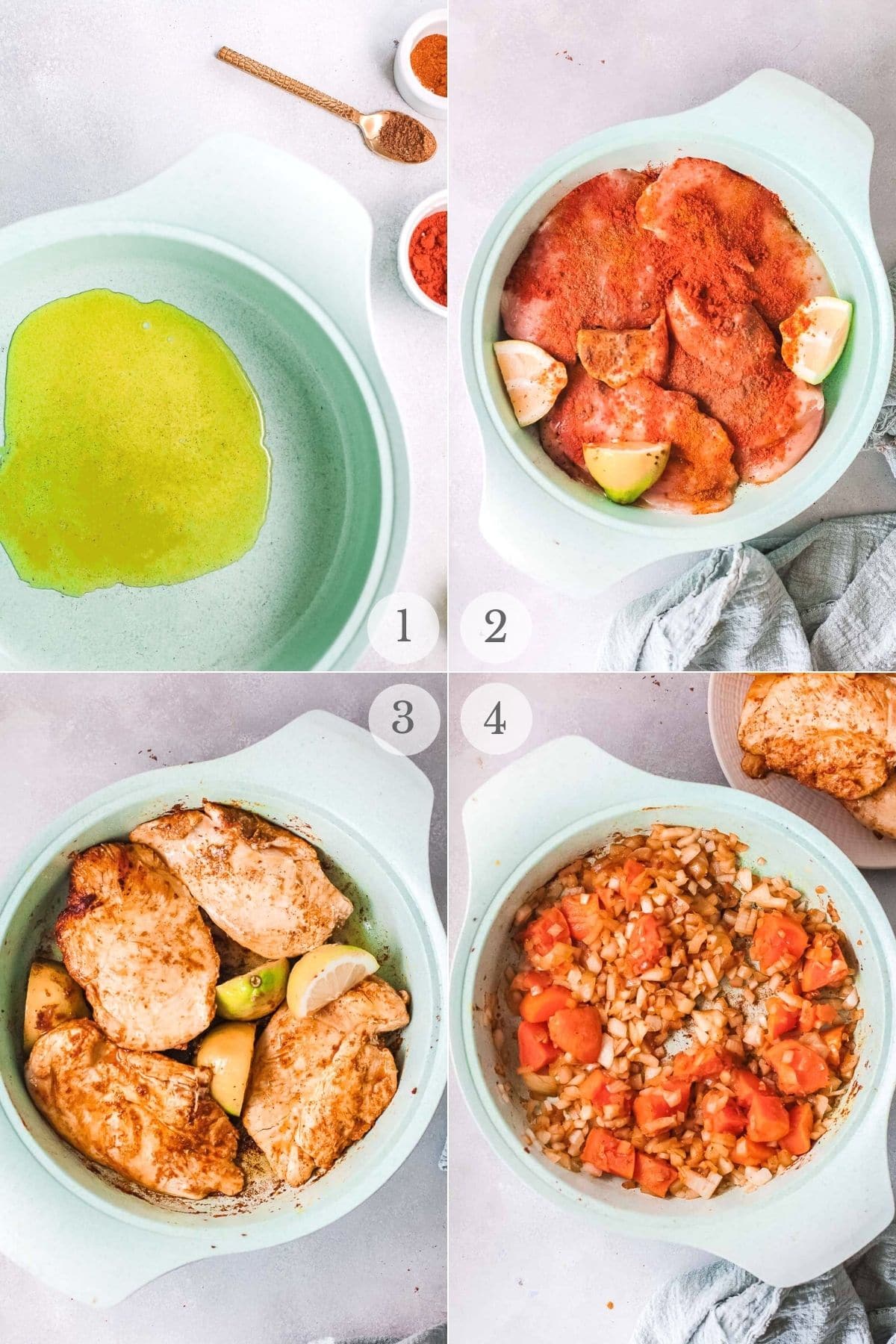 STEP 3. Cook the vegetables.
Add the onion and sweet potato cubes to the pan. Sauté for 5 minutes (photo 4).
Pour in the chicken stock and lemon juice (photo 5). Scrape up any browned bits sticking to the bottom of the pan.
Add the chicken back to the pan (photo 6).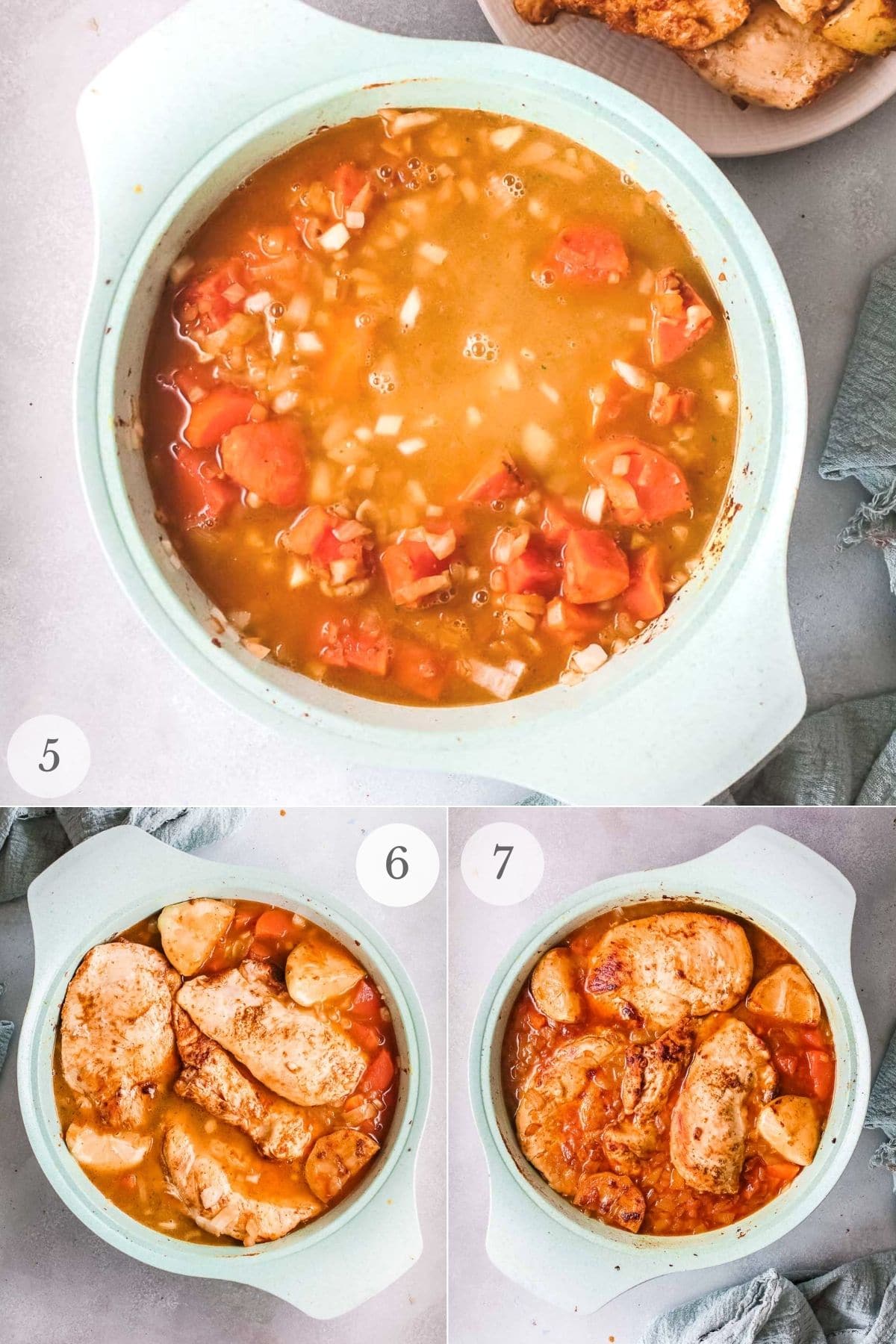 STEP 4. Cook the Moroccan Chicken.
Cook in the oven, uncovered, for 20-25 minutes or until both the chicken and sweet potatoes are cooked.
The chicken should reach 165 degrees F internal temperature and be tender; not overcooked.
The sweet potatoes should be cooked through but not falling apart.
Serve with mint sprigs and fresh lemon slices or wedges.
What to Serve with It
Since the recipe includes both chicken and sweet potatoes it's a one pot meal.
If you want to add more to round out the meal:
Serve with some rice or cous cous (if you are not gluten-free), and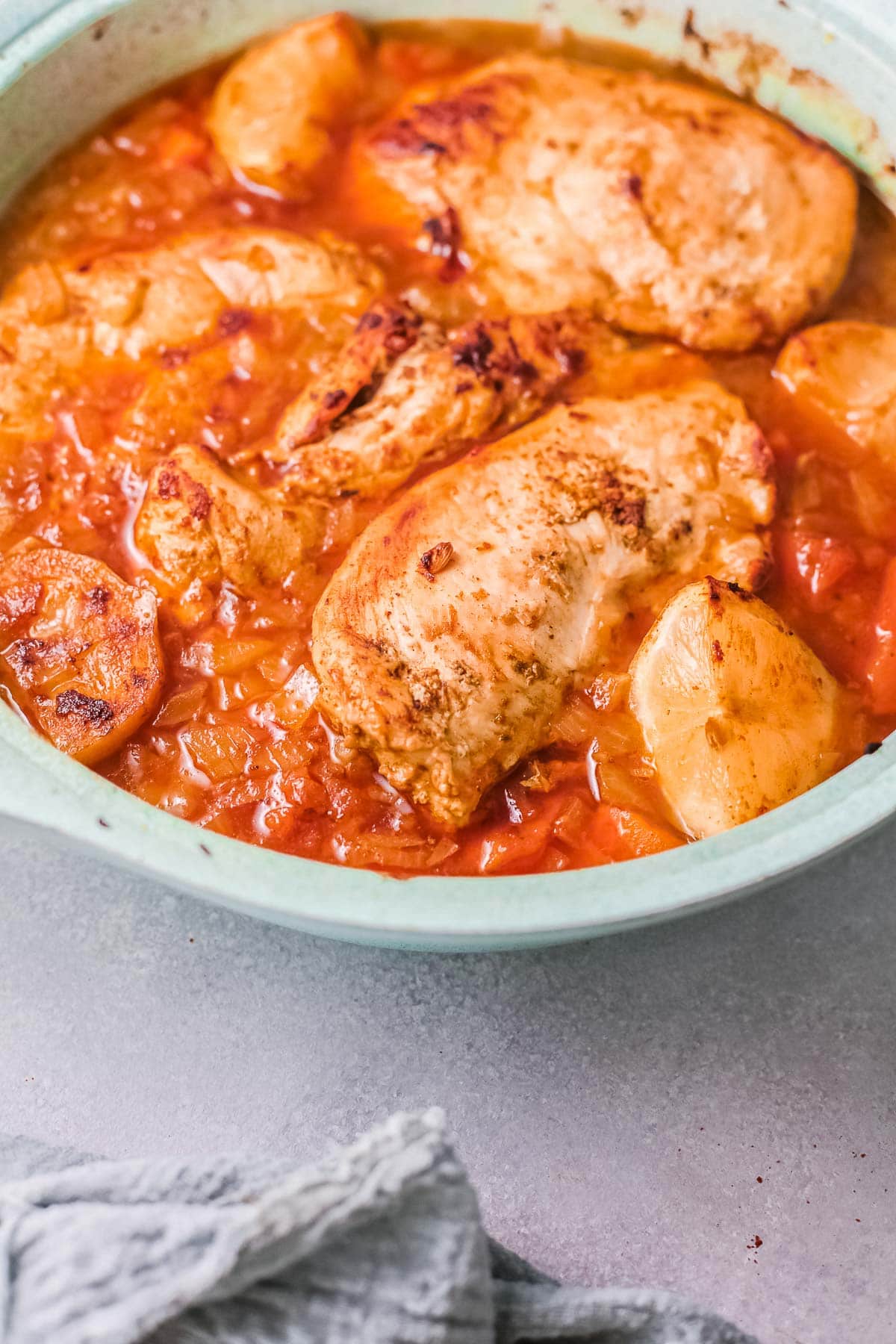 Recipe FAQ's + Pro Tips
Mix the spices together in a small bowl. This helps with even distribution when adding to the cooking pan.
Select chicken breasts the same size. To ensure they all cook in the same amount of time.
What is Braising?
A cooking technique of combining both cooking with dry heat and wet heat.
In this recipe the first step sears the chicken, and sauté the vegetables (dry heat).
Then stock and lemon juice are added to finish cooking in the oven (wet heat).
It's an easy way to cook a combination of ingredients for great infusion of flavors and to keep the meat moist and tender.
Storing Leftovers
Store in an airtight container in the refrigerator for up to 3 days. Reheat in the microwave.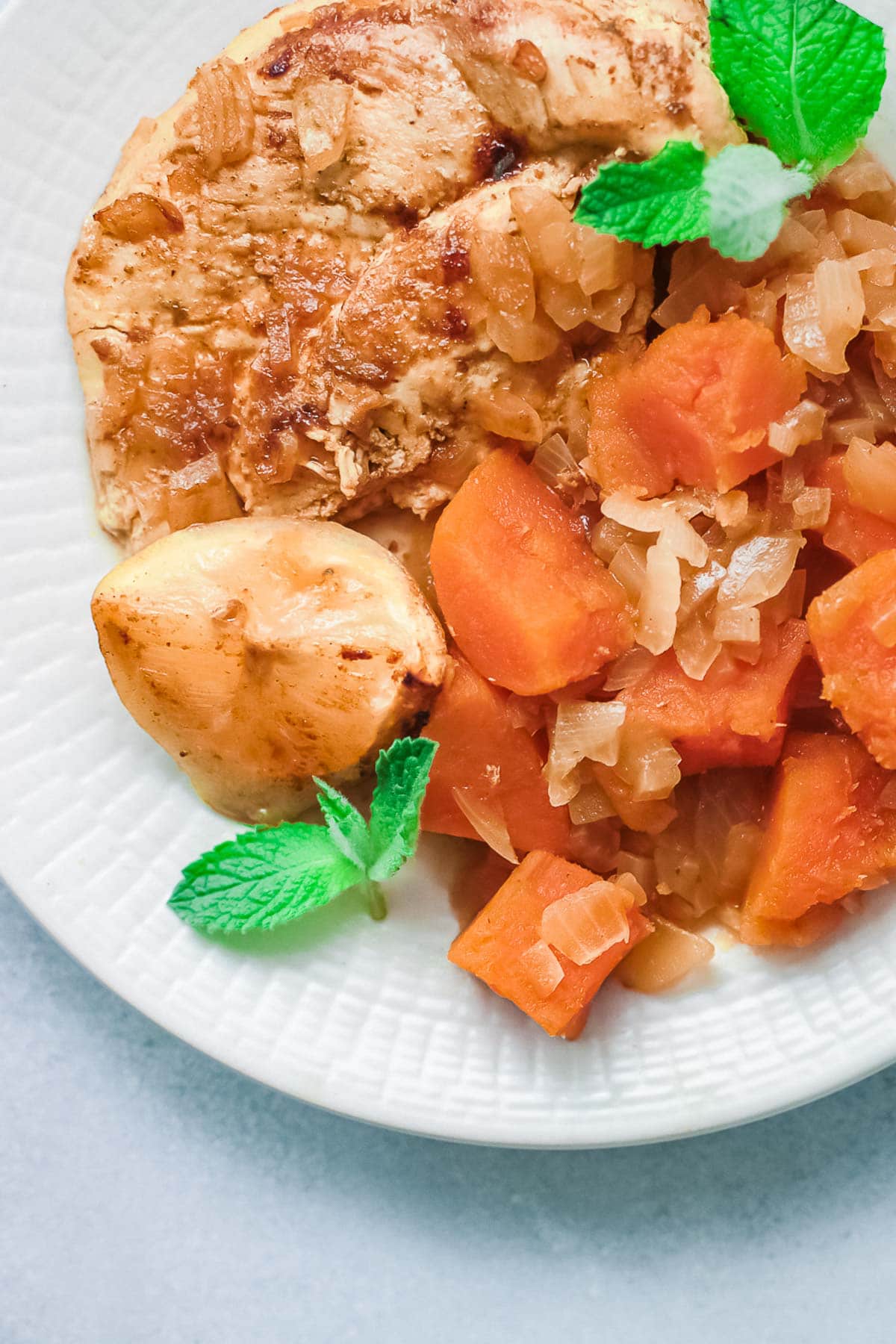 More Recipes You'll Love!
Did you make it? Please RATE THE RECIPE below!
Please SUBSCRIBE and FOLLOW ME on FACEBOOK , TWITTER , INSTAGRAM and PINTEREST !