New Orleans food is a fantastic blend of cultural influences and mouthwatering flavors. This travel guide shares 'must eat' iconic foods and where to eat them in The Big Easy.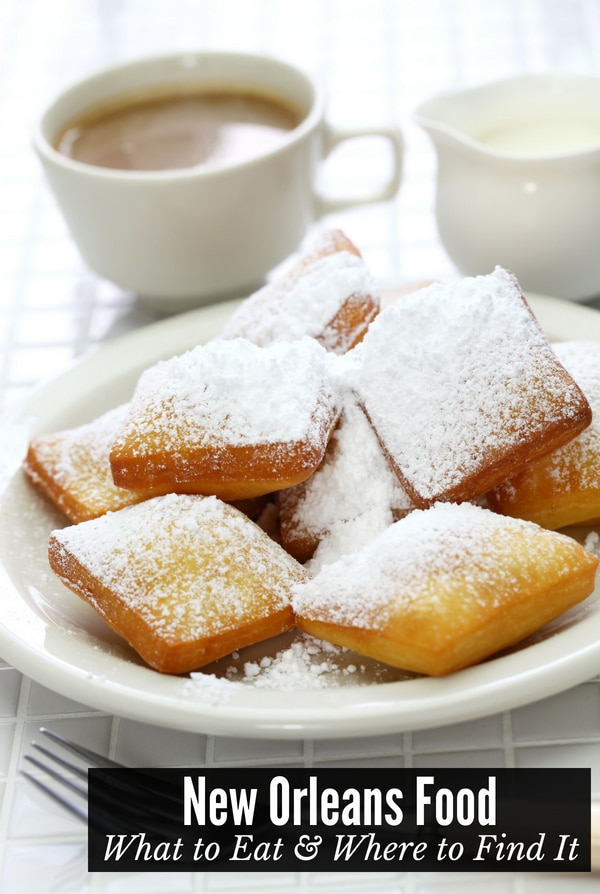 As one of the oldest cities in the nation, it's no surprise to find New Orleans is home to one of the most well-established food scenes in America. In fact, New Orleans is an absolute dream destination for travelers who love to eat.
New Orleans food reflects the city's rich multicultural history, with culinary influences stemming both from the European cultures that entered the area and the traditions of the area's native population.
From humble sandwiches to upscale desserts, there's something on the menu for everyone to enjoy in the Big Easy.
Jump to:
I just spent five days in New Orleans speaking at the International Food Bloggers Conference and was hosted by Visit New Orleans and the beautiful Royal Sonesta Hotel.
Though much of my time was spent at the conference itself (which also included a delicious Taste of New Orleans with 20 local restaurants catering their own local fare), you can see more about where I went and what I ate on my Instagram Stories Highlights (the circles under the Bio) 'New Orleans'.
You'll agree there is no shortage of great food!
New Orleans Food Travel Guide: What to Know
Before heading out to explore the New Orleans restaurant scene, you should know a few things:
First, many smaller places are cash-only, so stop by the ATM before dinner and take out enough money to cover your meal. I did not have difficulty using a credit card or splitting a bill but it's always best to be prepared.
You should also know that finding gluten-free options in the city can be a struggle, especially if you're looking to try the namesake New Orleans foods. Calling ahead can clear up any confusion around whether or not you'll find a suitable option on the menu.
Lastly, don't judge a restaurant by its appearance. Some of the best New Orleans food is served out of "hole in the wall" establishments.
Whether you're just enjoying a long weekend in New Orleans or you've taken a week away to explore and experience all that the city has to offer, you can't leave without sampling these eight New Orleans food classic dishes.
For those who are dying to try a bite of New Orleans food from home, you'll find a 'Make It At Home' recipe link below each of the foods below!
New Orleans Food: What to Eat and Where to Find It
Po Boy
The Po Boy has deep roots in New Orleans. It got its start at a small coffee stand owned by Bennie and Clovis Martin in New Orleans during a transit strike in the late 1920's.
Supportive of the strikers, the Martins offered free sandwiches to those taking a stand. And while there are now a seemingly endless number of shops selling Po Boys in the city, you'll find almost all of them are made with bread from Leidenheimer Baking Company – a New Orleans institution in operation since 1896.
If you're looking for the best shrimp po boy in town, head over to Guy's Po-Boys. It's cash-only, so swing by an ATM before you get there! For the most delicious roast beef po boy in the area, check out Parkway Bakery and Tavern.
Make It At Home: Easy Shrimp Po Boy Sandwich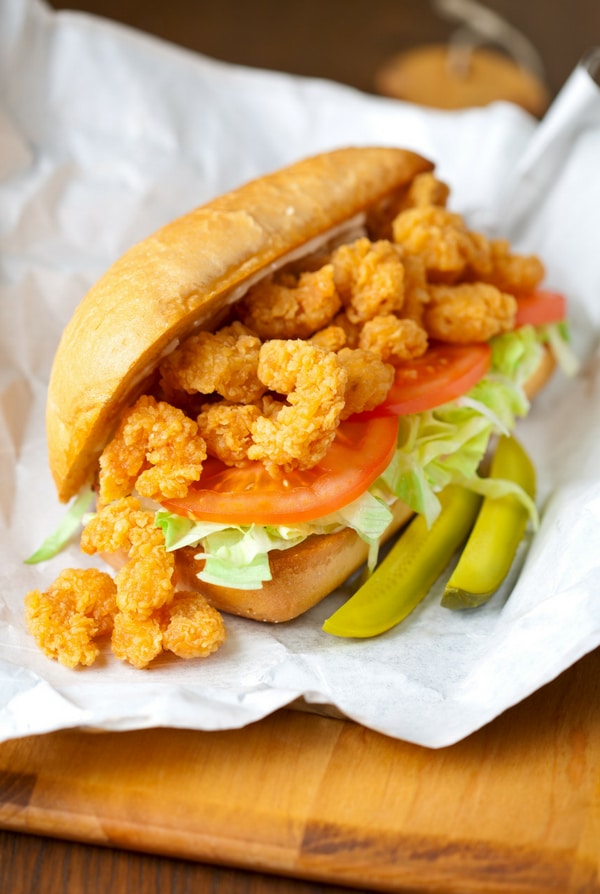 Jambalaya
It's said that jambalaya came to be when Spanish settlers tried to recreate paella after settling in New Orleans.
With no saffron on hand, they used tomatoes to add color and flavor to a hearty combination of rice, veggies, meats and seafoods readily available in the area.
Ultimately that transformed the dish into something entirely new and unique to the region.
Sample a bowl of rabbit and sausage jambalaya at Coop's Place, a local favorite, as long as you don't have kids in tow (the establishment is 21+).
Alternately, you can grab a bowl at K-Paul's Louisiana Kitchen for an upscale spin on this classic dish.
Make It At Home: Instant Pot Jambalaya: Quick & Easy Comfort Food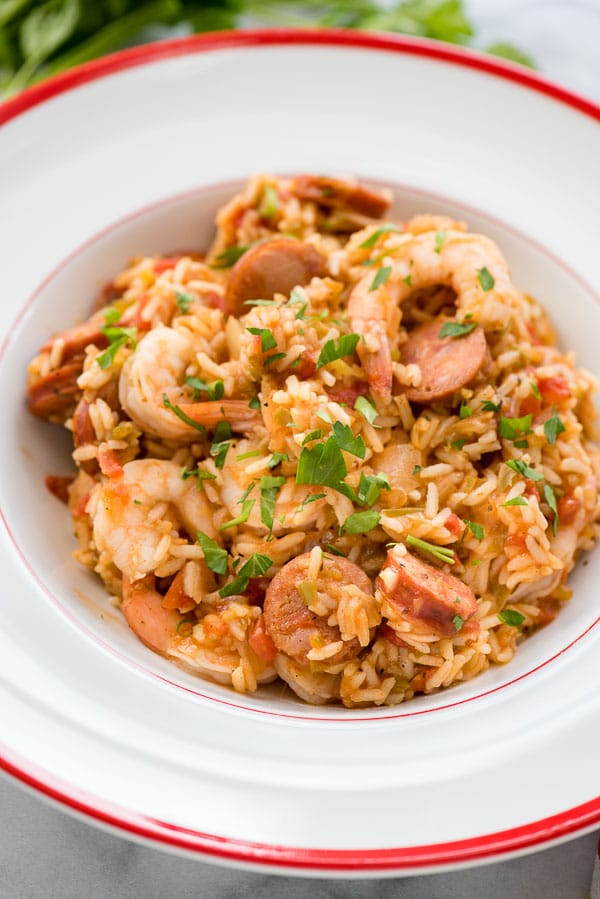 Muffuletta
The muffuletta was born at Central Grocery Store in New Orleans in 1906. Created by the store's owner, Salvatore Lupo, it was a combination of cold cuts, cheese and olives sandwiched between two halves of a loaf of muffuletta bread.
After watching his patrons struggle to assemble their own sandwiches, Lupo decided to prepare them in advance – and the rest is history.
You can still visit the shop where the muffuletta got its start for a taste of the real deal.
If you're looking for an elevated version of this classic dish, head over to Cochon Butcher, a top-rated butcher shop and deli, for a muffuletta made with meats cured in-house.
Or swing by Alberto's Cheese and Wine Bistro for a gluten-free take on this local favorite.
Make It At Home: New Orleans Muffuletta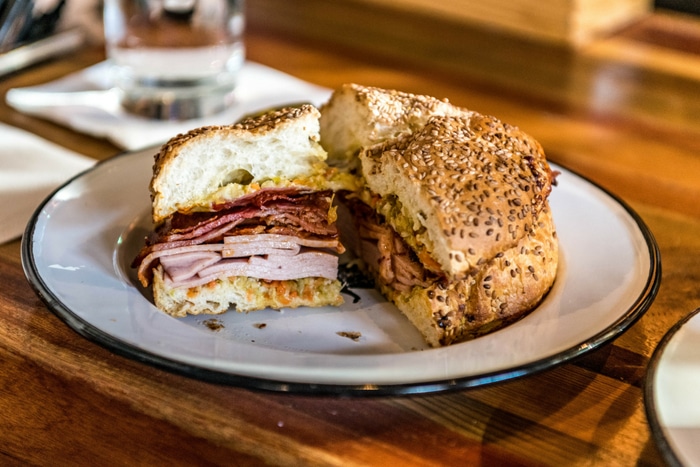 Gumbo
While the list of ingredients that goes into gumbo is quite similar to jambalaya, there are a few key differences any New Orleans native could point out.
Unlike jambalaya, which is prepared with rice, gumbo is served over white rice and includes okra or file (powdered sassafras) to thicken the mixture.
Gumbo can include a wide variety of meats, seafoods and vegetables, but you're almost guaranteed to find onion, bell pepper, and celery – the "holy trinity" of Creole cooking – in the mix.
Like many New Orleans food favorites, there are dozens of restaurants serving up gumbo to choose from. Along with its jambalaya, Coop's Place is known for serving an exceptional seafood gumbo.
To sample a variation of gumbo you won't find on every menu in town, swing by Gumbo Shop and grab a bowl of the gumbo z'herbes.
For a bowl of the good stuff, minus the gluten, plan a visit to Chef Ron's Gumbo Stop.
Make It At Home: Chicken Sausage Shrimp Gumbo
Crawfish Etouffee
A true Cajun classic, this dish consists of crawfish and veggies, smothered in a thick sauce, served with white rice.
While the word is French in origin, the food is American by creation. No one is quite sure when the dish first came to be, but it holds a place on many Cajun and creole restaurants in the Big Easy.
While you can't go wrong ordering this dish at any authentic New Orleans food eatery, for a taste of some of the best crawfish etouffee in the city, sample this local favorite at the Bon Ton Cafe or Mother's Restaurant. NOTE: as of November 2021 the Bon Ton is still listed as 'temporarily closed' and their website is not active.
Want a fun twist you won't find anywhere else? Give the Crawfish Etouffee Dog at Dat Dog a try.
Make It At Home: Crawfish Etoufee or Shrimp Etouffee (made with shrimp which is more widely accessible).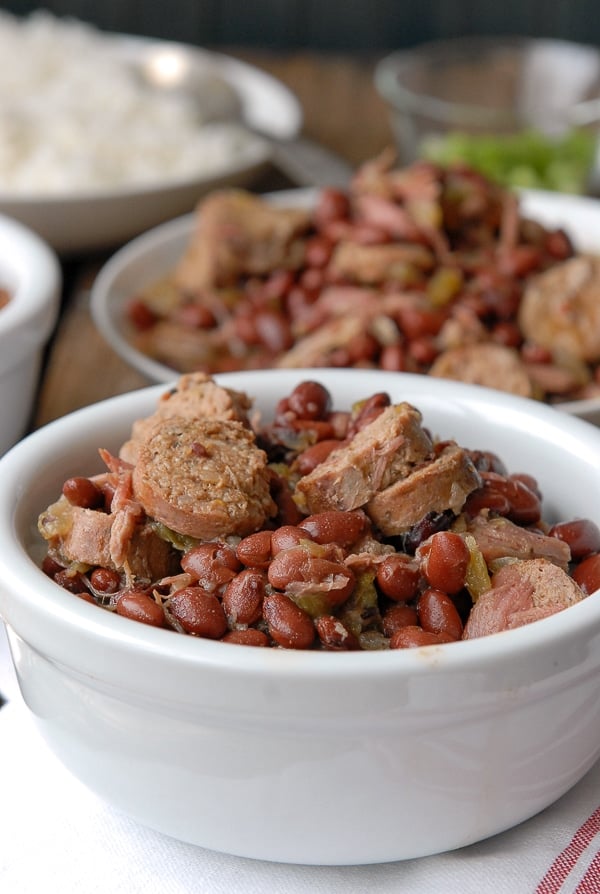 Red Beans and Rice
This meal was – and still is – a Monday staple in many New Orleans households.
The tradition started when Mondays were considered laundry days. Women could stew the previous day's ham bone with red beans, vegetables and seasonings slowly while they tended to the week's dirty clothes without needing to stand over a hot stove.
While red beans and rice are a common Monday special at many restaurants in New Orleans, they hold a permanent spot on most local menus.
To experience some of the best versions the city has to offer, dive into this local favorite at Oceana Grill or at Felix's Restaurant and Oyster Bar.
Make It At Home: Slow Cooker Louisiana Red Beans and Rice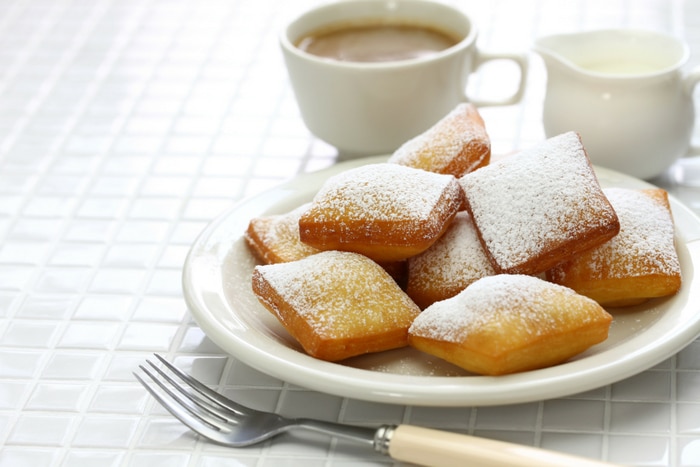 Beignets
Originating in France, beignets made the journey across the Atlantic with the colonists of the 18th century and quickly became a favorite recipe among residents of New Orleans.
One taste of these sweet treats – which are essentially fried squares of dough topped with powdered sugar – and you'll understand why.
While it's hard to track down the first restaurant to serve this popular dessert, odds are the well-known Cafe du Monde is among the earliest. Open since 1862, this famous spot exclusively sells beignets and beverages.
Don't feel like competing with the crowds? Check out New Orleans Coffee & Beignet Co. or Cafe Beignet for solid alternatives.
Make It At Home: Beignet Recipe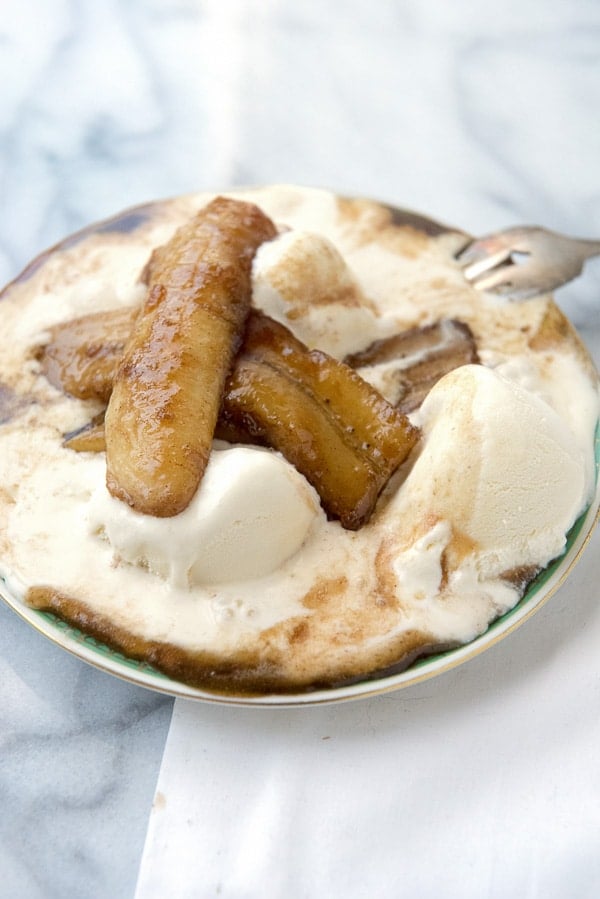 Bananas Foster
First created by Paul Blangé at Brennan's in the early 1950's, you'll find this decadent dessert on many menus across New Orleans.
It's made by sautéing and flambéing bananas with butter, sugar and alcohol, then pouring the resulting sauce over a bowl of vanilla ice cream.
Sample the original bananas Foster at Brennan's, or look for a fun variation of this classic dish, like bananas Foster French toast at The Ruby Slipper Cafe.
Make It At Home: Classic Bananas Foster
What tops your list of New Orleans food to try? Did your favorite make the list? Leave a comment and let me know!
Looking for more Travel Guides?
Please SUBSCRIBE and FOLLOW ME on FACEBOOK , TWITTER , INSTAGRAM and PINTEREST to see more delicious food, travel and what I'm up to!