Blondies are a well loved dessert bar recipe brimming with flavors of brown sugar and white chocolate. This recipe is SO easy to make! Three ways to change up the classic Blondies recipe are included too!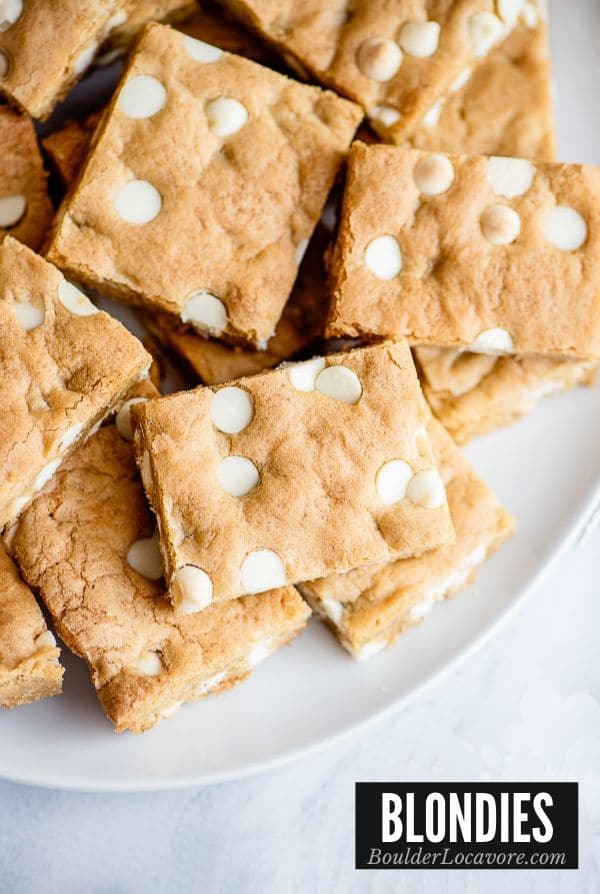 Blondies have a rich, delicious flavor and wonderful chewy texture.
They are one of those dessert recipes that no one can resist!
When you see how easy they are to be changed up, you'll be making them on repeat!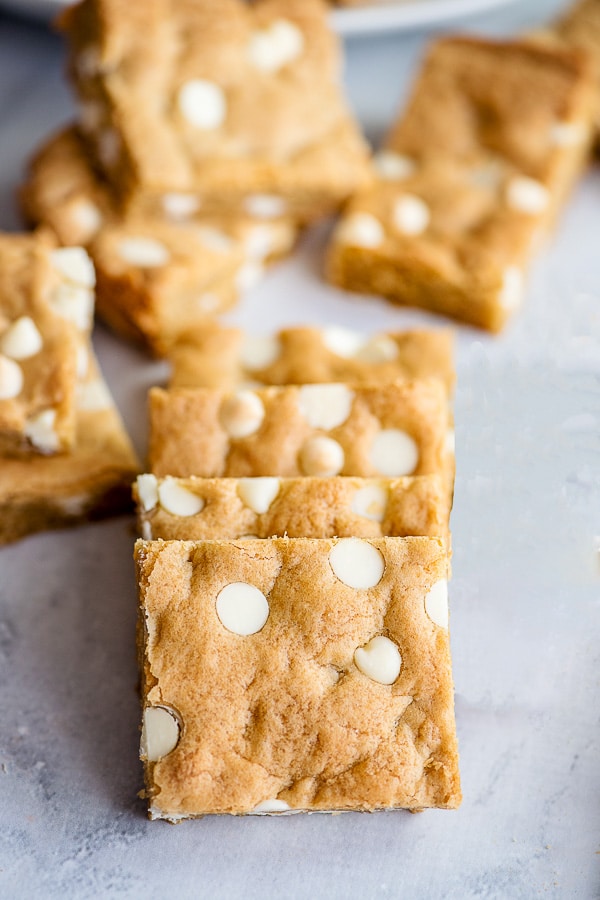 What is a Blondie?
Blondies are a dessert cookie bar that is the kissing cousin to a Brownie.
Like Brownies they are a rich, thick, moist bar.
However in flavor instead of chocolate Blondies have brown sugar and white chocolate chips.
They are simply delicious and easy to make!
You'll love this classic Blondie recipe AND three fun variations to change it up.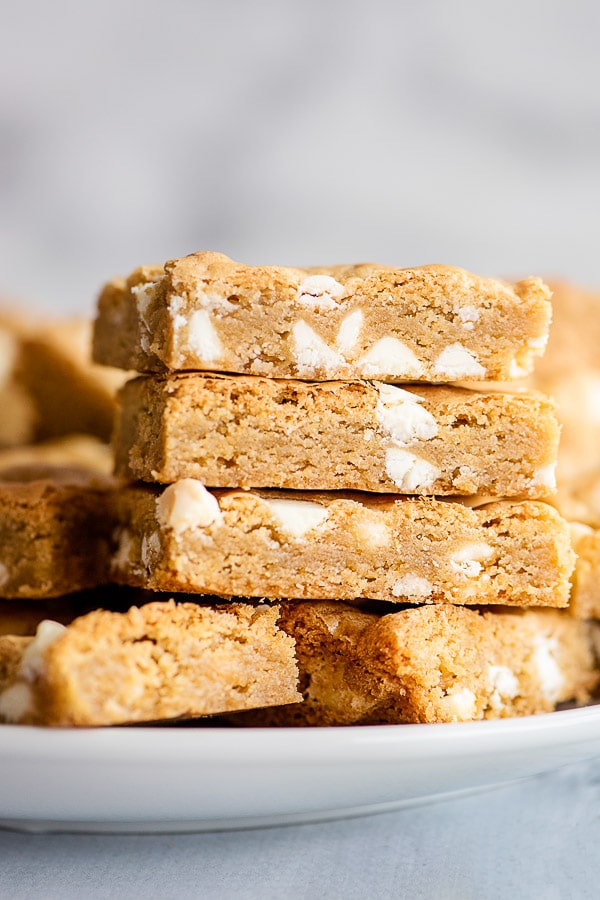 Recipe Ingredients
This classic chewy Blondie recipe includes:
All purpose flour (regular or gluten-free measure-for-measure flour blend)
Baking soda
Salt
Unsalted butter
Granulated sugar
Light Brown sugar
Vanilla extract
Eggs
White Chocolate Chips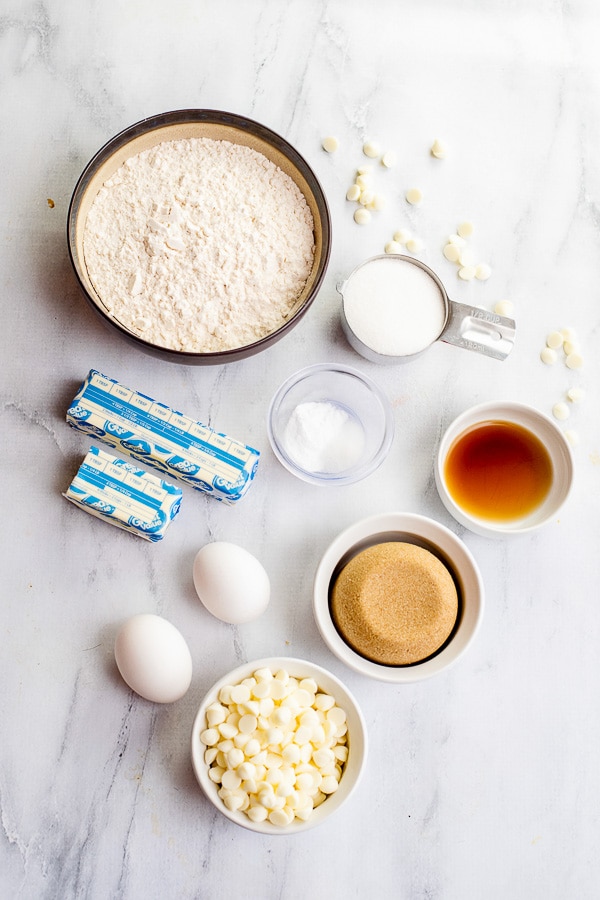 How to Make Blondies – Step-by-Step
STEP 1: Preheat the oven to 350 degrees F. Spray a 13-inch by 9-inch baking pan with non-stick spray.
PRO TIP: Instead of spraying the baking pan, line it with foil first leaving an overhang (see photo 14). Spray the foil with non-stick spray.
This makes it easy to remove the baked cooled Blondies for cutting.
STEP 2: Melt the butter and set aside to cool slightly (photo 1).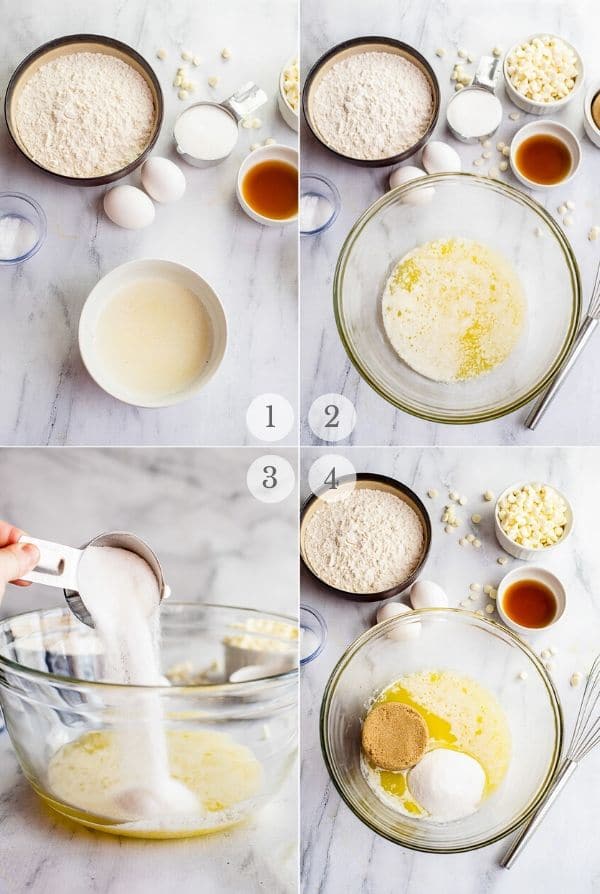 STEP 3: In a large mixing bowl combine the melted butter, granulated sugar and brown sugar (photos 2-5).
STEP 4: Whisk in the eggs and vanilla extract (photos 6-8).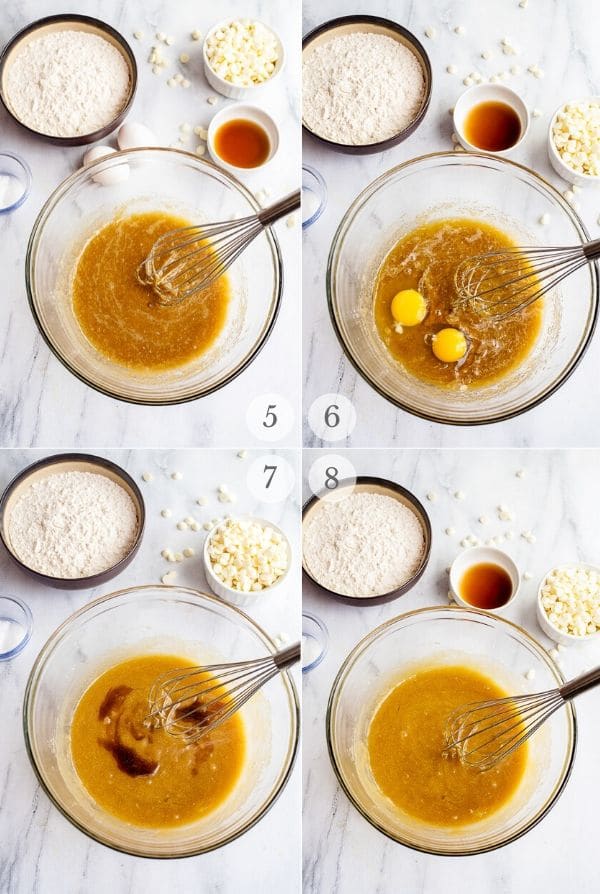 STEP 5: In a second mixing bowl whisk together the flour, baking soda and salt (photo 9).
STEP 6: Add the dry ingredient to the wet ingredients. Mix only until combined; DO NOT OVERMIX (photos 10-11). Stir in 1 cup of the white chocolate chips (photos 12-13).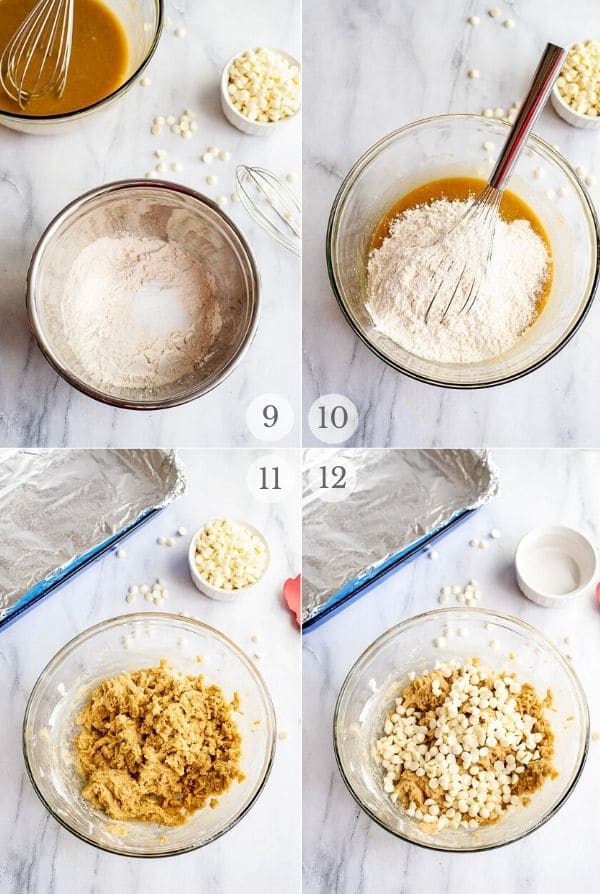 STEP 7: Spoon the batter into the prepared pan. Press to evenly line the pan. Add the remaining 1/2 cup of white chocolate chips on top (photos 14-15).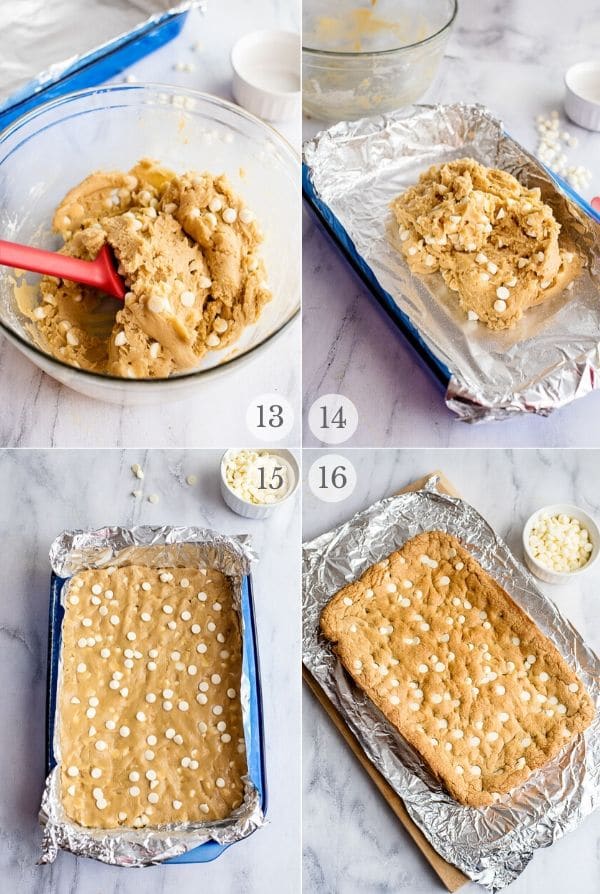 STEP 8: Bake for 25-30 minutes until golden brown and a toothpick inserted comes out clean (photo 16). Allow to cool for a few hours.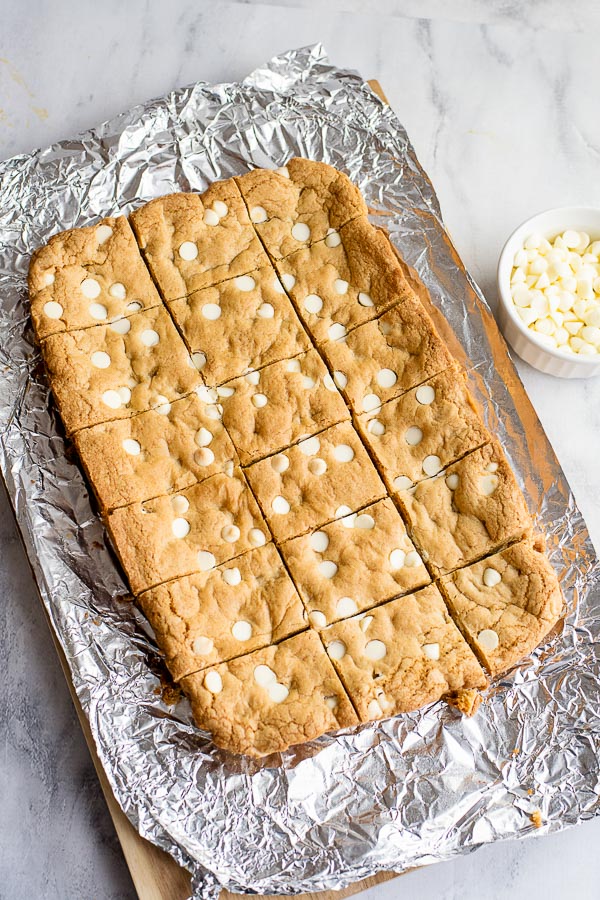 STEP 9: Remove the cooled Blondies from the pan and cut (see photo above).

Tips for Making Variations
The classic Blondie is perfect by itself.
AND it's a great place to start to change up the flavor for a totally different version too!
You could even add Chocolate Cream Cheese frosting!
How to Change the Flavor – Rule of Thumb
When changing the Blondie ingredients, the easy way to do it is to change out the white chocolate chips.
By doing this the flavor can be totally customized without having to worry about the balance of ingredients becoming off.
Baking is chemistry and when changing the core ingredients the recipe may not turn out well.
To make your own version swap the 1 1/2 cups of white chocolate chips in the basic recipe with other ingredients:
1 cup will go INTO the batter
1/2 cup will go ON TOP of the batter before baking
You can swap in almost anything:
Chopped mini candy bars: mini Reese's peanut butter cups or Snickers bars are fantastic
Chopped nuts
Different flavors of baking chips or candies: toffee bits, M&M's, other chocolate chips
Crushed cookies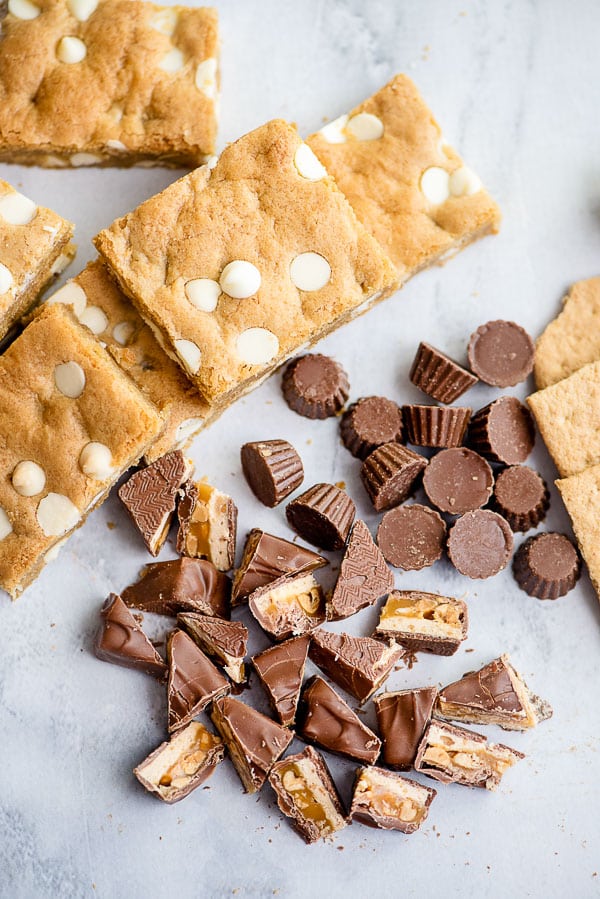 Here are some favorites (ingredients included in the recipe instructions below):
ALMOND JOY
Shredded coconut, semi sweet chocolate chips and almonds are used.
COOKIES AND CREAM
White chocolate chips and crushed Oreo's (or other chocolate sandwich cookies) are used.
S'MORES
Mini marshmallows, semi sweet chocolate chips and broken graham crackers (on the top only) are used.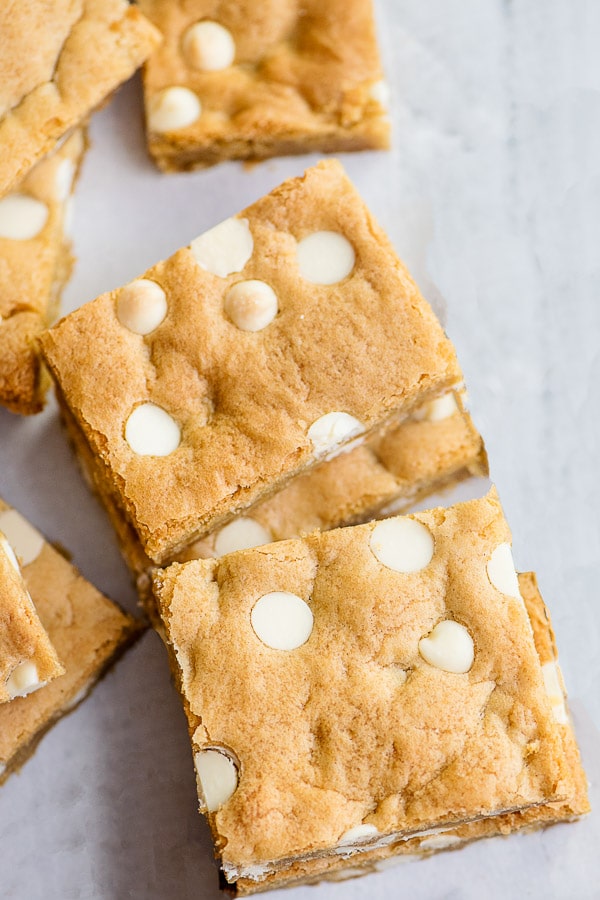 How to Store
At Room Temperature
Store in an airtight container at room temperature for up to 3 days.
If in a hot or humid climate, store in the refrigerator.
In the Refrigerator
Store in an airtight container in the refrigerator up to a week.
In the Freezer
Wrap the individual Blondies in plastic wrap. Place wrapped bars in a gallon freezer bag or freezer-safe container.
This allows allows removing them one by one.
Thaw on the counter or in the refrigerator before eating.

More Recipes You'll Love
Did you make it? Please RATE THE RECIPE below!
Please SUBSCRIBE and FOLLOW ME on FACEBOOK , TWITTER , INSTAGRAM and PINTEREST !