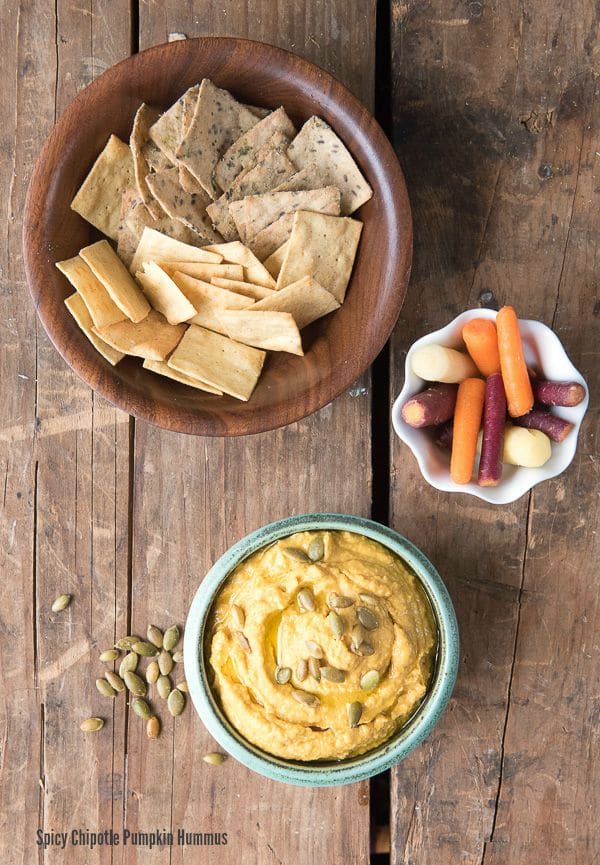 As fall settles in I find foods with deeper flavors are more appealing to me. You too? Foods that are soul-warming without being bulky are great, especially those I can eat a little bit of quickly or on the way out the door. I also find as it gets colder, I'm not as inclined to eat fresh vegetables the way I devour them in the summer. Finding a double duty food like Hummus, which is high in protein to pair with crudité is perfect.
We tend to buy hummus often but it's easy to make in less than 5 minutes. It's essentially lemon juice, garlic, garbanzo beans (also known as chick peas), tahini (sesame seed paste), olive oil and salt. All the ingredients are processed through a food processor or strong blender resulting in a thick, creamy, vibrant flavored dip or spread depending on how you use it.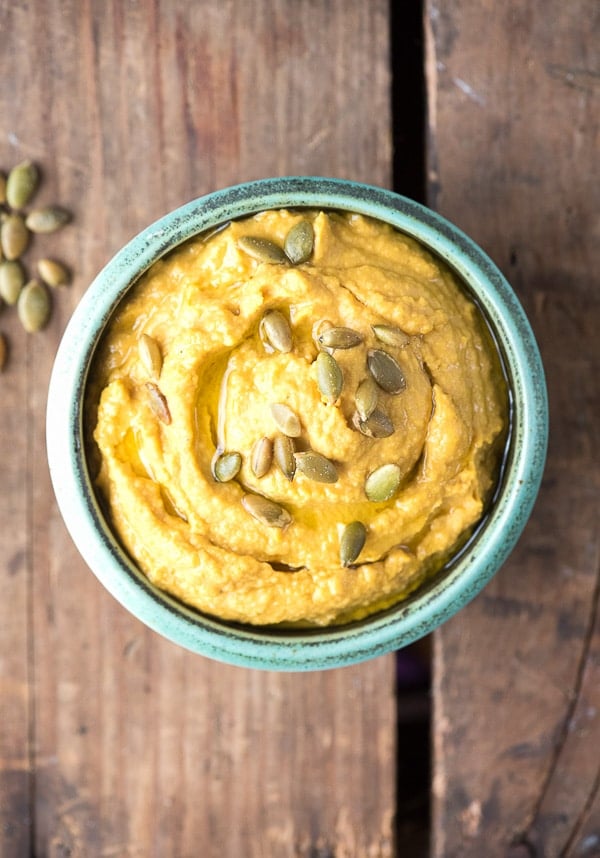 Thoughts of pumpkin recipes are wafting through my mind these days and I love thinking of options to incorporate pumpkin that aren't mainstream. Pumpkin gets a bit of a raw deal in the recipe department I think. Its season of glory is almost upon us and only lasts until early December when most cooks turn their attention toward holiday and winter flavors. Pumpkin desserts are a given. Pumpkin bread? Check. There are so many other tasty recipes to allow pumpkin to shine. Some of the favorites of Boulder Locavore readers include: Slow Cooker Spicy Pumpkin Chicken Corn Chowder, Pumpkin Ricotta Pancakes with Ginger-Thyme Syrup, Pumpkin Spice Buttermilk Bundt Cake with Dark Salted Caramel Glaze, Pumpkin-Spice Panna Cotta with Gingersnap-Toffee Crust, Pumpkin Polenta with Bacon-Maple Gravy and the Best method for Roasting Pumpkin seeds avoiding all the goop (this one almost shut down my website for the furious traffic to that post last October).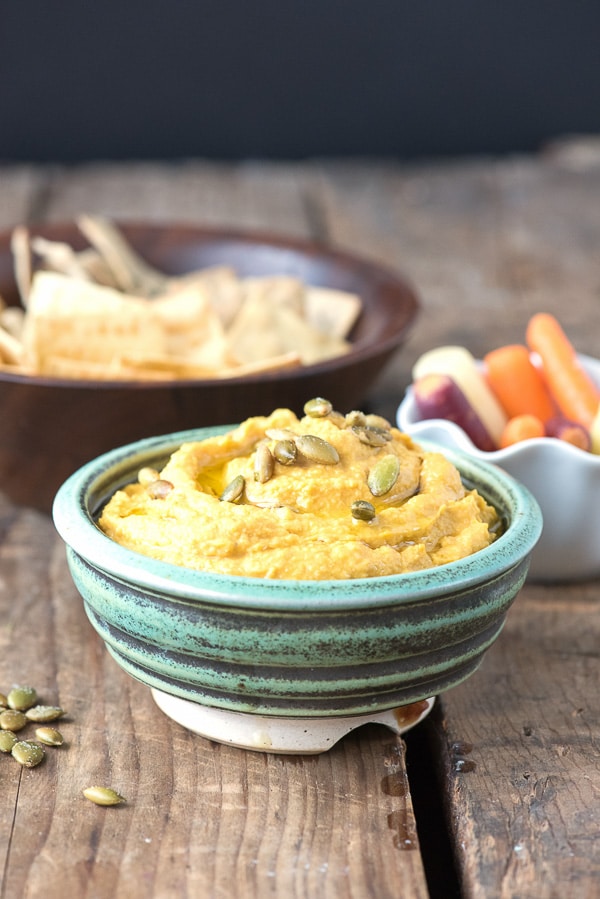 I personally feel the natural earthy sweetness of pumpkin compliments smoky, spicy flavors. I decided to make a Spicy Chipotle Pumpkin Hummus to celebrate the season and it has quickly become a favorite! It's a beautiful blend of traditional hummus flavors, pumpkin, smoky chipotle all in a comingling of flavors where none overtake the others. It's ready in less than 5 minutes too so easy to create something special and seasonal without slaving to do it.
It's common to serve quarters of pita bread to dip with hummus, however being gluten-free and in the spirit of keeping up with daily vegetable servings going, I typically eat it with carrots, celery sticks, jicama slices or a selection of gluten-free crackers. It makes a perfect snack, lunch box serving, appetizer or just to have on hand when wanting a little bite of something sassy!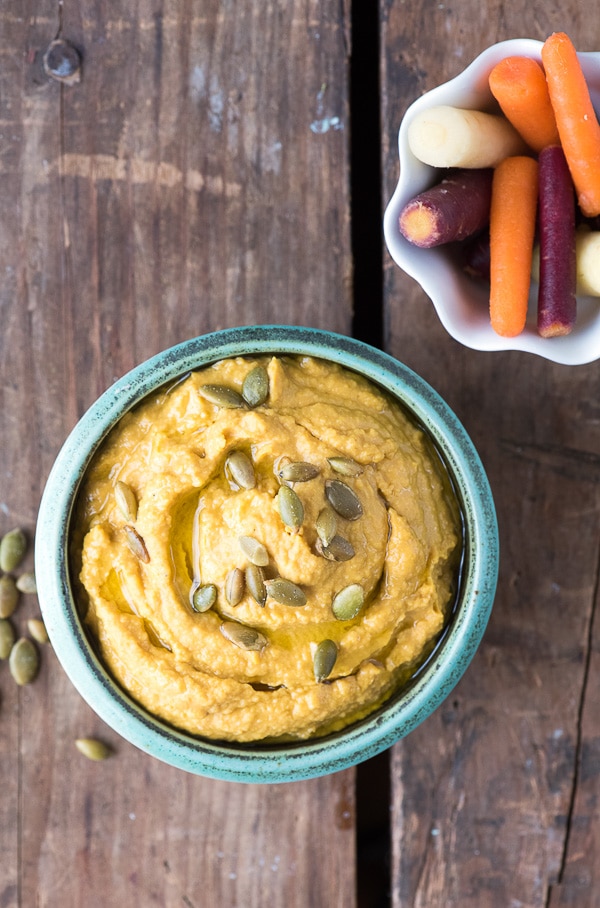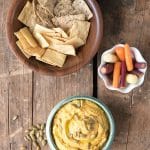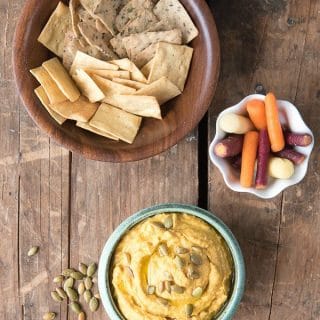 Spicy Chipotle Pumpkin Hummus
It seems silly to even call this a 'recipe' due to how easy and fast it is to make! Adding pumpkin puree and Adobo sauce to traditional hummus deepens the flavors making them a bit more autumnal with a touch of smoky spice!Dipping suggestions: pita bread triangles, crackers, baby carrots, celery slices, sliced sweet peppers or other vegetable slices. Can be used as a spread on bread for sandwiches or crostini.
Ingredients
3

large

Garlic Cloves

, peeled

1

15-ounce can

Garbanzo Beans

, drained

1

cup

Pumpkin Puree

(homemade or canned)

3

tablespoons

Lemon Juice

2

tablespoons

Extra Virgin Olive Oil

2

tablespoons

Tahini

1

teaspoon

ground Cumin

3

teaspoons

Adobo Sauce

(taken from a can of Chipotle Chilies en Adobo or a jar of Adobo Sauce)

1

teaspoon

Kosher Salt

Roasted

, salted Pepitas (pumpkin seeds) to garnish the hummus
Instructions
Add the garlic cloves to the bowl of a food processor and process until minced.

Add the remaining ingredients and process until the hummus is smooth. Refrigerate until serving.
Nutrition Facts
Spicy Chipotle Pumpkin Hummus
Amount Per Serving
Calories 143
Calories from Fat 108
% Daily Value*
Total Fat 12g 18%
Cholesterol 0mg 0%
Sodium 1231mg 51%
Potassium 181mg 5%
Total Carbohydrates 8g 3%
Protein 2g 4%
* Percent Daily Values are based on a 2000 calorie diet.