Lasagna roll ups are a fun and easy way to prepare traditional lasagna. This lasagna roll ups recipe includes an easy meat sauce, ricotta cheese mixture, rolled up and baked into a comfort food casserole everyone loves!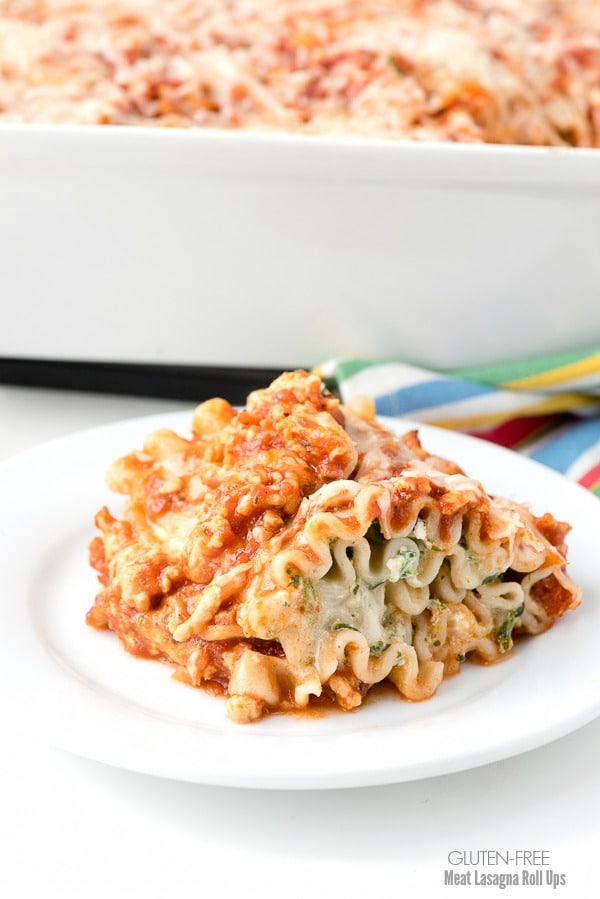 I'm not a trendy person. Meaning if there are trends I don't adopt them just because everyone else does. I don't NOT adopt them either; I just try to be true to what is of interest to me despite what everyone else does and thinks. When it comes to recipes, I'm the same way though I do try to differentiate myself in that arena. If I'm making something that is out on the internet, I want to make it differently so it's not like every other recipe you'd find.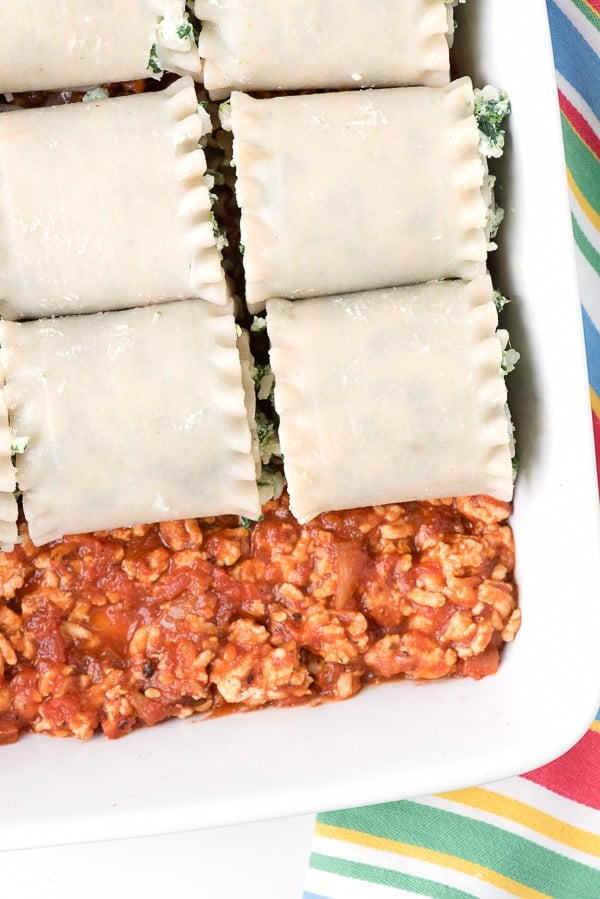 Occasionally I'll encounter a new or trendy recipe online that does catch my attention. Maybe it's a new take on a classic, or has a clever twist that does make me want to jump on it too. In the case of today's recipe, I felt my dietary requirements fencing me in and I wanted to make a version that is gluten-free just to see if it's possible! I know what it feels like to be left out of a food and always strive to make my recipes available to both gluten-eaters and those gluten-free. Today I wanted those who are gluten-free to enjoy Gluten-Free Meat Lasagna Roll Ups.
Easy Prep Lasagna Roll Ups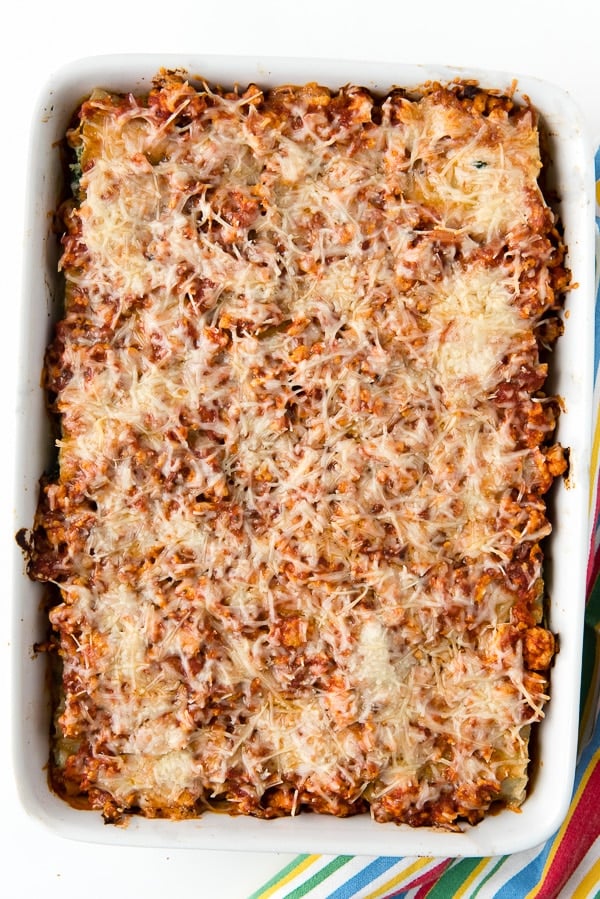 I'm sure you've seen lasagna roll ups before. They aren't new. I've not seen any that are gluten-free however. Since gluten is a binder, it fortifies the products it's used in like breads and pasta. I wasn't sure if gluten-free lasagna noodles would stand up to being rolled without falling apart. I'm delighted to say they do! I've used Tinkyada Brown Rice Lasagna Noodles for as long as I can remember; in fact, I order them in bulk from Amazon.com (which lowers the per package price and there is no shipping charge). There are a few tricks in preparing these noodles for this recipe (included in the instructions) but it's easy peasy. Frankly there is no reason gluten lasagna noodles couldn't be substituted as well (for gluten-eaters).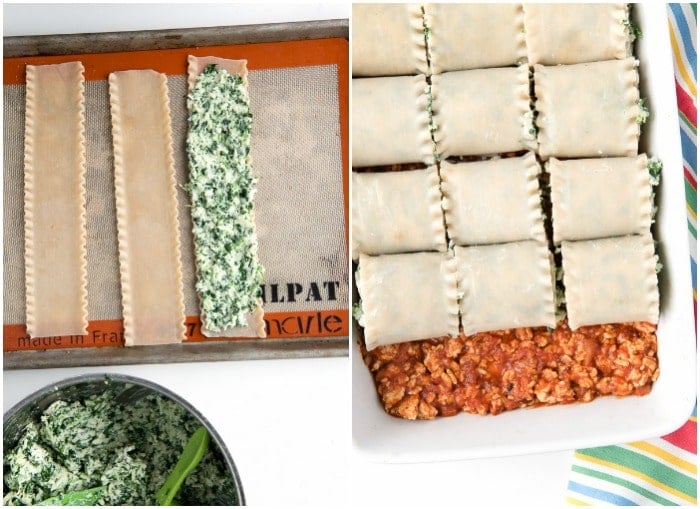 I had mentioned to my husband I was going to develop a recipe for Gluten-Free Meat Lasagna Roll Ups for Boulder Locavore. He started to say something when I interrupted and blurted out 'are you wondering WHY I'd make them rather than a regular lasagna aren't you?' It turned he was not wondering this. I will tell you however about my thoughts. The ingredients are essentially the same in a traditional lasagna and lasagna roll ups. Roll ups are a bit more labor intensive to put together as well. They are perfect for a party or gatherings, when portion size is key or just for a change.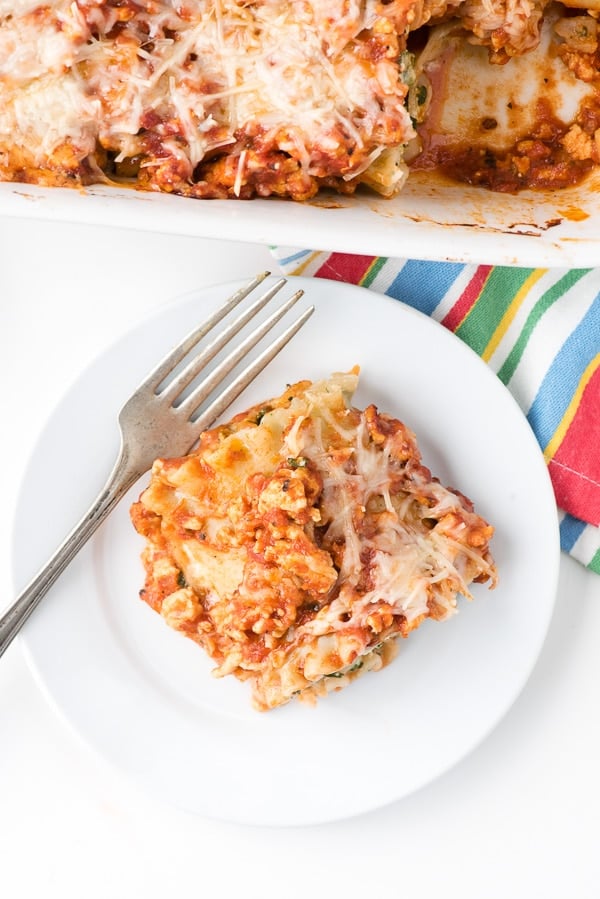 My practical husband did have a query however which was 'how do you eat them?' Just like regular lasagna. They soften while they cook so are no different than taking a bite of a square of lasagna. The filling doesn't squeeze out everywhere. They emerge from the oven with everything melted, soft and ready to eat!
How to Make Meat Lasagna Roll Ups:
To make this lasagna roll ups recipe, you will need a 9 x 13 or casserole dish.
These Meat Lasagna Roll Ups are a great change from regular lasagna for single servings, parties and gatherings. Lasagna Roll Ups are easy to prepare however take a bit more time when using gluten-free lasagna noodles. Noodles are precooked before rolling and cooked to be slightly underdone.
This is a help for gluten-free noodles as they are more robust in structure when cooked this way. To ensure they remain intact and do not rip while cooking or being removed from the cooking water, I suggest cooking them in batches which may lengthen the prep time noted above. Any ground meat may be used.
Those shown have ground turkey to keep them a bit lighter! Though the recipe is based on gluten-free lasagna noodles, gluten noodles may be substituted. With a more robust texture, they may be precooked all at one time rather than in smaller batches.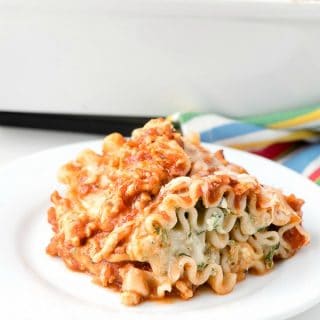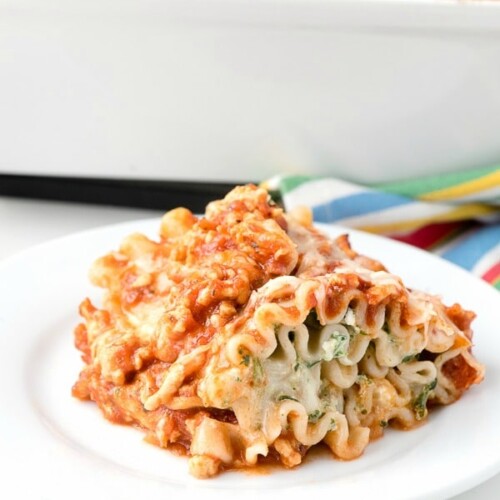 Meat Lasagna Roll Ups
These Meat Lasagna Roll Ups are a great change from regular lasagna for single servings, parties and gatherings. Regular or gluten-free lasagna noodles can be used.
Print
Save Recipe
Recipe Saved!
Pin
Rate
Servings:
15
Lasagna Roll Ups (each roll up equivalent to a regular slice of lasagna)
Ingredients
15

Lasagna Noodles

plus a few extras* (regular or gluten-free)

1

pound (16 ounces)

Shredded Mozzarella Cheese

1

15-ounce container

Ricotta Cheese

2

cups

Shredded Parmesan Cheese

1

10-ounce package

frozen Chopped Spinach

thawed, drained and patted dry with a paper towel if excessively wet

½

teaspoon

Kosher Salt

¼

teaspoon

ground Black Pepper

2

teaspoons

Olive Oil

½

medium

Yellow Onion

chopped

2

medium

medium Garlic Cloves

peeled and diced

16

ounces (1 pound)

ground Meat

(turkey, chicken or beef; your preference)

1

25-ounce jar

prepared Pasta Sauce

(I love Roasted Tomato flavor)

1

teaspoon

Crushed Red Pepper
Instructions
Preheat the oven to 350 degrees. Line a large baking sheet with a silpat or foil (work area to roll the filled lasagna). Fill a large stock pot (minimum 4.5 quarts) with water and a pinch of salt; bring to a boil.

While water is heating, in a large mixing bowl combine the mozzarella cheese, ricotta cheese, 1 cup of the parmesan cheese, spinach, salt and pepper. Mix well and set aside.

In a large skillet, heat the olive oil, add the onion and garlic and sauté until the onions are translucent; 3-4 minutes. Add the ground meat and brown until no pink is visible. Pour in the sauce and allow to simmer on low for 5 minutes.

Spoon 1/3 of the sauce evenly on the bottom of a 13 x 9-inch baking pan. Reserve the remaining sauce to top the roll ups before baking.
Preparing the lasagna noodles
The noodles are boiled until slightly underdone to prepare for filling and rolling them. Since they are gluten-free I like to do them in batches rather than all the noodles at once however if your stock pot is large enough you may do them all at once. Add 1/3 or ½ of the noodles to the boiling water and allow to cook until slightly underdone (e.g. the noodles I used call to cook for 13-14 minutes and I cooked them 10 minutes); they should be pliable but not yet edible consistency. Remove from the boiling water with a slotted spoon or strainer and place onto the prepared baking sheet. Allow to sit 30 seconds or until they can be handled comfortably. Using a paper towel, dab up any excess water on the baking sheet.

Place 1/3 cup of the filling onto a noodle; spread the filling to cover the full noodle. Gently roll the noodle up and place on top of the sauce in the baking sheet. Note: Place 3 roll ups end to end across the pan and 5 lengthwise; fill the pan in this pattern. Refer to photos.

Once the pan is filled, top evenly with the remaining sauce and the 1 cup Parmesan cheese. Bake for 30 minutes until bubbly and cooked through.
Nutrition
Calories:
397
kcal
|
Carbohydrates:
28
g
|
Protein:
23
g
|
Fat:
21
g
|
Saturated Fat:
11
g
|
Cholesterol:
69
mg
|
Sodium:
791
mg
|
Potassium:
384
mg
|
Fiber:
1
g
|
Sugar:
2
g
|
Vitamin A:
3125
IU
|
Vitamin C:
4.9
mg
|
Calcium:
413
mg
|
Iron:
1.8
mg
Originally published: March 1, 2016