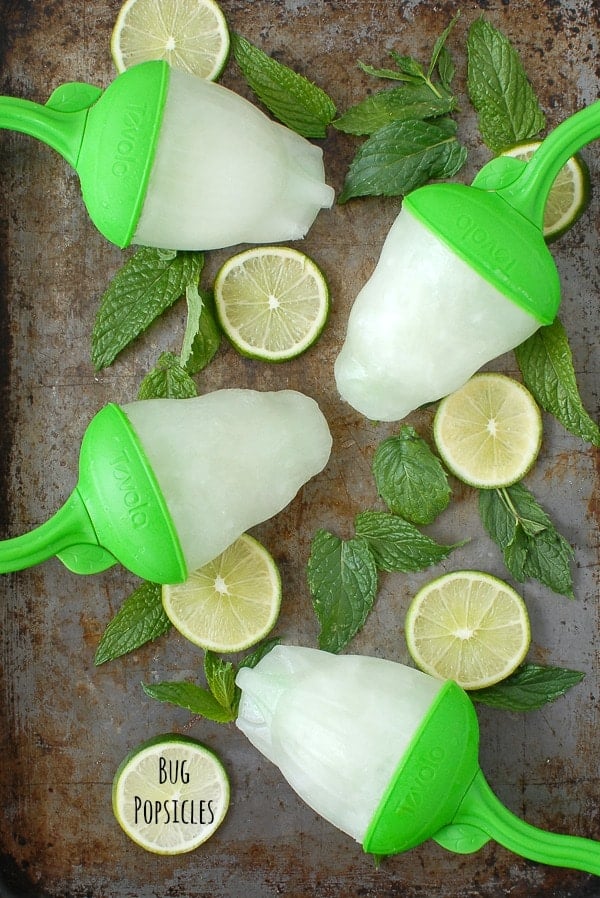 It seems fitting on the longest day of the year to share an iconic summer favorite; popsicles. I have many childhood memories of the double-stick diamond shaped juice popsicles steaming down my hands in orange, purple and green faster than I could lick in the heart of summer temps. Nothing cooled or felt more like summer than a frosty popsicle.
As do many foods, popsicles seemed to disappear from the scene for some time. Perhaps that was the stage of my life as a working professional where summer was merely a nod to changing the suits I wore rather than an invitation to get out and while away the days as when I was a child.
I will say popsicles have made a strong comeback. Anyone who reads food publications or blogs will note an exuberant resurgence of the frozen juice on a stick.
With a creative verve they are leaping to the forefront with exotic combinations of fruits and juices, as well as cocktails-on-a-stick. I myself have been bitten by the popsicle bug and have many molds and several recipes for popsicles of all sorts I've shared on Boulder Locavore (see some listed below).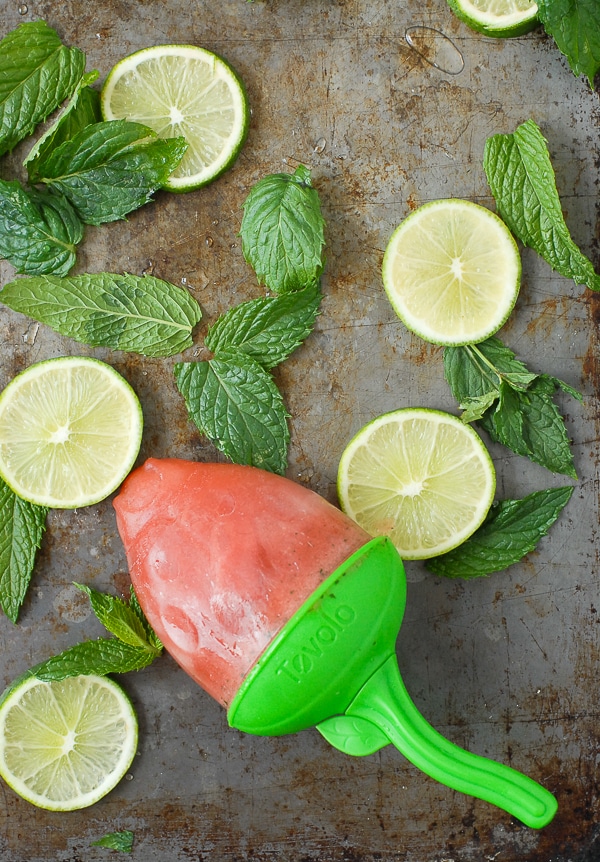 I recall my mom having the traditional popsicle mold from Tupperware. The rounded popsicles with colorful sticks allowing making them at home. Today molds in every shape and size can be found, from rocket ships to ring pops with several more traditional shapes in between. Admittedly having a penchant for whimsy I could not resist a set of Bug Popsicle molds I found recently at Whole Foods. Sweet looking stag beetles, caterpillars and lady bugs seemed a perfect celebration of the summer heat and brought back memories of hours of bug hunting when my kids were younger.
One thing I love about making popsicles is personal choice of the ingredients. I wanted to make two different recipes giving a chromatic nod to each of the bugs. For the green popsicles I used a prepared, naturally flavored limeade the primary ingredient of which is lime juice (sugar is the third ingredient and it's natural sugar), fresh mint and ginger, and for the red popsicles I used fresh watermelon and mint. We are eating tons of watermelon at the moment and they are so sweet no sugar needs to be added.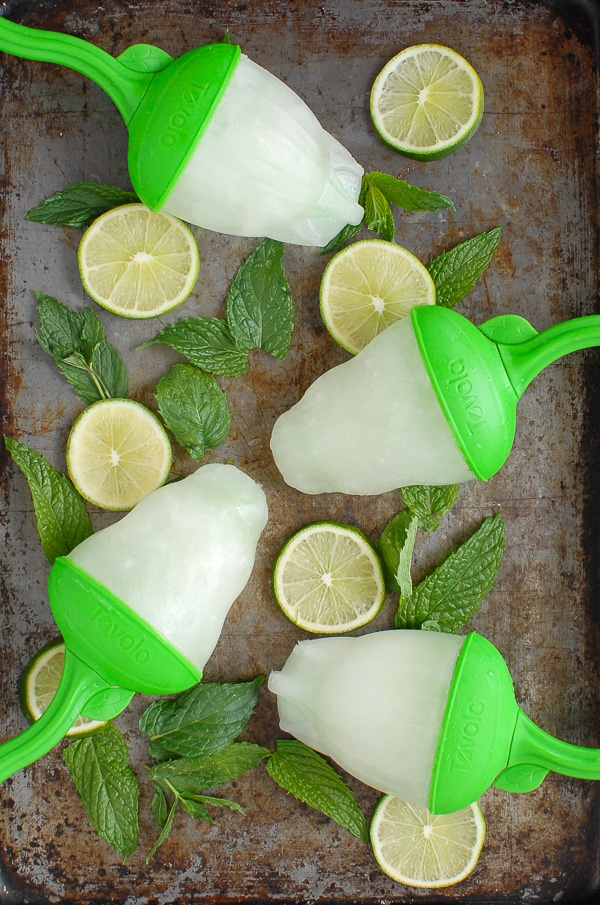 When making home recipes for popsicles there is some math involved as every mold is a different volume. These bug molds are large, making 4 ounce popsicles. I have shared the overall volume of the popsicle mixture to allow planning for your personal popsicle molds. Don't have a popsicle mold? Freeze the mixture in ice cube trays (shapes are great for that) or silicon baking molds, or disposable paper bathroom cups (place a piece of foil over the top and insert a popsicle stick through it to hold the stick in place while the popsicle freezes).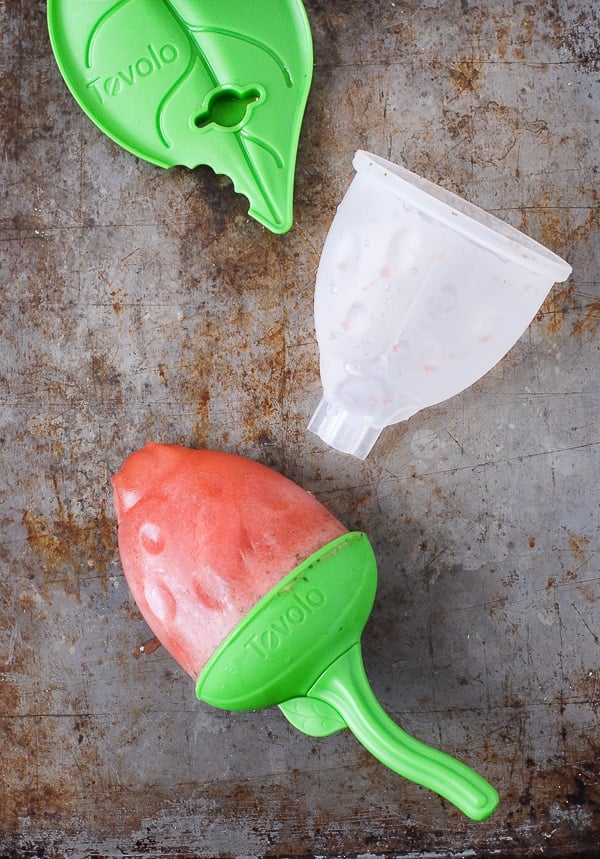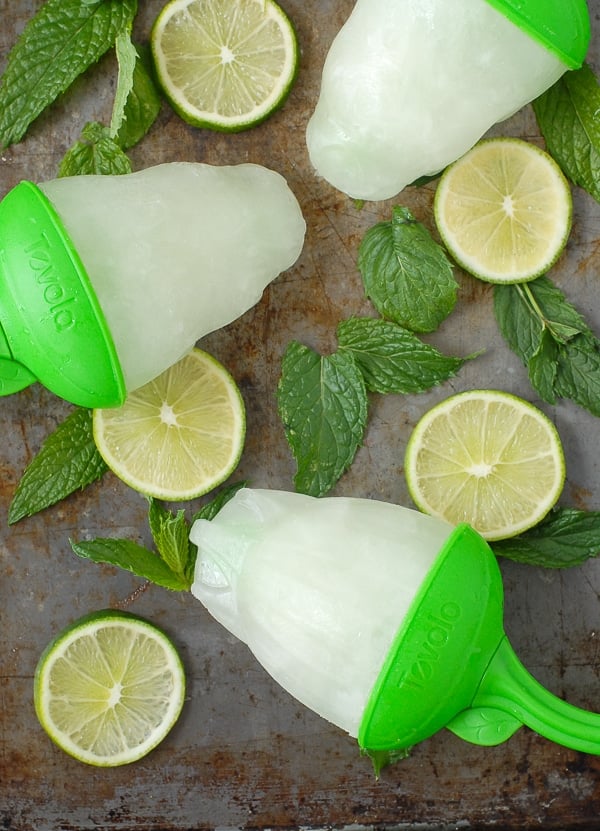 More Boulder Locavore popsicle recipes:
Mango Kiwi Limeade Fruit Popsicles {Paletas}
Chai Coconut Milk Boba {Bubble Tea} Popsicles
Costa Rican Watermelon Mojito Popsicles {ADULT}
Summer White Wine Fruit Popsicles {ADULT}