Cocktail hour is forever changed with these heat-quenching Costa Rican Watermelon Mojito Popsicles. Watermelon, mint and a bit of rum, take the edge of summer's heat with a refreshing poptail!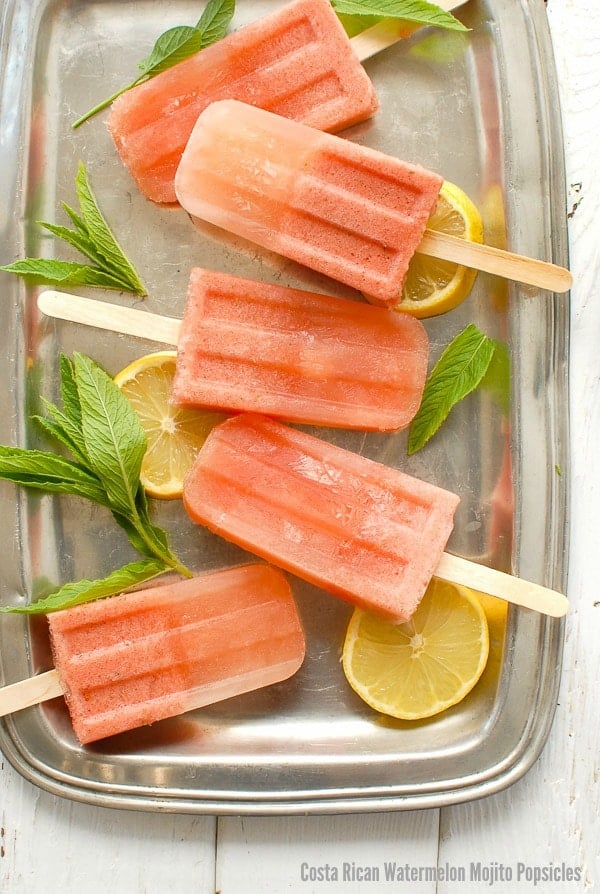 I've always thought an interesting career would be to be a Social Anthropologist. I'm fascinated about the trends of the collective consciousness. Why out of the blue every TV network might feature medical or law programs, for instance. Why there is a current fixation with reality showcased in bizarre and intrusive exposes on TV and the internet.
What shifted the public eating to a more down-to-earth sensibility (though that to me is an easier thing to explain)? Why a certain food leaps to being in vogue, either from nowhere or being circulated from the past into the now.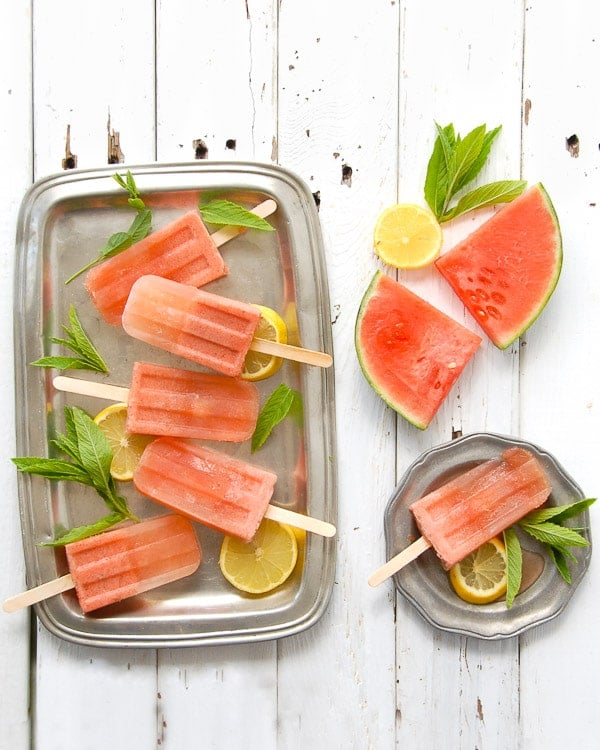 I am currently obsessed with popsicles. Making them. Eating them. I'm not sure what opened the popsicle flood gates exactly but it's on like Donkey Kong for me. I have not loved popsicles forever but they are in my forefront now, and I know I'm not alone.
I have two popsicle molds and have been seeking a very specific, third type that has a vintage feel. I was recently in a local hardware store that has everything, looking for this popsicle mold. I ran into a couple doing the same. They stood over my shoulder and evaluated the molds at this store in hushed tones which I overheard to reflect all the disappointments I had experienced on my hunt. We began to trade tips on numerous stores that had failed us, brick-and-mortar and online, sharing a camaraderie of the popsicle mold hunt. Go figure. Fortunately I was able to find the popsicle mold online (the wooden popsicle sticks too) and I'm thrilled to use them today.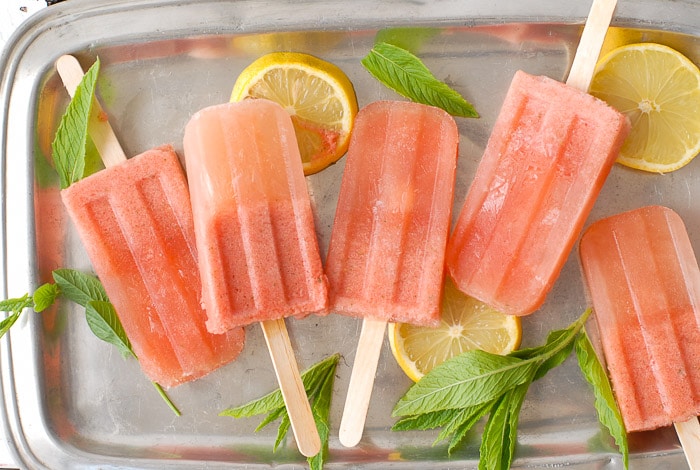 When my popsicle switch was flipped I instantly had ideas for about 5 different recipes that I'm trying my hardest to pace rather than startling readers into feeling they've popped in not on Boulder Locavore but to 'Popsicles are Us'. After making Mango-Kiwi Limeade Paletas I really wanted to try a cocktail popsicle. A two summers ago we traveled to Costa Rica and dove headlong into everything local; the food and libations garnering equal attention to the fascinating rain forest landscape. Our hotel served some gorgeous cocktails including a Basil Mojitos which became a fast favorite. Another delight were Watermelon Mojitos which they'd make fresh poolside, pushing a stocked cart around those sunning lazily, muddling fresh cocktails on demand; like table side Caesar salad but with booze.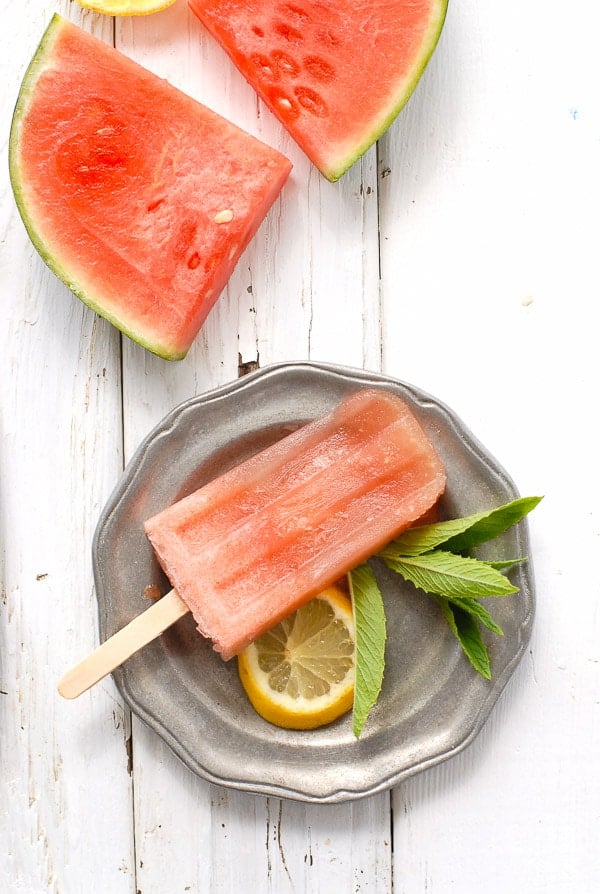 I felt the Watermelon Mojitos was destined to be my first liquor pop. Instead of muddling I blended everything leaving a bright taste of mint and watermelon. The color was a sublime pink and the flavor refreshing and fun. I think eating one's cocktail is a trend that deserves more exploration and Costa Rican Watermelon Mojito Popsicles are a perfect place to start! Popsicles are not just for kids. And these pops are definitely for adults only!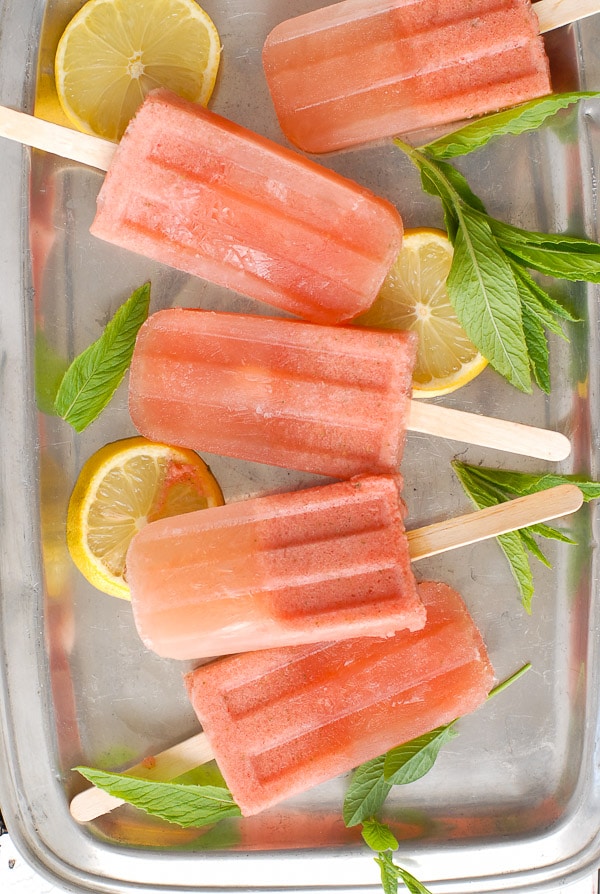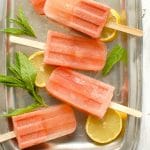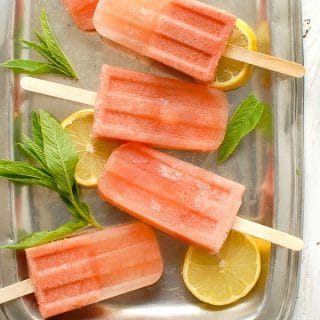 Costa Rican Watermelon Mojito Popsicles
There is nothing more refreshing than an ice cold cocktail and this Costa Rican Watermelon Mojito will fill the bill in popsicle form. Quick to make and definitely fun to eat.
Servings
10
2 1/5 ounce popsicles (or 25 ounces…with a bit left over to sample!)
Ingredients
3

cups

Watermelon

, cubed

4

ounces

freshly squeezed Lemon Juice

5

ounces

White Rum

4

ounces

Simple Syrup

12

large Spearmint leaves

, rough chopped
Instructions
Blend all ingredients on high until fully incorporated. Pour into popsicle molds; cover and insert wooden sticks. Tip: applying a layer of foil over the top of the mold or lid of the mold allows placement of wooden sticks and they will not float out of the mold.

Freeze for several hours or overnight. Run hot water for a few seconds on the outside of the mold to release pops!
More recipes for Frozen- Mojitos-on-a-Stick:
Kiwi Mojito Popsicles {Gimme Some Oven}
Mango Mojito Popsicles {Erica's Sweet Tooth}
Blackberry Mojito Ice Pops {White On Rice Couple}
Watermelon Mojito Popsicles {Endless Simmer}