You've heard the Christmas Carol about chestnuts roasting over and open fire, but that's not necessary!  I have the Best Roasted Chestnut recipe and it's far easier than you imagined!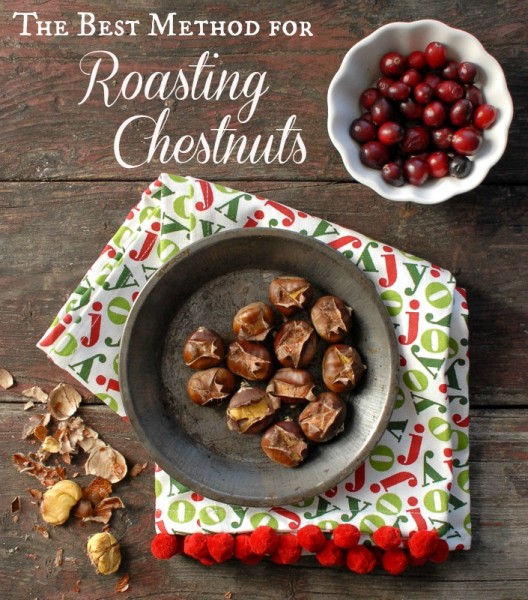 A clear highlight of the holidays are all the unique foods that are woven into family traditions, either due to their particular history or their seasonality.   Roasted chestnuts are a certain winter treat that only seem to pop up in December.  Perhaps that is when I look for them, after breaking out the holiday music CD's, reminded of roasting them on an open fire (sadly Jack Frost has not nipped at anyone's nose yet in Colorado but we have hopes for his appearance this weekend!).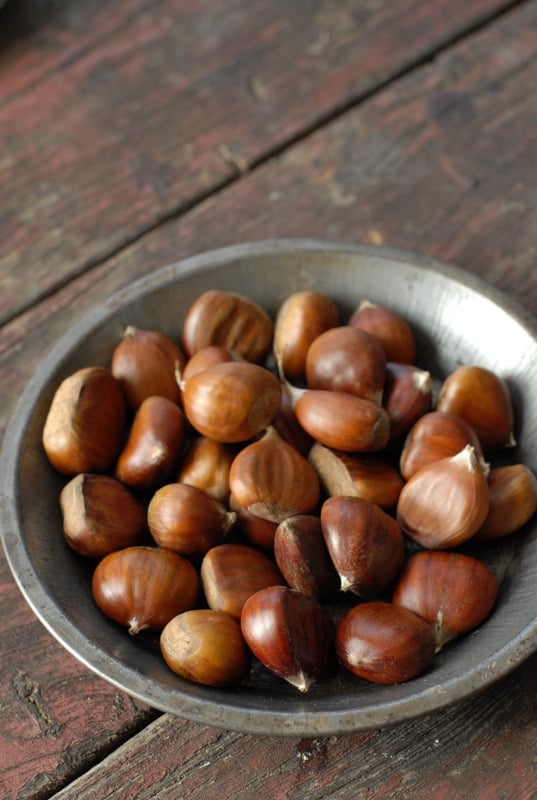 Roasted chestnuts are a delicious and unique signature of the holiday dining-scape, as well as very easy to prepare.  The chestnut itself is a large, soft, sweet-tasting nut enclosed in a beautiful, hard mahogany-looking shell.  You will find them in grocery stores now (available as 'organic' too), ready to be oven-roasted and enjoyed as part of your holiday celebrations.  They can be eaten plain or added to dishes like stuffing for a sweet crunch.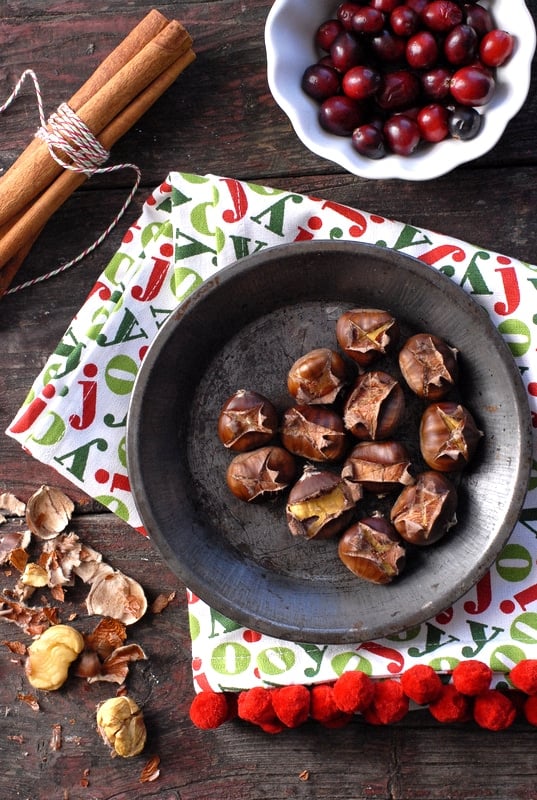 Normally my family meanders through the December, heading toward Christmas by way of festive outings of all sorts.  Generally we'll end up at a few where roasted chestnuts are sold as a snack.  This December has been unusual for a few reasons.  For starters it has been in the 60's with not so much as a chill in the air in the daytime.  Though neighbors have donned their Christmas house lights, it's not yet feeling like Christmas is barreling down the pike in our direction.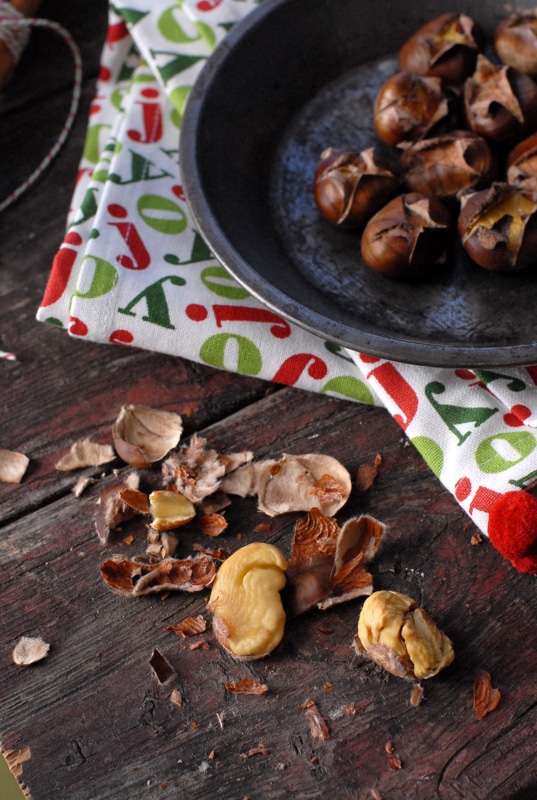 We did venture out last weekend, on the hunt for a dose of Christmas spirit, heading to a small Victorian mountain town that hosts an annual Christmas Market.  Arriving over dressed in ski garb we strolled the charming streets, enjoyed a horse drawn wagon ride (complete with narration of some of the lesser known lore of the town's history), and purchased some roasted chestnuts.  To our disappointment the chestnuts clearly had been cooked a few days prior, (and not well) leaving them dried out, difficult to peel and mostly impossible to eat.  It sparked our holiday hunger for a well-cooked batch which we made once we arrived home!  This easy method is a sure guarantee for the BEST roasted chestnuts, using a few key tips to make it easy and successful at home!
When peeling chestnuts there is the outer shell and a thin inner covering that comes off easily after this roasting method.   I have read other methods suggesting using a dull knife; ignore that advice!  The outer shell of the chestnut takes some effort to penetrate.  Though it is a thin shell, it's smooth requiring a tight grip and a sharp knife to slice through it; a sharp serrated knife works best.  If the chestnuts are not scored, they can explode due to the pressure inside as they cook.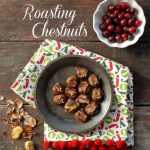 The Best Roasted Chestnuts
Roasted chestnuts are a signature of the holiday season. This easy method leaves them easy to peel and perfectly cooked.
Ingredients
Chestnuts

(edible variety from a store, in the quantity you desire)
Instructions
Preheat the oven to 425 degrees.

With a serrated knife (a bread knife works great), slice a large 'X' on the flat side of the chestnuts. Be sure you slice through to the nut itself which allows steam to escape when cooking and easy peeling.

Place scored chestnuts on a baking sheet with the X facing up. Bake for 25 minutes at which time the shell of the chestnut will be peeling back around the 'X'.

Remove from oven and place a kitchen towel over the pan allowing them to steam slightly for 15 minutes. Chestnuts can be peeled when cool enough to handle (peel by pulling the shell away at the 'X'). Chestnuts are best eaten right after roasting (versus saving them for another day).