Lentil Stew with Mexican Chorizo is packed with bold flavors, fantastic textures and great nutrition! It's an easy recipe that is ready in an hour.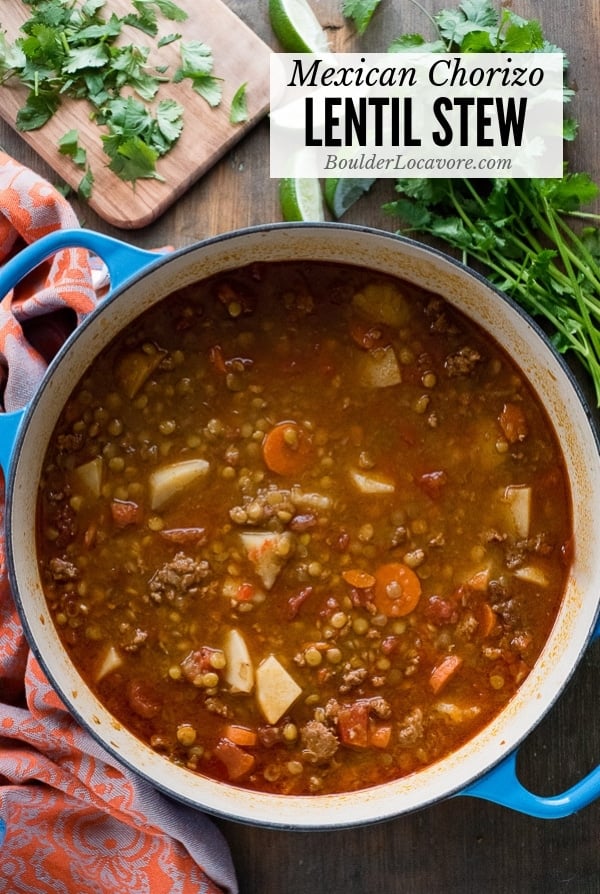 Updated December 2018
Once the weather turns cold, I would happily eat soup every single day.
Once the snow begins regularly blanketing our region, I crave chunky soups and stew.
I'd eat them any time of the day. In fact, I'll let you in on something…..
I'm eating a steamy hot bowl of this Mexican Chorizo Lentil Stew right now for breakfast!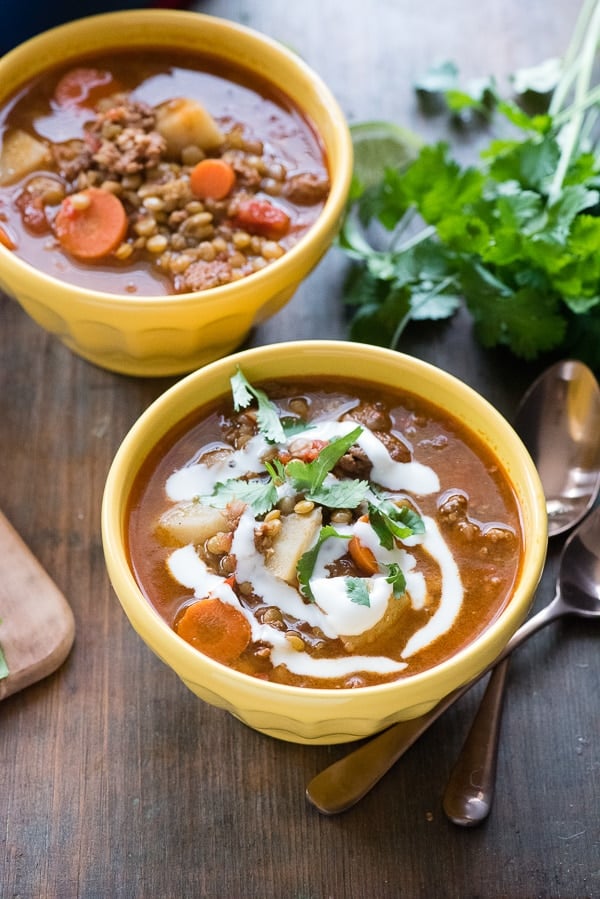 Hearty Lentil Stew
Soups and stews have to be some of the easiest recipes to make. They are often more affordable too especially when using dried beans or legumes.
In the case of lentils, they are not fussy by any means. They require no pre-soaking as dried beans do and cook in less than an hour.
This is the most soul-warming stew you'll find! Chock full of spicy Mexican Chorizo, green lentils, chunks of potatoes and flavored with cumin.
It's an easy recipe to make and great to take the edge off a chilly day!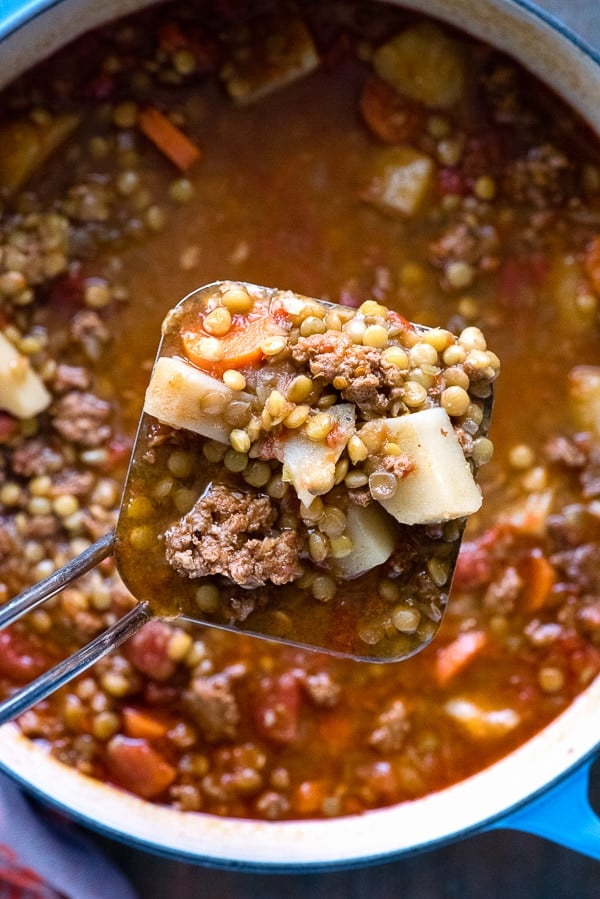 Key Ingredients in Lentil Stew with Mexican Chorizo
Green lentils are the key ingredient in this Lentil Stew. They hold their shape and have a flavor that easily works with many flavor palates, especially with ethnic spices.
This Mexican Chorizo Lentil Stew recipe doesn't require many spices, relying on the bold, spicy flavor of the ground Chorizo.
The Difference Between Mexican and Spanish Chorizo
There is a difference between Mexican and Spanish chorizo.
Mexican chorizo is ground and Spanish chorizo is an aged, hard sausage (something you'll find in paella recipes).
Mexican chorizo has a very spicy, warming quality to whatever it is added to recipes like: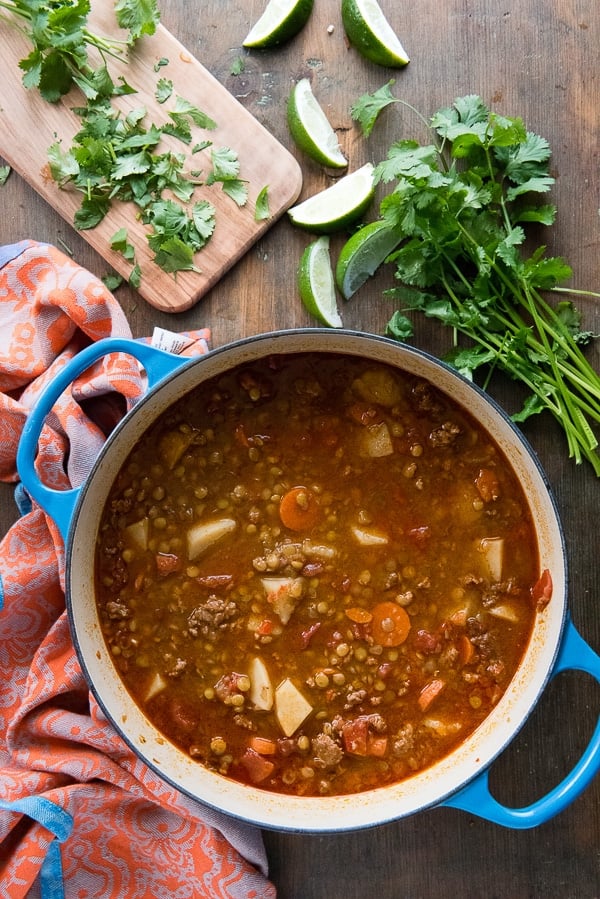 How to Make this Easy Lentil Stew Recipe
This Mexican Chorizo Lentil Stew is super easy to make.
Brown the chorizo in the cooking pot, using a stiff utensil like a wooden spoon or spatula to break it into small pieces. Remove from the pan.
Sauté the chopped vegetables briefly in the pot
Add the potatoes and remaining ingredients and the browned chorizo.
Simmer until the lentils and potatoes are done; about 40 minutes.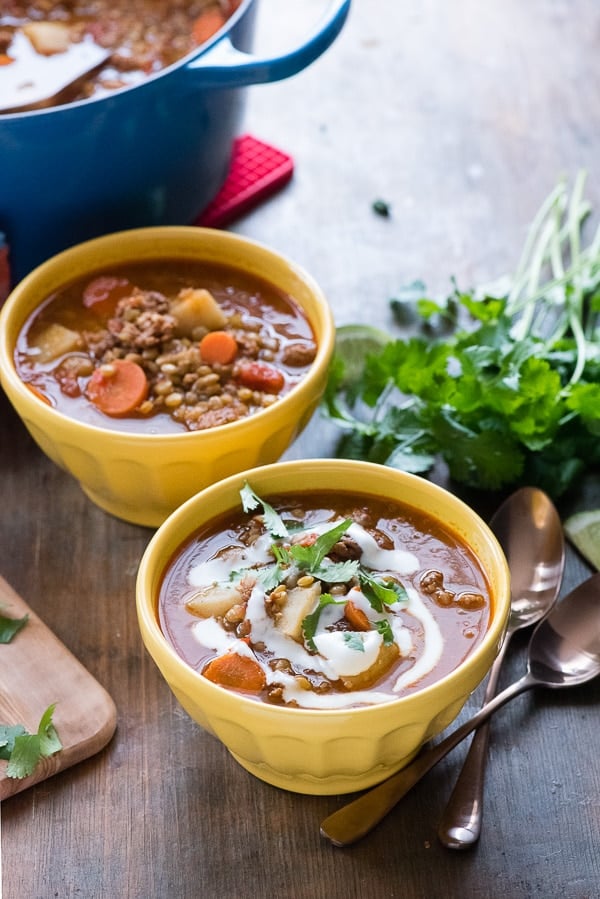 Timesaving Tips
I use a mini chopper to chop all my vegetables. It's perfect for soups and stews.
When the ingredients are all going in together, I don't even worry about separating them in the chopper.
The mini chopper is really a small food processor and very affordable.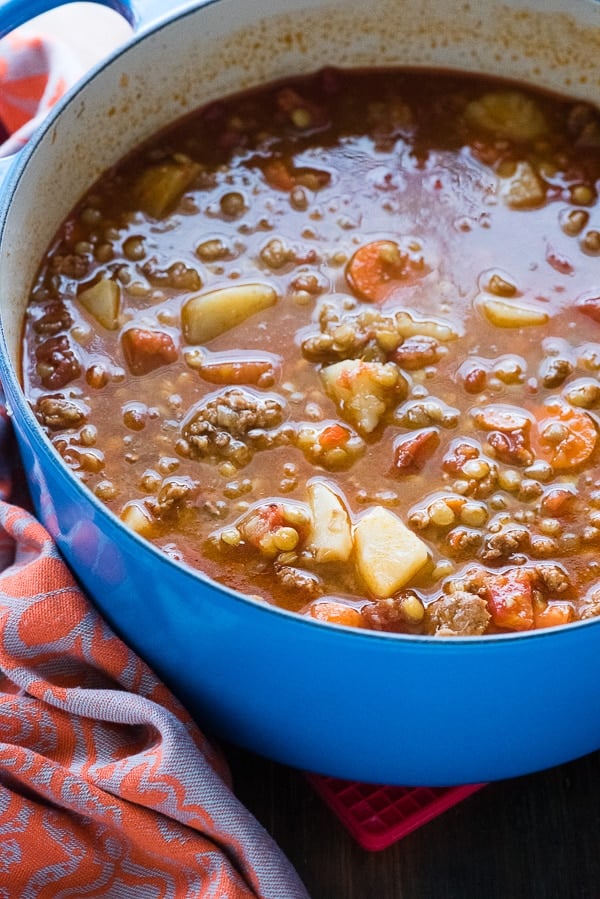 If you've made this Mexican Chorizo Lentil Stew recipe please RATE THE RECIPE below!
Please SUBSCRIBE and FOLLOW ME on FACEBOOK , TWITTER , INSTAGRAM and PINTEREST !
Originally published January 15, 2017