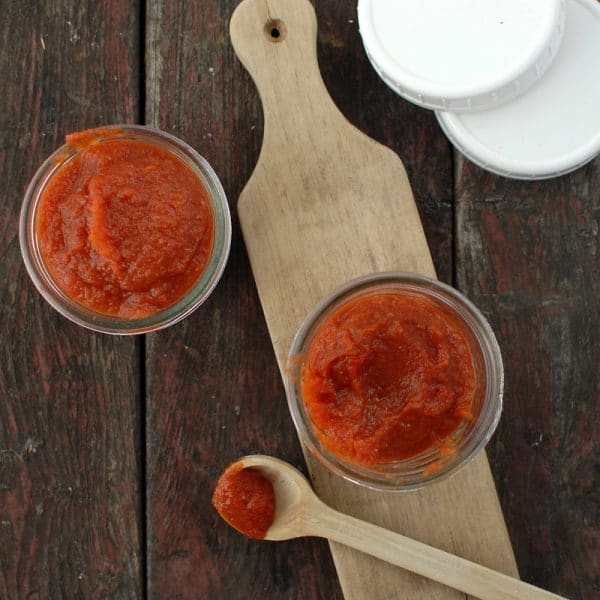 Generally doing things 'in moderation' has not been a descriptor of my personality.  I tend to be a 'go big, or go home' sort.  I usually dive into something full bore, immerse myself and then very often discard it as is my fickle Gemini nature.
I dove into the Locavore pond headlong, not even stopping to check if the pool had been drained.  My original quest was to see if it were possible to over-winter in Colorado subsisting on produce and proteins from a 100 mile-Michael-Pollan-radius.  It truly was an experiment for which I did not know how to anticipate the outcome.
I did anticipate however that I'd have to quickly bone up on food keeping practices, assuming local fare would not be readily available through the winter months.  I began freezing and dehydrating food, signed up for two winter CSA shares and started canning.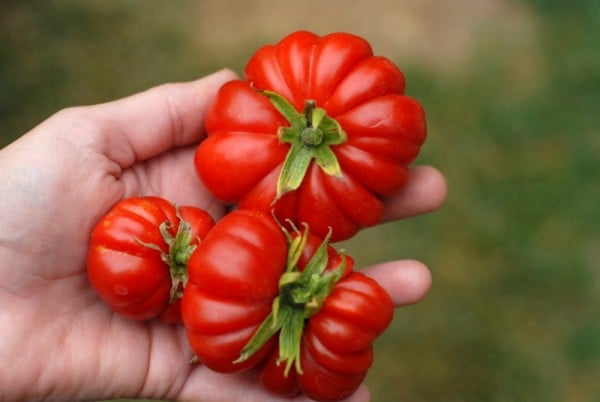 I'm not fabulous at estimating volume.  I also prefer to have more than I might need rather than be caught short.  So when I was ready to can tomatoes, I started with 25 pounds.  Shocked at how little this amount actually did yield, I went back in for another 25 pounds.  I made tomato sauce, Mexican Salsa (click here for the recipe; it's really delicious and easy), quartered tomatoes and tomato puree.  I could not decide between the tomato sauce recipe in my favorite book at the time, 'Animal, Vegetable, Miracle' (Barbara Kingsolver) or a different recipe from one of the 7 canning books I purchased for this undertaking.  So I went back for 50 more pounds and made both.  Not being sure 100 pounds of canned tomatoes would do it I thought a last 50 would surely be enough…..right?  150 pounds of canned tomatoes.  And it was plenty.
I have tomatoes this year from my farm CSA and from my small home garden in which I planted 7 different heirloom plants…..liking variety and all.  I am NOT canning tomatoes this year.  I actually did can more the year following my 150 pound year and we are still well stocked.  I wanted to do something different this year.  Maybe something that was faster.  So I decided making my own ketchup would be fun.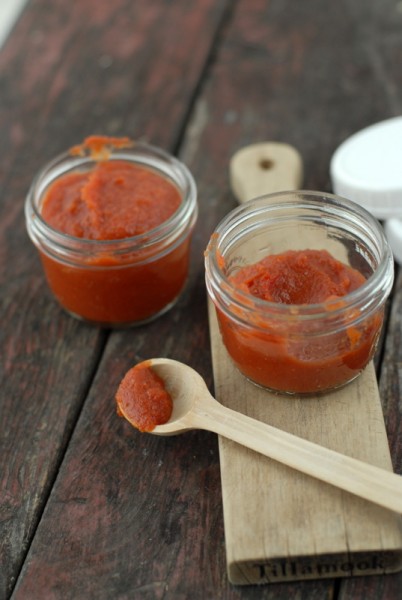 After researching in our abundant home cookbook library and online, I settled on a tried-and-true source: Saveur.  I found an approachable recipe and had all required ingredients already between my pantry, and garden.  I had heard making one's own ketchup yielded a completely different condiment and it is true.  The depth of flavor is far greater, and the flavor components really stand out more as well.  I diverged from the original recipe a bit so will share it with my alterations.
After tasting the freshly made ketchup I had an immediate and urgent craving for Sweet Potato Fries (baked) with kosher salt and my new ketchup.  It was nothing less than perfect!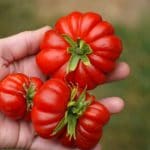 The Best Homemade Ketchup
Most tomato sauces are made with Roma style tomatoes due to their lower moisture content and high flavor. I made my ketchup with a mix of Roma hybrids and heirloom cherry tomatoes and it was delicious. Experiment with the tomatoes you have on hand for varied flavor in every batch!
Ingredients
4

whole cloves

1

bay leaf

1

cinnamon stick

1

⁄4 teaspoon celery seeds

1

⁄4 teaspoon chile flakes

1

⁄4 teaspoon whole allspice

2

pounds

tomatoes

, roughly chopped

1 1

⁄2 teaspoon kosher salt

1

⁄2 cup white vinegar

5

tablespoons

light brown sugar

1

yellow onion

, chopped

1

Anaheim chile

, deseeded and chopped

1

clove

garlic

, pressed

Cheesecloth

Kitchen twine
Instructions
Prepare a square single layer of cheesecloth that will fit all the spices with room to fold and secure the contents. Place the cloves, bay leaf, cinnamon stick, celery seeds, chile flakes, and allspice in the middle of the cheesecloth. Fold closed and secure with a length of kitchen twine.

In a medium stock pot (enough to house the tomatoes with some extra room) place tomatoes, salt, vinegar, sugar, onion, chile, garlic and spice packet. Cook over medium heat until tomatoes and chiles are soft and onions are translucent and limp (about 30 minutes).

Remove and discard spice packet. Using a small disk in a food mill, process ketchup through the food mill back into stock pot. (Should you not have a food mill you can run the ketchup through the blender and strain through a mesh strainer to remove the tomato seeds).

Cook over medium-low heat for an additional 20-30 minutes until thickened to your preference.

Store in a sealed container in the refrigerator for up to 3 weeks.
Recipe Notes
Adapted from Saveur Magazine