Pesto is one of the easiest, most versatile sauces to make at home.  The combinations of greens and nuts used to create exciting variations are limitless.  This collection of 25 unique pesto recipes you really need to make will give you loads of options for pasta, salads, appetizers and more.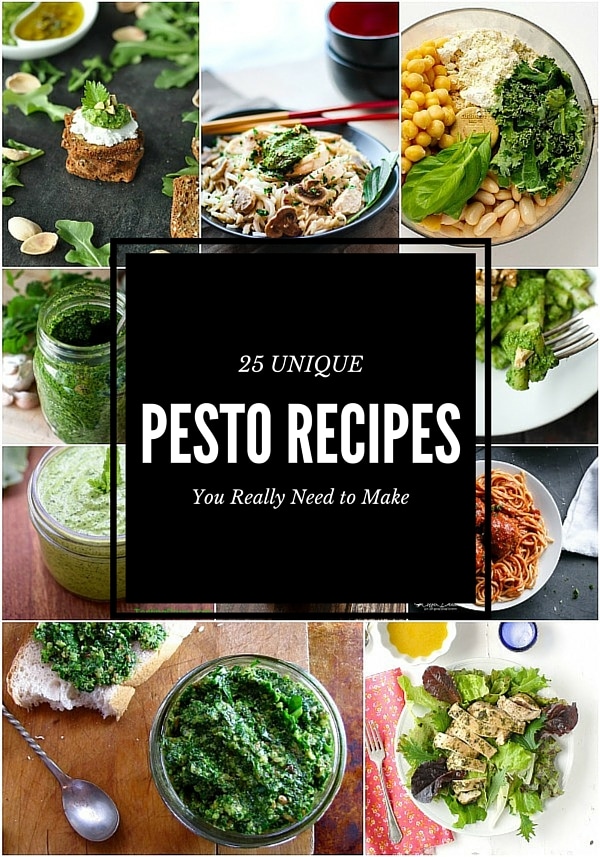 I recently shared a recipe for Sriracha Hummus.  Hummus is one of those foods that people normally buy at the store, but is very fast and inexpensive to make.  A few simple ingredients are thrown into a food processer or blender, and within five minutes you have hummus.
Another recipe that is very similar in ease of making is Pesto.  It too seems to bear an 'a ha' quality when people actually make it themselves and are left wondering why they hadn't before.  Traditionally pesto is made of basil leaves, garlic, pine nuts, olive oil and parmesan cheese (though not always with the cheese).  Like hummus, everything is added to a food processer and whirled into a textured sauce that most often is tossed with pasta for a fresh, delicious, quick entrée.  It is easily frozen too if the cheese is omitted.  During the summer when my garden is bursting with basil I love making batches which I freeze in thin bags with my Food Saver and stack them neatly in the freezer for use all year.
As with many recipes, the boundaries of what defines pesto have stretched to really be any greens, with a nut, and olive oil (though not exclusively). It has become familiar to find such variations and also to change up how they are used.  For instance, I have switched up the base recipe to use some of a burgeoning tarragon crop, transforming it into a delicious Tarragon Pesto Chicken Breast with Dressed Greens.  It has a sophisticated, French-inspired flavor and is whipped up in less than 30 minutes.
Regular readers will know that I have a tortured mint over growth situation in my yard during the summer.  One brief hesitation about whether to plan a small mint plan in a pot or not, (I opted for 'or not') has led to a sci-fi infiltration of mint everywhere in my yard.  There are only so many Mojitos a girl can make so I made a Sweet Mint Pesto that is wonderful, made with almond oil, almonds and honey.
Being all for easy, flavorful recipes I rounded up some delicious, unique pesto options for you to add into your recipe rotation.  With the right handful of ingredients, pesto is ready to make a meal with little lead time.  I'm sharing a collection of types of pesto and different types of recipes using them.  For this round-up I stuck to the definition of pesto recipes including a base green and a nut (though I've seen delicious options without any greens at all….I'm not sure technically that still is a pesto).  I hope you'll find some you love!
Note for those on a gluten-free diet: Most pesto is naturally gluten-free however some of the recipe using pesto (second group below) may require adaptation of the pasta or other ingredients to ensure they are gluten-free!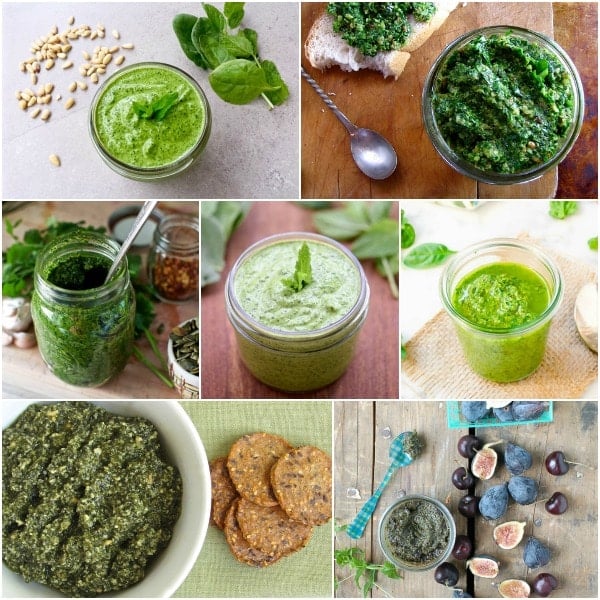 PESTO RECIPES
Classic Basil Pine Nut Pesto with instruction on how to freeze it in ice cube trays (The Lemon Bowl)
Spinach Walnut Pesto (Flavor the Moments)
Broccoli Basil Pesto (Dizzy, Busy and Hungry)
Cilantro Pumpkin Seed Pesto (Hola Jalapeno)
Spinach Pecan Pesto (Miss In The Kitchen)
Bacon Basil Pesto (Baked By Rachel)
Seaweed Pesto (Tasting Page)
Lemony Pistachio Basil Pesto (The Lemon Bowl)
Pistachio Arugula Sweet Pea Pesto (Peas and Crayons)
Vegan Spinach Mint Pesto (Tasting Page)
Pea, Arugula and Walnut Pesto (Floating Kitchen)
Roasted Pepper and Almond Pesto (Everyday Maven)
RECIPES USING PESTO (pesto recipes included)
Toasted Pistachio Arugula Pesto with Brown Rice Fusili Pasta
Kale Walnut Meyer Lemon Pesto with Brown Rice Penne Pasta
Tarragon Pesto Chicken Breast with Dressed Greens
Roast Chicken with Shallots, Radishes and Radish Green Pesto (Heather Christo)
Pasta with Parsley Pistachio Pasta (A View From Great Island)
Thai Pesto Chicken Gluten-Free Noodle Bowls (Cotter Crunch)
Turkey Pesto and Garlic Meatballs (Café Delites)
Chive Pesto Potato Salad Recipe (Ciao Florentina)
Tomato Pesto Soup with Cheesy Croutons (Erren's Kitchen)
Pesto Veggie Burger with Sun Dried Tomato Aioli (Namely Marly)
Pesto Crusted Rack of Lamb with Roasted Plums (Cook the Story)
Zoodles with Spinach-Kale and Basil Pesto (Simple Roots Wellness)