Shrimp Creole is a fast and easy recipe great to spice up a busy weeknight OR to serve when entertaining.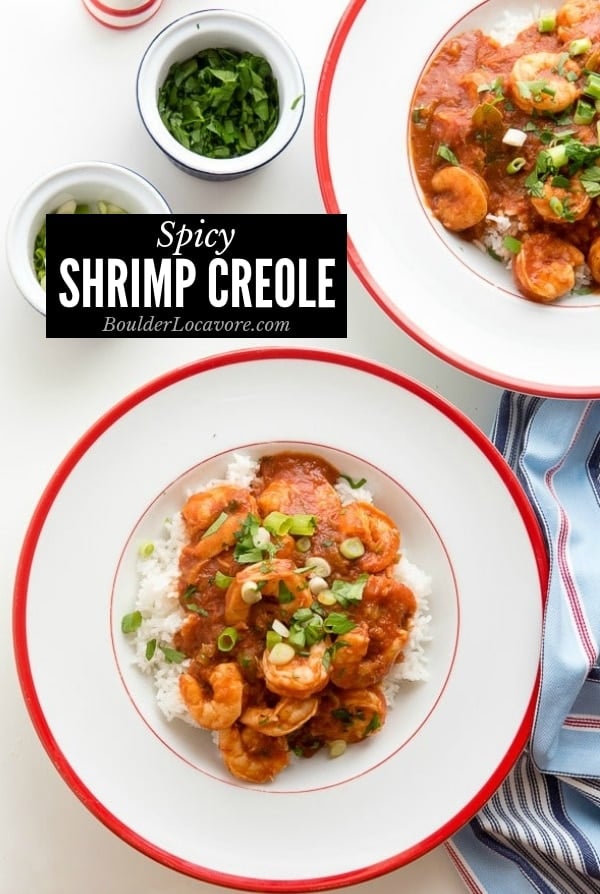 Though I always love great food, I am passionate about creating fast, easy meals that don't require hours in the kitchen.
Shrimp Creole is no exception. I even have a TRICK to prepare it in approximately two 15 minute sessions over two days!
The hearty Louisiana dish of thick, spicy tomato-based sauce and loads of perfectly cooked shrimp is definitely a recipe to keep on the dinner menu rotation.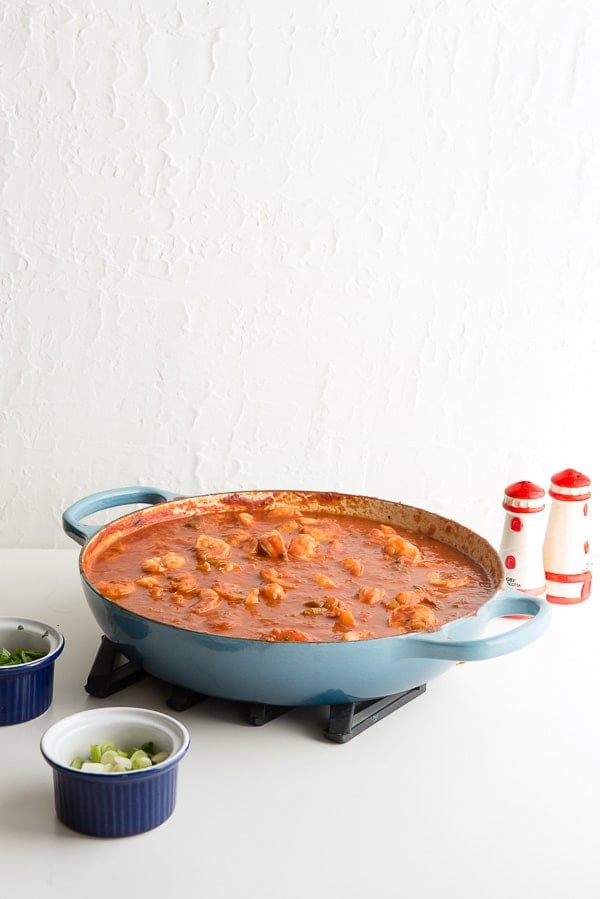 What IS Shrimp Creole?
Shrimp Creole is a recipe that originates from the Louisiana Creole cuisine which is a combination of French and Spanish background.
Medium-size shrimp are cooked in a sauce made of tomatoes, onion, green pepper, celery with loads of earthy spices giving it some heat!
Shrimp Creole is served over prepared rice.
The thick spicy sauce is rich with flavor and a slow heat that follows each bite.
It's not overly spicy but just enough to give the recipe some character.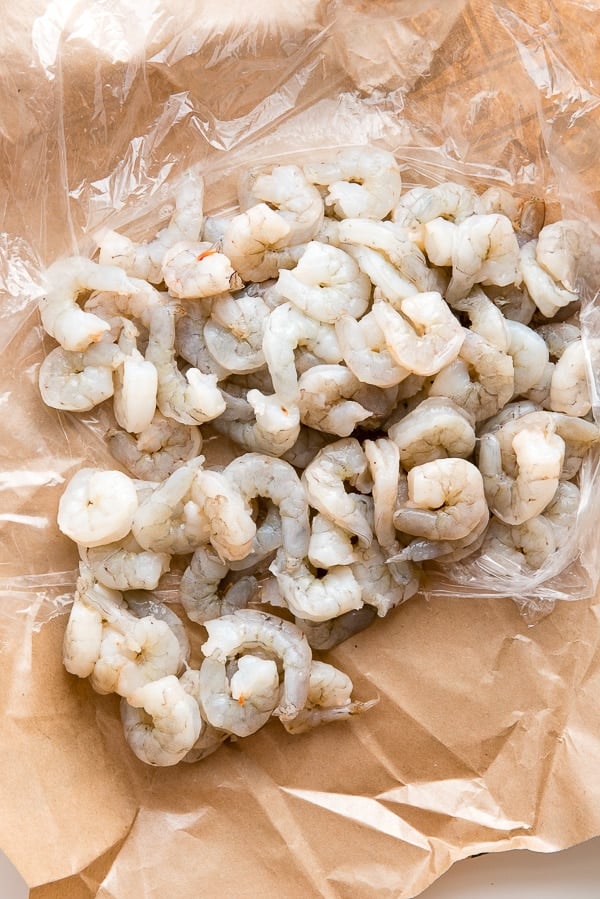 Fast & Easy Weeknight Dinner Recipe
The idea of Shrimp Creole is perfect for a weeknight being easy and quick to prepare.
It's a hearty dish served over rice (which I cook quickly in my rice maker or Instant Pot).
I love the relaxed vibe of the recipe, making for a casual but delicious dinner recipe.
True confessions? My son ate a big portion for breakfast the following day too.
Is Shrimp Creole Gluten-Free?
This recipe for Shrimp Creole is naturally gluten-free.
Always check the ingredients in any recipe before making it to verify the gluten-free status.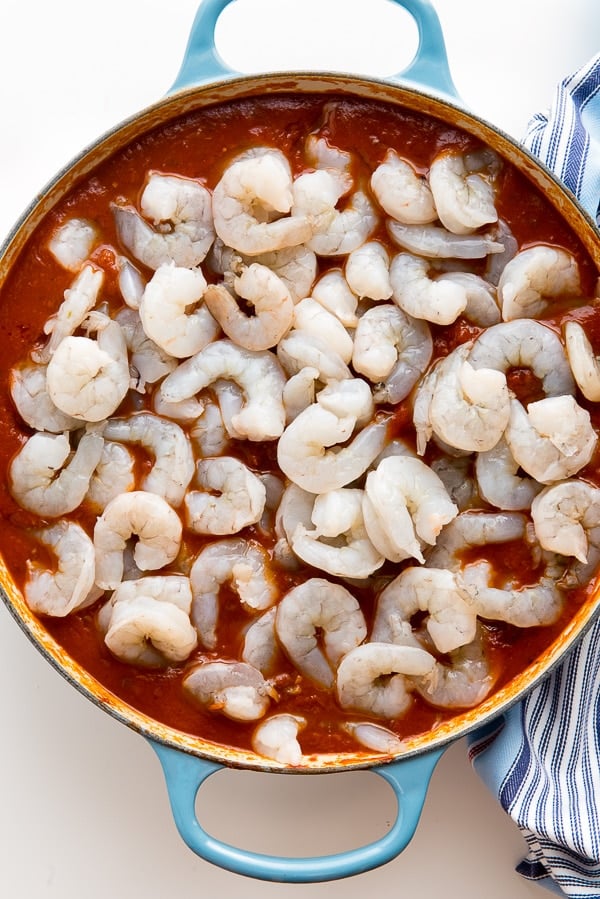 Ingredients in Shrimp Creole
The ingredients in the Shrimp Creole are mainly spices so if the ingredient list looks long it's not going to take you preparation time.
Unsalted Butter
Yellow Onion
Celery
Green Pepper
Garlic
Cayenne Pepper
Bay Leaves
Kosher Salt
ground Black Pepper
Thyme
Louisiana Hot Sauce or Tabasco
Worcestershire Sauce
fresh Italian Parsley
canned Crushed Tomatoes
canned Tomato Sauce
Chicken Stock (can substitute shrimp or seafood stock if desired)
Shrimp, peeled and deveined
prepared Long Grain White Rice
Garnish: diced fresh Italian Parsley, sliced green onions (scallions)
HOW TO MAKE SHRIMP CREOLE – STEP BY STEP:
This easy recipe is always a favorite.
TIP FOR COOKING SHRIMP: Shrimp cook quickly and should never be over cooked or they will become rubbery.
In a 4-quart saucepan, melt the butter over medium-high heat.
Combine the onion, celery and green pepper in the pan and cook until the onions begin to turn translucent (5-6 minutes).
Add the garlic and stir to lightly cook for 30 seconds.
Add the cayenne pepper, bay leaves, salt, pepper, thyme, paprika, hot sauce, Worcestershire sauce, parsley, tomatoes, tomato sauce and stock. Bring to a boil, reduce heat and simmer for 15 minutes.
Add the shrimp and cook, stirring occasionally to ensure the shrimp are coated with sauce, until the shrimp is opaque/pink and cooked through (about 7 minutes).
Serve over prepared rice.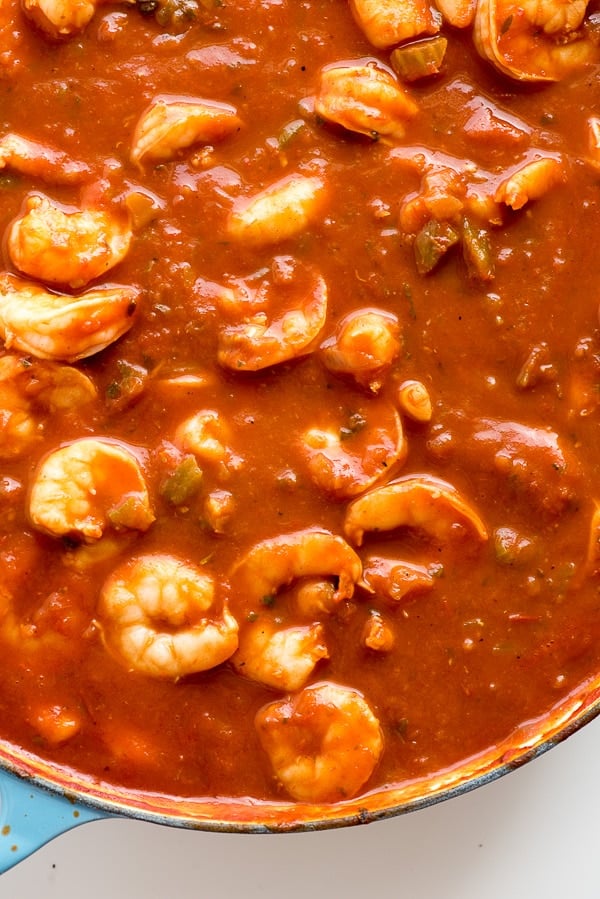 Shrimp Creole Preparation Tips
The only ingredients requiring preparation are the vegetables which can be added to a mini chopper to process in a flash.
When purchasing the shrimp, buy them already shelled and deveinved to save the time.
Shrimp Creole Shortcut
If in a time pinch, the recipe may be split into two parts:
Prepare steps 1 and 2 then cover and refrigerate overnight.
The day of serving, bring the sauce back up to a simmer and complete step 3.
That leaves you with a very short lead time to heat, finish and serve the dish for a memorable dinner!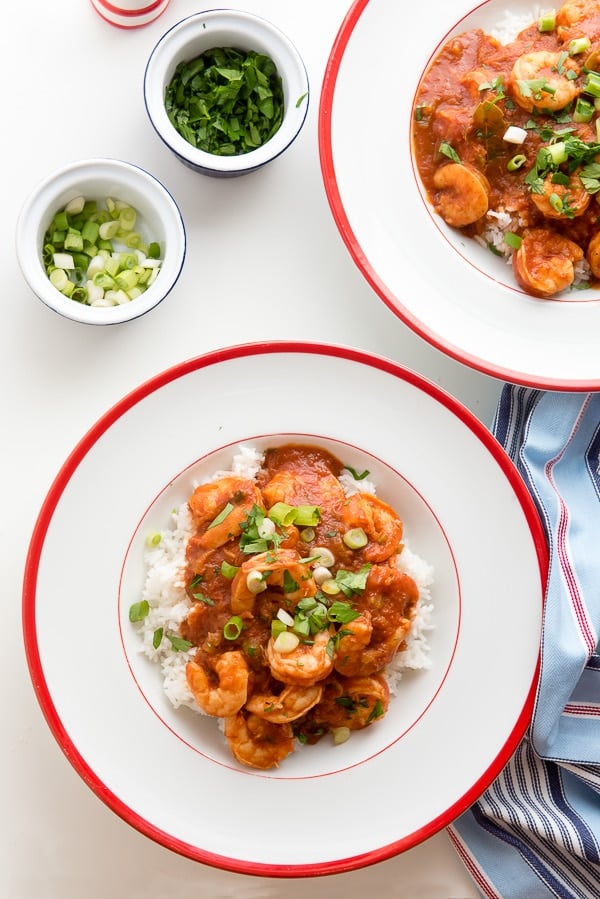 What to Serve with Shrimp Creole
In my opinion, Shrimp Creole is a perfect one recipe meal.
The spicy sauce with vegetables, loads of shrimp, over rice cover all the based.
I would suggest some crusty bread to sop up some of the sauce.
And if you would like something else with the meal, a cool salad of dressed greens would be a nice complement to the spicy main dish.
What Wine Goes with Shrimp Creole
When eating a spicy recipe like Shrimp Creole a sweeter, chilled wine is the ticket:
A sparkling wine or champagne
Pinot Grigio
Gewurztraminer
Pinot Noir
Spanish Rose
Can You Freeze Shrimp Creole?
Yes, you can! This can be done in two ways:
Freeze With Shrimp:
Prepare the Shrimp Creole as described in the recipe.
Allow it to cool slightly then place into a freezer-safe bag or container (leaving ½-inch head room for expansion).
Do not freeze WITH the rice.
To prepare after freezing: thaw, simmer to fully reheat. Serve over rice.
Freezing Without Shrimp – Shrimp Added when Reheating (MY PREFERRED METHOD)
This option ensures the shrimp will not become rubbery from cooking and reheating. Due to the time for reheating, the method is not longer than reheating of the full recipe (method above).
Prepare the recipe EXCEPT the shrimp.
Allow the sauce to cool and freeze as described in option 1 above.
To prepare after freezing: thaw, bring to a simmer. Add the shrimp and follow the rest of the recipe. Serve over rice.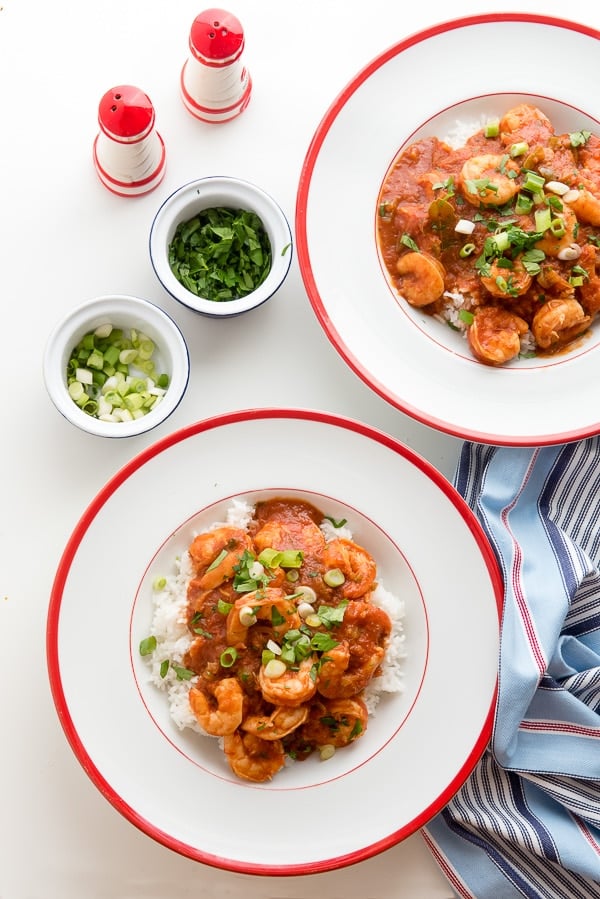 More Recipes You'll Love!
If you've tried this Shrimp Creole recipe please RATE THE RECIPE below!