Spicy Pineapple Shrimp Fried Rice recipe is fresh, flavorful and healthy. This filling dish is perfect for busy weeknight meals or lazy weekends. Gluten-free.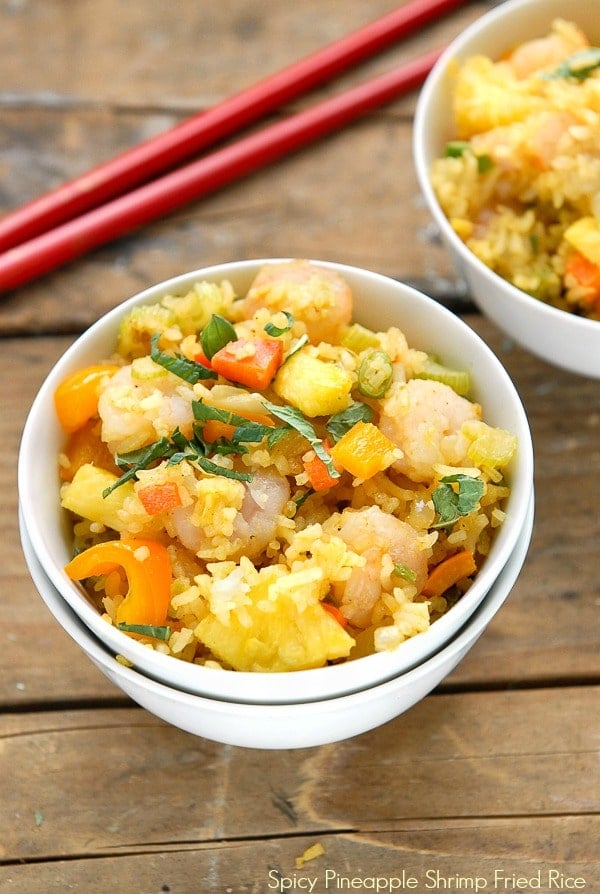 With Chinese New Year underway I'm finding myself craving good, healthy Chinese food at home. Fried Rice has to be a favorite comfort food dish and it's so easy to prepare. Today I'm sharing Spicy Pineapple Shrimp Fried Rice and I think you'll love it. Using all fresh ingredients, it is a beautiful dish to the eyes as well as the palate.
Fried rice is something my family always orders when we get take-out food. Though I like it I feel it usually tastes overly oily, leaving me not feeling great after eating it. Many fried rice recipes also use canned ingredients. I'm all for convenience but I can taste the difference and would rather spend an extra 5 or 10 minutes chopping fresh ingredients; it improves the healthy taste and limits additives what often are present in canned foods.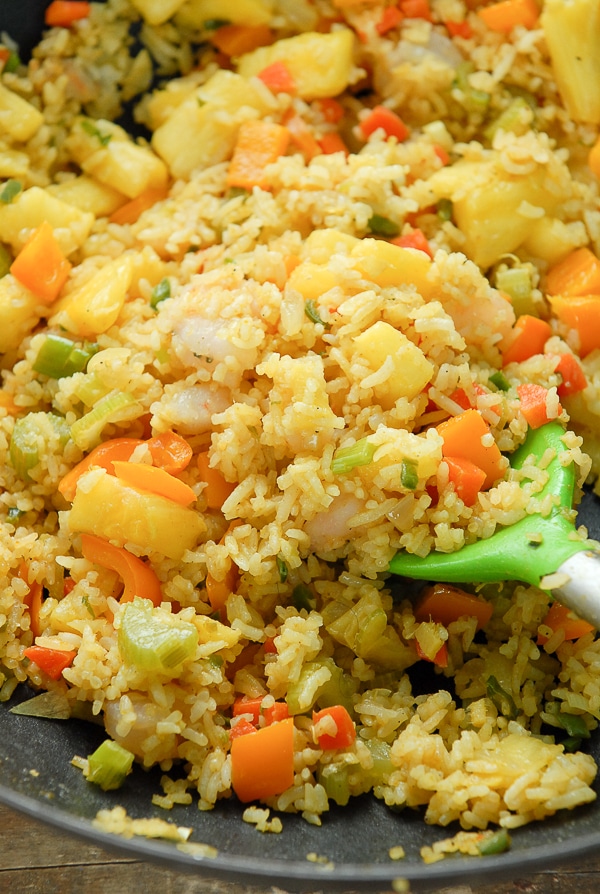 I absolutely love this Spicy Pineapple Shrimp Fried Rice recipe. When I was making it the smell of ginger, jalapeno and garlic seasoning the pan was irresistible. I typically do not make much seafood being in a landlocked state, it doesn't cross my mind much. Fortunately Whole Foods offers basically freshly caught seafood and in this case, there were several varieties and sizes of shrimp to choose from. I used small shrimp (90-100 ct) which usually can be found cooked but if not they can be steamed for 2-3 minutes or until they begin to turn pink and are finished off in the fried rice.
Chilled Rice vs Freshly Made – Making the Spicy Pineapple Shrimp Fried Rice Recipe
When making fried Spicy Pineapple Shrimp Fried rice, prepared chilled rice is used versus freshly made rice. This is a great way to use up leftover rice. Chilled rice also helps the cooking time as the rice could be made the day prior, refrigerated and is ready when it's time to cook. It's important when making stir-fry dishes or fried rice to have all the ingredients prepared when the cooking begins. The cooking process is fast and there is not the time to break to chop vegetables! With the addition of protein in some form, it becomes a great one skillet dish for a fast light meal.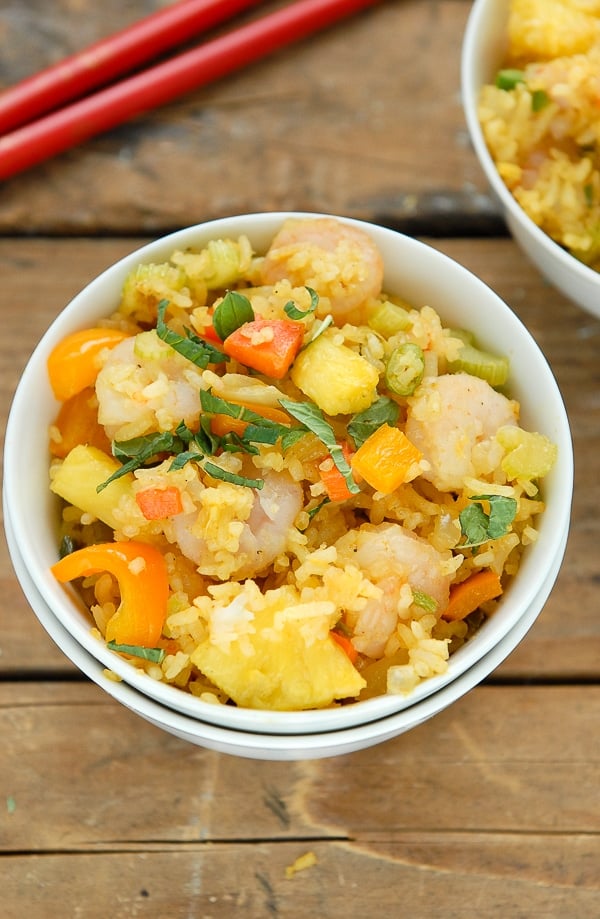 Spicy Pineapple Shrimp Fried Rice Recipe