Love Potion Number 9 is a sweet, spicy non-alcoholic Valentine's Day drink with a special 'bang'. Just like love itself. Can be spiked!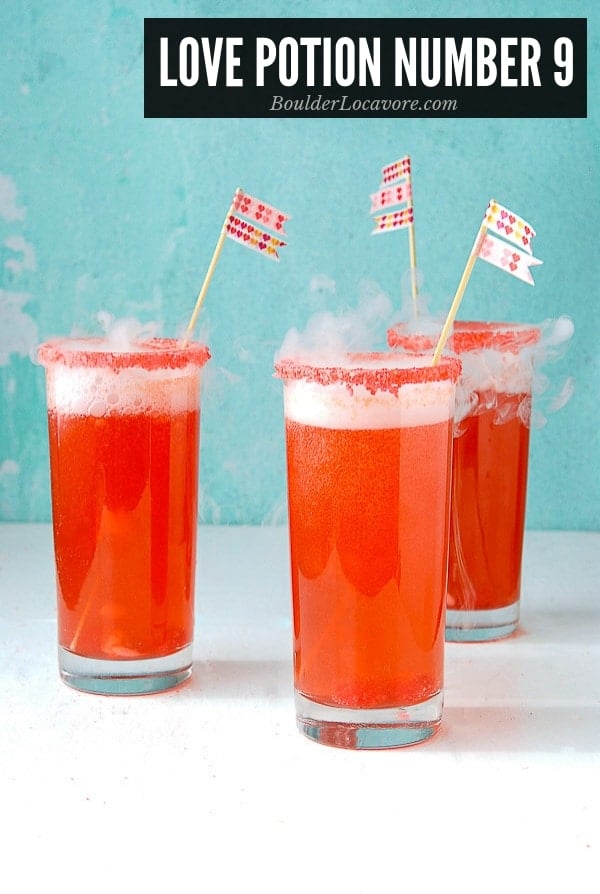 What would Valentine's Day be without a love potion?
An exciting elixir to dazzle the eyes and palate with a bit of the unexpected.
Love Potion Number 9 is a sweet-spicy elixir perfect for celebrating love in a playful way.
It's a non-alcoholic sipper BUT can be spiked (see below).
What is Love Potion Number 9?
Love Potion Number 9 is a sweet, sassy non-alcoholic drink designed with Valentine's Day in mind!
Just like love, it has some surprises, is sweet with a little bit of fire too.
Ingredients in Love Potion Number 9
Homemade Raspberry Simple Syrup (that smells as sweet as perfume and tastes like heaven)
Spicy Ginger Ale
Served in a glass rimmed with Cherry Pop Rocks
Isn't love all about the fireworks? These will just happen in your mouth.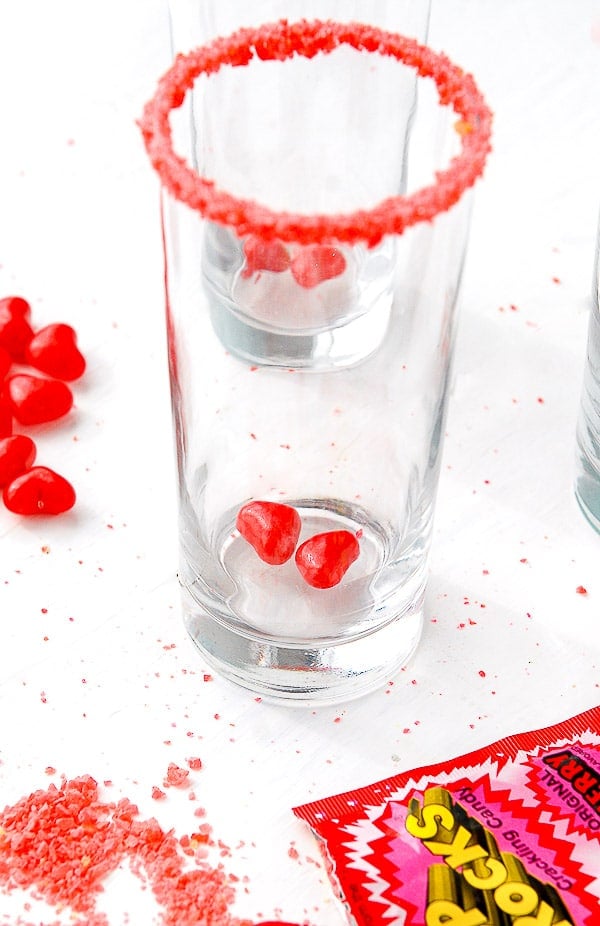 Spiking Love Potion Number 9
If serving adults and wishing to add some liquor, 1.5 ounces of liquor per serving/drink is the suggested guideline for a drink of this volume.
For adults wishing to add in a boozy touch I'd suggest:
a splash of Ginger Vodka, OR
a smidge of Cinnamon Schnapps (to keep it hot and spicy), OR
something sweet like Raspberry Vodka
TIP: Steer away from uber sweet liqueurs as they are an invitation for a hangover.
Homemade Raspberry Simple Syrup
The homemade raspberry simple syrup is a recipe to hang onto (in the recipe card below).
It has a beautiful, natural flavor delivering a fresh raspberry taste.
In addition to this fizzy Love Potion Number 9, it is delicious when added to:
sparkling water
cocktails
over ice cream
anywhere some berry-flavored sweetening would perk up a dish
Making simple syrups are very easy too!
This guide on How to Make Simple Syrup gives lots of great information and easy recipes!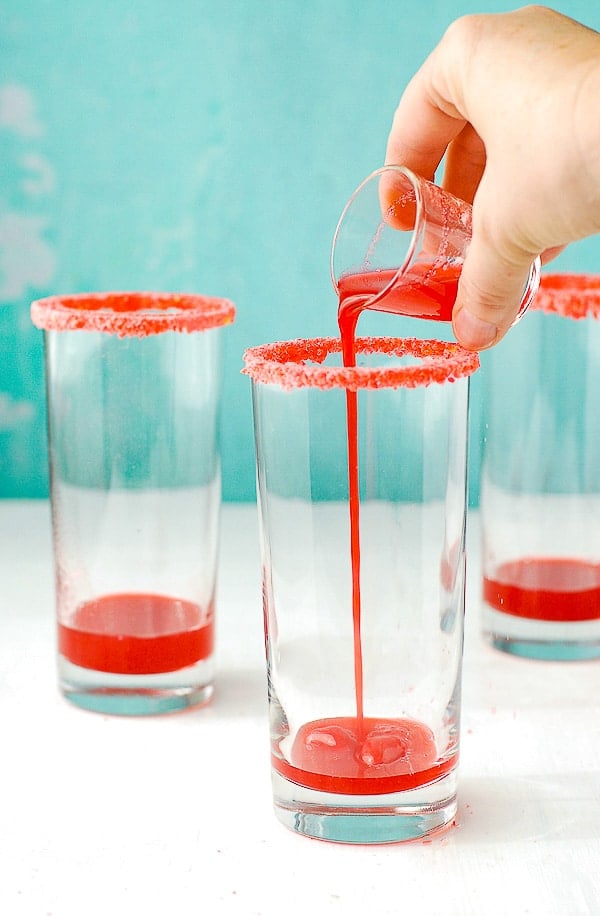 Cherry Pop Rocks Glass Rim
Rimming the Love Potion Number 9 with Pop Rocks makes for an unexpected surprise.
The pop rocks rim of the glass set things off with a bang!
TIPS for Using Pop Rocks
I've rimmed cocktails with Pop Rocks before (Candy Corn Martini with Pop Rocks rim). These cherry Pop Rocks seemed larger than other Pop Rocks flavors I'd used.
TIP #1: The Pop Rocks can be used 'as is' or processed through a blender or a mini chopper (mini food processor) to make a finer, more sugar-like texture which still pop.
The finer grain sill provide more coverage to the glass rim (refer to the photos).
TIP #2: When Pouring the Love Potion Number 9 ingredients into the rimmed glass, be careful not to wet the Pop Rocks or they will begin to pop.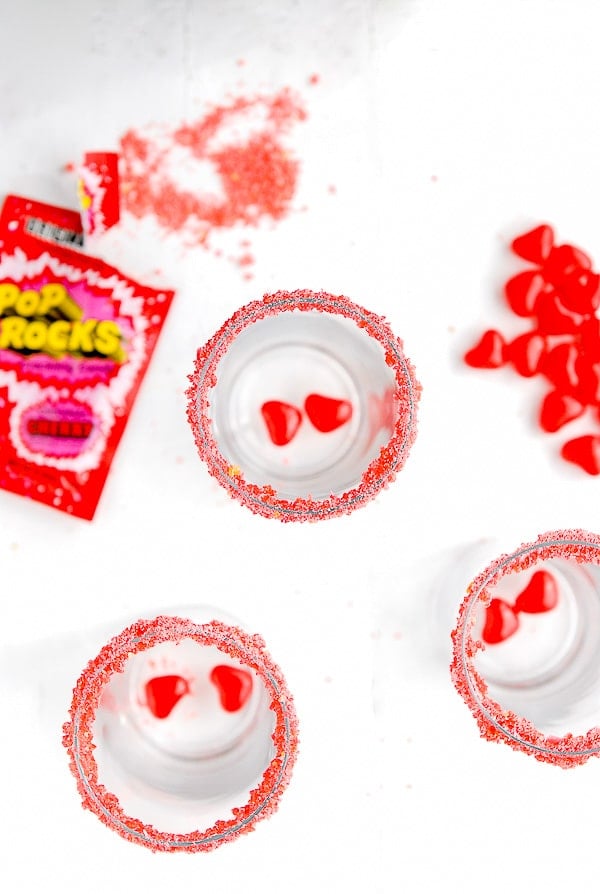 How to Make Love Potion Number 9
Making Love Potion Number 9 is easy. The main instructions are for making it by the glass.
An option for how to serve it for a larger group in a punch-style are below.
Place 6-8 regular Red Hots OR 2 larger heart-shaped Red Hots in the bottom of each tall glass.
Add the raspberry simple syrup
Fill with Ginger Ale (NOTE: do not fill up to the Pop Rocks or they will begin to explode).
Since the ginger ale is chilled, no ice is needed.
Love Potion Number 9 Punch
Want to serve this as a punch instead?
Determine the number of desired servings and multiply that times the ingredient portions in the recipe card below.
To Make Love Potion Number 9 Punch:
Combine the Raspberry Simple Syrup and Ginger Ale in the punch bowl
Rim the individual glasses with the Pop Rocks (instructions in recipe card below)
Add the Red Hots hearts to the individual glasses
Fill with the raspberry simple syrup/ginger ale mixture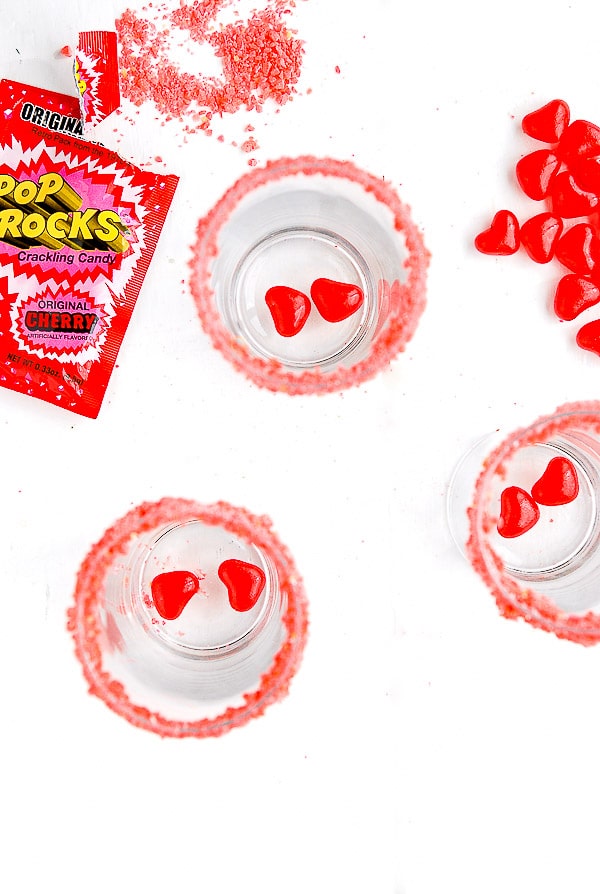 Using Dry Ice
The foggy effect of Love Potion Number 9 in the photos is due to dry ice.
If you want to use dry ice, I suggest making it into a punch as described above instead of individual glasses.
Though liquids that have had dry ice in them are safe to drink, consuming or handling the dry ice itself can lead to burns due to the below zero temperature.
This Dry Ice GUIDE provides all information you'll need to know about (from where to buy and use tips).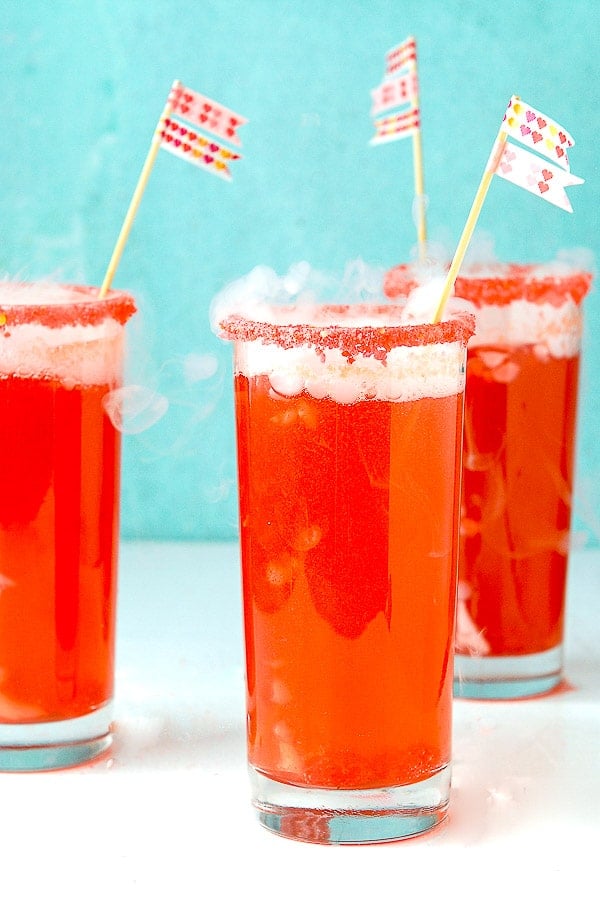 If you've tried any of this Love Potion Number 9 recipe please RATE THE RECIPE below!
Originally published February 10, 2015. Updated February 2019.