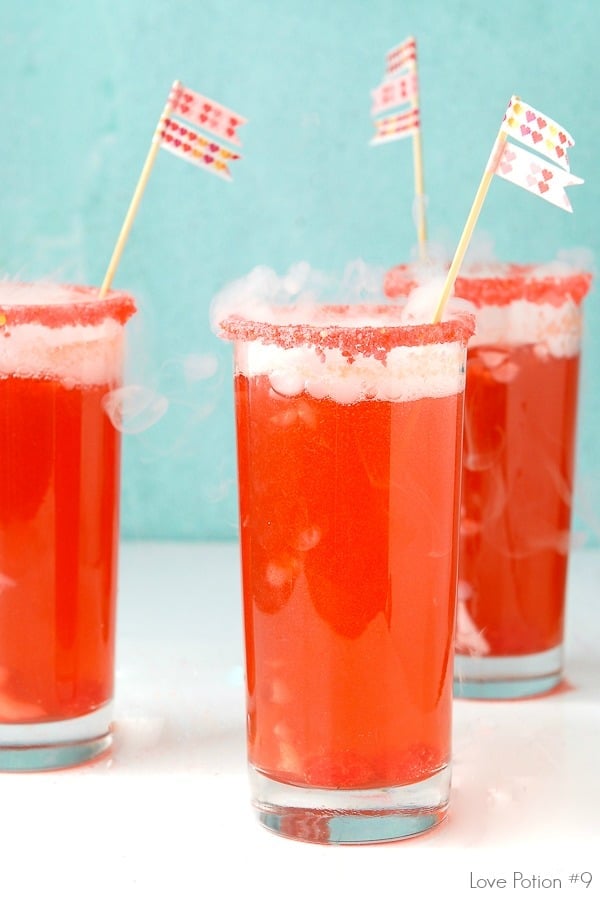 What would Valentine's Day be without a love potion? An exciting elixir to dazzle the eyes and palate with a bit of the unexpected.
I've always loved Valentine's Day. It's a day that feels dipped in chocolate and excitement. Both as an adult and child I loved making Valentines in red, pink and white with lots of glitter and secret messages in conversation hearts.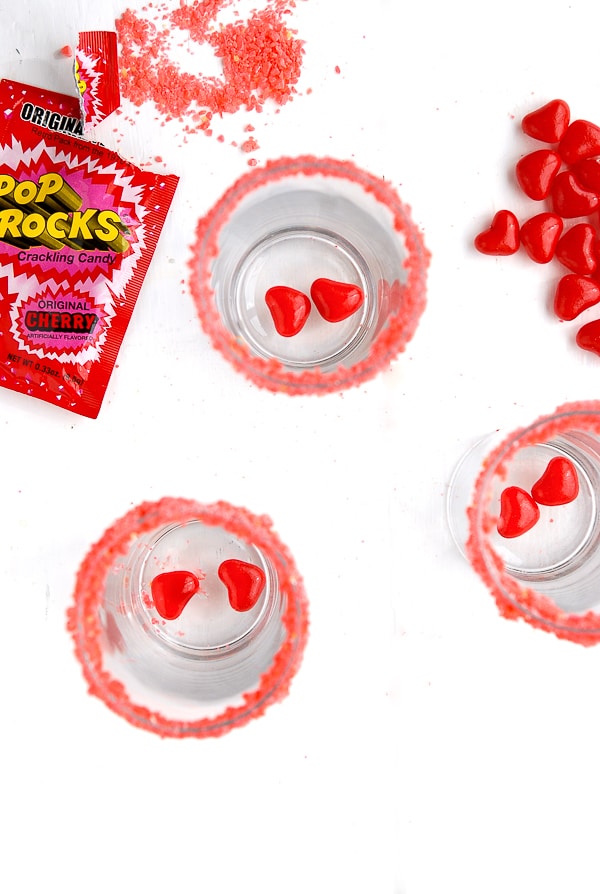 Was there anything more fun than decorating a shoe box for school to receive valentines? In fourth grade Tim Fessler slipped a simple heart in my box with a pre-printed message about love. I was able to read through the innuendo and when we were paired up to do the Virginia Reel in PE class, I was sure it was Valentine's destiny.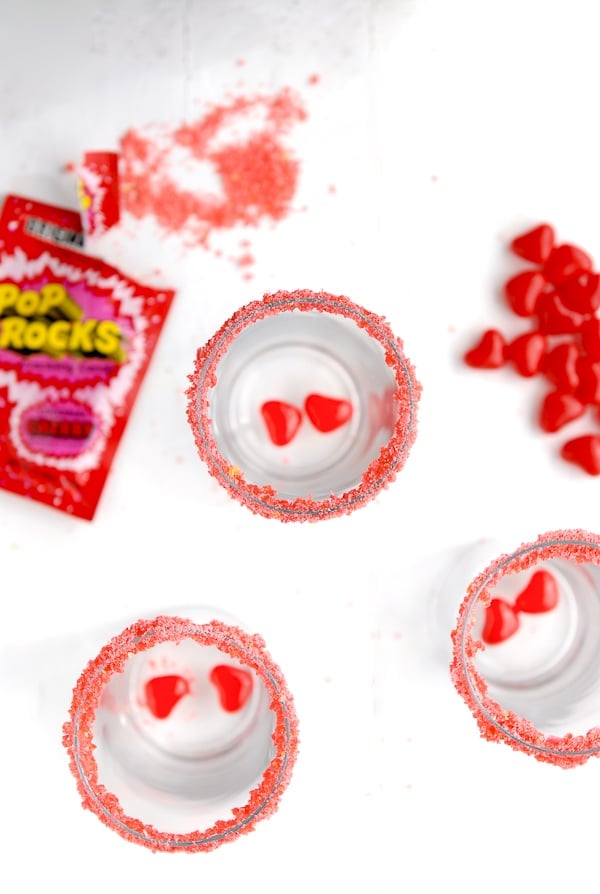 Whether you are making valentines, planning a party or just taking it easy you need Love Potion #9 in your life. It tastes like love. Homemade Raspberry Simple Syrup that smells as sweet as perfume and tastes like heaven; paired with spicy ginger ale, some red hot hearts and served in a glass rimmed with Cherry Pop Rocks. Isn't love all about the fireworks? These will just happen in your mouth.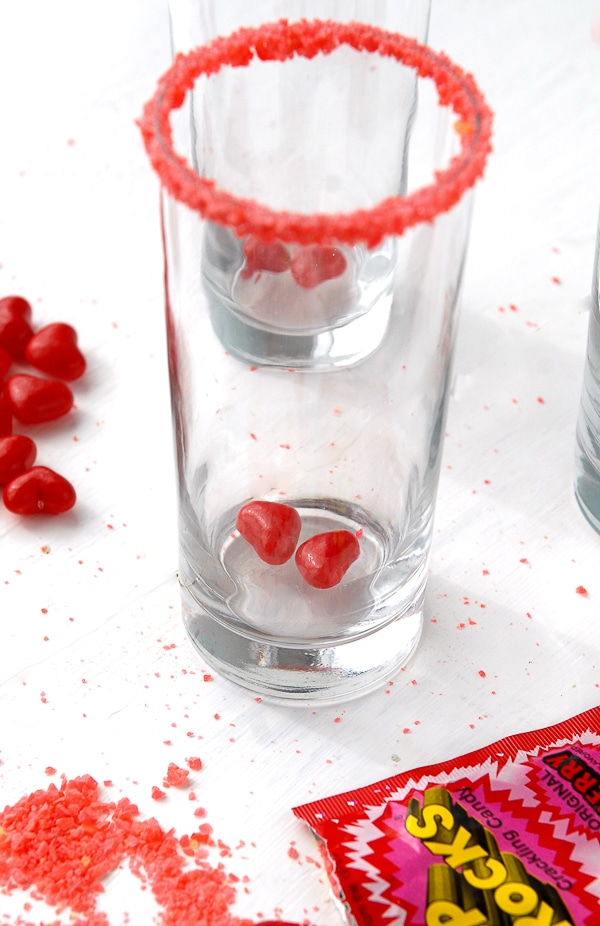 For adults wishing to add in a boozy touch I'd suggest a splash of Ginger Vodka or a smidge of Cinnamon Schnapps to keep it hot and spicy, OR something sweet like Raspberry Vodka (I tend to steer away from uber sweet drinks as they are an invitation for a hangover).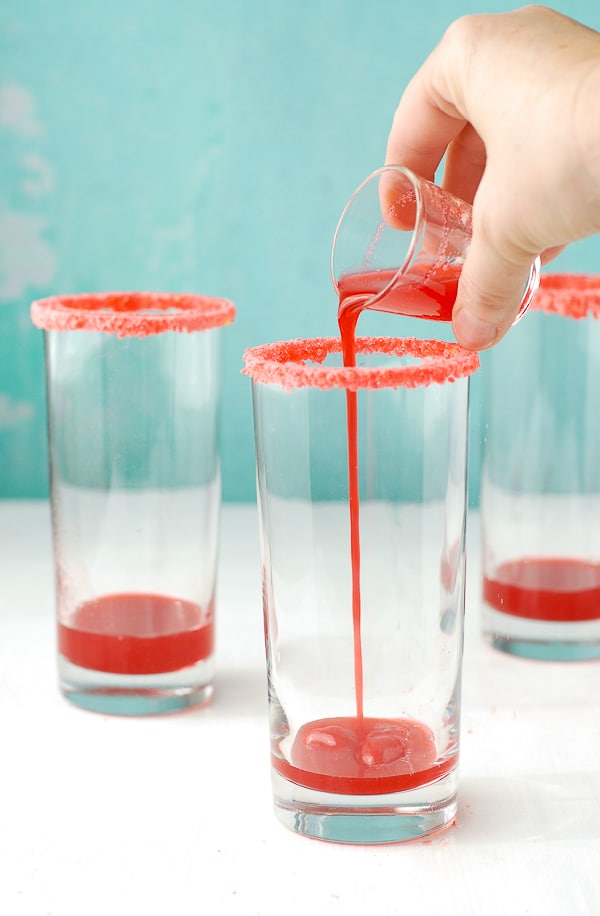 The homemade raspberry simple syrup is a recipe to hang onto. It has a beautiful, natural flavor offering a fresh raspberry taste to sparkling water, in cocktails, over ice cream or anywhere some berry-flavored sweetening would perk up a dish. Rimming the Love Potion #9 with Pop Rocks makes for an unexpected surprise. I've done this with cocktails before and noted that the Pop Rocks seemed larger than in previous packages. I put them through a mini chopper (mini food processor) to turn them into a finer grain making it easier for them to adhere to the glass. When making the drink be careful not to wet the Pop Rocks or they will begin to pop. That pleasure should be saved for the lucky drinker's delight!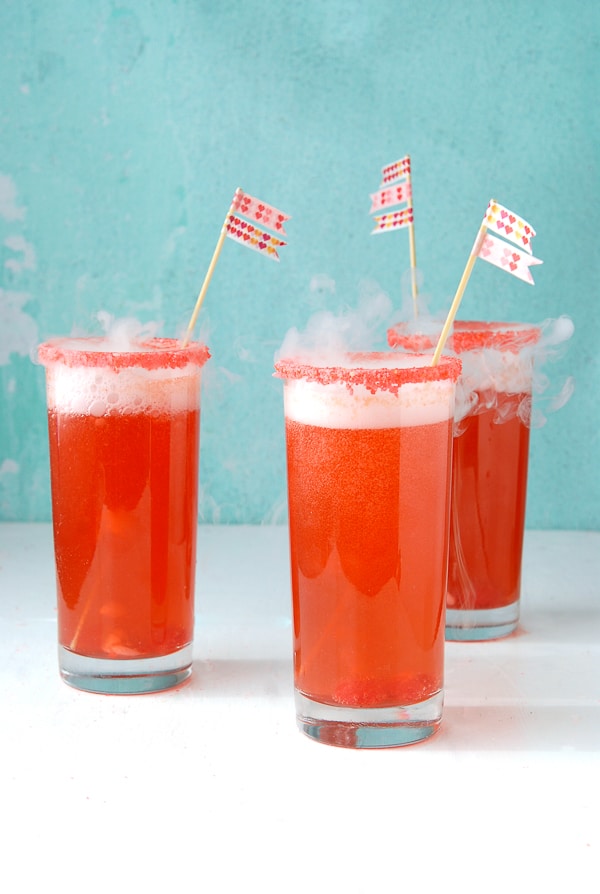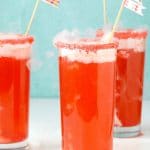 Love Potion #9
Love Potion #9 is a sweet-spicy elixir perfect for celebrating love in a playful way. The pop rocks rim of the glass set things off with a bang!Pop Rocks can be used 'as is' or processed through a blender or mini food processor to make a finer, more sugar-like texture which still pop. The larger pop rocks are a bit more difficult to fully coat the rim of the glass fully.The potion is shown with dry ice in the photos for the fog effect. Should you wish to use dry ice, instead of making individual glasses of the potion, I suggest combining the simple syrup and ginger ale in a punch bowl (using the recipe proportions for the number of servings needed) with some dry ice to be ladled into already rimmed glasses with red hots in them. Dry ice is frozen solid carbon dioxide and due to its freezing temperature (well below 0) can cause burns or frostbite. When combined with liquid it begins to 'smoke' which is actually evaporation. It is not harmful to consume liquid which has had dry ice in it after it has evaporated, but dry ice should not be served in individual drinks due to the risk of burns if touched or consumed.
Servings
2
cups Raspberry Simple Syrup; ingredients listed per glass and may be multiplied to fulfill desired amount
Ingredients
Ingredients for Raspberry Simple Syrup:
1

cup

Granulated Sugar

1

cup

Water

2 ½

cups

fresh Raspberries

(2 6-ounce cartons)
Ingredients for Love Potion #9:
Cherry Pop Rocks

(6 packages per 4 glasses)

Red Hots

(6-8 per glass)

Raspberry Simple Syrup

(2 tablespoons per glass)

Ginger Ale

(8 ounces per glass), chilled

Collins glasses
Instructions
Instructions for Raspberry Simple Syrup:
Combine all ingredients in a medium saucepan over medium-high meat. Stir frequently to dissolve the sugar.

Bring the mixture to a boil and reduce to a simmer. Simmer 5 minutes; smash the raspberries with a mixing spoon or whisk while simmering to break them up. Remove from heat and allow to steep until cool (approximately 1 hour).

Strain through a fine mesh sieve and keep sealed in the refrigerator for use.
Instructions for Love Potion #9:
Rimming the glasses with Pop Rocks: Pour the pop rocks into a shallow saucer or other small plate. Pour some of the raspberry simple syrup into a bowl large enough for the top of the glass to fit into. Turn a glass upside down and touch just the top of the glass opening to the simple syrup; enough to moisten the rim only. Place the glass opening down in the plate of pop rocks and rotate from side to side to coat with pop rocks. The pop rocks can gently be pushed toward the outside of the glass to aid in coating. Place the glass, still upside down, onto a clean surface and allow to sit for the pop rocks to dry onto the glass (approximately 10 minutes). This aids in the adherence to the glass.

Add 6-8 red hots (or if you find larger heart shaped red hots as shown in the photos, use 2) in the bottom of each glass.

Add the raspberry simple syrup and fill with ginger ale (do not fill up to the pop rocks or they will begin to explode).