Hot Buttered Rum is a buttery, spiced rum cocktail that takes the chill out of the coldest of night. This recipe is super easy in the slow cooker with a mocktail version too!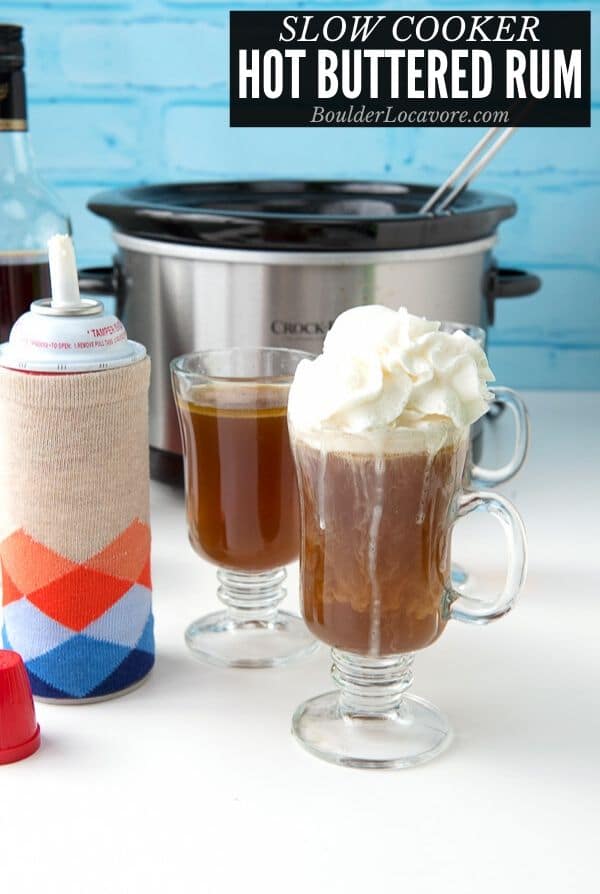 There is no more soul-warming cocktail on a cold day than Hot Buttered Rum.
This version is made in the slow cooker and takes about 5 minutes to get started.
Your house will smell like the holidays while it's cooking.
The buttery drink isn't over sweet, but rather 'just right'.
Setting up a self-serve drink bar allows making the cocktail to taste!
Adding just the right amount of rum, whipped cream and nutmeg, OR drinking it without liquor using rum extract or on its own.
What is Hot Buttered Rum?
Hot Buttered Rum is a hot cocktail made with water, butter, spices, sugar and rum. It's especially popular around the holidays and in the fall.
This version is made in a slow cooker.
While it's simmering it will fill your kitchen and house with irresistible heavenly smells of cold weather holidays.
It can be set to simmer and left for self-serving during longer gatherings or after you've been out for a chilly outing.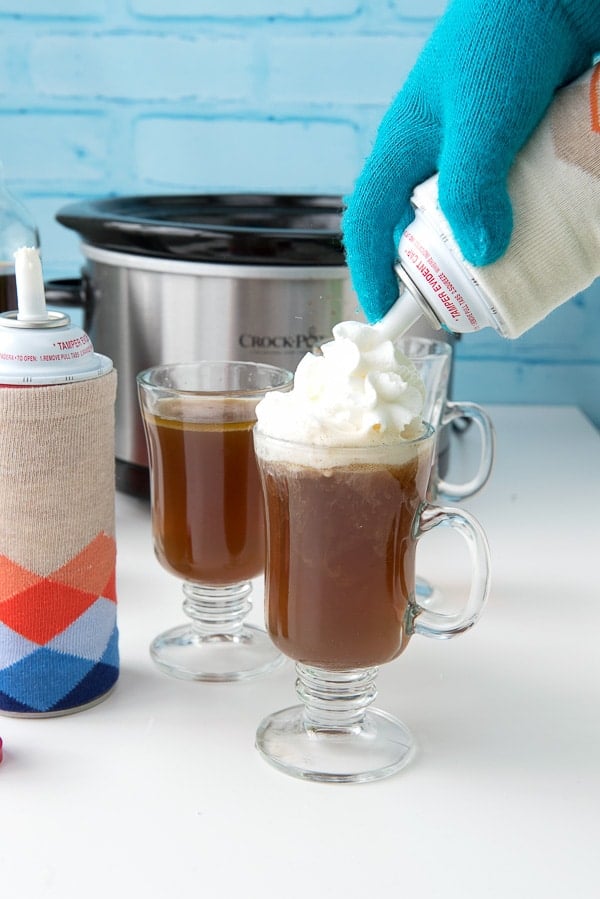 Why Make
This

Recipe

There are multiple reasons to make this particular recipe:
Hot Buttered Rum can be overly sweet. This recipe is 'just right'. Sweet enough to be irresistibly good but not sickly sweet.
It's made in a big batch perfect for gatherings and parties.
The rum is added by the serving so the base sweet, buttery spiced liquid can be made into a mocktail too. Great for situations with those drinking cocktails and those preferring no liquor.
The spiced liquid is so good you'll want to drink it by itself!
Best Time for Hot Buttered Rum
It's great to have on hand for:
Thanksgiving sipping
to greet you after an evening of holiday caroling
after a chilly football game
watching holiday light parades
an afternoon of sledding or skiing
Or 'just because'!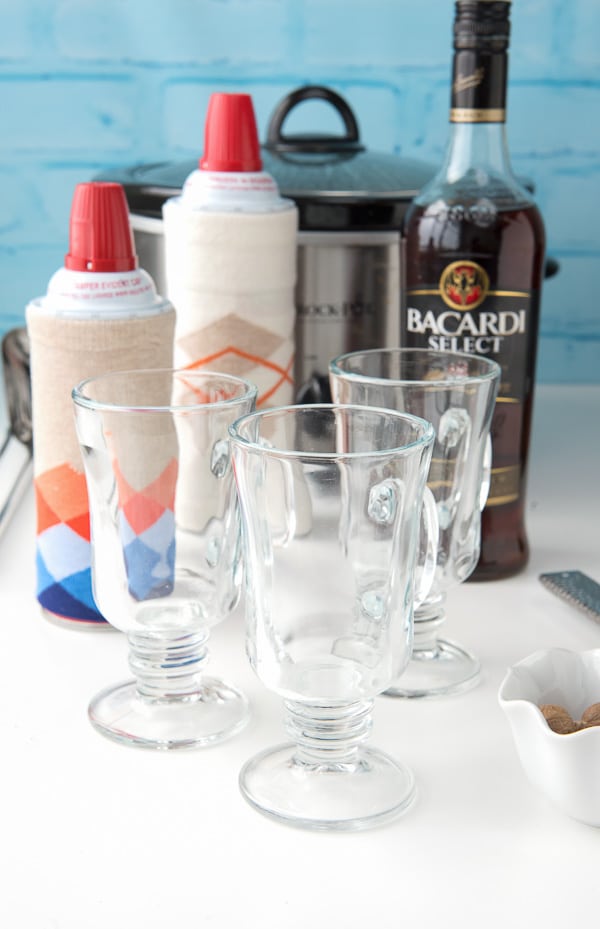 Hot Buttered Rum Ingredients
Light Brown Sugar
Unsalted Butter
Cinnamon Sticks
Whole Cloves
Allspice Berries
Vanilla Bean
Kosher Salt
Water
Dark Rum
Whipping Cream
Nutmeg
Optional: Rum Extract
Spices
This Hot Buttered Rum recipe uses whole spices, not ground.
This allow simmering to develop a wonderful flavor and they are easier to strain at the end before serving.
Vanilla Bean
Vanilla Beans are long, whole beans or pods with a soft center. When they are sliced open, the soft middle can be scraped out producing an intense vanilla flavor.
They are available in the spice section of the grocery store. Usually two vanilla beans are sold in a glass bottle.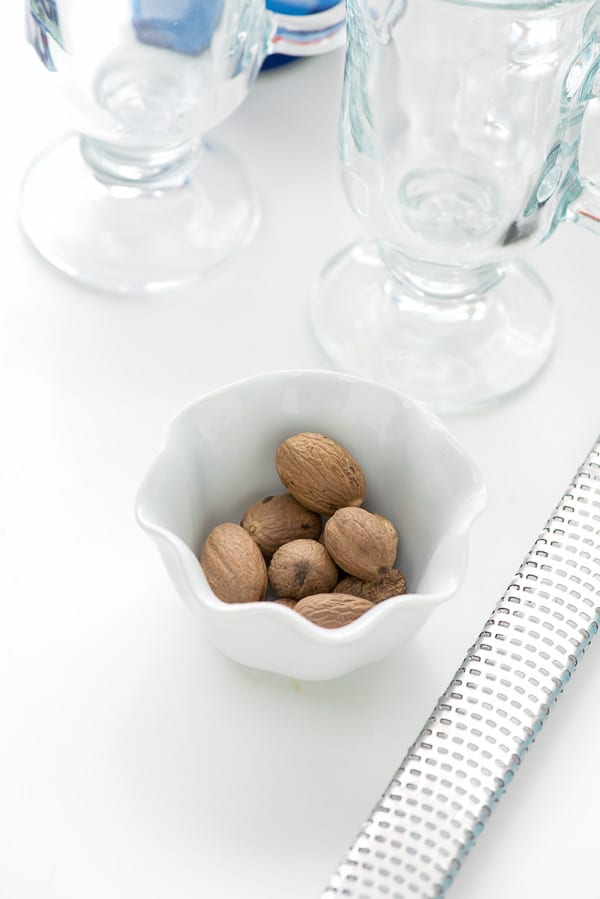 Whole Nutmeg
Whole nutmeg can be found in the spice section of the grocery store or online.
It can be freshly grated with a grater (a regular grater or a nutmeg grater) or microplane for a stronger flavor.
Rum Extract
Rum Extract is an optional ingredient if serving the Hot Buttered Rum as a mocktail.
Make it a Mocktail!
Serve the buttery spiced liquid with rum extract or by itself topped with whipped cream and some nutmeg.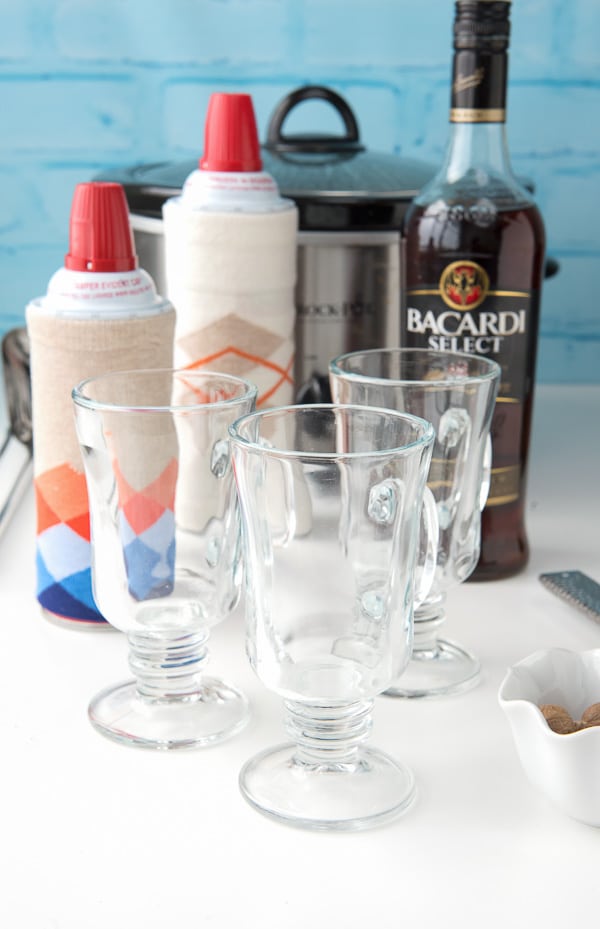 Setting up a Hot Buttered Rum bar
Making Hot Buttered Rum in the slow cooker AND adding the rum per serving rather than in the main batch makes it very flexible for a 'serve yourself' bar.
My suggestion is to set up a self-serve area for easy access by adults though where smaller children won't risk ladling the hot drink out of the slow cooker themselves.
Here's what you'll need:
Slow Cooker of the Hot Buttered Rum spiced liquid
bottle of Dark Rum
bottle of Rum Extract (if hosting non-drinkers)
container(s) of Whipped Cream
whole Nutmeg with a grater or ground Nutmeg
Mugs
Adults can add the rum 'to taste' to servings in a mug.
Kids or adults choosing no liquor can add rum extract.
Everyone can put whipped cream and some nutmeg on top!
Whipped Cream Container Covers (cozies)
Want to dress up those whipped cream containers for your Hot Buttered Rum bar?
You'll love this EASY clever way to quickly give them some style: Whipped Cream Canister Covers.
You can use this same trick for wine bottles too!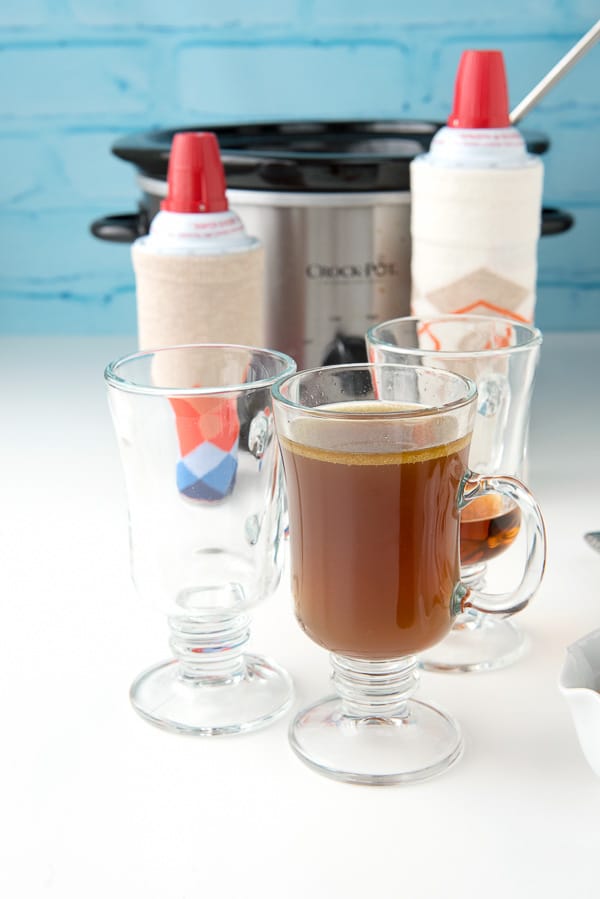 How to Make Hot Buttered Rum in the Slow Cooker – Step-by-Step
STEP 1: Combine the sugar, butter, spices, salt and water in to a 6 quart slow cooker. Cook on LOW for 5 ½ hours.
STEP 2: Strain mixture to remove spices and butter solids; return to the slow cooker on WARM.
STEP 3: Serve with rum in individual mugs topped with whipped cream and nutmeg.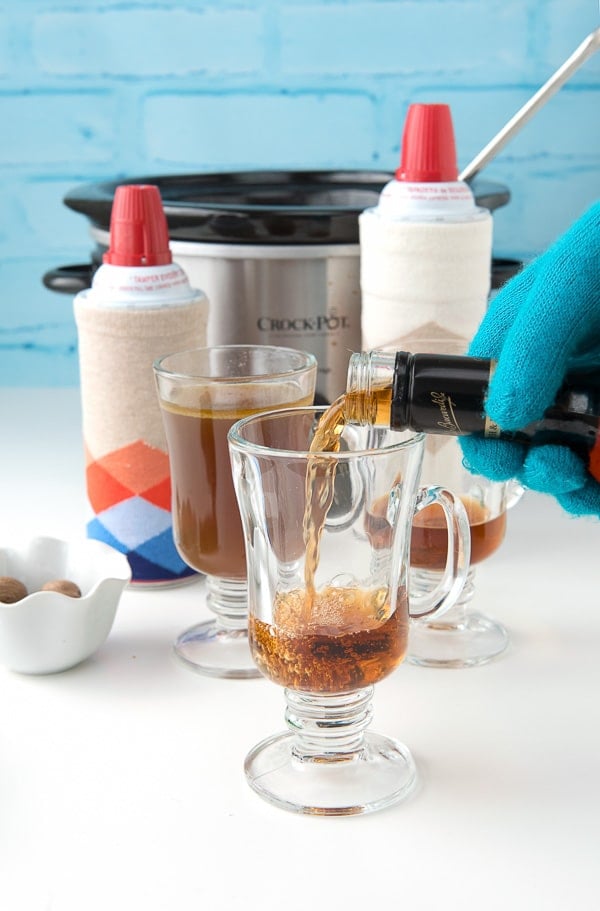 Chef's Notes
When the spiced mixture is done at 5 ½ hours, it has a glistening look on the top of the liquid from the liquefied butter.
Sometimes when butter melts it releases solids which look almost like small wet bread crumbs that will float on top as well.
I prefer to strain the mixture through a fine sieve and return it to the slow cooker.
This removes any leftover butter solids and the loose spices once the mixture has cooked.
The Crock Pot Hot Buttered Rum can be kept warm in the slow cooker for serving.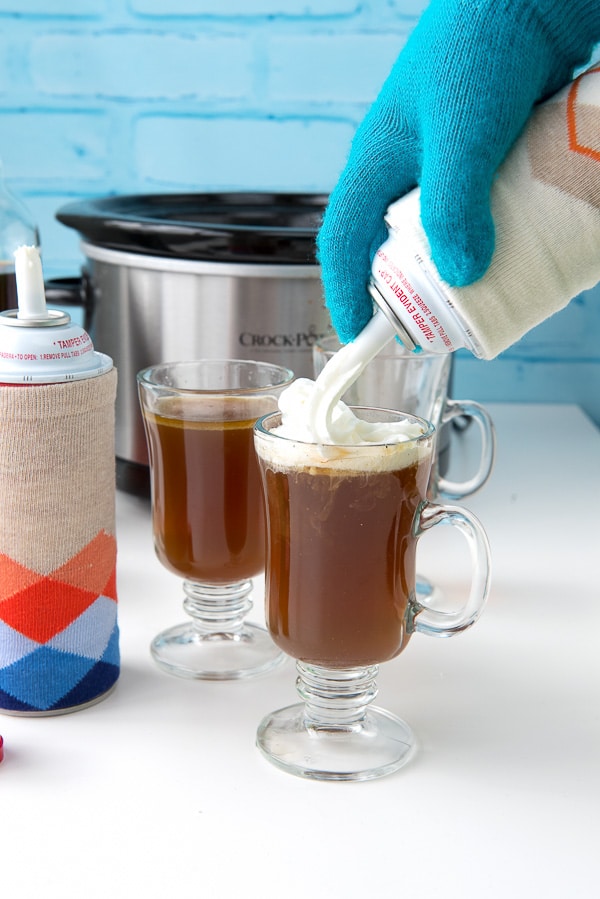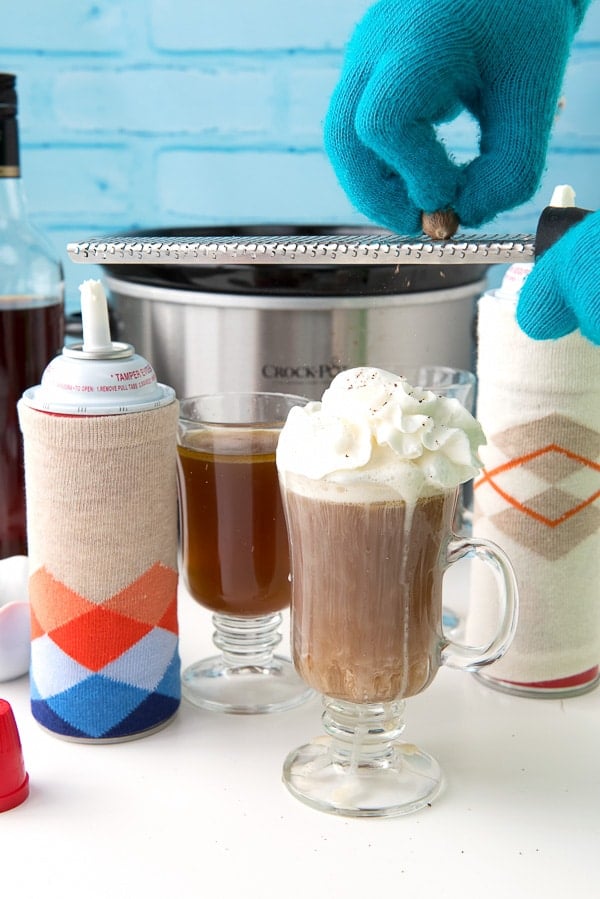 Did you make it? Please RATE THE RECIPE below!
Please SUBSCRIBE and FOLLOW ME on FACEBOOK , TWITTER , INSTAGRAM and PINTEREST !
Originally published: October 31, 2015
Hot Buttered Rum is a perfect party drink!