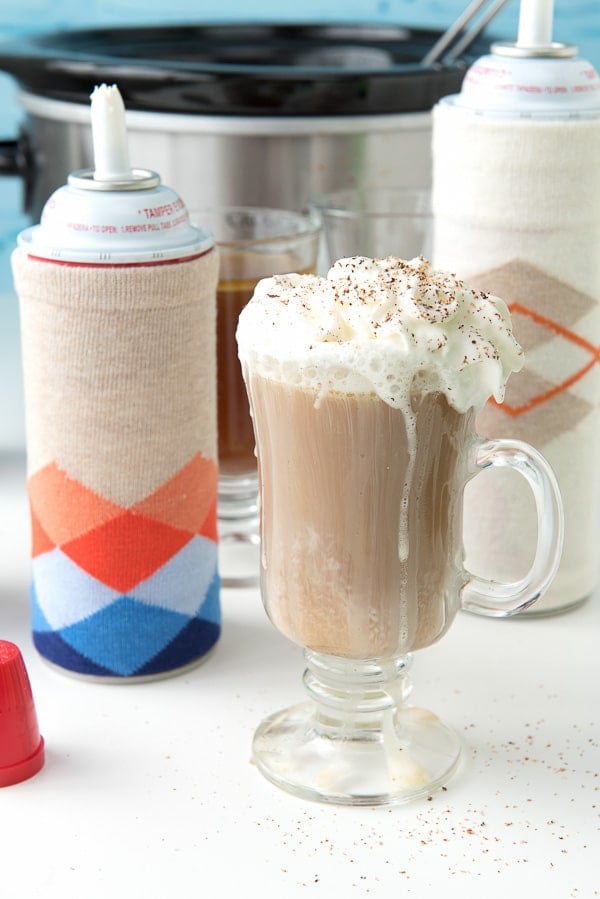 I have a bit of a confession to make. Though I'm easy going as it relates to how friends serve food and drinks in their homes, I have a bit of a pet peeve in my own home: I don't like whipped cream canisters as part of the entertaining landscape. I don't care if they are fetched from the fridge to top ice cream and returned not to dally on the countertops. I do care if a family member takes them out of the fridge to fill their mouths with a big hit of whipped cream (you know who you are!), but that's a different issue. I just don't think they look pretty with clean, sparkling glassware, other toppings in little bowls, or any other accouterments one would put out when hosting a hot chocolate or dessert bar.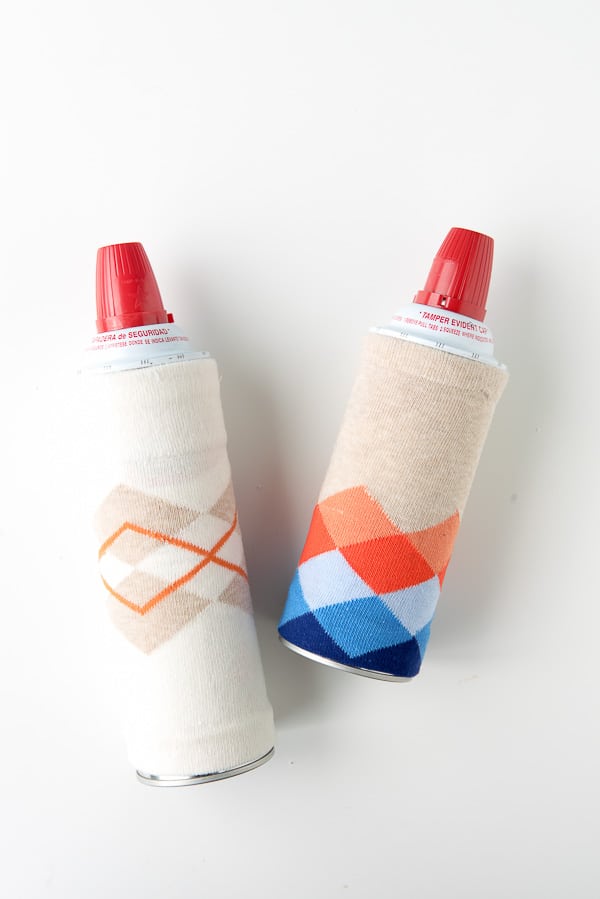 Being a problem-solver and a DIY'er rather than a whiner I came up with a solution that is inexpensive, fast and offers the option to coordinate one's whipped cream canister cover (or wine bottle cover) to the season: DIY Whipped Cream Canister Cozies. Not sure what a cozie is? A cover, basically. You'd know them most commonly for beer cans as they are available for almost every sports team, or as a regional souvenir.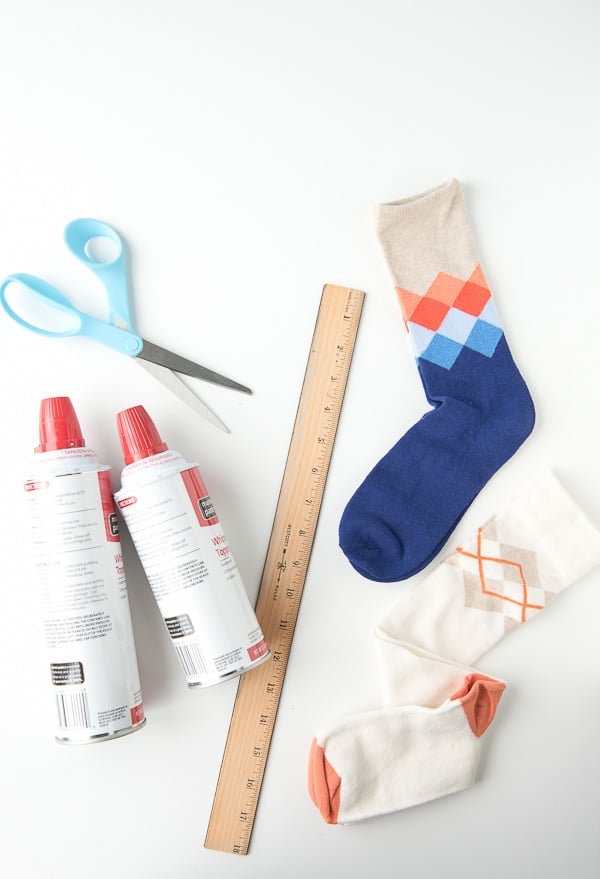 These cozies are made from socks (I recommend new ones) that are trimmed to your needed length and slipped over the canister. They lend a better grip with chilly hands and act to insulate the canister a bit too to keep the contents cold. I created these for the hot buttered rum bar I did over the weekend and they fit the cold wind whipping the Trick-or-Treaters about, both young and old.
Any type of socks can be used and I suggest checking at stores like Target where the supply and options are ample and the cost is low. I bought each of these sock pairs for $3 so I did not feel badly sacrificing them for the cause. I love the idea of textured cable knit socks for a holiday drink or dessert bar. I picked some up with sophisticated stripes including gold metallic for entertaining around Christmas and New Years as well.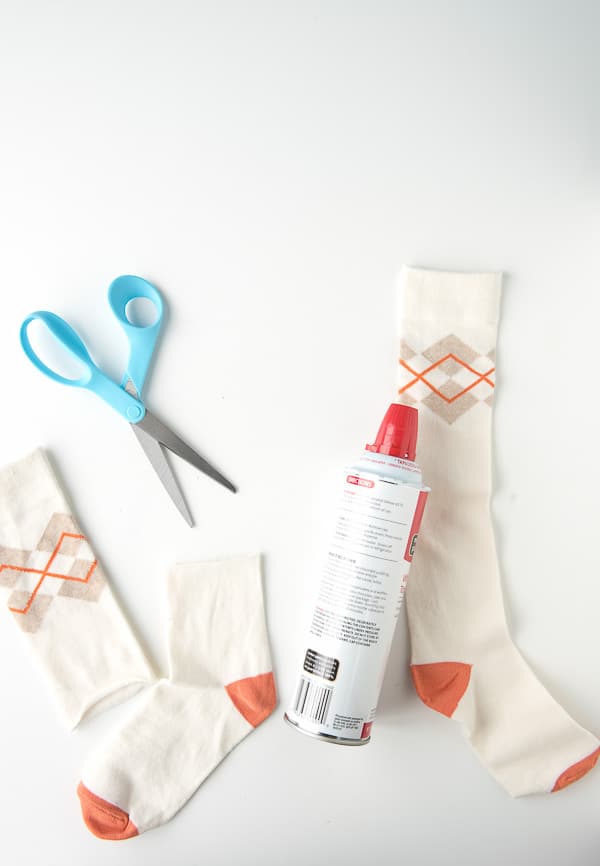 Whether you care about whipped cream canisters being exposed or not, I think you'll agree they are really fun when covered.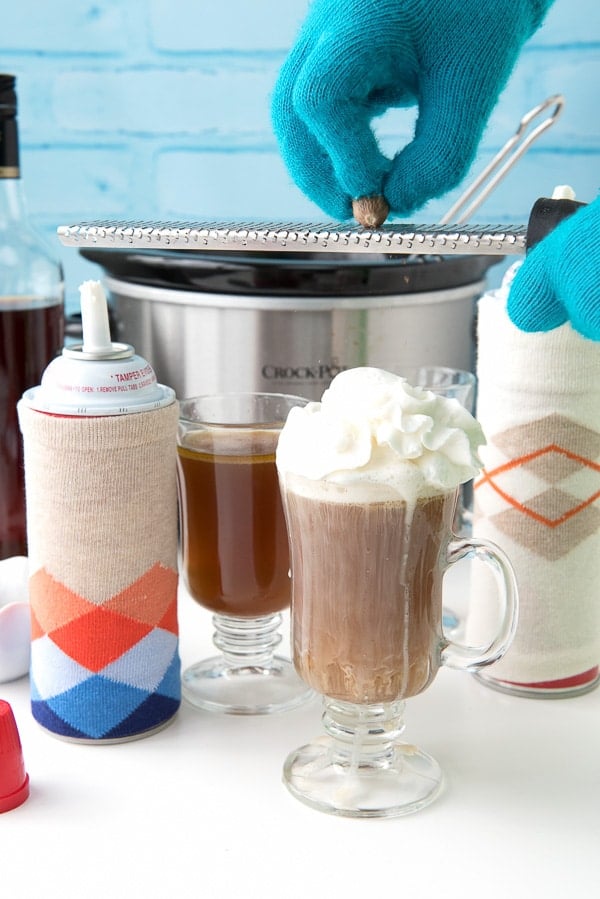 SUPPLIES
Socks with the area above the heel long enough to cover the canister or bottle (e.g. knee socks or longer for taller bottles, mid-calf for shorter canisters)
Scissors
Ruler
INSTRUCTIONS (Refer to the photos above)
Measure the length of the whipping cream canister or wine bottle from the bottom to the curve of the canister or bottle. Refer to the photos above.
From the top of the sock, measure the length of step one

plus

an additional ½ – ¾ inches to turn under. Cut straight across the sock at this spot.
Slip the cozie on the canister or bottle and turn cut end under to form a finished end.