Traditional Thanksgiving flavors in an non-traditional ice cream pie are a fun addition to your feast! Pumpkin-flavored ice cream laced with a cinnamon ripple sit on a gluten-free ginger snap crust, all drizzled with homemade Salted Caramel Sauce!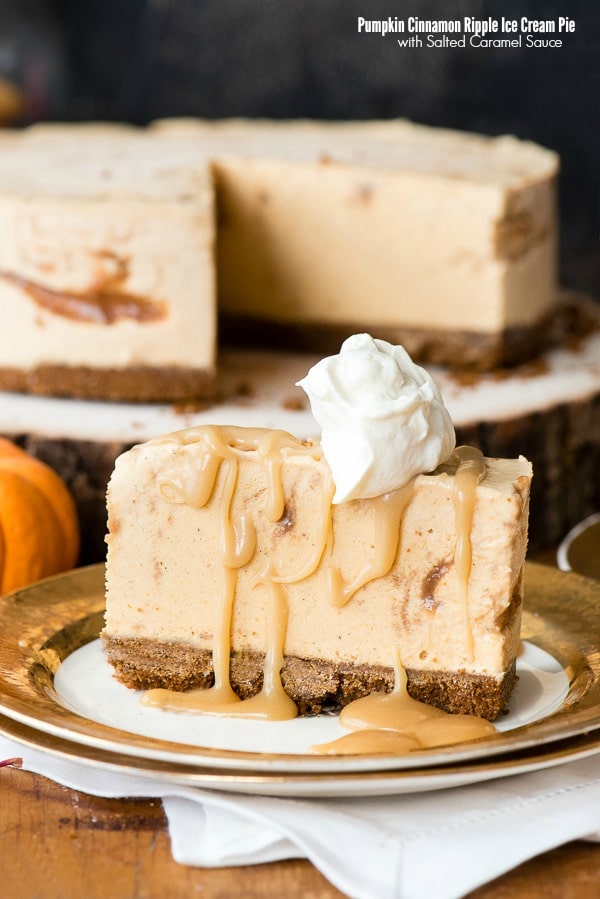 Today's recipe is brought to you by Sprouts Market who asked me to create a gluten-free, organic Thanksgiving dessert recipe for their #FriendsgivingFeast celebration. All opinions are my own.
Here we go! The first Thanksgiving dessert of this year! Pumpkin Cinnamon Ripple Ice Cream Pie with Salted Caramel Sauce; sound good?! I do love a traditional dessert but can't resist changing things up as well.
One of the favorite desserts served at our Thanksgiving table is an old family recipe for Grasshopper Pie. If you aren't familiar with Grasshopper pie, it's a frozen mint pie made with chocolate cookie crumb crust and a marshmallow (melted) Crème de Menthe filling. My kids are mad for this pie! I am too.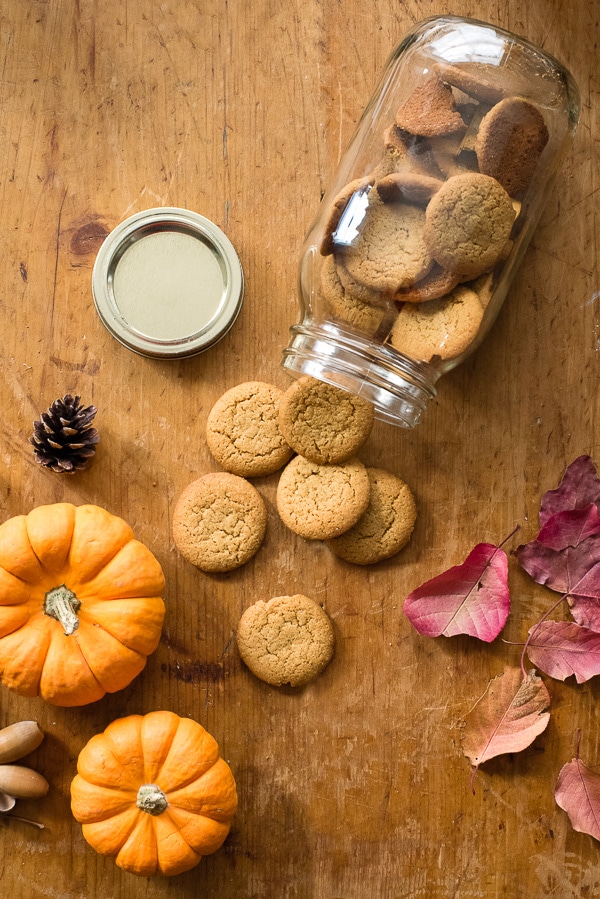 Though the flavors and form are not what one would imagine for Thanksgiving, the fresh mint flavor, and chilly frozen pie are 'just right' after a big meal. Of course, we include the standard Pumpkin Pie, as well as love a Sour Cream Raisin pie and Ginger Pear pie as well!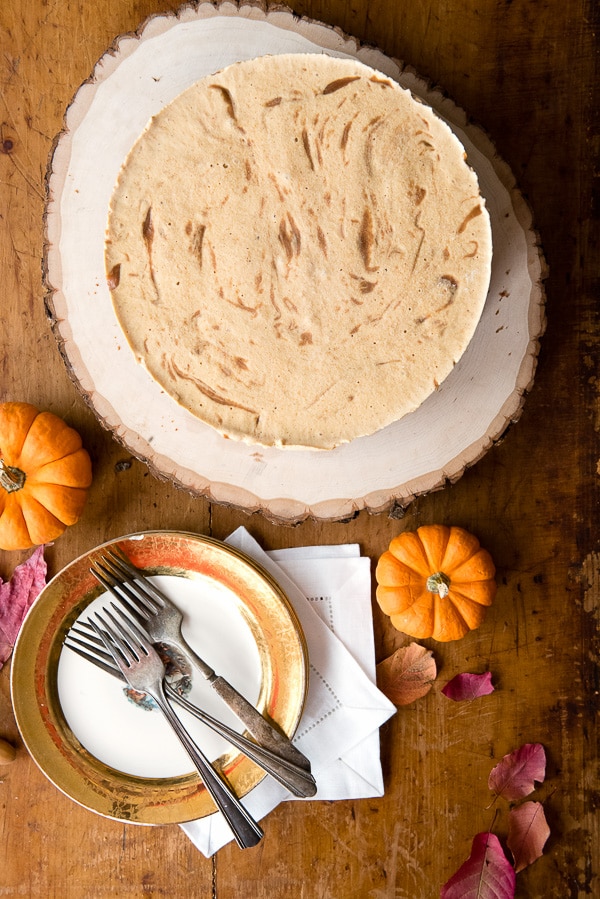 Today's pie is also no bake pie. With the oven and stove top in high use, having a frozen pie prepared beforehand is a relief on a busy holiday. Like the Grasshopper Pie, Pumpkin Cinnamon Ripple Ice Cream Pie with Salted Caramel Sauce is made with a gluten-free ginger snap crust. It's an easy mix of pulverized ginger snaps, sugar, melted butter and a pinch of salt formed into a crust and frozen.
The filling is softened vanilla bean ice cream mixed with cream cheese, pumpkin puree with a cinnamon ripple running through it. Spooned into the pie crust and frozen. It can be made the day before and not be part of the Thanksgiving Day kitchen madness!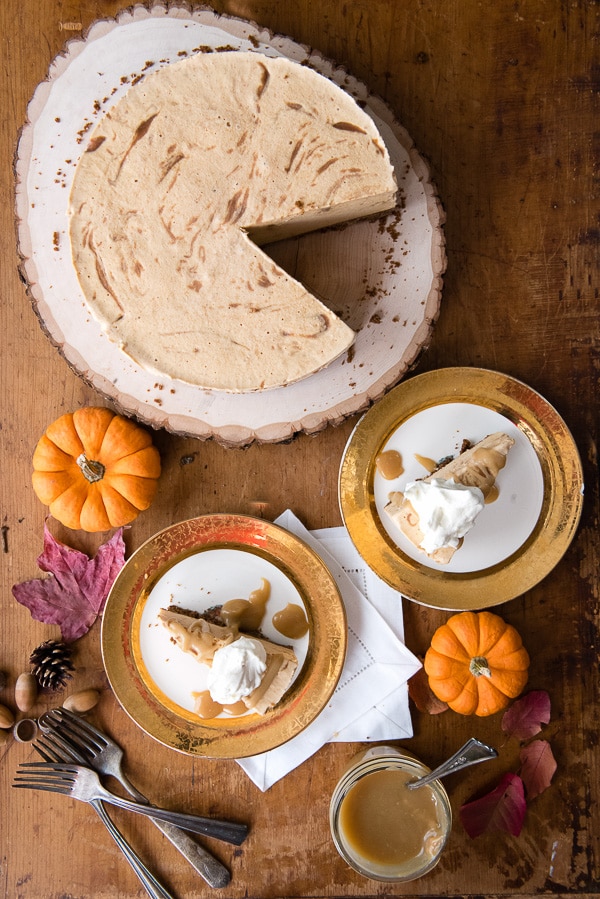 Should you wish to make this pie with gluten ginger snaps you may need to use a few more tablespoons of butter in the crust. Gluten-free cookies are not as absorbent as gluten cookies so just follow the directions and add more melted butter until the crust has the consistency of lightly wet sand.
When ready to serve, remove the outer ring of the spring form pan (allowing it to sit at room temperature for 5 minutes can make that easier) and cut with a large, sharp kitchen knife. Drizzle pieces with the salted caramel sauce and a dollop of whipped cream (optional). It's a great end to a holiday meal!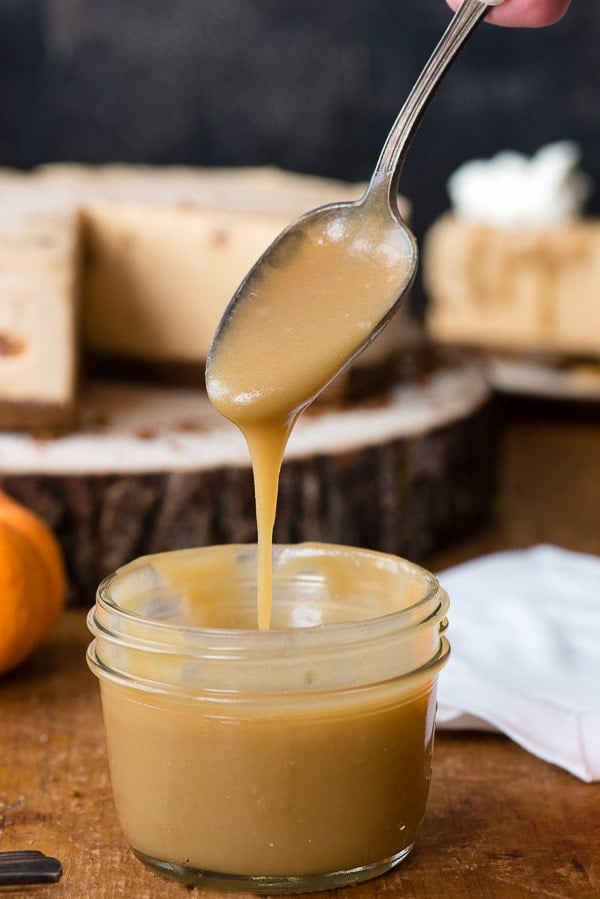 It's fun to change up a traditional holiday dessert to still keep the familiar flavors but in a new form. This ice cream cakes does just that! Ginger, cinnamon and pumpkin shine through but in a cool form which is often welcome after a big meal like Thanksgiving! Using prepared ice cream as the base makes it quicker and easier to make!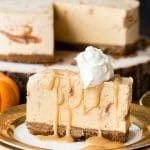 Pumpkin Cinnamon Ripple Ice Cream Pie with Salted Caramel Sauce
It's fun to change up a traditional holiday dessert to still keep the familiar flavors but in a new form.
Ingredients
25

Gluten-Free Ginger Snap Cookies

12

tablespoons

Unsalted Butter; 4 tablespoons melted

, 8 tablespoons divided

1

tablespoon

, plus 1/2 cup (divided) (divided) Granulated Sugar

1/4

teaspoon

Kosher Salt

1/4

cup

plus 1/3 cup Light Brown Sugar

2

teaspoons

Ground Cinnamon

¼

cup

plus ½ cup Heavy Whipping Cream

8

ounces

Cream Cheese

, softened

1

15-ounce can

Pumpkin Puree

(or homemade)

2

teaspoons

Pumpkin Pie Spice

1 ½

quarts

Vanilla Bean Ice Cream

, slightly softened

¼

cup

Brown Sugar

½

teaspoon

Fleur de Sel

(sea salt)

Optional: Whipped cream to top
Instructions
Making the crust: Place the ginger snap cookies in a food processor and pulse to grind them into fine crumbs. While the food processor is running, drizzle in the 4 tablespoons melted butter, 1 tablespoon granulated/cane sugar and kosher salt. Mix just until fully combined. Press evenly into the bottom of a 9-inch diameter 3-inch high (12 cup volume) spring form pan. Cover with plastic wrap and place in the freezer to set (about 1 hour).

Making the Cinnamon Ripple: Melt 4 tablespoons of the remaining butter in a small sauce pan over medium-high heat. Stir in ¼ cup light brown sugar, ¼ cup granulated/cane sugar, and cinnamon; lower the heat to medium and stir to combine. As the sugar begins to melt, add ¼ cup of the heavy cream and stir to dissolve the sugar fully. Remove from heat and allow to cool to room temperature (may be placed in the refrigerator to hasten cooling; do not allow to over thicken).

In the bowl of a standing mixer equipped with the paddle attachment, cream the cream cheese. Add the pumpkin, pumpkin pie spice and the remaining 1/3 cup of light brown sugar; beat on high to fully combine.

Spoon the ice cream into the bowl and mix in on the lowest speed until all ingredients are fully combined (don't worry if ice cream becomes very soft). Spoon half the mixture into the 9-inch spring form pan with the frozen crust. Tap pan on the countertop a few times to release any air pockets. Drizzle half of the cooled Cinnamon Ripple on the top of the ice cream mixture. Drag a dining knife through the cinnamon ripple to mix into the ice cream mixture.

Repeat Step 4 with the remaining half of the ice cream mixture and the remaining cinnamon ripple. Smooth the top of the filling with a mixing spoon or spatula. Tent the top of the pan with foil (ensuring it does not touch the top of the pie filling), return to the freezer, (ensure it is on an even flat surface) to set fully (3-4 hours or overnight).

Making the Salted Caramel Sauce: In a medium saucepan over medium heat, melt the remaining 4 tablespoons of butter. Add the remaining ¼ cup granulated/cane sugar and the dark brown sugar to the melted butter and stir constantly until the mixture begins to simmer. Slowly pour in the remaining ½ cup heavy cream, stirring constantly. Allow the mixture to come to a simmer again and simmer for 3 minutes, stirring constantly. Remove from heat and stir in the sea salt. Allow to cool fully (may be stored sealed in the refrigerator).

To serve: remove pie from the freezer and allow to sit at room temperature for about 5 minutes until the spring form pan can be opened and removed. Place pie on a serving platter for slicing at the table or sliced onto individual plates. Drizzle with Salted Caramel Sauce and a dollop of whipped cream.
Nutrition Facts
Pumpkin Cinnamon Ripple Ice Cream Pie with Salted Caramel Sauce
Amount Per Serving
Calories 485
Calories from Fat 252
% Daily Value*
Fat 28g43%
Cholesterol 91mg30%
Sodium 426mg18%
Potassium 385mg11%
Carbohydrates 50g17%
Protein 8g16%
Vitamin A 6815IU136%
Vitamin C 2.4mg3%
Calcium 256mg26%
Iron 0.8mg4%
* Percent Daily Values are based on a 2000 calorie diet.