The holiday season brings extra gatherings to attend and host, friends and family with whom to be reunited. As much as food is a centerpiece of all these occasions, no one wants to serve the same tired food nor spend hours in the kitchen when they could be catching up and socializing.
Over the past year I've shared some cozy appetizers that aren't run of the mill. They don't take a ton of time to prepare but the response will be notable. I served the Cranberry Pecan Goat Cheese Roll with crackers for a nosh last Thanksgiving to peckish guest and it was a perfect option to tide people over (with a compliment of Homemade Spiced Pear Vodka Tonics!).
The Baked Brie with Maple Pumpkin Butter, Honey and Marcona Almonds is as festive in appearance as it is delicious. The Hot Artichoke Dip is rich and warming on chilly night. The Taco Cheese Ball (originally created to feature at Halloween) can be easily altered with crushed red tortilla chips on the outside to celebrate the season in a more casual way. If you are a blue cheese lover the Savory Blue Cheese Cake is fantastic, and makes any gathering more elegant. Cranberry Salsa is a wonderful unexpected blend of sweet, salty and spicy to enliven a get together.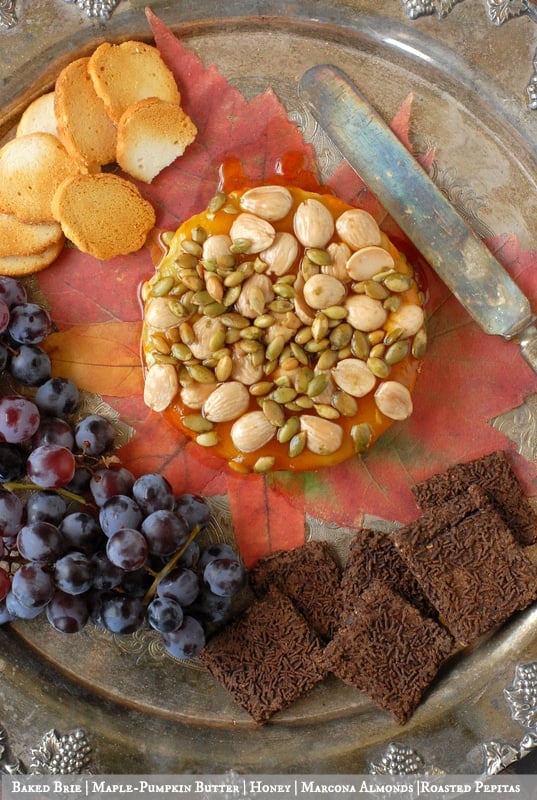 For even more appetizer ideas, check out this group Pinterest Board on which I'm a Pinner 'Amazing Appetizers'. With over 355,000 followers and 3,000 recipe pins, you know there are some good recipes to be found (note: it is not a gluten-free dedicated board)!
6 Unexpected Gluten-Free Holiday Appetizers
Baked Brie with Maple-Pumpkin butter, Honey, Marcona Almonds and Pepitas

Savory Blue Cheese Cake appetizer

Creamy Hot Artichoke Dip with Garlic Toast Rounds

Cranberry Pecan Goat Cheese Roll

My thanks to you for your readership and heartfelt wishes for a warm holiday season filled with friends, family and fun!