Cheese Ball recipes are always favorite appetizer for gatherings. This Mexican Cheese Ball is a perfect Halloween appetizer sure to make your party a screaming success.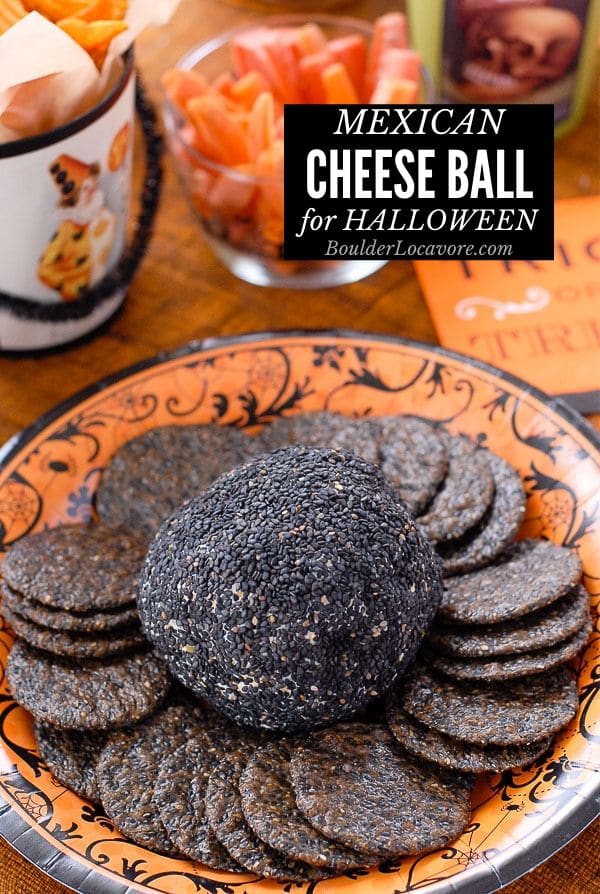 Want guests elbowing to get to the appetizer? Oo'ing and ah'ing, not able to stop themselves eating more?
If so this Mexican Cheese Ball recipe is for you.
With delicious, creamy taco flavors, it's completely addictive.
This version is dressed up to be a perfect Halloween appetizer. But there are modifications to enjoy it all year long.
What is a Cheese Ball?
If you haven't ever eaten or made a cheese ball you are in for a treat. Cream cheese and other ingredients are mixed together and rolled into a large ball.
The Cheese Ball is then rolled in a final ingredient, usually nuts, herbs or dried fruit, to make an outer coating.
Cheese Balls are served with a knife for cutting slices and adding to crackers, bread slices, sliced fruits or vegetables.
It's a very easy appetizer recipe and perfect for serving a group.
Guests serve themselves so the host can enjoy their company not serving food!
A great appetizer for Game Days and a holiday party.
Mexican Cheese Ball Recipe
Mexican flavors are always popular and this cheese ball serves them up in style.
A combination of creamy cheeses and taco flavors makes this the appetizer favorite.
To make it a Halloween appetizer the outside is rolled in black sesame seeds.
They add a nice texture and perfect color for the holiday.
Take it a step further and serve it with Black Sesame Rice Crackers!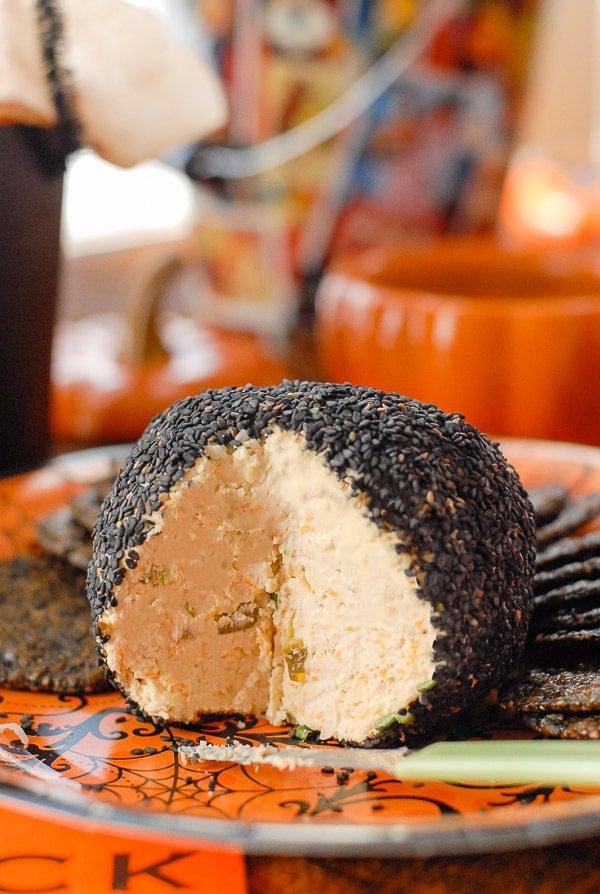 How to Make Mexican Cheese Ball for Other Occasions
When not making a Halloween appetizer there is a second delicious coating!
Instead of sesame seeds, coat the Mexican cheese ball with finely crushed corn tortilla chip.
They make a great flavor complement to the spicy taco flavors.
PRO TIP: use colored crushed chips for different holidays
Red tortilla chips for Christmas parties
Blue tortilla chips for Memorial Day
A mix of red, white and blue chips for Fourth of July
Mexican Cheese Ball Ingredients
All the tasty ingredients in this Mexican Cheese Ball should be easy to find at regular grocery stores.
Cream cheese
Mexican Cheese Blend (prepared or homemade)
Unsalted Butter
Milk
Worcestershire Sauce
Green Onions
Pickled Jalapeno Peppers (canned)
Black Sesame Seeds
Where to Find or Buy

Here are tips for finding a few of the ingredients:
Pickled Jalapeno Peppers – this is a canned item. It will be with the Mexican cuisine ingredients or International section of the grocery store. It can also be found ONLINE.
Black Sesame Seeds – these should be available in the Spice section of the grocery store along with white sesame seeds. Black sesame seeds can also be found at Asian grocery stores or ONLINE.
Mexican Cheese Blend – available prepared in the dairy section. It's a mix of three cheese that make this cheese ball delicious! Look for it with other grated cheese.
How to Make this Cheese Ball – Step-by-Step
Making a cheese ball is very easy. After doing it once, it will become your favorite appetizer recipe for gatherings and parties.
For a detailed printable recipe, refer to the recipe card at the end of the blog post.
STEP 1: Using a mixer beat together the cream cheese, grated Mexican cheese blend and butter until fluffy. NOTE: use either a standing mixer or hand held mixer.
STEP 2: Beat in the milk and Worcestershire sauce until fully combined.
STEP 3: On low speed, beat in the green onions and jalapeno peppers to combine.
STEP 4: Put the cheese ball mixture in an airtight container and refrigerate for a minimum of 4 hours or overnight.
STEP 5: After chilling shape the mixture into a ball.
STEP 6: Place sesame seeds on a plate and gently roll the cheese ball in the seeds to fully cover.
Allow to stand for 15 minutes before serving with crackers.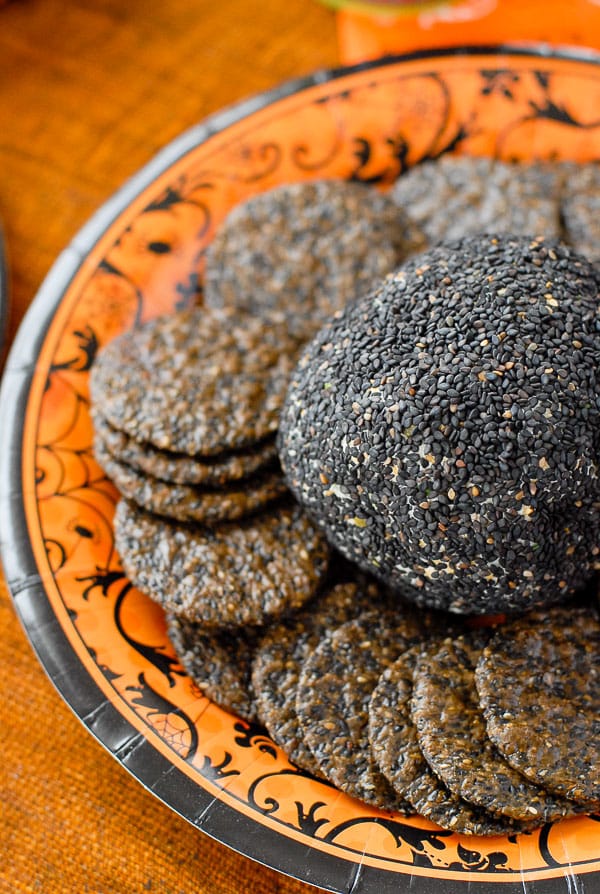 How Long Can a Cheese Ball Sit Out?
Don't leave a cheese ball at room temperature for more than 2 hours.
Refrigerate this Halloween appetizer after 2 hours for food safety.
How to Store the Cheese Ball
Kept in an airtight container or plastic wrap in the refrigerator for up to 1 week.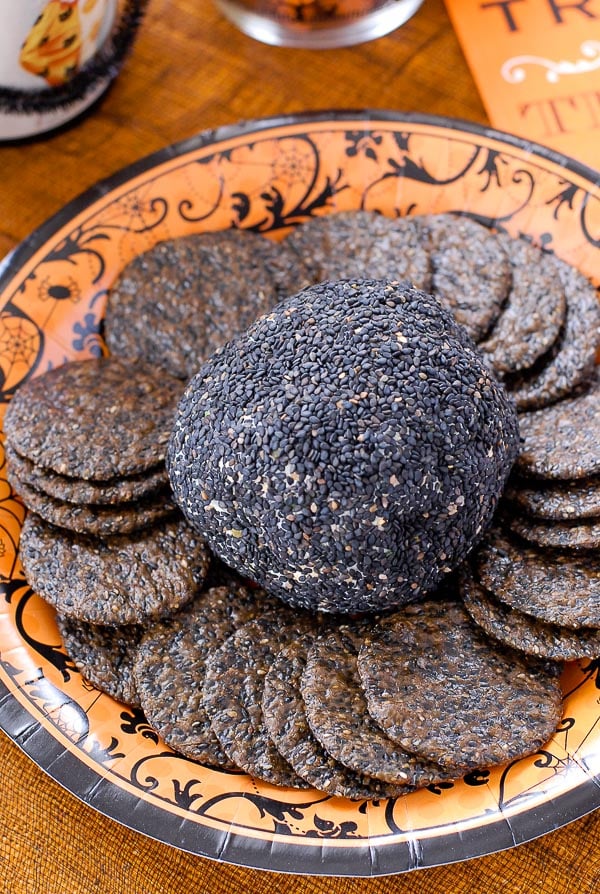 Did you make it? Please RATE THE RECIPE below!
Please SUBSCRIBE and FOLLOW ME on FACEBOOK , TWITTER , INSTAGRAM and PINTEREST!
Originally published: October 27, 2012
This Mexican Cheese Ball recipe is a perfect Halloween appetizer or for any gathering.