This exploration is sponsored by Freixenet and is for viewing only by those of legal alcohol purchasing age. Please always remember to drink responsibly!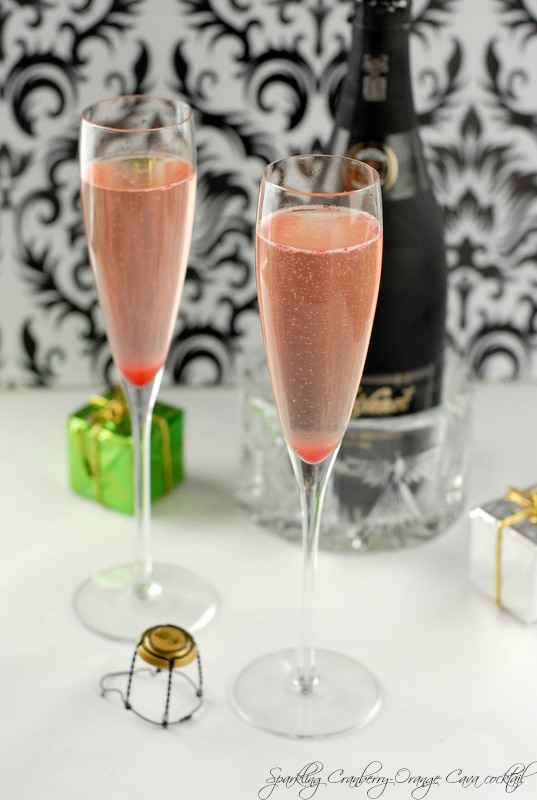 The season of celebrating is upon us. Corks will be popping and bubbles flowing from now through New Year's Day. But how does one decode what to buy and serve? As wine consumers have become more savvy and international logistics have made choices more available, that which is commonly referred to as 'Champagne' has become more complex with options.
True champagne is sparkling wine only produced in the Champagne region of France. Bubbly produced using the same methods outside the region are technically 'sparkling wines' using the 'methode champenoise' (the method developed in the Champagne region of France for making sparkling wine). Prosecco and Asti Spumante are sparkling wines produced in Italy. Cava is the sparkling wine from Spain. Even in understanding all these variations one can find themselves at the liquor store scratching their head when trying to pick a bottle for a celebration.
I too appreciate sparkling wine for special occasions, but more so I love to turn ordinary moments special with something sparkling. Bubbly should not be reserved only for birthdays and anniversaries but infused into more main stream opportunities to make them a party; brunch, holiday gatherings or just hanging out with friends.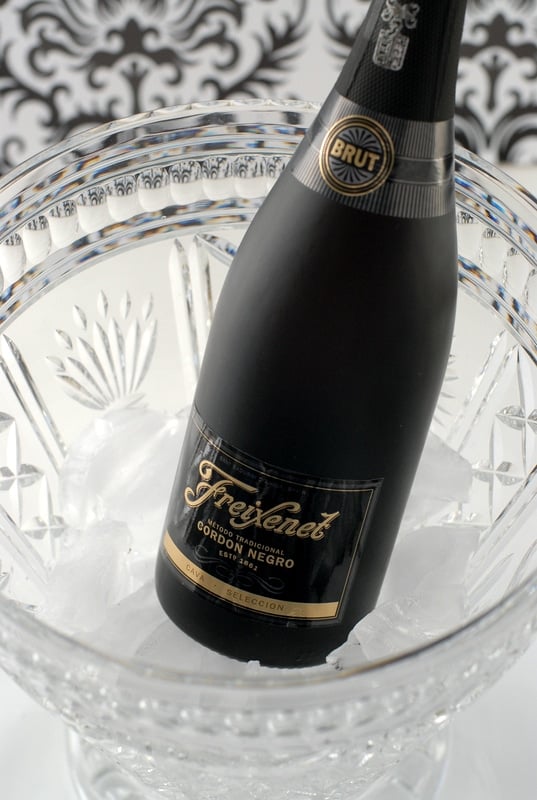 My husband and I both love wine. We've lived a stone's throw from the California Wine Country, logging many hours tasting and becoming educated on wine. We've traveled internationally to different wine regions and have fallen in love with local varietals. A favorite trip was a week in Barcelona where we learned a lot about cava, Spain's sparkling wine. When prowling our local liquor stores at home for cava we learned Freixenet (pronounced fresh-eh-net) is the largest imported sparkling wine in the world. In the one-of-a-kind sleek black bottle, it exudes elegance and is completely affordable at the suggested retail price of $12.
This guide on How to Make Simple Syrup gives lots of great information and easy recipes! The simple syrup for these Sparkling Cranberry-Orange Cocktails is also included in the recipe below.
Freixenet is a world leader in Spanish Cava and continues to be family owned by the Ferrer family since 1861 (spanning 4 generations), with the winery residing just outside Barcelona. Two favorites we've tried are the Cordon Negro Brut (also known as 'The Black Bottle Bubbly') and the newly released Cordon Sweet Cuvée, both of which are a blend of three traditional (but little known) Spanish varietals: Macabeo (ma-ca-BAY-o), Xarel-lo (sha-REL-o) and Parellada (pa-re-YAda). Macabeo produces a fairly light but fruity, aromatic wine of medium-high acidity; characteristics crucial to the production of sparkling wine. It is also an important grape in the aging process because its must does not readily oxidize. Xarel-lo yields a robust, high-acid wine and contributes power and depth. Parellada is the star of all cava blends for its beautiful 'demonstrative fruit and its finesse'.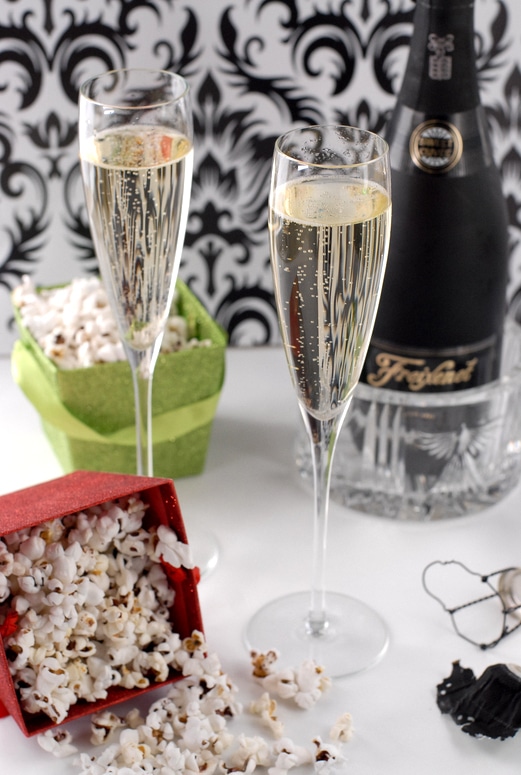 For those not interested in the technical aspects of the wines, they are just plain good, especially at their price point, and extremely versatile. Perfect for parties certainly, but able-bodied to be the main wine to accompany a variety of meals from oysters and pan-seared sea scallops, to more robust meals like grilled chicken and even roasted lamb (especially with a Rose). Freixenet is fabulously paired with spicy take-out food as well such as Thai food. I feel sparkling wine often is often shortchanged only being associated with festivities; making it an 'ordinary' part of our personal wine drinking has been a personal mission. For more pairing ideas, Freixenet has a fabulous Pairing App that will do the heavy thinking for you.
This holiday season the entertaining I'm most looking forward to is the more casual. The last minute call from a friend or neighbor who wants to drop by to ring in some cheer. We always having sparkling wine chilling and having a seasonal cocktail to easily whip for such occasions is something I enjoy. With Freixenet's new release of the Sweet Cuvée, creating a fun sparkling Cranberry cocktail sprang to mind. It's simple with a fresh cranberry puree which can be stored, sealed in the refrigerator until enjoying.
Recipe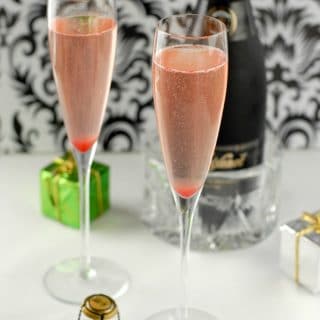 Sparking Cranberry-Orange Cava cocktail
Something sparkling is always a perfect way to ring in the holidays. This simple Cranberry-Orange Simple Syrup turns sweet Spanish Cava into a celebration, as well as can be used to flavor non-alcoholic sparklers such as Ginger Ale for those you choose to join the festivities but not imbibe.
Print
Save Recipe
Recipe Saved!
Pin
Servings:
1
1/4 cup Cranberry-Orange Simple Syrup (about 20 cocktail servings)
Ingredients
Ingredients for Cranberry-Orange Simple Syrup:
8

ounce

(dry weight) Cranberries (approximately 2 cups; I use organic)

1

cup

Fine Sugar

2

large Navel Oranges

1

teaspoon

Orange zest

, in larger strips using a paring knife or produce peeler
Ingredients for Sparkling Cranberry-Orange Cava cocktail:
1

bottle Spanish Cava

(I used Freixenet Sweet Cuvee)

Cranberry-Orange Simple Syrup
Instructions
Instructions for making Cranberry-Orange Simple Syrup:
Squeeze the juice from the two oranges into a clear I cup liquid measuring cup. Add water to make a total liquid amount of 1 cup.

In a heavy, medium saucepan, combine the cranberries, orange/water, sugar and orange peel. Bring to a boil, then reduce to a simmer, stirring periodically until cranberries burst and mixture fully combines; about 10-12 minutes.

Remove from heat. Strain through a fine mesh strainer into a bowl. Allow to cool fully and strain through the fine mesh strainer again.

Will keep in a sealed, glass container for up to 2 weeks.
Instructions to make Sparkling Cranberry-Orange Cava cocktail:
In a champagne flute, pour 1 tablespoon of the Cranberry-Orange Simple Syrup. Fill glass with cava and stir to fully combine.
Nutrition
Calories:
168
kcal
|
Carbohydrates:
4
g
|
Protein:
0
g
|
Fat:
0
g
|
Saturated Fat:
0
g
|
Cholesterol:
0
mg
|
Sodium:
23
mg
|
Potassium:
299
mg
|
Sugar:
3
g
|
Vitamin C:
2.7
mg
|
Calcium:
31
mg
|
Iron:
1.4
mg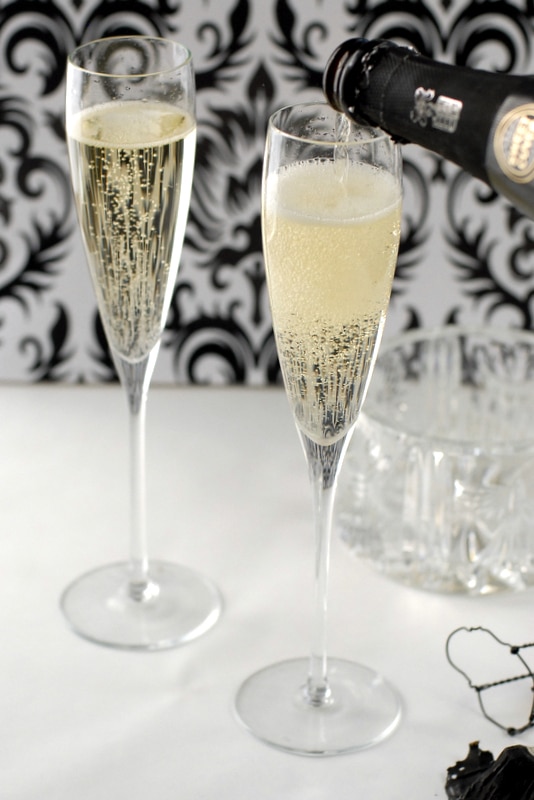 More Tasting Notes:
Cordon Negro Brut is Freixenet's most popular cava. Cordon Negro Brut is crisp, clean, and well balanced. It is medium-bodied with a palate of apple, pear and bright citrus flavors with a moderately long finish and a crisp touch of ginger. This wine is extremely versatile and pairs well with most foods, including spicy cuisine. It sells for a Suggested Retail Price of $12.
Cordon Negro Sweet Cuvée is the first extension of the Freixenet line in 20 years. This sparkling wine appeals to those preferring more sweetness on the palate; it's fruity with ripe summer peaches, and tropical fruit, culminating in a long, silky sweet finish. It pairs well with Crème Brûlée and other desserts.The Sweet Cuvée is versatile pairing well with seafood, desserts, and more surprising pairings like spicy foods, pizza, and popcorn. It also sells for a Suggested Retail Price: $12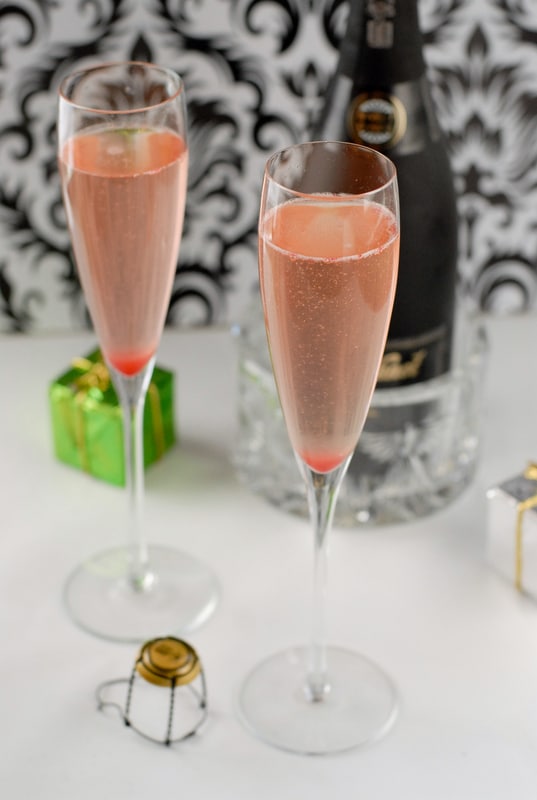 This is a sponsored conversation written by me on behalf of Freixenet. The opinions and text are all mine.