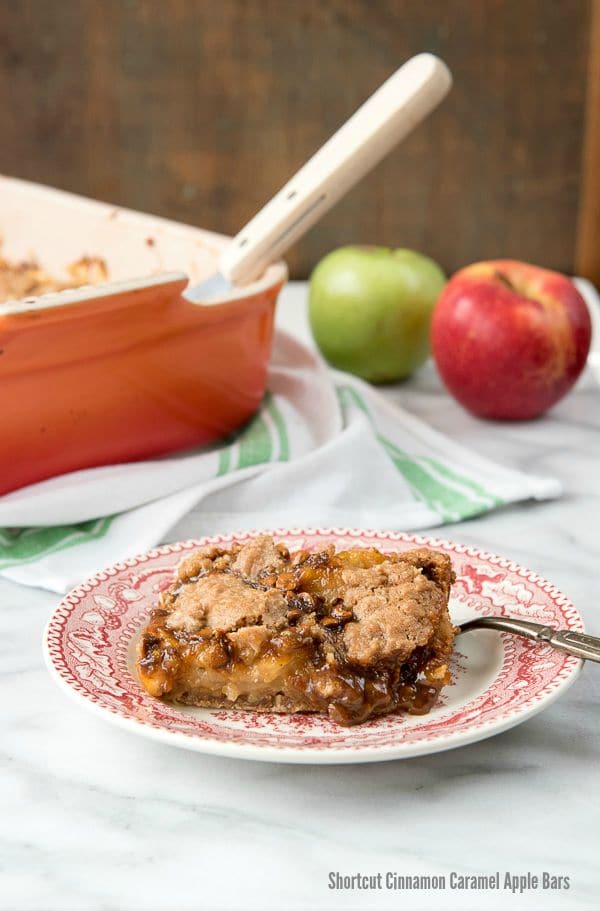 Now that the weather is cooler, I'm all about comfort foods, stronger spices and baking some goodies for my ever-eager family. Ever since baking Mermaid Bait Bars recently, bars have been on my radar; not to go out drinking but for dessert!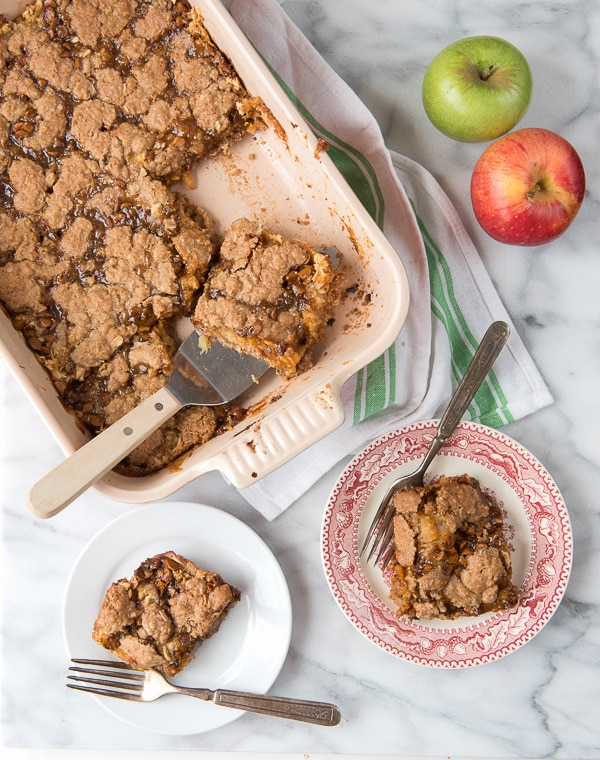 I love a caramel apple in the fall but having a tot with braces knocks that out of the picture as a family treat option. And though I've made Cinnamon Candy Apple and Caramel Apple cocktails, that's not what I'm hankering for at the moment. I have been thinking up an ooey gooey fall bar that has the best flavors we love:  Cinnamon Caramel Apple Bars. Sound good?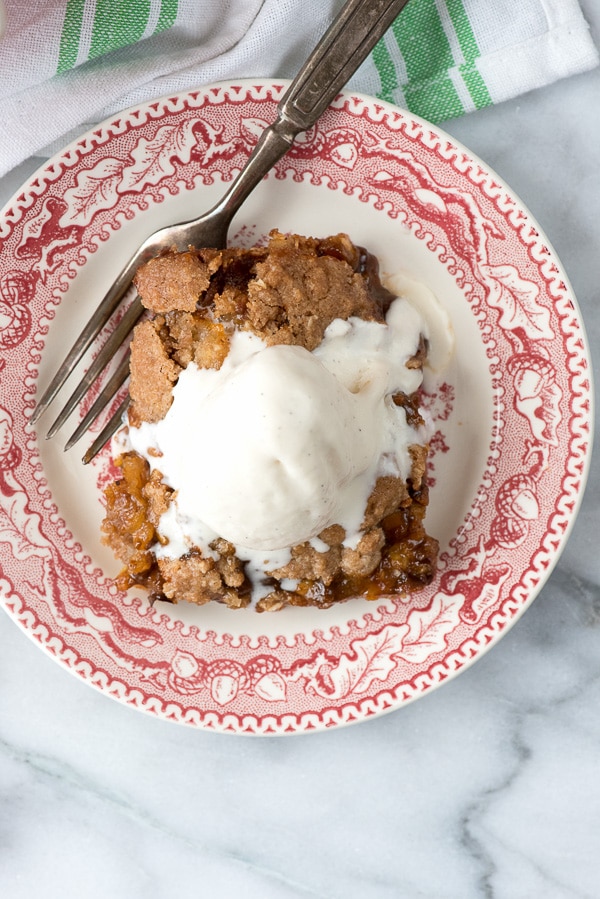 I'll confess right now, these bars are a bit of a cheat. Instead of a full from-scratch crust, Oatmeal Cookie Mix is substituted and boy is it good. It makes a nice, puffy cookie base for fresh apples, caramel sauce, cinnamon baking bits and a bit of the cookie on top too. These bars are moist and taste like fall!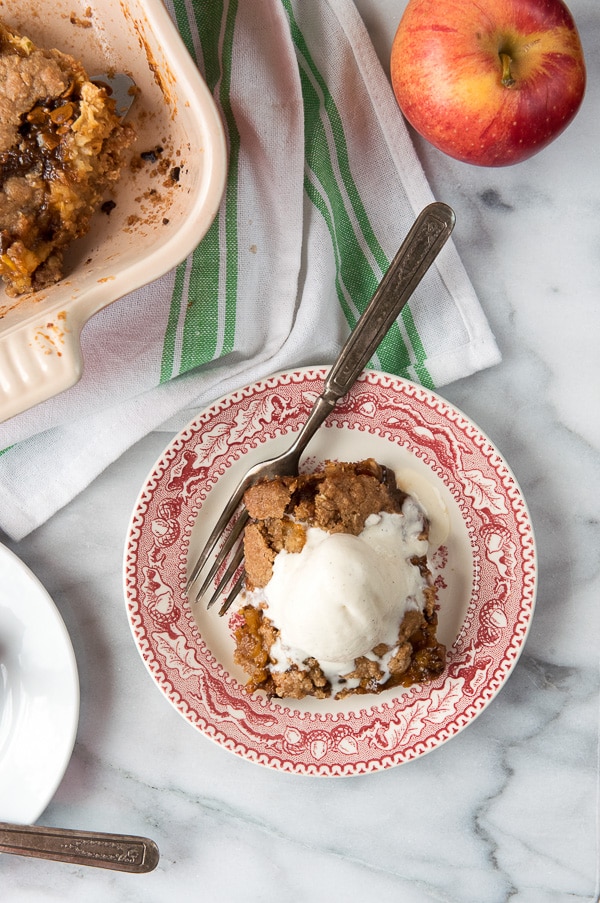 Being gluten-free I was able to substitute a gluten-free cookie mix easily. The key is using the same amount of mix, regardless of whether making regular or a gluten-free version. If the mix you choose is less than the standard 1 pound 1.5 ounce cookie mix, simply weigh out the difference of your mix and the quantity called for in the recipe and add it to your mix. In researching a bit I noted a few gluten-free oatmeal cookie mixes and they all were of differing weights. Add or subtract the amount required to use 1 pound 1.5 ounces.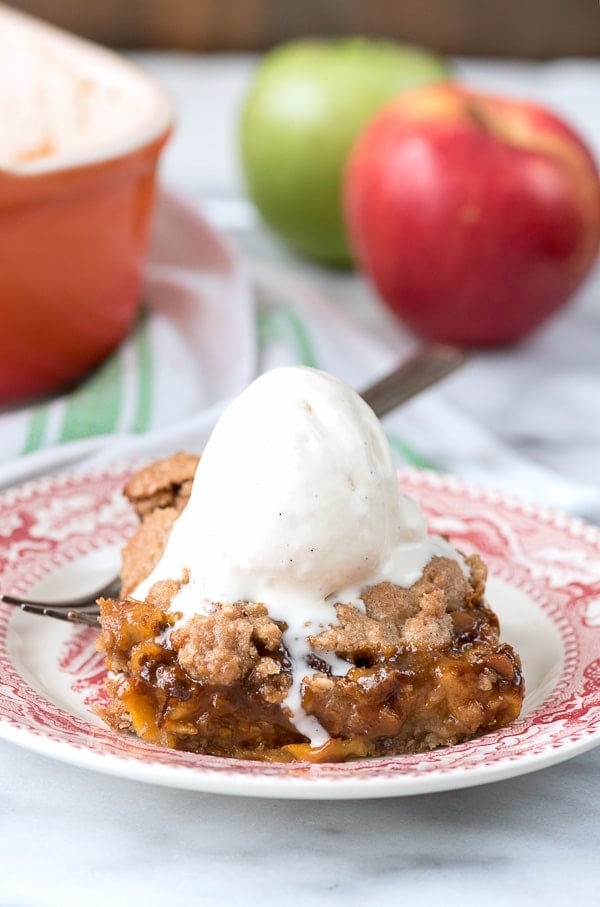 These Cinnamon Caramel Apple Bars are so good warm with a big scoop of vanilla ice cream. Their taste could pass for pie. They are supple in texture, not firm like cake-ier bars. Cut them in any size, stick them in lunch boxes or steal one as a snack in the mid-afternoon with a cup of coffee. Any way you eat them, I think they'll make you happy!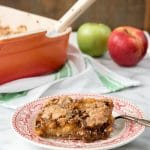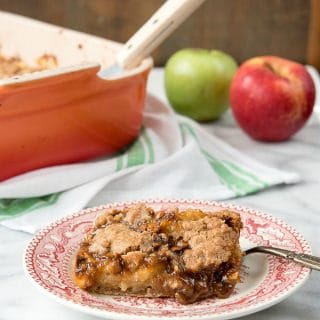 Shortcut Cinnamon Caramel Apple Bars
Servings
30
2-1/2 inch by 1-1/2 bars or 51 1-1/2 inch by 1-1/2 inch bars
Ingredients
1

packet of Oatmeal Cookie mix

(1 lb 1.5 oz; I used Pamela's Products Gluten-Free Oatmeal Cookie mix*)

½

cup

(1 stick) Cold Unsalted Butter, cut into tablespoon pieces

1

Egg

¾

cups

Caramel Sauce

(purchased or homemade)

¼

cup

All Purpose Flour; regular or gluten-free

3

medium-large Apples

(1 should be a Granny Smith variety); peeled, cored and chopped+

1

cup

Cinnamon Baking Chips
Instructions
Preheat the oven to 350 degrees. Prepare a 13 x 9 inch baking pan by greasing it or spraying it with non-stick spray. Set aside.

(Preferred method): In the bowl of a food processor with a dough blade, combine the cookie mix and butter pieces. Pulse to combine fully. Alternate hand method: Place cookie mix and butting in a large mixing bowl and cut the butter into the mix using a pastry whisk or dinner knives until fully combined.

Add the egg and pulse until fully incorporated into the dough (if using a hand method, stir to combine).

Remove ¾ cup of the prepared dough and set aside (it will go on top of the bars). Turn the rest of the dough into the prepared baking dish and using the back of a silicon baking spoon and/or your fingers, press the dough into the bottom of the pan forming a thin crust. Tip: the dough is sticky so spraying the back of the spoon with non-stick spray or dampening your fingers in neutral-flavored cooking oil will help it not stick.

Place pan in the oven and cook for 15 minutes.

While the crust is cooking, combine the caramel sauce and the flour in a small mixing bowl and whisk to combine fully.

After the crust has baked (it will be puffy), spoon the chopped apples evenly over the cookie crust, followed by the cinnamon baking chips. Drizzle the caramel sauce evenly over the top and finish with small pieces of the remaining cookie dough distributed over the top.

Bake for 20-25 minutes until golden brown or done (the dough I used did not turn golden but I could tell it was done by carefully touching it) and allow to cool for at least 2 hours.

Cut into xx 2-inch by 1-inch bars. Serve slightly warm (with a scoop of vanilla ice cream) and store covered in the refrigerator.
Recipe Notes
Adapted from Betty Crocker