The splendor of the Grand Canyon is complimented by superb cuisine at the iconic El Tovar restaurant. Their Salmon Tostada recipe with El Tovar Poblano Black Bean Rice, Roasted Corn Salsa and Tequila Vinaigrette is unforgetable (recipes below)!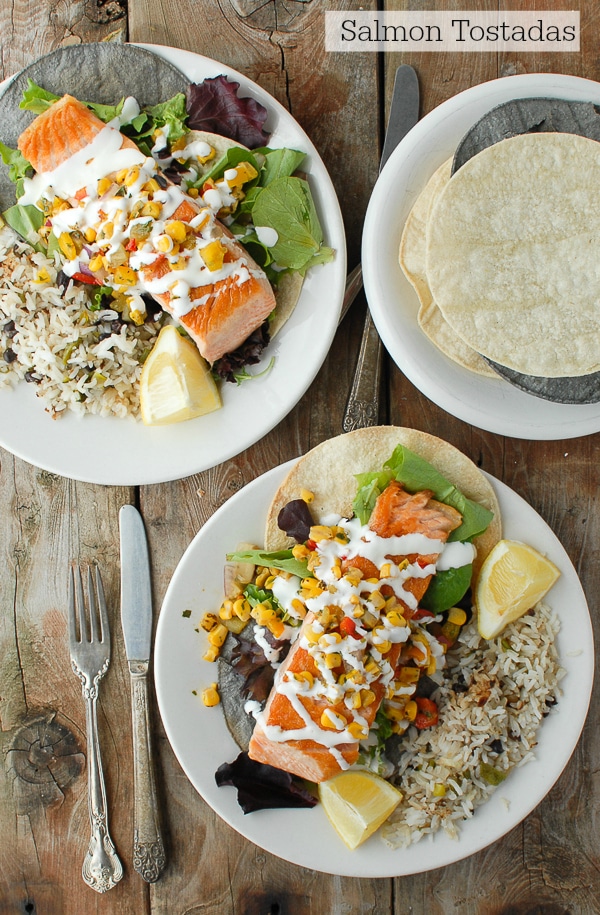 If you've ever visited a famous landmark you may have experienced the almost surprising impact of seeing it live. It looks the same as the photographs you've always seen but there is something different, 'larger' and more stunning about it in real life. The Grand Canyon is no different; it's simply awe-inspiring.
VISITING THE GRAND CANYON
A land feature that actually can be seen from space, the Grand Canyon runs 277 miles long, 10 miles wide, a mile deep and is considered a 'new canyon made from old rock'. The latter description due to the canyon being a mere 2 million years old, versus the rock it's cut through which is believed to be about half the age of the earth.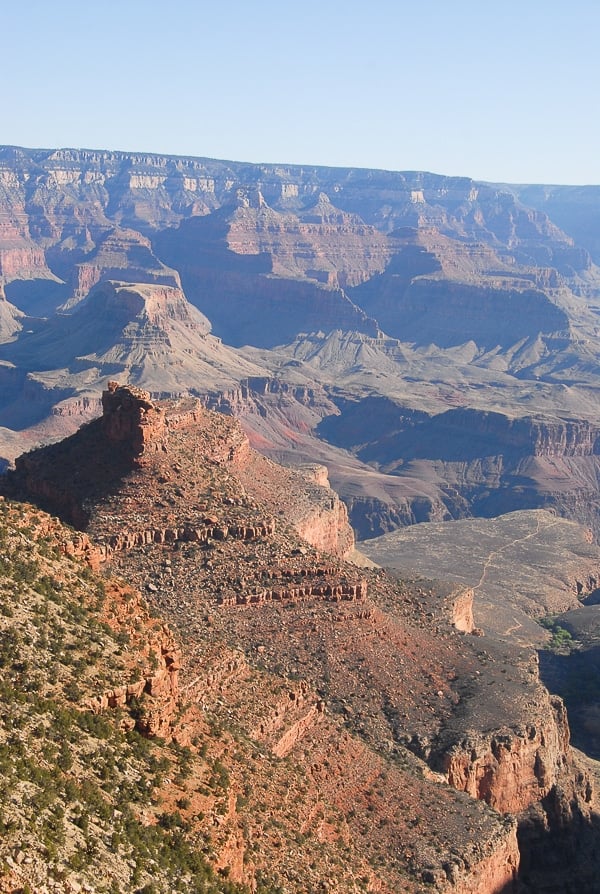 It would be difficult to put into words the splendor of this extraordinary place. When finding a viewing spot not thick with the vast international visitors who come to take in the special place, there is a deep, serene quiet only a place of such substance hosts.
Being a painted dessert, the walls of the canyon shift in color all throughout the day in a dramatic interplay between shadow and light. At night the depth of the black sky becomes the theater for perhaps the most brilliant star gazing possible.
THINGS TO DO AT THE GRAND CANYON
With such a span it can be challenging to decide how to experience the Grand Canyon. The amount of time available dictates the opportunity as well as the level of physical engagement.
It's possible to hike to the bottom (and there even is a park service café to visit if doing so) and out again or for those wishing the trip with less rigor there are guided mule trips that will take you both ways. Hiking trails abound ranging from short easy walks to longer backpacking-type opportunities.
Rafting the Colorado River, seeing the canyon from the bottom up is also possible with some planning.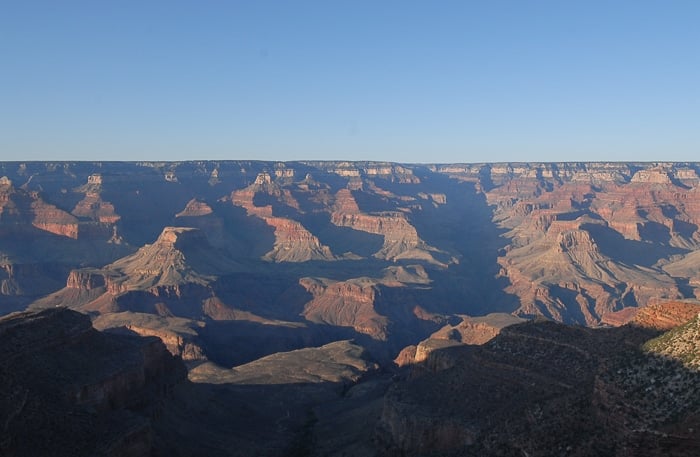 Regardless of your ultimate goal starting at the South Rim Visitor Center is a must. I should note the south rim is open all year round, 24 hours a day where the North Rim is a summer-only opportunity. Our trip landed us at the visitor center mid-day after having driven in from Albuquerque.
The parking at central spots such as this can be arduous so I'd advise going early and not giving up as the information gained is a perfect way to get one's bearings to shape their Grand Canyon stay.
The Visitor Center hosts a 20 minute interpretive film which is free and should not be missed. Regardless of how long your stay there would be no way to experience all the Grand Canyon has to offer and this film is a condensed version of the canyon experience ranging from the history, unique qualities such as the rehabilitation of the California Condor and native people's ruins, all packaged in breathtaking photography.
Additionally the center has interactive exhibits about the park, suggested outings based on your time available and Rangers onsite for guidance or answering questions.
A short walk from the South Rim Visitor's Center is Mather Point which offers a wonderful view of the canyon and a peek at the Colorado River below. It was quite crowded with lots of cameras clicking and 'selfie's' being snapped but frankly the grandeur of the canyon vista made the other shutterbugs melt into the background.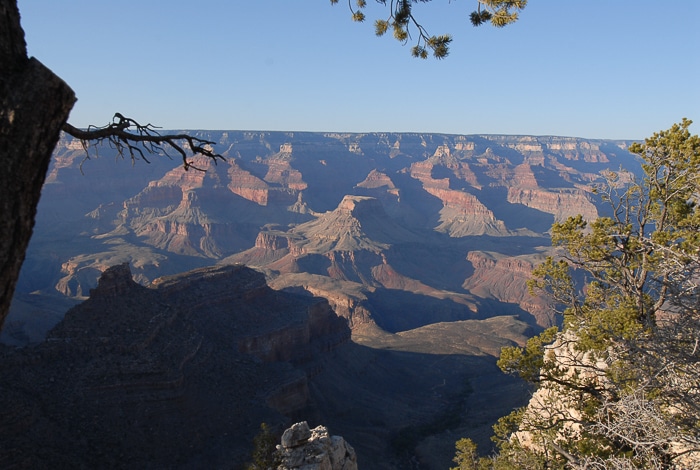 Fun Tip for Kids: A fantastic program the National Parks offer for kids of all ages is the Junior Ranger Program. Young park visitors can speak with the information desk at the Visitor Center to receive a packet of information they fill out as they explore the park.
It's a wonderful way to become more familiar with the park and at completion of the packet a Park Ranger will review it and have them take Junior Park Ranger oath. They are presented with a badge or patch and the program is FREE!
DINING AT EL TOVAR
Our culinary highlight for our Grand Canyon stay was dining at El Tovar, the park's Grande Dame lodge established in 1905.
Bearing all the qualities you'd imaging in a park lodge, dark exposed log construction, mounted wildlife heads tastefully hung in the lobby, the venue conveys a distinct sense of character and charm.
Seated next to a floor-to-ceiling stone fireplace we were able to catch the fading light of sunset in the periphery as we enjoyed some of the most creative and flavorful food I've had in a long time.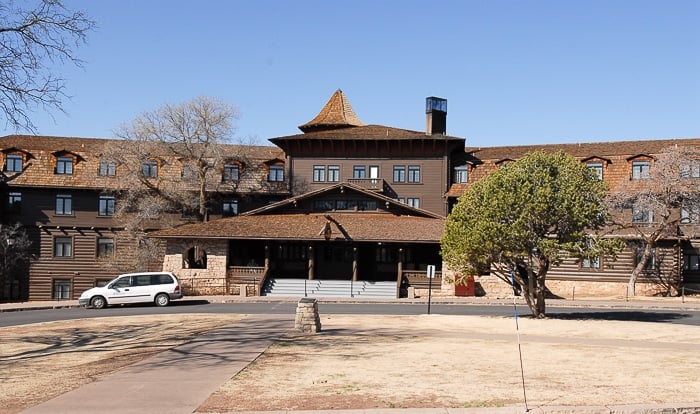 Prior to visiting El Tovar I had the opportunity to speak with Executive Chef Matt McTigue. I had noted mention of sustainability in their lodge menus.
He commented that El Tovar has the goal of local sourcing whenever possible which is defined currently as within 500 miles.
Due to the isolated location and the need for consistent, quality food supply, this model has worked for them, with a number of items being sourced from the Phoenix area with plans for increasing that further.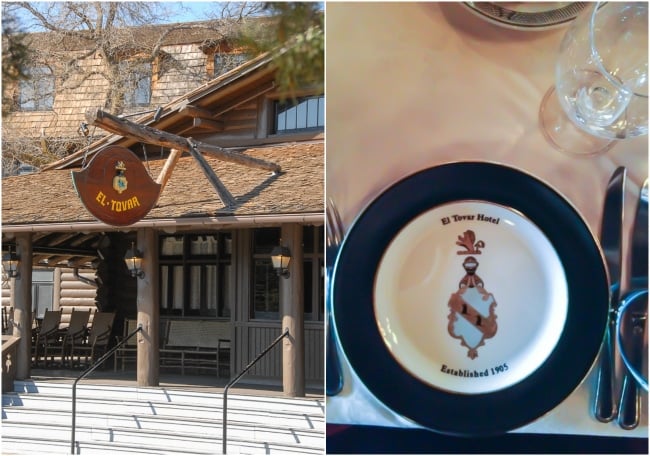 For our meal we enjoyed Plum Chili Glazed Sea Scallops with Jicama Slaw, Buffalo Filet Mignon (with Fig Compote, Pepperjack Au Gratin Potatoes and Seasonal Vegetables), Natural Pork Chops (with Sundried Cherry Jalapeno Demi, Fingerling Potatoes and Seasonal Vegetables) and their famous Loch Duart Scottish Salmon Tostada (on Organic Greens, Tequila Vinaigrette, Corn Salsa, Lime Sour Cream and Roasted Poblano Black Bean Rice).
My mouth was watering to try the Natural Quail with Prickly Pear Ginger Citrus Glaze (stuffed with Apricot Cherry Cornbread Stuffing, Roasted Poblano Black Bean Rice and Seasonal Vegetables) which was sadly not gluten-free.
The meal ended with some of the most creative dessert options ever, with the most eye catching certainly being a Chocolate Taco with the shell made of white chocolate and filled with a delicious chocolate mousse.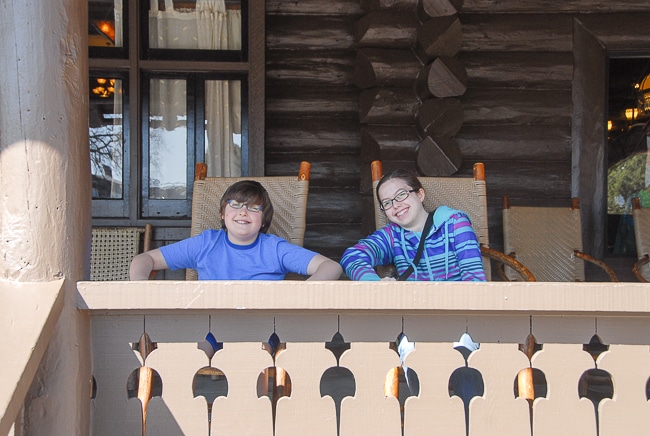 It would have been impossible to select a favorite dish. They were all executed flawlessly.
I can personally say I've eaten a lot of bison however have never enjoyed a filet cooked as perfectly as this; it truly was like butter. Service was excellent and personable.
I should note El Tovar accomodated our gluten-free needs with panache and ease, and we had no trouble at our other dining/snack stops in the park as well.
Chef McTigue has been generous to share his Salmon Tostada recipe for Boulder Locavore readers so you can have a taste in your own home! Recipe at the end of the blog post
SECRET PARKING LOT TIP FOR EL TOVAR
A Secret Parking Lot Tip: The area around El Tovar includes a separate gift shop, the Hopi House (Native American wares) and some walking overlooks leaving the parking dicey. We learned from an attendant at one of the park lodges that there is a lesser known parking lot.
WHERE TO GO: When driving through the El Tovar parking lot, instead of turning left to snake through the next row of parking, visitors can drive straight, behind Verkamp's Visitor Museum Store and end up at the parking lot to the east of the store. Each time we went to the area the main parking lot was full but we found spots at the 'secret parking lot'!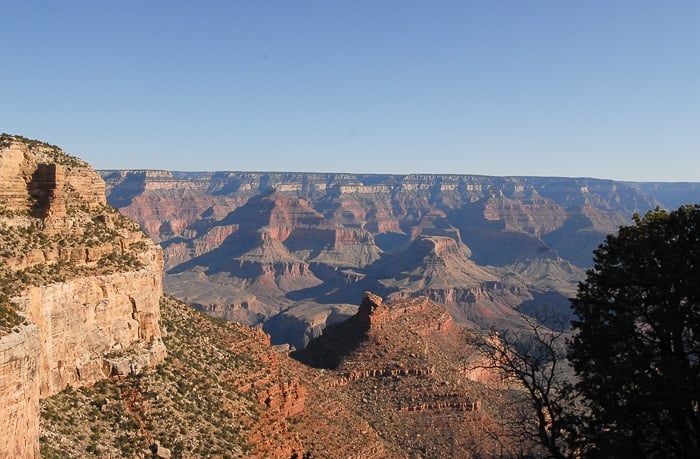 The following morning we started early which is a beautiful time to see the colors in the canyon at their best. It was a quiet cool morning and we started out on one of the park's most popular trails, the Bright Angel trail.
Our fantastic El Tovar server Richard had tipped up off about some petroglyphs that can be found a short way down the trail. After going through the first stone tunnel if hikers look up on the cliff to their left, there are some red petroglyphs on the cliffs. It was a fun find.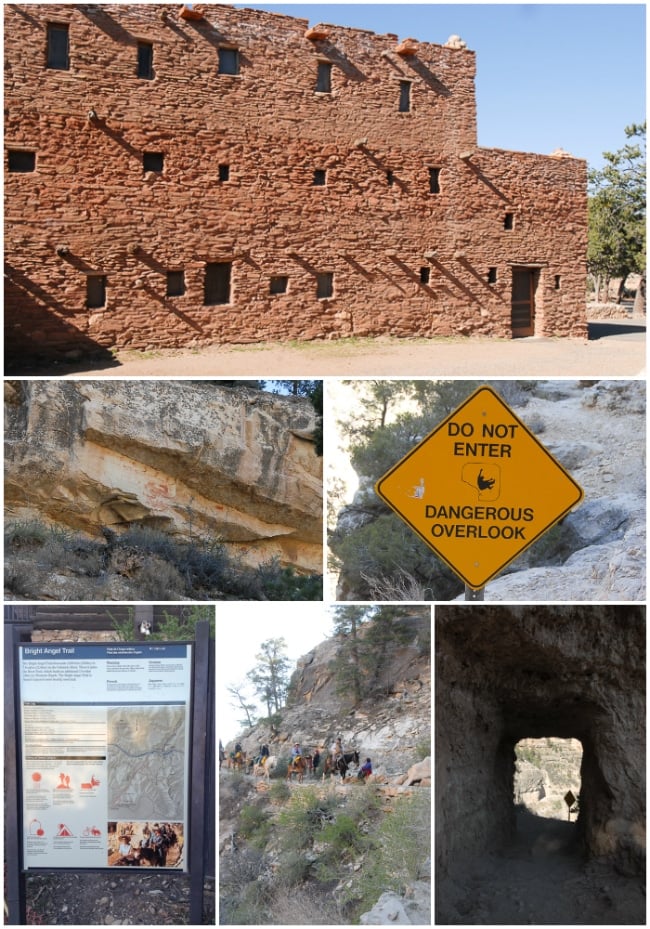 On the way back to the car we popped into the Kolb Studio, a beautiful historic house perched on the rim of the canyon showcasing the photographic work of the Kolb brothers who captured the beauty of the Grand Canyon for over 75 years.
The Grand Canyon is a magical place that should make it onto everyone's bucket list. As did we, visitors can soak a lot in a mere 24 hour visit, or spend several days exploring all areas of the canyon by foot, car, air or mule. It is a 'must do'.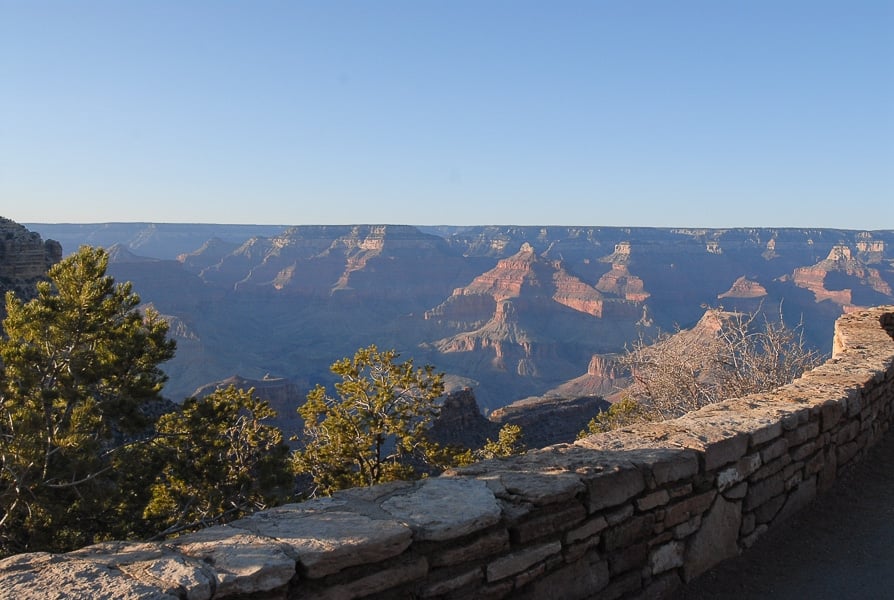 LODGING TIPS: There are many interesting places to stay in the Grand Canyon National Park itself. The lodges are run by the park service and reservations are made through them up to a year ahead. From El Tovar to the Phantom Ranch at the bottom of the Grand Canyon, and many in between, if you have some leadtime they offer a great way to be a part of the Grand Canyon up close.
We stayed in Tusayan which is minutes outside the South Gate of the park. There are many hotel options that can be booked through normal travel websites or the big chain hotel websites. We found it a very convenient location with local travel amenities as well.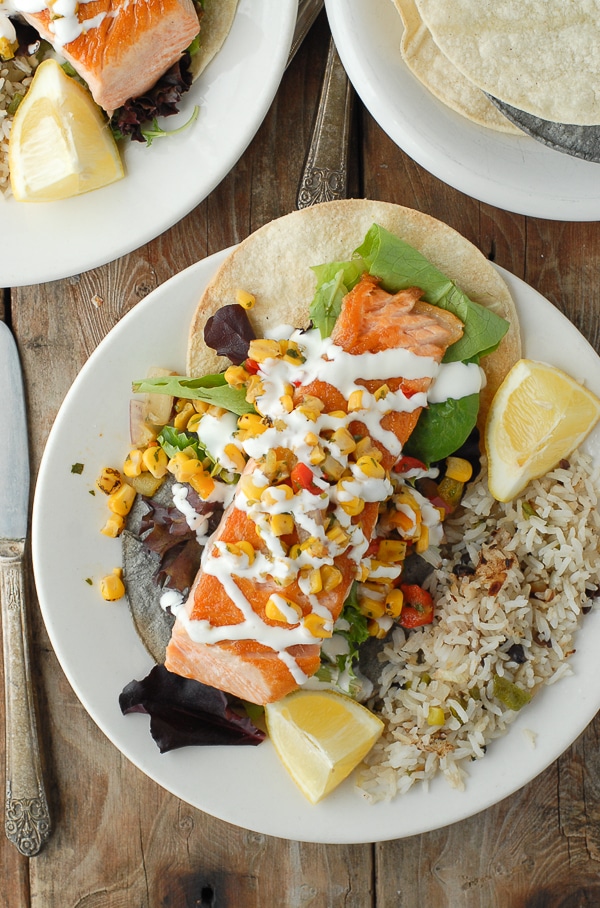 Recipe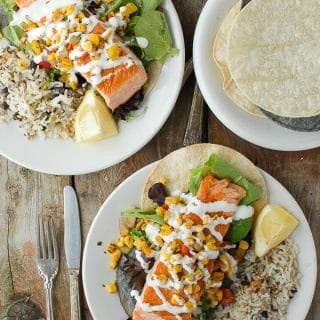 El Tovar Salmon Tostada
A signature recipe from the iconic Grand Canyon lodge El Tovar. This recipe is several in one, all combining to make a simply mouth-watering dish of toasted corn tortillas, dressed organic greens topped with a salmon fillet, corn salsa, sour cream-lime with a side of Poblano Black Bean Rice. Don't let the recipe scare you. Though there are several components, each is very easy and not time consuming to prepare. The components will quickly give you ideas of where to use them in other dishes as well. The recipe is naturally gluten-free.
Print
Save Recipe
Recipe Saved!
Pin
Rate
Ingredients
Ingredients for El Tovar Poblano Black Bean Rice
½

oz

cotton seed or canola oil

½

yellow onion

, finely diced

¼

cup

canned black beans

, drained and rinsed

¼

cup

roasted Poblano chilies

, diced

3

cups

cooked white rice

1

tablespoon

chopped cilantro

Salt and pepper to taste
Ingredients for Lime Sour Cream:
1

cup

sour cream

2

tablespoon

lime juice
Ingredients for Roasted Corn Salsa:
1

cup

canola oil

3

ears fresh corn

½

each jalapeno pepper

, seeded, minced

¼

each green bell pepper

, finely diced

¼

each red bell pepper

, finely diced

1

tablespoon

cilantro

, chopped

¼

each red onion

, finely diced

1

medium tomato

, chopped

½

cup

V-8 juice

Salt and pepper to taste
Ingredients for Tequila Vinaigrette:
1/4

liter

tequila; cook out alcohol in sauce pan and reduce to one quarter of original volume

½

cup

cotton seed or canola oil

2

oz

olive oil extra virgin

1

teaspoon

fresh garlic

1

ounce

fresh cilantro

1

ounce

honey

2

ounce

prickly pear syrup

1

ounce

white vinegar
Ingredients for the El Tovar Salmon Tostada:
½

cup

canola oil

4 6-

ounce

salmon fillets

6

ounces

Spring Mix

(greens)

1

recipe Poblano black bean rice

(see following)

1

recipe Lime Sour Cream

(see following)

1

recipe Tequila Vinaigrette

(see following)

1

recipe Roasted Corn Salsa

(see following)

4 6-

inch

blue corn tortillas

, baked until crisp in a 350 degree oven*

4 6-

inch

red corn tortilla

, baked until crisp in a 350 degree oven*
Instructions
Instructions for El Tovar Poblano Black Bean Rice:
Heat a sauté pan over medium high heat, add oil and sauté onion until translucent. Add chiles and beans cook until hot.

Add rice and incorporated until mixed

Add cilantro and salt and pepper to taste.

Set aside until constructing the tostada.
Instructions for Lime Sour Cream:
Mix ingredients in bowl with whisk.

Pour mixture into plastic bottle with squirt top.
Instructions for Roasted Corn Salsa:
Oil corn and grill on a grill; cool and remove corn from cob with knife.

Place all ingredients and bowl; mix well. Set aside until constructing the tostadas.
Instructions for Tequila Vinaigarette:
Place all ingredients into blender and puree, strain through fine sieve and chill before using.
Instructions for El Tovar Salmon Tostada:
Sear salmon in hot sauté pan with a small amount of canola oil for 4 minutes per side to achieve medium rare, or longer if desired. Set aside and keep warm

Dress the greens in tequila vinaigrette

Place a 3 ounce portion of Poblano black bean rice in the center of each plate.

Place one blue tortilla at 3 o'clock on the plate and on red tortilla at 8 o'clock

Add greens on top of the tortillas on each plate

Place the salmon on top of the greens on each plate.

Top each salmon with some of the corn salsa.

Use a squirt bottle of the sour cream to squeeze lines from 8 o'clock to 2 o'clock the again from 4 o' clock to 10 o'clock.
Notes
*regular corn tortillas may be substituted if colored corn tortillas are not available.
Nutrition
Calories:
891
kcal
|
Carbohydrates:
51
g
|
Protein:
20
g
|
Fat:
67
g
|
Saturated Fat:
12
g
|
Cholesterol:
68
mg
|
Sodium:
141
mg
|
Potassium:
847
mg
|
Fiber:
2
g
|
Sugar:
11
g
|
Vitamin A:
2315
IU
|
Vitamin C:
60.9
mg
|
Calcium:
107
mg
|
Iron:
1.9
mg
Boulder Locavore gratitude to El Tovar's Chef Matt McTigue for his information and delicious recipe!