Sheet Pan Fajitas are a fast, easy dinner option. These chicken fajitas arrive sizzling hot to the dinner table after 20 minutes cook time!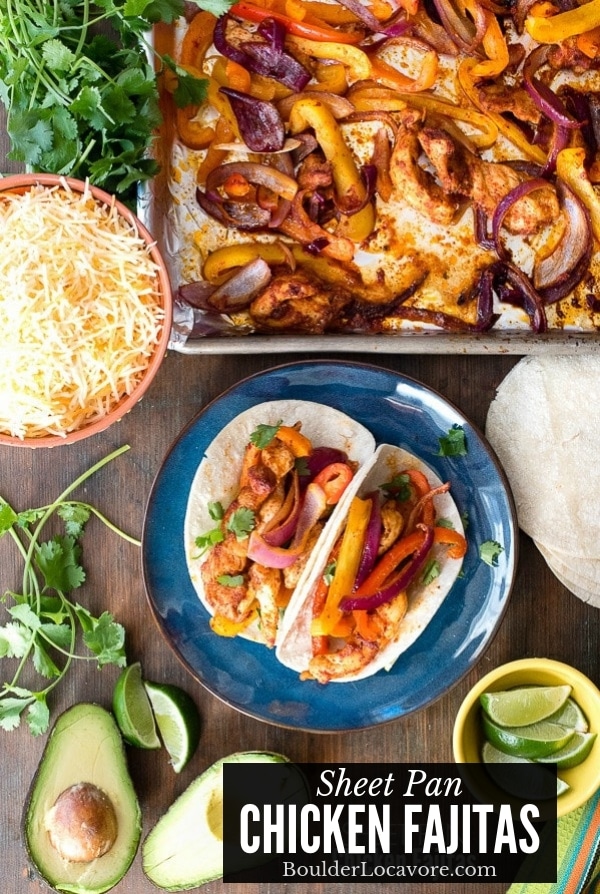 I always love a fast, easy dinner recipe but there are times of the year when they are mission critical.
One of my favorite tried-and-true dinner recipes is Sheet Pan Chicken Fajitas.
I think of this as my 'life saving recipe'. It's my go to more often than I can count.
This delicious sheet pan fajita recipe couldn't be easier. Perfect for a fast (20 minutes cooking time), fantastic dinner or for a party!
Jump to: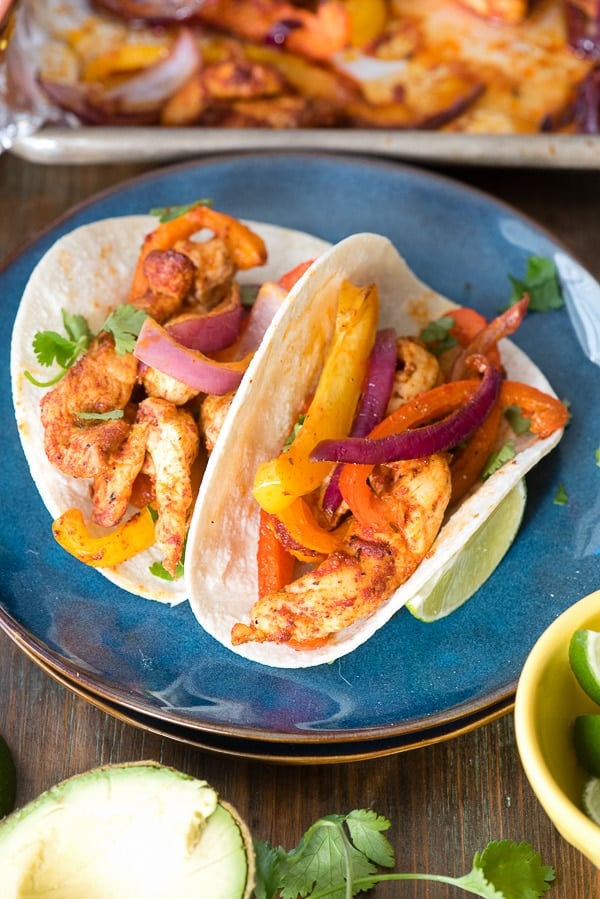 What Are Chicken Fajitas?
Have you ever eaten at a Mexican food restaurant and heard a loud hissing coming from the kitchen to a lucky diner's table?
Most likely those were an order of fajitas.
Fajitas are a Mexican dish of sliced steak or chicken, with vegetables and spices cooked then served rolled in a tortilla with toppings.
Restaurants serve them sizzling hot on a special oval cast iron fajita pans right off the stove top.
There is no denying how delicious restaurant chicken fajitas are but this Sheet Pan Chicken Fajita recipe is just as good!
How to Eat Chicken Fajitas?
If you haven't eaten fajitas before you may not know what to do with all the prepared ingredients!
The cooked chicken, peppers and onions are rolled together with Mexican toppings in warm corn tortillas and eaten by hand.
The mix of flavors is irresistible!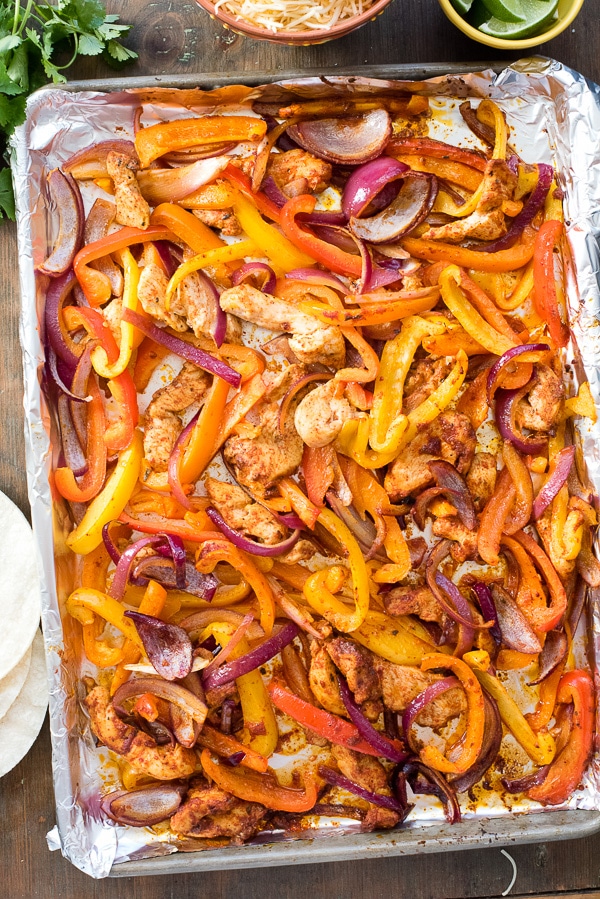 What are Sheet Pan Chicken Fajitas?
With all the same ingredients as restaurant fajitas, everything is cooked together on one sheet pan with sheet pan fajitas.
They are fast and easy with little clean up.
What are the Ingredients in Sheet Pan Chicken Fajitas?
This sheet pan recipe features wholesome, colorful delicious ingredients:
Boneless, skinless Chicken Breast
Sweet Bell Peppers (red, orange, and yellow but any color may be used)
Red Onion
Garlic cloves
Chili Powder
Cumin
Oregano
Kosher Salt
Black Pepper
Vegetable Oil
Corn Tortillas

What Toppings Go with Chicken Fajitas?
Mexican food staples are what we love on fajitas too:
Grated Cheese
Sour Cream or Crema
Guacamole or Sliced Avocados
Salsa
Sliced Jalapenos
Torn Cilantro Leaves
Lime wedges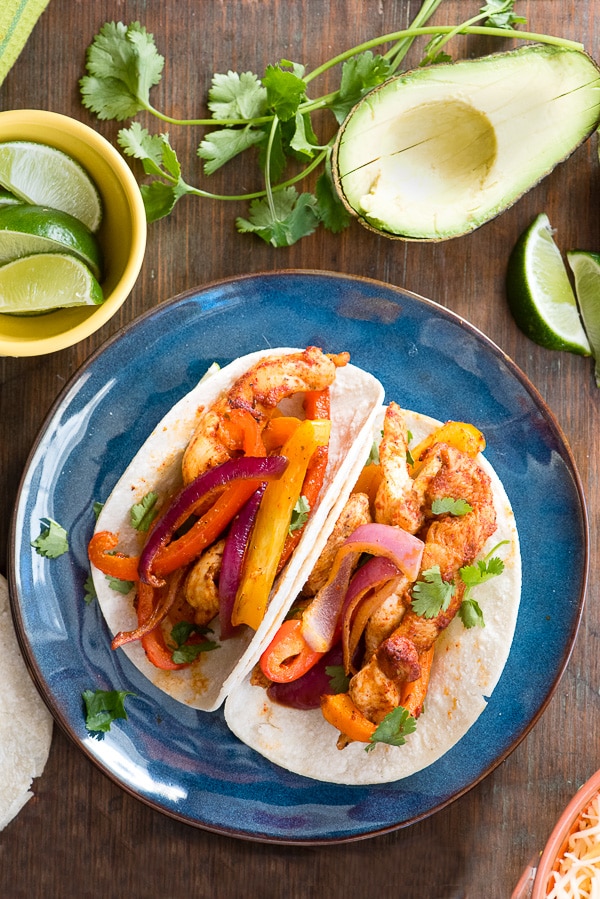 Why Make THESE Sheet Pan Chicken Fajitas?
I rely on this recipe regularly in fact it's probably the most frequently made dinner recipe on BoulderLocavore.com. Why make this recipe?
They are easy. Other than slicing of ingredients there isn't much work making it perfect for a fast dinner that everyone loves.
They are fast; both to prepare and to cook.
This chicken fajita recipe has two basic parts: preparation of the ingredients to marinate them, then cooking.
The steps can be separated to work with your schedule: make the marinade with ingredients the night before, bake and serve the next day!
Or prepare it in the morning and cook/serve that evening. Super easy.
Wholesome ingredients. Lean chicken breast, a load of colorful vegetables in a bit of oil and spices. You can feel good about serving these sheet pan fajitas!
Designed for little clean-up. The method for marinating the sheet pan fajitas ingredients uses one zipper-seal plastic bag which can just be discarded after marinating.
The sheet pan is lined with foil which also can be discarded after cooking leaving the sheet pan clean!
Great 'serve yourself' meal. Whether serving everything at once or letting diners serve themselves when they are ready, sheet pan chicken fajitas are flexible.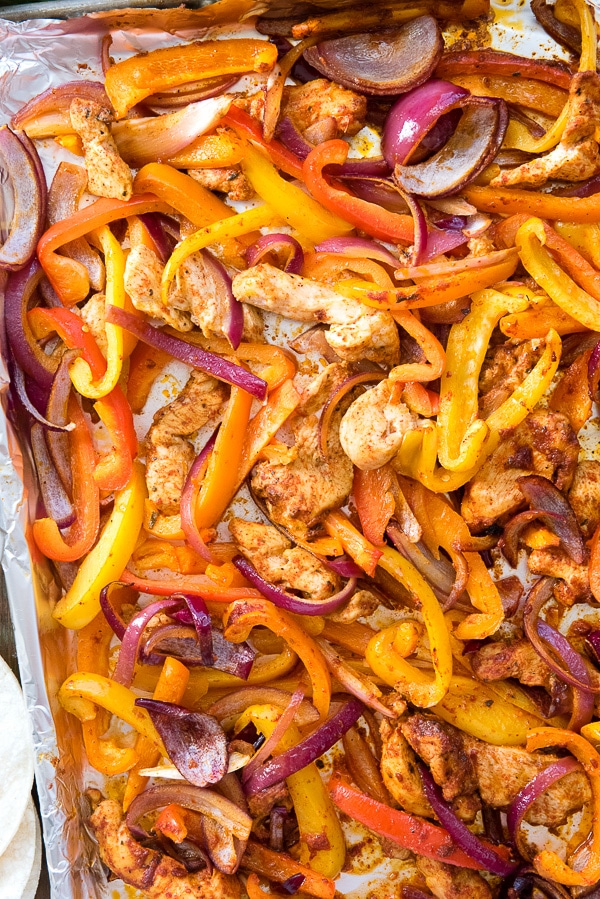 How Long to Marinate the Chicken Fajita Ingredients?
The ingredients can be marinated just during the time the oven is heating or prepared up to a day before hand and refrigerated until cooking.
What to Do with Leftovers
Fajita filling can be refrigerated and reheated. If all the prepared ingredients aren't eaten, leftovers may be chilled and reheated.
Can also be used in other recipes: on pasta, in an omelet, on a sandwich!
How to Reheat Corn Tortillas
Keeping corn tortillas moist is key to them both staying in one piece and to be pliable for rolling.
The original way of heating them with the sheet pan fajitas allows them to steam in the foil.
Reheating is most successful when they are kept moist.
To reheat corn tortillas:
Wrap the tortillas in a damp paper towel
Microwave for 30 seconds or until the tortillas are warm.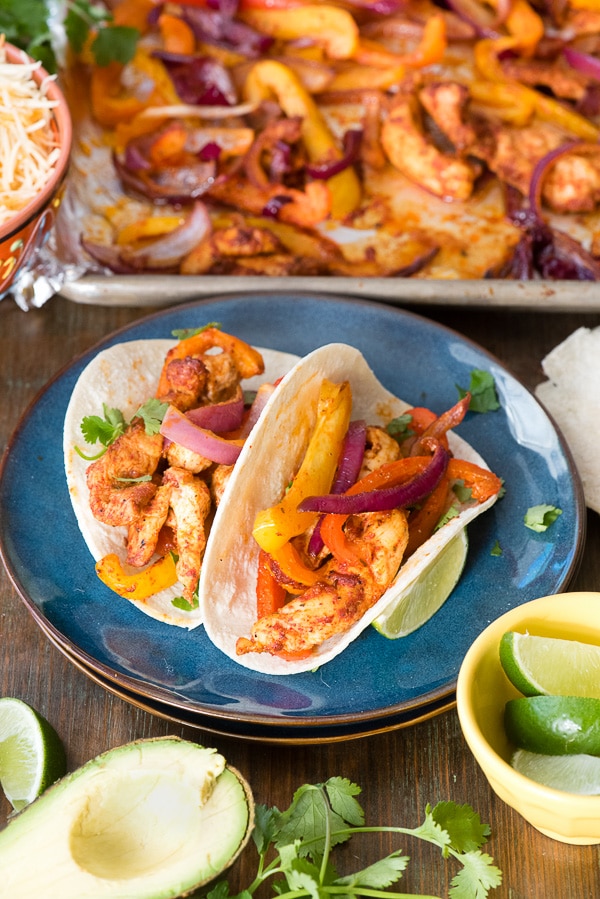 Make These for a Party!
The great thing about sheet pan fajitas is they are easy to prepare for a larger group vs on traditional cast iron pans.
Set up a Chicken Fajita buffet with all the toppings your guests will love along with pans of the sheet pan fajitas for a 'serve yourself' meal.
What to Serve with Sheet Pan Chicken Fajitas
Here are some great options to serve with the chicken fajitas:

How to Make Sheet Pan Chicken Fajitas – Step by Step:
To keep the clean up as quick as possible my favorite way to do the marinade is in a gallon zipper plastic bag.
The ingredients are added separately and the marinade is massaged into them from outside the bag. It gives good marinade coverage of the ingredients and no mess.
In a gallon plastic zipper-top bag, add all the spices, oil and garlic cloves. Seal and shake to combine.
Add the peppers; seal, shake and massage through the bag to cover.
Add the onions; seal, shake and massage through bag to cover.
Add the chicken; seal, shake and massage through the bag to cover. NOTE: adding the ingredients separately ensures best marinade coverage.
Marinate while the oven is heating OR up to 24 hours before hand.
Preheat the oven to 400 degrees. Line a large sheet pan with foil (dull side up).
Spoon the marinating ingredients onto the prepared pan in a single layer.
Cook for 20 minutes; flipping the ingredients after 10 minutes.
Wrap the corn tortillas in foil and place in the oven when flipping the fajita ingredients. Turn over after 5 minutes.
Remove from oven and serve with the tortillas and toppings.
The Sheet Pans I Use
These are the sheet pans that I use and love. Heavy gauge metal so they won't bend or warp yet still affordable.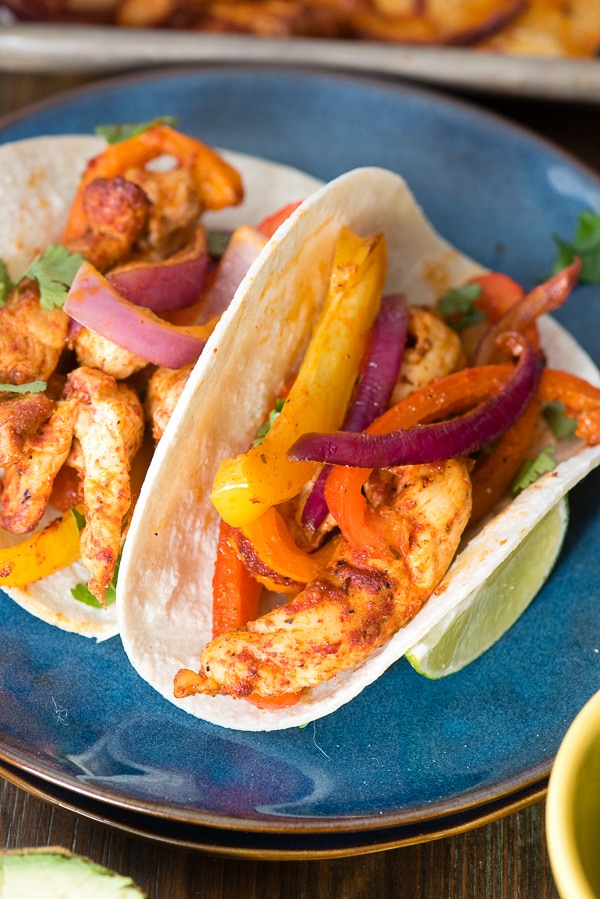 Lemon Rosemary Sheet Pan Chicken Thighs with Vegetables
If you've made this Sheet Pan Chicken Fajitas recipe please RATE THE RECIPE below!
Did you make it? Please RATE THE RECIPE below!
Please
SUBSCRIBE
and
FOLLOW ME
on
FACEBOOK
,
TWITTER
,
INSTAGRAM
and
PINTEREST
!
Recipe
Originally published January 20, 2017