The best shortcut for making fajitas at home, Sheet Pan Chicken Fajitas, are quick and easy to make (20 minute cooking time). They come out of the oven sizzling hot to your dinner table too!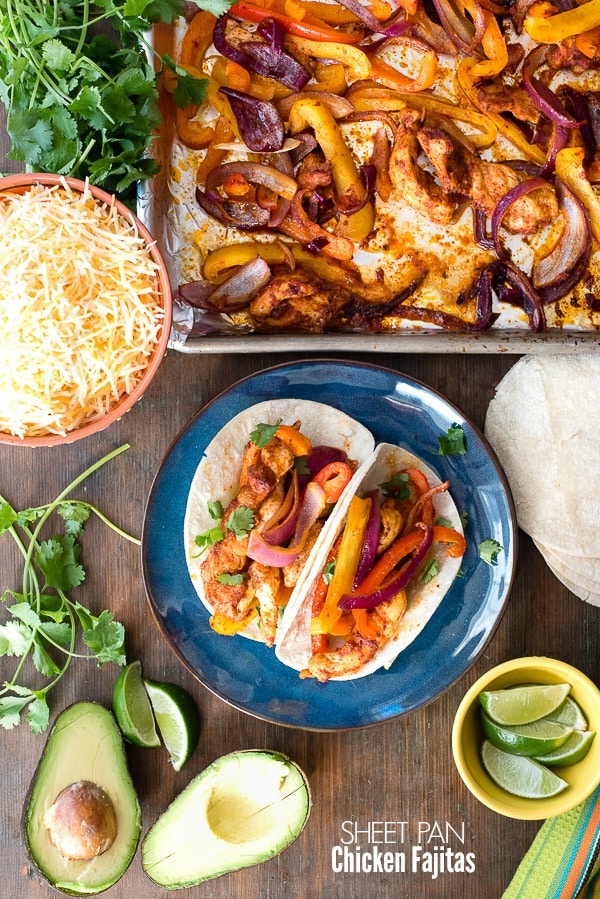 I have been on a mission. I've hinted at it here but this Sheet Pan Chicken Fajitas recipe drives it home for me. I want to create delicious, easy gluten-free dinner recipes that can make a weeknight meal as fun and interesting as cooking with more time.

Look how simple making Fast and Easy Sheet Pan Chicken Fajitas is!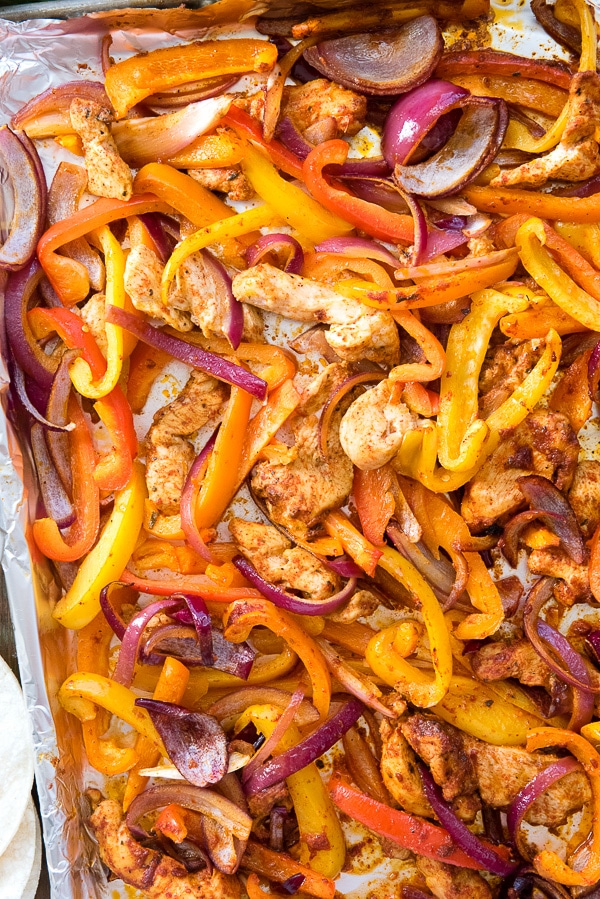 After several preparations of these sheet pan chicken fajitas I can tell you they are delicious, and come out of the oven steaming hot as when fajitas are served at a restaurant on those cast iron oval pans. The chicken is moist and flavorful, as are the colorful vegetables that make this recipe a feast for the eyes AND the stomach!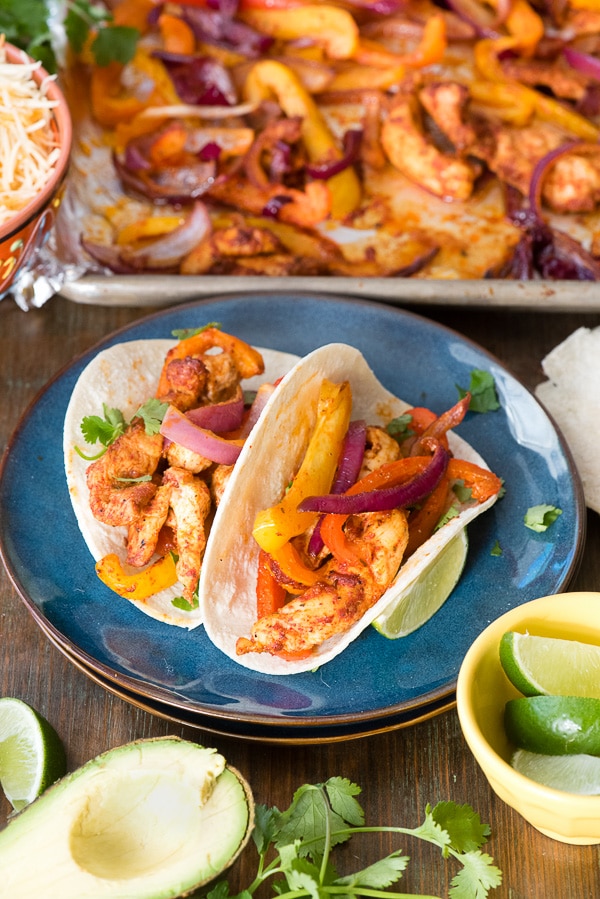 My kids love fajitas. There is a divey little restaurant close to our neighborhood that has changed hands multiple times since we've lived in Boulder. It has always had a Mexican theme regardless of the owner at the time AND it has always served fajitas.
From time to time we'd pop over for a bite, especially in warmer weather due to a semi covered patio that just feels like relaxation. Unfortunately, after years of success we had a bad experience with gluten leaving my son ill before we even left the restaurant and we've never been able to bring ourselves to go back. It's been on my list to buy fajita pans and make them at home but I found an even easier solution!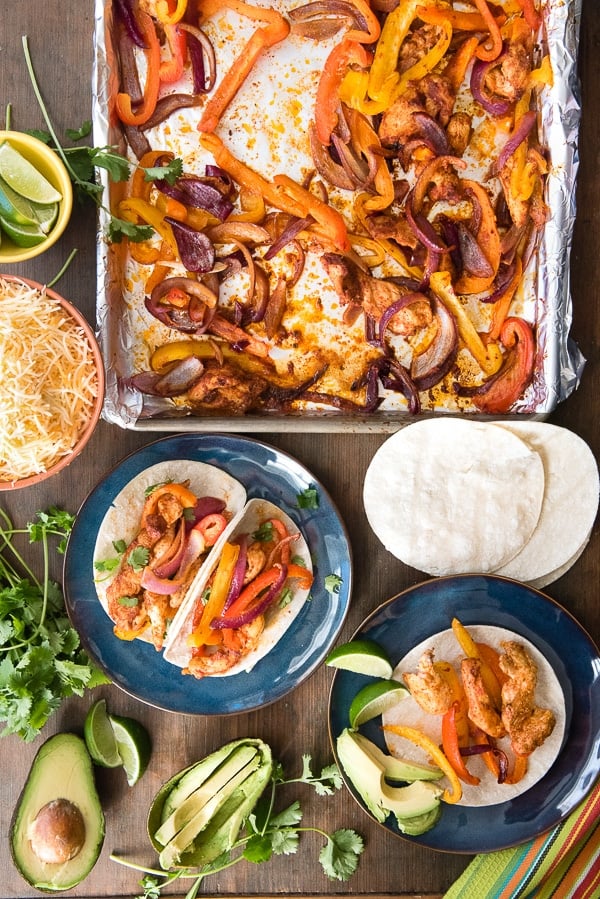 I have been serving many sheet pan meals these days. They are basically like a one pot recipe, like this one pot Mexican Chicken and Rice Skillet, but made with ingredients which cook well on a sheet pan. It's a fantastic way to roast chicken with an assortment of vegetables and potatoes, and quickly (a key on busy weeknights for me).
My experiments to perfect sheet pan chicken fajitas have definitely been a family favorite. The chicken, peppers and onion are mixed with seasonings to marinade. They can sit in the marinade for as little as the time the oven is warming up OR be made the day prior and refrigerate until cooking. The end result is delicious either way.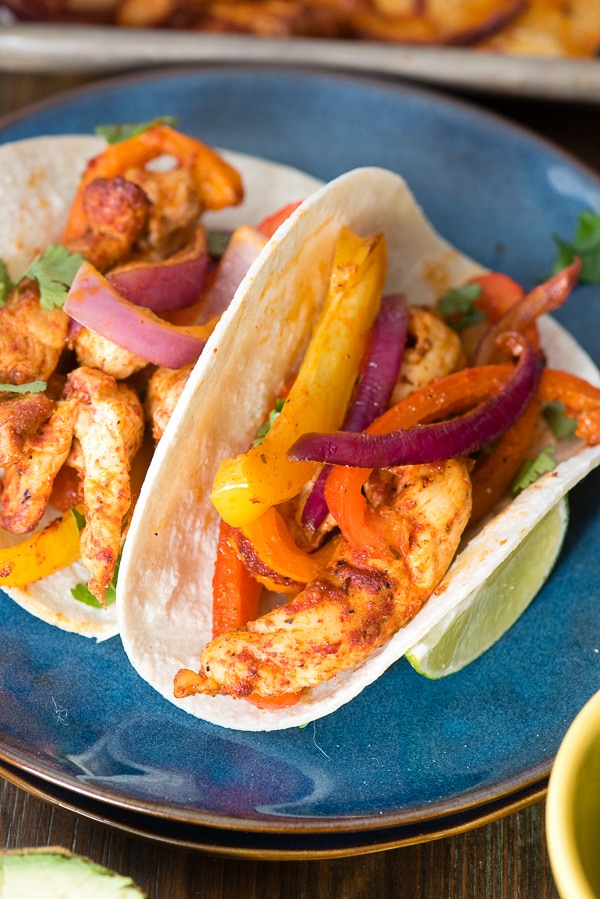 All the ingredients are spread out on a large foil-lined sheet pan to bake with one flip of the ingredients in the middle! Corn tortillas are wrapped in separate foil and warmed in the oven at the same time. Flour tortillas could also be used (gluten-free flour tortillas for those gluten-free).
To keep the clean up as quick as possible I have found my favorite way to do the marinade is in a gallon zipper plastic bag. When all the ingredients are inserted into the bag it is not easy to coat them without using a mixing spoon to rotate ingredients from the bottom to the top of the bag.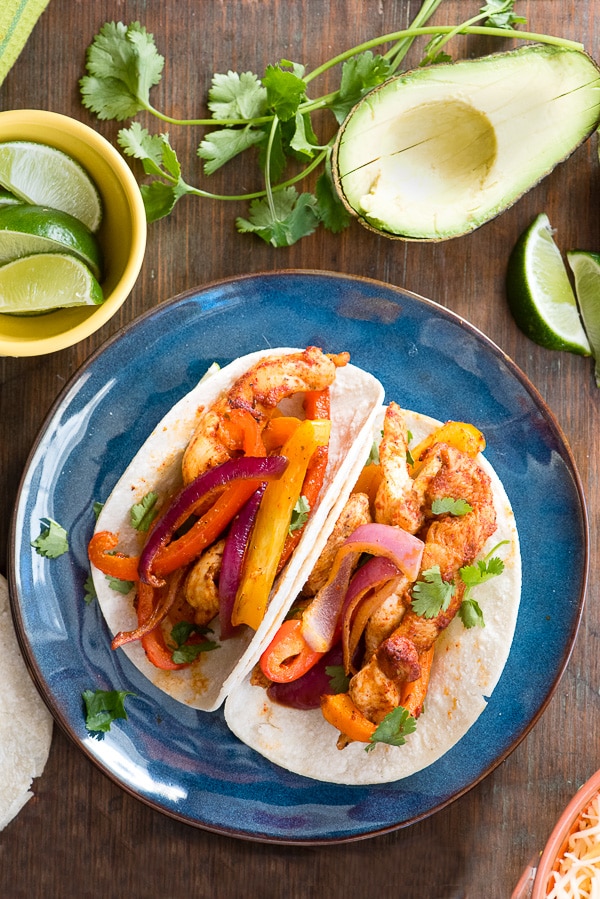 Instead, I add all the seasonings, seal and shake to mix. Then add each ingredient separately, seal, toss or massage in the marinade. Everything gets coated except my hands and the dishwashing is far less too!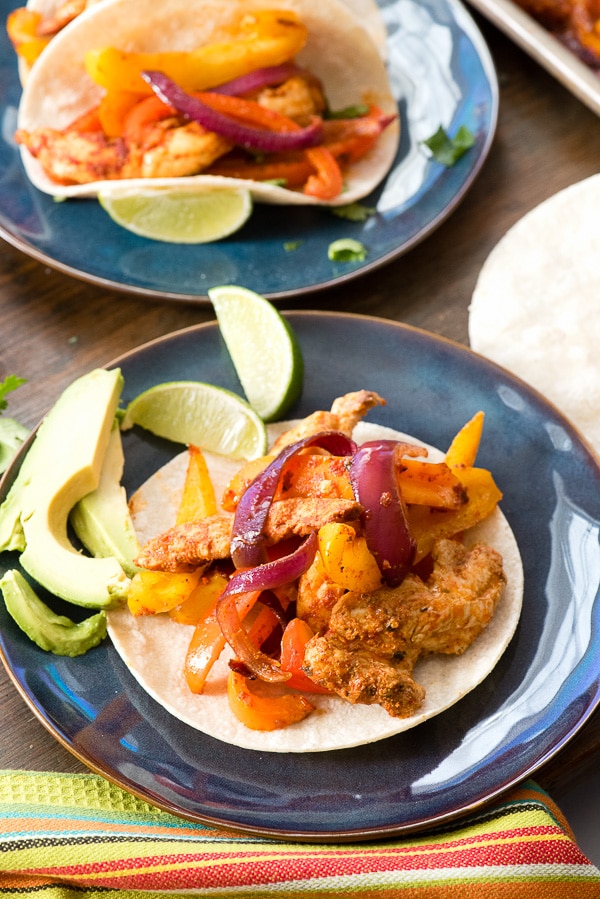 I set up a bar of toppings for the fajitas; shredded Mexican cheese blend, Mexican crema (sour cream), chopped cilantro leaves, lime slices, avocado slices or guacamole and salsa/pico de gallo. Everyone can serve themselves and customize their plates as they choose. Cilantro-Lime Rice or Gallo Pinto are great side dishes to serve (pinFresh-style Pineapple Cilantro Margarita.)
These are the sheet pans that I use and love. Heavy gauge metal so they won't bend or warp yet still affordable.
This Sheet Pan Chicken Fajitas recipe is a dinnertime favorite. After 20 minutes cooking time, the fajitas are served sizzling hot from your oven to your dinner table. No one will know how easy and fast they were to make!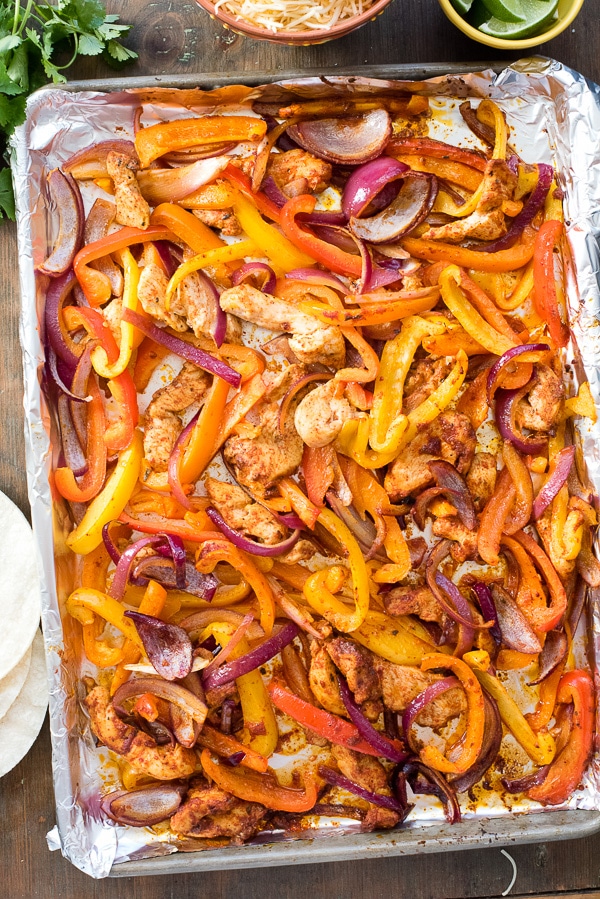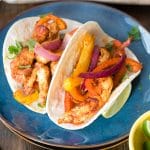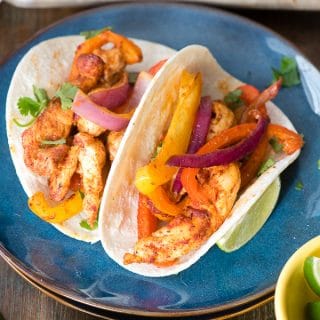 Sheet Pan Chicken Fajitas
These sheet pan chicken fajitas could not be easier or more tasty! They come out of the oven steaming hot just like fajitas served on fancy cast iron fajita pans. The ingredients can be marinated just during the time the oven is heating or prepared up to a day before hand and refrigerated until cooking.The marinating method is my favorite to avoid extra clean up and to ensure all ingredients are coated with the marinade. Alternatively the ingredients may be added to a large mixing bowl and coated by tossing by hand or with mixing spoons and covered with plastic wrap.
Ingredients
¼

cup

Vegetable Oil

1

tablespoon

Chili Powder

1 ½

teaspoons

ground Cumin

1

teaspoon

Kosher Salt

½

teaspoon

ground Black Pepper

½

teaspoon

Oregano

2

large Garlic Cloves

, peeled and diced (or equivalent garlic paste from a tube)

1

medium Red Bell Pepper

, cored and cut vertically into ½-inch width slices

1

medium Orange Bell Pepper

, cored and cut vertically into ½-inch width slices

1

medium Yellow Bell Pepper

, cored and cut vertically into ½-inch width slices

1

medium Red Onion

, peeled and sliced vertically into ½-inch thick wedges

1

pound

boneless

, skinless Chicken Breasts; sliced across the breast in ½-inch width slices (if the thickness of the slice is an inch or more, slice in half)

1

package gluten-free Corn Tortillas

Suggested toppings: Mexican crema

, chopped fresh cilantro leaves, grated Mexican blend cheese, avocado slices or guacamole, salsa
Instructions
Marinating the ingredients: In a gallon plastic zipper bag combine the oil, chili powder, cumin, salt, pepper, oregano and garlic cloves. Seal the bag and shake vigorously to combine the marinade. Add the peppers; seal and shake/massage to cover with the marinade. Repeat each for the onions and again for the chicken (note: doing it separately ensures all ingredients will be coated); squeeze the air out of the bag and seal. Refrigerate if not cooking immediately. Note: Can be prepared up to 24 hours before cooking, kept chilled, OR as the oven is heating.

Preheat oven to 400 degrees. Line a large rimmed baking sheet with foil (dull side up). Spread the marinated peppers, onions and chicken on the prepared pan in a single layer.

Cook the fajita ingredients for 20 minutes, flipping the ingredients halfway through. Wrap the tortillas in foil and place the packet in the oven when flipping the fajita ingredients at 10 minutes (turn the tortilla packet over once during cooking).

At 20 minutes the chicken should be done and still moist and the vegetables should have softened (but will still have great texture). Serve on warm tortillas with preferred toppings.
Nutrition Facts
Sheet Pan Chicken Fajitas
Amount Per Serving
Calories 220
Calories from Fat 108
% Daily Value*
Total Fat 12g 18%
Cholesterol 47mg 16%
Sodium 452mg 19%
Potassium 478mg 14%
Total Carbohydrates 8g 3%
Protein 18g 36%
* Percent Daily Values are based on a 2000 calorie diet.