These quick and easy Grilled Shrimp Skewers are loaded with Thai flavors of coconut milk, lemongrass, lime, jalapeno peppers, cilantro and more. Fresh pineapple adds a perfect sweetness! They grill in less than 5 minutes!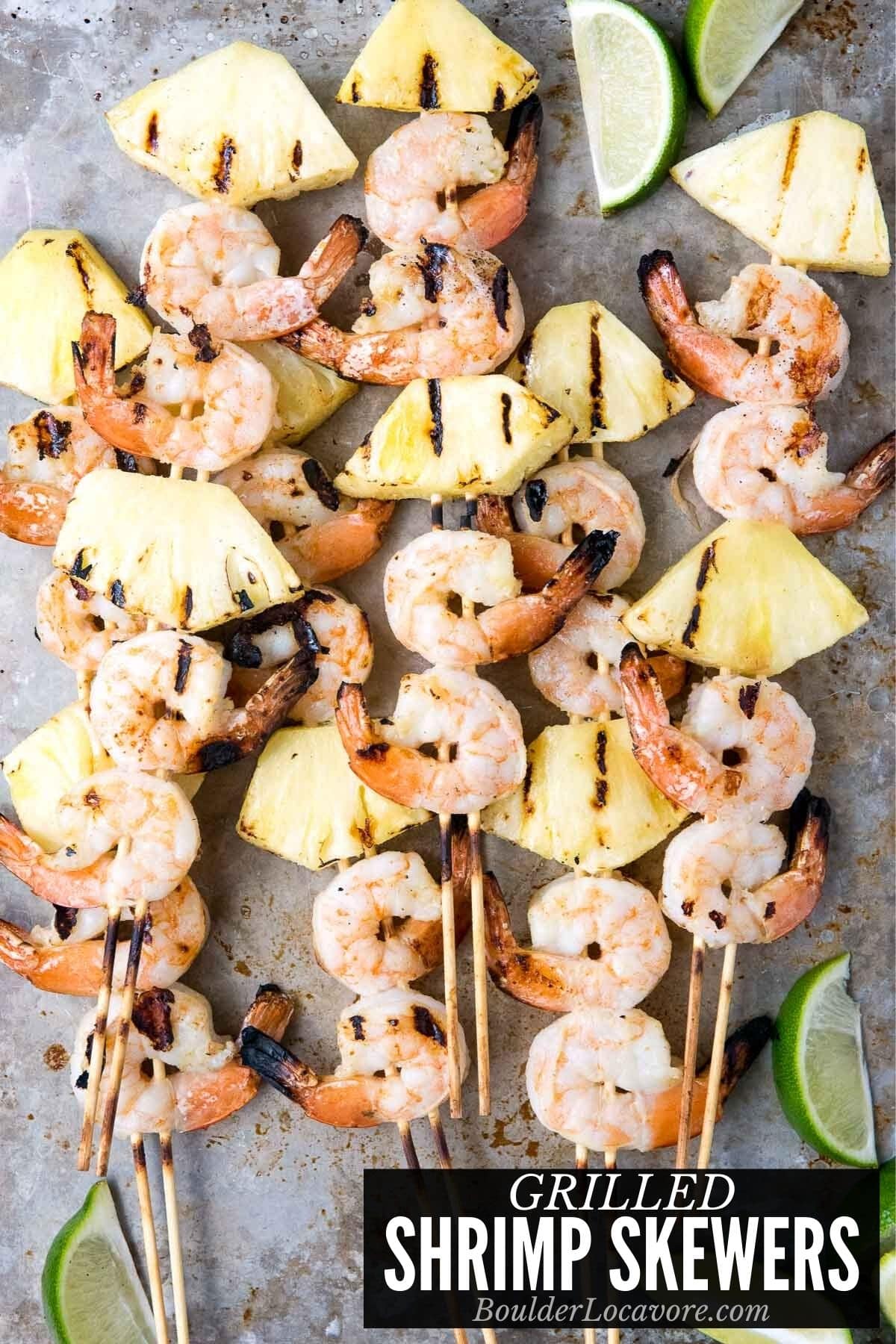 If you are looking for a delicious and easy grilling recipe, grilled shrimp recipes are the best.
They only need to cook 2-3 minutes a side and are absolutely delicious.
This recipe combines Thai flavors with some grilled pineapple.
And we are sharing some life changing grill master tips you'll love!
Serve it with Cilantro Lime Rice or Coconut Rice!
Jump to:
Easy Grilled Shrimp Skewers
Shrimp is one of the easiest things to grill. They soak up marinade well due to their mild natural flavor.
They cook very quickly making them an easy dinner recipe on the busiest of days.
Because of their low fat content they need to be watched carefully so they don't overcook. Otherwise they can become dry and rubbery in texture.
This recipe soaks the shrimp in a delicious coconut milk marinade before grilling.
It's sweet and spicy brimming with classic flavors of Thai cuisine.
Great for the main dish or to pair with other grilled recipes!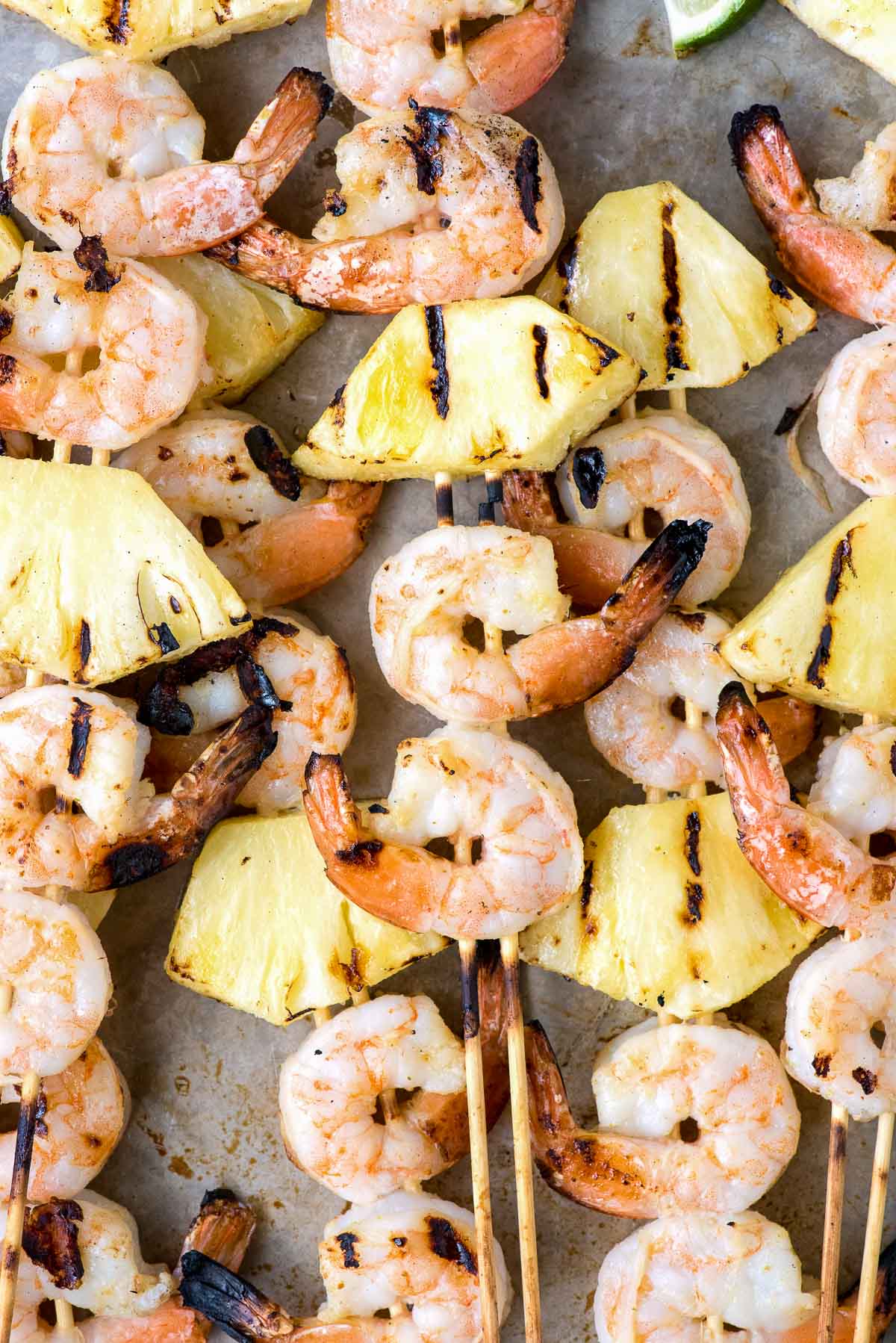 Recipe Ingredients + Notes
Shrimp Skewers
Shrimp. You'll use deveined, peeled raw shrimp. The size to use is 26-30 count.
This number is how many shrimp are in a pound and determines their size. It should be posted with the shrimp or on the package.
Pineapple. One medium ripe pineapple, peeled, cored, quartered and cut into 1/2-inch thick slices. To save time a peeled, cored pineapple can be purchased and sliced.
Bamboo skewers. You'll need 30-40. We use a trick to ensure everything cooks well shared below.
Thai-inspired Mariade
Light Coconut milk (canned). A 14-ounce can will be used.
Shallot. These are a mix of onion and garlic flavor and add a great flavor to the marinade.
Jalapeno peppers. These add a spicy flavor to the shrimp skewers.
Garlic cloves. They are peeled and rough chopped.
Lemongrass. A two inch piece is chopped for classic Thai flavor.
Light Brown Sugar. Adds some sweetness to the marinade.
Kaffir Lime Leaves. These can be found at stores with international ingredients (Whole Foods for instance) or Asian markets. It has a distinct lime flavor that is a signature in Thai cuisine and other Asian dishes.
Kosher salt. Has a more pleasant flavor and is less salty tasting.
Lime juice. Freshly squeezed lime juice is recommended. It makes a difference in the flavor!
Olive oil. Oil is needed to transfer the flavors to the ingredients being marinated. We used olive oil but vegetable oil can also be used.
Lime Butter
Salted butter and lime juice. This is brushed on the shrimp and pineapple before grilling it!
Grill Master Pro Tips
There are a few grill-changing tips I learned before developing this recipe that will make your grilling process much easier.
Don't soak the bamboo skewers
I've always soaked bamboo skewers before using them understanding that is the way 'it's done'.
After attending a professional grilling course the grill master Steven Raichlen shared an experiment. Both soaked skewers and unsoaked skewers were used, and both caught fire at the same time.
How to use a grill guard or shield
Instead of soaking skewers, using a grill guard/shield works much better.
They can be purchased but are really easy to make with heavy foil.
A heavy sheet of foil is doubled and placed on the edge of the grill. The skewer ends should be placed over the foil and the grill items over the heat.
This allows the skewers to remain intact.
The foil becomes hot so tongs are suggested for turning and removing the skewers.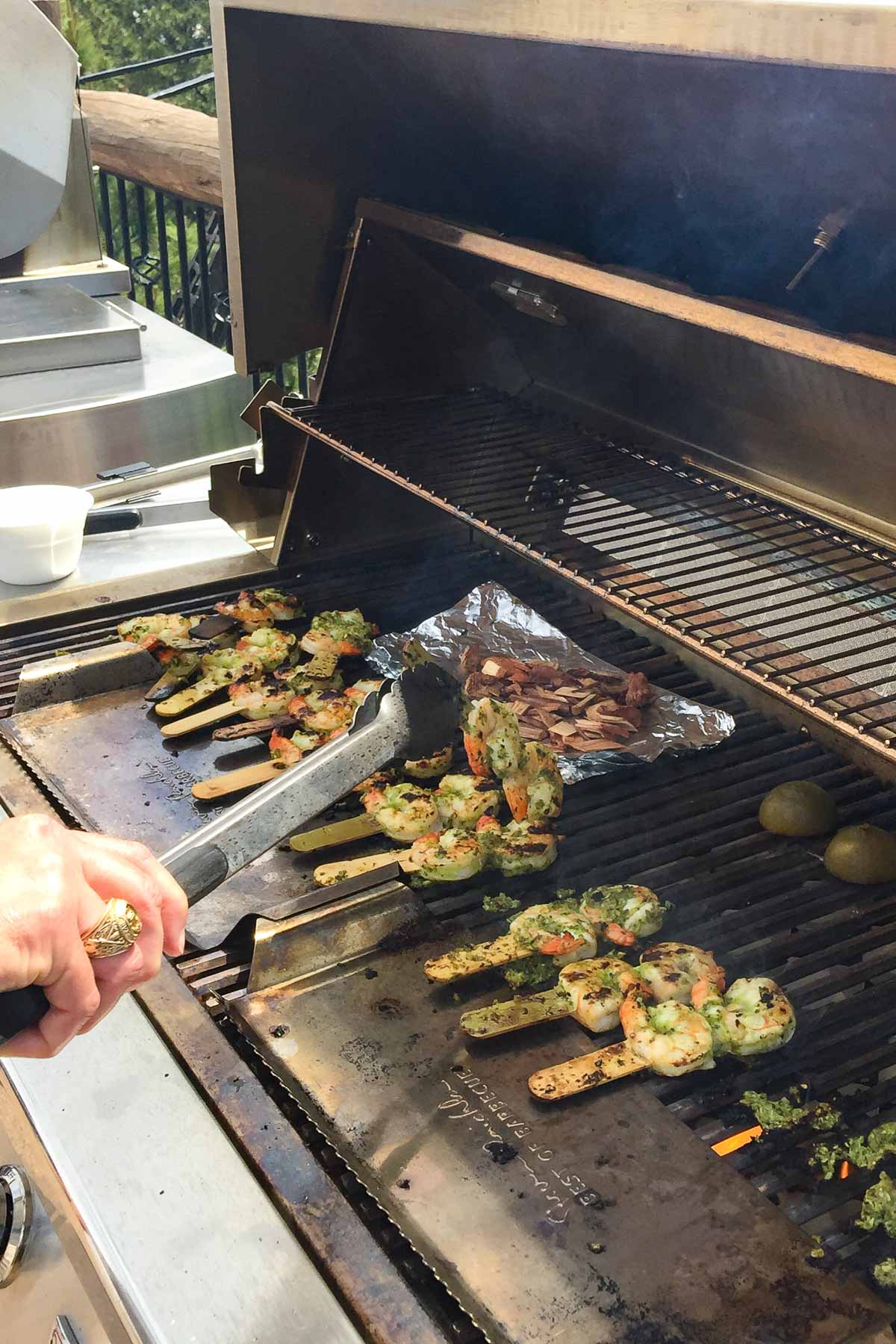 Pro Tip: Double Skewers or Flat Skewers
You know how when you are grilling kabobs and you turn them but the ingredients spin around so it's impossible to cook everything evenly?
I have a solution. Use double skewers or a wide flat bamboo skewer which prevents the items on the skewer from spinning around making it difficult to flip them to cook evenly on both sides.
I used double bamboo skewers for this recipe and it's a life changer.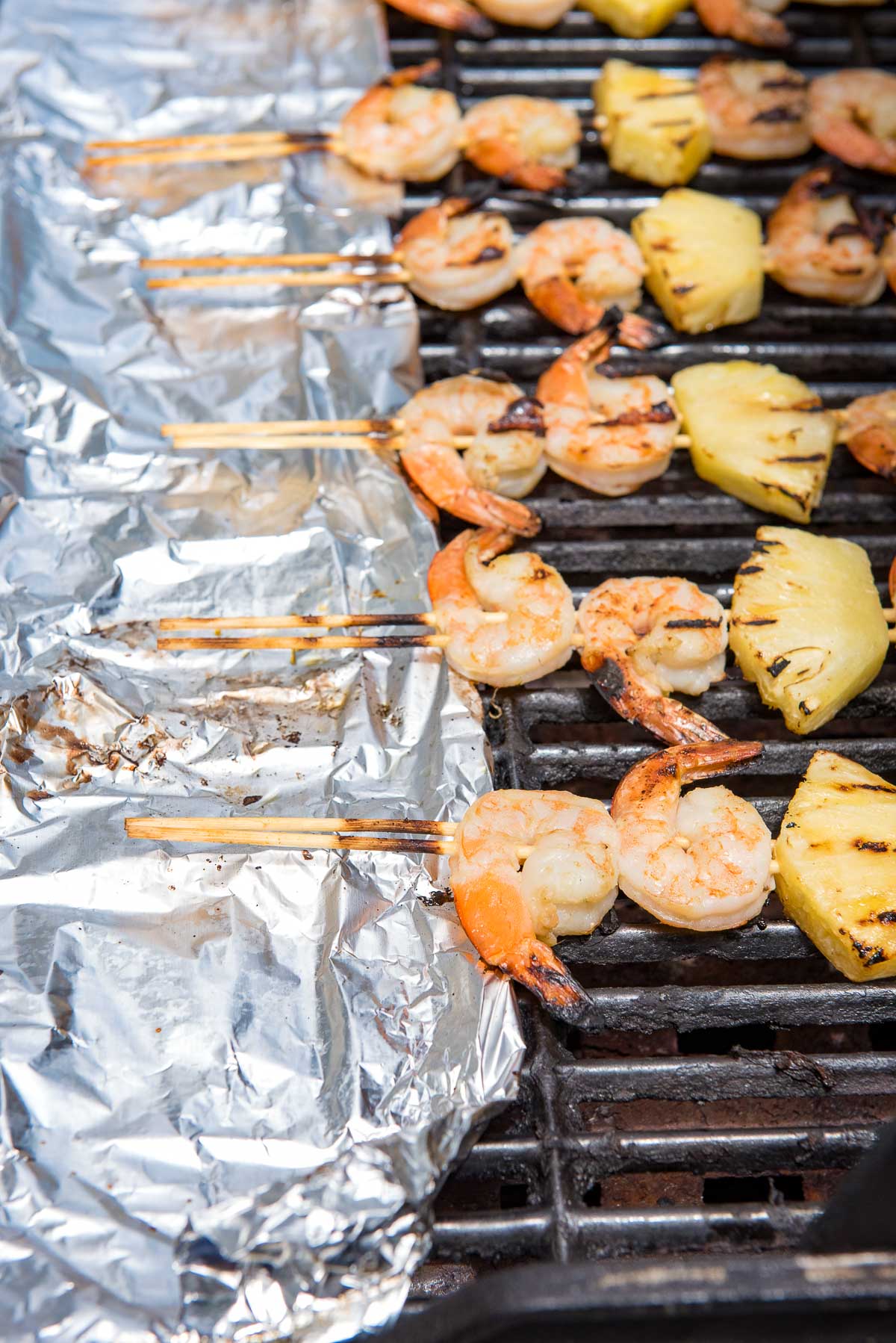 How to make and grill the Shrimp Skewers
STEP 1. Make the shrimp marinade
Combine all the marinade ingredients except the oil in a blender. Blend until combined.
Slowly pour in the oil as the blender is running on slow speed to make an emulsion.
Place shrimp in a metal or glass large bowl and cover with the marinade. Cover with plastic wrap and marinate the shrimp in the refrigerator for 45 minutes.
STEP 2. Make the skewers
Using two bamboo skewers placed 1/8-1/4 inch apart add two shrimp, followed by a piece of pineapple. Repeat threading the shrimp ending with pineapple.
There should be 4 shrimp per skewer pair and 2 pieces of pineapple.
STEP 3. Make the lime butter
Stir together the melted butter and lime juice.
STEP 4. Grill the skewers
Heat the outdoor grill to high (375-400 degrees F). Scrape/brush the hot grates and oil.
Place a folded piece of heavy foil at the front of the grill to act as a grill guard (refer to photos).
Lay the prepared skewers on the grill with the exposed end of the bamboo skewers over the foil to prevent burning.
Lightly brush the skewers on both sides with the lime butter.
Cook the shrimp skewers for 2 minutes, flip over and grill 2 more minutes. Remove and serve immediately.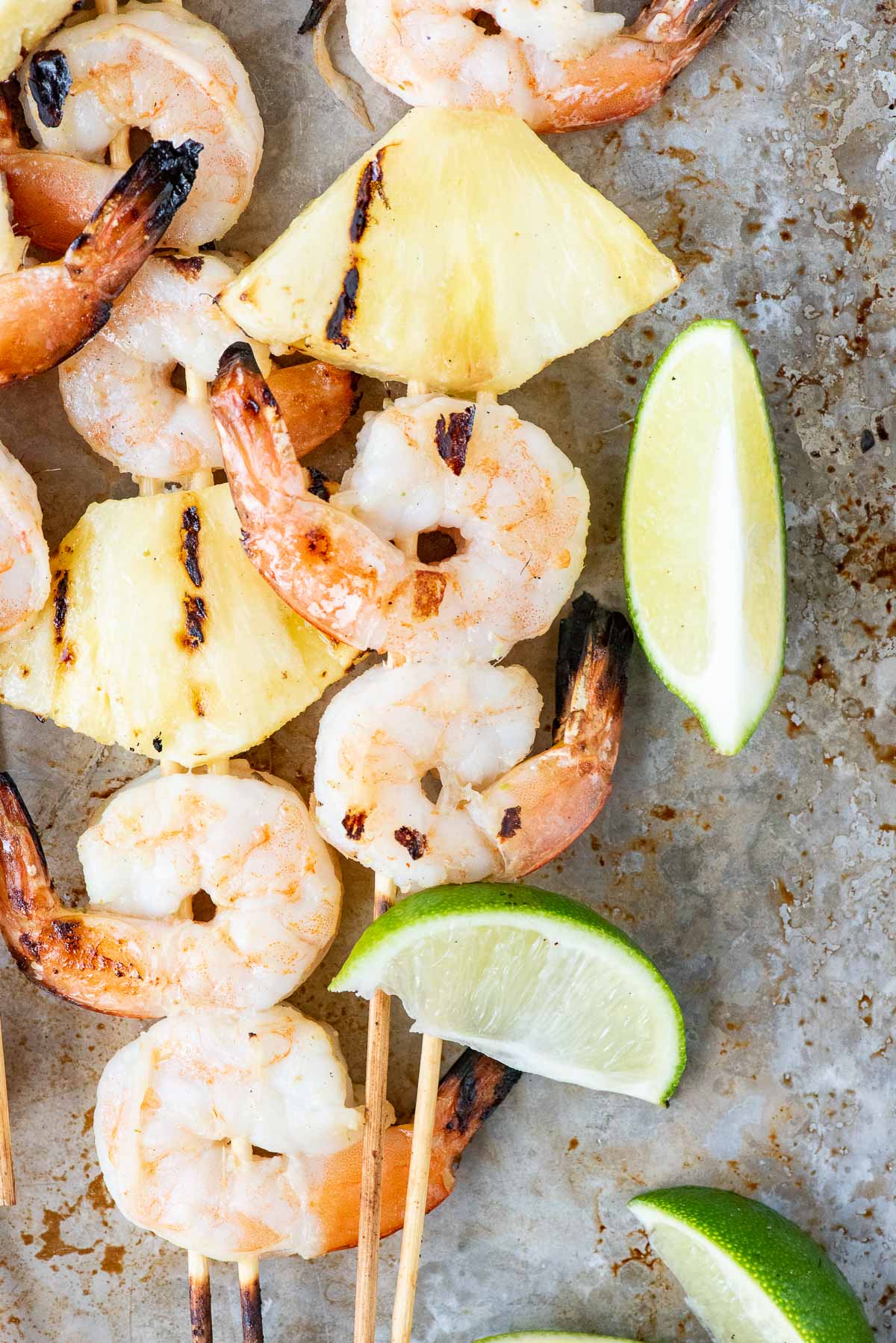 Storing leftovers
Grilled shrimp is best eaten hot off the grill. Though it can be stored in the refrigerator for a few days the texture will not be as pleasing.
More recipes you'll love!
Did you make it? Please RATE THE RECIPE below!
Please
SUBSCRIBE
and
FOLLOW ME
on
FACEBOOK
,
TWITTER
,
INSTAGRAM
and
PINTEREST
!
Recipe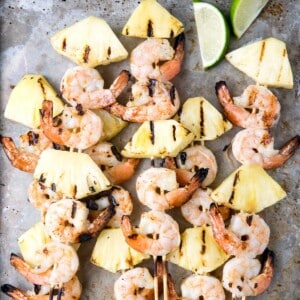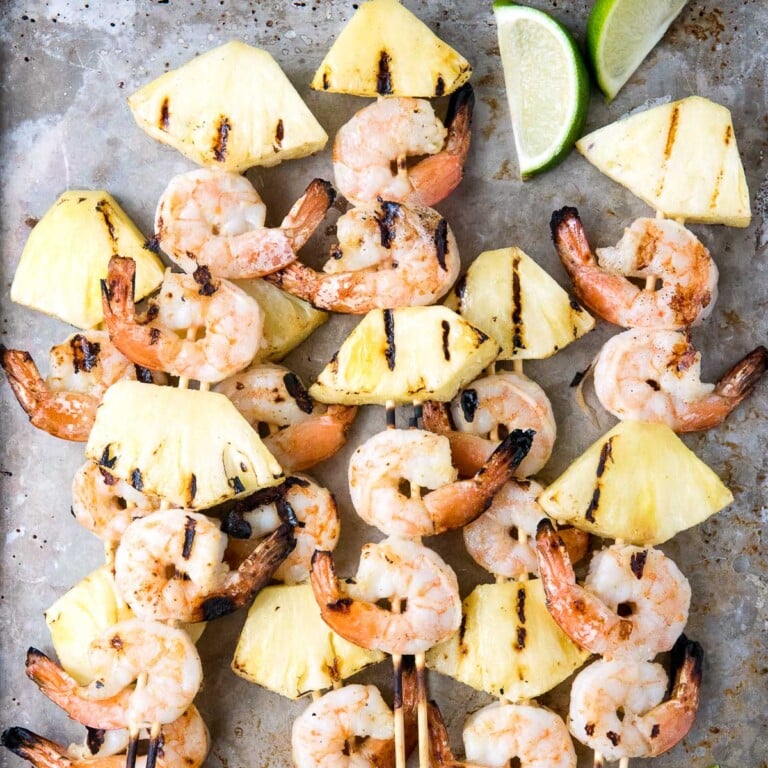 Grilled Shrimp Skewers with Thai flavors
These fresh flavorful skewers offer a taste of Thai flavors with a bit of heat from jalapeno chilies, coconut milk and lemongrass complimented by the natural sweetness of fresh grilled pineapple. The skewers grill in 4 minutes total, leaving the shrimp with a wonderful texture without being overdone.
Print
Save Recipe
Recipe Saved!
Pin
Rate
Servings:
15
Makes approximately 15 skewers
Ingredients
2

pounds

26-30 count Shrimp

, deveined and peeled

1

large ripe

, firm Pineapple, peeled, cored, quartered and cut into 1/2-inch thick slices

30-40

Bamboo Skewers

Heavy foil the length of the grill

, doubled for a grill shield
Ingredients for Marinade (note: cut ingredients to the size appropriate for your type of blender):
1 14-

ounce

can Lite Coconut Milk

1

large Shallot

, peeled and rough chopped

2

Jalapeno Peppers

, top removed, cut into thirds

2

large Garlic Cloves

, peeled and rough chopped

2-

inch

piece of fresh Lemongrass

, cut into 4 pieces

1

tablespoon

Light Brown Sugar

2

Kaffir Lime leaves

(available at most Asian grocery stores and in finer herb departments at stores like Whole Foods)

½

teaspoon

Kosher Salt

¼

cup

Lime Juice

¼

cup

Extra Virgin Olive Oil
Ingredients for Lime-Butter:
3

tablespoons

Salted Butter

, melted

1

tablespoon

Lime Juice

Serving Suggestion: Serve skewers with Cilantro Lime Rice
Instructions
Instructions for the Marinade:
Add all ingredients into a blender EXCEPT the olive oil. Blend until liquefied.

While blending on low speed, pour in the olive oil to create and emulsion.

Place the shrimp in a non-plastic bowl and pour in marinade to cover the shrimp. Cover with plastic wrap and place in the refrigerator for 45 minutes.
Instructions for Assembling the Skewers:
Using two skewers spaced about 1/8-1/4 inch apart, thread two shrimps onto the skewers, followed by a piece of pineapple, and repeat ending with a piece of pineapple on the sharp end of the skewers (use photos as a guide). Place on a baking sheet or tray for grilling.
Instructions for the Lime Butter:
Combine the melted butter and lime juice. Stir to combine.
Instructions for Grilling the Skewers:
Heat a gas grill to high (375-400 degrees). When at temperature clean/brush and oil the grill. If using a charcoal grill, heat coals to red hot and prepare the grill for direct grilling.

Place the grill shield at the base of the grill and lay skewers so the ends are over the grill shield.

Lightly brush skewers with Lime Butter on both sides. Grill on the first side for two minutes; flip, and grill on the second side 2 additional minutes. Remove and serve immediately.
Notes
recipe originally shared June 14, 2015
Nutrition
Calories:
172
kcal
|
Carbohydrates:
10
g
|
Protein:
12
g
|
Fat:
8
g
|
Saturated Fat:
3
g
|
Cholesterol:
158
mg
|
Sodium:
592
mg
|
Potassium:
129
mg
|
Fiber:
0
g
|
Sugar:
7
g
|
Vitamin A:
125
IU
|
Vitamin C:
35.3
mg
|
Calcium:
97
mg
|
Iron:
1.5
mg