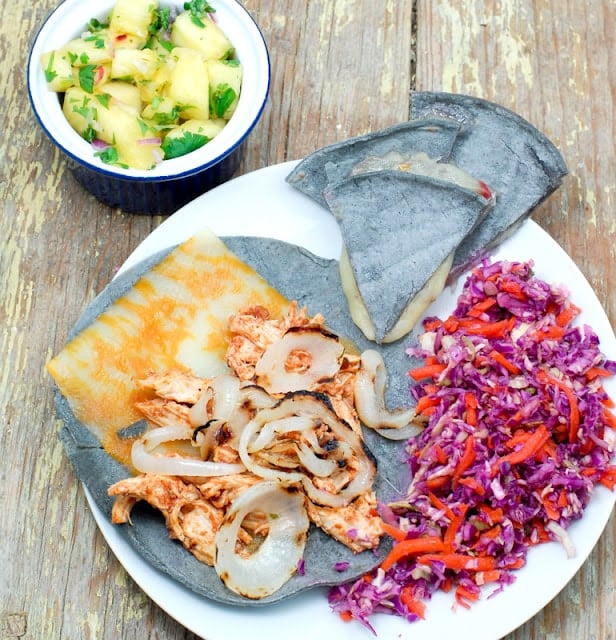 Being a locavore, my orientation to cooking always begins with the ingredients and then I figure out what I'll make; rarely is it the other way around.

After subsisting largely from my winter stores, it is a joy to build a meal around items from the Farmer's Market however meager the choices at this time of year.
Abbondanza Farm
is one which can always be counted on for an incredible selection, great quality and good prices.

They are in Longmont and a larger farm.

Their stand at the Boulder Farmer's Market can be found almost at the end to the south, on the east side.

It's almost like a 'flagship store' in that they offer so many things and have a larger stand at the peak of the summer.
Right now they are selling lots of their seeds which is great for Colorado gardeners since these would be proven varieties for our conditions.

One can count on finding new and unusual things at Abbondanza.

Dragon carrots, purple and orange cauliflower, varieties of greens I have not heard of.

They are always willing to give you a briefing on the produce with preparation ideas as well.
Two weeks ago I picked up their freshly made Blue Corn Tortillas.

They also had three varieites of bagged corn flour.

I purchased Hopi Pink flour which I was told was great for cornbread.

Stay tuned for that!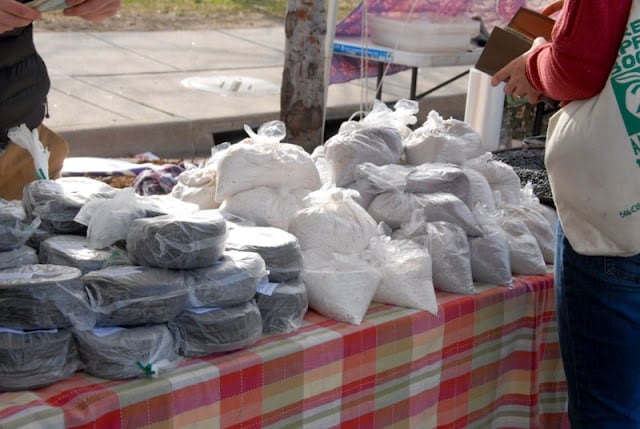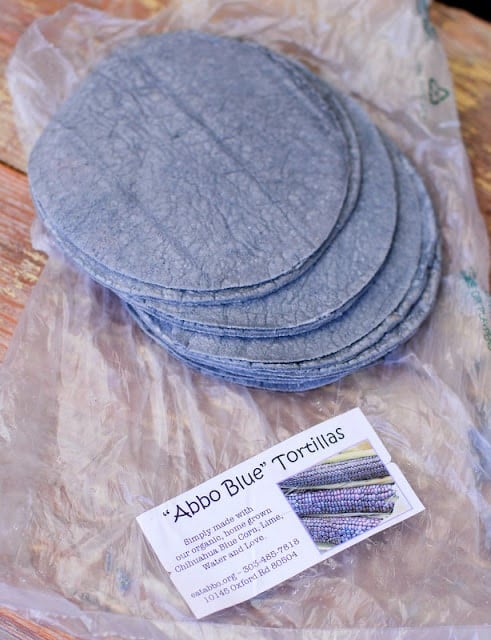 At this time of year there is no local fresh fruit.

I still have some winter apples in my larder but until the summer gains traction we have to buy non-local.

I had decided a dish I wanted to make with the blue corn tortillas and along with it some pineapple salsa.

I give myself the 'Get Out of Jail Free' card on non-local fruit purchasing feeling it's a preferred choice to developing scurvy (unlikely I realize).
Another favorite farm of mine is Jay Hill Farm. I wrote an article about them in the fall which you can read (click here) though I love their purchasing method. They were one of the first certified organic farms in Boulder as well as an initial farms at the Farmer's Market though after 20 years have decided on having a roadside stand in the summer and due to greenhouse growing, one can order online year round. They were the farm during my experimental winter as a strict locavore where I found greens in January. Have never been happier.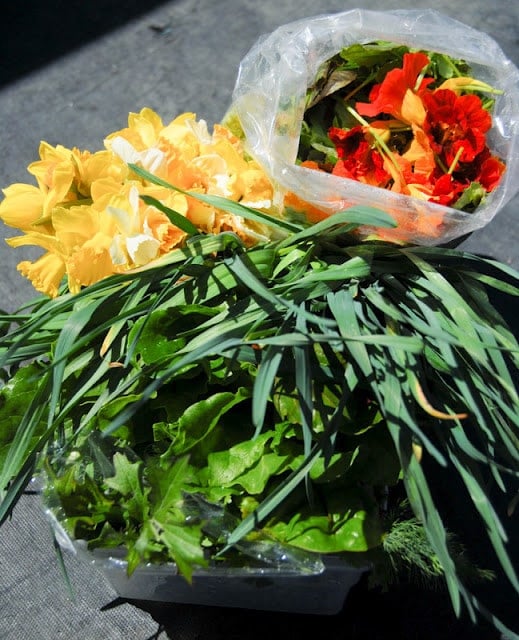 My haul from Jay Hill Farm: 2 bunches of daffodils, rainbow chard, mizuna, large bag of salad greens with nasturtiums, dill, cilantro and 2 bunches of green garlic!
Basically on their website they list what they have available and update it daily.

You would access that page on their website (click here), decide what you'd like and email your order to the email address provided.

You will receive a notification via email and your order is available for pick up at the farm after 11 a.m. (noon on Sundays) the following day.

A perfect hybrid of traditional grocery shopping in a brick and mortar store and going to the Farmer's Market to me.

It's a great way to fill in during the week if you are a dedicated market shopper.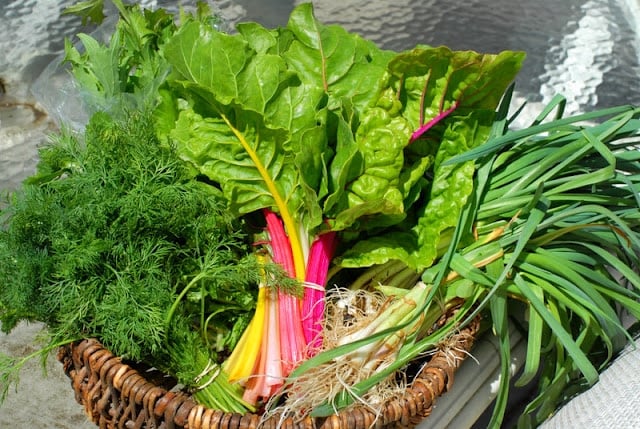 Jay Hill Farm
:

5367 Jay Road, Boulder (next to the Diagonal Hwy)
Back to my menu, though I purchased non-local pineapple for my salsa, Jay Hill Farms provided the cilantro!
Though I love to cook I'm often strapped for time. Creating quick meals does not leave me willing to sacrifice taste. I came up with a simple menu with bears delicious flavors and is something perfect for a busy weeknight or lazy weekend.
CHIPOTLE CHICKEN SOFT TACO
This flavorful recipe is more smoky than spicy thanks to the chipotle salsa. It's a perfect partner to the sweet, grilled chippolini onions and cheese blend.
Makes: 8 tacos
·
2 cups shredded chicken
·
2 tablespoons chipotle salsa
·
4-5 chippolini onions (yellow onions can be substituted; if so only one is probably needed)
·
8 Blue or regular corn tortillas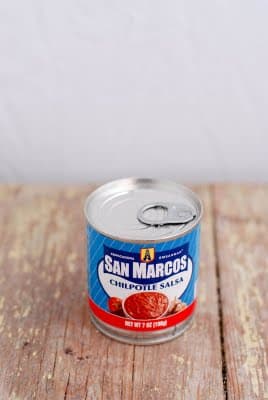 1.
Slice and grill the chippolini onions on both sides until done (about 3-4 minutes depending on how thickly sliced; they will become soft and transparent).
2.
While the onions are grilling, warm the chicken if not warm and toss with warmed chipotle salsa.

You can do this in a saucepan or microwave it. I often buy an organic free range rotesseri chicken use that to make the shredded chicken (save the time but provides the quality)
3.
Melt desired amount of cheese on half of a tortilla (I used the microwave).
4.
When steps 1 and 2 are complete, place desired amount of chicken and onions on the tortilla, fold and devour!
Pepper jack cheese is rich and delicious though can be pretty spicy depending on the brand.

If you don't love heat, take a taste before making the quesadillas to determine the amount right for you!
·
Blue or regular corn tortillas
Place desired amount of cheese on a tortilla.

Place a second tortilla on the top and microwave for 30-45 seconds to melt the cheese for a softer quesadilla or prepare in a skillet over medium heat until the cheese melts , watching carefully so they do not burn.
In the case of this particular meal, I was serving a wide range of heat tolerances, from 'would drink a bottle of hot sauce with a straw given the chance' to whimpering in a corner is sensing any spiciness.

For that reason and due to including heat in the tacos and quesadillas, I omitted the pepper from the salsa.

If you would like a more traditional spicy salsa by all means throw it in there.

Makes about 2 ½ cups salsa.
·
½ pineapple diced (about 2 cups)
·
½ cup cilantro, chopped
·
1/3 cup red onion, diced
·
Optional: 1 diced Serrano pepper for heat
Toss all ingredients in a bowl.

Can be served immediately or allowed to sit for 20 minutes for the flavors to combine.
Blue corn tortillas are delicious and novel but don't cast the most appetizing color on the plate.

I wanted a vegetable to accompany this, some color and again something to quench any heat for my diners.

This slaw is gorgeous, gives you a leg up on 'eat the rainbow every day' as your doctor may have suggested and is very light.

You could definitely make a stronger flavored dressing or add some red onions, cilantro or even some peppers to amp it up a bit.
·
½ small head of red cabbage
·
½ small head of green cabbage
·
3 carrots, scrubbed with tops and tip removed
·
1/3 cup plus 2 tablespoons rice vinegar
·
3 tablespoons sugar (I use organic)
·
2 teaspoons Dijon mustard or to taste
1.
Shred the red cabbage, green cabbage and carrots (I did so in my food processor).

Toss to combine in a large bowl.
2.
In a small bowl combine rice vinegar, sugar and Dijon mustard, stirring until sugar dissolves.

Pour onto slaw mixture and toss to cover.
3.
You can serve immediately or I made mine the night before and let it sit overnight with allowed the light dressing to soak in without making the slaw soggy.