Spicy Sausage Skillet Lasagna delivers favorite comfort food in about half the time as traditional oven-baked lasagna. Hot Italian sausage and spicy Fra Diavolo sauce take the flavors up a notch.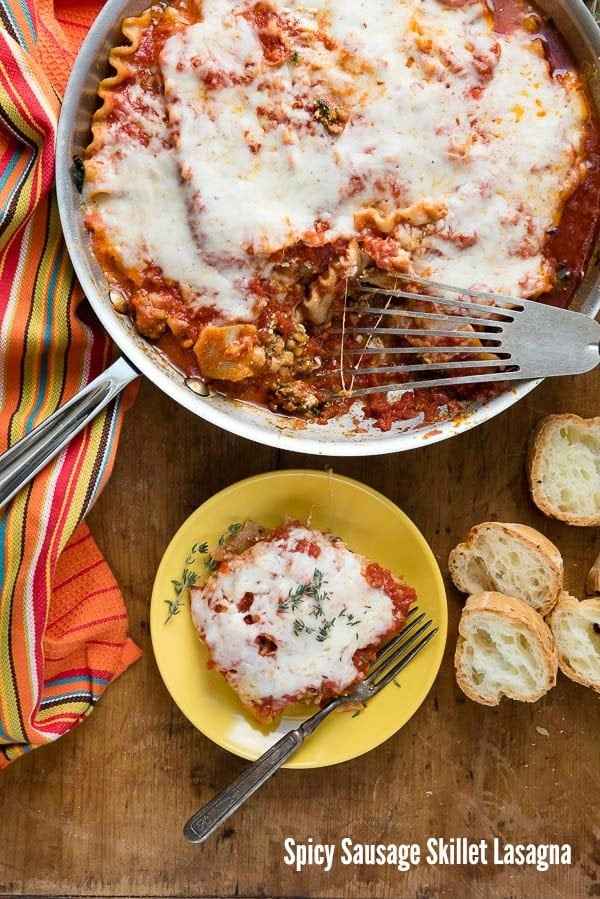 Spicy Sausage Skillet Lasagna is a vibrant recipe that is hearty, filling.
It's also faster to make (all on the stove top) than a traditional oven-baked lasagna.
A few surprise ingredients boost nutrition too (but no one will be the wiser).
May be made with gluten-free or gluten lasagna noodles.
Spicy Sausage Skillet Lasagna has all the traditional lasagna ingredients you love.
Tthe method of preparing and cooking it whips up a main dish in 35 minutes making it a contender for a busy weeknight as well as weekends.
Spicy Sausage Skillet Lasagna
I think you'll join me in excitement about this Spicy Sausage Skillet Lasagna.
The spices in the sauce and sausage are the central focus leaving extra seasoning unnecessary.
It has the creamy, cheesy texture and flavor we love.
And can be made with gluten-free or gluten lasagna noodles!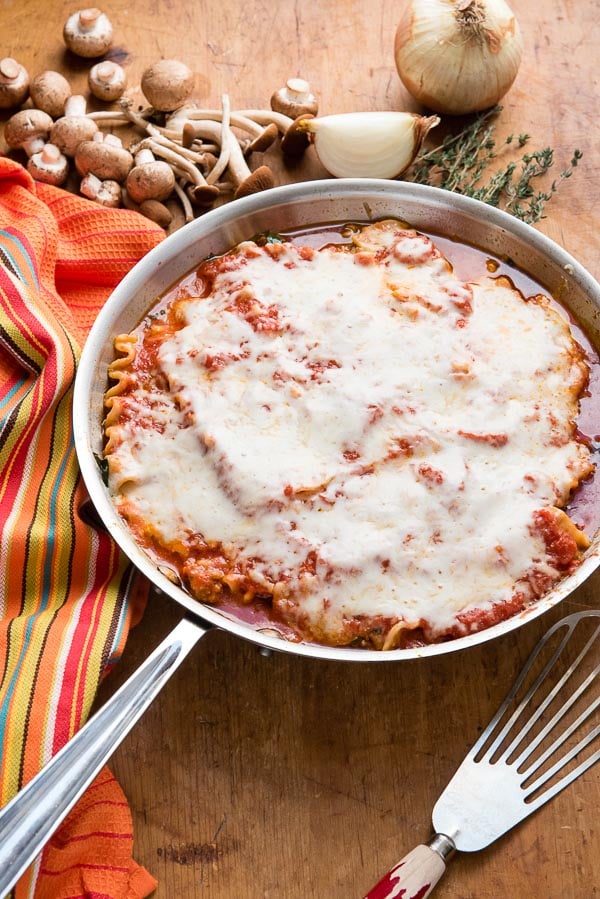 A Secret About this Skillet Lasagna Recipe
Spicy Sausage Skillet Lasagna also includes the addition of a healthy dose of vegetables.
Don't tell because my kids have no idea about this part!
I add 1 ½ cups of vegetables to the lasagna boosting the nutrition without overtaking the flavor.
My favorite combination is fresh torn spinach leaves, butternut squash puree or grated butternut squash and chopped mushrooms (I love cremini mushrooms or a mix).
With the spicy sauce and sausage no one is the wiser and I feel good about the wholesome ingredients.
Time Saving Preparation Tips
I have a few tricks to make the prep easier and faster.
Tip #1
I use a mini chopper for everything. It processes the onions in seconds to a perfect dice.
Tip #2
When boiling the lasagna noodles, they become slippery.
They can be drained in a colander however I like using a hand held strainer and silicon tip tongs.
The allows everything to happen on the stove top.
The lasagna noodles are scooped up, with water draining back into the pot and the tongs grip the slippery noodles and place them exactly where you want them in the skillet.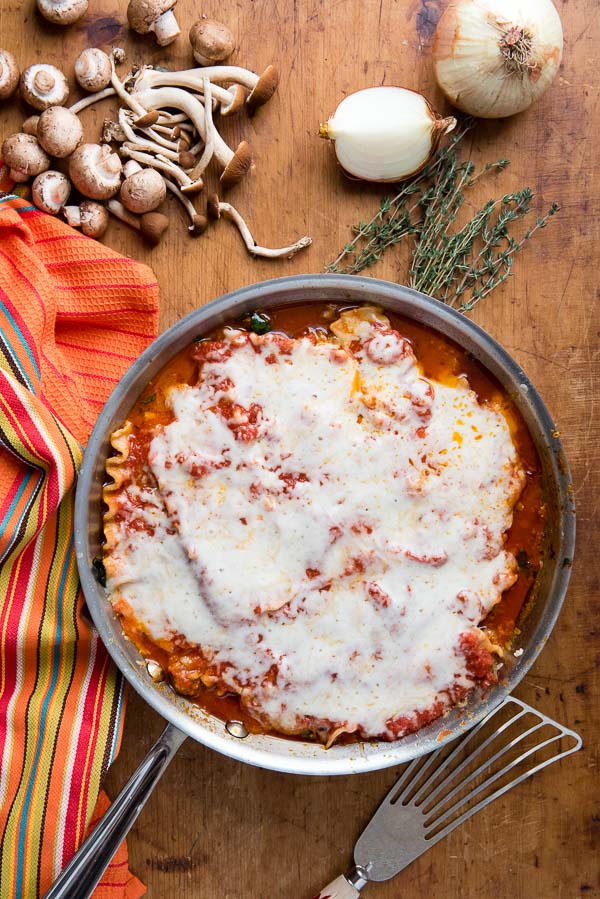 Skillet Lasagna Recipe Variations
This is a very flexible recipe.
To Make it Less Spicy
If you aren't one who loves spicy flavors, swap out the hot Italian sausage for mild or sweet Italian sausage.
Tone down from the hot Fra Diavolo sauce to a traditional Mainara pasta sauce. If doing so addition of some Italian spices may be needed for depth of flavor.
Type of Ricotta Cheese
Low fat or full fat ricotta cheese may be used.
Vegetables
Swap out for vegetables you love if this combination isn't for you; zucchini, grated carrots, eggplant, sweet peppers or other types of squash or pumpkin.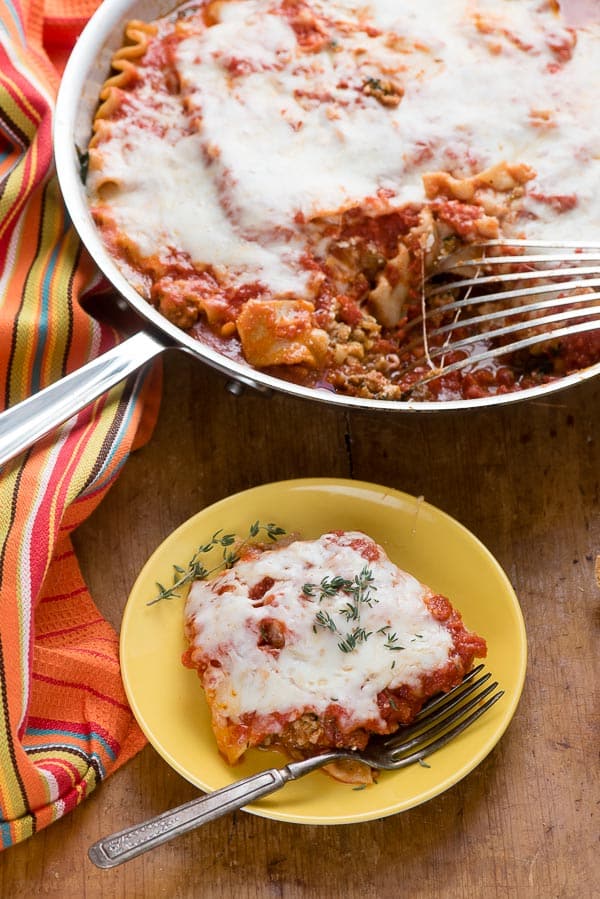 More Delicious Lasagna Recipes
Did you make it? Please RATE THE RECIPE below!
Please SUBSCRIBE and FOLLOW ME on FACEBOOK , TWITTER , INSTAGRAM and PINTEREST !
Originally published: January 26, 2012