Spicy Sausage Skillet Lasagna delivers favorite comfort food in about half the time as traditional oven-baked lasagna. Hot Italian sausage and spicy Fra Diavolo sauce take the flavors up a notch. A few surprise ingredients boost nutrition too (but no one will be the wiser). May be made with gluten-free or gluten lasagna noodles.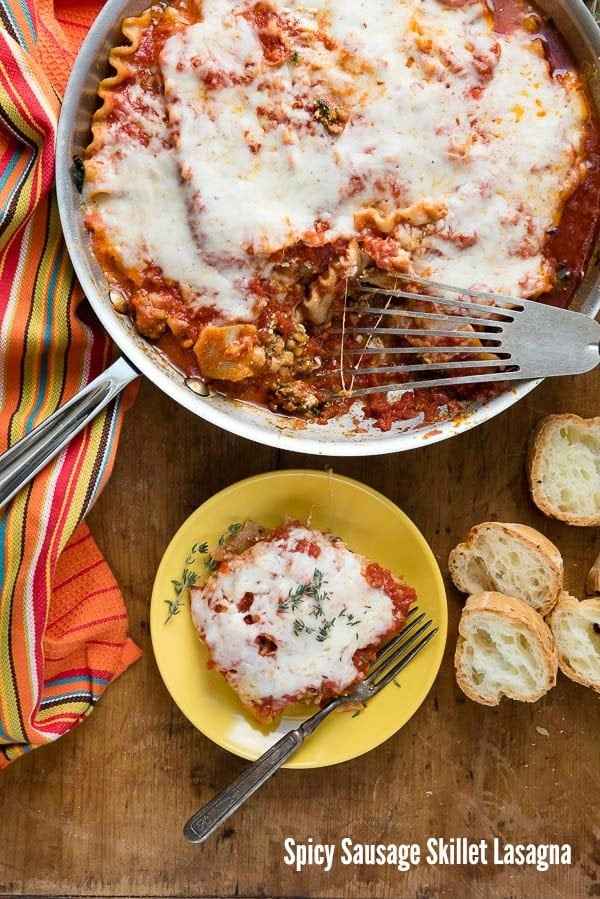 I was thinking through a tasty skillet dish to share with you today. Something 'one pot', comforting and easy for a lazy Sunday. A recipe sprang to mind that I'd loved and shared very early on Boulder Locavore: Spicy Sausage Skillet Lasagna. It had been while since I had made it and after doing so I had to share it again. It's a vibrant recipe that is hearty, filling and faster to make (all on the stove top) than a traditional oven-baked lasagna.
Lasagna is a cool weather staple my family loves. I've iterated in several ways from basic Fast and Easy Gluten-Free Meat Lasagna, Gluten-Free Meat Lasagna Roll Ups, Cheesy Buffalo Chicken Lasagna and Mexican Lasagna with Hatch Chilies. Spicy Sausage Skillet Lasagna has all the traditional lasagna ingredients though the method of preparing and cooking it whips up a main dish in 35 minutes making it a contender for a busy weeknight as well as weekends.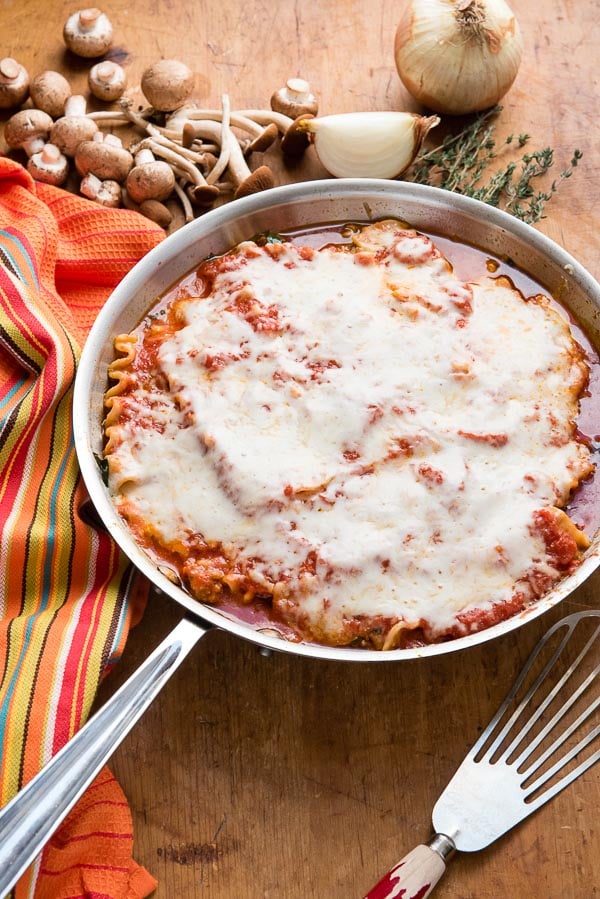 Spicy Sausage Skillet Lasagna also includes the addition of a healthy dose of vegetables. Don't tell because my kids have no idea about this part! I add 1 ½ cups of vegetables to the lasagna boosting the nutrition without overtaking the flavor. My favorite combination is fresh torn spinach leaves, butternut squash puree or grated butternut squash and chopped mushrooms (I love cremini mushrooms or a mix). With the spicy sauce and sausage no one is the wiser and I feel good about the wholesome ingredients.
I have a few tricks to make the prep easier and faster. I use a mini chopper for everything. It processes the onions in seconds to a perfect dice. When boiling the lasagna noodles, they become slippery. They can be drained in a colander however I like using a hand held strainer and silicon tip tongs. The allows everything to happen on the stove top. The lasagna noodles are scooped up, with water draining back into the pot and the tongs grip the slippery noodles and place them exactly where you want them in the skillet.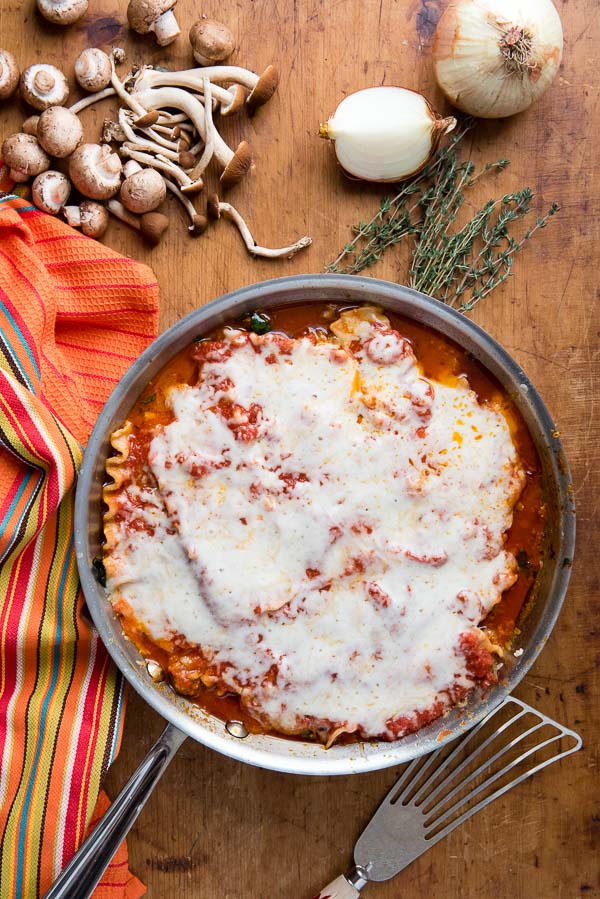 I think you'll join me in excitement about this Spicy Sausage Skillet Lasagna. The spices in the sauce and sausage are the central focus leaving extra seasoning unnecessary. It has the creamy, cheesy texture and flavor we love. And can be made with gluten-free or gluten lasagna noodles!
Variation options for Spicy Sausage Skillet Lasagna:
This is a very flexible recipe. If you aren't one who loves spicy flavors, swap out the hot Italian sausage for mild and tone down from the hot Fra Diavolo sauce to a traditional Mainara pasta sauce (if doing so addition of some Italian spices may be needed for depth of flavor). Low fat or full fat ricotta cheese may be used. Swap out for vegetables you love if this combination isn't for you; zucchini, grated carrots, eggplant, sweet peppers or other types of squash or pumpkin.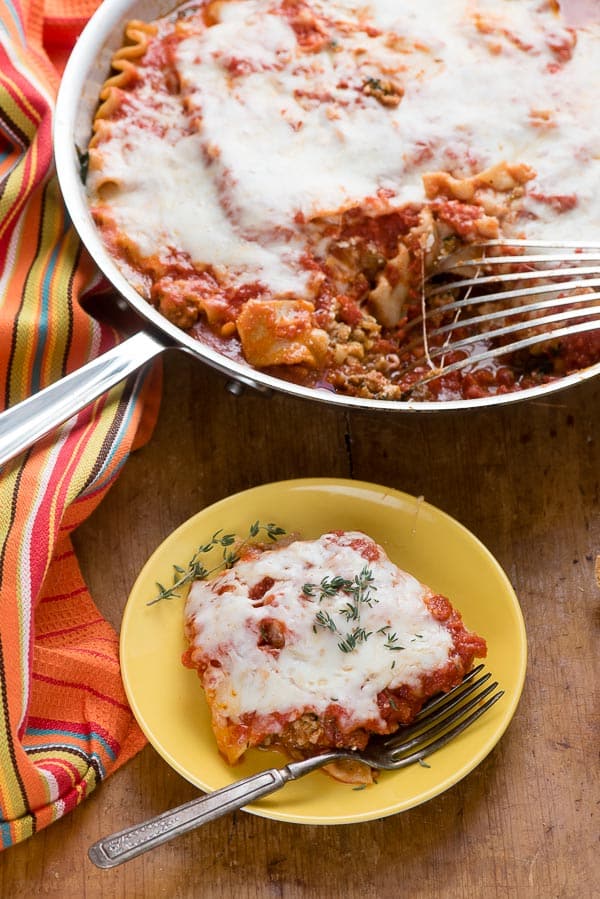 How to make Spicy Sausage Skillet Lasagna: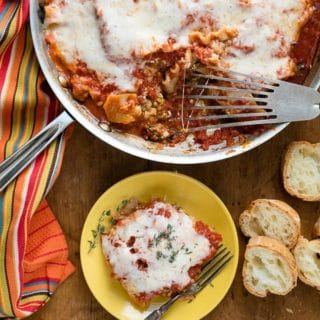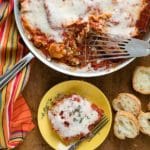 Spicy Sausage Skillet Lasagna
Spicy Sausage Skillet Lasagna is a great way to enjoy a favorite comfort food in about half the time. The hot Italian sausage and Fra Diavolo sauce (spicy) bring a vibrant flavor. The additon to some vegetables up the flavor and nutriton but no one will know they are there! Either gluten-free or gluten lasagna noodles may be used.
Ingredients
7

Dry Lasagna Noodles (gluten-free or regular)

broken into 2-3" lengths

1

pound

bulk/loose Hot Italian Sausage

1/4

cup

chopped Yellow Onion

1/2

cup

fresh Spinach leaves

rinsed and torn

1/2

cup

Butternut Squash puree or grated

1/2

cup

chopped Mushrooms

26

ounces

Fra Diavolo ('Brother Devil') pasta sauce

1

cup

Ricotta Cheese

3/4

cup

grated Mozzarella or Italian Blend Cheese

2

tablespoons

grated Parmesan or Romano cheese
Instructions
Boil lasagna according to the package details. Drain. NOTE: for 'oven ready' noodles boil for 10 minutes and drain.

While the lasagna noodles are boiling, In a 12 inch skillet (with a lid) cook the sausage and onion over medium heat until the sausage is no longer pink. Break sausage up while cooking so it is in small pieces.

Add the vegetables and sauté for 2-3 minutes until they've begun to cook and are mixed fully with the sausage. Drain any fat and remove from skillet.

Pour ¼ cup of the pasta sauce into the bottom of the same skillet and spread to lightly coat. Arrange half of the boiled lasagna noodles on top of the sauce.

Cover noodles with half of the remaining sauce. Spoon meat mixture evenly on top of the pasta sauce.

Spoon ricotta cheese over the meat mixture in small mounds and sprinkle with ¼ cup of the mozzarella/Italian blend cheese. Place the remaining lasagna noodles on the cheese layer.

Top with remaining pasta sauce and mozzarella/Italian blend cheese. Sprinkle with Parmesan or Romano to top.

Over medium heat cook lasagna, covered, for approximately 10 minutes or until warmed through and cheese has melted. Remove from heat. Let stand 5 minutes uncovered before serving.
Nutrition Facts
Spicy Sausage Skillet Lasagna
Amount Per Serving
Calories 390
Calories from Fat 198
% Daily Value*
Fat 22g34%
Cholesterol 61mg20%
Sodium 1025mg43%
Potassium 583mg17%
Carbohydrates 28g9%
Protein 18g36%
Vitamin A 1700IU34%
Vitamin C 10.3mg12%
Calcium 208mg21%
Iron 1.9mg11%
* Percent Daily Values are based on a 2000 calorie diet.
This delicious recipe was originally published in January 2012 and has been updated in 2017.