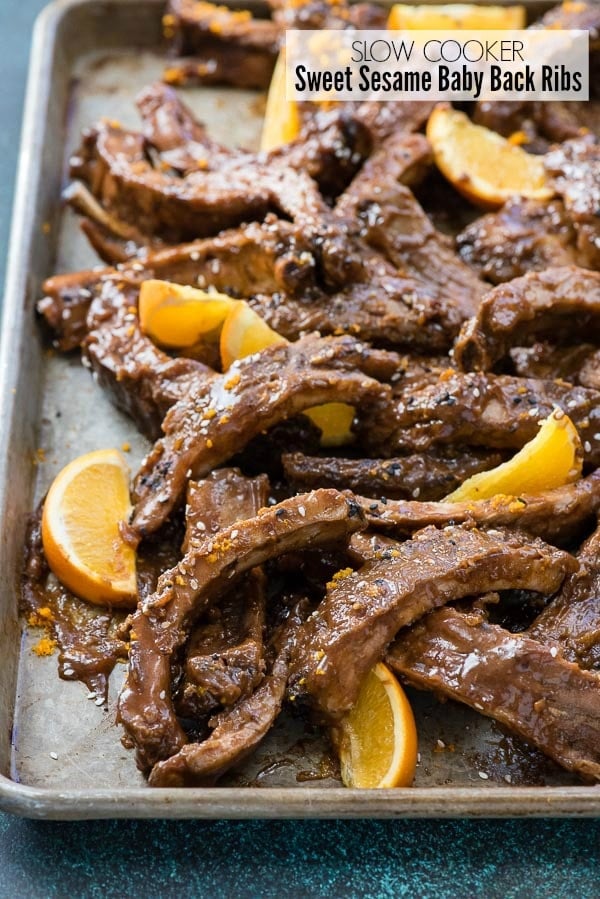 Easy to make Slow Cooker Sweet Sesame Baby Back Ribs are cooked to perfection in a thick sweet orange Asian sauce. Unique and irresistible from a new slow cooker essentials cookbook!
Football playoffs are the buzz right now with social media on fire with 'football food porn'. You know the recipes I mean; fantastic dips, juicy burgers piled high with toppings, finger-licking wings recipes, taco bars and any other comfort food that food fantasies are made of. I'm jumping on the pile-up with Slow Cooker Sweet Sesame Baby Back Ribs!
I was recently sent a new cookbook to review: Essential Slow Cooker Recipes: 103 Fuss-Free Slow Cooker Meals Everyone Will Love Essential Slow Cooker Recipes: 103 Fuss-Free Slow Cooker Meals Everyone Will Loveby Addie Gundry. I'll admit I was dubious.
I get the 'essential' part but at this stage of slow cookers, which were birthed last century, how NEW could the content really be? I'm delighted to share it is an exciting cookbook with loads of unique (read: original and inspired) recipes for everything you could imagine making in your slow cooker.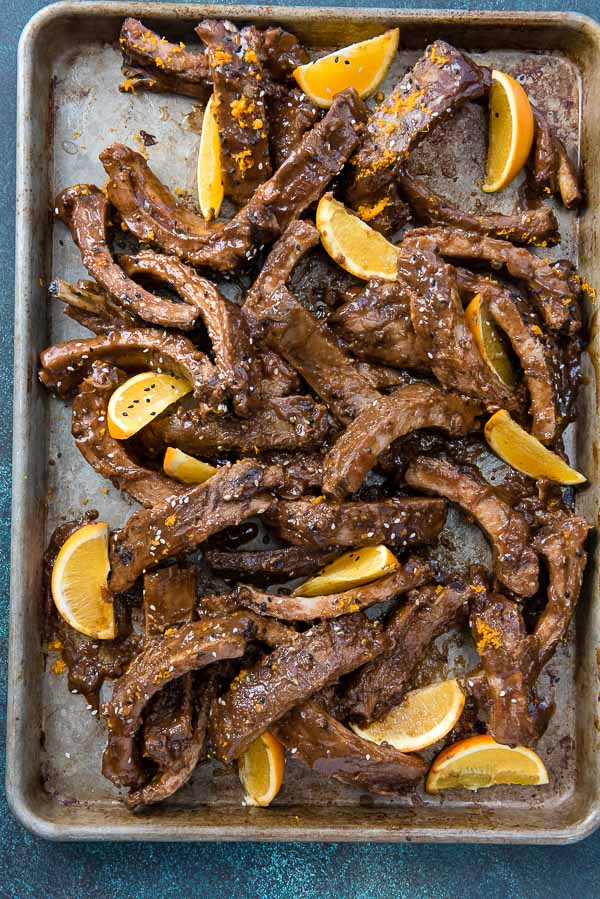 To begin, Gundry's credentials speak for themselves. Schooled at the Auguste Escoffier in France, she's worked with culinary luminaries such as Daniel Boulud, Thomas Keller and Martha Stewart in a variety of capacities. She won Food Network's 'Cutthroat Kitchen' in 2015 and has written numerous cookbooks.
The cookbook strives to tackle dishes too time-consuming and work-intensive for every day (examples French onion soup or chicken cordon bleu). Sign me up. We all use our crock pots for soups and stews, right? But what about making something REALLY exciting with no more effort?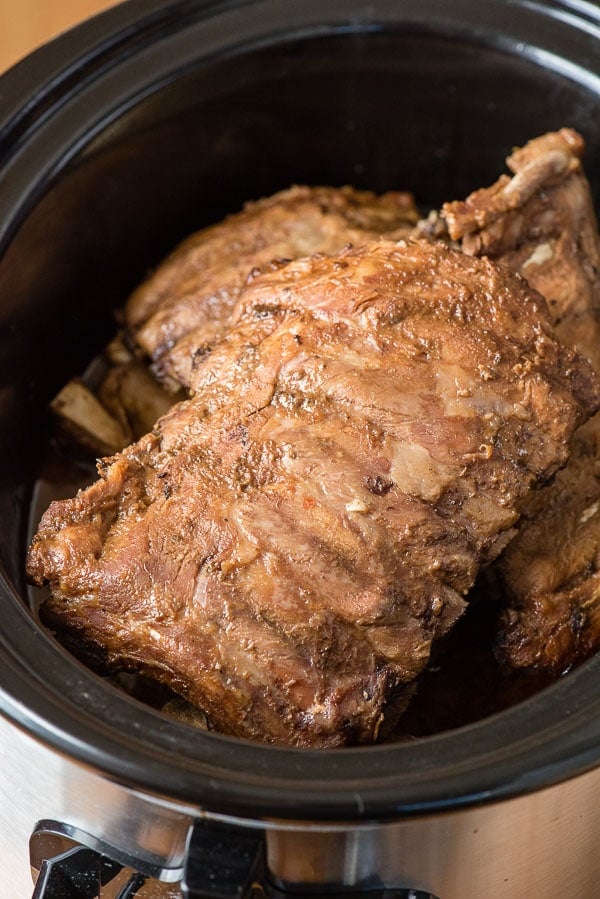 The cookbook includes recipes for every meal, starting with appetizers (Bacon Cheeseburger Dip, anyone?) through desserts. There are numerous breakfast recipes that caught my eye (Banana French Toast, Cinnamon Rolls, Monkey Bread), none of which I imagined were possible in a slow cooker.
There are 'classic recipes' from lasagna to smothered pork chops. Soups and stews, but not just the mainstream recipes you might have made. But it was the loads of dinner recipes that really struck my fancy. I'm always up for dinner made easier but also more delicious.
How to make Slow Cooker Sweet Sesame Baby Back Ribs – Step by Step
My maiden voyage was making Slow Cooker Sweet Sesame Baby Back Ribs. Baby back ribs marinate in a gorgeous sweet Asian sauce then cook for 6 hours. After cooking the pan juices are transferred into a saucepan to be thickened and tossed back with the ribs.
COOKING TIP: Cutting the rib rack in half allows smaller portions to rotate through the sauce when cooking (see photo in slow cooker). Also rotating the ribs on the bottom to the top once or twice while cooking helps ensure all ribs will soak in the sauce equally!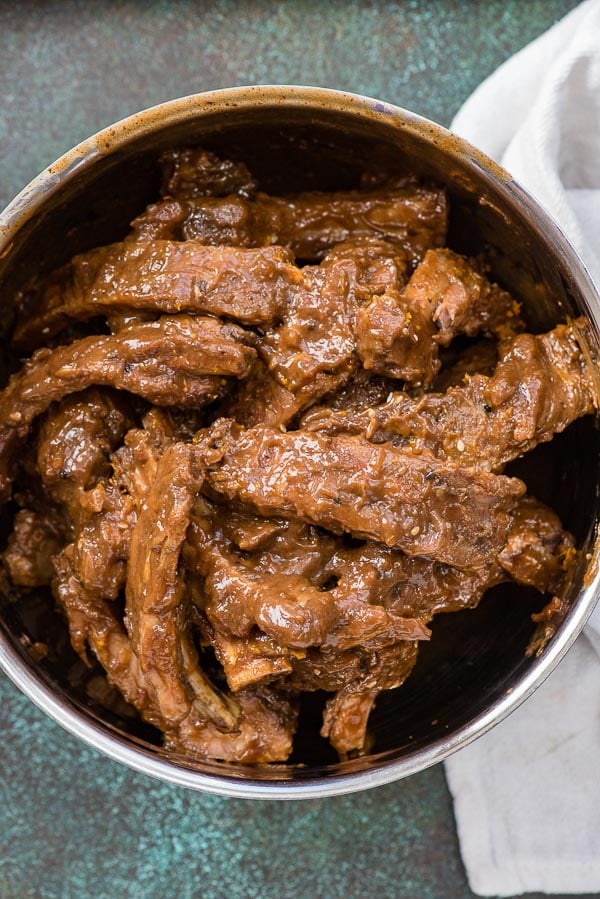 What do Slow Cooker Sweet Seasame Baby Back Ribs Taste Like?
The ribs have a wonderful orange Asian flavor from soy sauce, Hoisin sauce, chili sauce, rice vinegar, toasted sesame oil, garlic and honey. All ingredients are easy to find and available in gluten-free varieties. These sweet sesame ribs are messy, gooey ribs you'll love! Easy to serve on a large platter with loads of paper napkins (and maybe individually packaged hand wipes!). They got rave reviews from my family.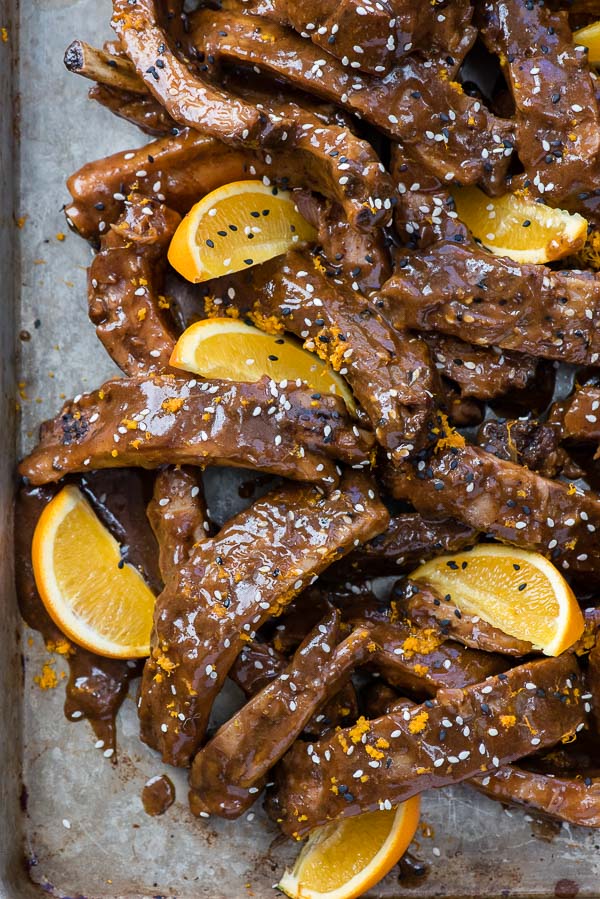 More Recipes You'll Love!
Did you make it? Please RATE THE RECIPE below!
Please
SUBSCRIBE
and
FOLLOW ME
on
FACEBOOK
,
TWITTER
,
INSTAGRAM
and
PINTEREST
!