Peanut Butter Frosting is fluffy, creamy and smooth buttercream just begging to be piped (or spread) onto cupcakes! The delicious nutty flavor is perfect on cupcakes, layer cakes, or even to make store-bought baked good extra special.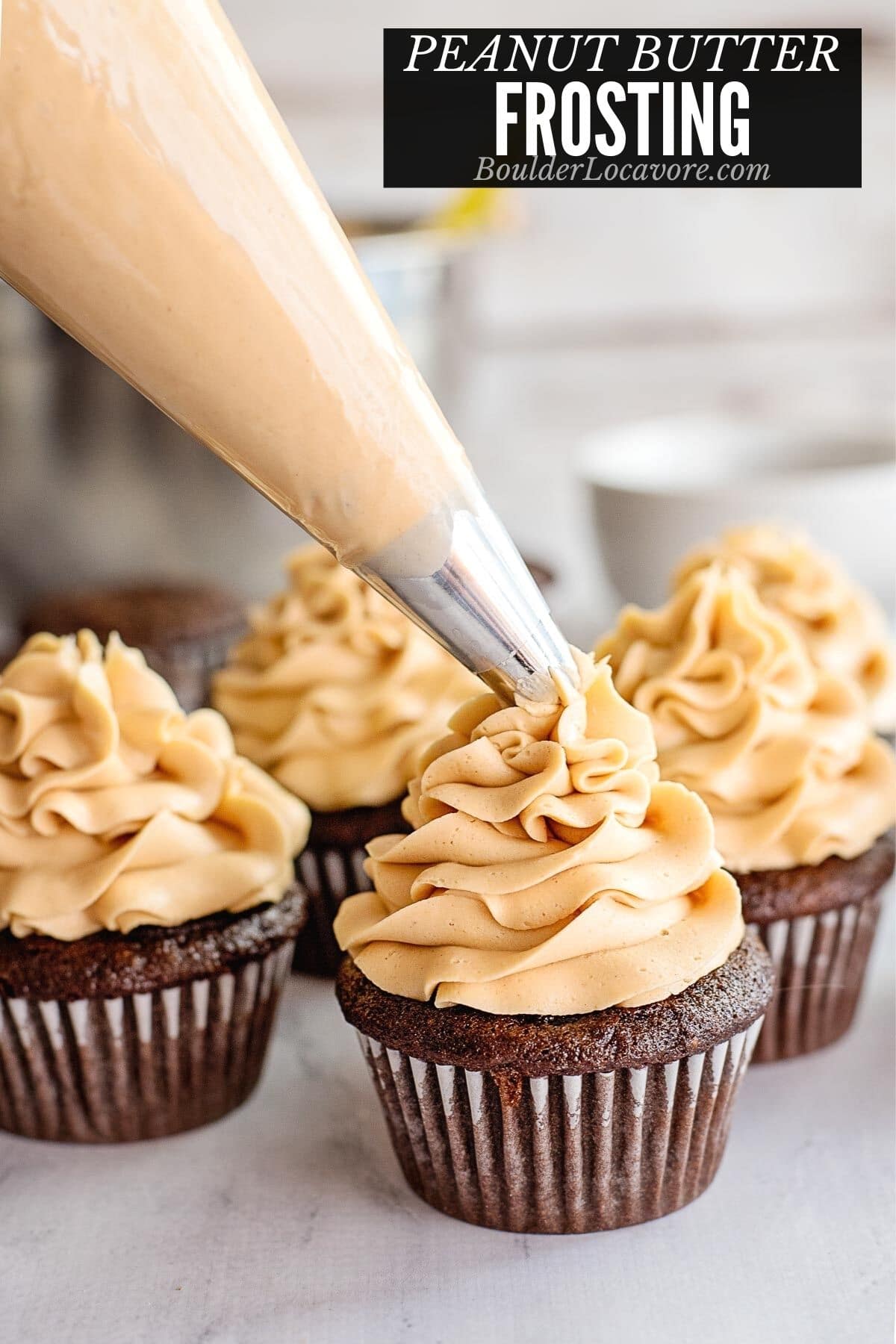 This is the only peanut butter icing recipe you'll ever need.
The idea of a peanut butter frosting may be a surprise but after one taste you'll be looking for ways to use it!
The perfect place to start is our Chocolate Peanut Butter cupcakes (with a surprise inside)!
We have several suggestions shared below too.
Quick & Easy Peanut Butter Frosting
We all know a great frosting can make even the most ordinary cake or cupcake extraordinary.
And for peanut butter lovers, it doesn't get any better than this easy peanut butter buttercream recipe.
It's especially good paired with all things chocolate!
Incredibly fluffy with the perfect creamy peanut butter flavor.
The salt from the peanut butter adds the ideal balance to the sweet frosting.
This peanut butter icing comes together in minutes–AND you can make enough to freeze for later!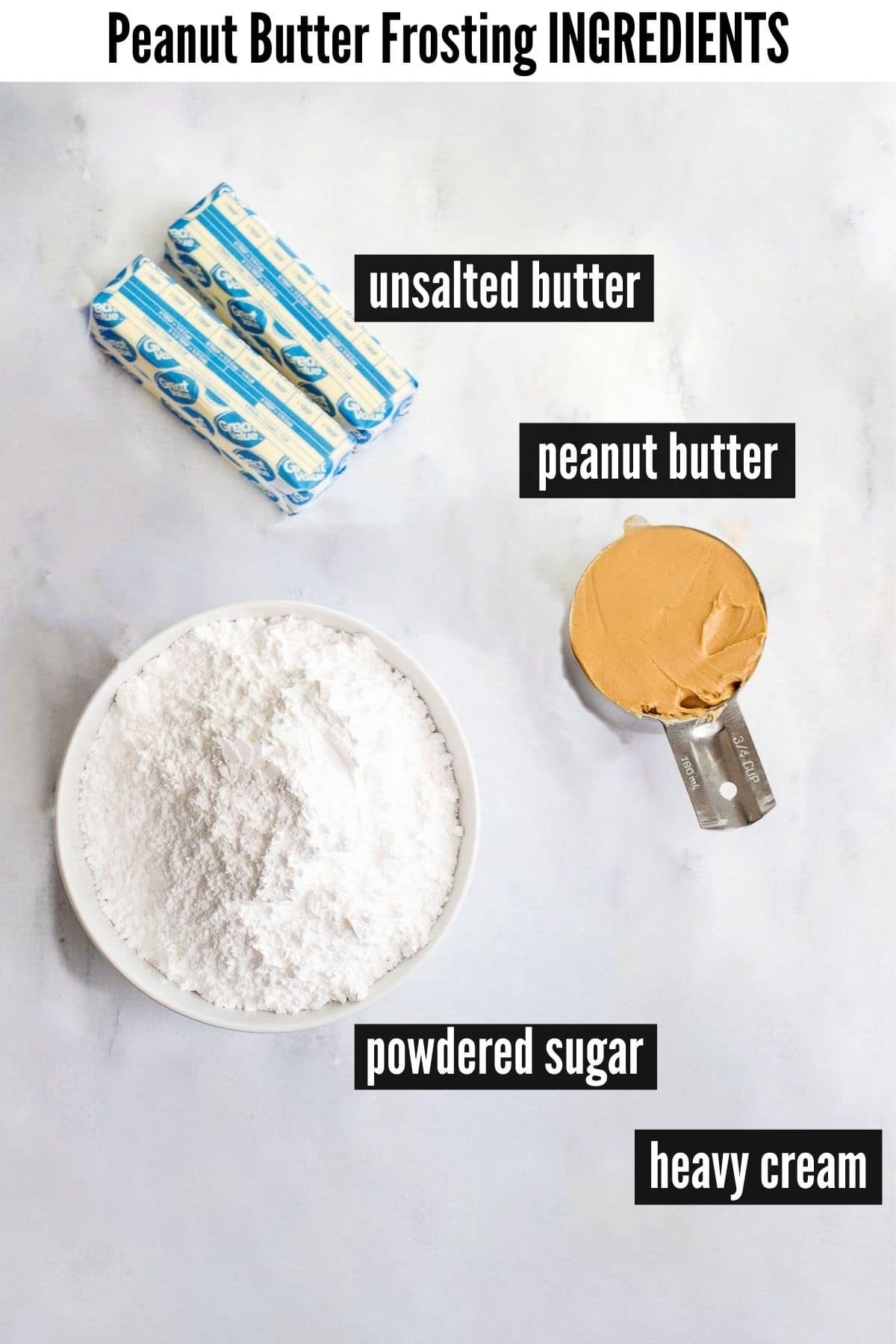 Recipe Ingredients + Notes
You only need 4 ingredients to make this peanut butter frosting recipe:
Unsalted butter. Bring butter to room temperature before using.
Creamy peanut butter. Use a unrefridgerated shelf-stable "regular" peanut butter for best results (think Jif, Peter Pan, Skippy).
Natural peanut butter has oils that will separate from the frosting, changing the texture.
Chilled peanut butter is stiff and will not mix well to make the frosting.
Powdered sugar. Also called 'confectioner's sugar' this is the type of sugar needed to make classic buttercream frostings.
Heavy whipping cream. This is only used to thin the frosting if needed. Use full fat heavy whipping cream.
How much Peanut Butter Frosting does this recipe make?
The volume of this recipe will cover:
16 cupcakes piped as shown in the photos
At least 24-32 cupcakes if spreading the frosting (not piping)
Frosting a 9-inch by 13-inch sheet cake
2 layer cake: would thinly frost between layers and the outside without additional frosting decoration
3 layer 'naked cake': fill between the layers and thinly swipe the outside
For more coverage double the recipe or make at 1.5 volume.
How to Make it – Step-by-Step
How do you makepeanut butter frosting from scratch? It's SO easy (and fast).
Just two steps!
STEP 1. Cream the butter and peanut butter.
Add the room temperature butter to a mixing bowl (photo 1) or the bowl of a stand mixer.
Add the peanut butter (photo 2) and cream together until smooth and fully combined (photo 3).
Use a hand held mixer or stand mixer equipped with the paddle attachment (don't use the whisk attachment).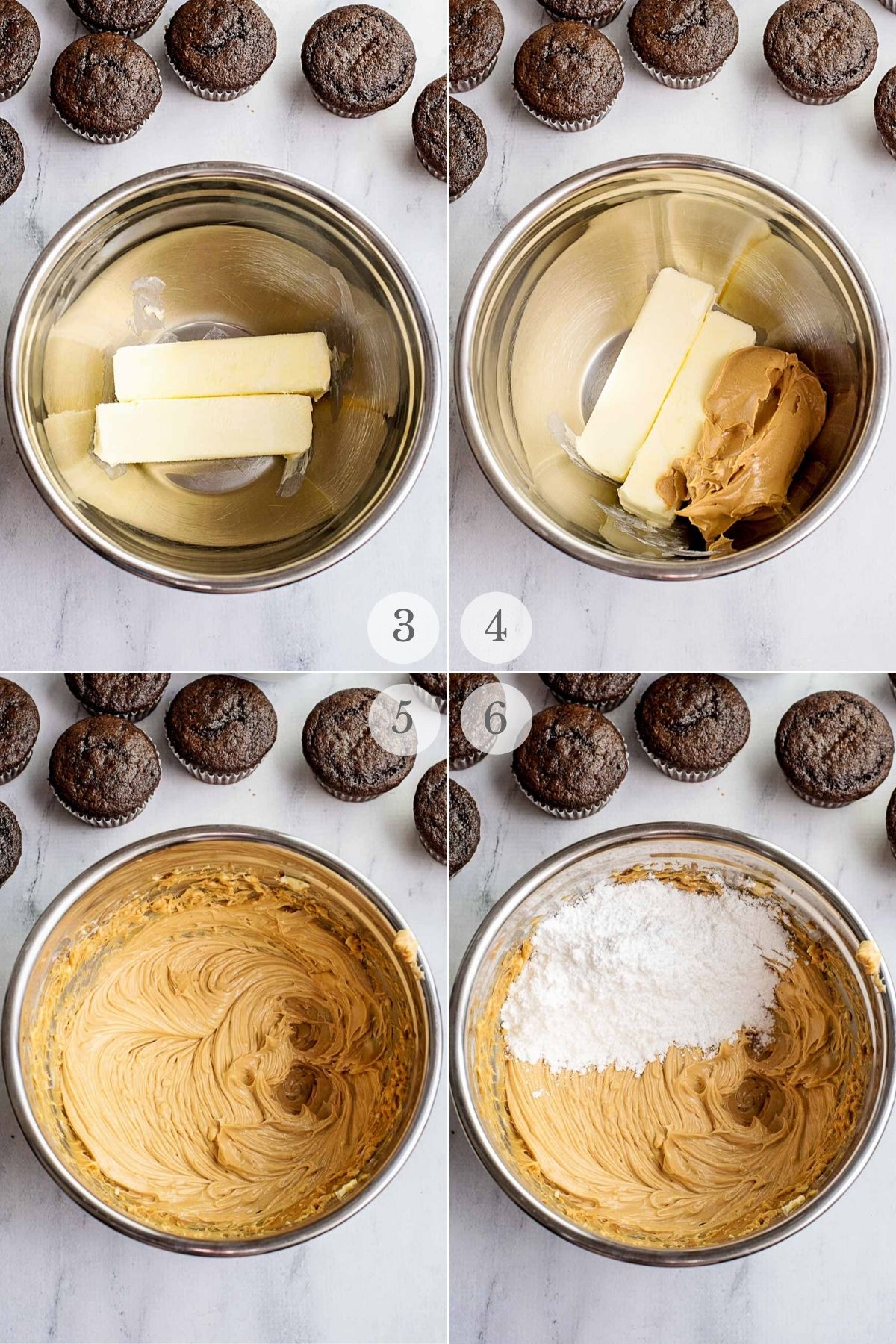 STEP 2. Beat in powdered sugar.
Slowly add the powdered sugar (photo 4) and mix well to completely combine.
How to adjust the frosting thickness
Thinning the frosting
If the frosting is too thick to pipe or spread, beat in the heavy cream one tablespoon at a time.
Continue until the frosting reaches your desired consistency.
One to 2 tablespoons of heavy cream is usually perfect for peanut butter frosting.
The frosting should be thick and fluffy but still easy to pipe and spread.
The type of peanut butter used can effect this so add more or less heavy whipping cream as needed.
Thickening the frosting
To make the frosting stiffer, beat in additional confectioner's sugar a little at a time to reach your desired consistency.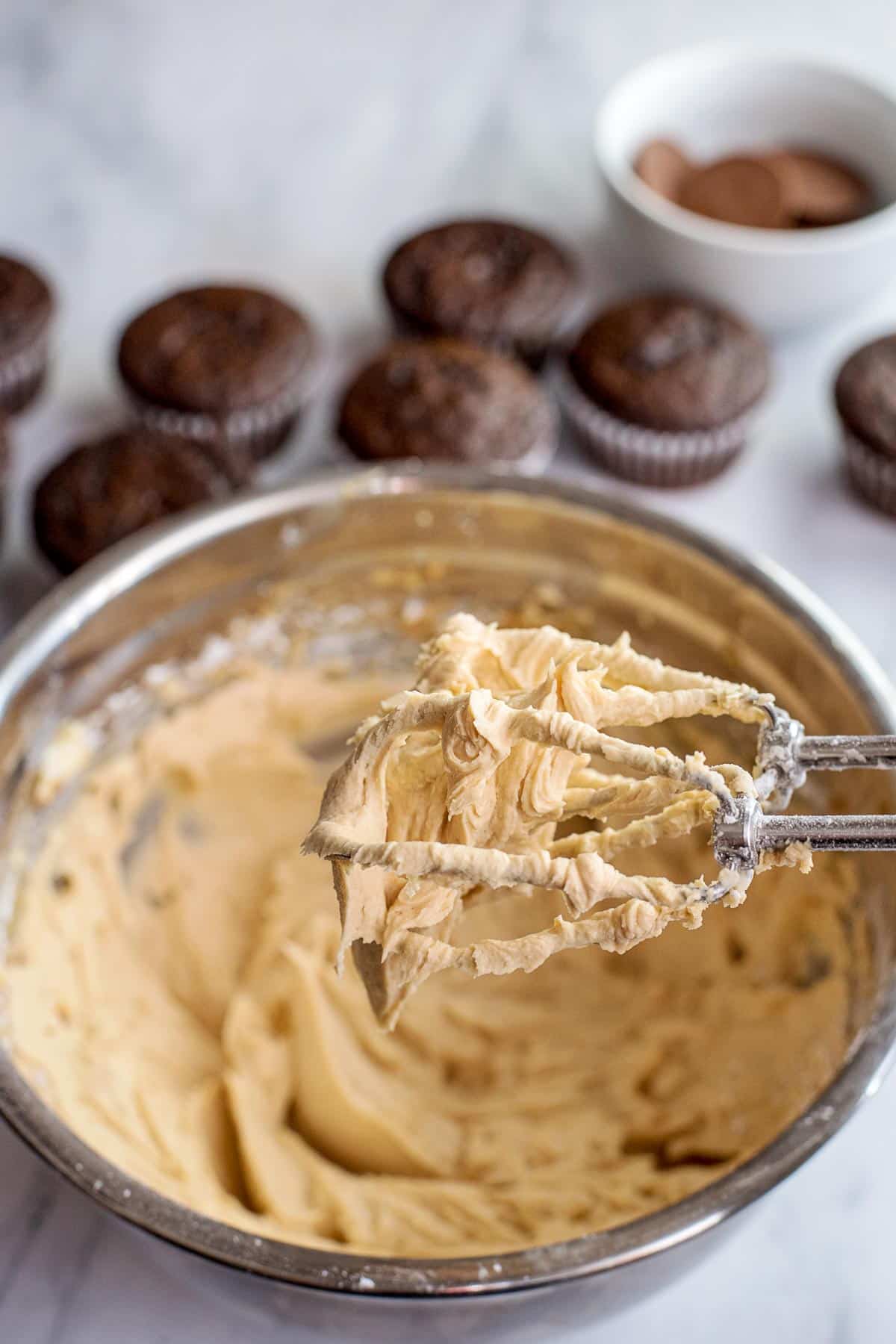 Pro Frosting Piping Tip
The easiest way to load frosting into the piping bag is to put it into a tall drinking glass!
Insert preferred piping tip into a piping bag.
Add the bag, tip down, into a drinking glass. Fold the open end of the bag down over the outside of the glass (photo A).
Fill with frosting.
When filled, remove the bag, squeeze out air, force the frosting down into the tip (photo B) . You are ready to pipe!
Don't have a piping bag? Cut the corner off a plastic zipper top bag, insert the desired piping tip and frost!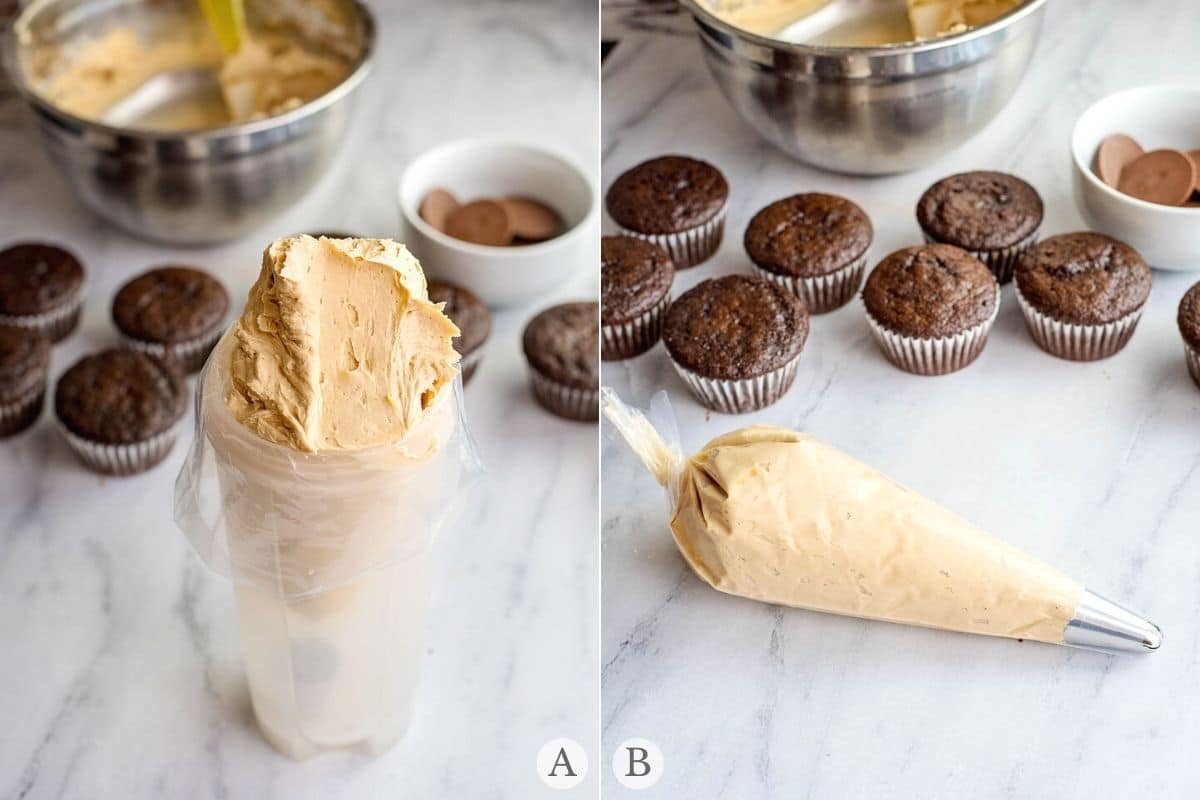 Have leftover frosting? Freeze it for later!
How to Freeze it
Freeze any leftover frosting to use later.
Add it to plastic piping bag with the tip uncut.
Squeeze out any air and tie closed.
When ready to use, thaw, cut the tip of the piping bag.
Insert a tip to a new piping bag, add the frosting piping bag inside the new bag and frost away!
How to Use it
Small portions of frosting are great for:
decorating a cookie cake or a pizookie
a little dollop on a mug cake
a 'cheater move' on store bought cupcakes to dress them up
Making 'gramwiches'. Spread some frosting between graham crackers, put them in the refrigerator to let the frosting harden and enjoy. OR roll the sides in chopped peanuts before putting them in the refrigerator to set!
Recipe FAQs + Pro Tips
Start with room temperature butter and peanut butter. If the butter is not at room temperature lumps will develop in the frosting that are impossible to smooth out. Chilled peanut butter is stiff snd won't blend well.
Use creamy peanut butter. Don't use chunky peanut butter for this recipe.
Do not use natural peanut butter. Separated peanut butter requiring stirring or naturally ground peanut butter can cause the frosting to separate due to the oil content.
Can I make this frosting without an electric mixer?
To achieve the ideal consistency an electric mixer is needed.
Frosting develops a fluffy consistency when air is whipped into it through beating. This is almost impossible to achieve when mixing it by hand especially with a heavier ingredient like peanut butter.
Can I store buttercream frosting at room temperature?
This recipe is made solely with butter, versus a combination of shortening and butter, needs to be kept in the refrigerator.
If it won't be used immediately chill it then allow it to come to room temperature before frosting.
Can I color this frosting?
Technically yes you can. However since it is a brown color certain colors may be difficult to create.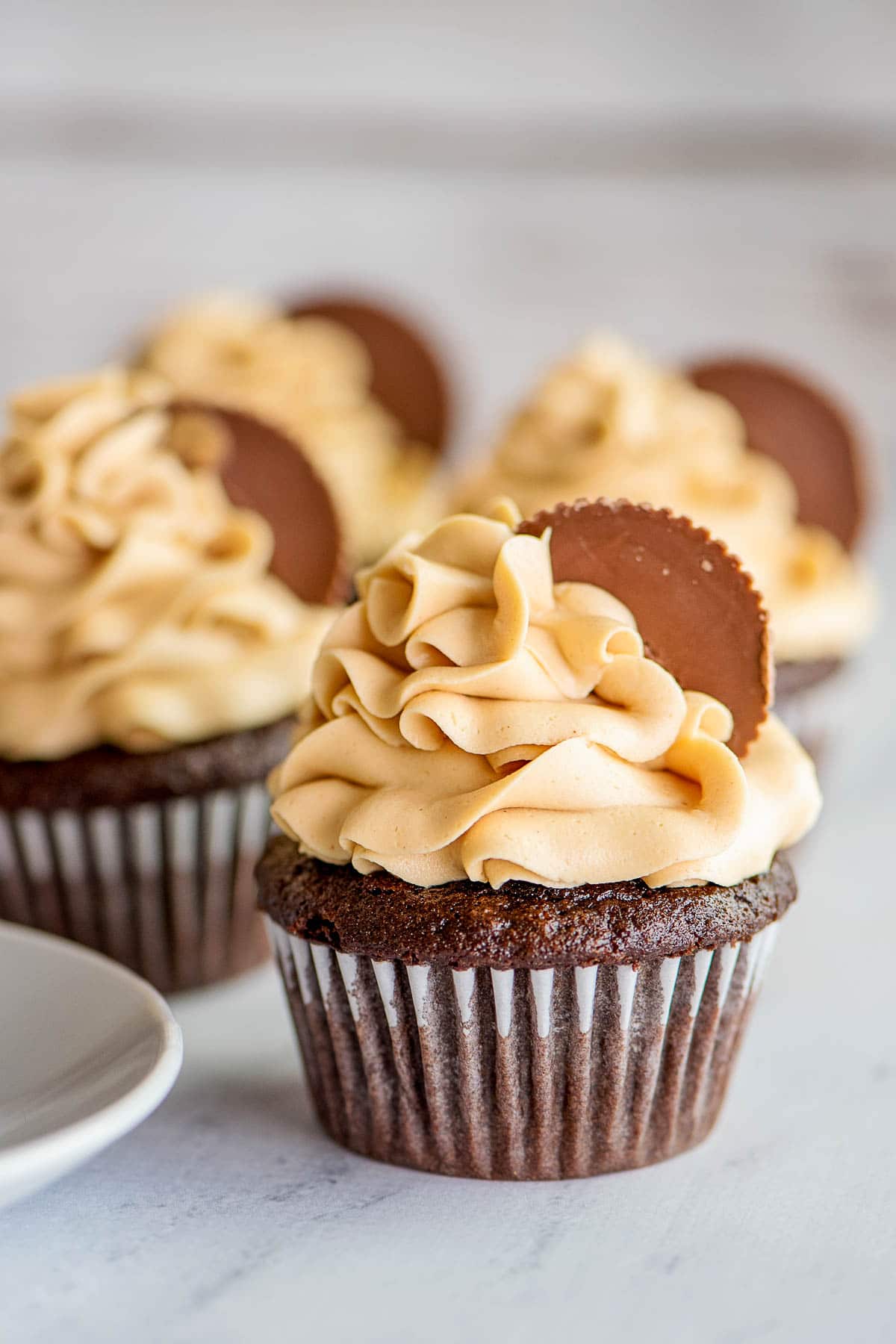 More Recipes You'll Love!
Did you make it? Please RATE THE RECIPE below!
Please SUBSCRIBE and FOLLOW ME on FACEBOOK , TWITTER , INSTAGRAM and PINTEREST !
Every peanut butter lovers will go nuts for this easy classic Peanut Butter Frosting recipe!