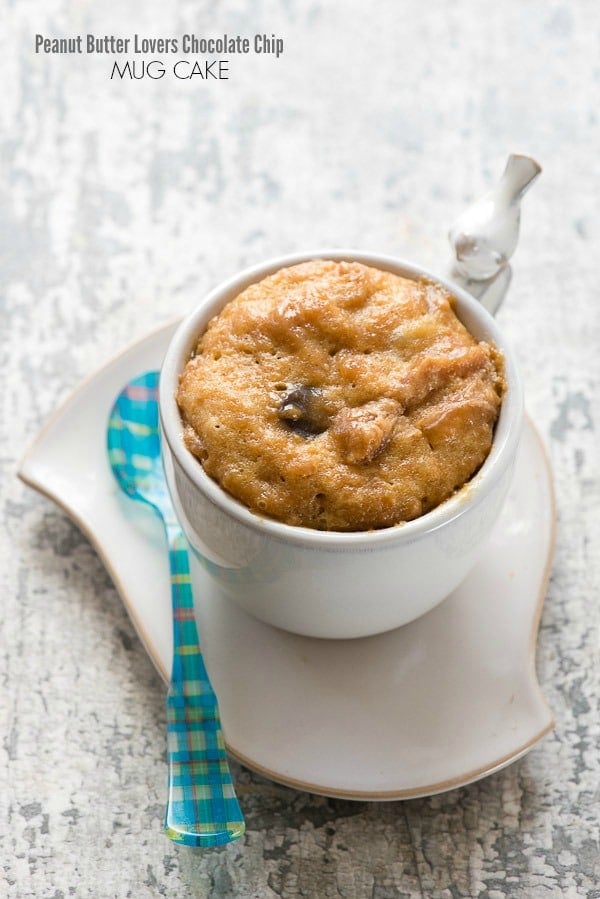 Do you ever find yourself at home after dinner or after work (or school) feeling like you wished you had just a little something sweet?  You don't have anything that will fill the craving in your kitchen and you don't want it badly enough to go to the store?  If you are a peanut butter lover I have a solution for you: Peanut Butter Lovers Chocolate Chip Mug Cake.  It cooks in 1 minute in the microwave and is flourless (so naturally gluten-free)!
Let me back up on this.  A few weeks ago I shared that my husband and senior-in-high-school daughter were off looking at colleges in the Northeast, leaving my 8th grade son and I to have our own staycation at home.  A big theme for him this year has been cooking (which I love for many reasons).  He tends to watch YouTube videos as his inspiration then wants to put his own spin on things he's discovered.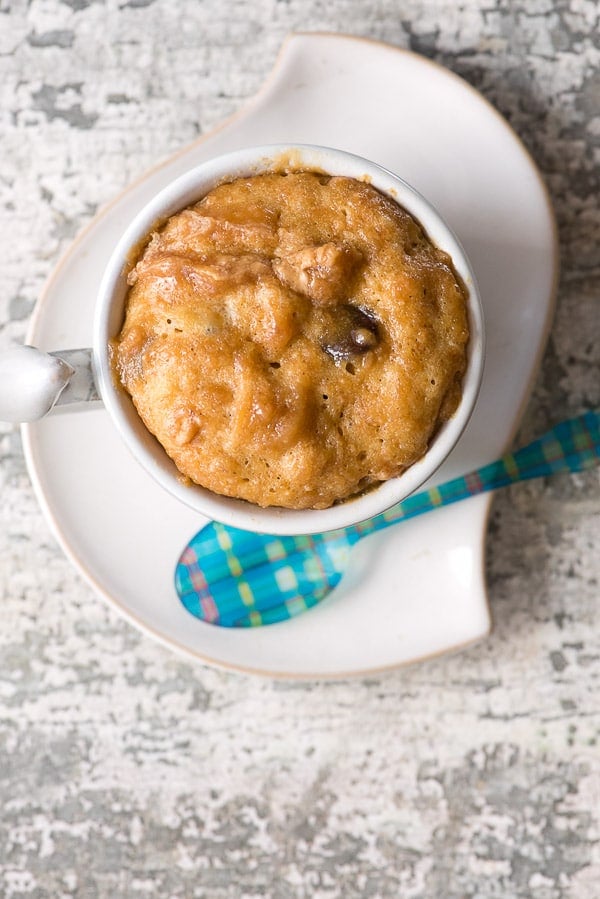 I shared a mention of this in a post about Mexican Cobb Salad and several readers contacted me hoping I'd share his version of a gluten-free mug cake I had cited on the list of his concoctions during our week.  It's funny to me as I too was interested in making a mug cake last fall after seeing them all over Pinterest.  If you aren't familiar with them, they are literally tiny cakes made in coffee mugs cooked in the microwave.  Perfect for one person.
My research did not turn up very many gluten-free ideas and most of the gluten options required self-rising flour.  I thought to experiment with making a gluten-free version of that and checked in with a blogger friend who also does gluten-free recipes who gave me the big thumbs down, having tried to make a GF version herself with disappointing results.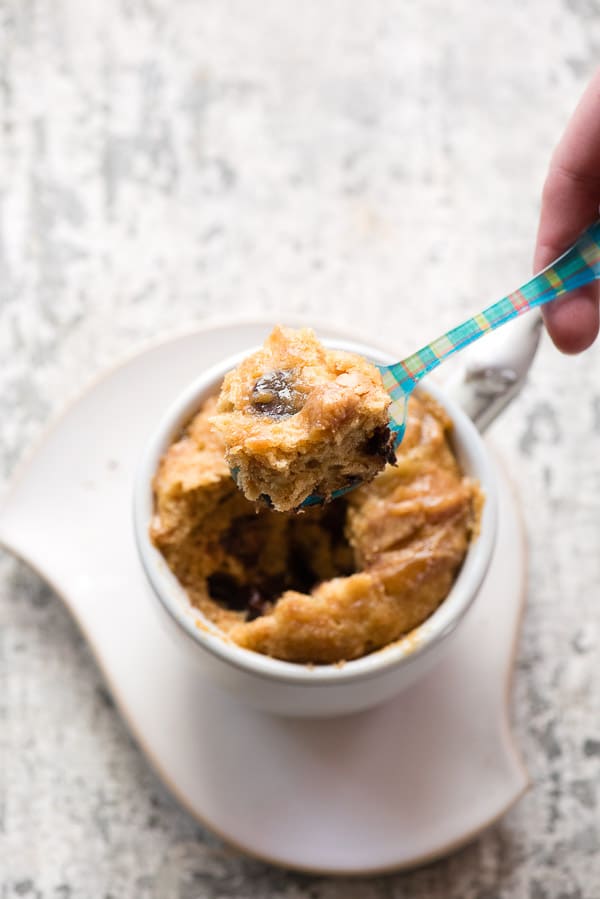 My son surprised me one evening by delivering peanut butter mug cakes while we were watching countless hours of the Olympics one night.  I was delighted, both that he's forged into yet another new cooking territory, and that the mug cake was really REALLY good!  And flourless!  Making it naturally gluten-free.
His original version was pure peanut butter.  I have been a peanut butter lover since my childhood.  Like 'if you could only take one food with you onto a deserted island what would it be' peanut butter lover.  The little cake was very rich and, well, peanut buttery.  I decided to add some chocolate chips (which by the way would probably be my second ingredient if allowed on the deserted island) and it was perfection.  Well balanced, rich, satisfying and it takes 1 minute to cook.  Seriously.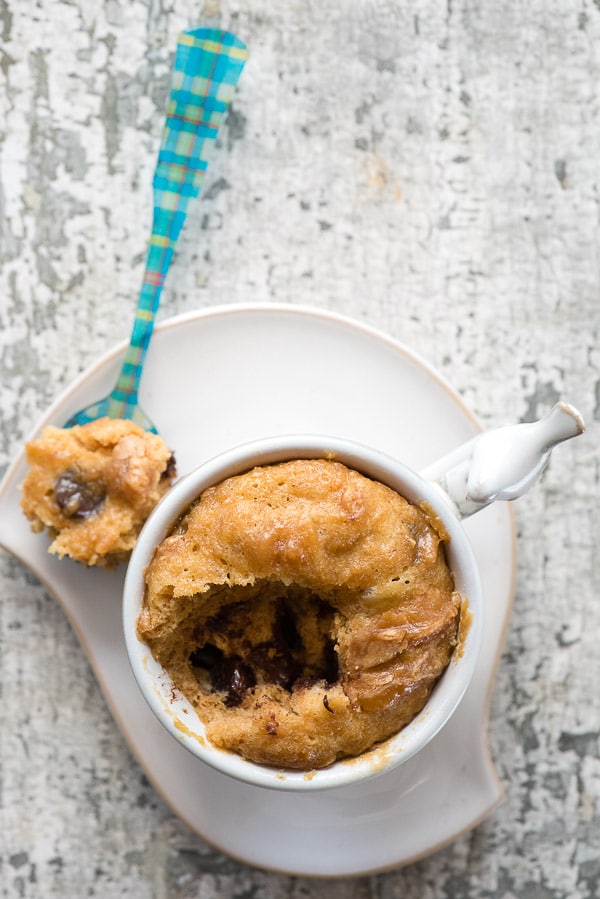 When I was getting ready to make it for photos for this post, I had selected a smaller cute mug.  My son looked over his shoulder into the kitchen from where he was sitting at his laptop and said 'that's too small, it will totally explode all over'.  Being the expert I considered his input, but really wanting to use this mug I forged ahead feeling the worst that would happen would be cleaning the inside of my microwave and starting over.
I watched with baited breath (where did that phrase originate anyway?) as the cake began to rise above the rim of the mug at 26 seconds.  It continued to rise to about 1 inch over the rim, and intuitively still at his laptop out of view of the kitchen my son called out 'don't worry if the cake gets really big, it will settle down after it has cooked'.  I was counting the seconds hoping for no overflow and it was done!  Perfectly puffed over the top of the rim of the mug and the ideal size in my book.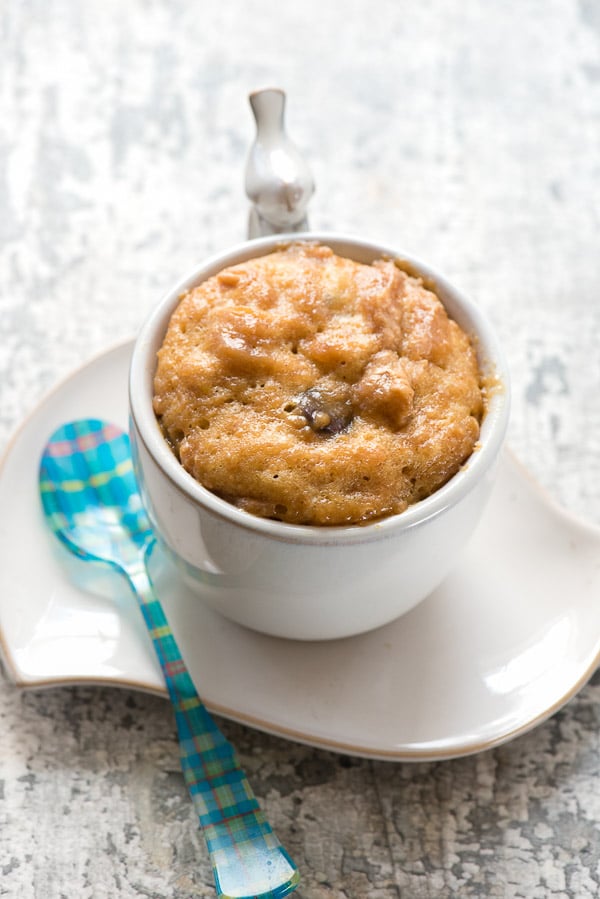 Any size mug can be used for the recipe however I used an 8-ounce (liquid/volume) mug to allow the cake to peek over the top.  I am simply amazed at the chemistry of all this.  One egg, peanut butter, sugar and chocolate chips somehow, miraculously, turn from a soup batter into a cakey treat in 1 minute.  In a microwave.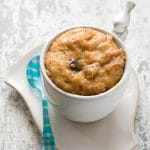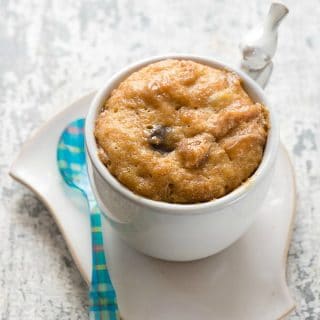 Peanut Butter Lovers Chocolate Chip Mug Cake (gluten-free)
You've never prepared an easier dessert! A quick stir and it cooks into a cakey confection in 1 minute of microwaving! The mug will be hot so handle carefully.
Ingredients
1

Egg

, whisked to completely blend

3

tablespoons

Smooth Peanut Butter

1

tablespoon

plus 1 teaspoon Granulated Sugar

1 1/2

tablespoons

Dark Chocolate Chips
Instructions
In a small mixing bowl combine the whisked egg, peanut butter and chocolate. Using a fork, mix the ingredients to fully combine. Stir in the chocolate chips.

Spoon the batter into a 8-ounce (volume/liquid) mug or larger. Place in the microwave and cook on high for 1 minute. Allow to cool slightly before eating. Note: the mug will be very hot, take care when handling it.