Instant Pot Baked Beans are loaded with bacon in a sweet-tangy sauce you'll love! Skip the cans and make your own baked beans from scratch in no time–no soaking required.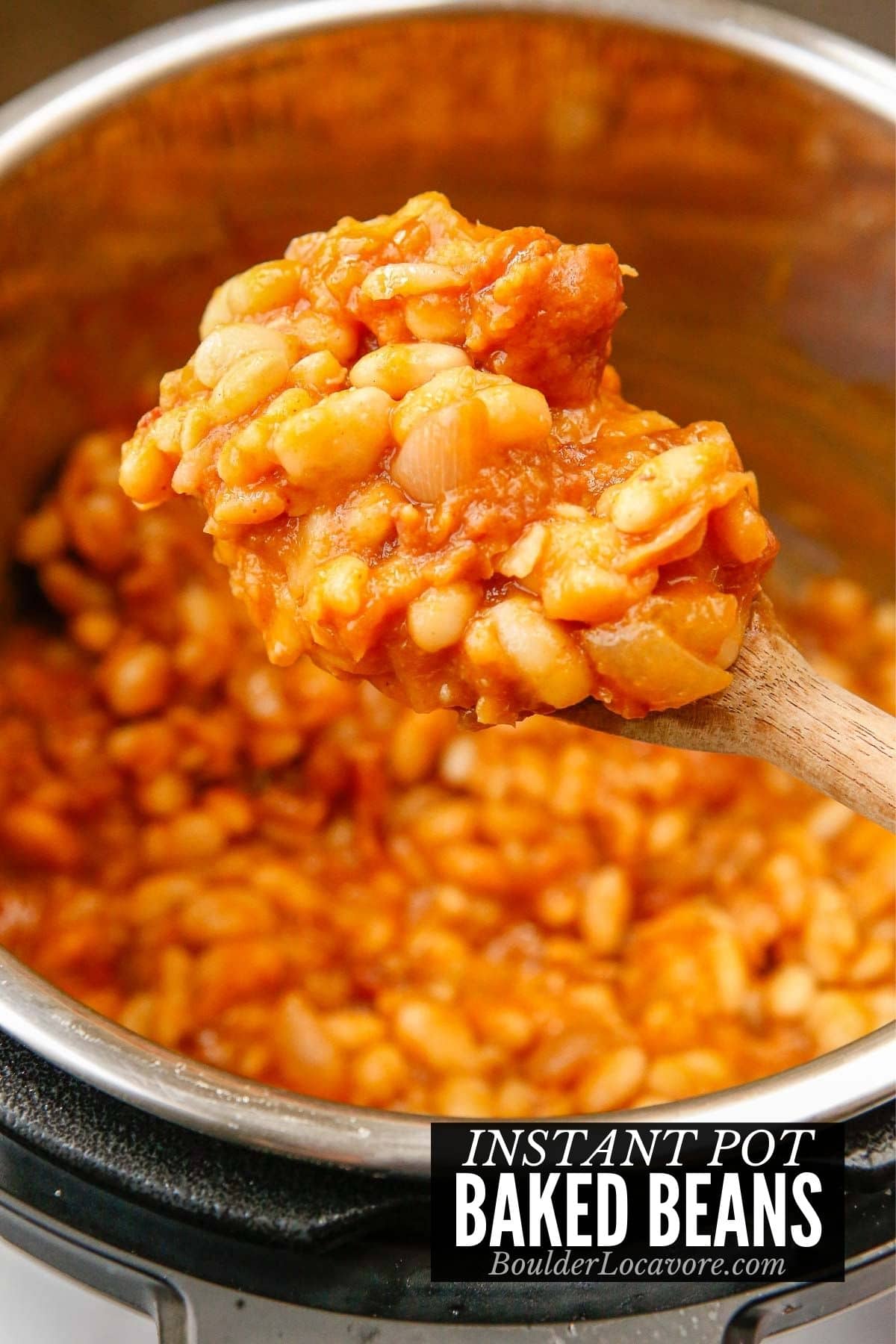 No barbecue or potluck is complete without a pot of baked beans. Sweet and tangy with a hint of smokiness, they pair well with countless main dishes.
Ladle them onto your plate alongside BBQ Chicken or Pulled Pork or enjoy them all on their own.
This baked beans recipe blows canned beans out of the water! You'll love the bits of bacon, the molasses aroma and the amazing sauce.
Lately, I've been been making batches of Baked Beans to add to my BBQ Pulled Pork Totchos. They're an ideal complement to those cheesy tater tot nachos.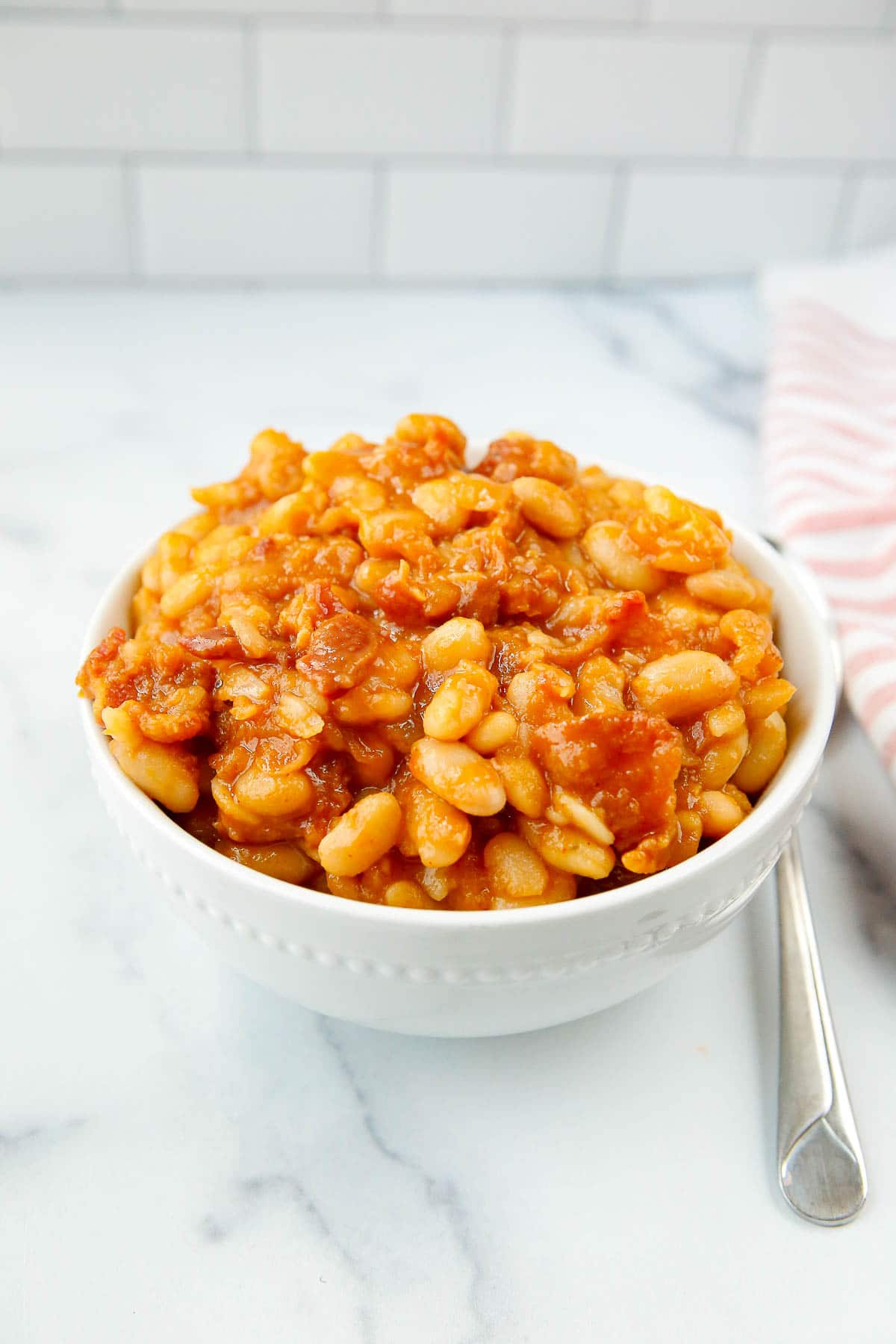 This is that recipe you just can't stop eating. Perfect texture plump white beans. Sweet and tangy sauce with loads of salty bacon.
This recipe calls for dried white beans. But no worries! There is no soaking required.
Unlike stove top cooking methods, the Instant Pot takes care of all cooking the beans all in one go.
Since dried beans are more cost effective to cook with than canned ones (and taste better) this recipe is a win!
Even better? The beans require no monitoring during cooking. Fire up your pressure cooker and let it do the work for you.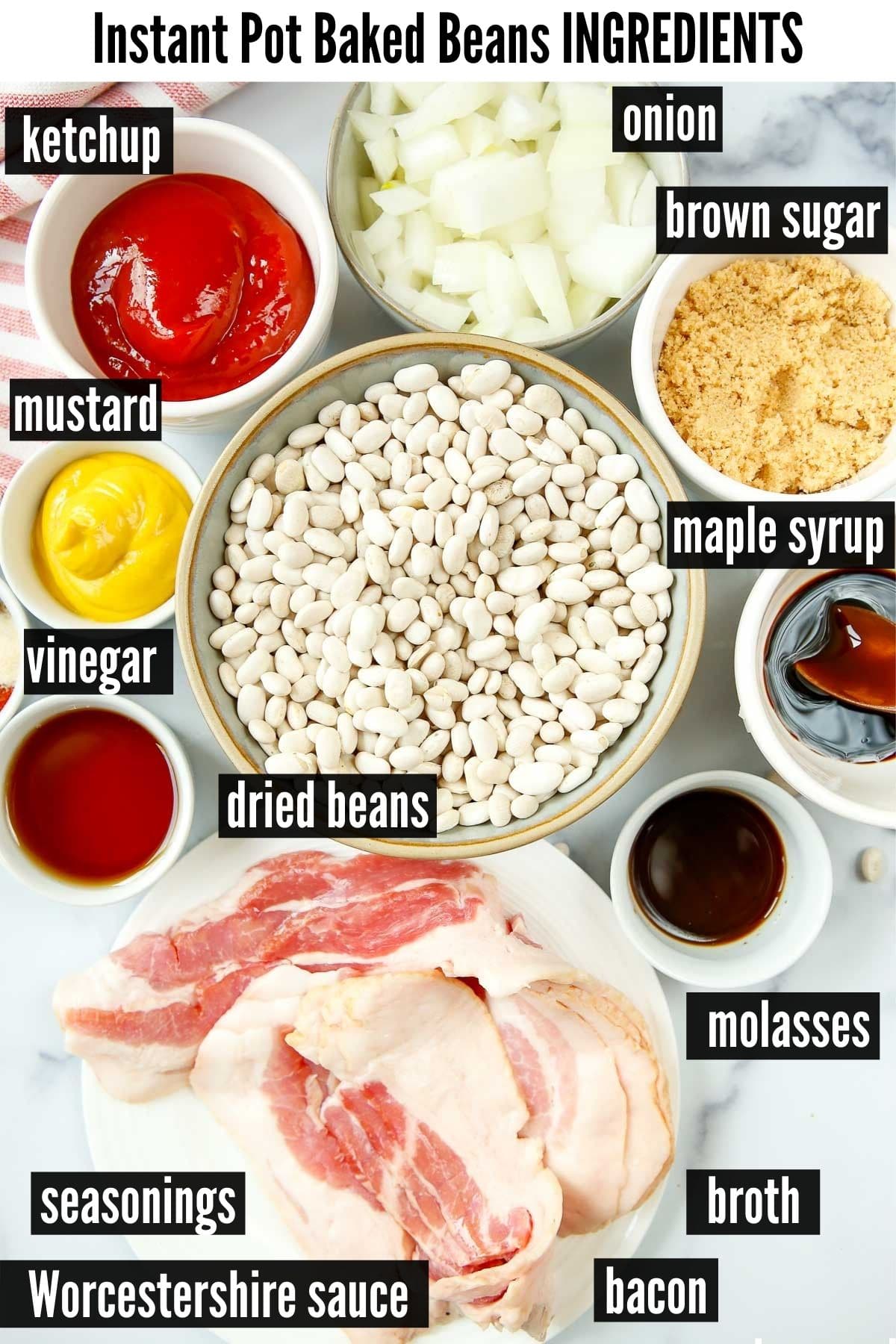 Recipe Ingredients + Notes
Dried Beans. Use dried great northern beans or white navy beans.
Bacon. You'll need 8 – 10 slices of thick cut uncooked bacon.
Yellow onion. Sautéed in the Instant Pot adding great flavor to the beans.
Ketchup. Adds a sweet tomato flavor to the sauce.
Brown sugar, maple syrup, molasses. These ingredients add the sweetness to the baked beans. Be sure to use pure maple syrup. Do NOT use 'pancake syrup'!
Chicken broth. Use low sodium broth or stock.
Apple cider vinegar and yellow mustard. These add the wonderful tangy flavors.
Worcestershire sauce. Adds a savory and sweet tang to the sauce.
Garlic powder. Delivers some garlic flavor without needing to sauté fresh garlic.
Salt and pepper. Added to taste.
Variations
Substituting canned beans. You can swap canned white beans for the dried if preferred. Just skip the pressure cooking step and skip to step 4. Follow the rest of the steps as directed.
Turkey bacon. Substitute turkey bacon for the pork bacon in your baked beans. The flavor will be slightly different but still delicious!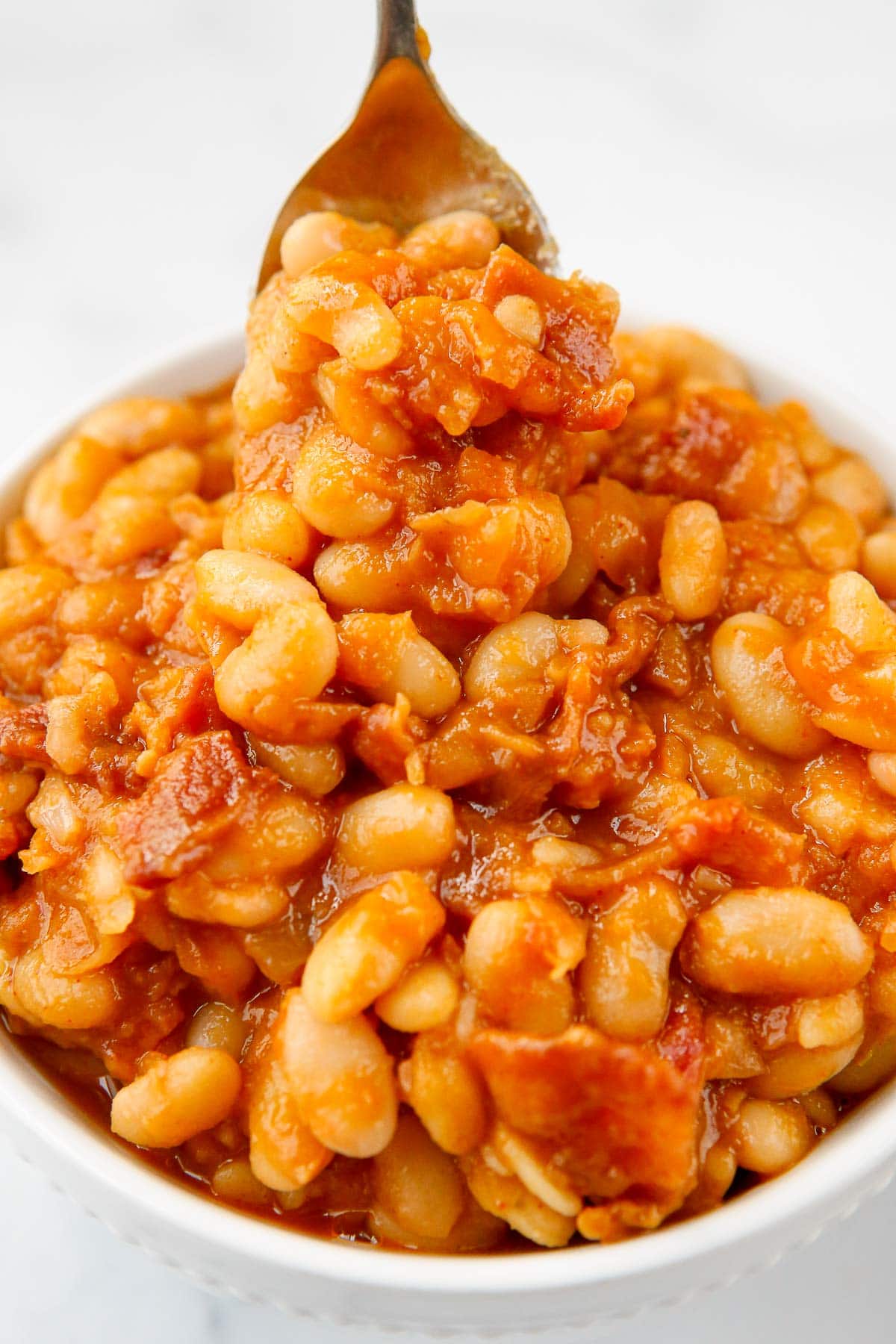 How to Make It – Step-by-Step
STEP 1. Sort and rinse the beans
Pick over dried beans to remove any foreign objects like sticks or pebbles. Rinse and drain them well.
STEP 2. Pressure cook
Put the beans in the Instant Pot (photo 1). Cover them with salt and water. Secure the lid and cook on manual HIGH PRESSURE for 35 minutes.
STEP 3. Drain
When cooking time ends, let the instant pot naturally release the steam, then open the lid (photo 2). Transfer the cooked beans to a colander and rinse with cold water.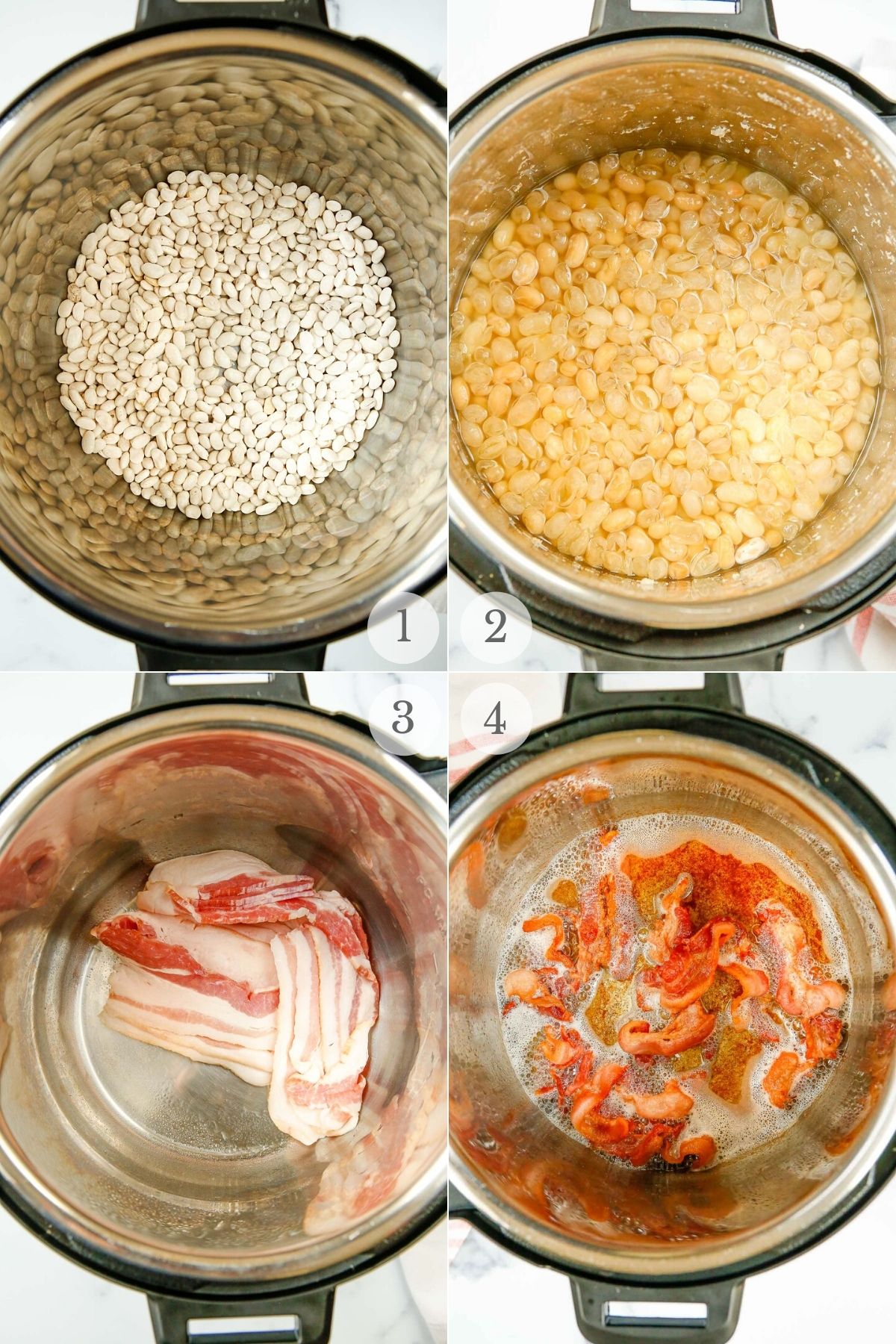 STEP 4. Cook the bacon
Meanwhile, cook the bacon in the bottom of your Instant Pot on the SAUTE setting (photo 3 and photo 4). Transfer cooked bacon to paper towels to drain.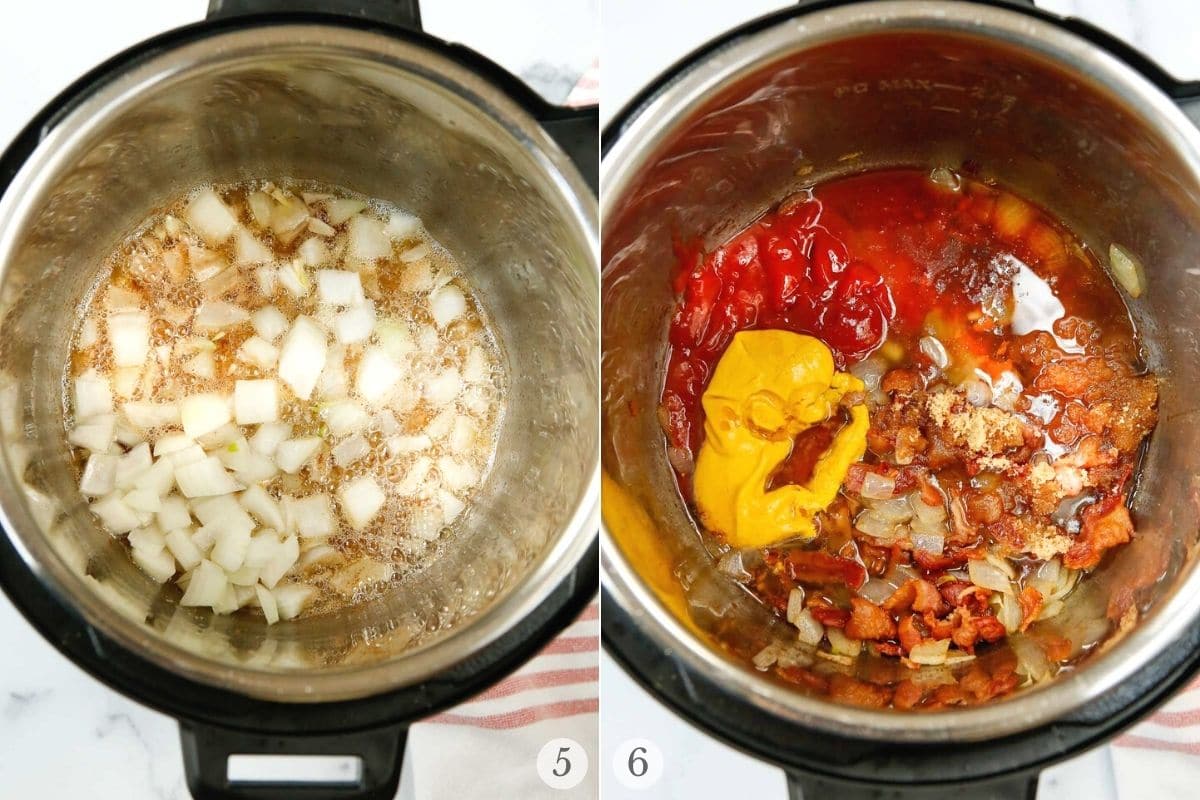 STEP 5. Cook the onions and deglaze
Add diced onions to the reserved bacon grease in the Instant Pot. Let them sit for a moment before stirring to release moisture.
Then use a wooden spoon to scrape off any burned bits of bacon stuck to the bottom of the instant pot.
Cook the onions until softened (photo 5).
STEP 6. Pressure cook again
Cut the bacon into pieces. Add it back to the pot with the remaining sauce ingredients (photo 6) and stir (photo 7).
Transfer the beans back to the Instant Pot (photo 8). Cook on HIGH PRESSURE for 8 minutes.
Do a quick release at the end of cooking time and open the lid (photo 9). Season with salt and pepper to taste.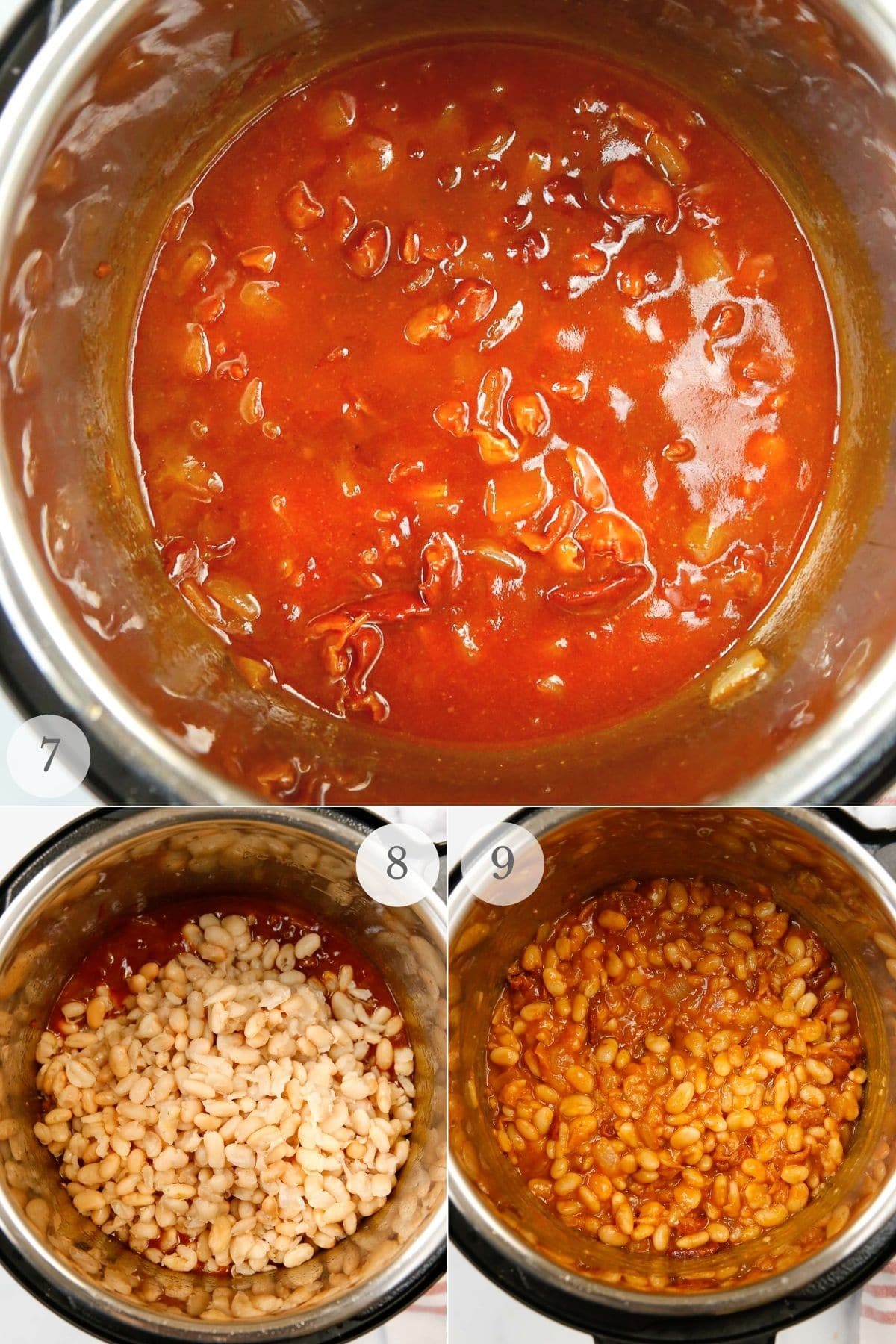 Recipe FAQs + Pro Tips
What size Instant Pot do I need to make Baked Beans?
I tested this recipe using a 6 quart Instant Pot. The proportions would need to be adjusted to work in different sized pressure cookers.
What kind of beans are best for baked beans?
Great Northern Beans are best for classic baked beans. They're sturdy enough to hold up to the thick sauce with a firm bite and tender inside.
If you can't find Great Northern Beans, white Navy beans make a great substitute.
Can I make this recipe with canned beans instead?
Yes, you can substitute canned beans for the dried. Omit the 35 minutes of pressure cooking and skip to step 4 of the recipe.
Add canned beans to the pot along with the other sauce ingredients.
Can baked beans be made vegetarian?
Yes, baked beans can be made vegetarian if you omit the bacon. However, you will lose that delicious smoky flavor!
Do I have to soak the dried beans before cooking them?
No, you don't have to soak them when you use this Instant Pot recipe! The high pressure of the Instant Pot cooks them perfectly, no pre-soaking required.
Storing Leftovers
Keep leftover baked beans in an airtight container in the refrigerator. Reheat in the microwave or on the stove top. Enjoy within 3 – 4 days.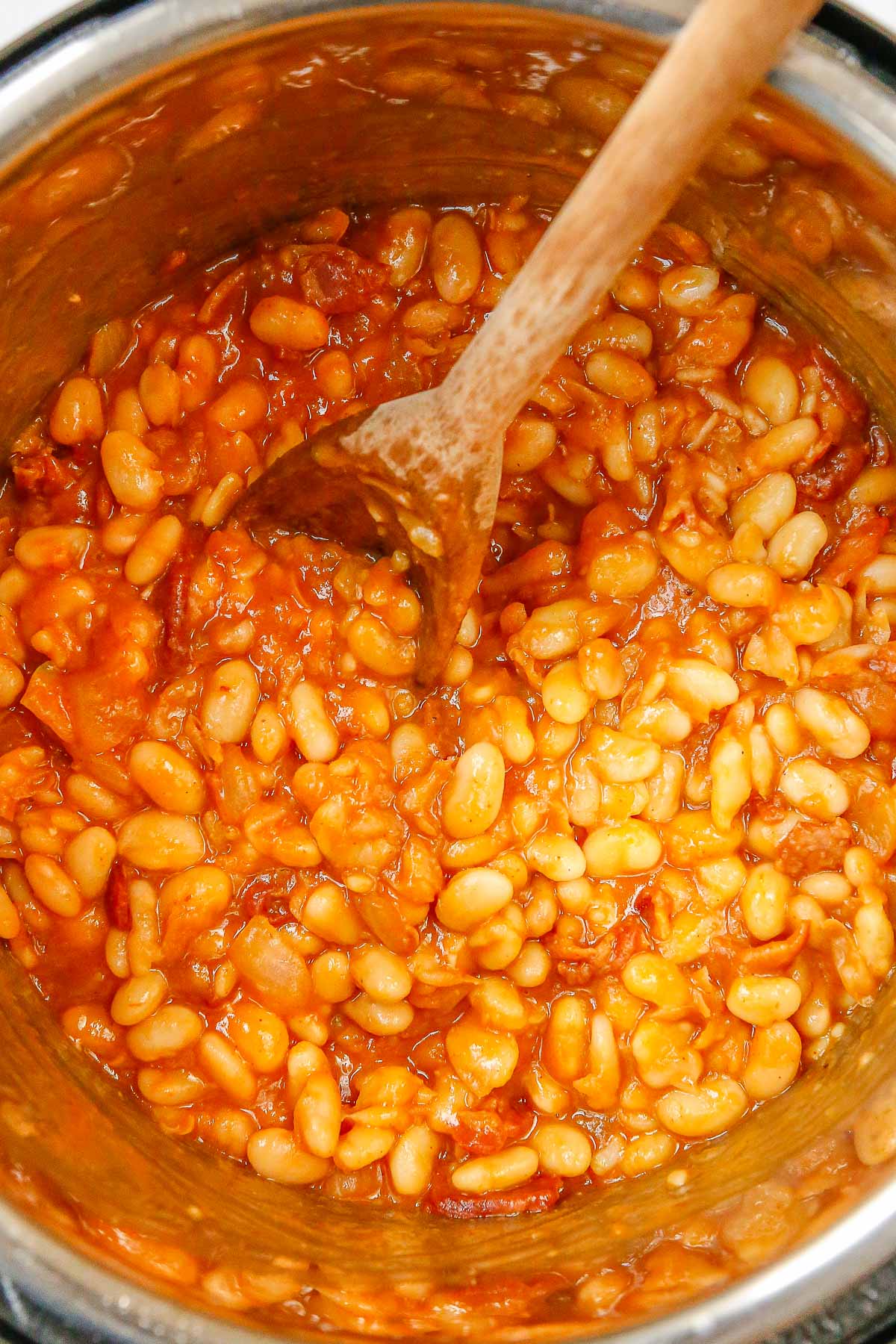 More Recipes You'll Love!
Did you make it? Please RATE THE RECIPE below!
Please SUBSCRIBE and FOLLOW ME on FACEBOOK , TWITTER , INSTAGRAM and PINTEREST !