Peanut Butter Chocolate Cupcakes combine rich chocolate cupcakes with creamy peanut butter frosting for a match made in heaven! These stuffed cupcakes also have fun surprise baked inside each one!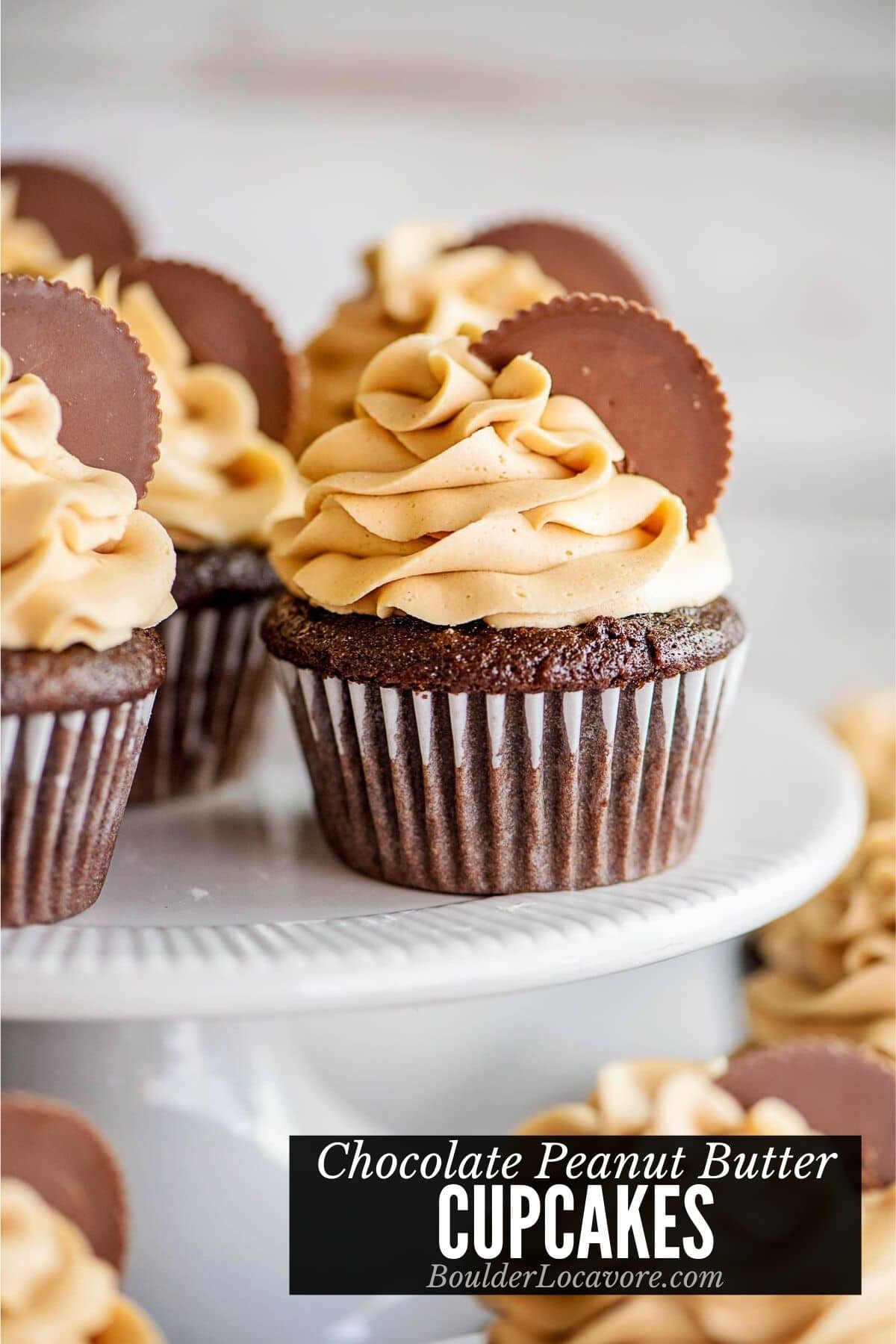 If you love the chocolate and peanut butter combo, you'll be in heaven with these cupcakes.
A perfect combination of rich chocolatey cupcakes, peanut butter buttercream frosting and a favorite surprise inside.
Stuffed Chocolate Cupcakes with Peanut Butter Frosting
Like the best things in life, these stuffed cupcakes are full of surprises. A whole Reese's peanut butter cup inside each one!
The chocolate cupcakes themselves are rich in flavor with a light and airy texture.
They are made complete with homemade peanut butter frosting.
If these cupcakes sound dreamy to you, you also need to add this Peanut Butter Chocolate Mug Cake recipe to your list too.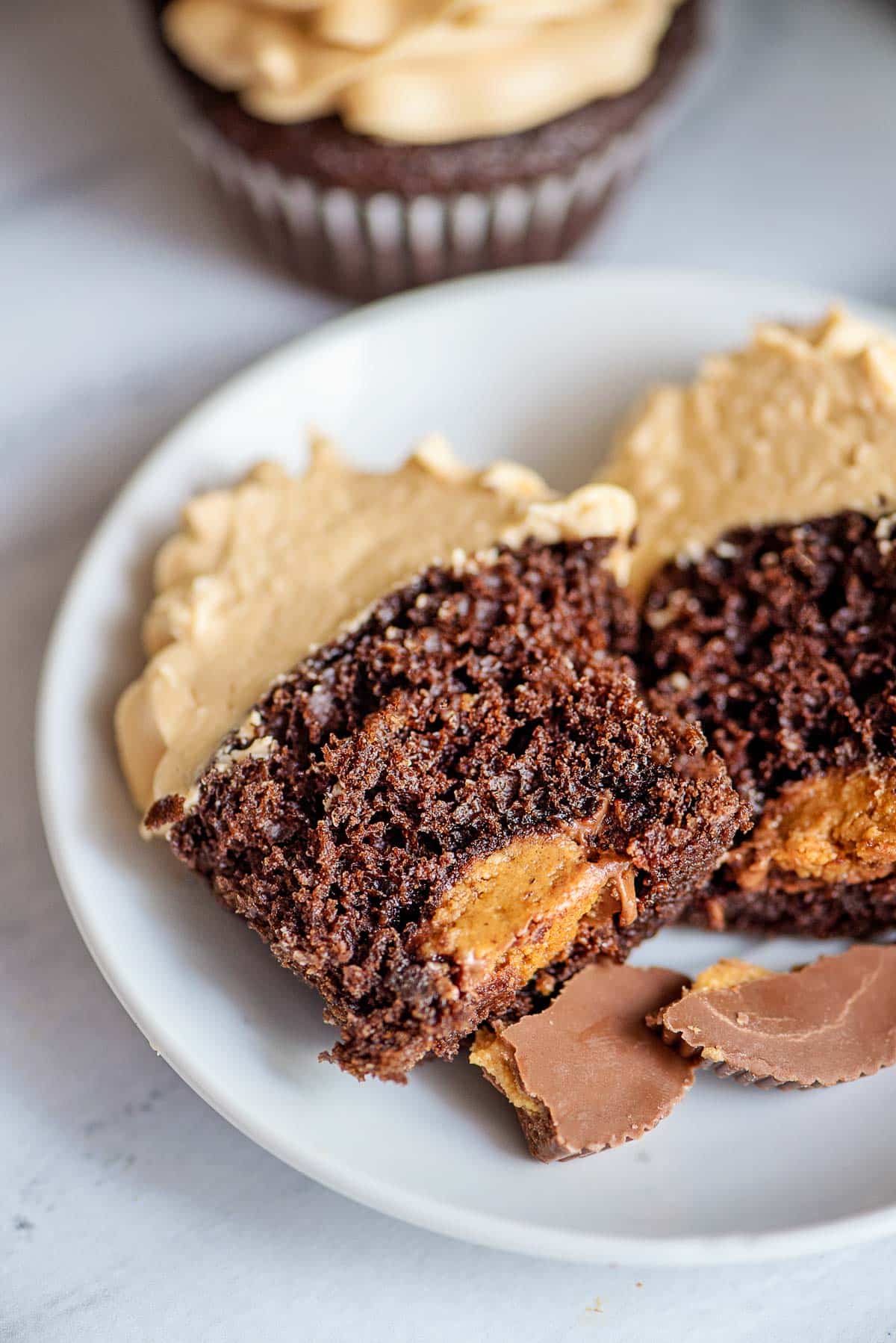 Recipe Notes + Ingredients
Unsweetened cocoa powder. This gives a rich chocolate flavor to the cupcakes.
All Purpose Flour. Use regular or gluten-free measure-for-measure flour blend.
Salt. We prefer kosher salt which has better flavor and is less salty tasting.
Baking soda. The rising agent for the cupcakes.
Buttermilk. When combined with baking soda it gives a little tang to the chocolate flavor. It also makes baked good soft and tender.
For a homemade buttermilk substitute see "Variations" below.
Vegetable oil. Adds needed fat and moisture.
Egg. Binds ingredients and adds structure for proper rising.
Granulated sugar. Gives the sweetness to the cupcakes.
Vanilla extract. Adds a homey flavor and richness to the chocolate flavor.
Brewed coffee. Brew a little extra in your morning pot to use in the chocolate cupcakes. The coffee can be hot, cold or room temperature. Make sure it is black and unsweetened.
Peanut butter cups. Regular size or miniature cups will work.
Peanut butter frosting. You'll need a batch of our homemade peanut butter frosting to complete the cupcakes.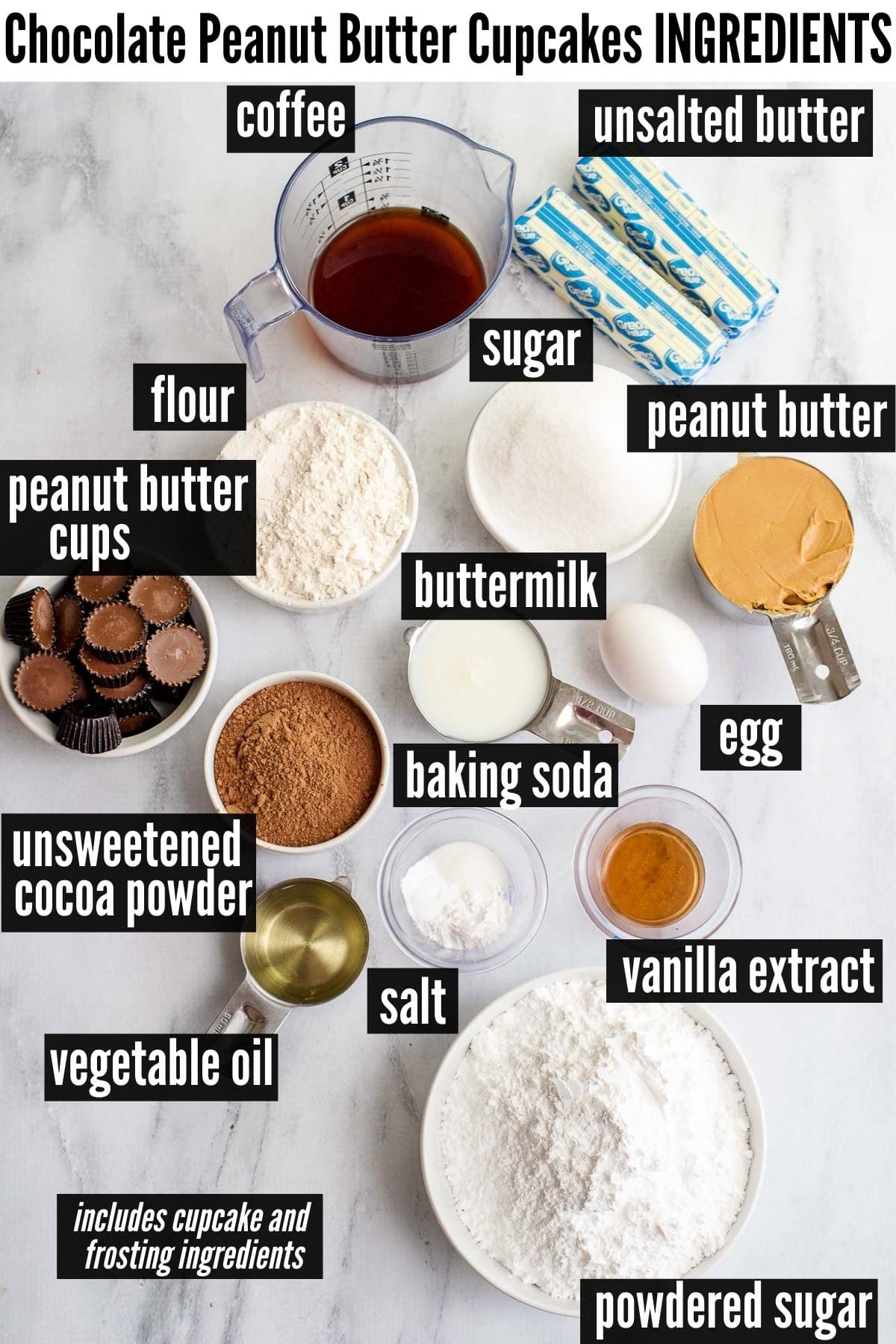 Variations
Buttermilk substitute: Make your own "buttermilk" at home by adding 2 teaspoons vinegar or lemon juice to 1/2 cup of milk. Let the milk sit for 5 to 10 minutes until curdled. Use as directed.
Reese's cup substitutes: Use a different brand or nut free cups if desired. You can also try snicker's peanut butter squares or another similarly sized chocolate candy bar instead of peanut butter cups (though we've only made them ourselves are described).
How to Make it – Step-by-Step
STEP 1. Preparation.
Preheat the oven to 350 degrees F. Line a muffin pan with baking liners.
STEP 2. Make the Chocolate Cupcake Batter.
Sift the dry ingredients for the cupcakes into a large bowl (photo 1).
Whisk until combined, with no clumps remaining (photo 2).
Add the oil, egg, sugar, vanilla and buttermilk (photo 3).
Whisk into the dry ingredients to combine (photo 4). Gradually add in the coffee (photo 5) and mix again to form a thin batter (photo 6).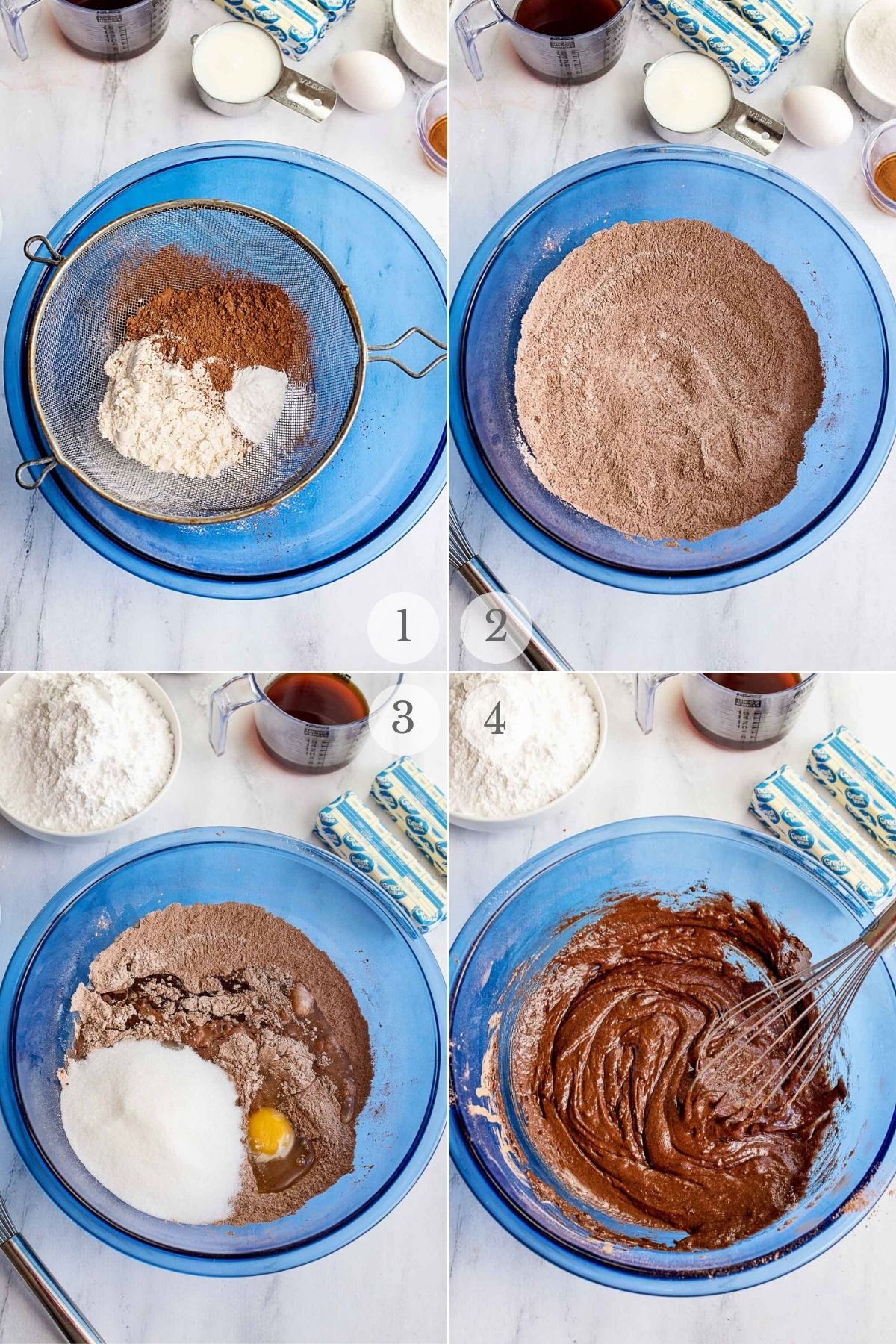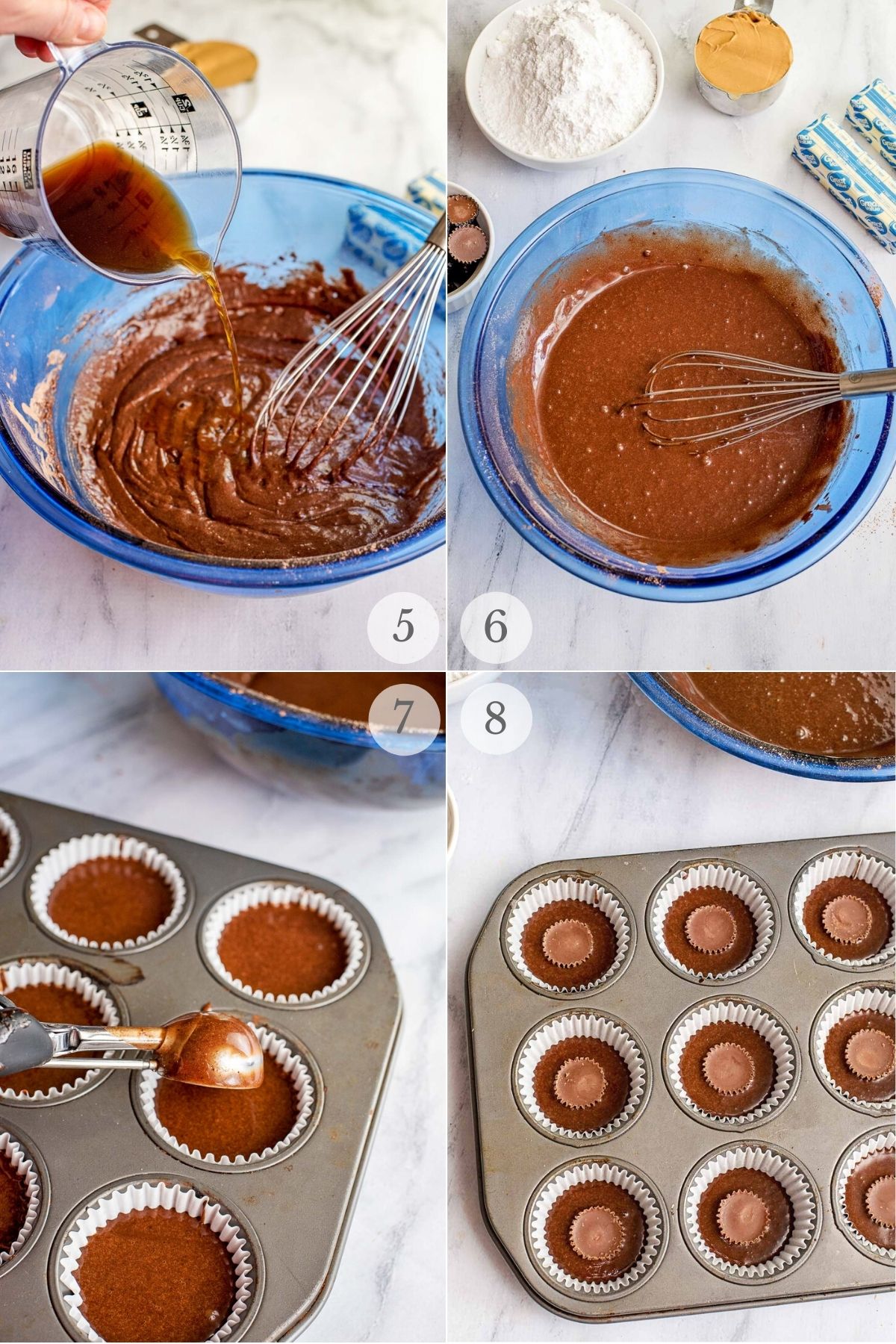 STEP 3. Fill the cupcakes.
Line a cupcake pan with cupcake liners. Fill the liners about 3/4 full with batter (photo 7).
Place one peanut butter cup on top of the batter of each cupcake (photo 8).
Don't press them down; the candies will sink into the batter naturally.
STEP 4. Bake and frost.
Bake the stuffed cupcakes for about 20 minutes, or until a toothpick inserted into the center of one cupcake comes out clean.
Remove from the oven and let cool completely.
While the cupcakes cool, make the peanut butter frosting.
Pipe onto the fully cooled cupcakes. Garnish the top of the frosted cupcakes with another Reese's peanut butter cup if desired.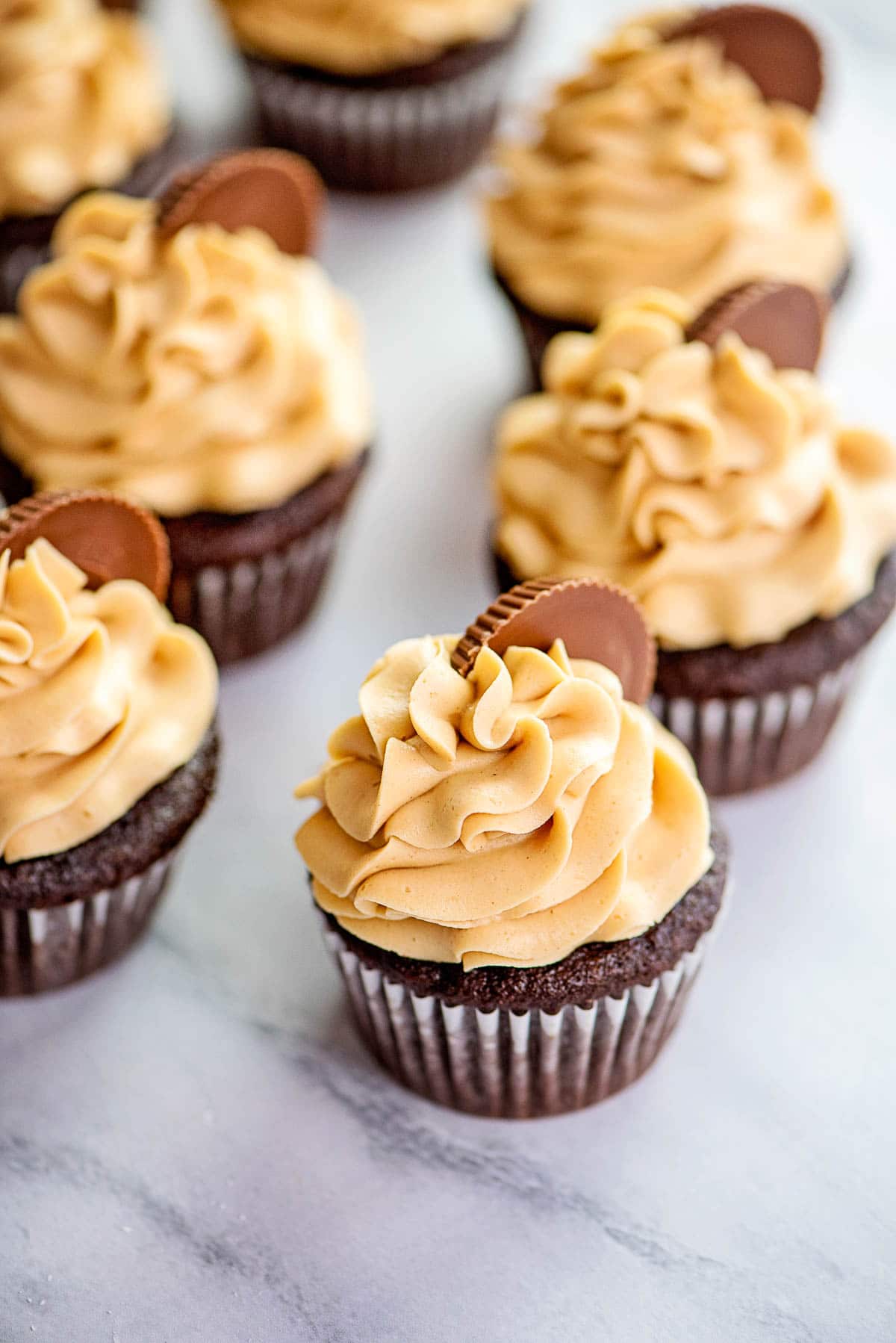 Recipe FAQs + Pro-Tips
Do not press the peanut butter cup into the batter. Just rest it on top of the cupcake batter before baking (photo 8 above).
Pressing down on the Reese's causes it to sink all the way to the bottom. It'll naturally sink a bit as it bakes.
Once baked, you won't see the Reese's cup until biting into the cupcake.
Toss peanut butter cups in flour to prevent sinking. If you want to be extra sure your peanut butter surprise stays at the center of the cupcake, toss it in a coating of flour first.
This is the a great baking technique used with fruit in muffins too.
You can see the results preventing strawberries from sinking in these Strawberry Muffins.
Shortcut: Use a cupcake mix. If you're pressed for time, you can make these using a store bought chocolate cupcake mix instead.
Make as directed, adding the peanut butter cups as directed before baking. Finish with peanut butter frosting.
Why is coffee added to the chocolate cupcakes?
This is an old baker's trick! Adding coffee to chocolate recipes gives the chocolate a richer flavor but there is no coffee taste.
What can I use instead of coffee?
Just substitute water or milk. If you don't have or don't like coffee, no worries!
Can I make these chocolate cupcakes without the peanut butter cups?
You can! You'll have a rich classic chocolate cupcake!
If you don't stuff the cupcakes, you'll end up with fewer cupcakes as more batter will be required to fill the liners.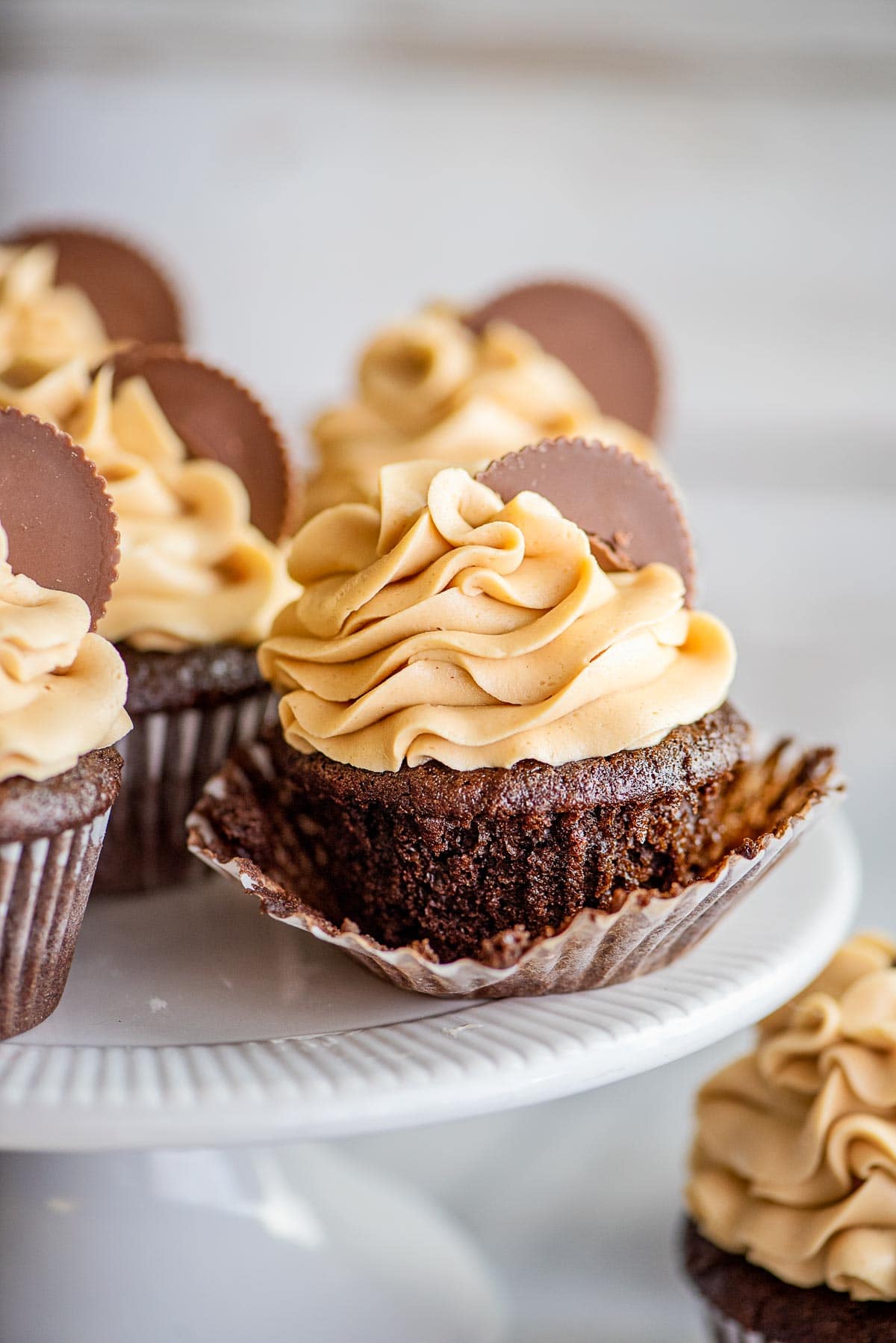 Storing Chocolate Peanut Butter Cupcakes
Refrigerator
Store them in an airtight container in the refrigerator for up to 4 days.
Freezing the Cupcakes
You can freeze your Chocolate Peanut Butter Cupcakes two ways: frosted or un-frosted.
How to freeze unfrosted cupcakes (recommended)
For best results, freeze baked cupcakes before frosting. When ready to eat, thaw and pipe on the frosting before serving.
Allow them to cool completely.
Wrap individually in plastic wrap.
Place them in a freezer-safe airtight container.
How To freeze frosted cupcakes
Once cooled cupcakes are frosted, place them on a rimmed baking sheet in the freezer to fully freeze (1-2 hours). Allow space in between them.
After they are frozen, wrap each cupcake individually in plastic wrap.
Transfer all the wrapped cupcakes to an airtight container and keep frozen for up to 1 month.
To thaw frozen frosted Peanut Butter Chocolate Cupcakes, remove the plastic wrap and allow them to sit at room temperature until thawed; about 1 hour.
Make sure no cupcakes are touching one another (to preserve the frosting shape).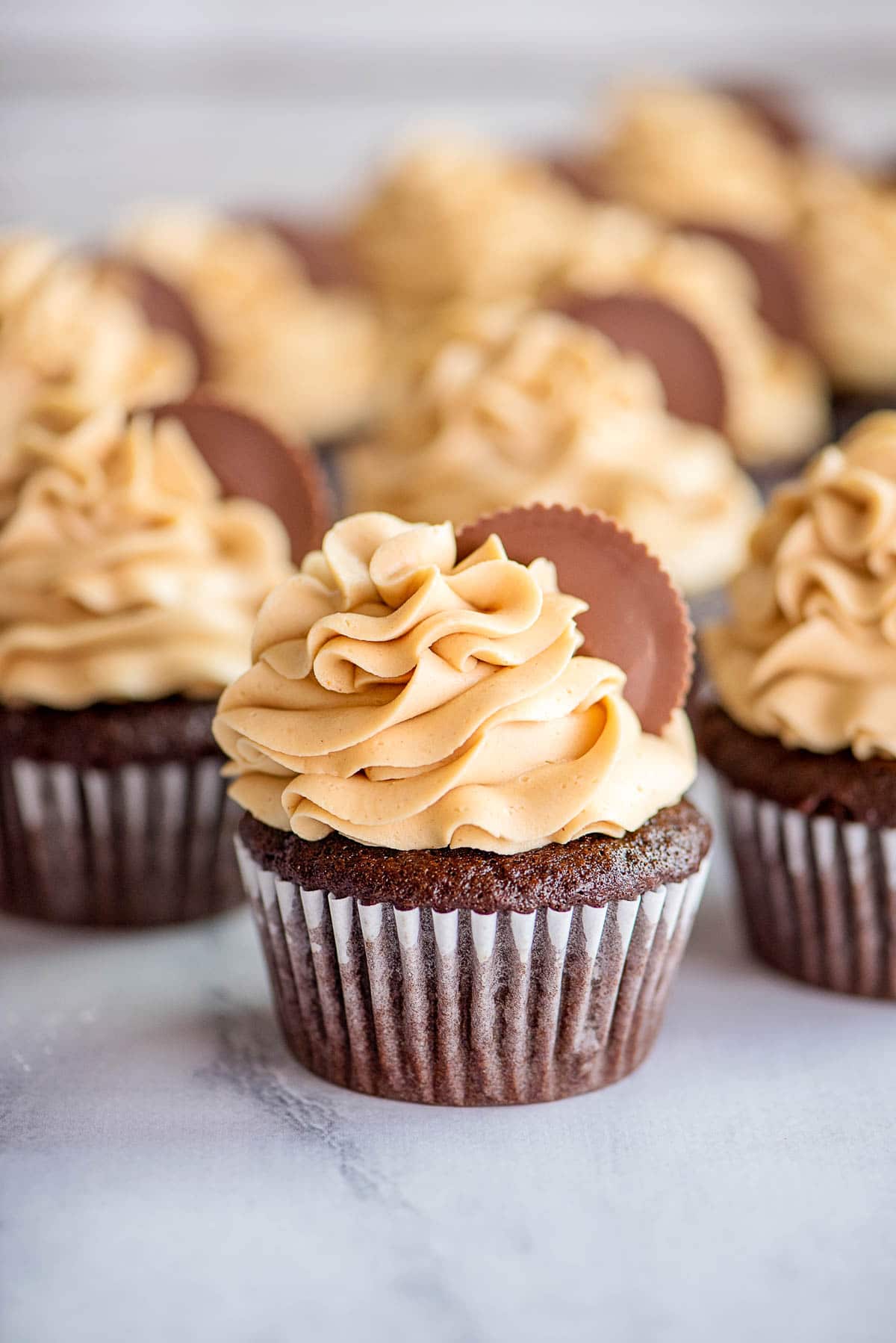 More Recipes You'll Love!
Did you make it? Please RATE THE RECIPE below!
Please SUBSCRIBE and FOLLOW ME on FACEBOOK , TWITTER , INSTAGRAM and PINTEREST !