Monster Cookies are fully loaded with peanut butter, mini M&M's, oats and topped with a chocolate drizzle. An easy, irresistible cookie bar recipe.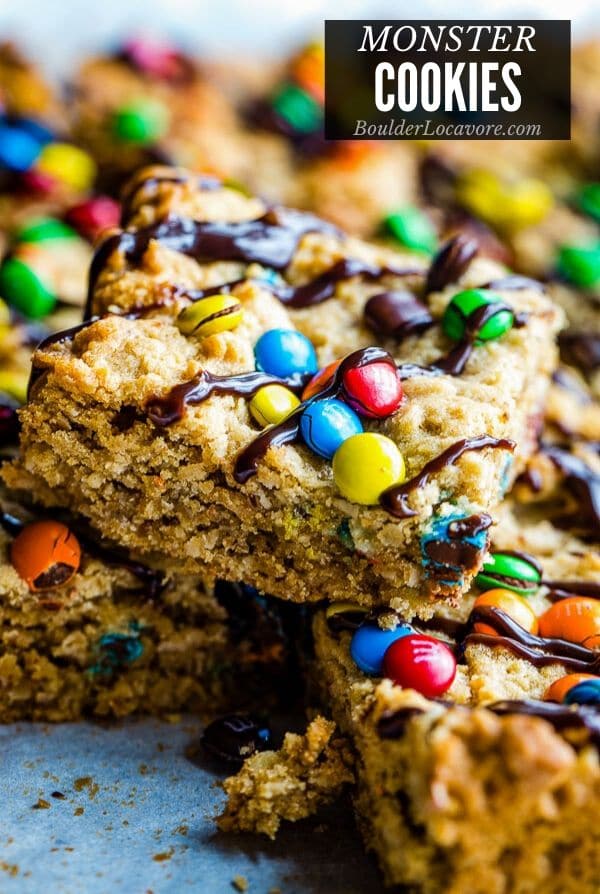 If you are a cookie lover but can't pick which one you want, Monster Cookies are always the right choice.
Chock full of the best of every type of cookie, the moist chewy cookie bar always satisfies cookie cravings!
What are Monster Cookies?
Combine the recipes for chocolate chip cookies, peanut butter cookies and oatmeal cookies you end up with a Monster cookie recipe.
It's a 'super cookie' full of favorite ingredients!
Monster Cookie Ingredients
What's in the Monster Cookies? Take a look!
All Purpose Flour (regular or gluten-free)
Baking Soda
Kosher Salt
Old Fashioned Oats
Unsalted Butter
Peanut Butter
Brown Sugar
Granulated Sugar
Egg
Vanilla Extract
Mini M&Ms
Chocolate Chips
Key Cookie Bar Recipe Ingredients
Old Fashioned Oats
Old Fashioned Oats hold their shape and add fantastic texture to the Monster Cookies. They lend a homey flavor too.
I prefer these over Quick Oats which tend to blend into the cookie bar recipe.
If gluten-free, be sure to use gluten-free certified oats. Several brands sell them under the name 'Old Fashioned Rolled Oats'.
Mini M&Ms
Traditionally most Monster Cookie recipes use regular size M&M's. Those can be substituted.
I prefer the mini M&M version in this recipe.
There are more M&M's in the Monster cookie recipe when they are mini.
More is better, right?
Peanut Butter
Peanut Butter gives so much flavor in this recipe!
Use Smooth or Chunky style peanut butter. Either works great. Pick your favorite texture.
Chocolate Chips
Usually the chocolate chips are included IN the Monster Cookies.
This recipe is changed up to melt them to drizzle on top of the cookie bar recipe.
And then more mini M&Ms are added on top of the melted chocolate!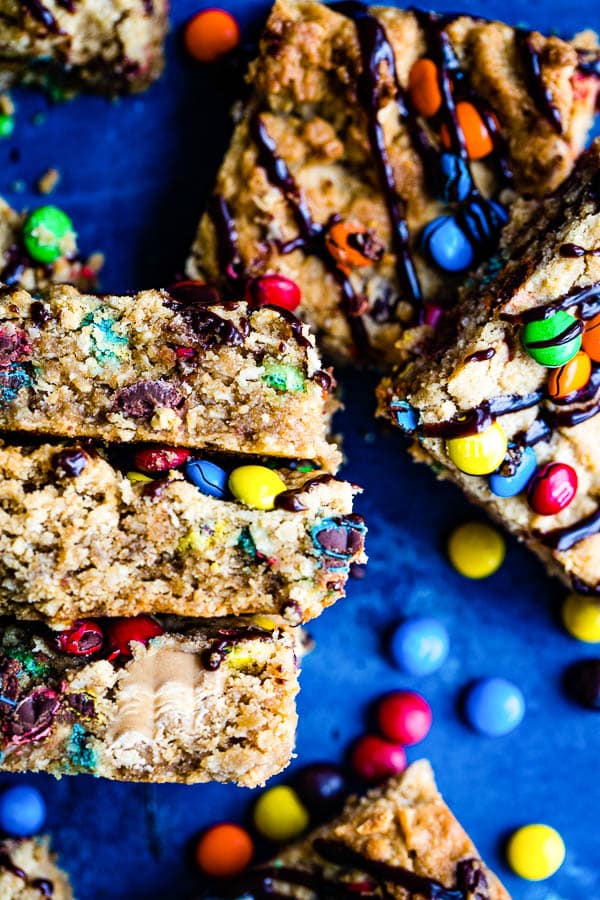 Make Gluten-Free Monster Cookies
To make this easy cookie bar recipe gluten-free swap these ingredients:
Gluten-Free Flour
Use a measure-for-measure gluten-free flour blend. It will provide a similar texture to regular all purpose flour.
There are many choices for this type of flour. I've used Bob's Red Mill 1-to-1 flour in this recipe.
Gluten-Free Rolled Oats
Ensure the oats used are certified gluten-free. Do not use Instant Oats.
How to Make Monster Cookies – Step-by-Step
Make this cookie bar recipe just once and you'll be hooked. It's SO easy!
For a detailed printable recipe refer to the printable recipe card at the end of the blog post.
STEP 1: Preheat oven to 350 degrees. Line a 9×9 inch square pan with parchment paper or foil (sprayed with cooking spray).
STEP 2: In a bowl, whisk together flour, baking soda, salt, and oats (photo 1).
STEP 3: In a second large bowl cream together butter, peanut butter, and sugars (photo 2).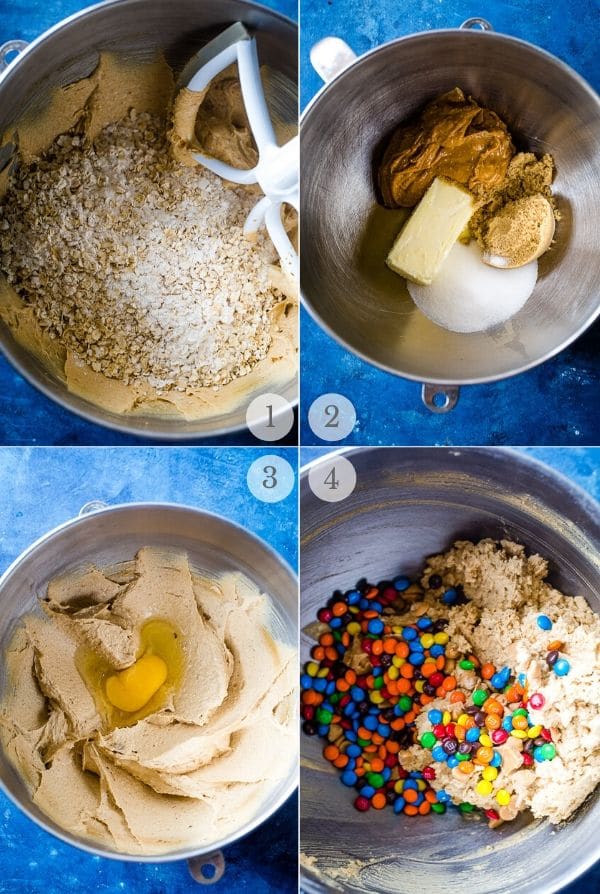 STEP 4: Add egg and vanilla extract and beat for an additional 2 minutes (photo 3).
STEP 5: Gradually combine the dry ingredients and wet ingredients mixing just until combined.
STEP 6: Stir in M&M's (photo 4).
STEP 7: Evenly press dough into the prepared pan.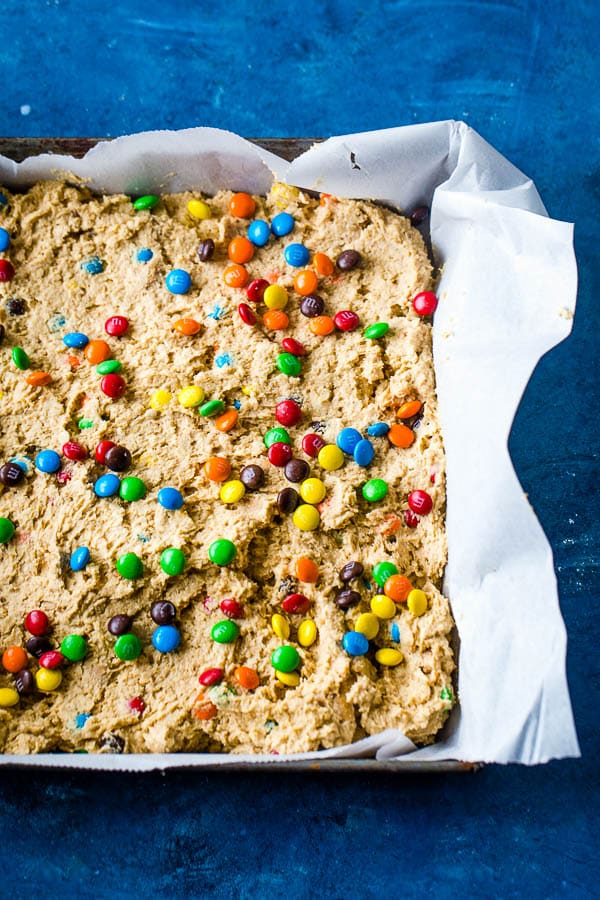 STEP 8: Bake bars for 18-20 minutes or until edges are golden. A toothpick inserted into the center and should come out clean.
STEP 9: Cool completely on cooling rack.
STEP 10: Melt chocolate chips in the microwave and whisk until smooth.
STEP 11: Drizzle melted chocolate over bars and top with extra mini M&M's.
STEP 12: Let chocolate drizzle harden for about 30 minutes at room temperature or refrigerate for 15 minutes before slicing.
Cut bars into 9 large squares or 12 mini squares.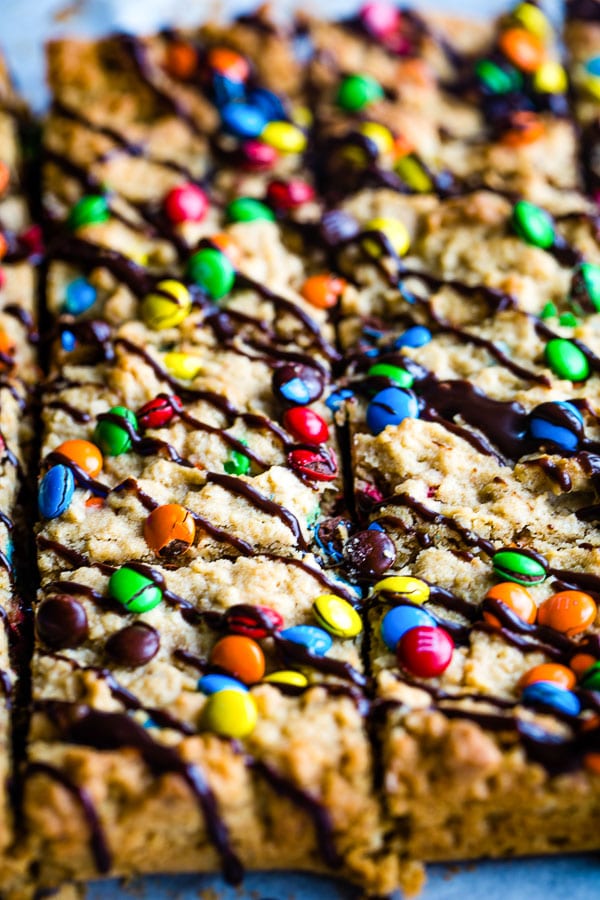 How to Store Monster Cookies
Put fully cooled Monster Cookies in an airtight container.
Cookies should be layered with wax paper or parchment paper in between layers. This prevents them sticking together.
Room Temperature
Store cookies at room temperature for up to 3 days.
Refrigerator
They may also be kept in the refrigerator for up to a week.
Freezer
The Monster Cookies can also be kept in the freezer for up to 6 months.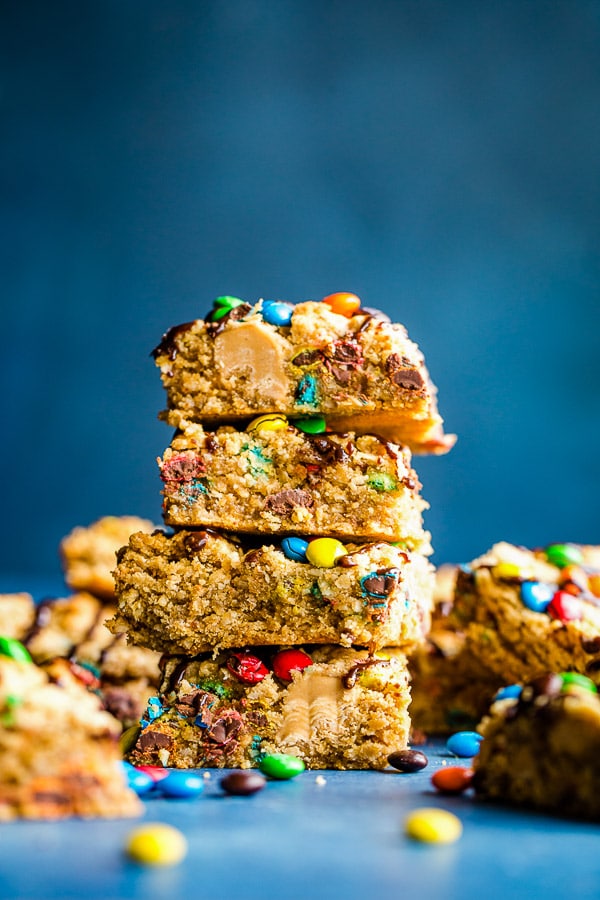 Did you make it? Please RATE THE RECIPE below!
Please SUBSCRIBE and FOLLOW ME on FACEBOOK , TWITTER , INSTAGRAM!