Quinoa Salad is fast and easy to make, AND packed with plant protein! This Mexican Quinoa version is loaded with other tasty ingredients, Mexican seasonings and green chilies! Eat it hot or cold, as a salad or side dish!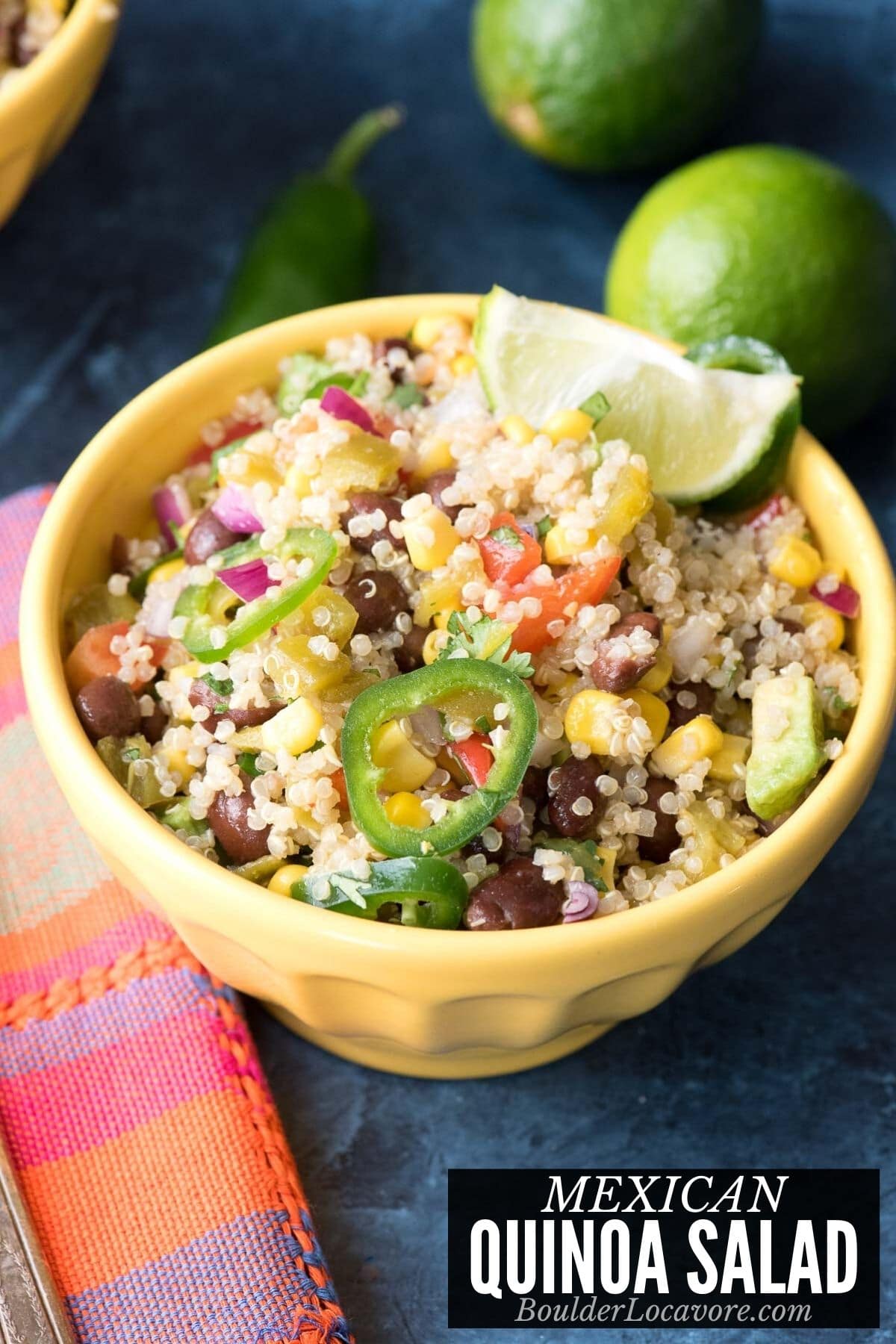 The best loved summer salads are loaded with lots of colorful ingredients, fresh seasonal produce and great flavor!
Mexican Quinoa Salad is a favorite. It's easy and fast to whip up and can be paired with many dishes or eaten solo!
This dish can be a warm side dish or chilled salad. It's colorful, loaded with vegetables and high protein quinoa giving it a great texture and crunch.
Drizzled with a slightly spicy cumin lime adobo dressing gives a bit of a kick! With some thinly sliced fresh jalapeno in the mix it has a great bite!
Ready in well under 30 minutes with little effort.
Jump to:

What is Quinoa?
Quinoa (pronounced keen-wah) has become the 'it girl' of super foods in the past years. There's no surprise why.
It's a protein packed tiny grain. In fact, it's considered a 'complete protein' meaning it has all the essential amino acids making up a protein.
Quinoa cooks quickly (15-20 minutes), has a subtle flavor and a great texture or 'bite'.
It works well in everything from breakfast recipes, side dishes and main dishes too.
Easy, hearty recipes like Overnight Quinoa-Chia Chocolate Breakfast Pudding and Lean Turkey Quinoa Burrito Bowls are just a start.
Quinoa comes in different colors too: red, white, black, rainbow (a mixture). It is easily available in grocery stores or online.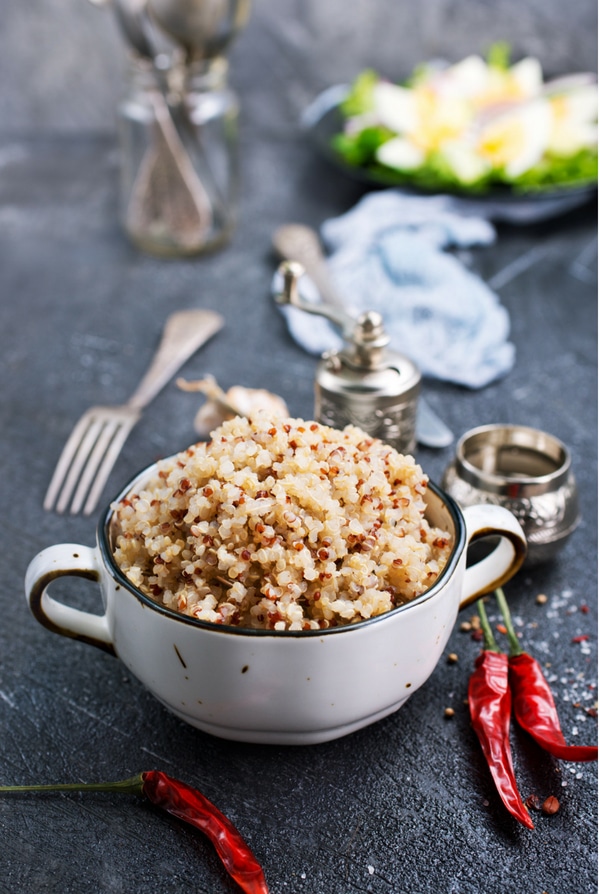 What is Quinoa Salad?
Quinoa salad is a warm or cold salad made of cooked quinoa and other ingredients.
Swapping quinoa in the place of a pasta or potatoes makes the salad higher in protein.
Because of its subtle flavor it mixes well with most ingredients and is easy to flavor in ethnic foods.
This quinoa salad recipe is a fun change up for mix salads and is fast to make.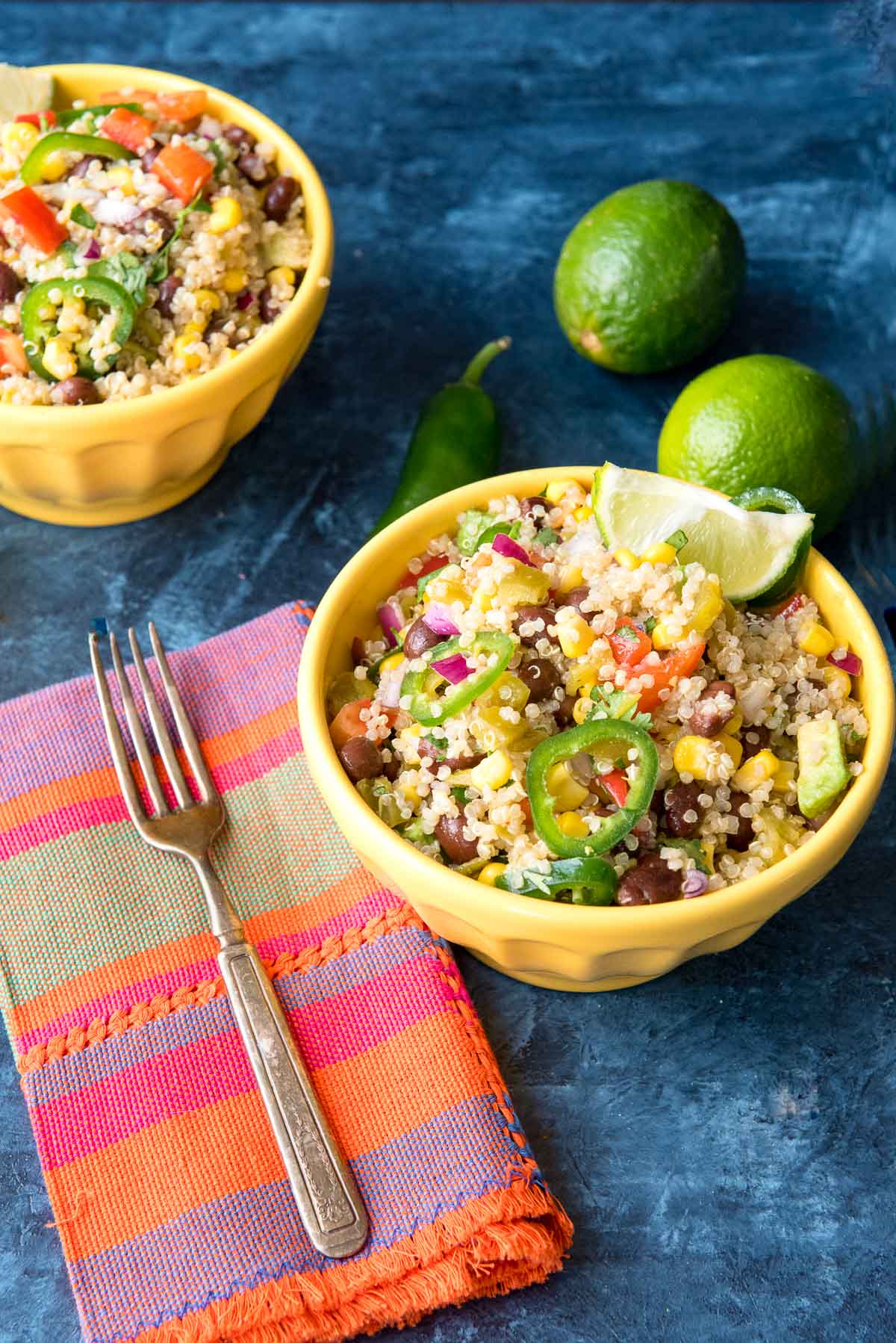 Mexican Quinoa
Cooked quinoa is mixed with black beans, red onion, sweet bell pepper, corn, avocado, green chilies, jalapenos and some savory spices.
This great recipe grabs attention and is the perfect addition to an easy dinner recipe. It's colorful with bold flavors and wonderful textures
Recipe Ingredients + Notes
Quinoa. Prepare the quinoa before starting the recipe. Regular quinoa was used for the version shown in the photos but any type will work. They each have a slightly different flavor.
Black beans. One can, rinsed and drained.
Corn. For ease we used one 15-ounce can of corn, drained. Frozen and thawed or fresh corn can also be used. If substituting use 1 1/2 cups.
Mild Green Chilies. Use one 7-ounce can (or 2 4-ounce cans) diced chilies. We don't suggest hot chilies so the other ingredients don't get overtaken by the spicy chilies.
Red Onion. This adds both onions flavor and color.
Sweet Bell Pepper. Any color can be used. Green, red, orange or yellow! Each color has a slightly different flavor and will add more color to this dish.
Jalapeno pepper. This will be thinly sliced so adds a touch of heat! Most of the heat is in the seeds of the pepper so remove those before slicing (unless you want it hot).
Avocado. Choose a medium size that is fully ripe but not mushy. A firmer texture will make it easier to cube.
Cilantro. Use fresh cilantro leaves. Adds a classic flavor found in Mexican food.
Olive oil. This will be part of the dressing tossed into the Mexican quinoa recipe.
Lime juice. You'll need the juice of two limes. Freshly squeezed is recommended for best flavor. I use a handheld juicer which makes it fast and easy.
Garlic. Fresh cloves add a touch of garlic flavor without being too much.
Cumin and Cayenne Pepper. Classic spices bump up the flavor of the recipe. A little chili powder can also be added to spice things up.
Adobo sauce. Adds a smoky flavor that's delicious. You can use the sauce from a can of Chipotles en Adobo if you can't find Adobo sauce.
If gluten-free check the ingredients in Chipotles en Adobo. Some brands include wheat.
Salt. We recommend kosher salt which is a less salty tasting salt.
Variations
Use different colored quinoa. Something we love about this dish is the flexibility to change up the look by using different colored quinoa. It gives the recipe a different feel all together.
Change up the bell peppers. The sweet peppers can be changed too to use yellow, orange, green or red pepper.
Swap in Pickled Jalapenos. Instead of fresh jalapeno peppers try adding a few pickled Jalapeno slices. Just a few on top gives a tangy kick of heat!
Vinegar. For a different tangy flavor swap in red wine vinegar or apple cider vinegar for the lime juice.
Add some tomatoes. Roasted tomatoes or cherry tomatoes can be added for more flavor and color.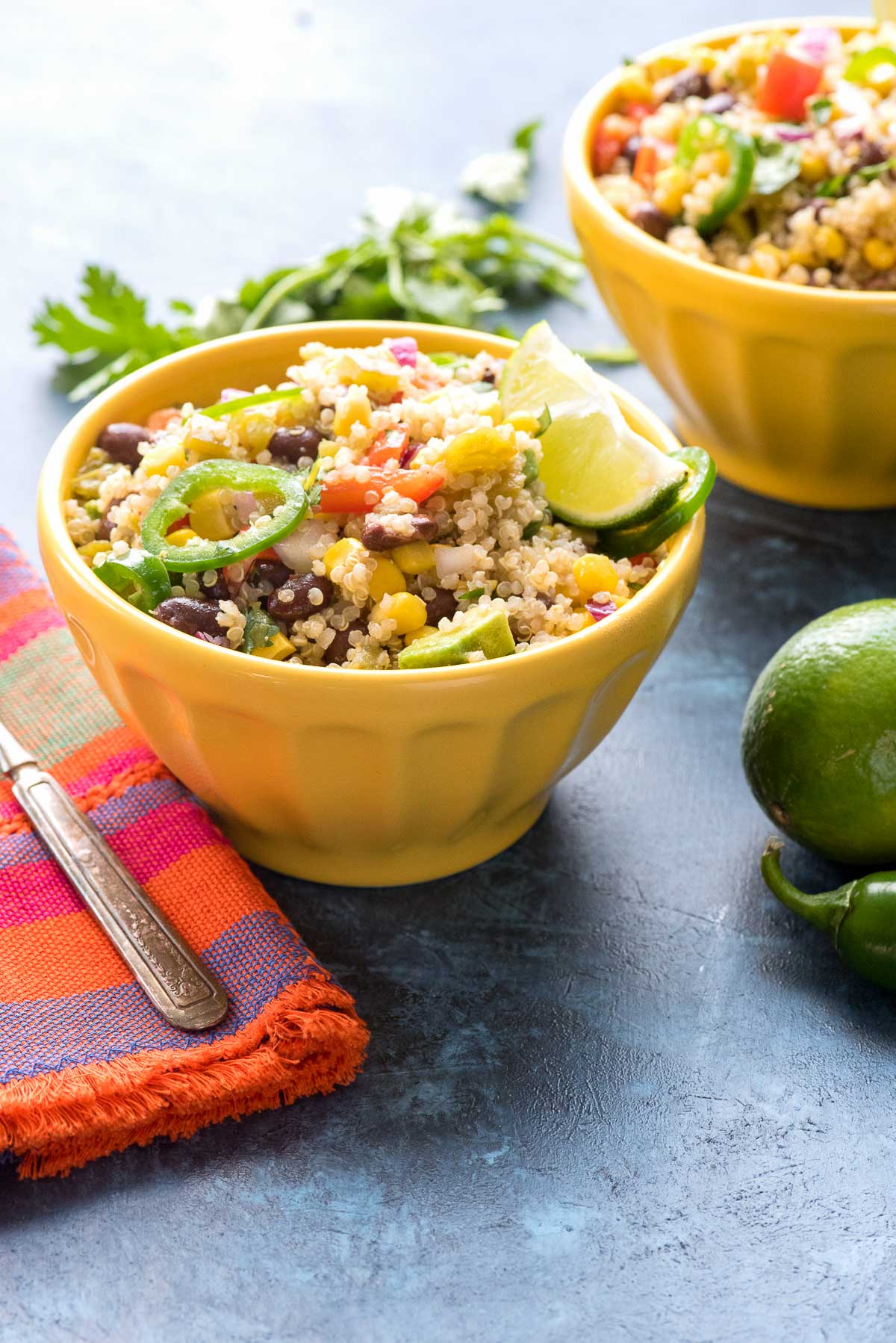 How to Make this Quinoa Salad
It really couldn't be easier or faster to make!
The first 8 ingredients are combined in a large bowl and gently folded together.
The dressing ingredients are combined in a second bowl, stirred together and drizzled onto the salad.
It can be served warm as a side dish or chilled and served as a cool salad.
What to Serve with Mexican Quinoa
When serving spicy dishes we pair something spicy or with big flavor with something more neutral they complement each other.
There really are no limits to how this dish can be served. With roasted and grilled main dishes it's perfect.
Here are some favorites: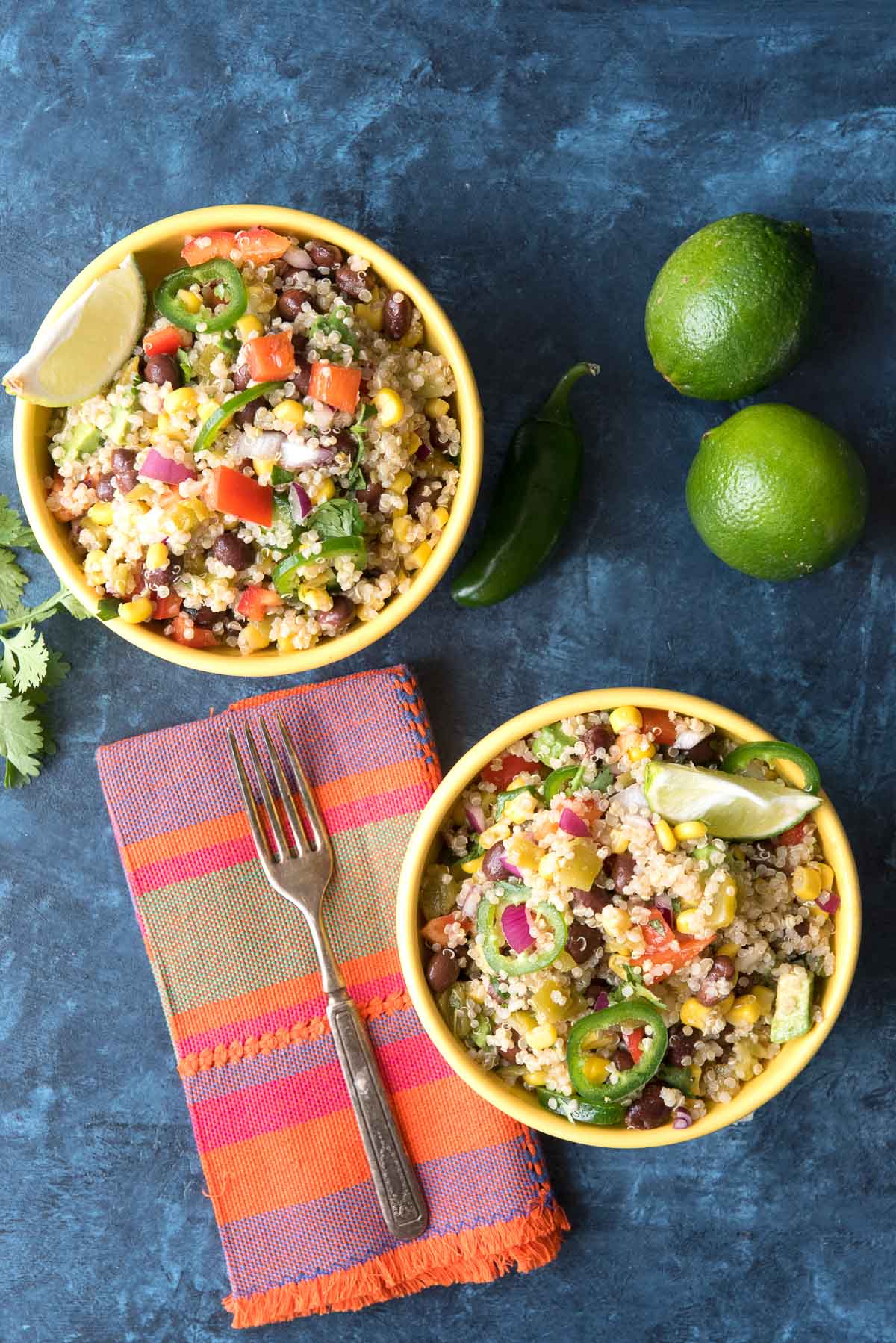 How to store it
Store leftovers in an airtight container in the refrigerator for up to 4 days.
Frequently Asked Questions
Can Mexican quinoa salad be frozen?
For best results, because of the fresh vegetables in this dish we do not recommend freezing it.
Can quinoa salad be made a day ahead?
Yes! In fact that gives more time for the flavors to blend together.
Is quinoa salad gluten-free?
Yes! This recipe is naturally gluten-free.
More recipes you'll love!
Did you make it? Please RATE THE RECIPE below!
Please
SUBSCRIBE
and
FOLLOW ME
on
FACEBOOK
,
TWITTER
,
INSTAGRAM
and
PINTEREST
!
Recipe
Originally published September 2, 2016.