Sometimes getting to the coffee shop for a favorite drink isn't possible. We've whipped up a homemade copycat version of Starbuck's wildly popular Pink Drink. Made with ingredients anyone can find, it's a refreshing homemade drink option.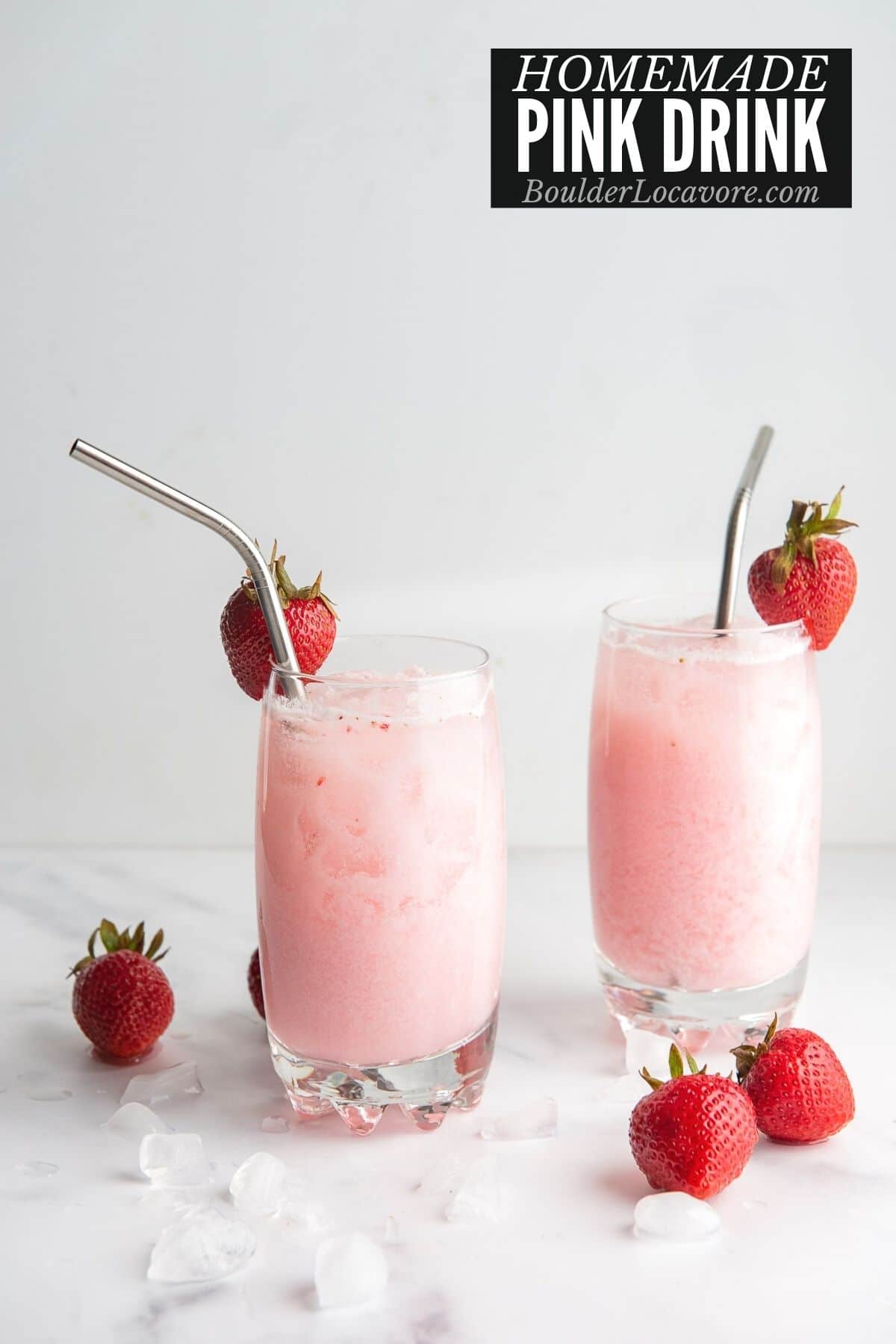 Summer is full of iced tea, Arnold Palmer's and cold brew. Sometimes it's nice to have something different.
And who doesn't find the color pink refreshing? This version of the Pink Drink is a tea-based drink that's easy and affordable to make at home.
Is it an exact replica of the original? No, but it has all the key flavors and options to customize it to your own taste (which we love).
Jump to:
What is in Starbuck's Pink Drink?
The Strawberry Acai Refresher with 'accents of passion fruit' and creamy coconut milk.
Diving a little deeper the drink includes:
White grape juice*
Water*
Sugar*
Natural Green Coffee Flavor*
Fruit and vegetable juice*
Coconut milk that is sweetened
Freeze dried strawberries
Ice
*these are in the Strawberry Acai base
Our goal was to replicate the drink as closely as possible with ingredients that are available to most people.
Though Green Coffee flavor IS available on Amazon in various forms including green coffee extract in pill form, we decided to come at this a different way.
Homemade Pink Drink
Instead of making this by the drink, we make a tea-juice base that can be kept in the refrigerator. It makes the equivalent for 4 large drinks.
The base can be doubled too.
When you want to whip up the drink, pour the base over a glass full of crushed ice. Then add a splash of coconut milk (as much as you like), some strawberry simple syrup (for more strawberry flavor and sweetening) and sliced strawberries.
Recipe Ingredients + Notes
Strawberry Tea. Strawberry tea is used to deliver the strawberry flavor. I was able to get the tea from my grocery store but it's available online too.
I used Strawberry Fields tea.
Passion Fruit Tea. This adds the accents of passion fruit in an easy to find form. I used Tazo Passion tea (regular tea bags not the iced tea version) which also includes hibiscus and orange peel for more fruity flavors.
White grape juice. This is an ingredient in the original Pink Drink. It adds both flavor and sweetness.
Coconut milk. This is splashed into the drink for the creamy coconut flavor.
Strawberries. Instead of using freeze dried strawberries we used fresh sliced strawberries. Freeze dried strawberries can be substituted.
Strawberry simple syrup. This adds more sweetness if desired and more pink color. You can make strawberry simple syrup at home and use it for lots of different things.
Ice.
Variations
Change up the tea. Trying to get a similar flavor AND color can be tricky. For more of the acai flavor, add some acai tea to the mixture.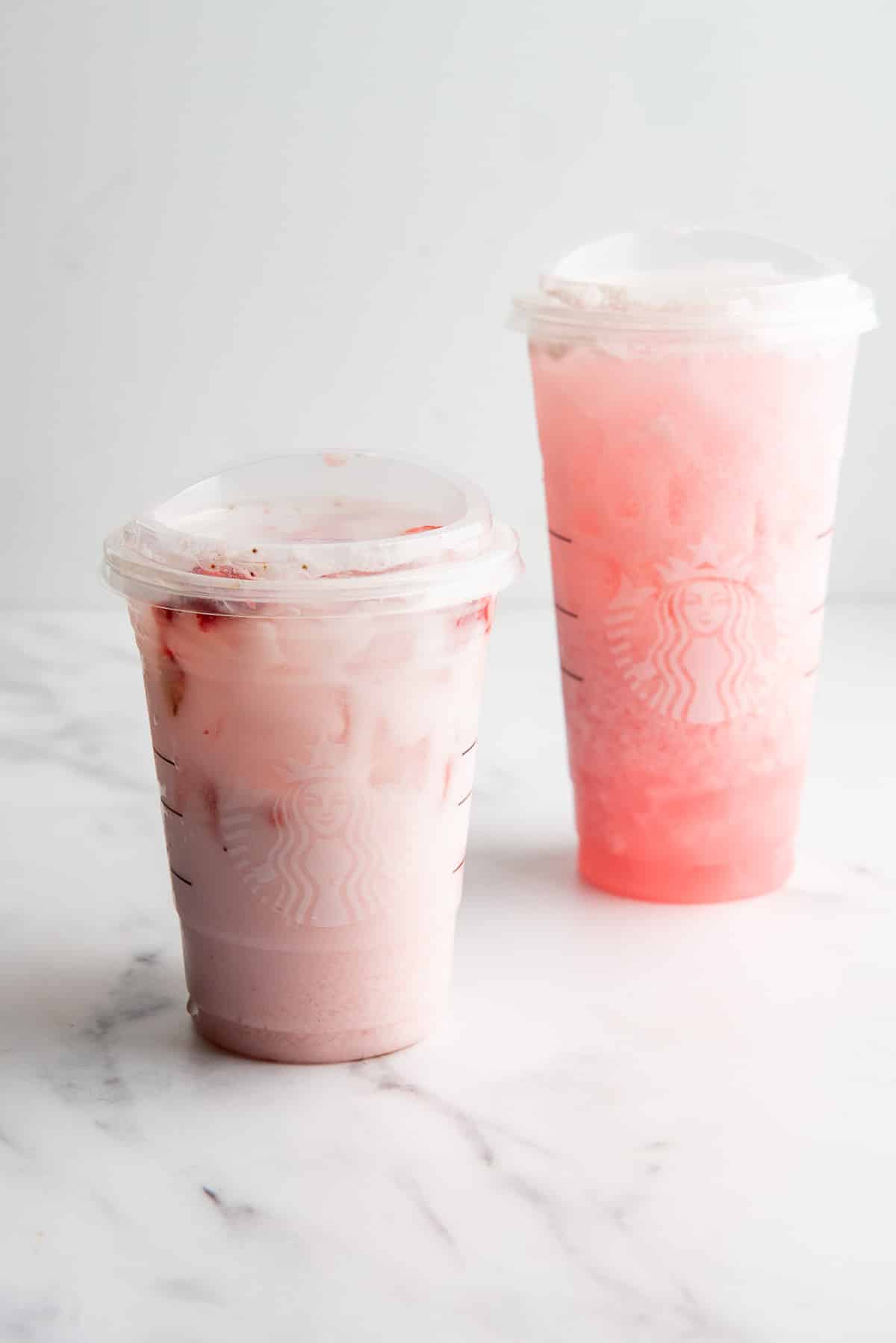 Does this taste exactly like the original Pink Drink?
No. It's not possible to completely replicate the flavor of Starbuck's drink without using their ingredients.
We've done our best to hit the right flavor notes with readily available ingredients.
The flavor is milder than the Starbucks's Pink Drink.
We've left some flexibility for individual taste with the coconut milk, strawberry flavor and sweetness level. Our taste testers loved this, each liking different boldness of flavors and sweetness.
How to Make a Homemade Starbucks Pink Drink – Step-by-Step
Instead of making one or two drinks we like to keep the tea and juice base in the refrigerator.
When wanting a drink pour some over ice, add a splash of coconut and strawberry simple syrup to taste.
STEP 1. Steep the tea
Combine 3 strawberry tea bags and one passion fruit tea bag with 3 cups boiling water.
Steep for 5 minutes. Remove, squeeze the tea bags and discard them.
Allow the tea to fully cool before making the Pink Drink.
STEP 2. Add white grape juice
Stir in the white grape juice and store in a jar in the refrigerator.
STEP 3. Making a drink
Fill a tall glass with ice. Fill the glass 3/4 full with tea mixture. Add a splash of coconut milk (or the amount you want) and some strawberry simple syrup for the amount of strawberry flavor and sweetness level preferred.
Add some sliced strawberries and enjoy.
Frequently Asked Questions
Why is my coconut milk gray?
We found in our recipe testing that some types of coconut milk aren't a brilliant white as seen in the Starbuck's Pink Drink. They can have a gray tinge that can change the color of the drink (not the flavor, only the color). We learned this is due to the variability in coconut proteins. It can also mean the coconut milk has expired. Learn more here.
How long does can this be stored?
The tea-juice based can be kept in the refrigerator for 1-2 weeks. Make the pink drinks fresh since storing a drink with ice will become diluted as the ice melts.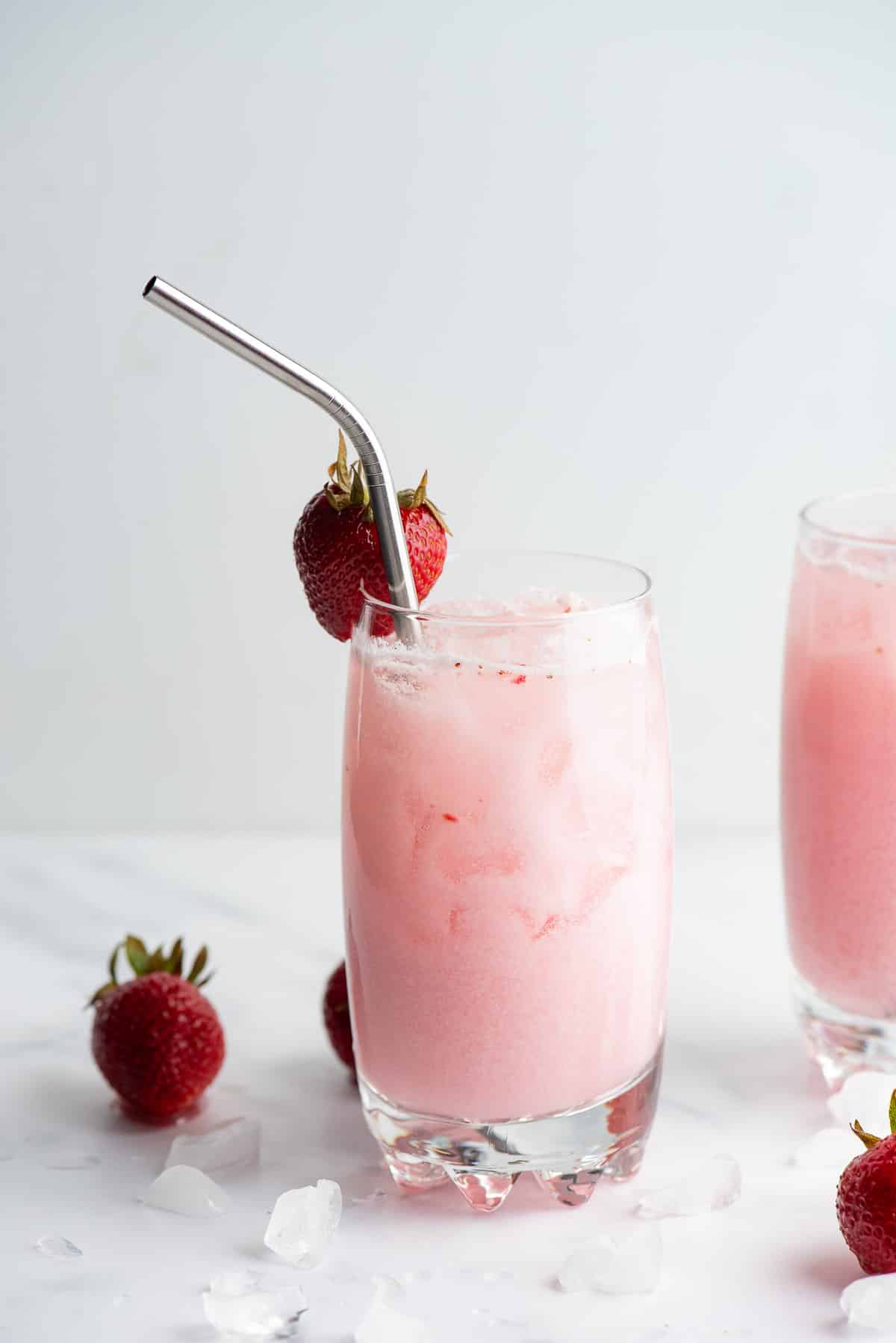 More recipes you'll love!
Did you make it? Please RATE THE RECIPE below!
Please
SUBSCRIBE
and
FOLLOW ME
on
FACEBOOK
,
TWITTER
,
INSTAGRAM
and
PINTEREST
!
Recipe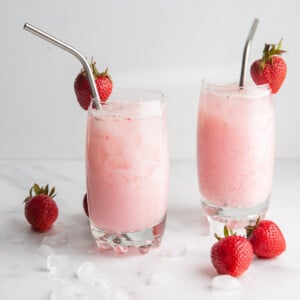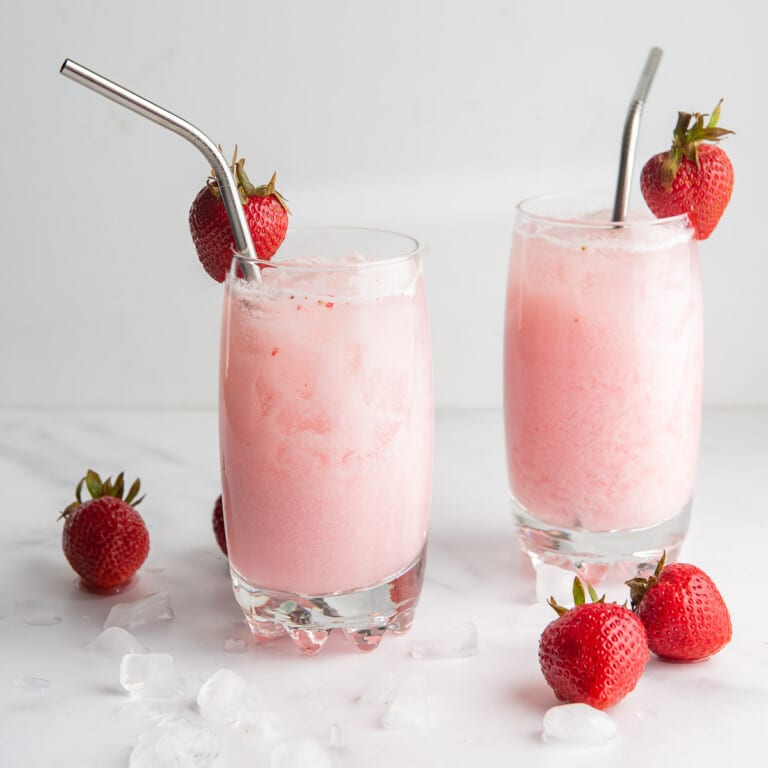 Homemade Pink Drink
This homemade riff of the popular Starbuck's Pink Drink is made with ingredients anyone can find. Strawberry, passion fruit and coconut milk flavors make this a refreshing drink to make at home.
Print
Save Recipe
Recipe Saved!
Pin
Rate
Servings:
4
estimated 4 large drinks
Instructions
Bring 3 cups of water to a boil. Remove from heat and add the 4 tea bags.

Allow to steep for 5 minutes. Remove and discard the tea bags.

Allow the tea to fully cool.

Add the white grape juice to the tea and place in the refrigerator to chill fully.

When ready to make a drink, fill a tall glass with crushed ice. Fill with the tea mixture (about 3/4 full). Add a splash of coconut milk to taste (the amount you like), some strawberry simple syrup and sliced strawberries.
Notes
The nutritional information is based on using 1/2 cup of coconut milk. The simple syrup is not included as that will be added 'to taste'.
Nutrition
Calories:
94
kcal
|
Carbohydrates:
10
g
|
Protein:
1
g
|
Fat:
6
g
|
Saturated Fat:
5
g
|
Polyunsaturated Fat:
1
g
|
Monounsaturated Fat:
1
g
|
Sodium:
7
mg
|
Potassium:
128
mg
|
Fiber:
1
g
|
Sugar:
9
g
|
Vitamin A:
5
IU
|
Vitamin C:
1
mg
|
Calcium:
12
mg
|
Iron:
1
mg