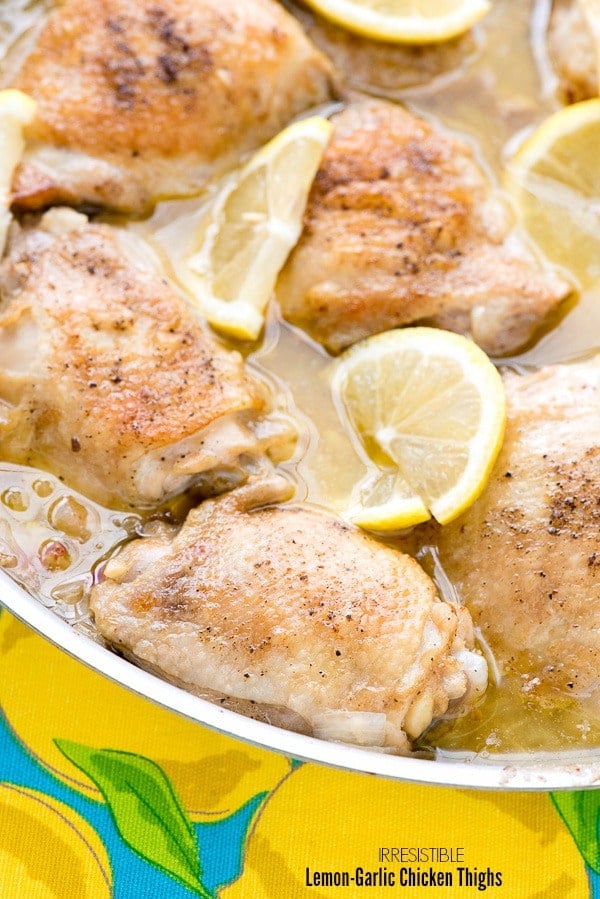 One of my lifelong quests is creating great tasting recipe that are quick and easy to make.  Chicken seems to be a universal favorite judging from how quickly any recipes containing it is gobbled up as well as the track record on my Pinterest Mouthwatering Recipes board.  People do love their chicken! Today I'm sharing a favorite: Irresistible Lemon-Garlic Chicken Thighs.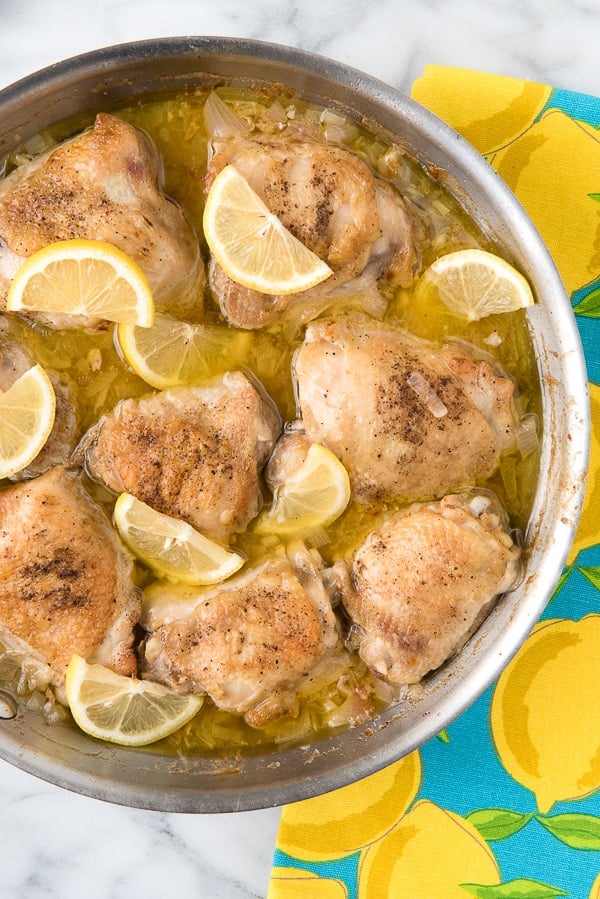 I have a favorite way to cook boneless, skinless chicken breasts to ensure they are moist and flavorful every time.  They are seared on either side and taken off the heat and covered for 8-10 minutes.  You'd never imagine they could actually cook that quickly but they do.  It's a great method for a main dish like these Pink Peppercorn Sherry Cream Chicken or to add on top of a salad like this Tarragon Pesto Chicken Breast with Dressed Greens.
As much as I appreciate the speed and ease of these chicken breasts, the chicken thigh is my absolute favorite part of a chicken.  I've loved it since I was a child for the flavor, meat texture, size and of course the crispy skin when cooked well.  They are so easy to cook in a skillet or baked in the oven.  The spices can be easily changed up and they are done in 30-40 minutes.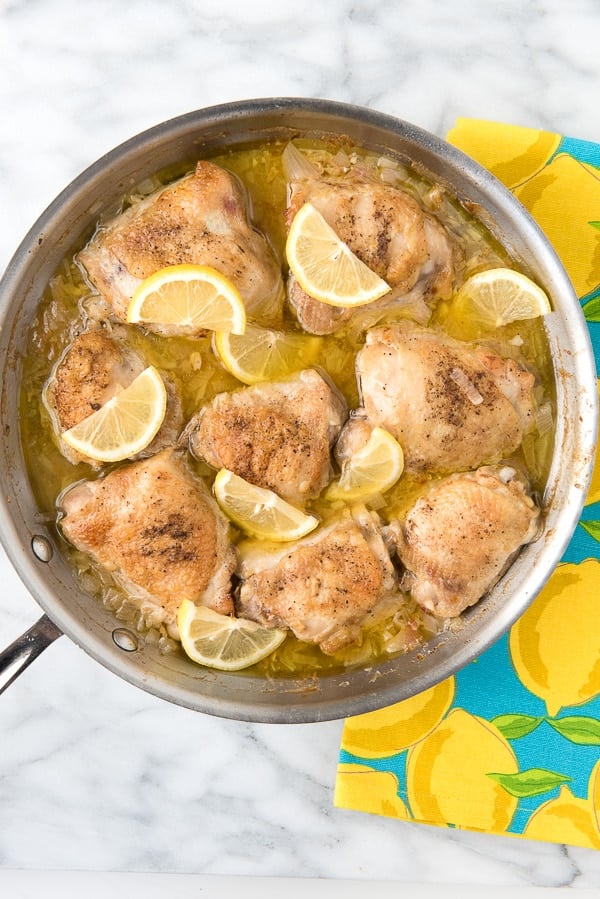 I can't resist lemon flavor with chicken (my mouth is watering just in writing that).  I've been craving a chicken thigh dish with lemon and today I'm sharing it with you too!  This Irresistible Lemon-Garlic Chicken Thighs recipe is a braised dish with the chicken seared on first making the skin perfectly crisp.  Added to the skillet or pan is garlic and shallots, lemon juice and chicken broth.  Super simple.  There is a good amount of broth so if desired potato wedges could even be stuck in the pan in the oven was with this recipe.  Otherwise the pan juices can be strained to drizzle over the chicken perhaps with some Roasted Lavender Potatoes?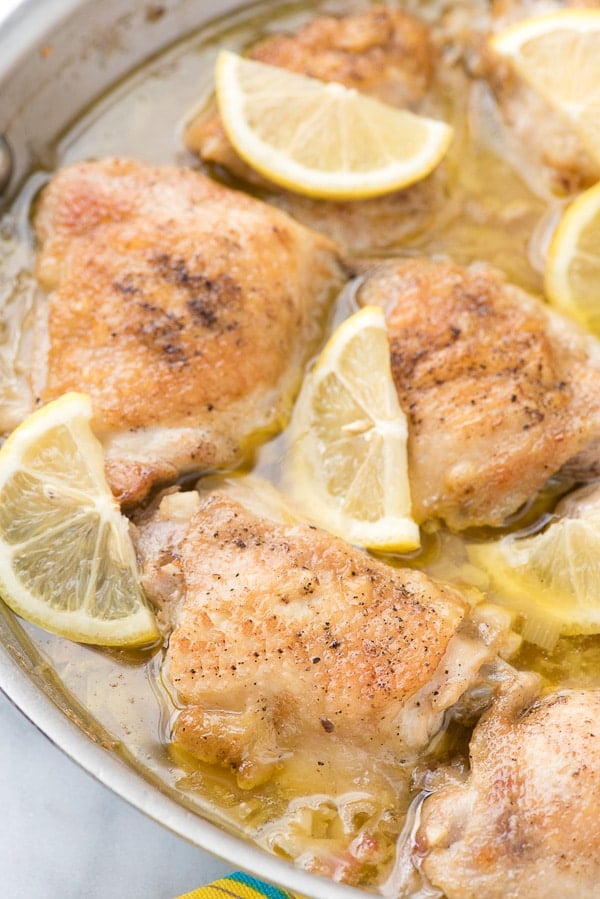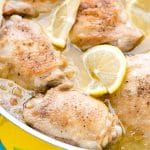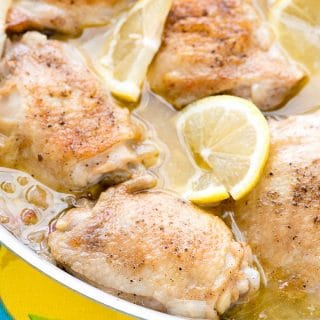 Irresistible Lemon-Garlic Chicken Thighs
This recipe is simple and quick to make. Only a handful of ingredients are required and the result is a dish bursting with flavor! Searing of the chicken thighs leaves the skin crisp, and the meat succulent. The braising process fully develops the flavors and a lovely broth perfect to drizzle over the chicken when serving.Selecting uniformly sized chicken thighs will allow the most uniform cooking results.
Servings
4
servings (2 thighs per serving)
Ingredients
8

bone-in skin-on Chicken Thighs

½

teaspoon

Kosher Salt

½

teaspoon

ground Black Pepper

2

tablespoons

Olive Oil

1

tablespoon

Unsalted Butter

6

Garlic Cloves

, diced

1

cup

chopped Shallot

½

cup

Lemon Juice

1

cup

Chicken Broth/Stock
Instructions
Preheat the oven to 350 degrees. Rinse chicken thighs and pat dry with a paper towel. Salt and Pepper on both sides.

In a large oven-proof skillet with high sides and a lid (or a braising pan), melt the olive oil and butter over medium-high heat. Add the chicken thighs and brown on both sides. _Note: turning the thighs helps ensure the skin will not stick to the pan and separate from the chicken._Remove from the pan and set aside.

Add the garlic and shallots to the pan and sauté until the shallots become limp; about 2-3 minutes.

Add the lemon juice and chicken broth/stock to the pan and stir to remove any browned bits from the bottom of the pan. Bring to a simmer and add the chicken thighs back to the pan.

Place the lid on the pan and put the pan in the pre-heated oven for 20 minutes. Remove the lid and cook for an additional 15 minutes or until the internal temperature of the chicken thighs reaches 160-165 degrees (it will continue to cook when removed from the oven).

Remove chicken from the skillet. If desired, strain the cooking liquid through a sieve to drizzle over chicken when served.