Instant Pot Potato Salad is a fast and easy way to prepare summer's classic salad recipe. This version is a Baked Potato Salad recipe, with creamy sour cream, chopped bacon and chives on top!

Potato Salad is that delicious side dish recipe that goes with everything!
You can't imagine summer without it.
The only thing that makes it better is cooking the potatoes in the Instant Pot (they take 5 minutes!!).
Pressure Cooker potato salad is super fast with no slaving over a hot stovetop.
A perfect summer recipe just got even better!
If you prefer a conventional (non Instant Pot) recipe try one of these Grill-Smoked Creamy Potato Salad with Bacon or Tri Color Chipotle Bacon Potato Salad.
Baked Potato Salad recipe
If you've ever enjoyed a fully loaded baked potato, you'll love Baked Potato Salad.
It has all the ingredients you love just turned into a hearty side dish.
A perfect blend of traditional potato salad AND loaded baked potato ingredients.
Made all the easier with the Instant Pot to cook the potatoes in a flash!
Recipe Ingredients
Red potatoes
Salt
Pepper
Seasoning salt
Mayonnaise
Sour cream
shredded Cheddar Cheese
Bacon
Green Onion or Chives (for garnish)

Red Potatoes
When using red potatoes, scrub the outside with a vegetable brush and rinse them.
They do not need to be peeled thanks to their naturally thin skin.
It adds color to the salad too.
Red Potatoes are a perfect choice for this recipe. They hold their shape when cooking in the Instant Pot.
Also when tossed with the dressing ingredients.
Shredded Cheese
Store bought pre-shredded cheese can be used in this recipe if desired.
Bacon Shortcut
Instead of preparing and chopping bacon, chopped real bacon is available to purchase at the grocery store.
I keep a bag of it in the refrigerator to use when I'm sort on time.
Because it's real bacon, not bacon bits, it's a great fast swap into a recipe like this potato salad.
How to Make Instant Pot Potato Salad – Step-by-Step
STEP 1: Place the cut potatoes in a steamer basket for the Instant Pot (photo 1). Pour the water into the Instant Pot and place the steamer basket in (photo 2).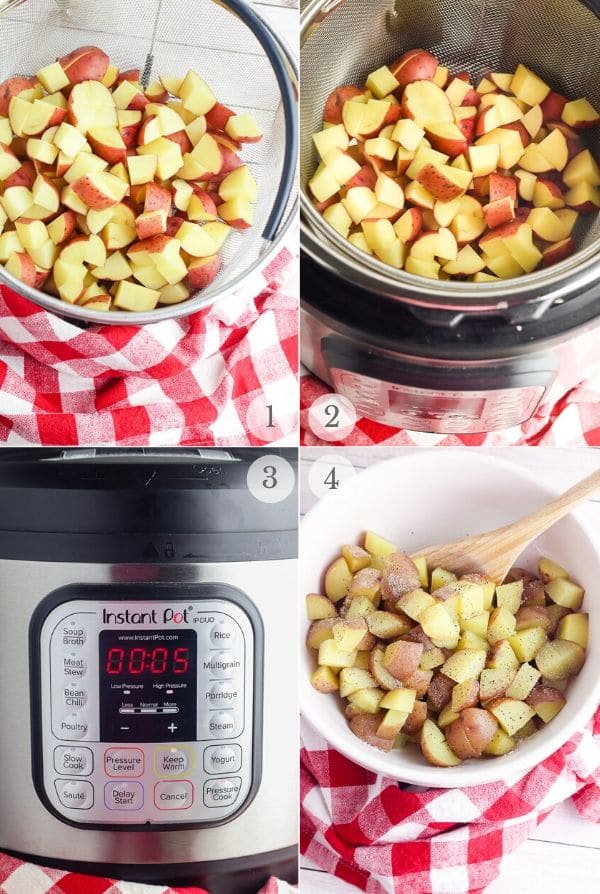 STEP 2: Seal the lid and vent of the Instant Pot. Set the Instant Pot on HIGH PRESSURE for 5 minutes (photo 3). When the cooking is complete, do a QUICK RELEASE.
STEP 3: Allow the potatoes to fully cool to room temperature (aproximately 30 minutes). PRO TIP: the steamer basket of potatoes can be put into the refrigerator to speed up this step.
STEP 4: Place the cooled potatoes in a large mixing bowl. Sprinkle on the salt, pepper and seasoning salt (photo 4). Stir to coat the potatoes.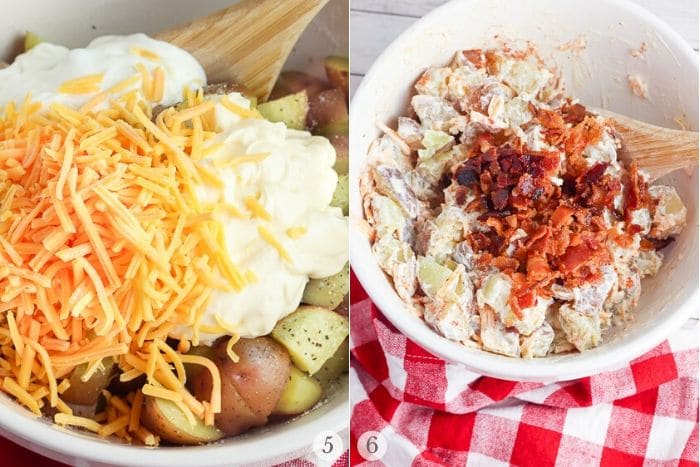 STEP 5: Add the mayonnaise, sour cream, cheese and bacon (photos 5-6). Stir to fully coat the potatoes.
STEP 6: Cover the bowl with plastic wrap and chill in the refrigerator for at least 4 hours. Garnish with sliced green onion or chives before serving.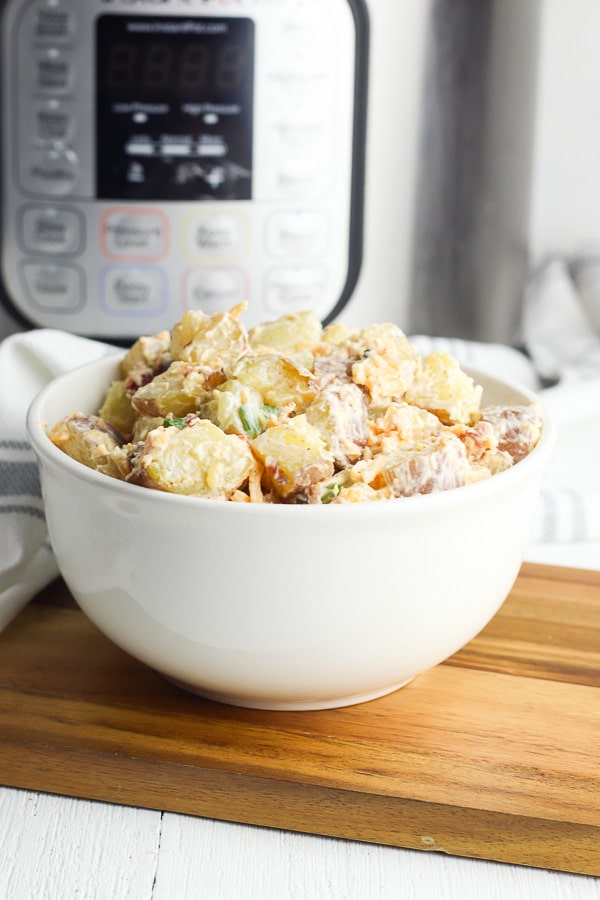 What Type of Potatoes are Best for Potato Salad?
'Waxy' potatoes that both hold their shape when cooked and when tossed with dressing.
Red potatoes are perfect for these reasons. Yukon Gold is another excellent choice.
Can Potato Salad be Made Ahead of Time?
YES! And in fact it tastes better.
Make it up to 2 days before serving.
Storing Leftovers
Leftover potato salad can be stored in the refrigerator of 3 to 5 days in an airtight container.
Pro Tips for the Best Instant Pot Potato Salad
Chill the Potato Salad after Making it
Chilling the salad after all the ingredients are combined allows the flavors to blend for best results.
Keep the Potato Salad Chilled
Salads with mayonnaise should always be kept chilled.
Potato Salad should be thrown out if it sits at room temperature for more than 2 hours.
This is for food safety reasons. You can find helpful tips for keeps salads cold in this Party Dips post.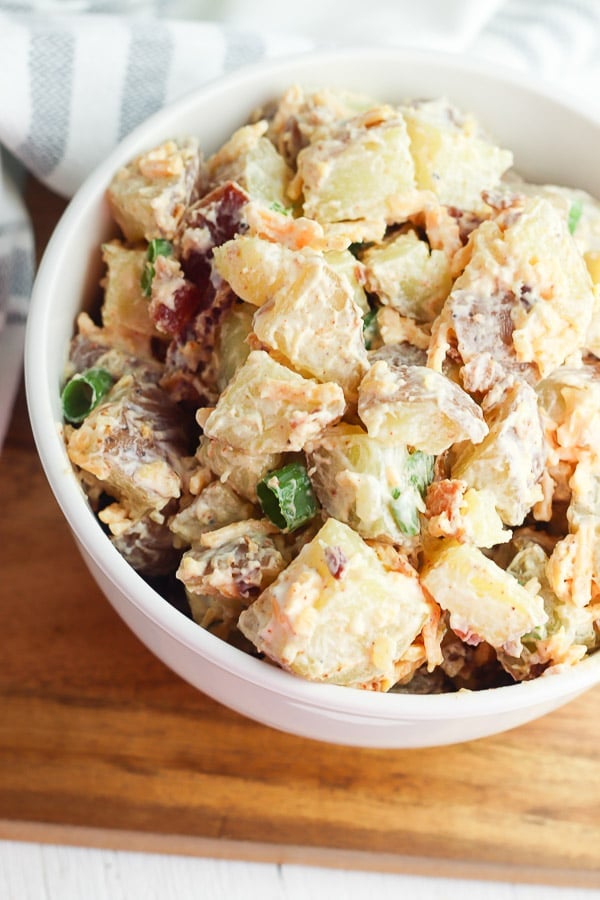 Did you make it? Please RATE THE RECIPE below!
Please
SUBSCRIBE
and
FOLLOW ME
on
FACEBOOK
,
TWITTER
,
INSTAGRAM
and
PINTEREST
!