Time to roll out the iced coffee drinks for the season and this Starbuck's copycat recipe is a favorite! Iced Brown Sugar Shaken Espresso is sweet, delicious and easy to make at home.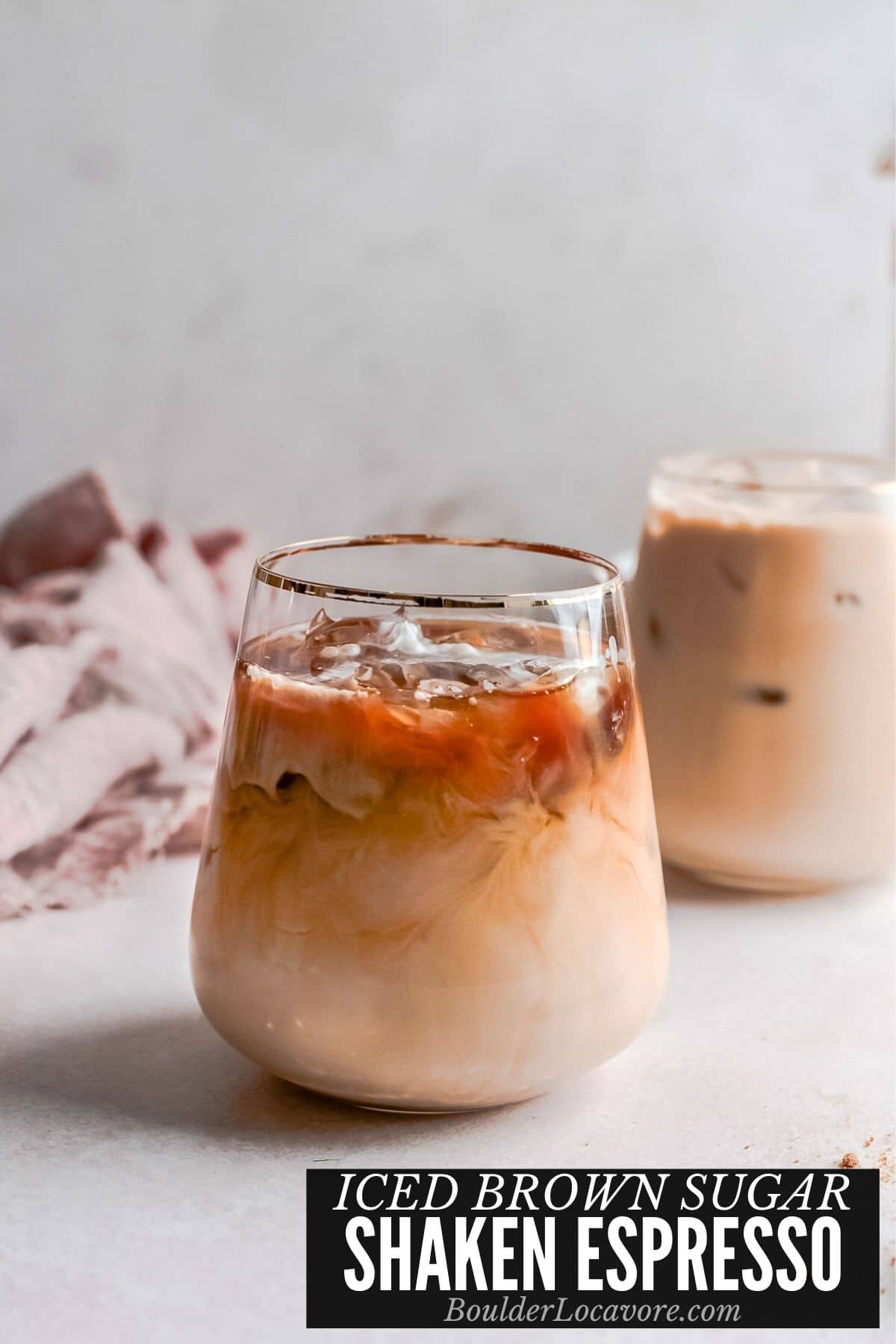 As soon as hot weather hits many coffee drinkers reach for cold brew or even coffee soda.
Starbucks fans will already be drinking Shaken Espresso drinks. The perfect blend of espresso and sweet flavors make these shaken coffee drinks a favorite.
Try our homemade version of Iced Brown Sugar Shaken Espresso! It will take your iced coffee game up a notch. Or two.
What is Shaken Espresso?
Think of it as a coffee drink prepared like a cocktail (with no alcohol).
For this recipe the homemade brown sugar simple syrup and prepared espresso are shaken with ice in a cocktail shaker or jar and poured over fresh ice in a glass.
Why do this? It blends the ingredients better versus stirring them and gives great flavor.
This technique is how many cocktails recipes are made.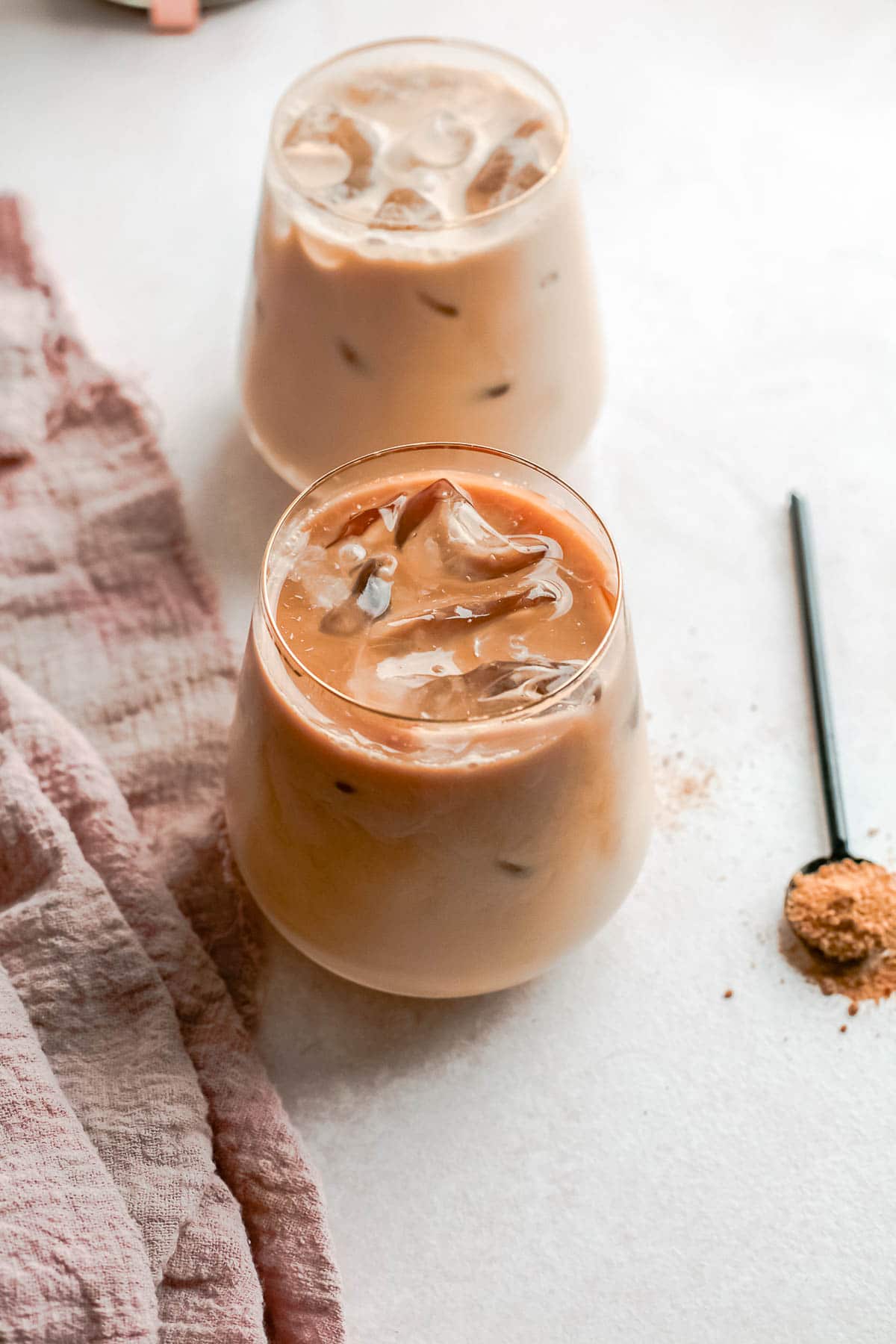 Brown Sugar Simple Syrup
Simple syrup is a sweetener made easily at home.
It combines an equal amount of sugar and water, dissolving the sugar, which makes a sweetening syrup most often used in cocktails.
Since simple syrup is already a liquid, using it versus granulated sugar allows it to mix in much better.
Using brown sugar gives this easy syrup an almost caramel flavor.
We infuse it with a cinnamon stick too giving it a delicious natural cinnamon flavor.
If you'd prefer to leave the cinnamon out, just omit the cinnamon stick. It can be added to a jar and chilled immediately after simmering.
NOTE: the longer the cinnamon stick sits in the syrup, the stronger the cinnamon flavor will be.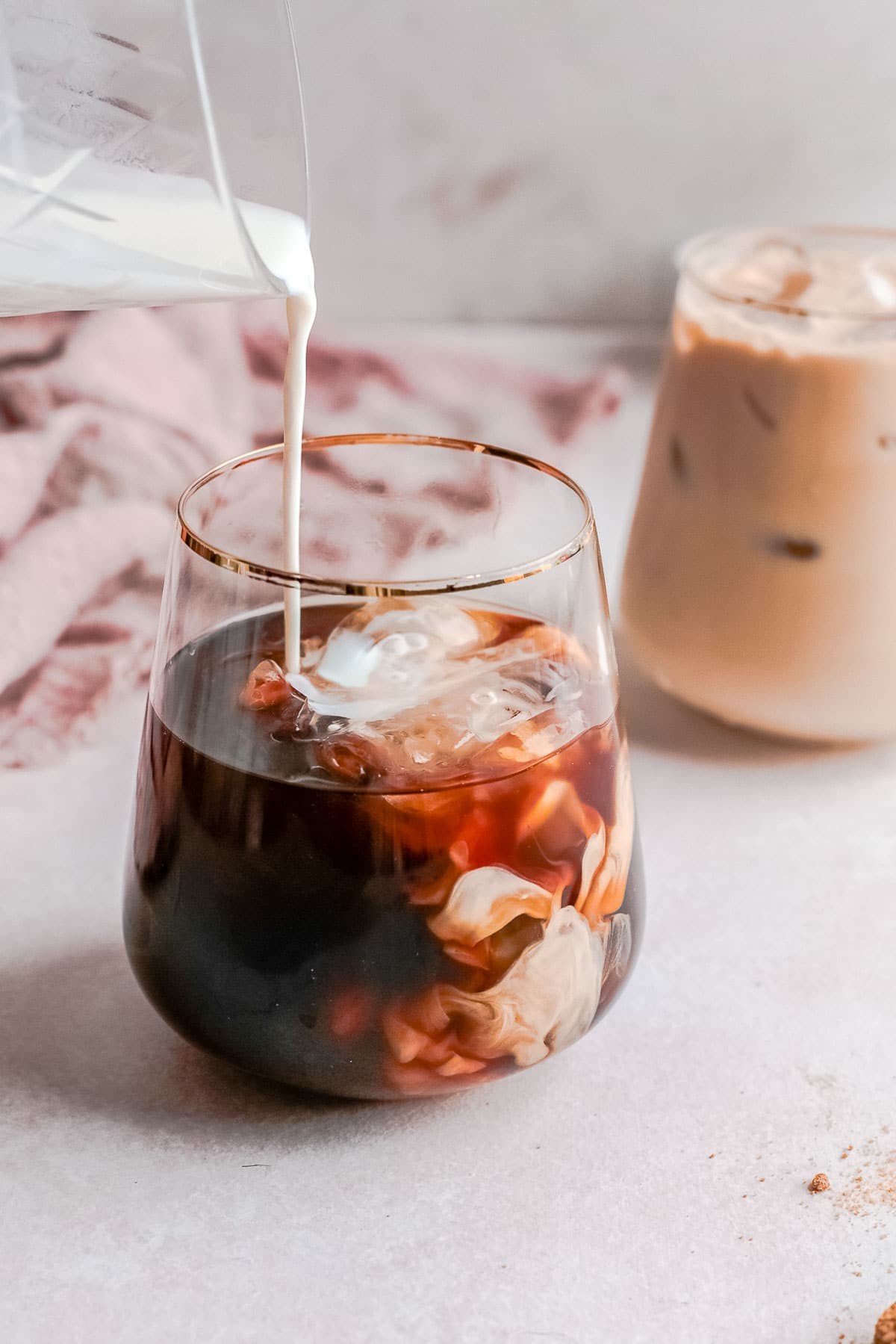 Recipe Ingredients + Notes
Brown sugar. This is used to make an easy delicious homemade simple syrup.
Water. Used to make the simple syrup.
Cinnamon stick. One cinnamon stick is added to the simple syrup to add cinnamon flavor.
Vanilla extract. Also added to the simple syrup for a warm vanilla flavor.
Prepared espresso. The base recipe calls for '2 shots' of espresso. One shot = 1 ounce.
Milk. The milk is drizzled on top of the prepared shaken coffee drink. It adds another layer of creamy flavor. Check the section below for milk suggestions.
Ice. One cup will be used when shaking the coffee drink ingredients and the rest will be used in the glass for serving.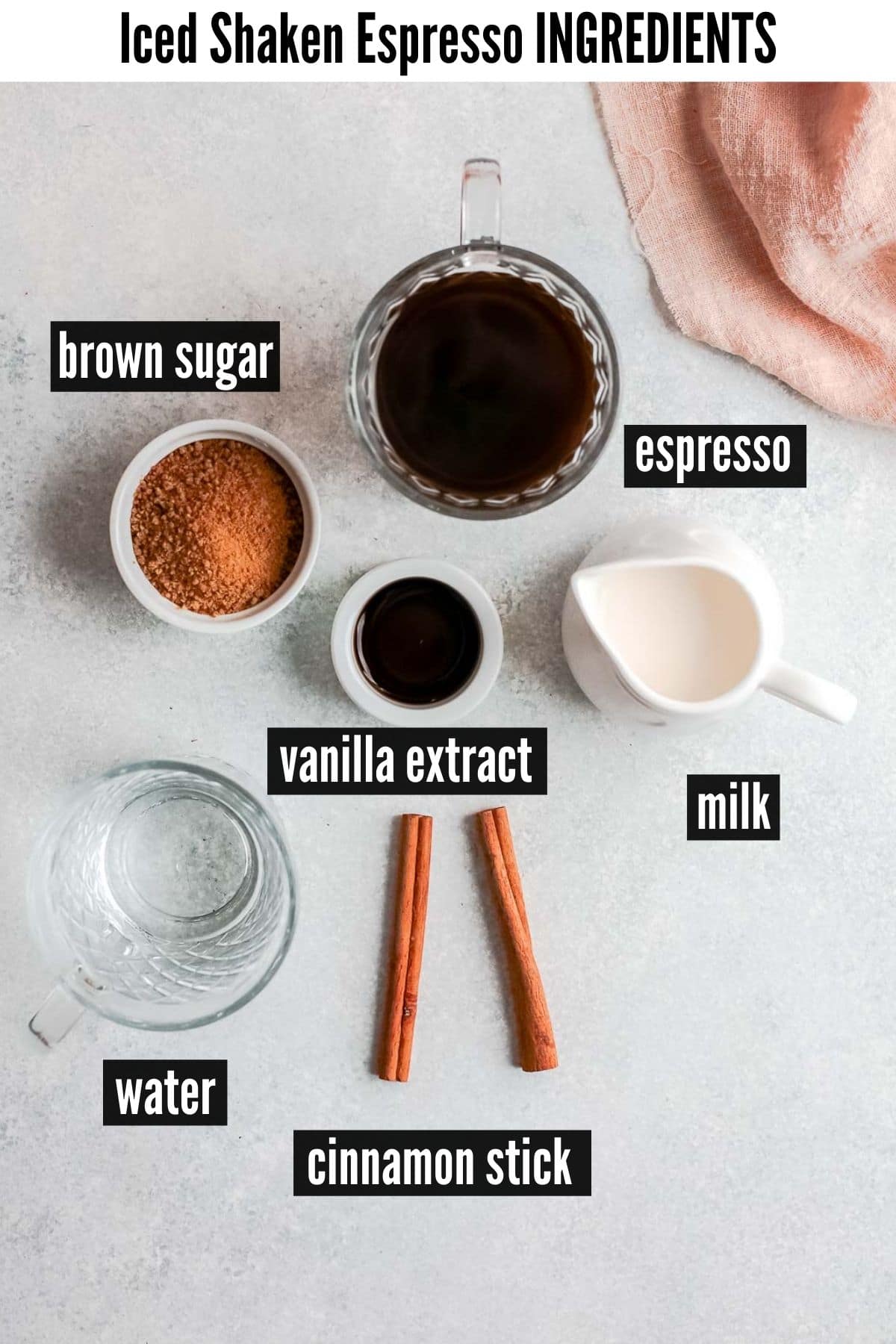 What type of milk to use in shaken espresso?
The milk is drizzled in at the end for some added flavor.
A favorite is Iced Brown Sugar Oatmilk Shaken Espresso. It has a lightly oat-y flavor and wholesome taste. You can used store bought oat milk or make oat milk at home.
Any milk will work. Pick your favorite dairy milk (any fat content), almond milk, or for a different flavor all together try coconut milk.
If you want it even sweeter you can some sweetened condensed milk too.
How to make this shaken coffee drink – Step-by-Step
STEP 1. Make the Brown Sugar simple syrup
In a small saucepan combine the water, brown sugar, and cinnamon stick over medium heat (photos 1-3).
Bring to a simmer and simmer 5 minutes; remove from heat (photo 3).
Allow to cool. Remove and discard the cinnamon stick.
Place syrup in a sealed jar and chill in the refrigerator (photo 4).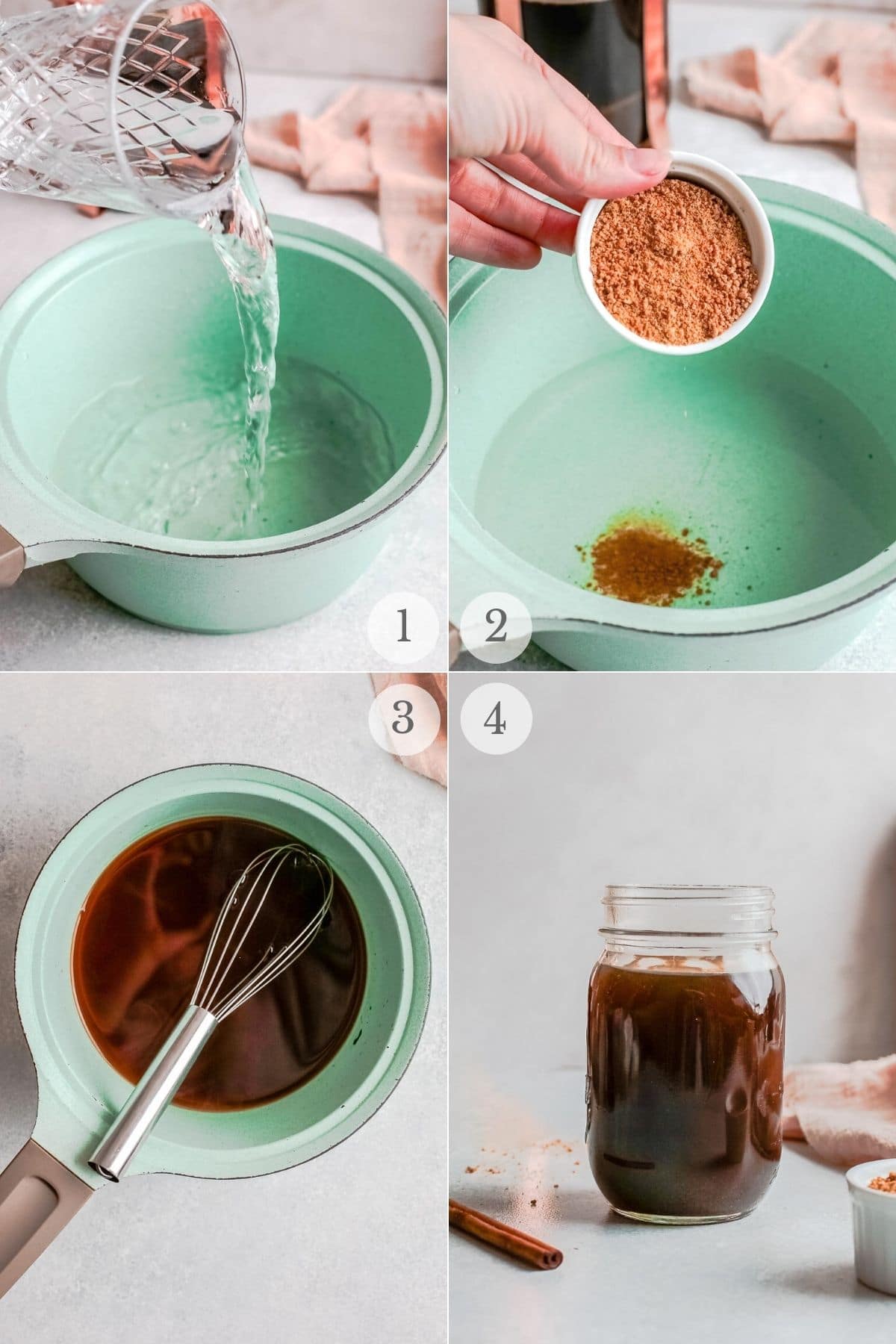 STEP 2. Make the iced Shaken Espresso
Add the simple syrup, coffee and 1 cup ice to a cocktail shaker or quart size jar with lid (photos 5-6).
Shake vigorously. Strain into a glass with 1 cup fresh ice (photo 7).
Drizzle milk on top (photo 8). Sprinkle with cinnamon if desired.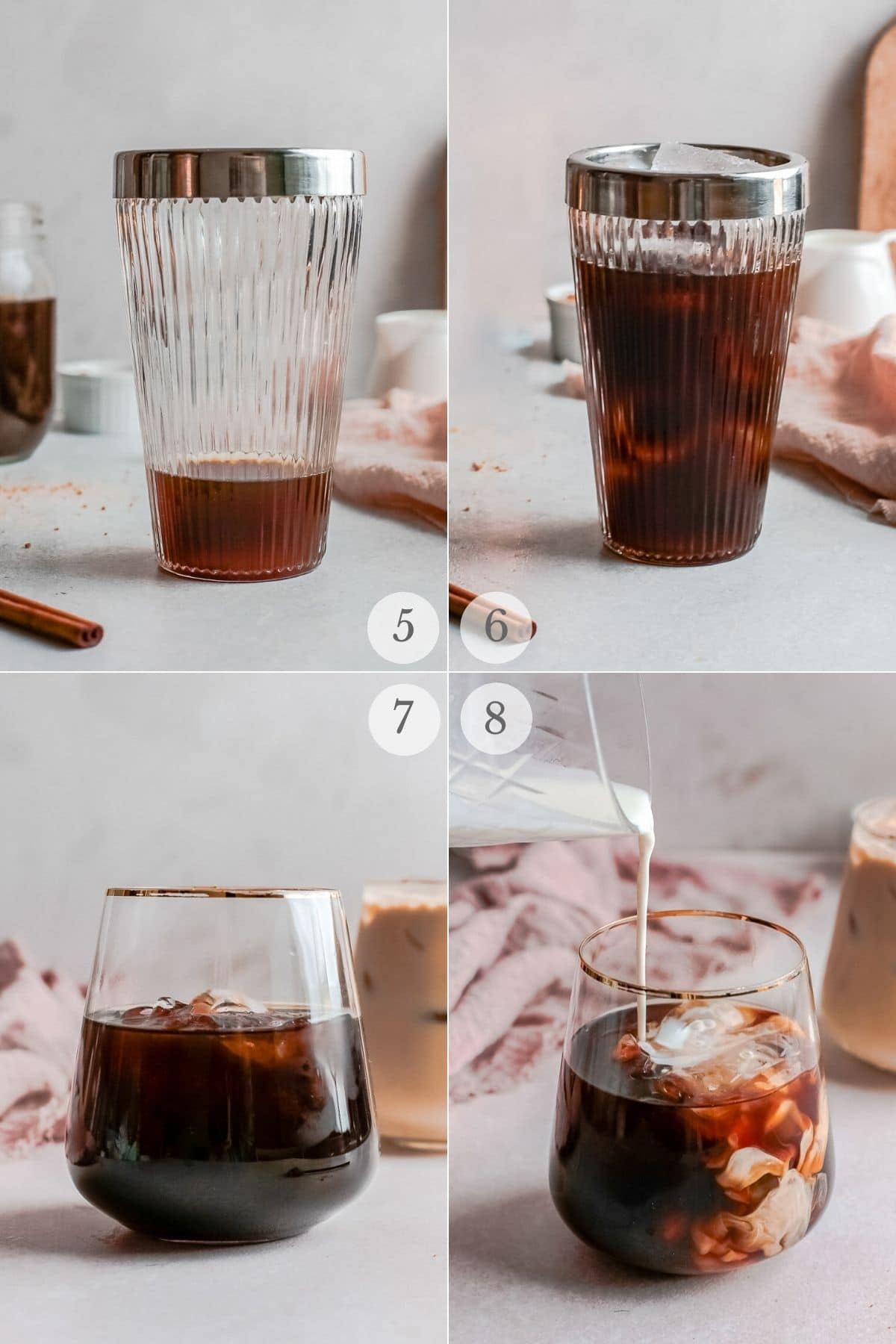 Pro Tips
Brown Sugar Simple Syrup
Recipe makes aproximately 1/2 cup (4 ounces or 8 tablespoons). It makes more than needed for one drink.
Store sealed in a jar in the refrigerator.
It can be made before the shaken coffee drink (on a different day).
The simple syrup can be stored in the refrigerator for up to 1 month.
Frequently Asked Questions
I don't have an espresso maker! What can I use instead?
If you don't have an espresso machine (stand alone or stove top) you can use strongly brewed hot coffee. Instant espresso powder is also an option though the flavor isn't exactly like brewed espresso.
How many ounces are equal to 1 shot of espresso?
1 ounce.
How many tablespoons are in a 'pump' of syrup?
1 pump equals 1/2 ounce or 1 tablespoon.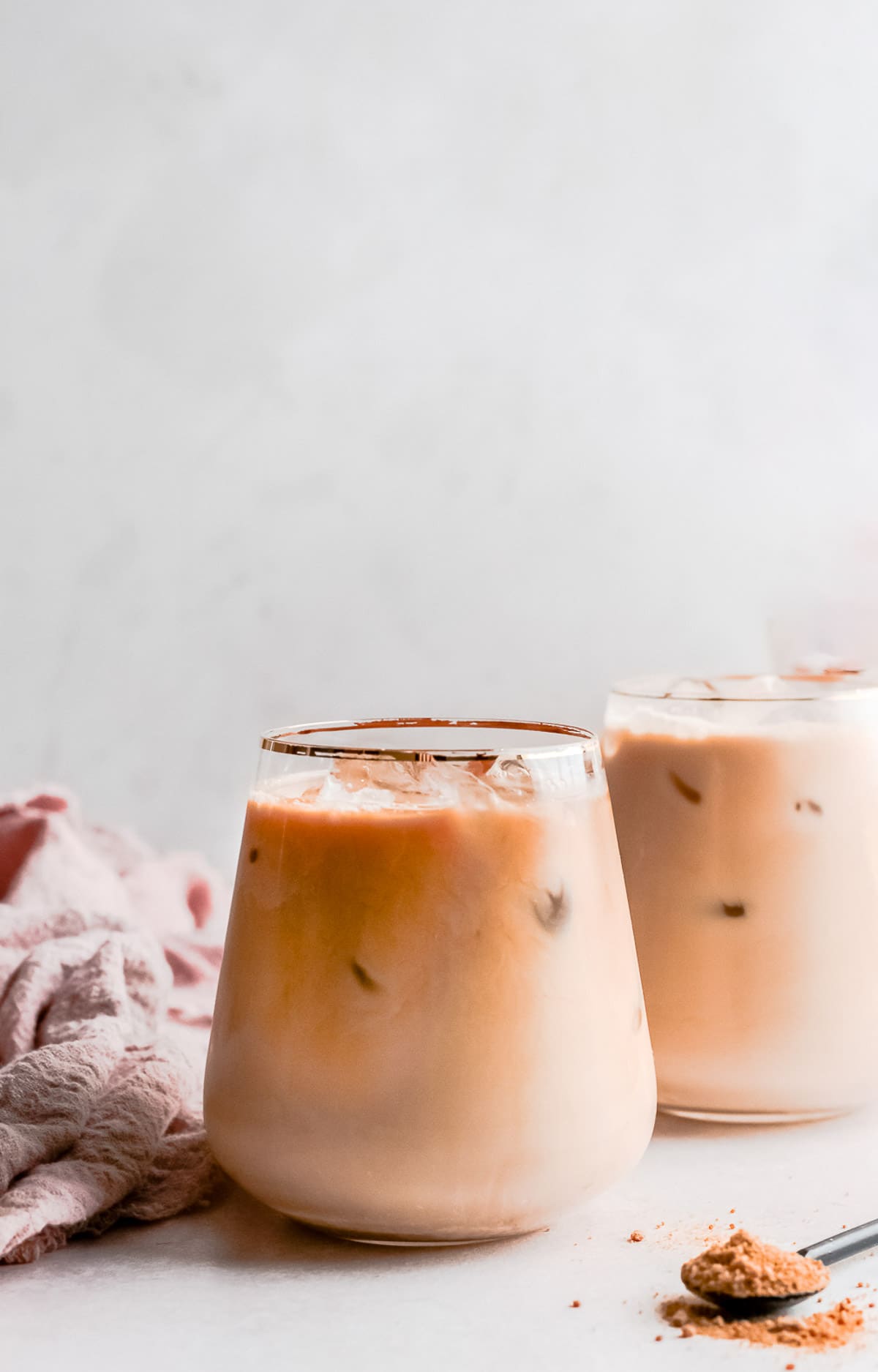 More Recipes You'll Love!
Did you make it? Please RATE THE RECIPE below!
Please
SUBSCRIBE
and
FOLLOW ME
on
FACEBOOK
,
TWITTER
,
INSTAGRAM
and
PINTEREST
!