White Hot Cocoa Bombs get a rainbow upgrade! Velvety white chocolate filled with cocoa mix, colorful sprinkles and mini marshmallows deliver a cheery cup of hot chocolate all year long!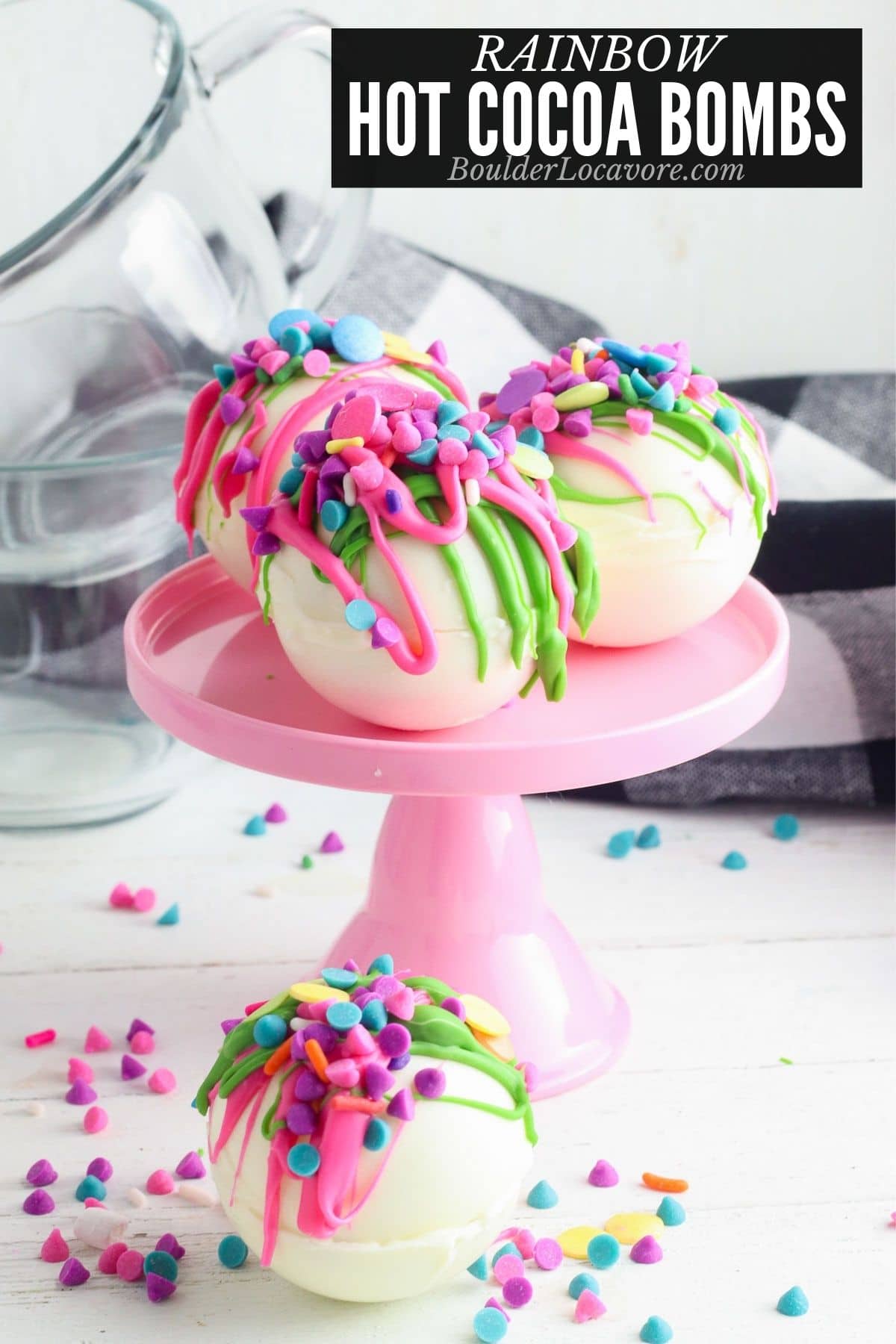 The hot chocolate bomb craze continues full bore!
You've seen them all over the internet (thanks Tik Tok) and can buy them in many stores now too.
But have you made some yourself?
Our Hot Chocolate Bomb guide shows how to make a number of types using dark chocolate for the outer shell.
Now we are switching up and delivering white chocolate goodness!
This rainbow version is happy-making and perfect for spring!
We have a few fun variations too (included) you won't want to miss.
Homemade Hot Cocoa Bombs
To look at these it's not immediately clear what they even are!
A thin outer shell made of chocolate (white chocolate for these) is filled with mini marshmallows, instant hot cocoa mix and other ingredients.
They are carefully sealed and decorated.
When ready to use, place it in the bottom of a mug and fill with hot milk.
Then the fun begins!
Watch the chocolate slowly dissolve to release the inside contents like and explosion (hence the name 'bomb') to the top of the mug.
Stir it all together for a sweet cup of cocoa that's far more exciting and fun than just stirring a mix into milk!
These hot cocoa bombs have a white chocolate shell. You fill the spheres with cocoa mix and sprinkles and mini marshmallows, then decorate them with even more sprinkles.
Wrap them up to give as a gift for a friend or add these springy beauties to an Easter basket.
This is a hot cocoa bomb recipe you can make any time of year–not just winter.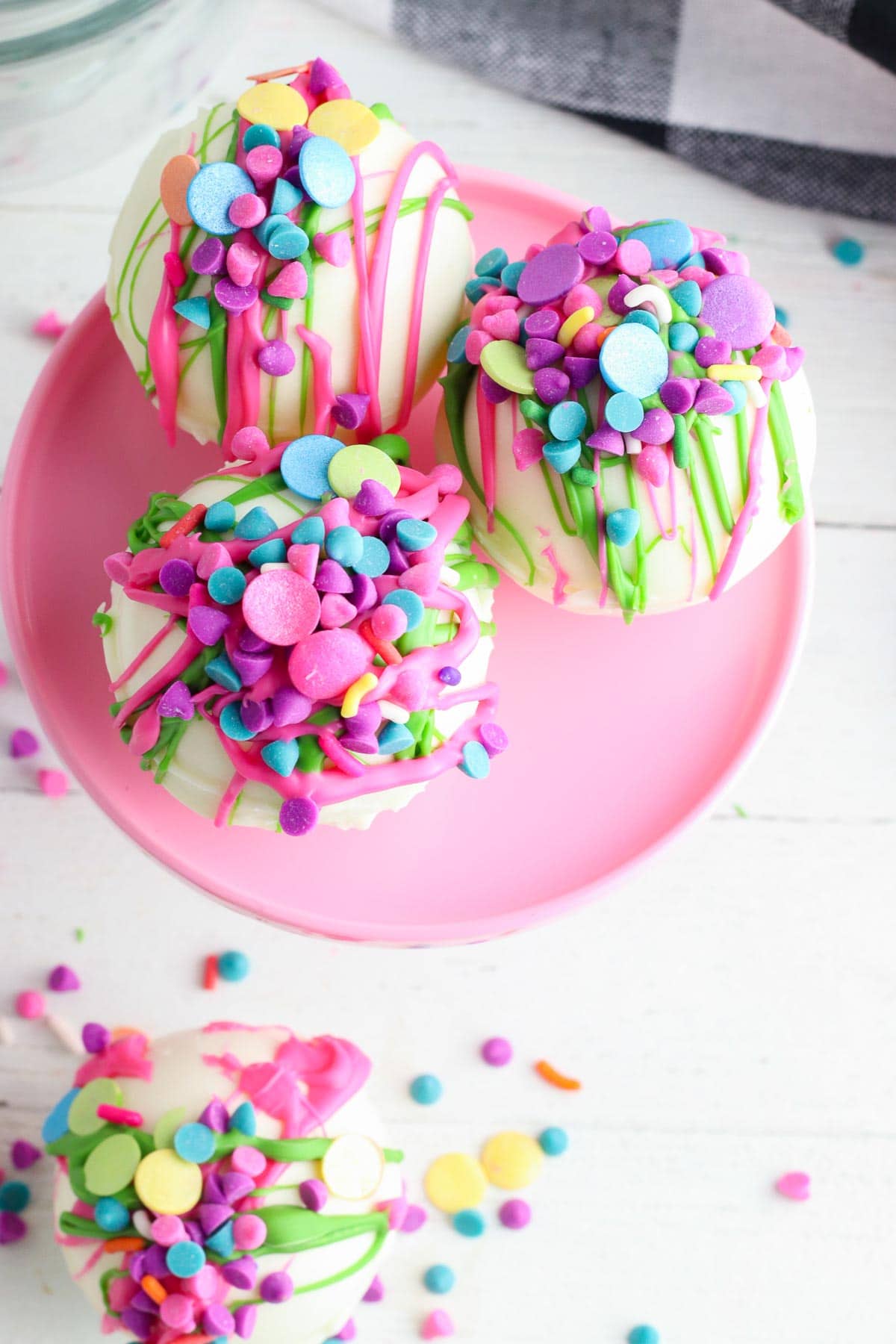 Recipe Ingredients + Notes
White chocolate. This recipe uses white chocolate baking chips however white chocolate candy melting wafers would work too.
Instant cocoa mix. Use regular cocoa mix or a white cocoa mix.
Pink and green melting chocolates. Also called "candy melts." These are melted to drizzle on the finished hot cocoa bombs for decoration.
Feel free to swap out the colors to make different variations.
Mini marshmallows. Added inside the chocolate pods this size is perfect.
Yummallo unicorn sprinkles. This specific baking mix is a combination of mini baking chips, sugar confetti sprinkles and marshmallow bits. Find them online here.
Feel free to swap in another mix you love.
Milk. For adding to the bombs to make cocoa.
What Mold to Use for Hot Cocoa Bombs?
I use these silicone molds for making hot cocoa bombs. Any mold should hold 1 ounce of filling and be labeled as "food grade."
Make sure any mold you use to make these bombs is used only for foods.
Though molds can be used for multiple purposed, keep your crafting and soap molds separate!
How to Make it – Step-by-Step
STEP 1. Melt the white chocolate
Pour the white chocolate chips (or wafers) into a microwave safe bowl (photo 1). Microwave the chocolate chips in 30 second intervals.
Stir between each interval until the white chocolate is smooth and melted.
STEP 2. Fill molds
Transfer a spoonful of the melted white chocolate to each silicone mold cavity. Use the back of a spoon to spread the chocolate up the sides of the mold, covering the entire surface.
Allow the white chocolate to set in the molds until firm (photo 2). This can take 2 – 3 hours. Speed up the process by chilling the molds in the fridge.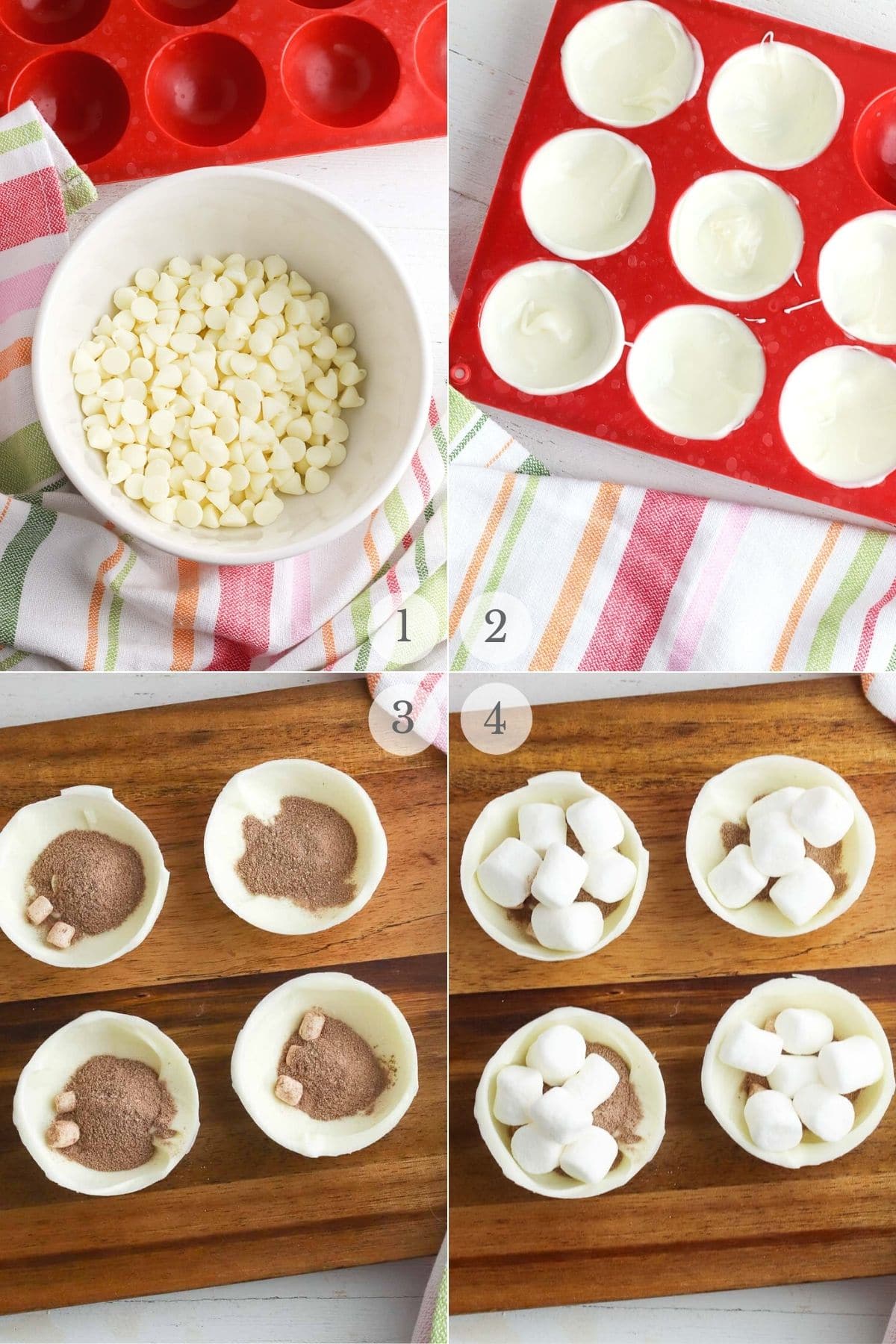 STEP 3. Fill the shells
Carefully remove the hardened chocolate shells from the cavities. Fill half the shells with cocoa mix (photo 3), mini marshmallows (photo 4) and half the unicorn sprinkles (photo 5).
STEP 4. Seal the bombs
You should have some melted chocolate leftover. Reheat this in the microwave to soften and re-melt completely.
Dip the flat edge of an unfilled chocolate shell into the melted chocolate.
Place gently on one of the filled halves. Press lightly to seal.
Repeat with the remaining shells until they've all been sealed (photo 6).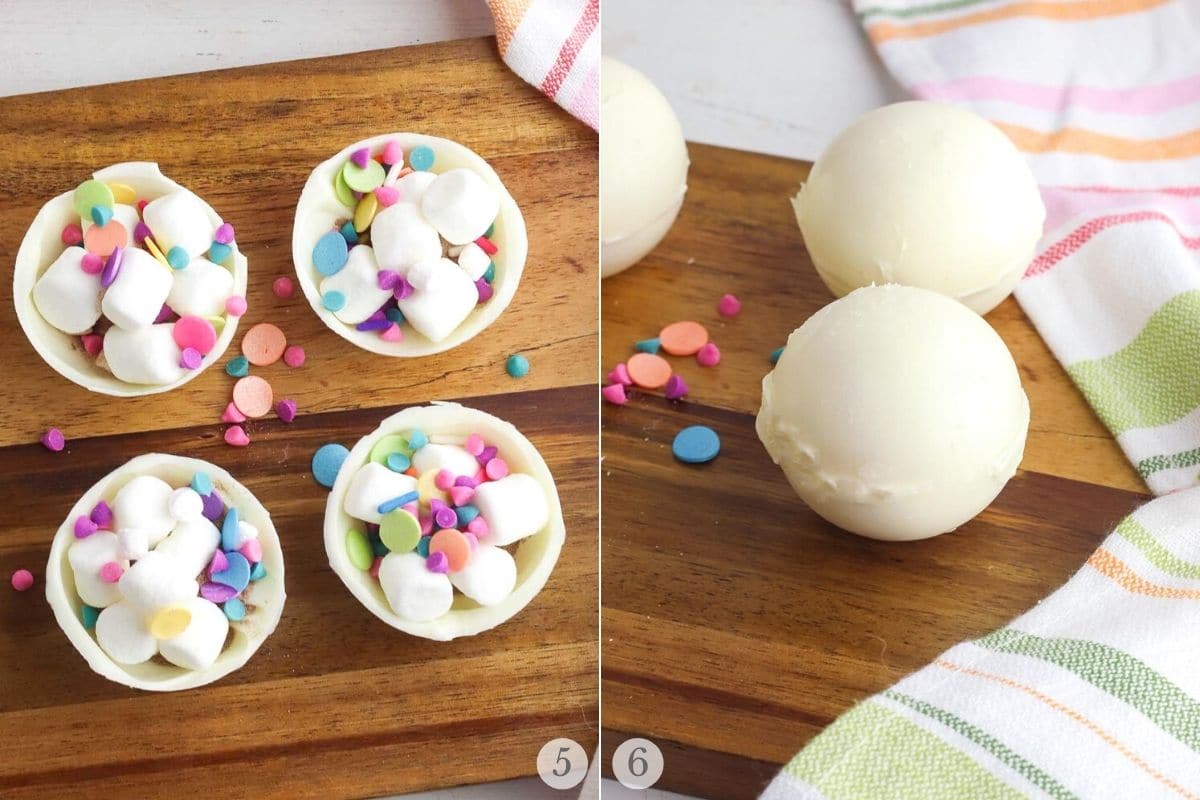 STEP 5. Decorate
Melt the colored candy wafers then transfer to piping bags. Drizzle the hot cocoa bombs with the melted candy.
Sprinkle the rest of the unicorn sprinkles on top of each one.
Let the bombs set for at least 1 hour, until all the chocolate is firm.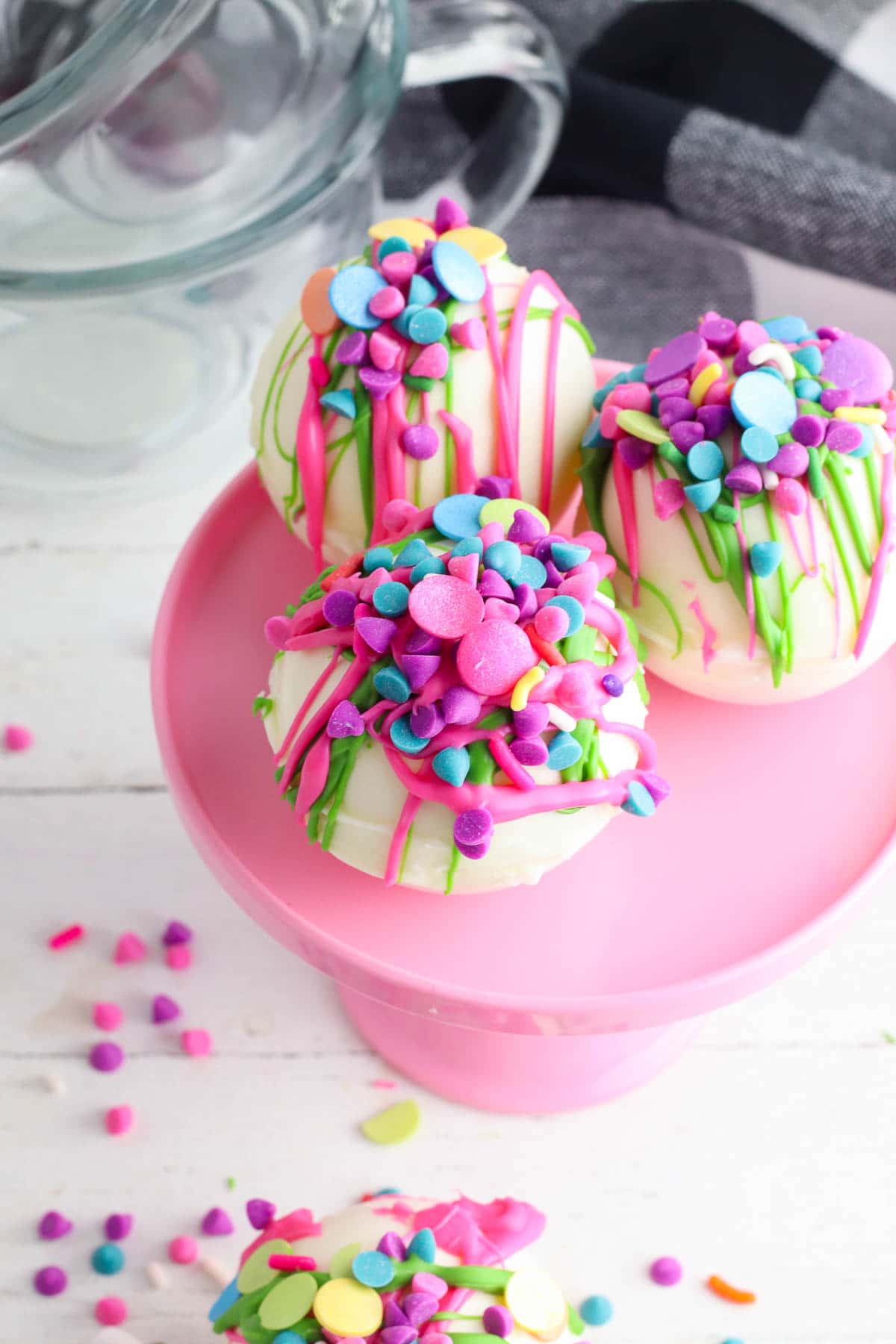 Hot Chocolate Bombs – Variations
After learning the basics to make these you'll see there are so many ways to change them up!
Here are some favorites made with white chocolate: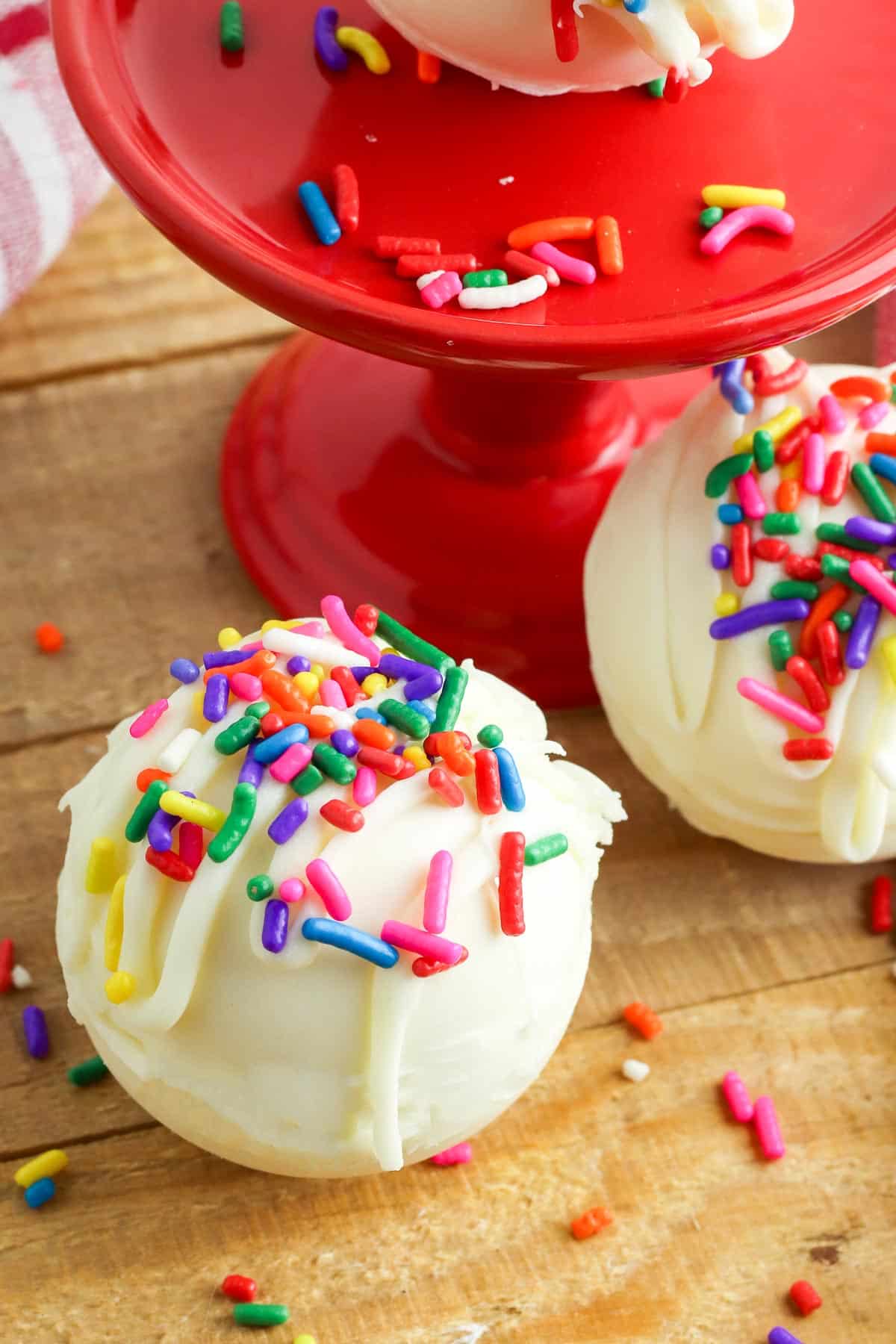 Rainbow Sprinkles
Swap in 1 cup of mini fruit flavored marshmallows instead of regular marshmallows.
Decorate the outside chocolate drizzle with 1/4 cup rainbow sprinkles divided between the finished cocoa bombs.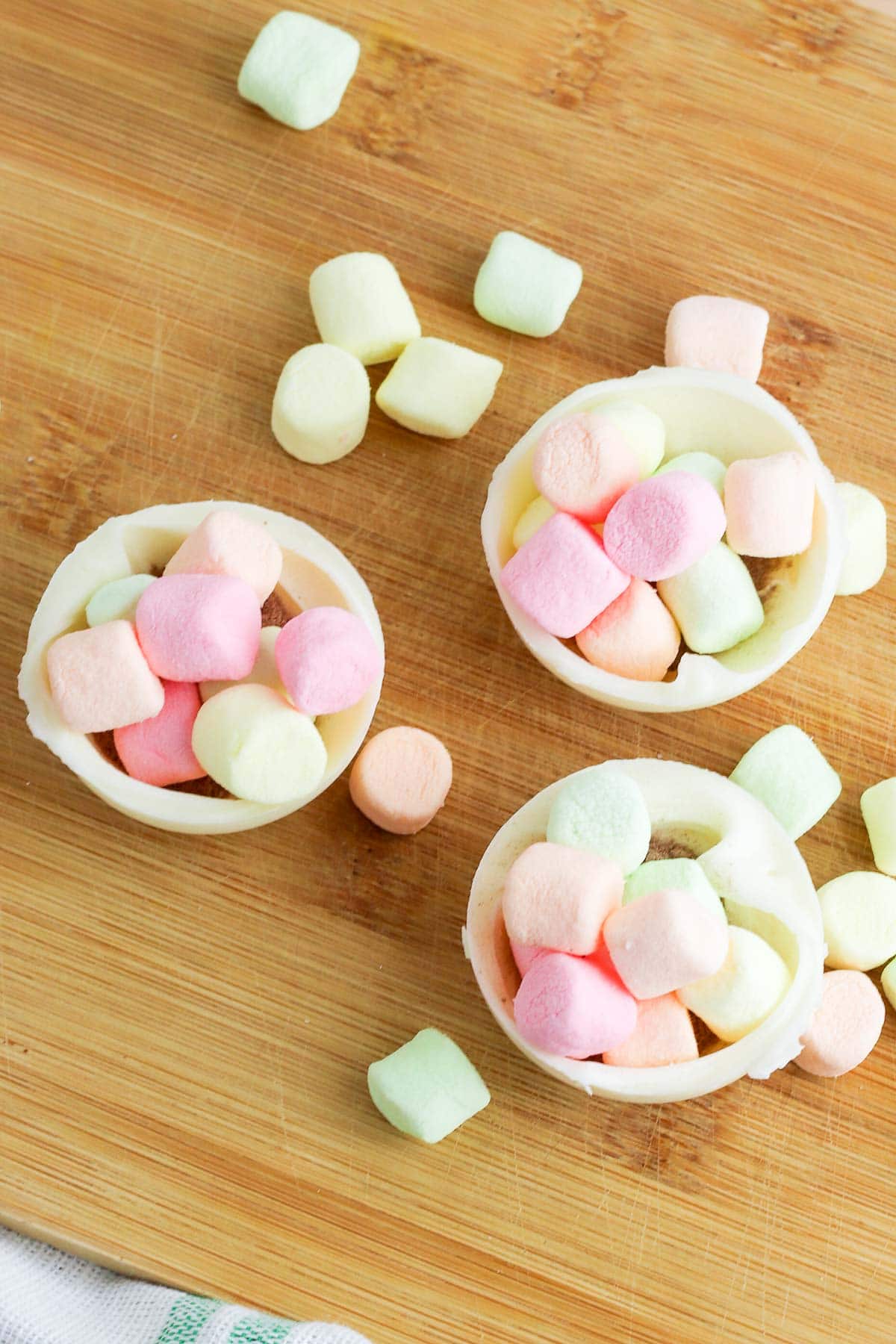 Lucky Charms – St. Patrick's Day
This whimsical version uses 1 cup of Lucky Charms magically delicious marshmallows inside and 1/4 cup Lucky Charms cereal to decorate the outside drizzle.
Note for those gluten-free: at the time of this posting Lucky Charms cereal is gluten-free but always check the package label.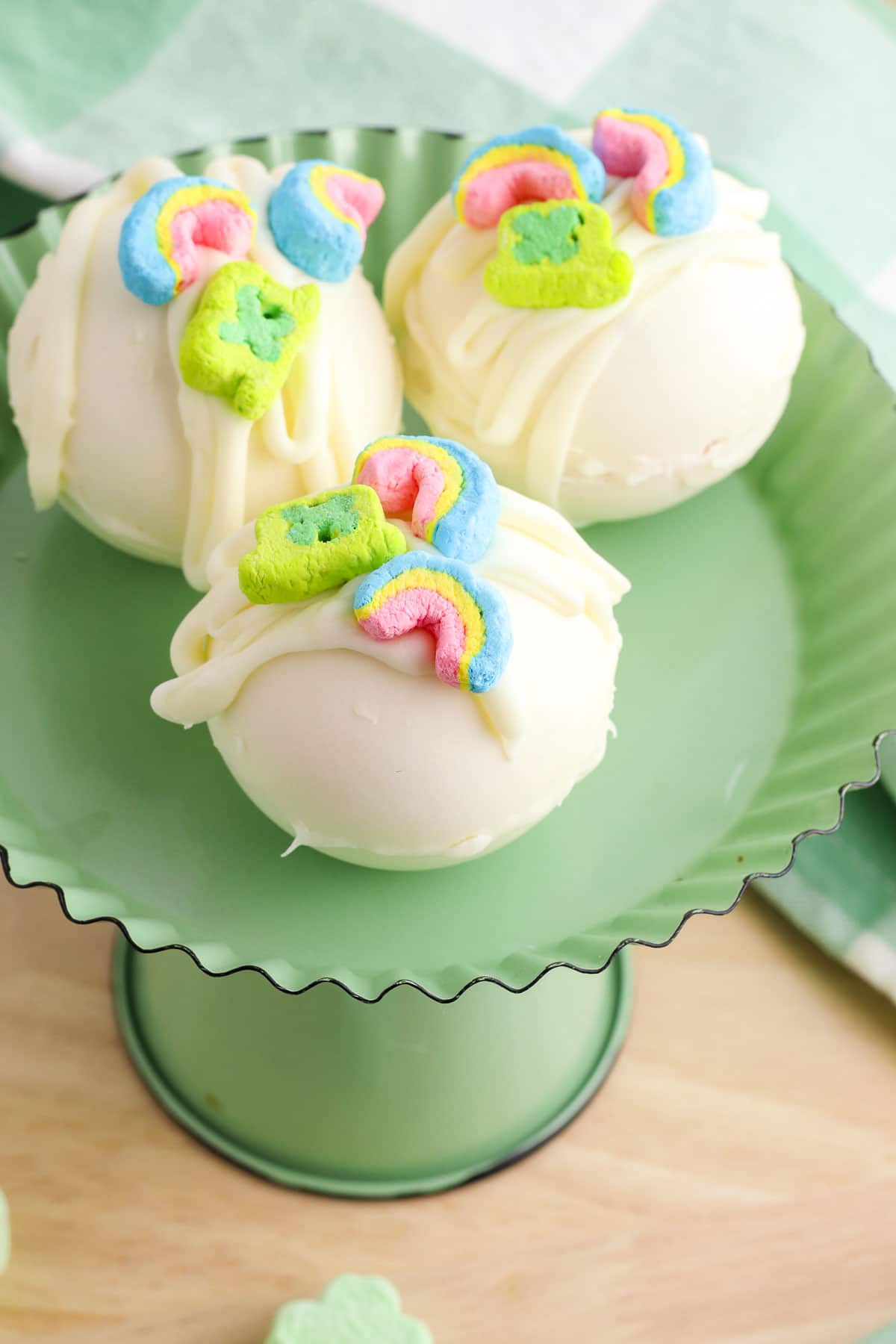 Valentine's Day (heart shapes)
Another fun twist is to use a different shaped mold.
These heart shapes were made using this mold which we also used to make homemade Peanut Butter Cups!
Simply follow the same process as outlined.
For the outside design drizzle a bit of melted pink candy melt wafers into the mold before adding the chocolate.
We inserted a stirring stick (3 1/2-inch long cocktail picks) too for fun!
See them in action in our heart hot cocoa bomb story.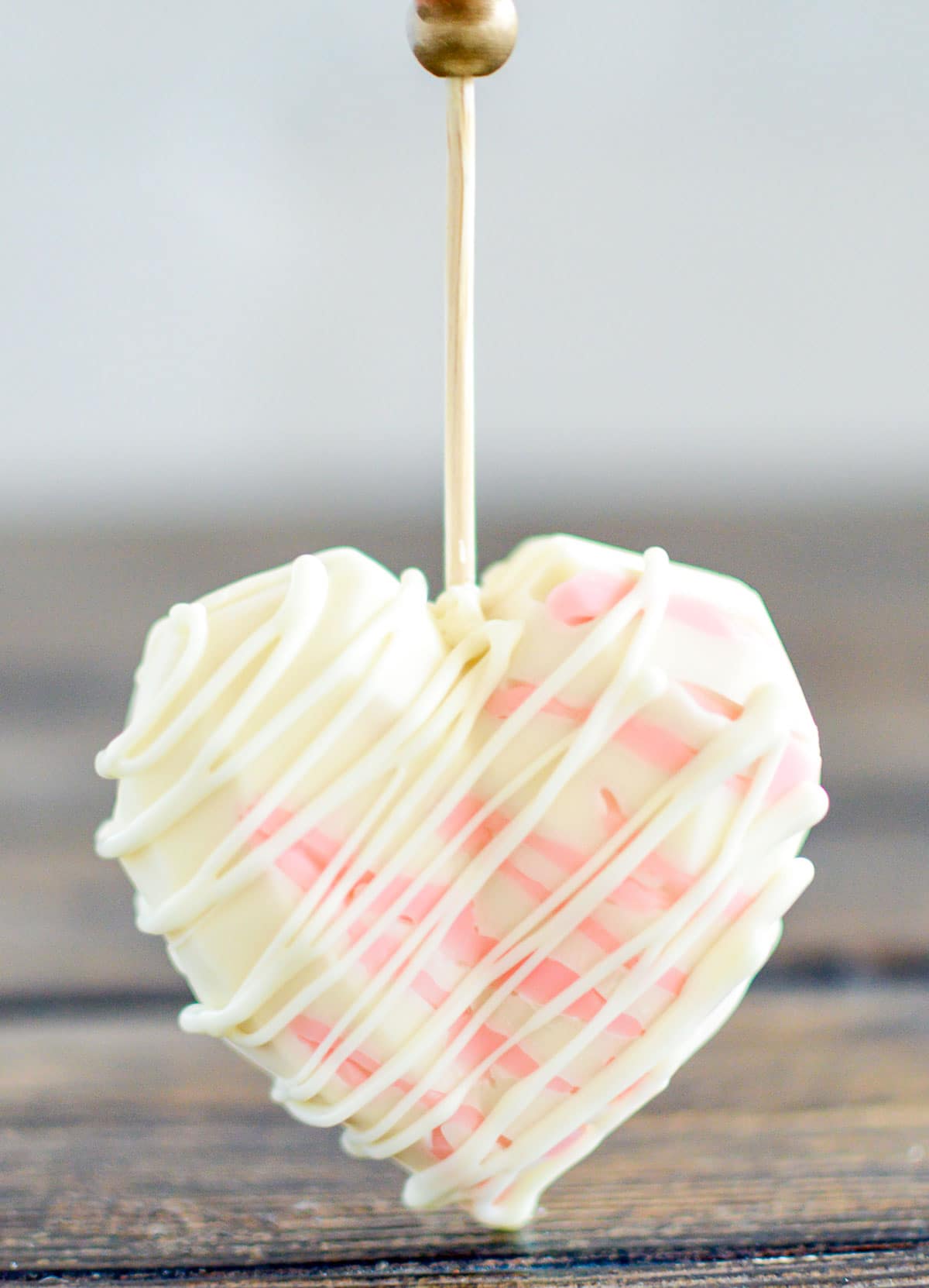 How to Use Them
When you're ready to enjoy your sweet drink, place one cocoa bomb at the bottom of a mug.
Pour a cup of warmed milk over the bomb. Let the chocolate melt completely into the milk, then stir and sip!
Want a White Chocolate Rainbow Mocha instead? Replace half of the milk with a hot cup of strong brewed coffee.
This Vanilla Steamer would be incredible poured over one of these hot cocoa bombs too!
Recipe FAQ's + Pro Tips
Be gentle when sealing the two chocolate halves together. Don't push hard; a light touch will do. Otherwise, you run the risk of breaking the chocolate.
Heat white chocolate gradually. Overheated white chocolate will "seize" and become impossible to stir. Check the package directions and stir frequently during the melting process.
Want a perfect smooth seam? Sometimes the chocolate clumps around the seam when trying to fit the halves of chocolate shell together. If that happens try these tricks:
Fill a glass with hot water. Dip a spoon into the water for a moment to warm it. Run the flat side of the spoon along the seam in one smooth motion to flatten the chocolate.
Run a clean finger along the seam while the chocolate is still soft. If the chocolate has hardened, dip your finger in some melted chocolate first before running it over the seam.
What Mold to Use for Hot Cocoa Bombs?
I use these silicone molds for making hot cocoa bombs. Any mold should hold 1 ounce of filling and be labeled as "food grade."
Make sure any mold you use to make these bombs is used only for foods.
Though molds can be used for multiple purposed, keep your crafting and soap molds separate!
What cocoa mix is best in hot cocoa bombs?
Any instant hot chocolate powdered mix will work. I used regular milk chocolate mix in these to contrast with the white shell.
White cocoa would be tasty too if you can't get enough white chocolate!
Can I make this with a different kind of sprinkles mix?
Yes, you can use other varieties or colors of sprinkles in these bombs. Mix up the colors for different holidays.
Think red and pink for Valentine's Day or green for St. Patty's day celebrations!
We like this mix because the ingredients will dissolve in the cocoa. Some sprinkles may not.
Storing them
Homemade Hot Cocoa Bombs should be stored in a cool, dry place in the pantry.
I don't recommend refrigerating them unless you live in a hot, humid area.
The moisture in the refrigerator can cause condensation to form on the bombs which affects their texture.
These would be adorable as gifts wrapped in colorful plastic wrap and tied with a ribbon!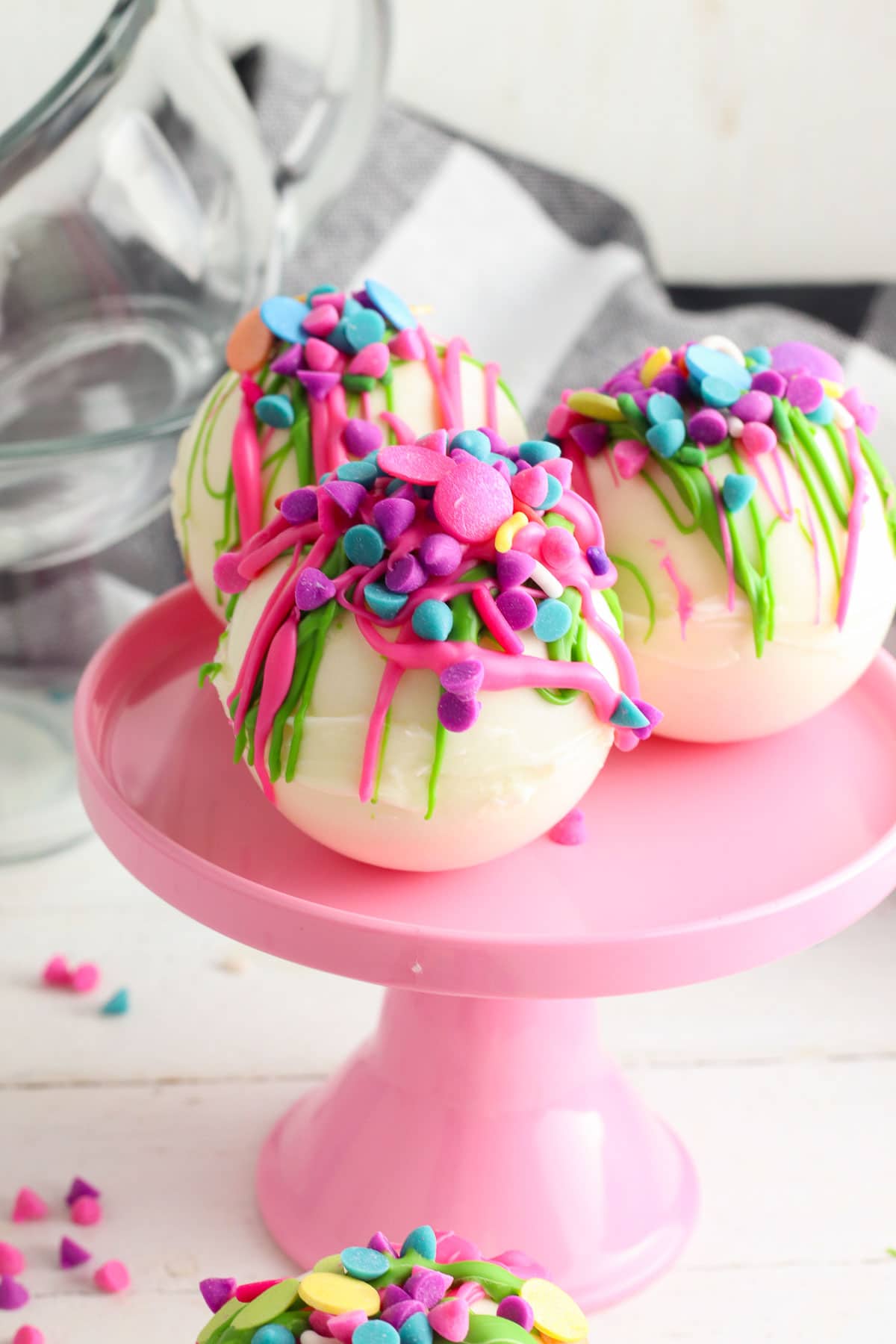 More Recipes You'll Love!
Did you make it? Please RATE THE RECIPE below!
Please SUBSCRIBE and FOLLOW ME on FACEBOOK , TWITTER , INSTAGRAM and PINTEREST !