Chickpea Curry satisfies vegetarians and meat eaters alike! This coconut curry with fragrant Indian spices and sweet potatoes is unbelievably hearty, nourishing and delicious!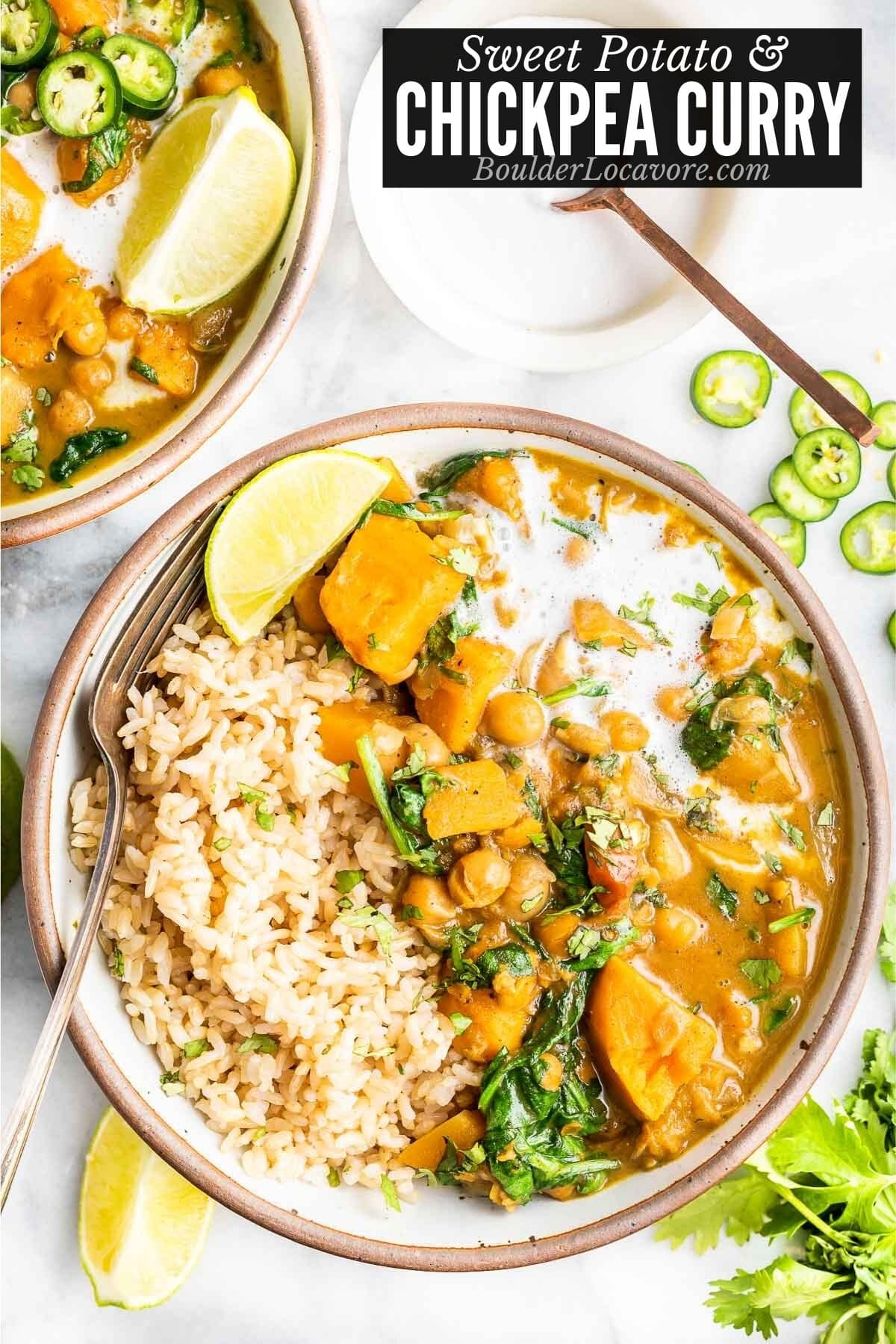 Sweet Potato and Chickpea curry gets its flavor from aromatic spices like garam masala, curry powder, cumin, garlic and creamy coconut milk.
Jalapeño and ginger give the dish just the right amount of kick.
Make this easy Chickpea Curry for dinner tonight and enjoy the leftovers for lunch tomorrow!
It has even more flavor the next day.
Try some easy homemade Peach Chutney as a topping. Adds some sweetness and dampens the heat.
Soul Warming Chickpea Curry
Even the most devoted meat eaters need a meatless meal from time to time.
The key to exciting vegetarian dishes, is to allow the natural delicious flavor of the ingredients to shine.
Great seasonings and plenty of plant protein ensures a satisfying meal.
Chickpeas are a favorite protein source for curries like this.
They're hearty enough to hold up to the thick sauce and absorb all those lovely spices.
Sweet potatoes and spinach fill the curry with gorgeous color and texture.
Serve this vegan chickpea curry over basmati rice for a protein packed meatless meal!
It's also naturally gluten-free.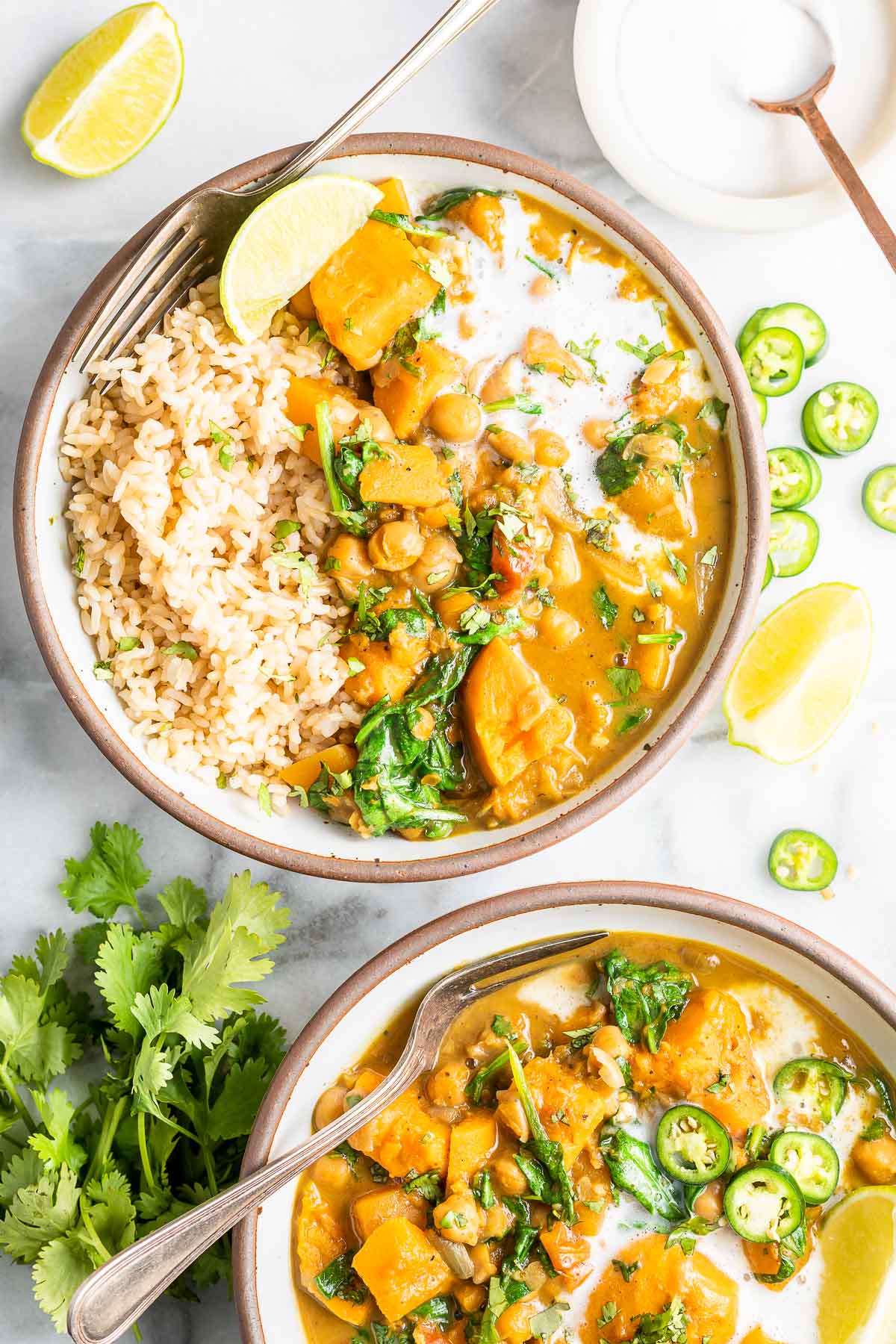 Recipe Ingredients + Notes
Olive oil or coconut oil. Used for sautéing.
Yellow onion. Peeled and chopped. It will be sautéed first to create a flavor base for the curry.
Garlic. Use fresh garlic cloves minced.
Jalapeño pepper. Adds a spicy heat to the curry along with the traditional spices. Scrape out the membranes and seeds for a less spicy version.
Fresh ginger root.
Garam masala. This blend of bay leaves, peppercorn and cinnamon gives the curry its authentic flavor.
Curry powder. A key spice blend that gives the signature flavor.
Sea salt. Kosher salt can also be used.
Cumin. Use ground cumin. This gives an earthy classic flavor.
Butternut squash and Sweet Potatoes. Cut into bite-size cubes. They add a wonderful sweet contrast to the spicy flavors.
Use prepared pre-peeled and cut squash cubes from the grocery store to save time!
Chickpeas. Drained and rinse canned chickpeas. Two cups of freshly cooked chickpeas can be substituted if preferred.
Tomatoes. Fresh chopped tomatoes or canned unseasoned chopped tomatoes can be used..
Vegetable broth. We recommend low sodium broth.
Coconut milk. Make sure to use the kind from a can. The carton coconut milk made for drinking is far less thick and won't work well in this recipe.
Granulated sugar. Coconut sugar adds delicious sweetness too, if you have it!
Baby spinach. Fresh (not frozen) and roughly chopped.
Lime juice. You'll need the juice of half a lime.
Optional toppings: Coconut cream or yogurt, chopped cilantro, serrano peppers, lime wedges for serving.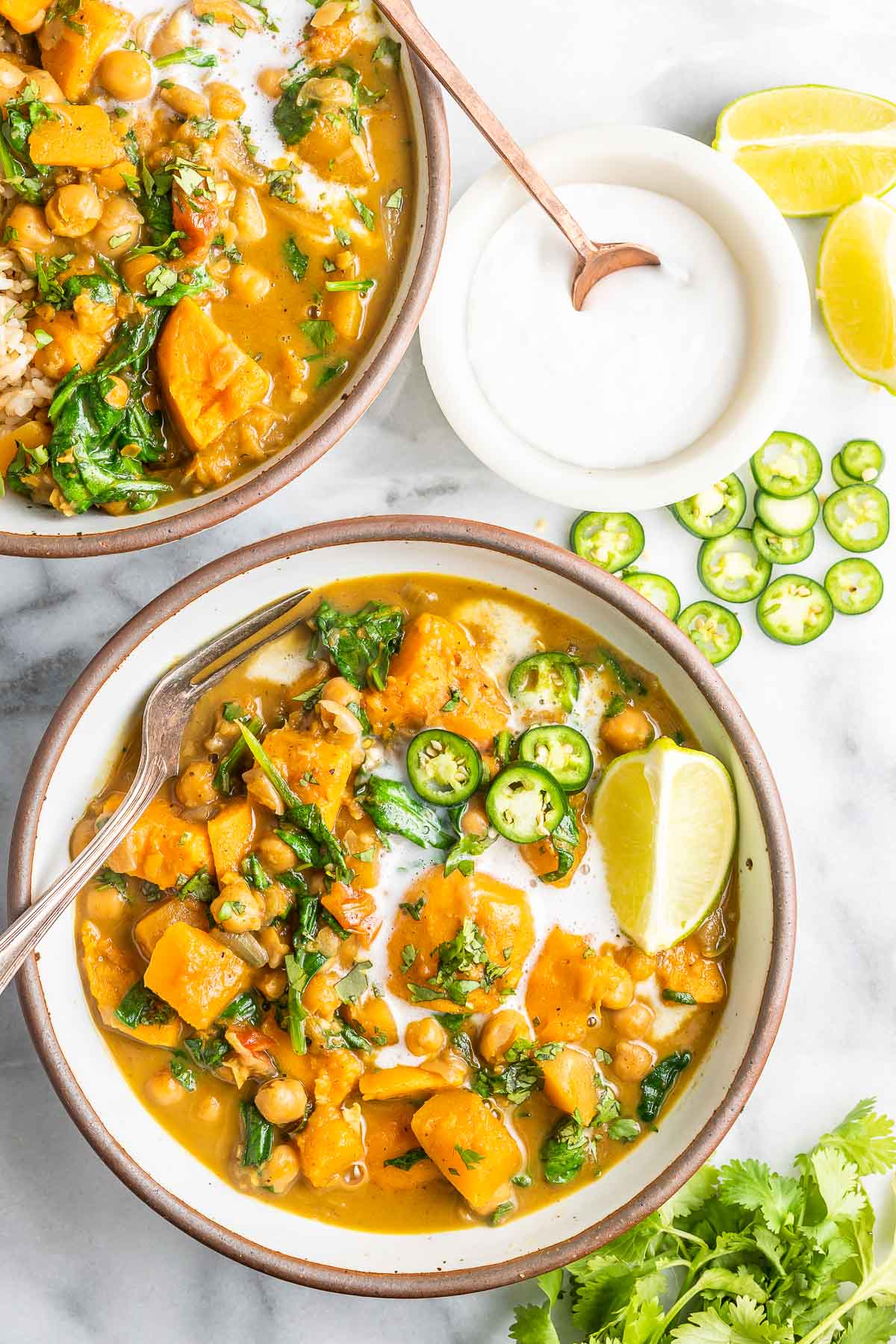 Variations
Omit the jalapeño. Removing the seeds and membranes gives the curry the flavor of the jalapeño without making it overwhelmingly spicy. To make an even milder variation, leave out the pepper entirely.
Chickpea Kale Curry. Swap out the spinach for roughly chopped kale. Keep in mind kale needs a bit more time to cook down than spinach. Adjust the cooking time accordingly.
Butternut Squash Curry. Use twice the sweet potatoes and omit the butternut squash.
How to Make it – Step-by-Step
This chickpea curry comes together easily in one pot.
STEP 1. Cook the onion and spices
Heat oil in a Dutch oven over medium high heat. Add the onion to the oil and cook until it begins to soften.
Stir in the garlic, jalapeño and fresh ginger and cook everything together for another minute (photo 1).
Add the powdered spices to the pan (photo 2). Cook another minute stirring continuously to release the fragrance of the spices.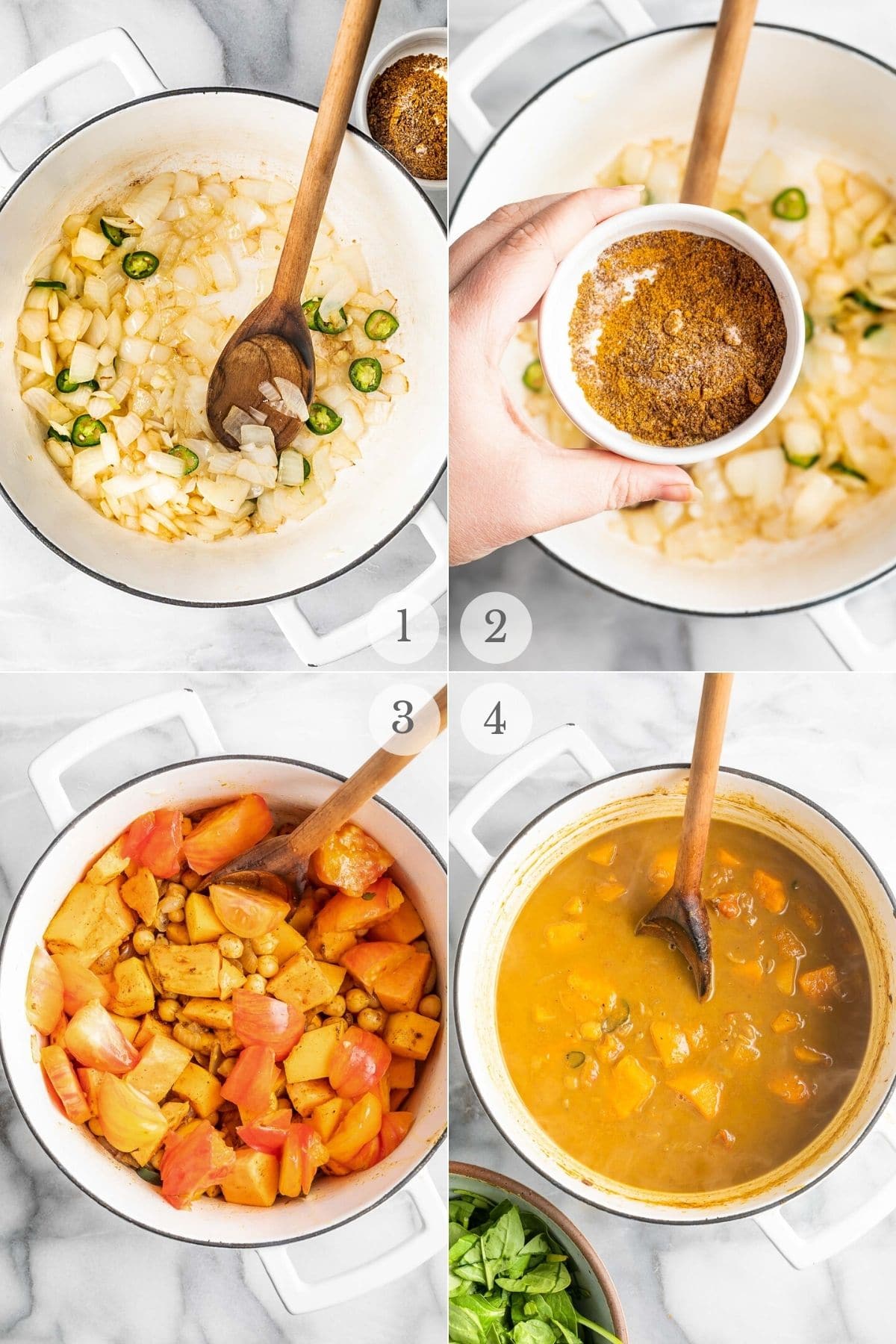 STEP 2. Add vegetables
Put the sweet potatoes, squash, tomatoes and chickpeas into the pot (photo 3). Give everything a stir.
STEP 3. Add liquid
Pour vegetable broth and coconut milk over the veggies (photo 4). Stir in sugar.
STEP 4. Simmer
Simmer the chickpea curry covered for 15 minutes. Then, remove the lid and simmer an additional 15 minutes, stirring periodically.
STEP 5. Add spinach
Add spinach and lime juice (photo 5). Stir everything together to wilt the spinach and combine (photo 6).
STEP 6. Serve
Serve warm curry over cooked rice. Add toppings like fresh yogurt, serrano peppers and chopped cilantro if desired.
Add a squeeze of lime to chickpea coconut curry just before digging in!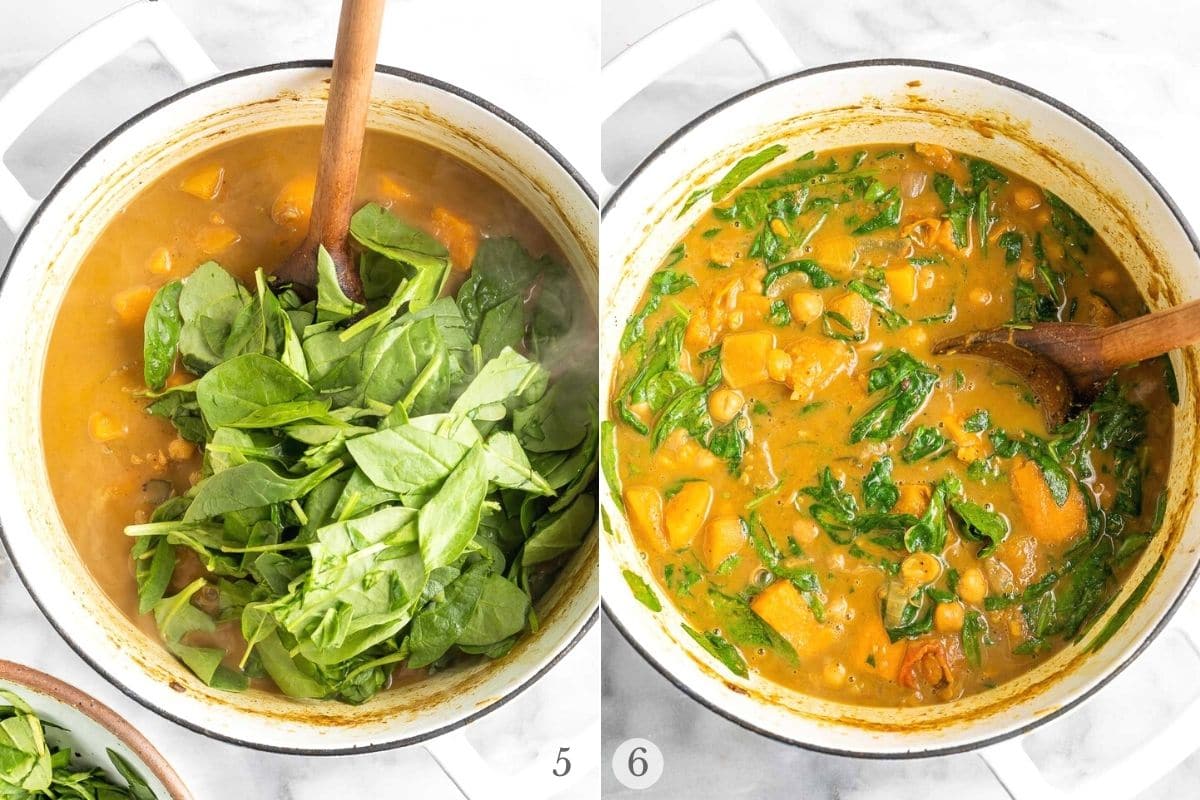 Recipe FAQs + Pro Tips
Time saving tip: Use pre-cut butternut squash and sweet potatoes. You can find them already peeled and cubed in the produce section of most grocery stores.
Let the curry rest for best flavor. Waiting 10 minutes or so before serving the curry helps the flavors meld even more. This makes the already delicious curry even better!
Of course, if you can't wait feel free to enjoy it right away. It's still fantastic.
Use a 5 quart Dutch oven. Dutch ovens evenly distribute heat Being heavier pans they help avoid burning too. You can also make this in a regular 5 quart stock pot if needed.
Is this recipe vegan?
Yes, this Sweet Potato and Chickpea Curry is completely free of meat, eggs and dairy. It is suitable for vegans, vegetarians and anyone else who loves delicious food!
Storing Leftovers
Coconut curry can be stored covered in the refrigerator for up to 3 days. The dish reheats well in the microwave or on the stove top.
It tastes even better the next day when all those tasty flavors have had time to mingle.
Freezing Chickpea Curry
Allow the curry to fully cool. Place in a freezer safe airtight container or freezer bag and squeeze out excess air if possible.
Freeze for up to 2-3 months. Thaw in the refrigerator and reheat.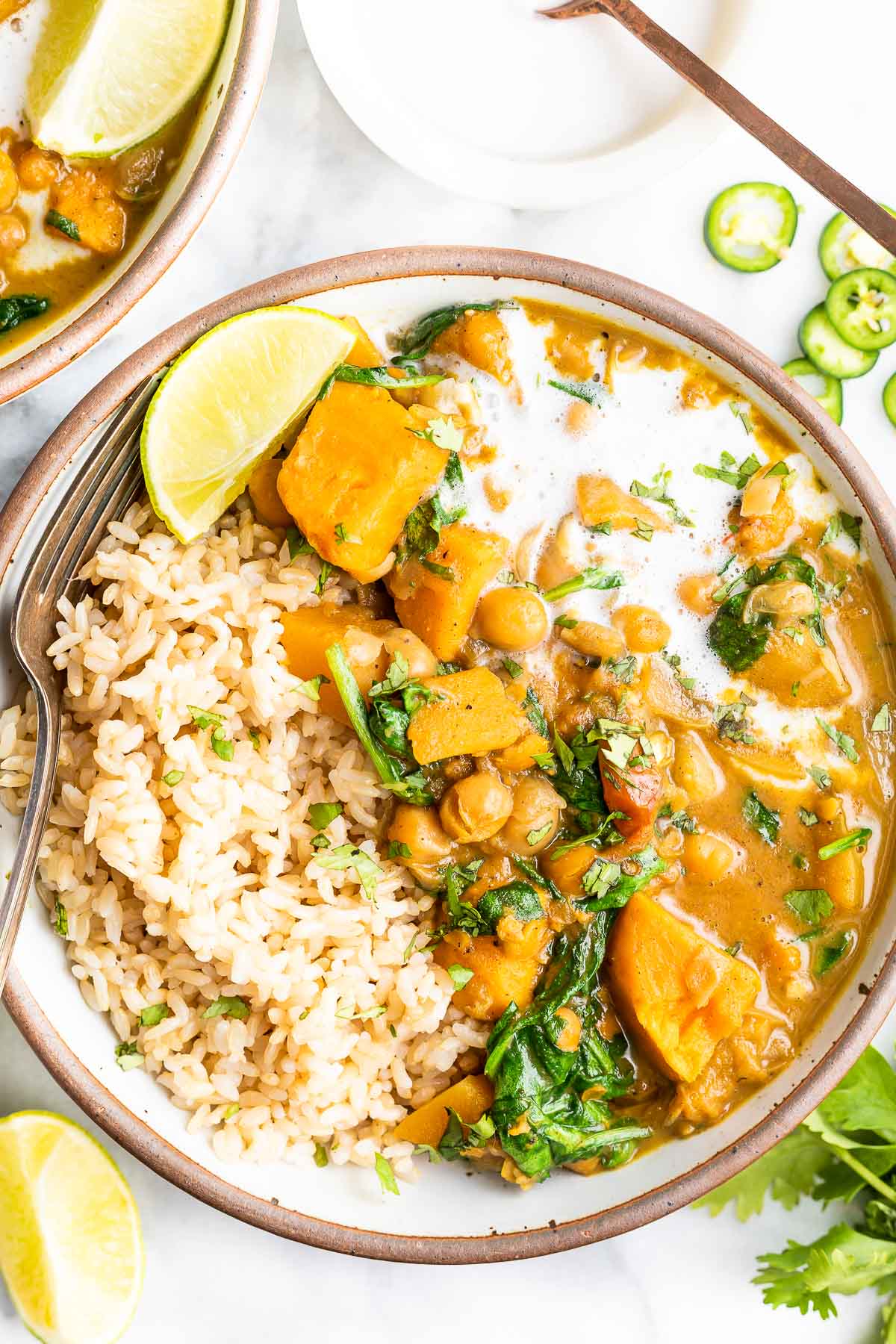 More Recipes You'll Love!
Did you make it? Please RATE THE RECIPE below!
Please SUBSCRIBE and FOLLOW ME on FACEBOOK , TWITTER , INSTAGRAM and PINTEREST !