Chicken Pad Thai full of rice noodles, chicken and egg stir-fried in a sweet and tangy sauce then topped with peanuts! Skip the takeout tonight and make this easy recipe at home instead.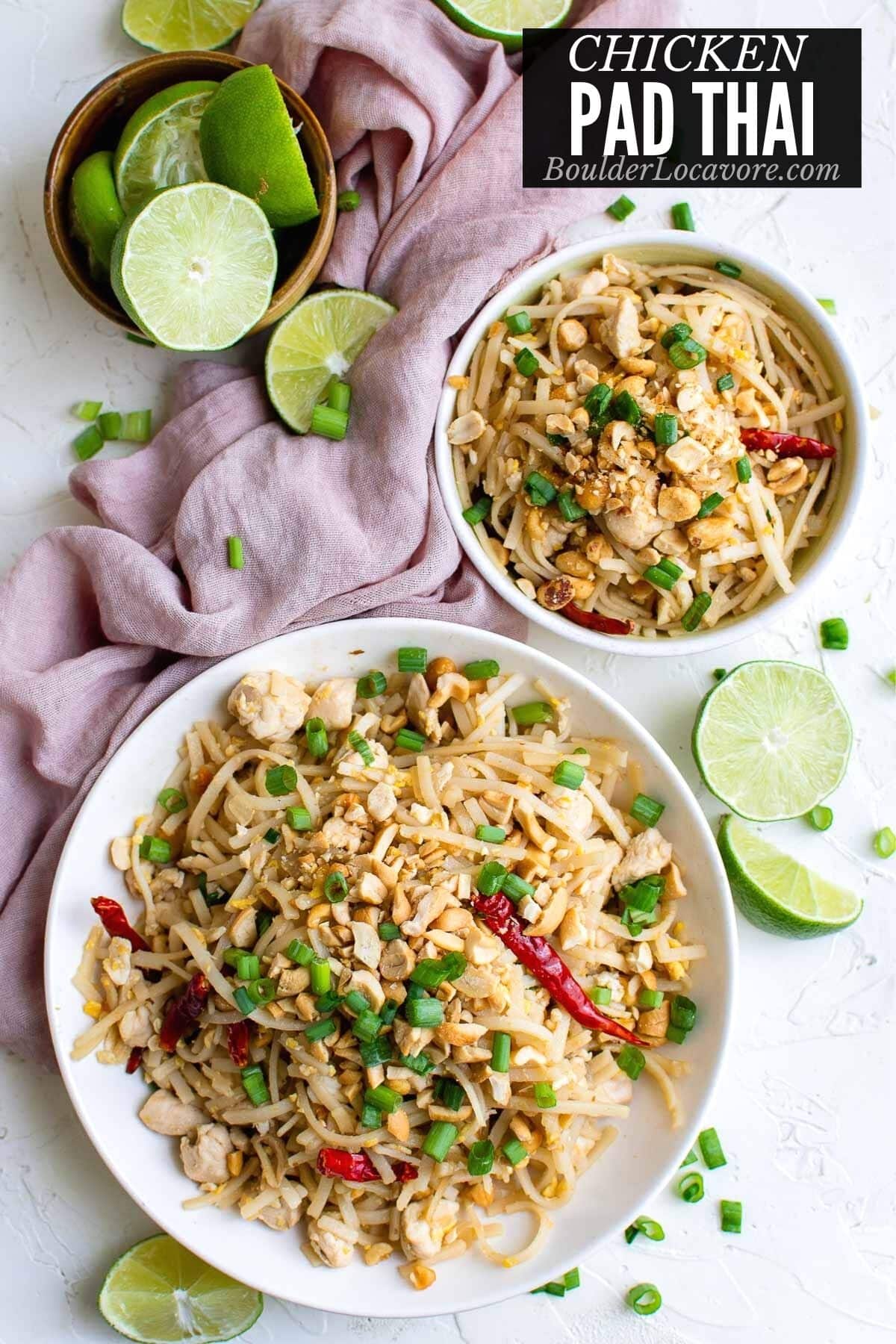 If you love Thai food flavors this recipe is a classic!
The great news is you don't have to go out to have this authentic Pad Thai recipe on the dinner table in 30 minutes!
If you love Thai flavors try our Spicy Green Papaya salad, Thai Chicken Meatballs, and Thai-Style Dipping Sauce recipe
Homemade Chicken Pad Thai Recipe
Pad Thai is one of the most popular dishes in Thai cuisine not only in Thailand but internationally at Thai restaurants.
It's classic street food with bold, exciting flavors and satisfying textures people can't get enough of.
What is Pad Thai?
Pad Thai is a stir-fried rice noodle recipe usually featuring chicken, shrimp, beef or tofu.
When ordering in American Thai restaurants combinations of the protein are popular with diners.
It has scrambled egg, vegetables, peanuts and often bean sprouts all entwined with a sweet and tangy sauce that's irresistibly good.
This Chicken Pad Thai recipe has all the essential elements of authentic Pad Thai.
The sauce is equal parts savory, sweet and sour; a handful of dried red chilies add the perfect touch of of heat to balance the flavors.
Fresh cilantro and chopped peanuts tie it all together!
This recipe will allow you enjoy delicious Pad Thai for dinner tonight in less time than it takes to get takeout!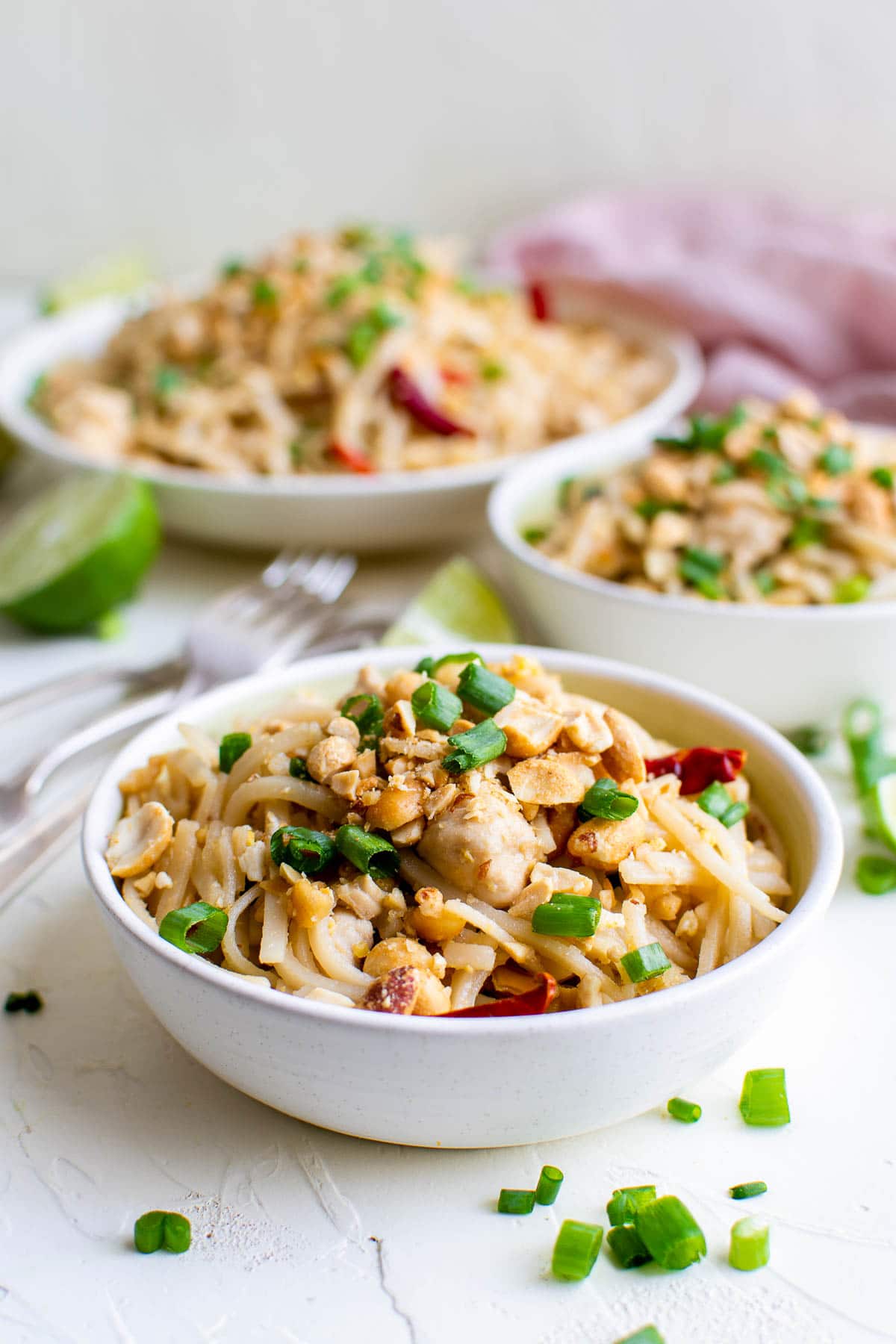 Recipe Ingredients + Notes
Don't let the long list of ingredients intimidate you. This recipe is so fast and easy to make once you get everything together!
For the stir-fry
Rice noodles. Select rice noodles called Pad Thai noodles or Stir-fry noodles for this recipe. They are a flat noodles similar in appearance to fettucini pasta noodles.
Chicken. Boneless skinless chicken breasts or chicken 'tenders' (not the prepared type) will be used. Cut the chicken into bite-size pieces.
Dried red chilies. These chilies are spicy and found with Asian cooking ingredients at the grocery store or Asian supermarkets.
Eggs. An essential ingredient in Pad Thai! Always scrambled.
White onion.
Garlic. Minced or paste.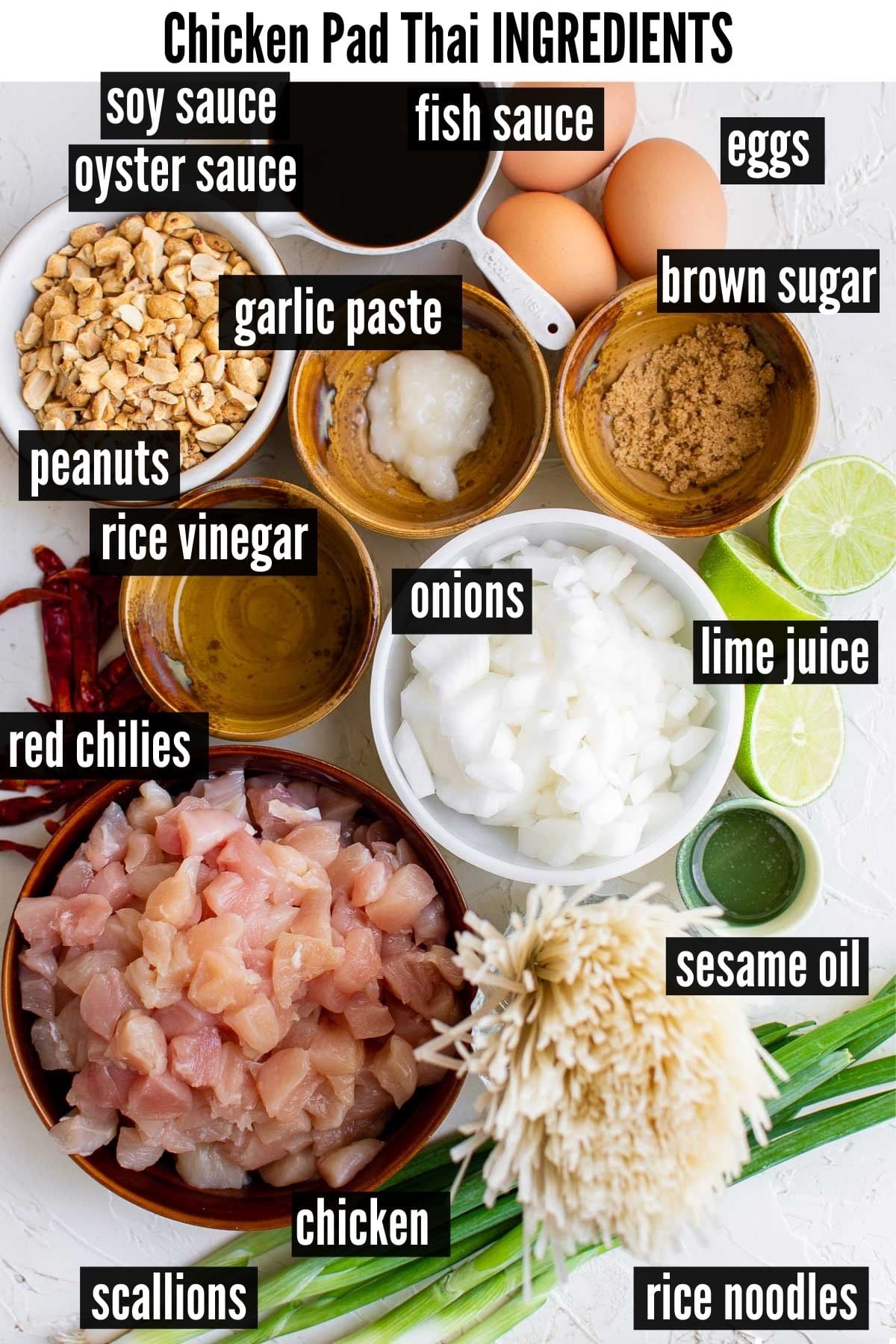 For the sauce
Soy sauce. Low sodium is recommended to control the saltiness of the stir-fry. Regular or gluten-free soy sauce or Tamari can be used.
Fish sauce. This is a classic ingredient in Southeast Asian cooking. It's a fermented sauce with a strong fish flavor. Not much is needed but the distinct flavor is key to an authentically flavored Pad Thai.
Oyster sauce. Another signature flavor and ingredient in Asian cooking. This sauce is made of the caramelized liquid of cooking oysters.
I have noticed it can be difficult to find. If needing to substitute mix soy sauce with Hoisin sauce in a 1-to-1 ratio. Regular or gluten-free versions work.
Lime juice. Use fresh lime juice if possible.
Rice vinegar. Made from fermented rice, this mild and slightly sweet vinegar gives a signature flavor. It's also what makes Thai-Style Dipping Sauce so good.
Brown sugar. Adds just the right touch of caramel-y sweetness to the sauce flavor.
Oil. Sesame oil, peanut oil or olive can be used.
For topping
Peanuts. Use unsalted dry-roasted peanuts.
Cilantro. Fresh torn or chopped cilantro adds a classic Thai cuisine flavor to the Pad Thai.
Green onions. Sliced green onions add some flavor and color.
Note for making Gluten-Free Pad Thai
Many of the ingredients in the sauce are available in either regular (with gluten) or gluten-free versions.
Always consult the product label to ensure the product meets your dietary needs.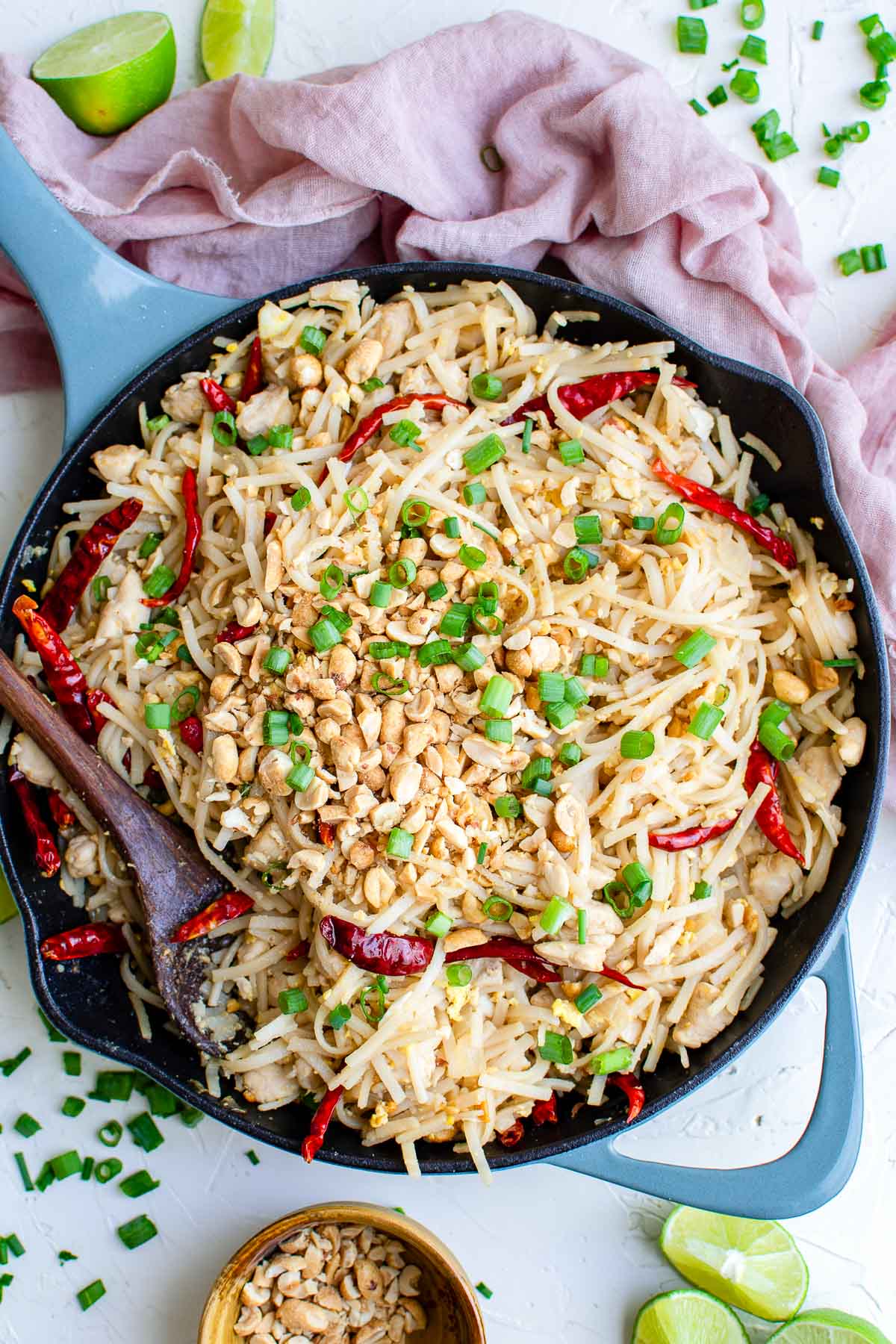 How to Make it – Step-by-Step
STEP 1. Cook the rice noodles
Bring water to boil. Once boiling, remove from heat and add the uncooked rice noodles to the pot. Let the noodles soak until softened.
Follow package instructions for noodle preparation.
STEP 2. Make the sauce
While the noodles are soaking, mix the sauce ingredients together in a large bowl.
STEP 3. Scramble the eggs
Heat a bit of the oil in a large skillet. Crack the whole eggs into the pan and scramble until cooked through (photo 1).
STEP 3. Stir-fry
Remove the scrambled eggs from the skillet and add the onion to the pan (photo 2).
Cook until translucent, then add the garlic, followed by the chicken pieces (photo 3).
Continue cooking, tossing the ingredients to ensure the chicken gets fully cooked on all sides.
When the chicken is done cooking, add the red chilies to the pan and drain the rice noodles.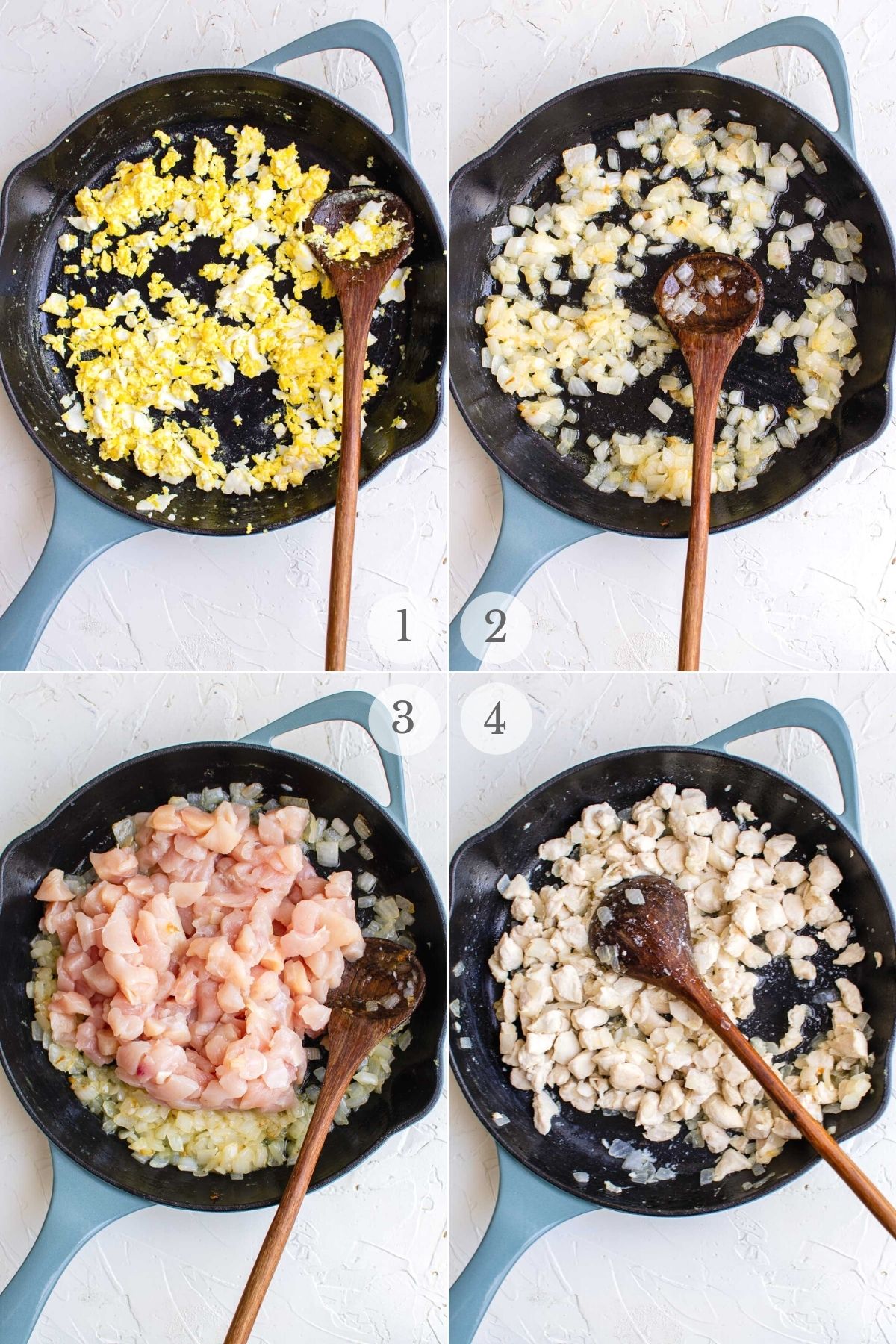 STEP 4. Assemble
Add the rice noodles to the pan, followed by the sauce and the scrambled egg (photos 5 and 6).
Reduce the heat a bit and let the sauce simmer for a couple of minutes, gently tossing the ingredients to combine (photo 7).
STEP 5. Serve
Take the pan off the heat and add the peanuts, cilantro and green onions just before serving (photo 8).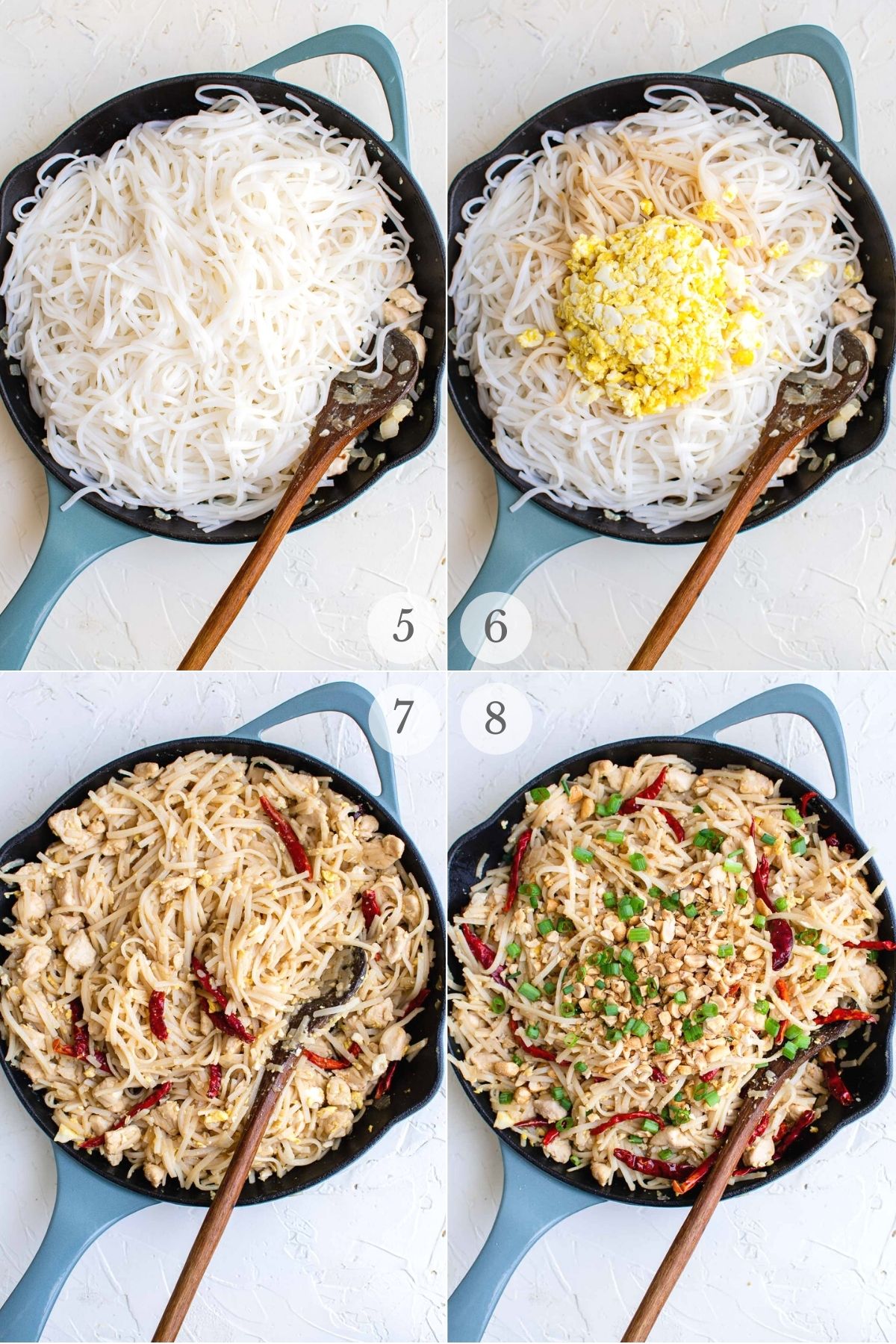 Variations
Vegetarian Pad Thai. Leave out the chicken to make a meat free option that vegetarians will love!
Less spicy. Reduce the amount of dried chilies added to the Pad Thai if you want less heat.
Egg free. Skip the scrambled egg to make a less traditional but still tasty version that's suitable for those with egg allergies.&nbsp
Garnishes. Sliced green onion, cilantro and peanuts are classic. Try topping your Pad Thai with some chili garlic sauce and a squeeze of lime juice for even more spice and tang!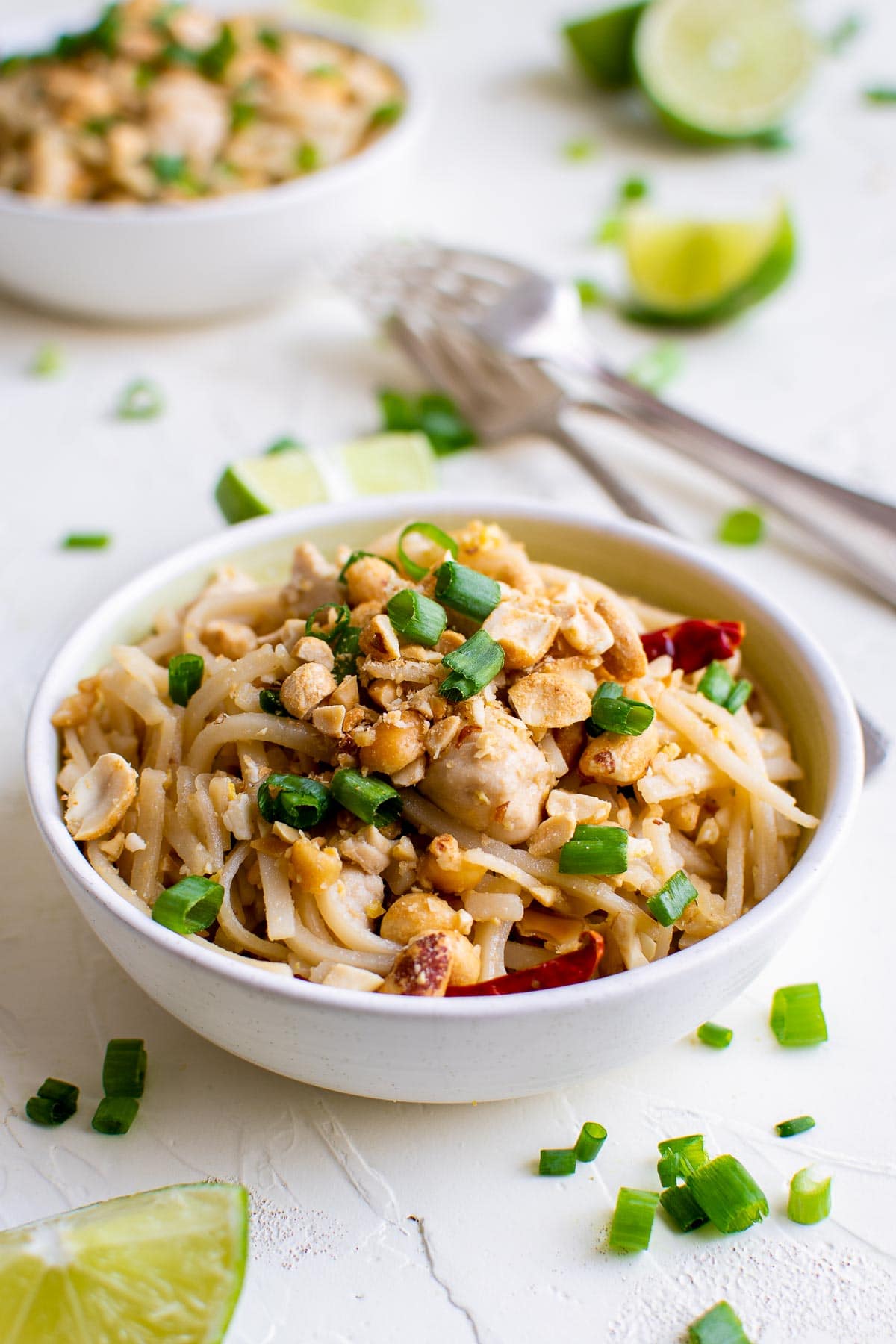 Recipe FAQ + Pro Tips
What rice noodles are best for Pad Thai?
The best rice noodles for Pad Thai are usually labeled as 'stir-fry noodles' or Pad Thai noodles in the supermarket. They should be long, flat and wider than angel hair or maifun rice noodles.
The shape is similar to fettuccini pasta just in rice noodle form.
Should you rinse your rice noodles after cooking?
Consult the package for the rice noodles you use. The answer generally is 'yes' the noodles should be rinsed briefly with cold water to stop the cooking process.
Rice noodles soak in hot water versus actually cooking over active stove top heat. To halt the softening process the cold water rinsing is key.
It's also important to move the noodles directly from the hot soaking water to colander draining, a quick cold water rinse and into the Pad Thai.
This will prevent the noodles from sticking to each other.
Storing Leftovers
Chicken Pad Thai tastes best eaten right away. Keep leftovers in a covered container in the fridge and enjoy within 3 days. Leftover Pad Thai can be eaten hot or cold.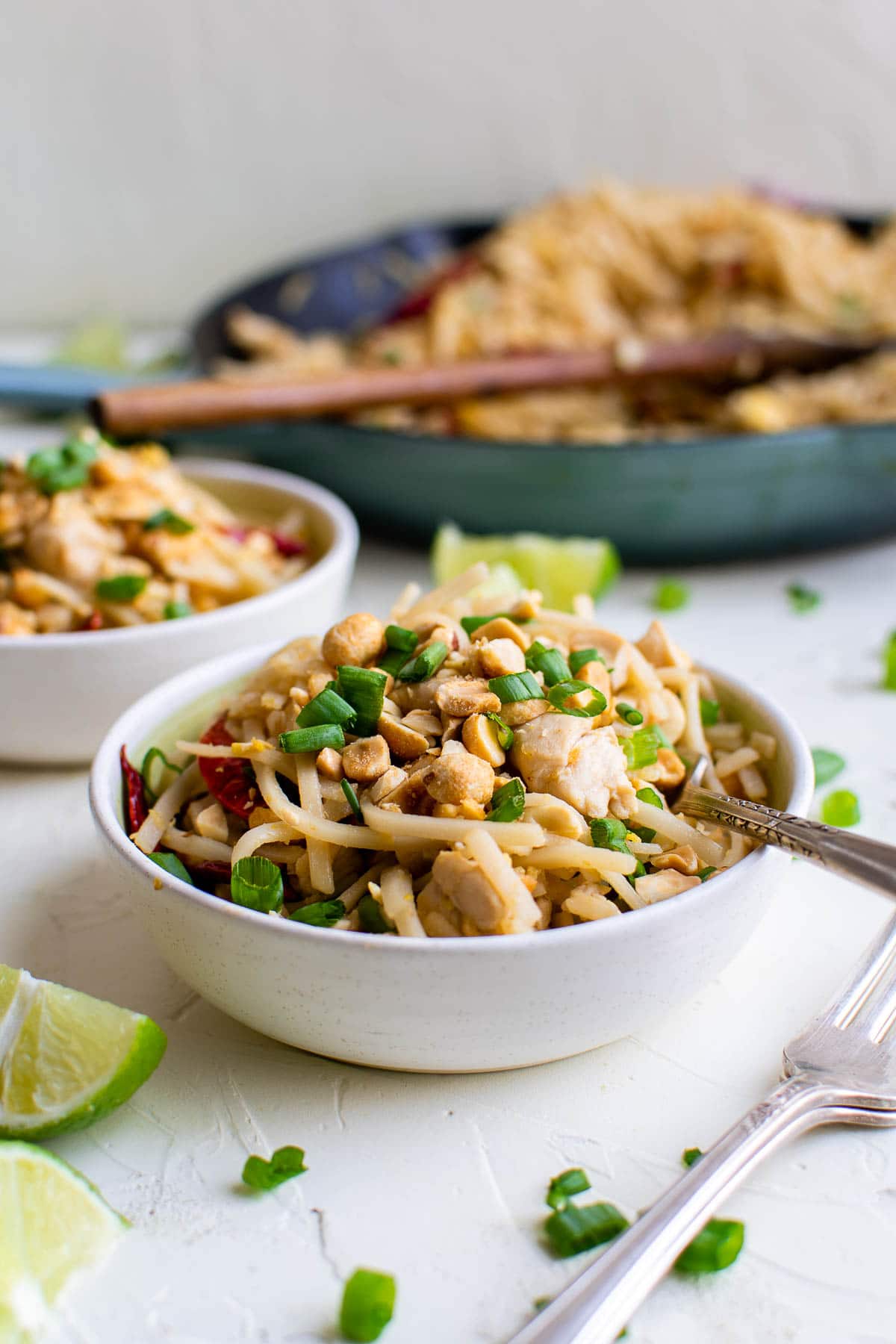 More Recipes You'll Love!
Did you make it? Please RATE THE RECIPE below!
Please SUBSCRIBE and FOLLOW ME on FACEBOOK , TWITTER , INSTAGRAM and PINTEREST !
Recipe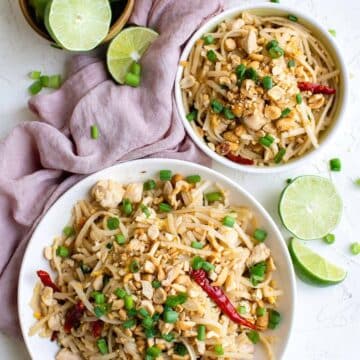 Ingredients
1

14-oz package

'stir fry' rice noodles or pad thai rice noodles

see notes

½

cup

low sodium soy sauce

Juice from one lime

2

teaspoons

brown sugar

½

teaspoon

fish sauce

1

teaspoon

oyster sauce

1

teaspoon

rice vinegar

2

tablespoons

sesame oil or olive oil

3

eggs

1

medium

white onion

diced

1

tablespoon

garlic paste or freshly minced garlic

1

pound

boneless skinless chicken breasts or chicken tenderloins, cut into bite size pieces

skinless chicken breast tenders, cut into bite size pieces

8-10

dried red chilis

1

cup

chopped unsalted dry roasted peanuts

for garnish

½

cup

chopped green onions

for garnish

Chopped cilantro
Instructions
Boil 6 cups of water in a large pot over high heat. Remove it from the heat and soak the noodles in the water until they become soft (about 7 minutes).

In the meantime, mix the soy sauce, lime juice, brown sugar, fish sauce, oyster sauce and rice vinegar together in a medium size bowl and set aside.

Drizzle a bit of the oil in a large skillet or wok pan over medium heat and crack in the eggs. Scramble them and remove them from the pan once cooked.

Add the remaining oil and onion to the pan and cook until the onion becomes translucent.

Add the garlic and cook for an additional minute before adding the chicken and cooking through.

Add in the dried red chilis and stir to combine.

Drain the noodles and rinse with cold water to stop cooking. Add the noodles directly to the pan, pour over the sauce and add the scrambled eggs.

Reduce the heat to low medium and let the sauce simmer as you gently toss the noodles for 2 minutes to coat.

Remove the pan from the heat and add the chopped peanuts to the top of the noodles as well as a handful of the chopped green onions and serve.
Notes
Rice Noodles
Rice noodles come in different sizes or thicknesses. The noodles used for this recipe should be wider than angel hair or maifun noodles and flat. Select the noodles called Pad Thai rice noodles or Stir-Fry rice noodles.
Consult the package instructions for noodle preparation. The recipe step above is a guideline.
This chicken pad Thai is best enjoyed the day that it is made but can be stored for up to three days in an airtight container in a refrigerator.
Nutrition
Calories:
329
kcal
|
Carbohydrates:
11
g
|
Protein:
27
g
|
Fat:
21
g
|
Saturated Fat:
4
g
|
Cholesterol:
130
mg
|
Sodium:
902
mg
|
Potassium:
589
mg
|
Fiber:
3
g
|
Sugar:
3
g
|
Vitamin A:
225
IU
|
Vitamin C:
5
mg
|
Calcium:
60
mg
|
Iron:
2
mg
Once you try making Chicken Pad Thai at home, you might never order takeout again!