Christmas Muffins are the best form of chocolate chip muffins with a bit of sweet red and green thrown in! Crisp golden outside and soft and sweet on the inside!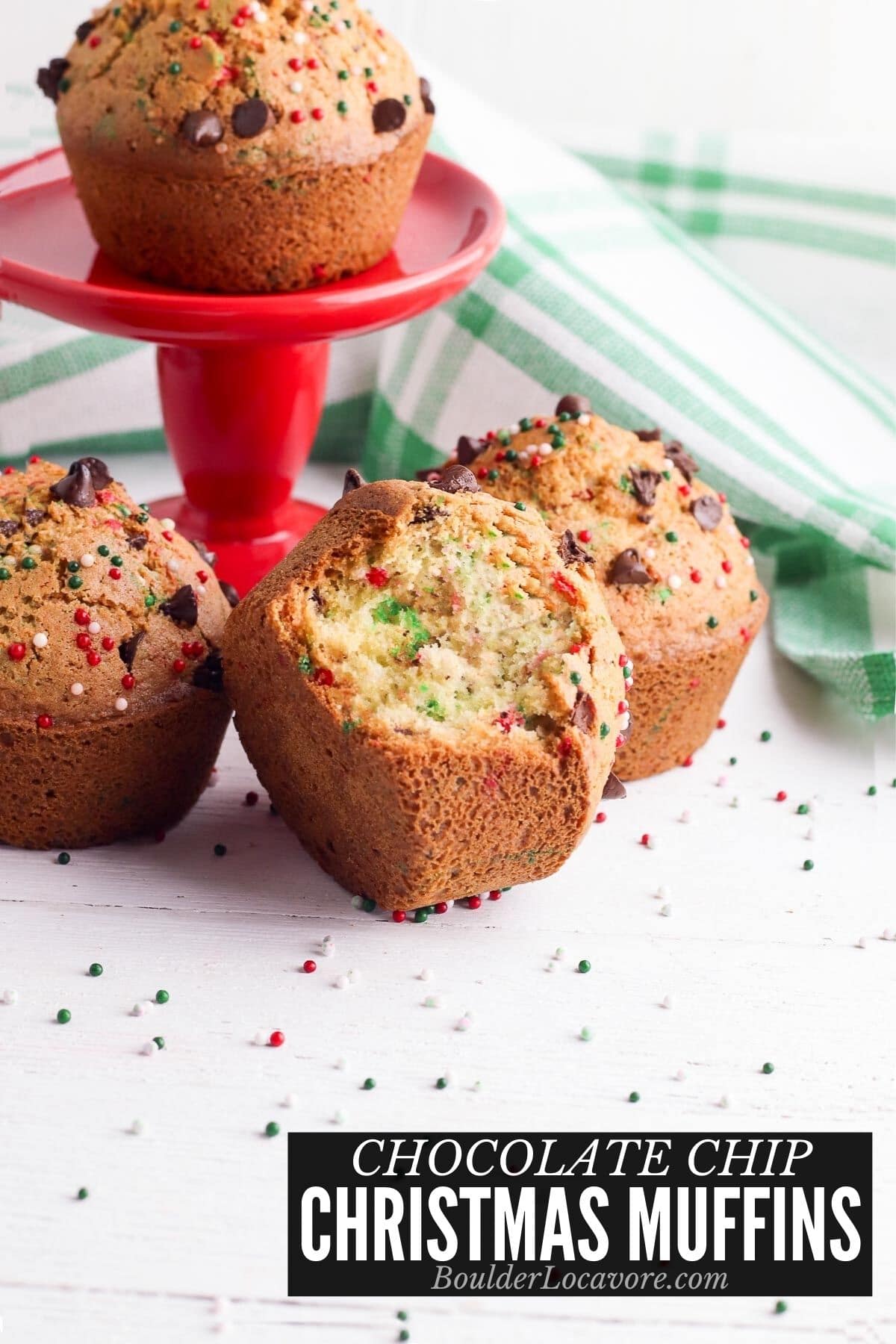 Making festive recipes doesn't have to take a lot of effort.
These muffins are a great example. Wholesome ingredients, just the right amount of sweetness and a pop of Christmas color is all you need!
They aren't fussy but feel special and perfect for the Christmas holidays.
Serve then with a glass of homemade eggnog or hot chocolate!
Easy Chocolate Chip Muffins
Crisp on the outside and soft on the inside make these muffins so delicious!
An abundance of mini chocolate chips and sprinkles are in every bite.
After the muffins cool the outside will be firm. My taste testers loved this because the muffins were easier to handle; they don't fall apart in your hand.
The crisp outside almost tastes like it has been lightly fried.
This exterior ensures the inside of the muffin stays moist and light.
Christmas Muffins in Red and Green!
These muffins are easy to to dress up for Christmas muffins.
The addition of red and green sprinkles in the batter and on top give them a festive feel and look.
It's a simple addition that transforms regular chocolate chip muffins into a holiday breakfast surprise.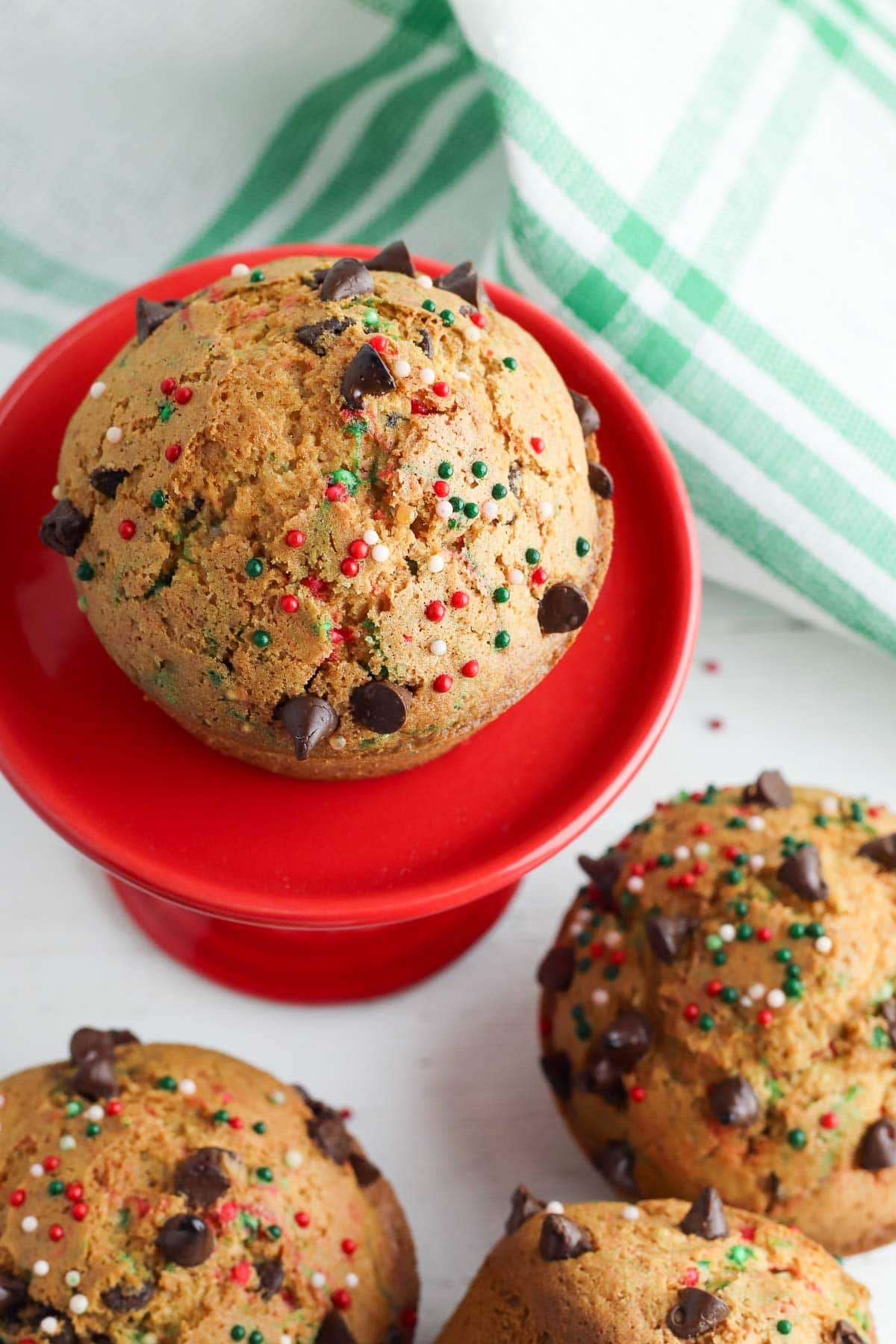 Recipe Ingredients + Notes
All Purpose Flour. Regular or gluten-free flour may be used. We've tested both! We used Bob's Red Mill Gluten-free 1-to-1 Flour Blend for the gluten-free version.
Cornstarch. This helps keep the inside soft and delicious. It also helps create the wonderful crisp outside!
Baking Powder and Baking Soda. These help the muffins rise perfectly.
Salt. We prefer kosher salt for the less salty flavor.
Eggs. Use large eggs if possible. They'll be added one by one to the muffin recipe.
Granulated Sugar and Light Brown Sugar. A combination of sugars make a wonderful sweetness that doesn't overpower the chocolate chips.
Vegetable oil. Any neutral flavor vegetable oil can be used (regular vegetable oil, canola oil, sunflower oil, safflower oil).
Milk. We used whole dairy milk but any fat content dairy milk could be used. We have not tested the recipe with plant milks.
Vanilla Extract. Gives homey flavor.
Mini Chocolate Chips. Using mini chocolate chips are perfect for chocolate chip muffins. They disperse better so there are more of them and they integrate more evenly with the batter.
Red and Green Sprinkles. In the photos we used a red, green and white mix. Red and green sprinkle mixes can be found where baking supplies are sold and online.
If you can't find a red and green mix most grocery stores sell a primary color sprinkles collection (sometimes called 'any holiday').
It's one plastic cylinder container with sections of each individual color to sprinkle out.
They include some red and green so those could be used. TIP: I pull the sprinkle top off the sections I use to make it easier to pour.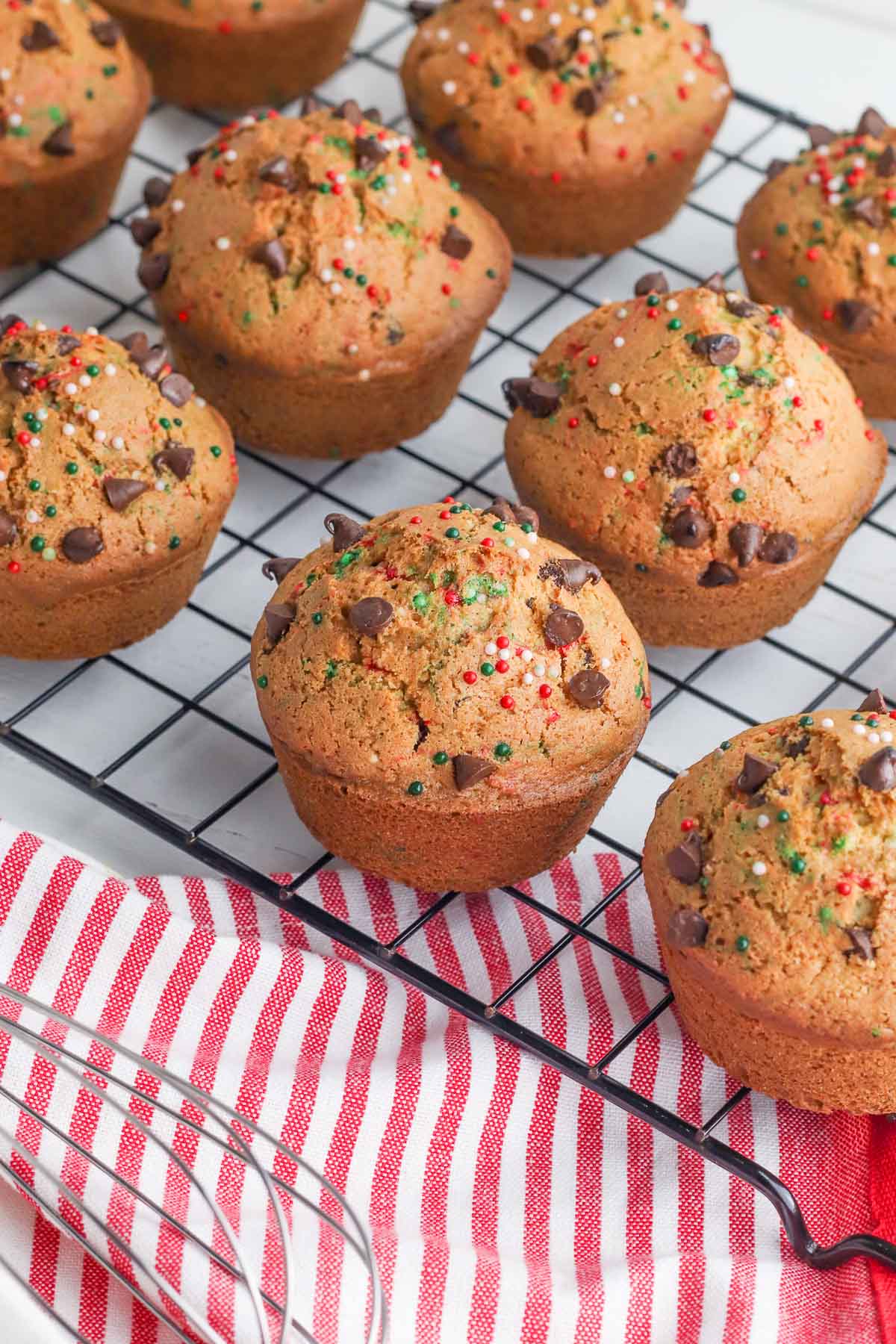 How to Make it – Step-by-Step
STEP 1. Preparation.
Preheat the oven to 400 degrees F. Spray a 12 muffin tin with non-stick cooking spray.
STEP 2. Mix the Dry Ingredients.
In a large bowl whisk together the flour, cornstarch, baking powder, baking soda and salt (photo 1).
STEP 3. Mix the Wet Ingredients.
In a separate bowl, beat together the sugars and oil until smooth (photos 2 and 3).
Mix in the eggs one at a time (photo 3).
Mix in the milk and vanilla extract (photo 4).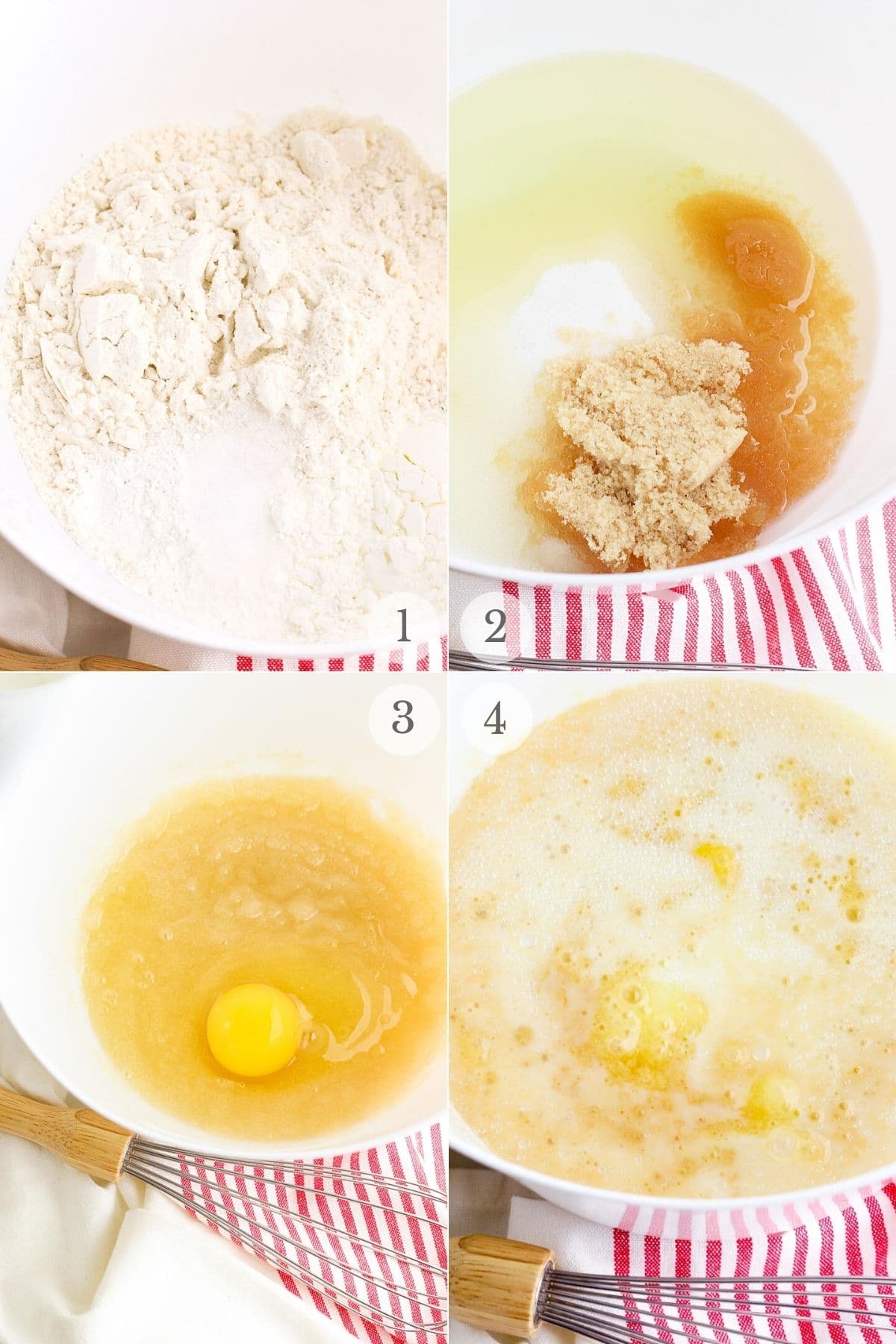 STEP 4. Make the batter.
Slowly add the dry ingredients to the wet ingredients (photo 5). Mix just until smooth (DO NOT OVERMIX).
Gently fold in the mini chocolate chips and sprinkles (photo 6).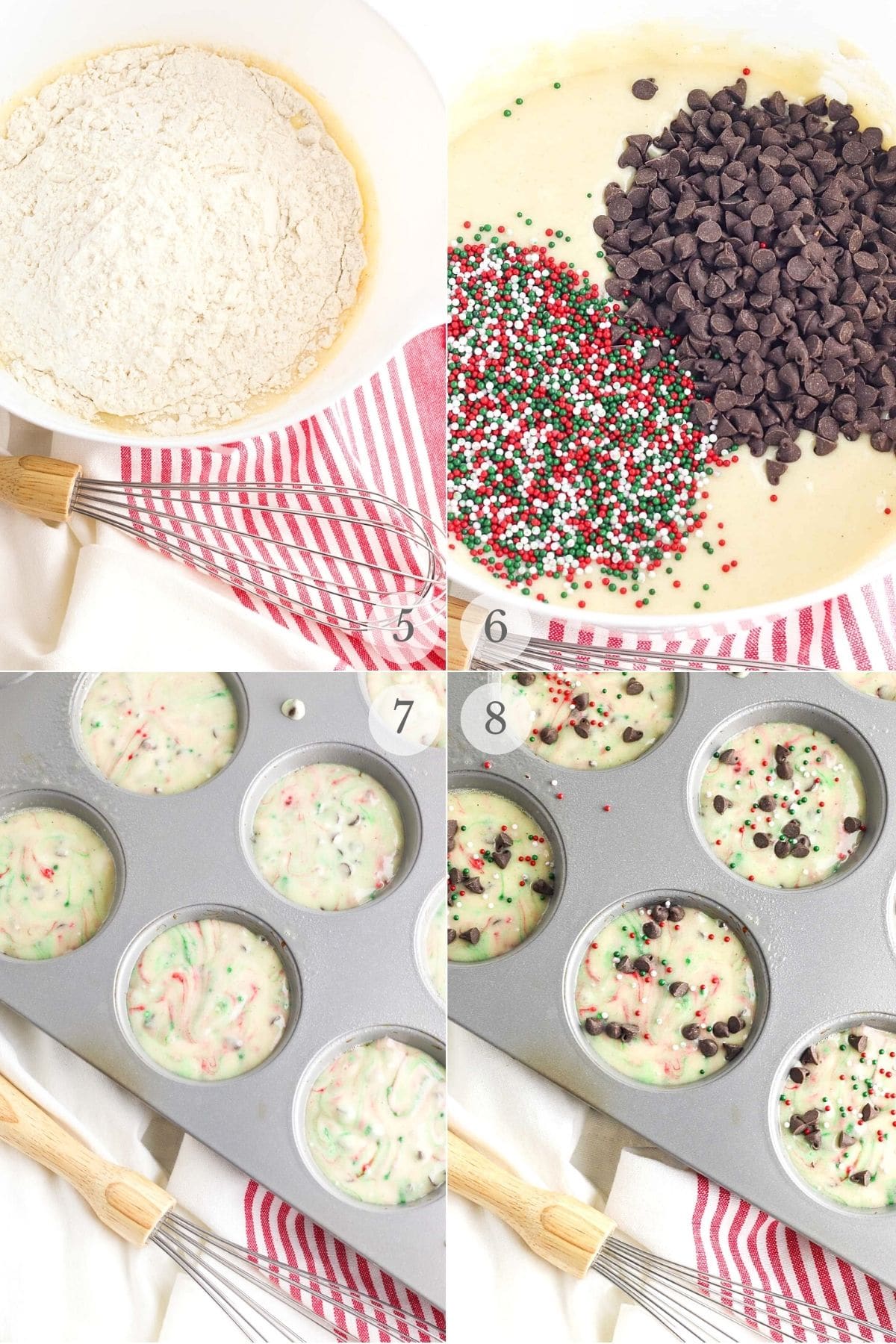 STEP 5. Bake the muffins.
Divide the batter between the muffin cups filling each muffin cup 2/3s full (photo 7). Sprinkle additional chocolate chips and sprinkles on the muffin top (photo 8).
Bake for 18-20 minutes until a toothpick inserted comes out clean.
The muffins will be a deep golden brown color on the outside and fairly firm to the touch (photo below).
Cool in the pan until the pan is comfortable to handle (heat wise). Then transfer the cupcakes to a wire rack to cool completely before serving.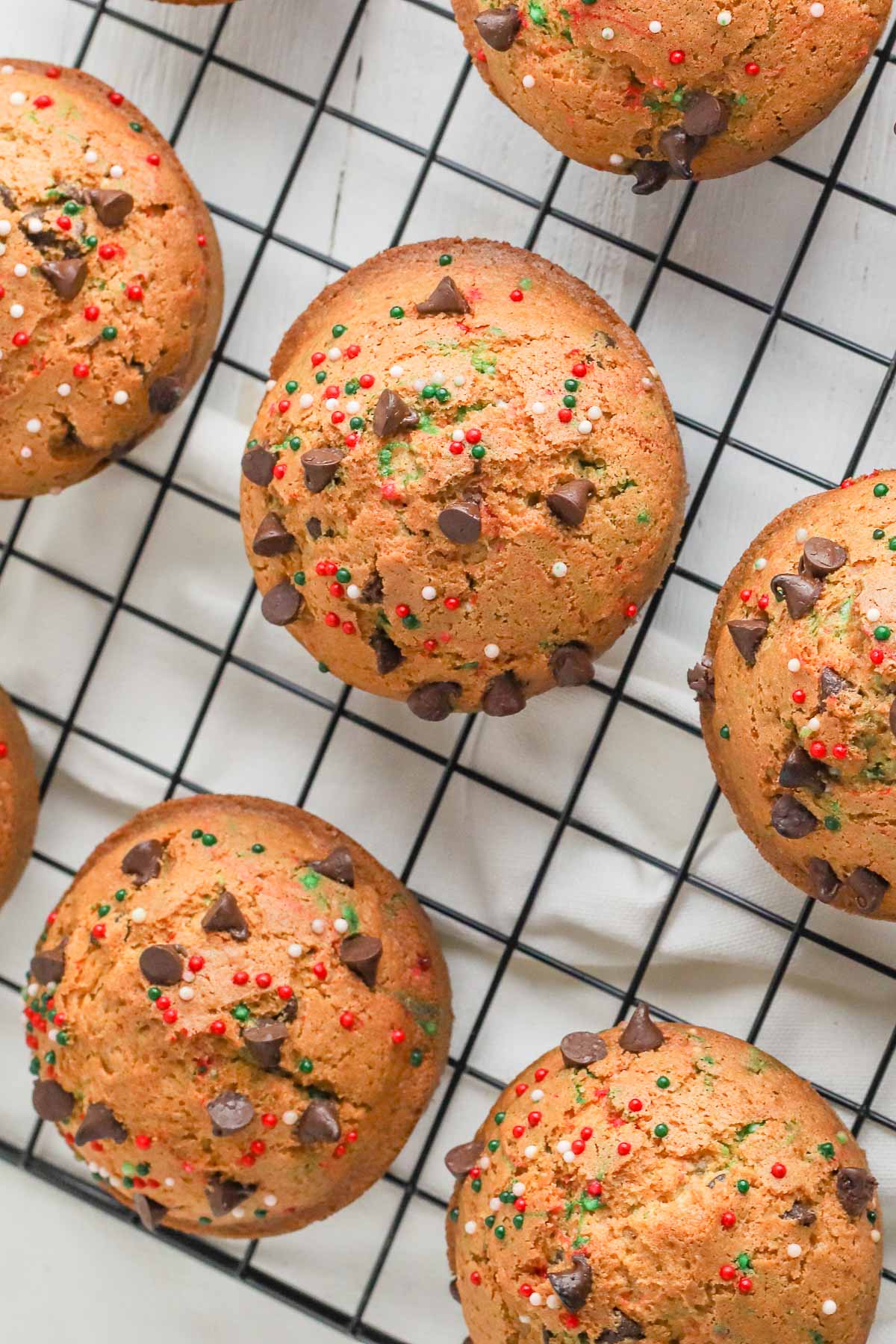 Storing the Muffins
At Room Temperature
Allow the muffins to cool completely. Place a paper towel in the bottom of an air tight container. Add the muffins and another paper towel on top.
Seal and store at room temperature for up to 3 days.
The paper towel helps to absorb any moisture from the muffins to keep the best texture.
How to Freeze the Muffins
Allow to completely cool. Place the muffins in an airtight freezer safe container or freezer plastic bag. Freeze up to 3 months.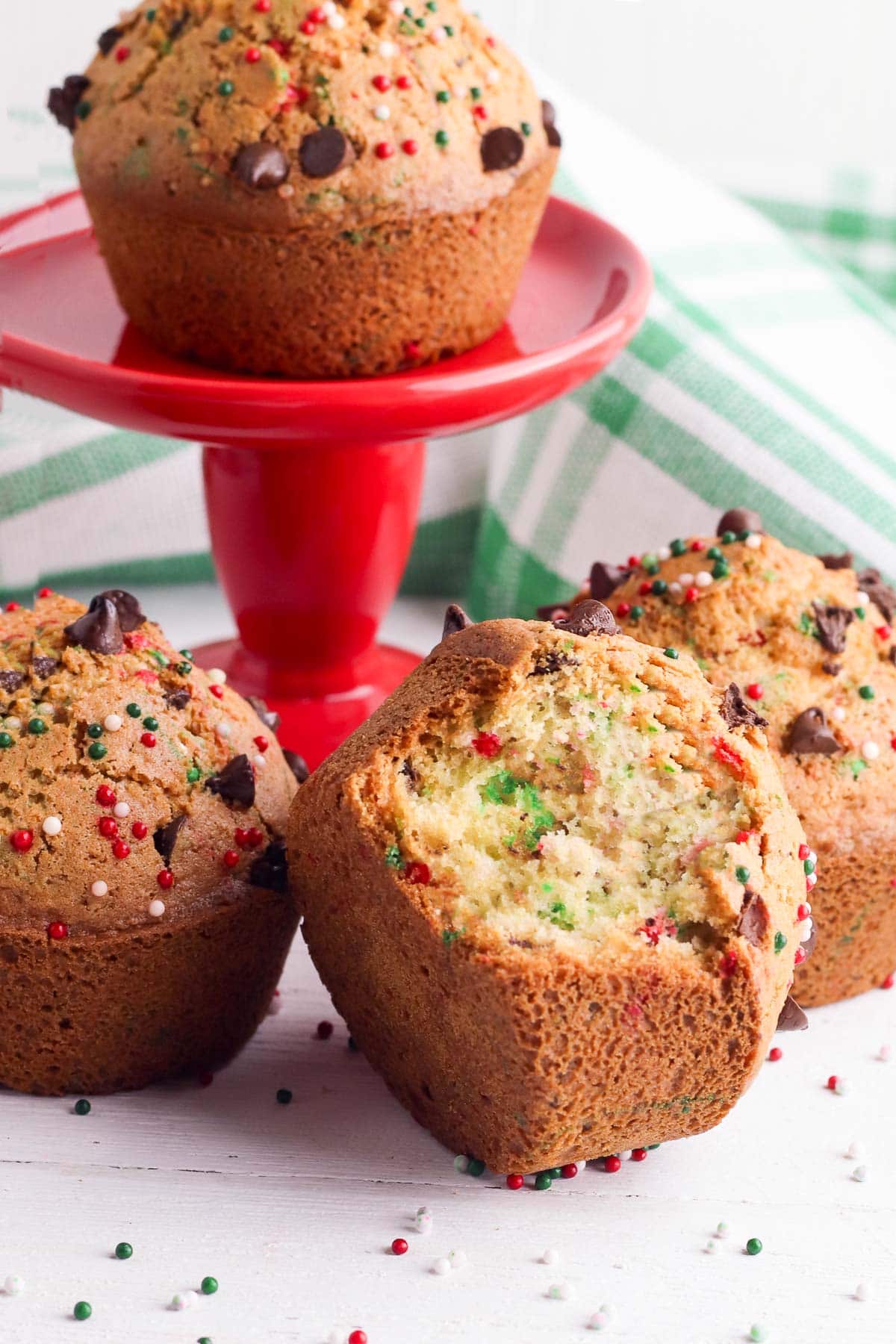 More Muffin Recipes You'll Love!
Did you make it? Please RATE THE RECIPE below!
Please SUBSCRIBE and FOLLOW ME on FACEBOOK , TWITTER , INSTAGRAM and PINTEREST !