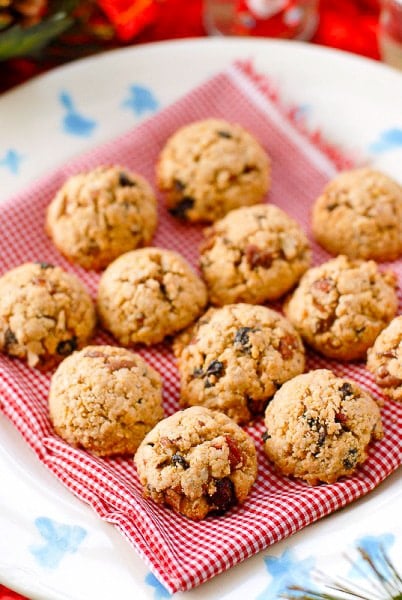 I was recently looking through some vintage recipes for any seasonal, holiday recipes to try. There were a few that caught my eye and a holiday cookie recipe was among them. I love traveling back in time to resurrect recipes that may have fallen by the wayside as the cyber-highway has taken over the world. This cookie recipe is from the 1930's. On the back of the browned paper is an advertisement for 'Beverly Chiffon Hose', a silk stocking of the day selling for $1.15.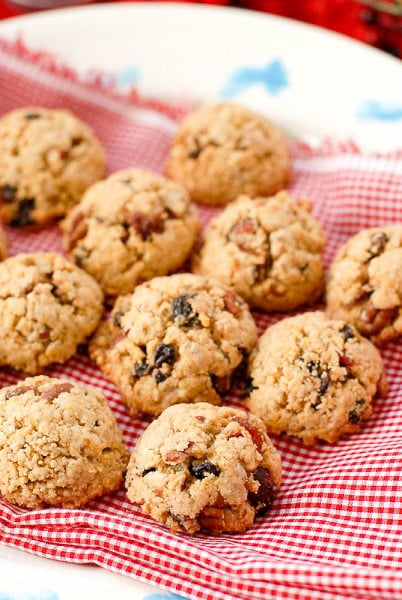 The recipe attracted my attention both for the ingredients, and the name; Christmas Nuggets. The cookie read to be a simple cookie chock full of currants, nuts and a mix of dried fruits (which I customized for the season in a personal variation of the original recipe). It presented a welcome break from the chocolate, truffles, candy canes and more densely sweet confections flooding our palates right now.
I have a teenager (a nice one) who was completely incensed by the idea of a cookie called a 'Christmas Nugget'. The name evoked anything but Christmas for her, and many other unspeakable corollaries. I decided to do a blind tasting, realizing her tender sensibilities were already so offended that this cookie would never get a fair shake. I made a batch of Christmas Nuggets and sweetly offered them to my kids after school. Loved them. All sorts of positive descriptors for them. Two days later I confessed, a bit to taunt my teen, that INDEED they'd been eating Christmas Nuggets. My daughter winced, cookie in mouth, clearly struggling to come to terms with the name and the corresponding cookie, of which she'd grown quite fond.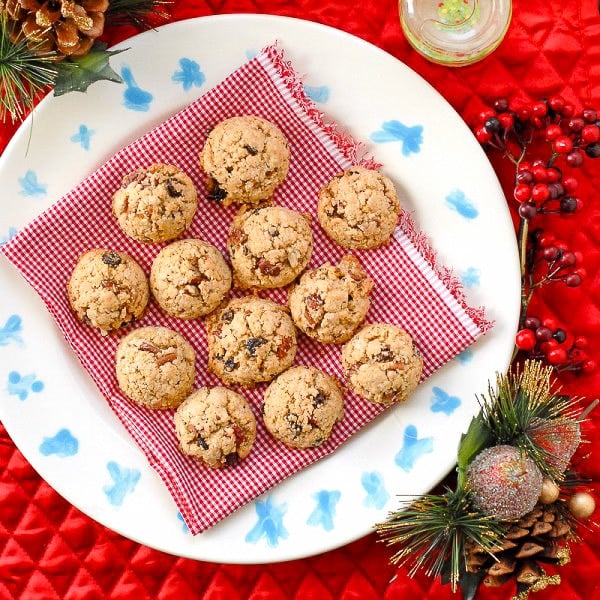 It was clear to me that in raising this cookie from the annals of time it also needed a bit of a freshen up in the marketing department. On a sleep deprived whim I suggested we begin to call them 'Christmas Joy Bombs' instead. Secretly I think my dear daughter may have been equally aghast at my exuberant suggested new name but who cares; a mini poll proved most people in my inner circle, given the chance of eating a Christmas Nugget or a Christmas Joy Bomb go for the joy bomb every time. Ho, ho, ho.